A Mac app locker is designed to lock apps on Mac. Such a tool can prevent others from opening your Mac apps. With it, you can effectively protect your important private apps from prying eyes. Also, there are other benefits. For example, parents can use it to restrict access to distracting apps when children use Mac for school. What is the best app locker Mac software? How do I use it? Please just read on.
Lock Apps on Mac
Lock apps, pre-installed and 3rd-party ones, with password
Provide an auto-lock feature
Record failed attempts to open locked apps with date, time and photo
Also block websites on Safari, Chrome, etc.
Offer a schedule feature to lock apps and block sites at certain times
Help protect your privacy
Help improve productivity by reducing distractions
Easy to use and customize
Hard to bypass
Support macOS 10.12 or later, such as macOS 12 Monterey

Free Download
The 3 best Mac app lockers
Sometimes, my friends could borrow Mac computer from me, but I don't want them to access to my individual apps. Is there any app locker for Mac to encrypt software?
#1 AppCrypt
If you are looking for a great Mac app locker or Mac app blocker, Cisdem AppCrypt can be the best tool to lock apps due to great ease of use and high effectiveness.
How to lock apps on Mac
Step 1. Download and install the tool on your MacBook Air, MacBook Pro or iMac etc.

Free Download
Step 2. When you first open the app locker Mac, set a strong password and click Submit.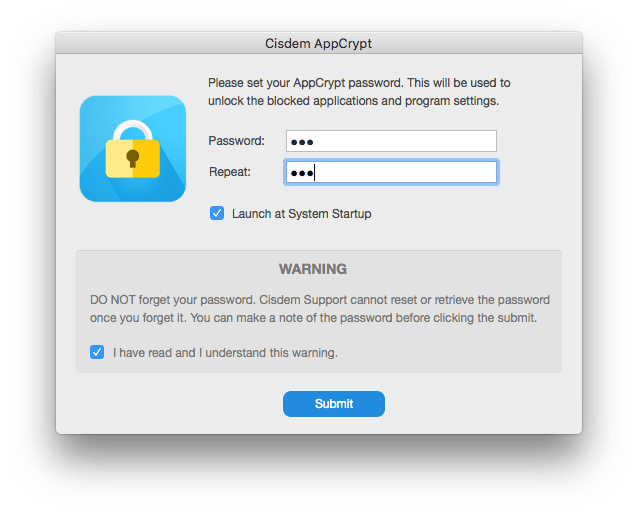 Step 3. In the menu bar at the top of your screen, click the AppCrypt icon. Select Open Main Window.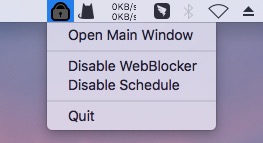 Step 4. Enter the password and then you are in the main window. Choose the App Lock tab.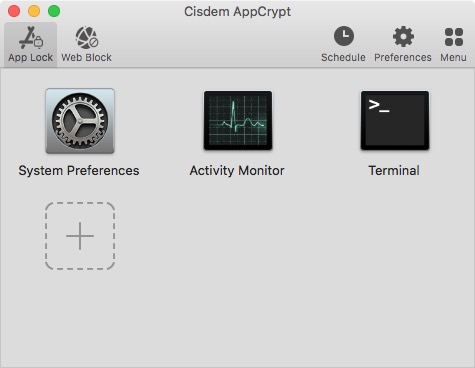 Step 5. From the Applications folder that appears, select an app or multiple apps that you want to lock. Click Open.
It's that easy. You can follow the steps and effortlessly lock apps such as Mail, Photos, Safari, Contacts, System Preferences, Quicken, Evernote and others.
Now let's verify the locking. When I try to launch a locked Mac app, it won't open. And I will be prompted to enter the password.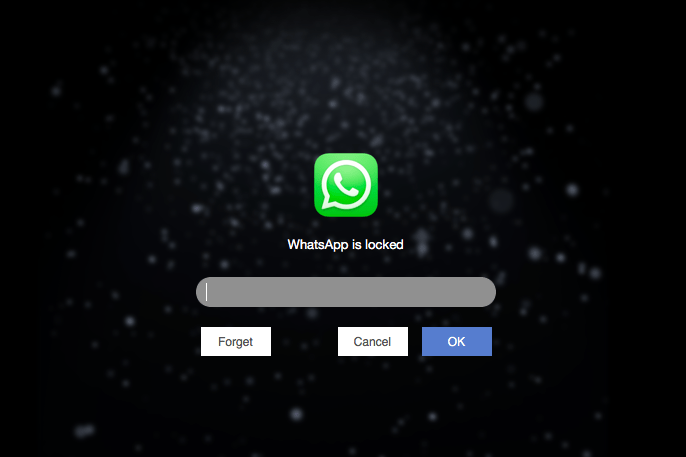 When someone enters a wrong password, the tool will record it with information like the name of the app involved, date, time and a photo of the person. You can disable photo taking in Preferences if needed.
How to unlock locked apps
You can unlock apps by entering the correct password. To remove the lock from an app, select the app in the left sidebar and click Remove App. Now one can successfully launch the app without limits.
Tips
AppCrypt main features:
Lock applications with password on Mac
Let you lock apps permanently or at certain times
Provide a report of failed attempts to launch locked apps
Also allow you to block websites on Safari, Chrome, etc.
Provide 2 modes to block websites: Block list & Allow list
Require password to quit or uninstall AppCrypt
Password protect your privacy
Can be used for parental control
Support macOS 10.12 or later

Free Download
A video tutorial
The video shows you how to use the Mac app blocker to block unauthorized access to apps.
#2 AppLocker Mac
AppLocker Mac is a simple, useful tool to lock your important or sensitive Mac apps. The interface is easy to understand and almost minimal. There is little learning curve. It offers a free version, and the free Mac app blocker can merely lock one app. You need to upgrade to access full features. The Pro version provides options for you to unlock locked apps with your fingerprint or a nearby device via Touch ID or Bluetooth ID. It's compatible with macOS 10.11 or later and optimized for M1 Macs.
Below is how to block apps on Mac that you want to keep private and secure with it.
Step 1. When you first open AppLocker Mac, it will ask you to add a password. To make sure that you use a relatively strong password, this Mac app blocker doesn't allow a password that is shorter than 3 characters. Never forget your password!
Step 2. Click the add button in the top right corner, which will bring up a new window.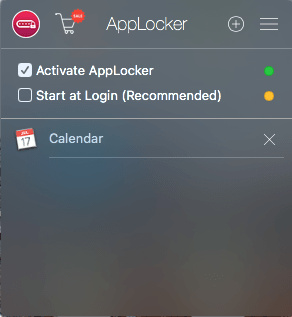 Step 3. You can scroll up and down to locate the app you want to lock. A quicker way is to filter by app name.
It's recommended to select the checkbox before Start at Login.
When someone tries to open a password locked app, the tool will ask him or her input password. Those who don't know the correct password can use shortcut Option + Command + Q to quit the lock interface and continue to use the computer. But sometimes the quit shortcut just doesn't work, and one may be stuck in the lock interface with no access to things like Apple menu and Dock, which can cause inconvenience.
On the one hand, AppLocker Mac is easy to operate and requires no configuration. On the other hand, it's not versatile enough due to low degree of customization and lack of more-advanced features. All in all, it's a handy app locker Mac.
#3 iLocker for Mac
iLocker for Mac is a flexible and safe Mac app locker that can block access to apps with a password. You can use it to prevent others from opening or using your apps. It keeps track of any failed access to a password-protected app and lets you know the specific date and time when the access took place. It can work on macOS 10.11 or higher and supports Apple Touch ID on latest MacBook Pro models.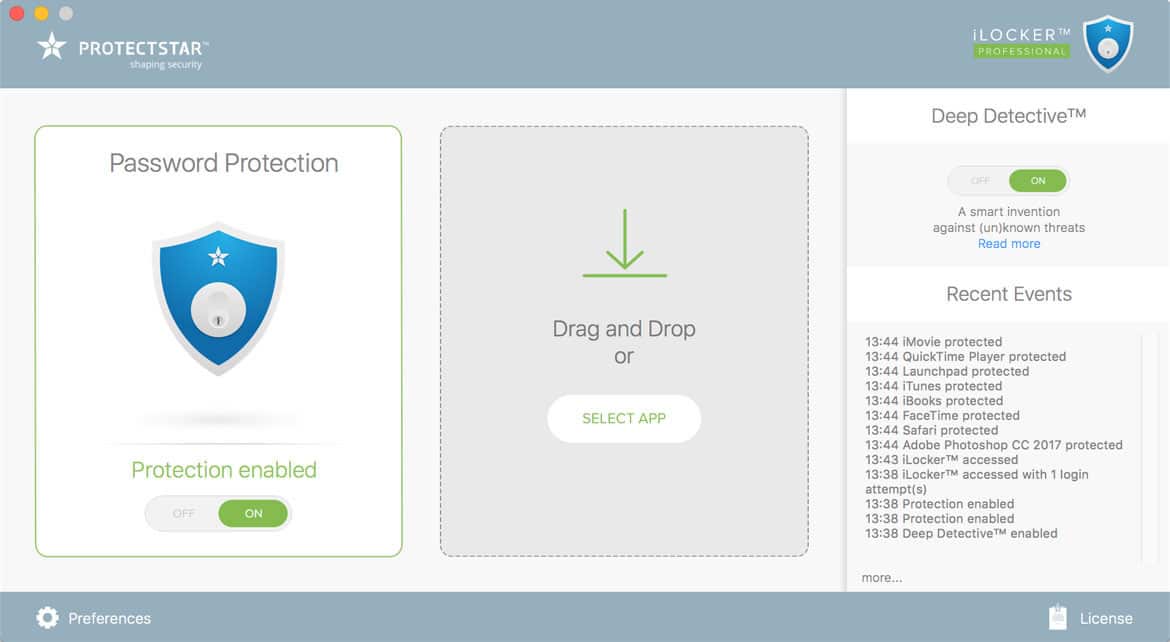 Step 1. Open the app. Enable Password Protection and set a password.
Step 2. Under the Apps tab, select a Mac app to lock by clicking the add icon. Alternatively, you can easily do it by dragging the app into this iLocker app locker for Mac.
For each locked app, there is an option to set a schedule, which gives more flexibility. You can find the Scheduler button next to each app.
By using a app locker for Mac, one can receive one or more of the following benefits.
Your colleagues, roommates or other people will have no access to your apps, not to mention any opportunity to post embarrassing status updates on your social media profile, such as Twitter, WhatsApp, etc.
Your jealous boyfriend or girlfriend won't be able to snoop through your photos, emails or messages.
You can keep your kids locked out of the apps. They only can access movies, TV shows and games at a specified time.
You can prevent thieves or strangers from intruding. If your apps in Mac were unprotected, hackers and thieves would easily find a way to break in your personal life and steal your secret information.
You are able to keep away from distracting apps while you are working or studying. Mac app blocker can effectively prevent you from using social media apps such as Facebook Messenger, game apps and others that may distract you from what you are doing.
Conclusion
Mac comes with built-in basic security options and enables users to add a password to lock screen, which however can't satisfy some users' needs sometimes. One of the anticipated features is the ability to block important individual apps so as to better protect privacy.
How to lock apps on MacBook Air or other models? With a Mac app locker, it will be super easy. You no longer have to worry that your private apps are snooped on or that your children secretly play video games on Mac when they are supposed to do homework. Locking apps with password is a good way to protect privacy, limit screen time and reduce digital distractions. Be sure to make your password strong and don't forget it.