This article mainly talks about how to block a Twitch channel. Focusing on video gaming live streaming, Twitch is one of the most popular live streaming platforms in the world. There are millions of Twitch channels. To help you find great stuff to watch, on your home page, Twitch recommends channels, streams and categories that it thinks you will like. If unwanted channels or streams keep appearing on your home page, you may want to hide them.
In this article, we will look at 3 methods.
Effortlessly Block Twitch Channels
Can be used to block access to specific Twitch channels or the entire Twitch website
Block any websites on Chrome, Safari, etc. with password
Also let you block webpages
Offer 2 modes to block: Block Websites and Allow Websites
Also lock apps with password
Provide Schedule feature to block websites/webpages and lock apps at certain times
Help make unwanted Twitch channels inaccessible
Help reduce digital distractions
Can be use for parental control or productivity purpose
Easy to use
Available for Mac and Windows PC

Free Download
macOS 10.12 or later

Free Download
Windows 11/10/8/7
Method 1. How to block a Twitch channel from Recommended Channels with the Not Interested option
The recommendations you get from Twitch could be based on the content you have watched. Also, they may be the most popular streams at the moment. If an unwanted channel keeps showing up, Twitch's Not Interested option can help you get rid of it.
On your front page, go to an unwanted channel and click or tap the 3-dot icon.
Select Not Interested.
Now a message will appear, telling you that this particular channel is removed. It comes with an undo option.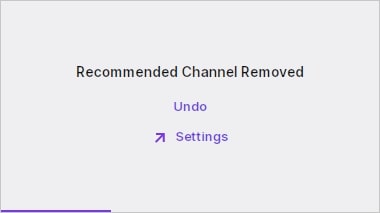 With this method to block a Twitch channel, two facts are worth mentioning. The removed channel and its content are still accessible as normal. Twitch just stops recommending it. If you mark a lot of channels or categories, etc. as not interested, Twitch may stops recommending.
Here's how to clear your Not Interested feedback. Go to your Twitch settings. Under Recommendations, go to the Channel Feedback section and click the X mark next to the Twitch channel that you want to unblock.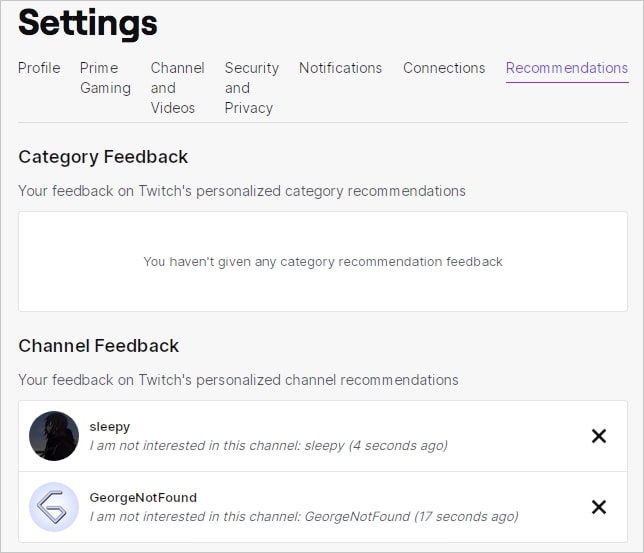 Method 2. How to use browser extensions to block Twitch channels
There is a native way to block recommended channels on Twitch. There are also web browser extensions to help you hide channels that you don't like.
Hide unwanted streams on Twitch was one of them. It used to be available as an independent extension. Now it's only available as a userscript to be used with userscript managers such as Tampermonkey, which is not that straightforward.
Luckily, you can use Unwanted Twitch offered by kwaschny.net. The extension is available for Google Chrome and Firefox. Below is how to use it on Chrome.
Go to the Chrome Web Store. Install the extension.
Open https://www.twitch.tv/.
On your home page, go to a channel that you want to block. Click the X mark in the top right corner of the thumbnail.
Now the unwanted Twitch channel is blocked.
Here's how to unblock it. On any Twitch page, click the extension's icon in your browser's toolbar and choose Manage Blacklist. Under Blacklisted Channels, click the Remove button next to the channel you need to unblock. To unblock all blocked Twitch channels, click the Clear button. Now click the Save button to save the change. As you may have noticed, you can also block channels on Twitch by manually adding their names to this blacklist.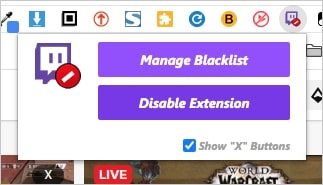 You can effortlessly disable/enable this extension.
Tip: Hide unwanted Streams on Twitch
The extension can also help you hide unwanted Twitch streams on Firefox and Chrome by blocking specific categories or tags. You can easily blacklist them by hand.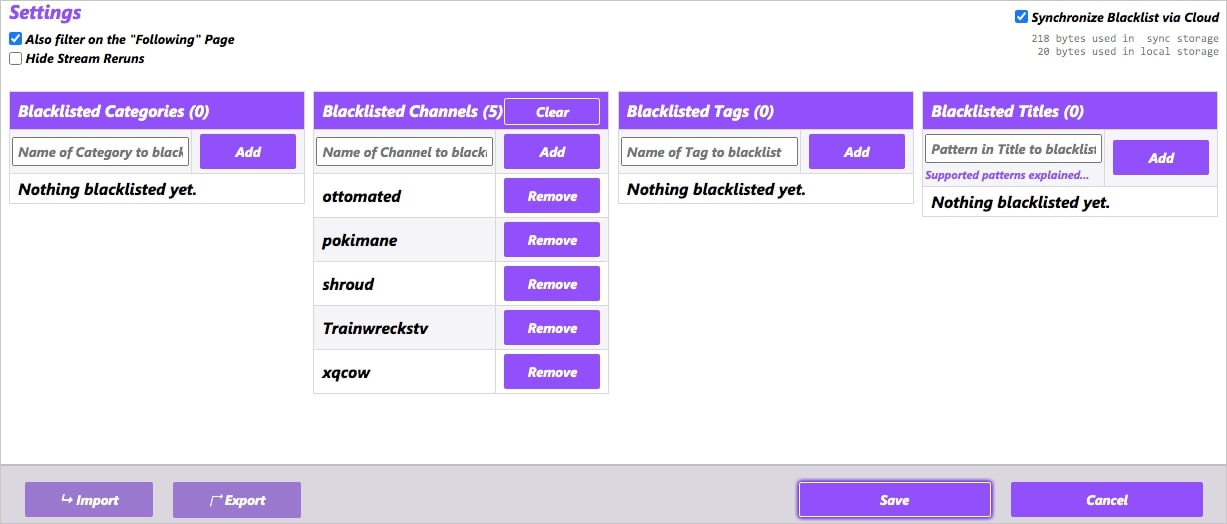 Alternatively, go to your home page. Click the X mark to hide a category. The X mark will also show up next to each tag, and you can click it to hide a tag.
Method 3. How to block a Twitch channel by making it inaccessible
It's easy to block a streamer's channel from recommendations. It's also possible to block access to specific Twitch channels. For example, it can be for parental control purpose.
Cisdem AppCrypt is an app that can help you block any websites or webpages with password on Chrome and Safari. You can use it to easily block access to an unwanted Twitch channel or other online content.

Free Download macOS 10.12 or later

Free Download Windows 11/10/8/7
Download Cisdem AppCrypt and install it.
When you open the app for the first time, it will require you to set a password.
On a Mac, click its icon in the menu bar and choose Open Main Window. If it is a PC, right-click its icon in the taskbar.
Click the Web Block tab.
To block a Twitch channel, enter a Twitch channel URL and click Add.
You can repeat Step 5 to block multiple channels.
Once a streamer's channel is blocked by AppCrypt, the channel and its pages (such as the Videos page) will become inaccessible. In other words, once the channel https://www.twitch.tv/example is blocked, the following pages will also be blocked.
https://www.twitch.tv/example/videos
https://www.twitch.tv/example/about
https://www.twitch.tv/example/schedule
When you try to open a blocked channel, it won't open, and you will see this image.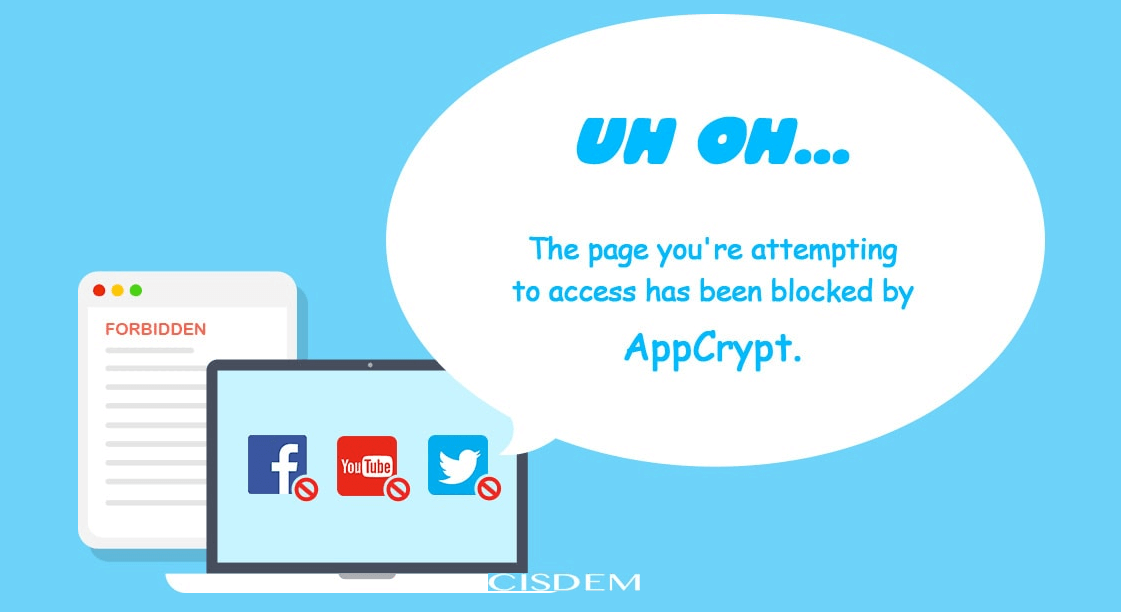 To unblock a blocked Twitch channel, select it and click the minus icon.
To block the entire Twitch website, just add https://www.twitch.tv/ to the block list.
Bonus tip: How to block someone on Twitch
Twitch makes it easy to block someone.
Click a username.
Click the 3-dot icon that appears.
Choose the Block (the username) option.
By blocking a user on Twitch, you prevent the user from adding you as a friend, hosting you, etc.
Here's how to unblock a user. Go to your Twitch settings. Go to the Security and Privacy page. Scroll down until you reach the Privacy section. Click Show Blocked Users. Click the trash icon next to the user you want to block.
Conclusion
How to block a Twitch channel? There are both native and third-party methods. By blocking recommended channels that you don't like, you can have a better Twitch experience. It's also easy to hide steams from games or tags that you are not interested in. By blocking or limiting access to certain channels, parents can control what kids can watch on this live streaming and how long they can watch. In such a case, the third method can help.