TikTok, a video-sharing social media app launched in 2016, rapidly gained popularity in virtually all parts of the world recent years. This hot app allows users to view, create and sharing videos with durations from 15 seconds to 10 minutes on any topic. In this fast-paced era, TikTok is addicted by users of all ages since its short form, snappy content and interactive.
It's not a good phenomenon. Sometimes you will notice that TikTok has taken up too much of your fragmented time. And for me, the hot music in the video will still reverberate in my head although I have put down my phone. I think it has greatly reduced my work efficiency. As parent, you will also worry about your child being affected by inappropriate content in this video-sharing app. So below I will introduce you steps of how to block TikTok on iPhone and computer. Also I will tell you how to put parental controls on TikTok.
Block TikTok, Twitter, and other hot social media on computer
Block certain websites/webpages on Chrome, Safari, and Edge etc.
Block sites by categories such as social media, porn, gambling and more
Lock apps on Mac with password
Let you block websites and lock apps permanently or during certain times
Easy to use and hard to bypass
Capture photos with incorrect password
Requires password to enter/quit/uninstall AppCrypt
Help with parental controls, produvtivity and privacy protection, etc.
Use little or no CPU
Available for Mac and Windows

Free Download
macOS 10.12 or later

Free Download
Windows 11/10/8/7
What you should know about this hot social media app
How does TikTok become addicted?
Now that the pace of life is fast and it is difficult to take a whole block of time to do some thing. It's convenient to take out the phone to watch a few interesting videos as soon as users have time. TikTok's short video just meets such needs. TikTok's content recommendation algorithm will analyze users' preferences and push high-quality content according to users' interest. So people in all ages are addicted to it. And everyone can be a creator in this app, which greatly satisfies people's desire to get more attention. All these make TikTok become a hot social media app.
What type of content is on TikTok?
You can find all kinds of funny videos on TikTok include Talent shows, funny sitcoms, heart-warming news, special effects videos, etc. Most of them are around 15 seconds long.
TikTok can be creative. But it can also have a negative impact on kids. There are various novel videos emerging on this platform every day. But precisely because of the diversity of these videos, children may be exposed to harmful content, or try to imitate those inappropriate behavior. So it's important for parents to monitor and manage their child's activities with this app.
How to block TikTok on iPhone
According to statistics, TikTok is the third most-downloaded app on iPhone in 2022 with approximately 8.68 million downloads. With strong rendering power, it has become a favorite short video app for many young people. If you found your child also downloaded TikTok on his iPhone and is addicted to it, you must do some thing to limit him. Let's take a look at how to block TikTok on Child's iPhone.
1. Open your child's iPhone. Go to Settings.
2. Turn on Screen Time. Select "This is My Child's".
3. Choose "Use Screen Time Passcode" and set a password.
4. Go into App Limits. Type in the password again.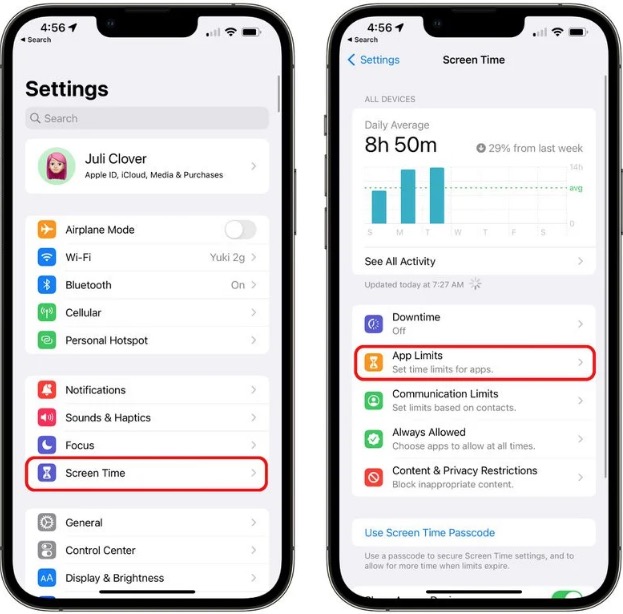 5. Tap on Add Limit and choose the category (here we choose Social) Then tap on TikTok app. Click Next
.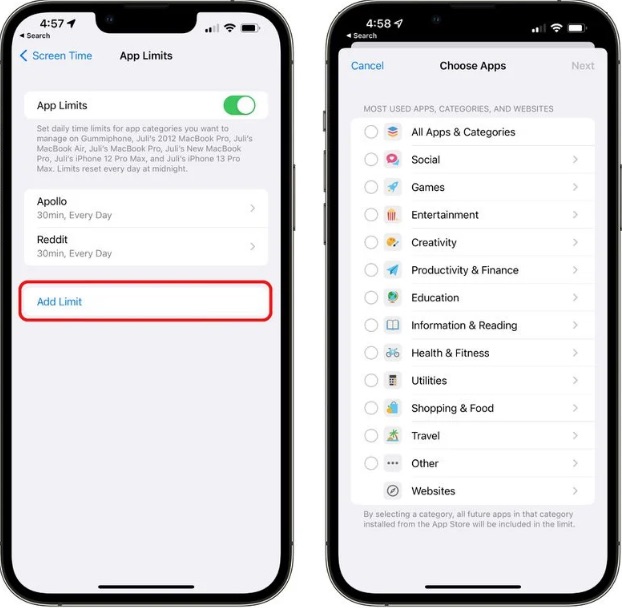 6. Then you'll see a slider where you select the time. Screen Time will block the TikTok app at end of the limit. Choose 1 minute. Tap on add then enable "Block at End of Limit".
7. Now TikTok is blocked on your child's phone. Once reaching the time limit, you will be told that you have reached your limit on TikTok. You can continue to use the app by entering the Screen Time passcode. If your child doesn't know the passcode, he won't be able to access the blocked app again.
Tip 1: How to block TikTok website on child's iPhone?
Screen Time app also can be used to block TikTok website. Select Content & Privacy Restrictions at the Screen Time window. Then choose Content Restrictions > Web Content > Limit Adult Website. Scroll down to find Never Allow and add TikTok website to the box. Now TikTok website is also limited access on the iPhone.
Tip 2: How to block TikTok from being downloaded?
You may not want your kids to be able to download TikTok or other new apps on his iPhone. Screen Time allows you to disable app purchases, deleting and installing in Content & Privacy Restrictions > iTunes & App Store Purchases section.
How to block TikTok website on Mac and Windows
TikTok app cannot be installed on computer. But its web version also supports to watch videos, view comments, and sharing etc. It is a frequently accessed website for many computer users. Time flies fast when we watch short videos. It also greatly reduces our work efficiency and makes us can't focus on work. So below I'll tell you how to block TikTok on computer. Also you can set time limits on TikTok to control your child or yourself.
1. Download AppCrypt and install it. This is a professional tool for Mac and Windows users to lock apps and block websites with password.

Free Download macOS 10.12 or later

Free Download Windows 11/10/8/7
2. Set a password at the first time you launch this tool. You can also ask your friend to set the password so you can better control your online behavior.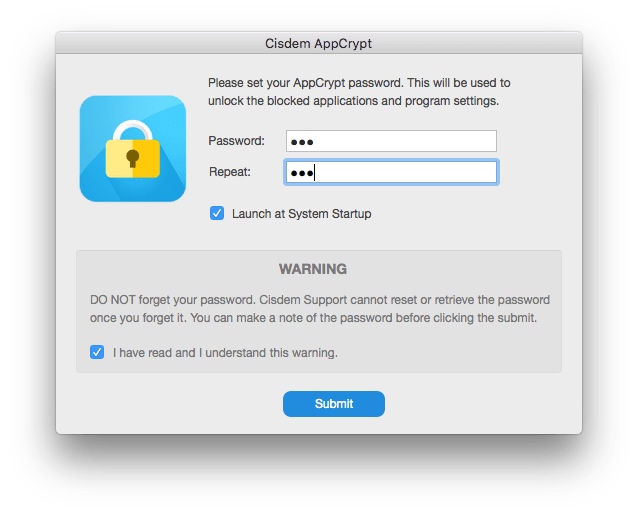 3. Right-click on AppCrypt's icon on the Mac menu bar/Windows task bar. Choose Open Main Window.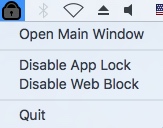 4. Enter the password. Click OK to access this tool.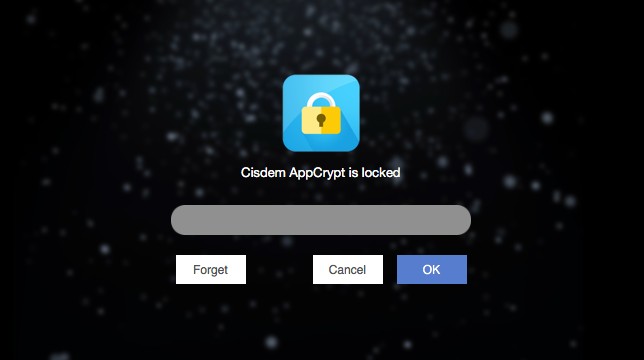 5. Click Web Block on the main window. Add tiktok.com to the block list.
(For Windows users, you need to follow its prompt to install the browser extensions first.)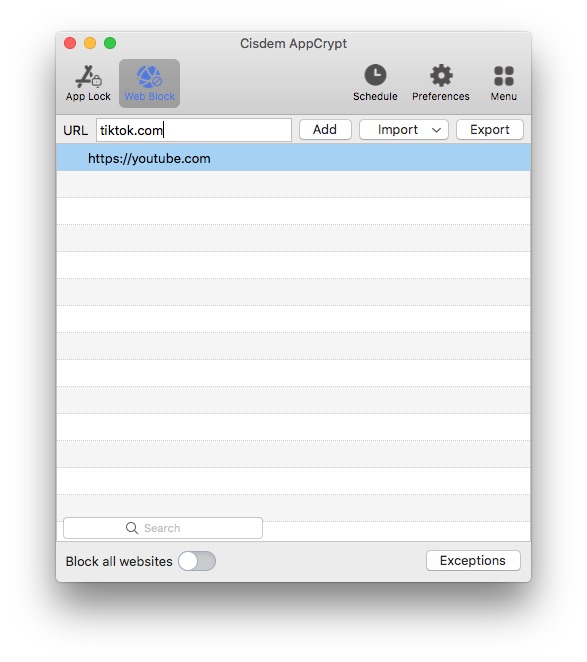 After finishing these 5 steps, the TikTok website will be blocked on your MacBook Pro, MacBook Air or iMac etc. To unblock it, the only way is to access AppCrypt tool with password. Select the TikTok website on Web Block window and remove it (Press Delete key on the keyboard, or right click the website then click Remove).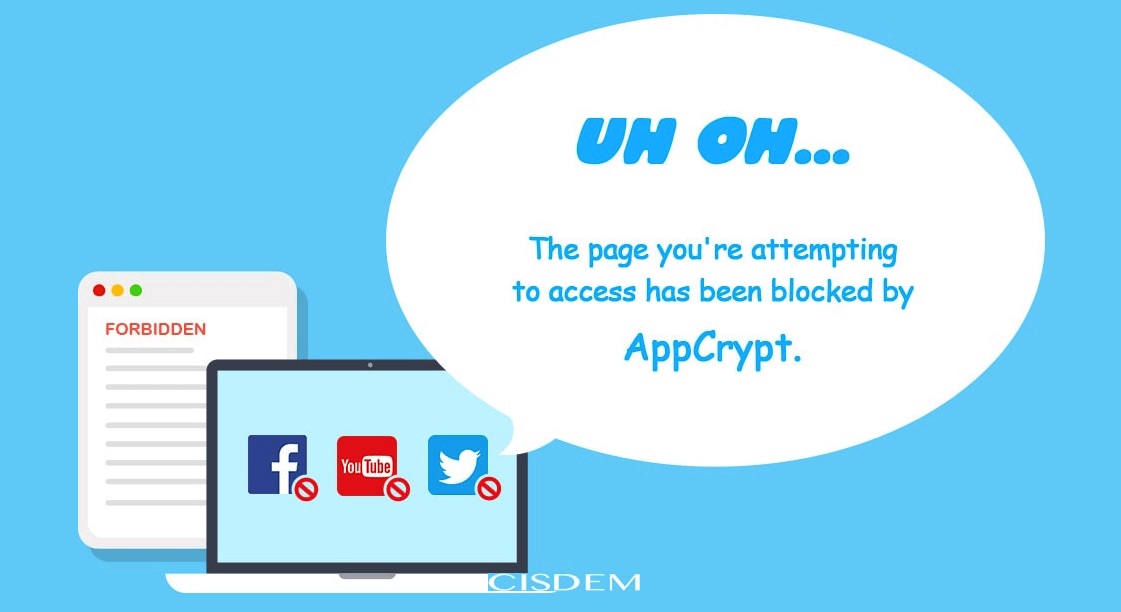 Tip 1: How to block TikTok during certain times?
If you only want to block TikTok website during working time, you can use the Schedule function of AppCrypt. On the Web Block window, select TikTok website from the block list. Click the clock icon appearing next to it. Enable Custom Schedule then click Add Schedule. Custom the time you want. You'll unable to access the blocked website during the blocking time.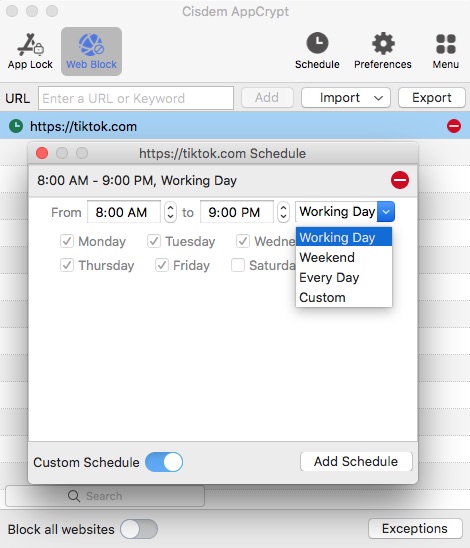 Tip 2: How to block hashtags on TikTok
Just like Twitter, Instagram and other social media platforms, TikTok hashtags are keywords or phrases that help users quickly find what they're interested in. To block certain inappropriate hashtags on TikTok, such as #games, go to the Web Block tab of AppCrypt. Type the keywords into the top box and click Add. Then those hashtags will immediately be blocked from accessing. Note that it only works when your kids search for a certain hashtag, but can't prevent videos with this hashtag from appearing on the For You page.
Tip 3: How to block all social media sites on Mac?
AppCrypt supports blocking websites by categories. If you want to block all social media websites with 1 click, click Import on the Web Block window then choose Social Sites to add all social media sites to the Block list.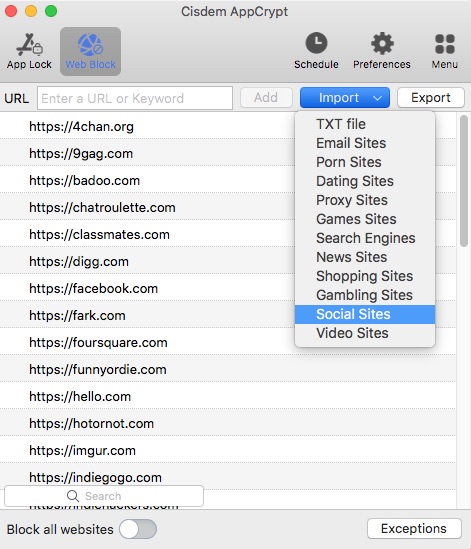 How to block TikTok on Windows via hosts file
For Windows users, there's a built-in free method to block TikTok on computer by modifying the hosts file, which is a text file on Windows operating system to map hostnames to IP addresses.
1. Click the Windows icon on desktop.
2. Search for Notepad. Run Notepad as administrator.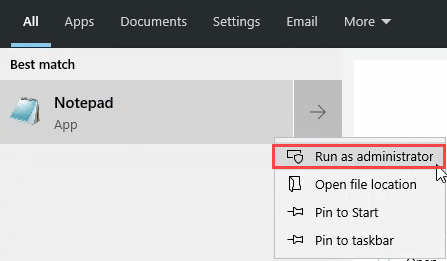 3. Click on File > Open.
4. Navigate to the following path: C:\Windows\System32\Drivers\etc

5. Then you'll see hosts file. If note, change file type from Text Document to All Files on the bottom of the window. Open hosts file.
6. Go to the last line of the page. Add a new line.
7. To block TikTok site on computer, enter the following text:
127.0.0.1 tiktok.com
127.0.0.1 www.tiktok.com
8. Now TikTok is being blocked on your computer. Try to access it on any browsers, and you will get an error page.
How to block TikTok on router
To manage child's online activities or reduce distractions while working, some families want to block inappropriate websites include TikTok on Wi-Fi router directly. Most routers have built-in websites blocking tool. Here are steps on how to block TikTok on computer and phone via router:
1. Type in the IP address of your router on web browser. Usually you can found the IP address on the back of your router.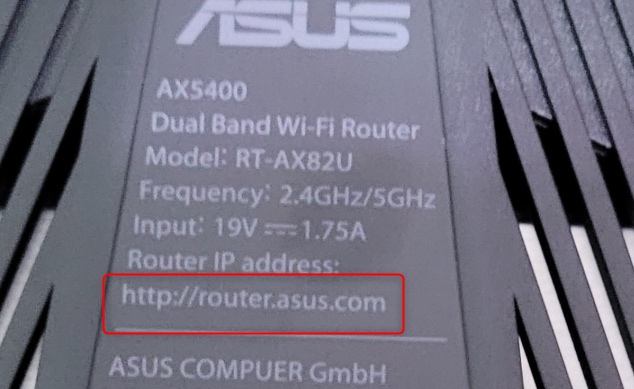 2. Enter the password to sign in.
3. Find the website blocking tool on router settings. Sometimes it is called URL Filter or others in some routers.
4. Enter TikTok URL to the block list. Save the setting.
Bonus tips: how to put parental controls on TikTok
As a hot social media app especially popular with young people, TikTok offers parental controls feature includes Family Pairing, video keywords filters, Private account, Restricted Mode and more. Now let's take a look at how to put parental controls on TikTok.
Family Pairing
TikTok's Family Pairing feature is designed to help parents manage and control their child's activities on TikTok. It allows parents to link their own TikTok account with child's account, and provides some additional control and restriction options. Such as limit their children's daily usage time on TikTok, restrict certain types of content, limit the private message communication between their children and other users, decide who can leave comments on child's videos, etc. To set up Family Pairing:
1. Tap on Profile on the bottom-right corner.
2. Click the 3-dot menu.
3. Select Settings and privacy.
4. Tap Family Pairing.
5. Select Parent or Teen.
Then follow the instructions in the app to link parent and child's account.
Video keyword filters
The Video keyword filters on TikTok allows you to filter contents in the For You (a page that recommends videos to you based on your personal TikTok experience) and Follow feeds. You can filter certain keywords on child's account via this feature.
1. Tap on Profile at the bottom.
2. Tap the 3-dot menu button.
3. Select Settings and privacy.
4. Find Content preferences. Click it.
5. Then tap Filter video keywords.
6. Enter the keywords or hashtags you want to block.
7. Tap For You or/and Following to choose what feed you'd like filtered.
8. Click Save.
Private account
On TikTok, you can choose private account or public account, as you need. If you choose a private account for your child, strangers aren't able to view you child's videos, following list and followers list etc. This means strangers in this social media app won't be able to contact with your child. To set a private account for your child:
1. Tap on Profile on the bottom-right corner.
2. Click the 3-dot icon in the top right.
3. Tap on Settings and privacy > Privacy and safety.
4. Turn on Private Account.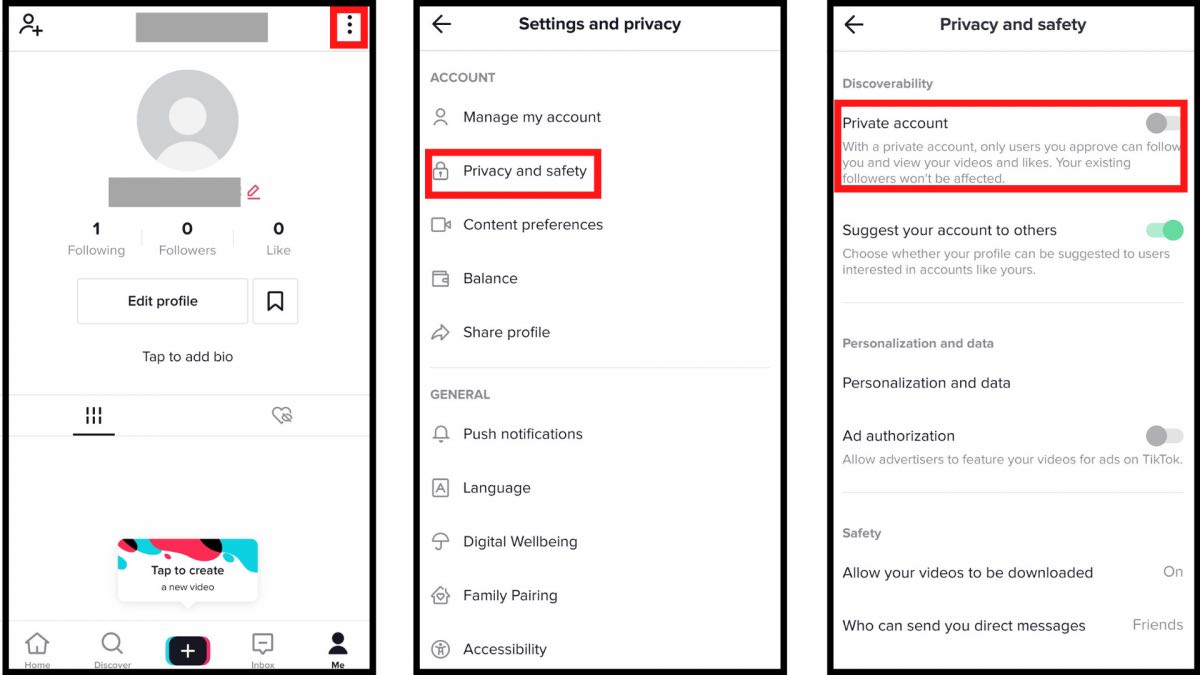 Restricted Mode
TikTok's restricted mode can filter out mature or inappropriate content. You can also set a password for this mode to prevent your child from changing settings. To enable Restricted Mode for your child:
1. Tap on Profile on the bottom-right corner.
2. Click the 3-dot icon in the top right.
3. Tap on Settings and privacy > Digital Wellbeing.
4. Turn on Restricted Mode.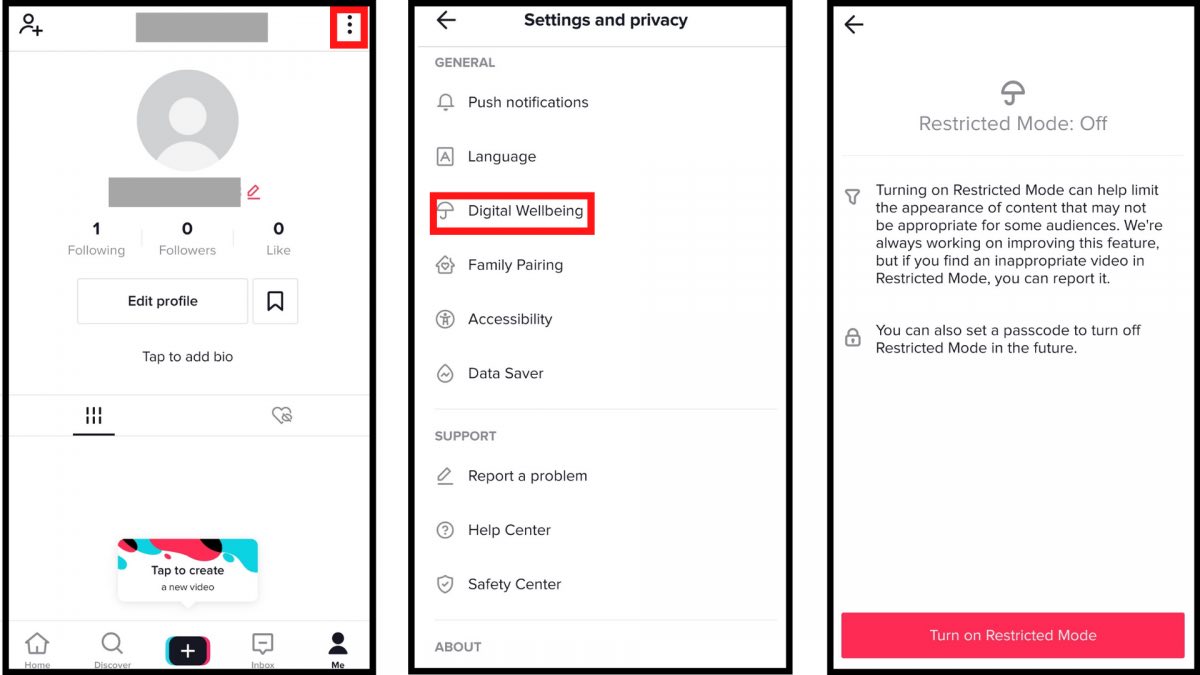 Report
The Restricted Mode can help limit the appearance of content that may not be appropriate for some audiences. TikTok is working on improving this feature. If you still find inappropriate videos after enabling Restricted Mode, you can report the videos. You can also report a comment, a direct message, someone, an issue etc. To report a video in TikTok app:
1. Go to the video you want to report.
2. Click the Share button in the bottom right.
3. Select Report and select the reason why you want to report this video. Provide screenshots and describe.
4. Click Submit.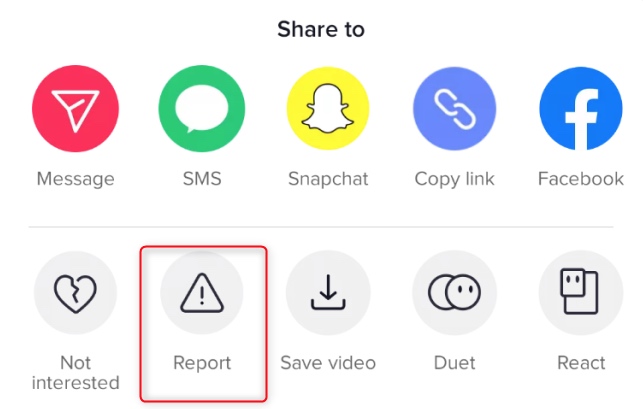 If you want to block someone on TikTok, go to this person's profile. Also tap the 3-dot icon at the top. Tap Block.
Screen Time Management
Maybe you are worrying about your child addicted to TikTok. TikTok's Screen Time Management feature allows users to limit the time they spend on the platform each day. If you found your child be difficult getting off once starting scrolling videos, this feature will help you. To set Screen Time Management with password on this app:
1. Tap on Profile on the bottom-right corner.
2. Click the 3-dot icon in the top right.
3. Tap on Settings and privacy > Digital Wellbeing.
4. Select Daily screen time and set a time limit (you can choose between 40,60,90, or 120 minutes).
5. Tap Turn on Screen Time Management.
6. Set a password and click Next. (If you have already set the password in Restricted Mode, it'll be the same password.) Once reaching the time limit, TikTok will ask for the password to continue enjoying videos.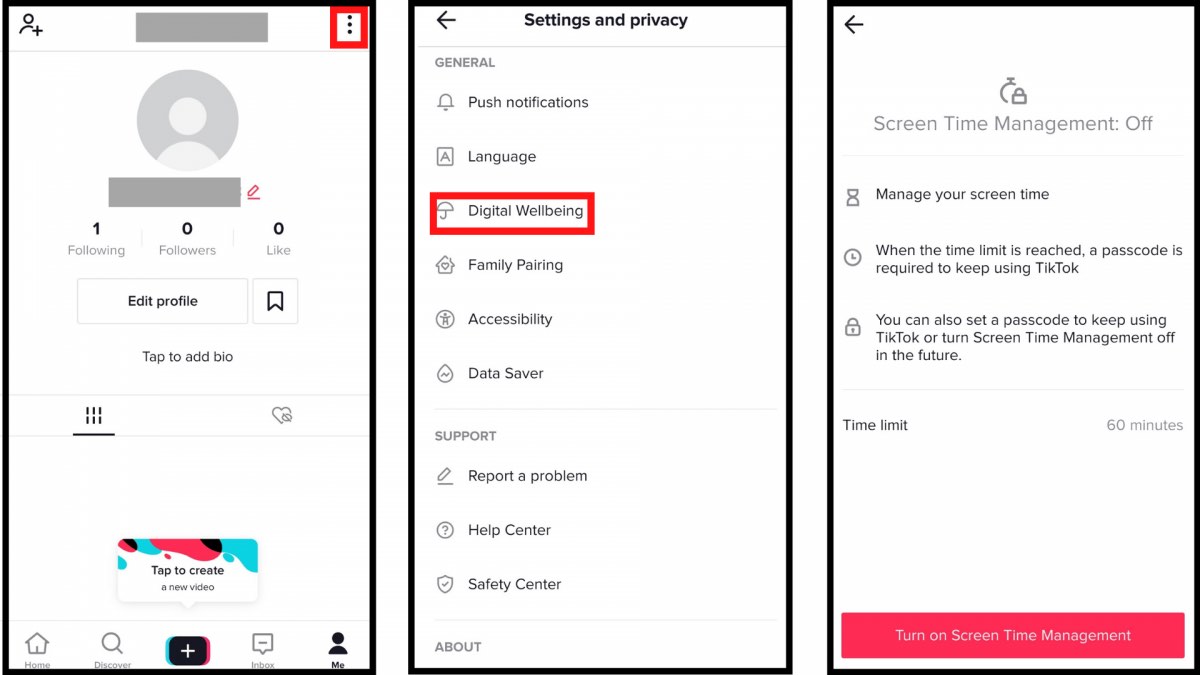 Conclusion
TikTok is designed to keep you on the app by pushing content according to your interest. We are always addicted to it and reduce our work efficiency. Children need a healthy Internet environment to develop correct values. It's necessary to put parental controls on the social media apps they frequently use. This article introduced how to block TikTok on computer, on iPhone and router. Also you can find how to put parental controls on TikTok in the latest section. I hope they're useful.