These days, we deal with PDF files a lot, since PDF is a highly flexible format that can be easily viewed and manipulated on different devices. To enrich a PDF document, we may need to add hyperlink to the PDF for accessing to online resources. Many users deem Adobe as the only way to add a hyperlink to PDF, but there are alternatives to add hyperlink to PDF without Adobe.
Add Hyperlink to an Editable PDF
Convert native, scanned and password-protected PDF to any editable format for adding hyperlink
Export PDF in a wide range of formats, including DOCX/DOC
Scan and recognize PDF documents or images for 27 languages
Enables conversion of multiple PDF files simultaneously
Create PDF files from presentations, sheets, documents, eBooks, etc.
Quickly to upload, convert or merge files to PDF

Free Download
Reasons to Add Hyperlink to PDF
Internal link: If you link table of contents to pages or any other text in PDF, your readers will be navigated to the particular sections within the document, which makes your document more intuitive for readers and saves their time.
External link: Sometimes a PDF document needs to expand information, in this case, you can lead the website where readers can obtain more details. Why not straightway typing a link text of the page?You know, it's not that convenient and looks amateurish.
Add hyperlink to PDF with Adobe if you have installed
Adobe Acrobat series are always good solutions to manage PDF files. You will be allowed to edit the PDF freely within the program, add PDF text, delete sentences, change font size, add page numbers, add hyperlink, etc.
Steps to Add Hyperlink to PDF with Adobe
Open the PDF in Adobe Acrobat DC
Go to Tools>Edit PDF>Link. Choose "Add/Edit Web or Document Link" and drag a box to add the hyperlink to where you want to.
Then save the file and the hyperlink is added to the PDF.
Add hyperlink to PDF without Adobe in Word
If you are a Microsoft Word user, you may have noticed that Microsoft Word 2016 and Office 365 allow inserting PDF into Word, once the PDF is opened in Word, you will be allowed to edit and add hyperlink to the file.
Steps to Add Hyperlink to PDF in Word
Open the Microsoft Word 2016.
File>Open to upload the PDF, a dialogue will prompt as following, click "OK" to import the PDF.
You will find the file is editable, and add the hyperlink as needed. Then, export the Word file as PDF, you will find the hyperlink is added to your PDF.
Note 1: According to the feedbacks, the original layout of inserted PDF may be changed in Microsoft Word 2016. So, before you add hyperlink to PDF free in Word, you'd better manually adjust the formatting.
Note 2: For users who installed Microsoft Word 2007, 2010, 2011, 2013, etc., you can't open the PDF file in Word directly. The only method is to insert it via object. Worse yet, you are not capable of editing the inserted PDF, but to convert PDF to DOCX/ DOC format previously.
Alternatives to Add Hyperlink to PDF in Word
Unlike Microsoft Word 2016, a PDF converter can convert PDF to editable Word, or other formats, with original PDF file quality reserved. It means, you can convert any PDFs, native or scanned, to editable formats at first, and then add hyperlink. Two PDF programs are recommended as following for Mac and Windows users respectively.
For Mac Users
Cisdem PDF Converter OCR is recommended due to its excellent performance on doing OCR accurately and instantly. This PDF OCR Software for Mac is designed to create editable PDF or documents in other editable formats (Word, Excel, Txt, PPTX, Keynote, Pages, ePub, HTML, etc.) from PDFs. It supports batch conversion and can read file in 27 languages. More than this, you can use this tool to create PDF from Microsoft Office Files, HTML, CHM, ePub, Image, etc with original file quality preserved, also you can customize the PDF size and quality as needed.

Free Download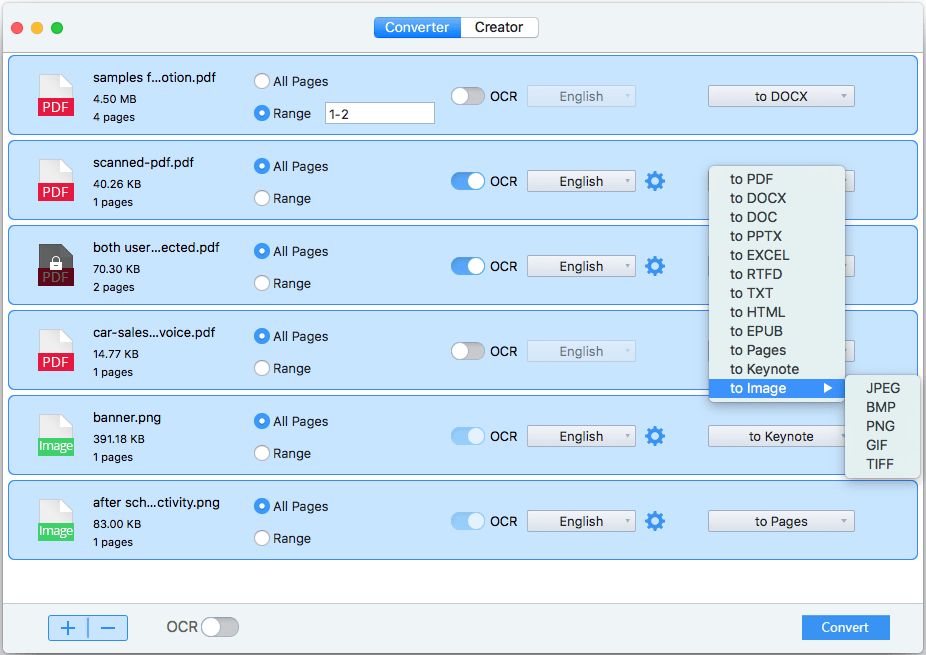 Pros:
Add hyperlink to scanned PDF
High quality PDF –to- Editable formats outcome
Batch making PDF in editable formats
Multiple output formats
Extended features: Create PDF, Protect and Unprotect PDF, Compress PDF
Affordable price
It's possible to add hyperlink to PDF free on Mac Preview?
A user said in Apple Discussion, people can insert links in Preview through these steps: open PDF in Preview> go to Tools/Annotate/Text > type link address. I test the method on macOS Mojave 10.14. It does can add links to PDF on Mac, but the link is not clickable.
For Windows PC Users
Readiris 16 for Windows is a multifunctional PDF tool. It can directly add hyperlink to PDF, also enables users to compress, organize and edit the file within the program.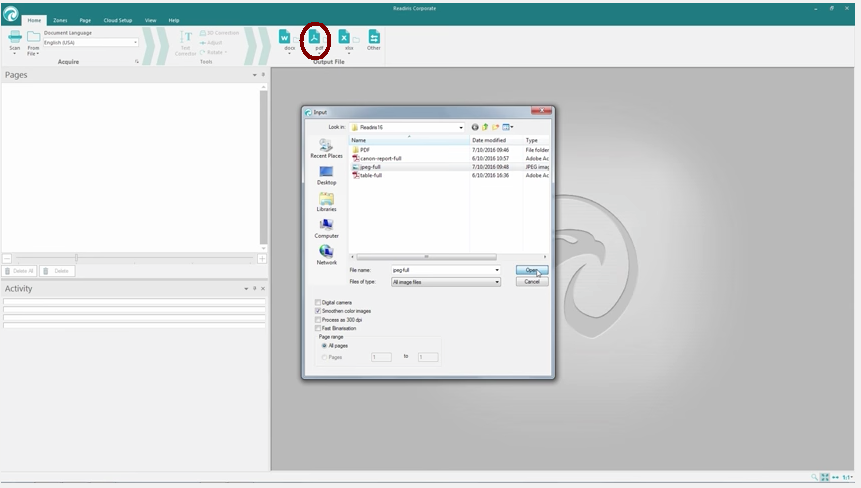 Pros:
Directly edit PDF within the program
Even more surprising, there are tons of robust programs supporting to insert hyperlink in PDF on Windows, such as PDFelement and Bluebeam, both of internal and external links included. To add hyperlink to PDF with Bluebeam, check out the step-by-step guide here.
How to Add hyperlink to PDF Online?
Still, you can add hyperlink to PDF online without any software. In this case, you will need a free PDF editor. Here we take PDFescape to demonstrate how to add hyperlink to PDF for free.
Steps to Add Hyperlink to PDF Online Free
Go to PDFescape.
Upload the PDF you want to add hyperlink.
Choose Link and drag a box onto the text that you want to add hyperlink.
Save and download the PDF with hyperlink added.
Can we add hyperlink to PDF free in Photoshop?
You are able to insert hyperlink in PDF via Photoshop, but the output format should be HTML.
Steps to Add Hyperlink to PDF in Photoshop
Open a PDF file in Photoshop.
Right-click the Crop Tool in the toolbar, you will see the Slice Tool, just click on it (keyboard shortcut C).
Draw your selection in the PDF file, and right-click to select "Edit Slice Options".
In the opened dialog box, enter the URL you'd like to link to it and click "OK".
Go to File > Export > Save for Web (Legacy).
In the pop-out box, select either JPG or PNG options, and click on "Save".
In the "Save for Web" window, type in your file name. And select "HTML and Images" from the Format dropdown. Finally, click "Save".
How to add hyperlink to PDF on iPhone & iPad?
PDF Expert for iOS is a high-profile and comprehensive PDF editor. When you are reading a PDF file, a set of editing tools enabling you to modify text & image, add hyperlink to PDF, redact information and create outlines on iPhone & iPad.
Steps to Add Hyperlink to PDF on iPhone&iPad
Open the PDF file in PDF Expert for iOS.
Tap the edit button on the top toolbar.
Drag the area where you intend to add hyperlink to PDF without Acrobat.
Type the website.
Conclusion
So, Adobe is not the only solution to add hyperlink to PDF, you can utilize Microsoft Word, PDF Converter, even online free PDF editors to add hyperlinks. But when using online free tools, you'd better give a second thought, uploading files to online server will bring potential risk of information leakage. If you are dealing with confidential files, pay for a powerful PDF editor, or get a PDF Converter to make PDF editable in Word, then add hyperlink or any other contents you are allowed to add.

Connie Wisley


Connie has been writing for Mac productivity and utility apps since 2009. Each review and solution is based on her practical tests, she is aways energetic and trustworthy in this field.