FLAC audio files earn users' strong support because they compress the audio with lossless quality. What disappointing is that FLAC is not compatible to Apple devices such as iTunes, iPhones, etc.. However, unlike converting FLAC to MP3, converting FLAC to M4A(alac) will get the same lossless file without quality loss. Therefore, you can enjoy the impeccable FLAC files on Apple devices. In this article, you will know how to batch convert FLAC to M4A without losing quality on Mac and Windows easily.
Best FLAC to M4A Converter for Mac and Windows
Convert 600+ popular formats with simple steps, including FLAC and M4A
Change FLAC to M4A quickly with incredible fast speed
Support batch conversion
Get a smaller file to save space after conversion and cause no damage of the quality
Compatible to different devices such as Apple devices, Android devices, game consoles, etc.
Provide many features to customize the files before conversion like cutting, adjusting volumes etc.
Allow to merge several clips into a complete file
Offer a built-in media player
Can also be used as a versatility tool for ripping DVD or downloading videos and music from 1000+ websites safely and quickly
Supported system: macOS 10.12 or later, and Windows 7/8/10/11

Free Download

Free Download
What is FLAC and M4A?
FLAC is the abbreviation of Free Lossless Audio Codec that is an open source audio coding format, which can compress the digital audios lossless. Actually, we could regard FLAC as the high-definition version of MP3 while the compressed FLAC file is smaller 50% to 70% in size than WAV.
M4A is a container format using MPEG-4 compression technology, which is developed by Apple. It can used for both AAC (lossy) and ALAC (lossless) codecs. So when you need to convert FLAC to M4A, you actually convert FLAC to AAC or ALAC. By converting FLAC to M4A(AAC) you will convert the lossless audio to a lossy audio will means quality loss, by converting FLAC M4A(ALAC) you get the same lossless audio file which almost at the same quality.
Why need to convert FLAC to M4A?
The short answer is iTunes. The longer answer is Apple ecosystem. FLAC is not supported by iTunes, Apple Music and devices. If you use iTunes to manage you music library. You have subscribed Apple Music or iCloud Music library, you have no choice but converting FLAC to Apple supported formats like M4A. In this way you can still listen the FLAC and don't have to change the way you used to.
Many people prefer converting FLAC to M4A online because they don't bother to download a third-party tool. Actually, using online converters has more disadvantages than advantages when you use. For example:
Online converters damage the original quality after conversion.
Most online converters is not support to convert several files in batches.
Most online converters can't edit the file message before conversion.
Online converters convert the files slowly when the file is large.
But a professional desktop converter doesn't have all of the above problems because of the powerful and stable technology and database support. Therefore, we will introduce some excellent desktop converters in the following to help you do a satisfied conversion.
How to convert FLAC to M4A without losing quality on Mac/Windows?
Cisdem Video Converter (Mac and Windows)
If you want to find a preeminent FLAC to M4A converter, Cisdem Video Converter is such a professional software that can batch change FLAC to M4A on Mac and Windows quickly and safely. With the built-in media enhancer, it ensures to give you a fast and reliable conversion experience that won't diminish the quality.
If you apply this best FLAC converter to make conversions among videos, you will be granted with more considerate features, such as cropping the unwanted part of the video, rotating the video to a suitable place, adjusting video effects, etc. In a word, welcome to use this reliable converter to make various conversions.
Advantages:
Support a wealth of input and output digital formats
Support bulk conversions
Offer a fast speed to deal with audio files
Provide diverse editing features to customize the added files at will
Can also rip DVDs and download online videos
Easy to use with the user-friendly interface
Disadvantages:
Cannot edit the audio parameters of all files at once
How to batch convert FLAC to M4A in lossless quality on computer with Cisdem Video Converter
1. Download and install the software on the official website. Here, we take the Mac version as an example.


Free Download

Free Download
Launch it on your computer, stay at

section to convert.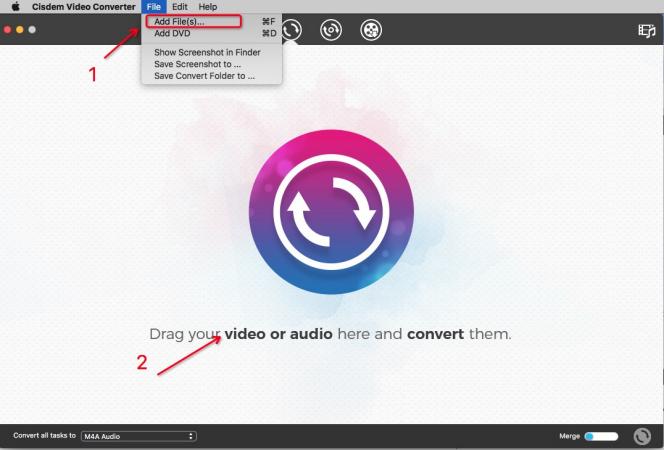 2. Upload the FLAC files by clicking "File > Add File (s)..." on the main menu, or simply drag and drop the FLAC files into the surface. As it offers a batch-processing feature, you can add more files to the interface according to your mind.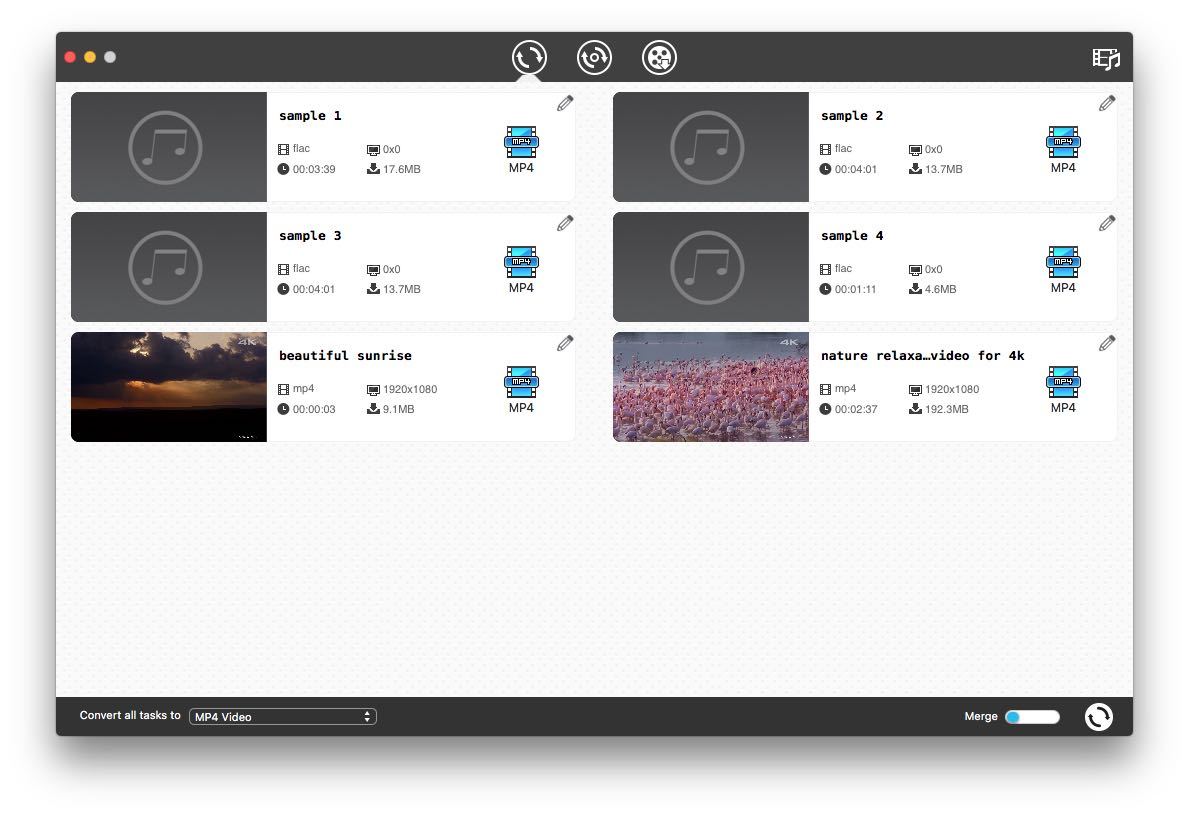 3. After uploading the FLAC files, hover your mouse to the bottom left corner of the interface, click the "Convert all tasks to" box and choose "General Audio > M4A Audio".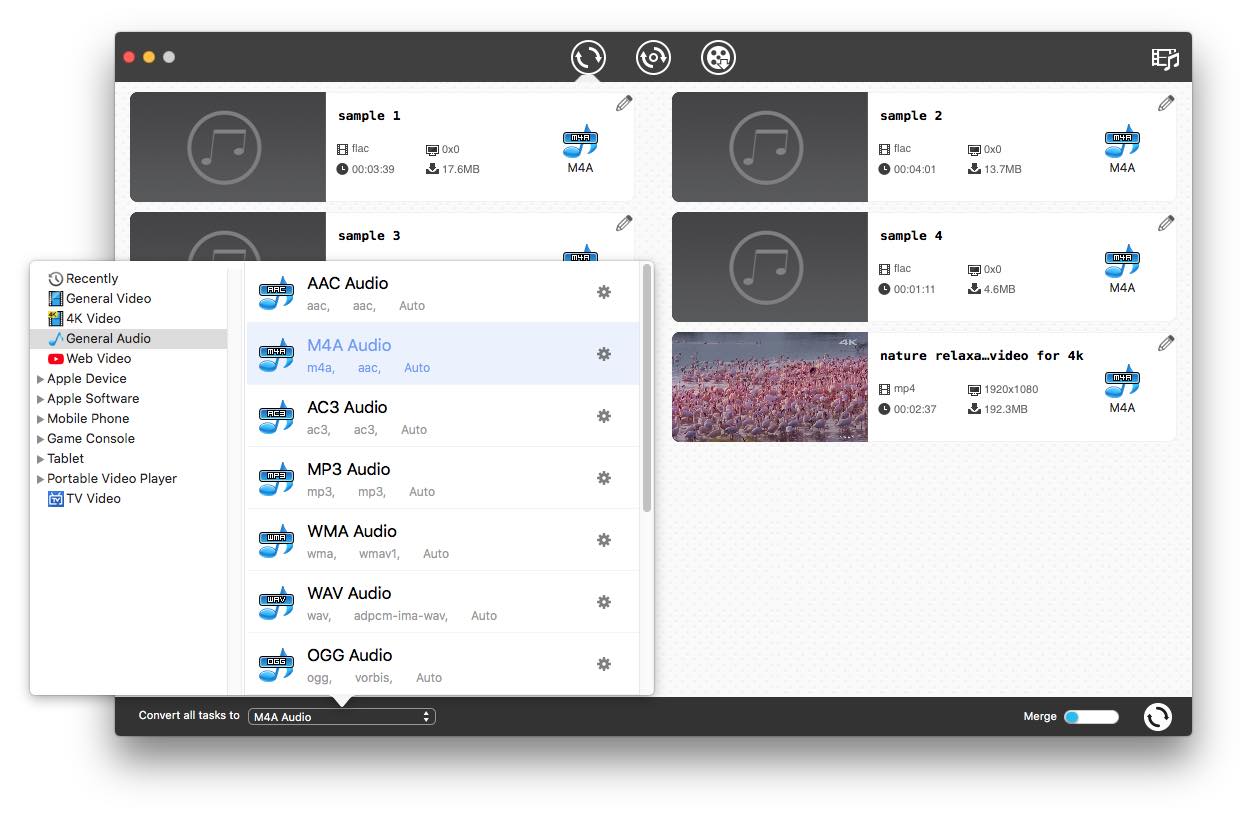 4. If you are a software master, you can click

to make an advanced setting to the audio codec and setting Quality as High.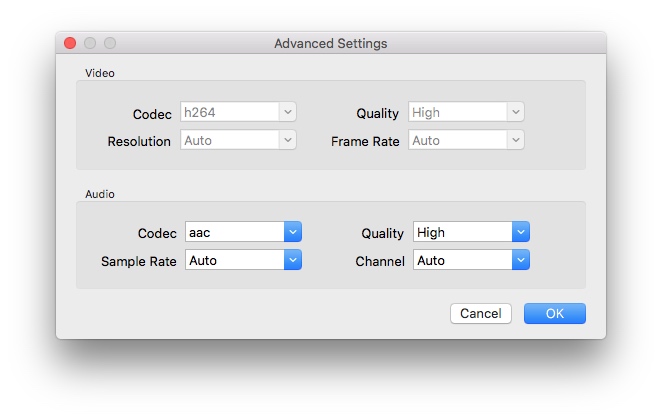 5. Besides, you can also click

icon at the top right corner of the thumbnail to design a preferable audio file that fits your need.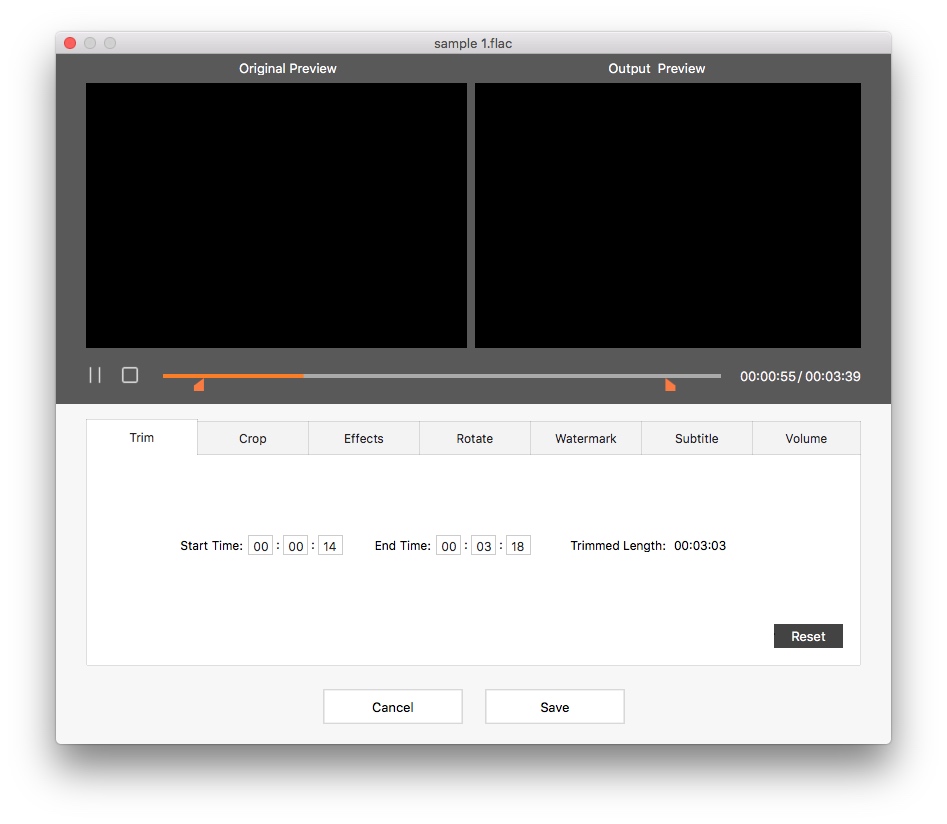 6. Finally, you can choose the save destination by clicking "File > Save convert folder to..." on the top main bar. Then, simply click

button at the right corner to convert all the files.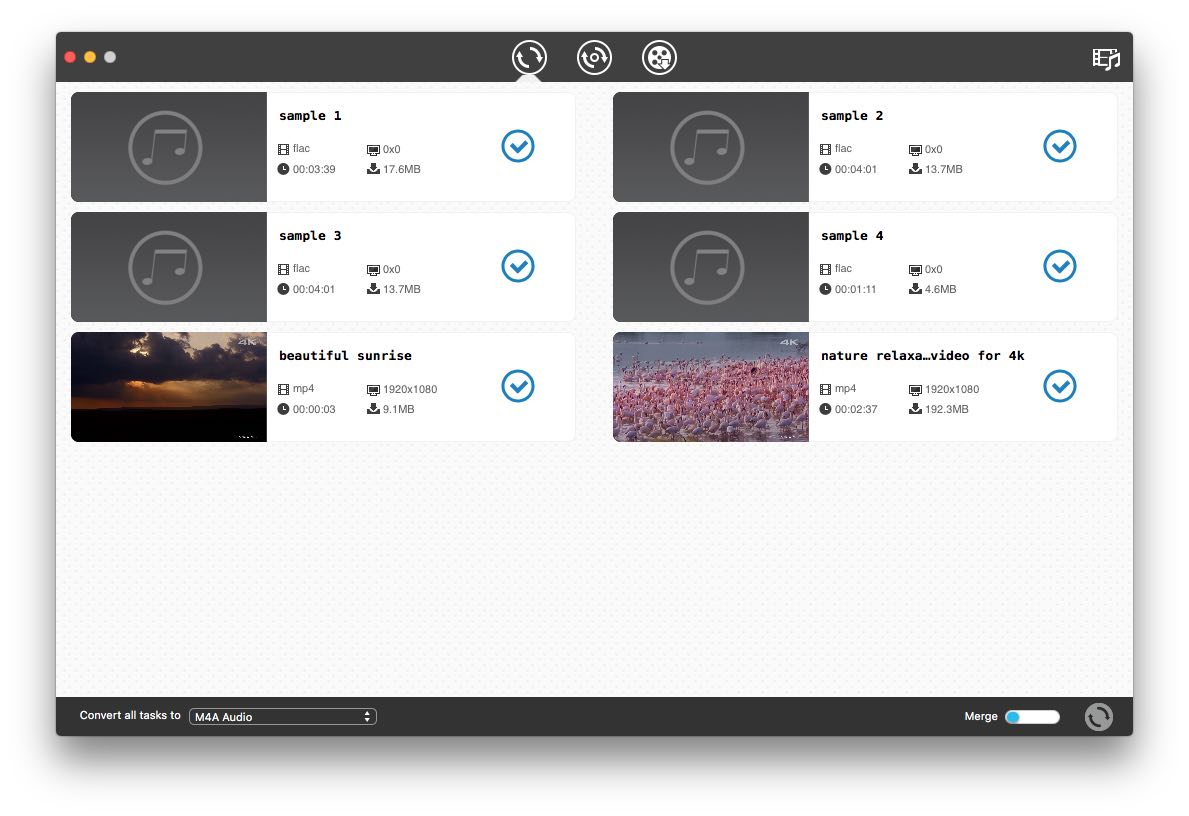 After converting, you can click

to find the just converted file on your device, or you can directly go to the destination you have set to find them.
How to convert FLAC to M4A free?
Fre:ac
Fre:ac can convert FLAC to M4A and other popular audio formats and encoders on Mac for free. Comparing to other converters, Fre:ac is a portable application that you can install it on a USB drive and use it anytime and anywhere. If you save all the features before you close Fre:ac, its system will memorize your operation and it is convenient for you to use it with the original data when you open Fre:ac again.
Besides, someone may be confused that there is no option with the word "M4A" when they use Fre:ac to convert FLAC to M4A. Don't worry, we have known that M4A is saved in the MPEG-4 format and encoded with either the Advanced Audio Coding (AAC) codec or the Apple Lossless Audio Codec (ALAC). Therefore, at this point, you can select the "core audio AAC/ALAC encoder" as the output format when you do the conversion.
Advantages:
Free and open source
Support batch converting the files in a fast speed
Can rip CDs
Support 43 languages that is friendly to people from different countries
Disadvantages:
Only support a few formats than other converters
The interface is not friendly to new users
How to convert FLAC to M4A free with Fre:ac
1. Download and install the application on your computer.
2. Open it and click add files icon to select a FLAC file for converting. Then it will form a thumbnail of the file.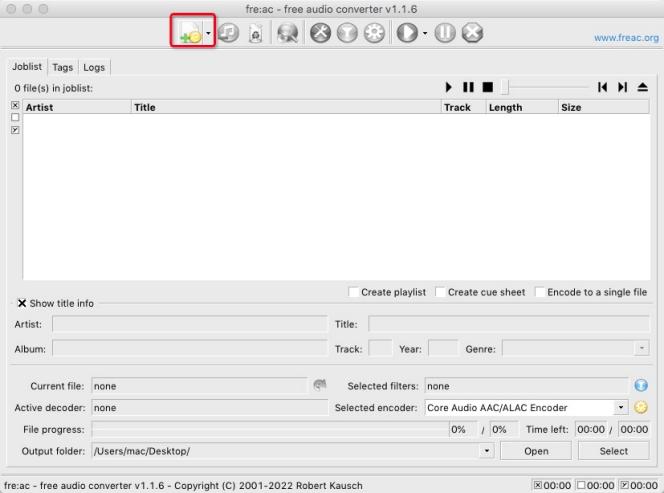 3. Click the drop-down menu of "Selected encoder" box to select the "Core Audio AAC/ALAC Encoder" as the output format. Besides, you can also click the "Output folder" to set the output destination.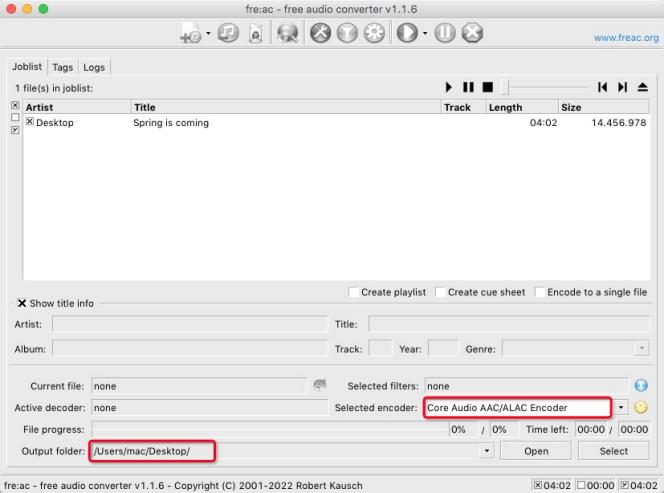 4. Once done, click

icon to begin the conversion. And you can see the process of the conversion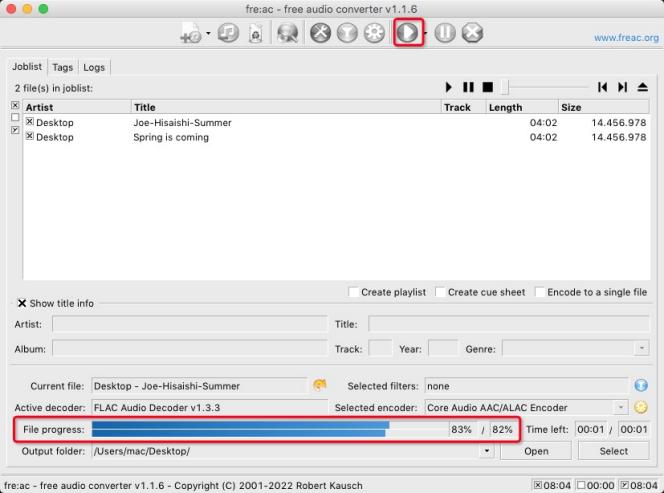 Freemake Video Converter
Freemake Video Converter is well-known as one of the best converters for Windows, which is a free and professional FLAC converter that can convert 500+ video and audio formats with some useful features, such as cut and merge the files. It works compatible with different devices such as Apple iPhone, iPad, Google Android, Huawei and more. Besides, it is a all-in-one converter that can also burn DVDs and make photos slideshows.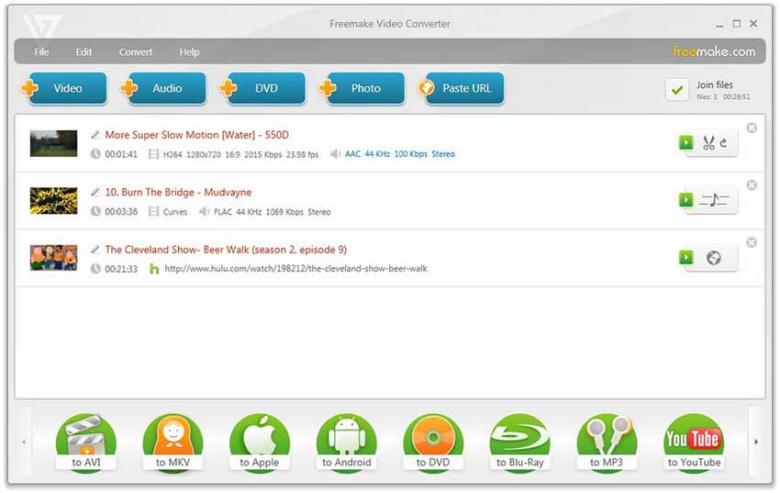 Advantages:
Free
Offer an according online version for converting FLAC to M4A free online one by one
Can rips & burns DVDs
Disadvantages:
Not speedy for conversion
Only work on Windows
How to use Freemake Video Converter for converting FLAC to M4A free
Download and install the application on your computer.
Open it and click "+ Audio" to select a FLAC file that you want to convert. It will show your the thumbnail of the file on the interface right away.
Choose the format of "M4A" on the bottom line.
Click "convert" to start the conversion.
How to convert FLAC to M4A online?
Zamzar
Although online converters don't work greatly than desktop converters, there still are some great online FLAC to M4A converters on the market for you to choose from. And Zamzar is exactly such a superior online converter that offers a comparatively faster speed than similar products. But, the speed can become slowly when the internet connection is unstable. Besides, It has a simple interface, making it pretty easy to use for users. However, it only allows you to convert FLAC to MA4 one by one. If you have several large files to convert, you'd better ask help for other tools.
Advantages:
Support to convert 1200+ file formats
Send email to users when the file is done
Easy to use with only 3 steps
Disadvantages:
Can't batch convert several files at one time
Only offer a free maximum of 50MB
Offer no editing features
Cannot allow users to select the output audio quality
How to convert FLAC to M4A online free with Zamzar
Search the Zamzar official website on your browser and head to it page. Click "Add Files" and choose a FLAC file on your computer, or you can choose other way you want through Box, Dropbox, Google Drive and OneDrive.

Click the drop-down icon of "Convert To" in the middle to choose M4A as the output format.

Directly click "Convert Now" to start the conversion. Also, you can see the process of conversion at the bottom. After done, you can click "Download" the save the M4A file on your computer.

After done, it will bring you to a new page with converted M4A file. Click "Download" to save the M4A file on your computer.
Convertio
Convertio online converter is a safe website to convert FLAC to M4A online that will delete the uploaded files automatically after 24 hours. Unlike most online converters, it provides customizable setting to users, which allows users to edit the related information of the file, including file quality, aspect ratio and other settings. In addition, Convertio is a rare online converter that supports batch converting files and is one of the fastest online converters .
Advantages:
Works for all platforms

Support batch converting the files

Offer some easy editing features to modify the file

Easy to use
Disadvantages:
Work slowly with the large files
Convert less file formats than converters
Only allow free users to batch convert files up to 2 and can't move to convert another 2 files automatically when the current conversion is done
How to convert FLAC to M4A online free with Convertio
1. Head to Convertio official website and click "Choose Files" to upload an FLAC file. If you want to convert several files at the same time, you can click "Add more files" to upload other files.
2. Click the drop-down icon of "Convert all to" select the output format with M4A.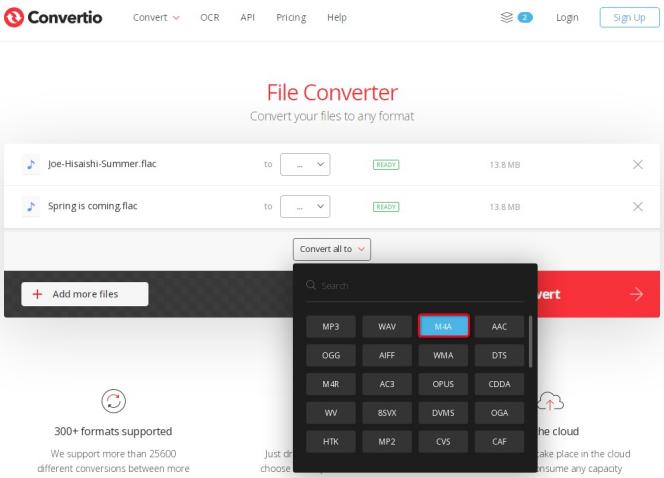 3. Once the output format is selected, the editing icon that looks like gears will appeal in the right side automatically. So, if you want to edit the file before conversion, click

to make related change.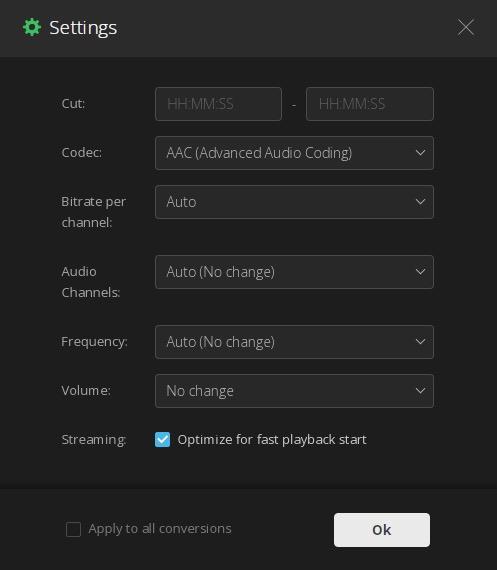 4. Finally, please click the red "Convert" button at the right corner to start the conversion.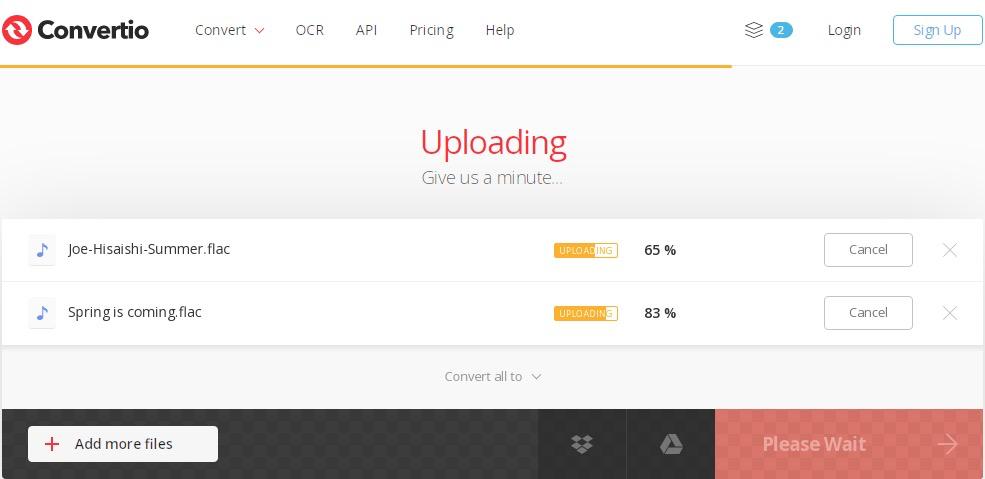 5. After done, click "Download" to save the M4A file on your computer.
How to convert FLAC to M4A via command line?
FFmpeg
Using command line to is also a practical solution to make conversions you want. FFmpeg is such a free and open-source program that utilizes command lines to convert and stream various audios, videos and other multimedia files. It is easy to operate and works fast. But, if you don't figure out the different command lines, it will be a little bit hard for you.
Advantages:
Make conversions in bulk
Can also edit the audio parameters by inputting related command lines
Disadvantages:
Not easy for novices
Steps on how to convert FLAC to M4A with FFmpeg:
1. Free download and install the right version of FFmpeg.
2. Launch Terminal or Command prompt on your computer.
3. Input the command line: ffmpeg -i inputfile.flac outputfile.m4a. Then the Terminal will work as the below picture shows.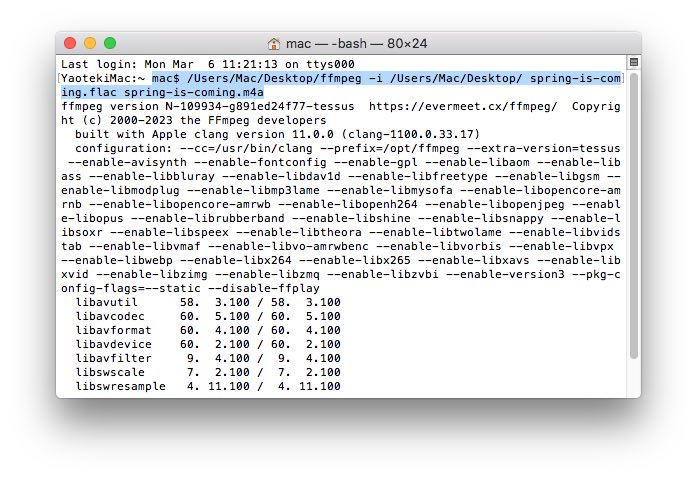 If it doesn't work, you can add -acodec alac between two file formats to make a lossless conversion. Then the command lines becomes to: ffmpeg -i inputfile.flac -acodec alac outputfile.m4a.
4. Hit on "enter" on your keyboard to start the conversion right away. Once done, the new M4A file will appear in your appointed destination.
Conclusion
People usually tend to choose free converters. However, if you need to convert FLAC to M4A files frequently and have an urgent demand for high quality, paid video converters are highly recommended as they can provide you with a better experience. For example, professional converters have high requirement in quality, can convert almost all video and audio formats, can batch convert the files to save your time, provide many customized features and more merits. Of course, you can make a choice with your mind. I wish that it will help you to find a suitable one after reading this article.