This article mainly talks about how to find similar songs to the ones you like. If you like certain songs, chances are good that you will also love the ones that are similar to them. It is definitely a great way to find new music. Thanks to the development of technologies like machine learning algorithms, nowadays it's can be easy to find similar music using similar song finder.
The Best Duplicate Music Finder
Find duplicate songs in iTunes, Music and folders
Also find duplicate photos, videos, documents, archives and other duplicate files
Find and eliminate duplicates on computer, external HD, SD card, cloud, etc.
Identify true duplicates based on content
Automatically and smartly select duplicates for you to delete with 1 click
Also offer multiple rules for you to customize the selection
Offer 3 preview modes, letting you preview music within the app
Easy, accurate and safe to use
Help free up storage space and speed up your computer
Help better manage your music collection
Available for both Windows and Mac

Free Download

Free Download
Top websites and apps to find similar songs based on music you like already
To find similar songs based on the music you have, you need to use some music streaming app or a similar song finder? They all works in the same way for you to find songs similar to another song. Put in your music or music playlist, then they'll run their similar song finding algorithm, after a while, you'll get a list of the similar songs.
As different app uses different similar song detecting algorithm, the similar songs you get may vary greatly by apps you use, and thus make it all worth exploring. And here we have a collection of the best similar song finder on the market. Just check them below!
Top best similar songs finder
#1 spotalike.com
Spotalike is one of the similar songs finder tools, which can find similar songs according to given favorite song track. Just enter and choose your song track, wait for a while and then it will serve up a sweet Spotify playlist with similar songs that you'll love! The app works very will at finding similar songs, the only problem is that the song you enter has to be popular to find similar music.
Steps on how to find similar songs with spotalike.com
Step 1. Open spotalike.com in your browser, and enter the name of the track which you like to find similar songs.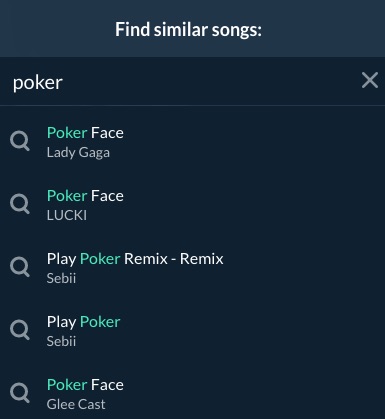 Step 2. While you entering the name of the song, it will give you some suggestions, which is very handy.
Step 3. It will start finding similar songs based on the music name you provide. And list you a playlist after awhile. You just need to click the button to add the playlist to Spotify.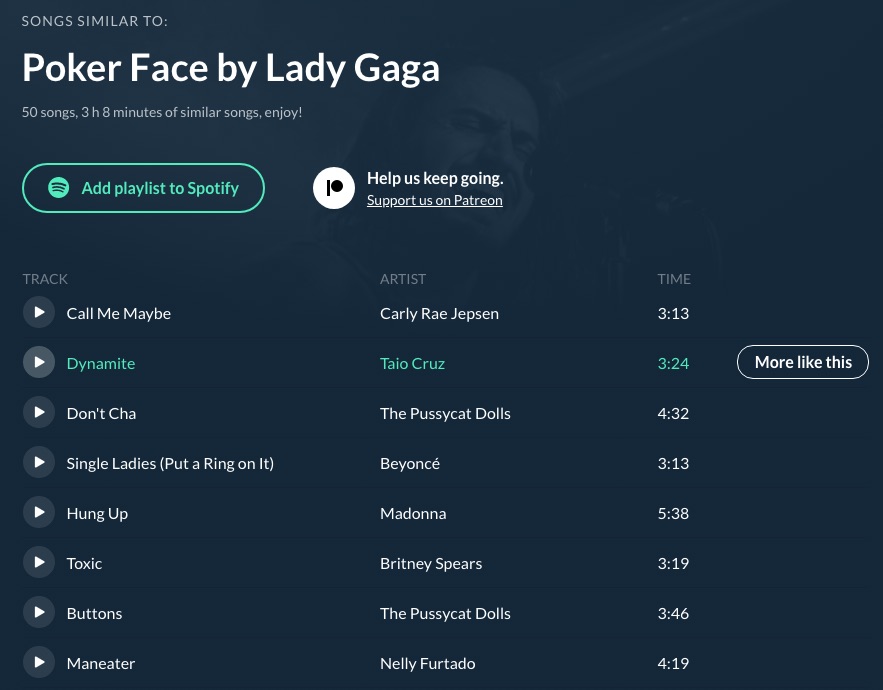 Click on More like this next to one of the list, Spotalike will further help you find similar songs for you and better match your preferences.
#2 Shazam
Shazam is a versatile, easy to use tool that allows you to easily find similar songs and also to identify a song by sound. In addition to installing and using the Shazam app on an iPhone or Android phone, you can also visit its website. Below is how to use it to find songs similar to others online.
Step 1. Go to https://www.shazam.com/. Type a song title in the Search for music box in the top right corner of the page.
As you type, this similar song finder will automatically start searching the song in its library and then list the related songs and artists below the search box. It's not uncommon for two or more songs to have the same title. In whatever case, you should have no problem finding the song that's in your mind.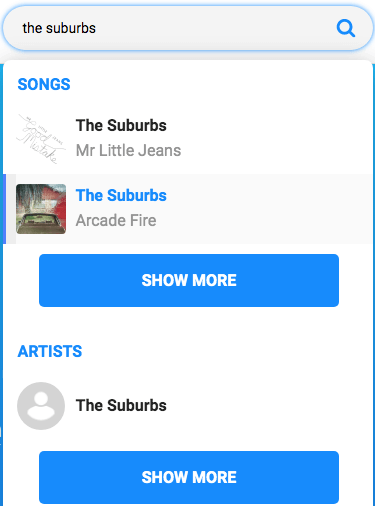 Step 2. Click the song, and you will be redirected to a new page where you can find the music video, lyrics, top songs by the same artist and, of course, a list of similar songs.
You can click the SHOW MORE button to find still more similar songs.
#3 tunebat.com
The site is a place for DJs, producers and music lovers to find song info like key and BPM. It can also be used to find similar songs. Just enter the title of your favorite song and hit Enter. From the results, click the song. Now you can find information like key, duration and BPM. Below are the recommendations of similar songs. They are listed because they have beats, tempos and Camelot values that are similar to the given track.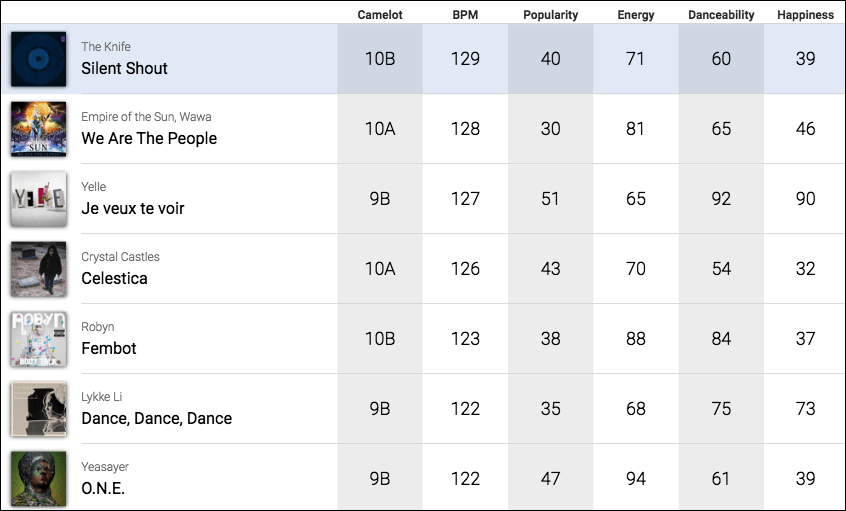 #4 chosic.com
Chosic provides great free online music tools. Its Similar Songs Finder tool is quick and easy to use. Another great thing is you can control how this tool identifies similar music by fine-tuning options such as energy, mood and danceability.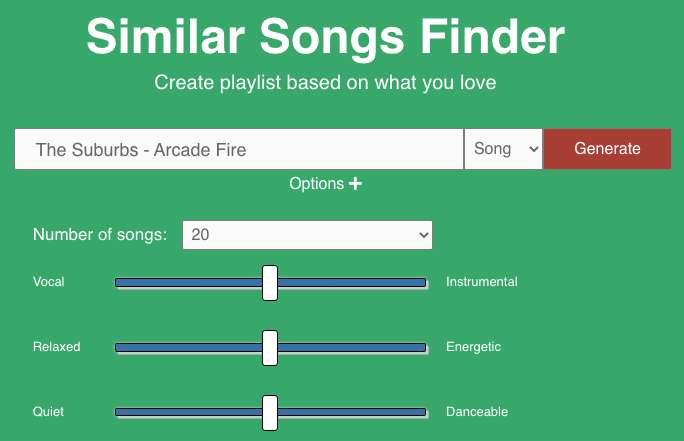 Chosic will generate a list of songs similar to a given song within a few seconds. The Save on Spotify feature allows you to create a Spotify playlist out of these songs with just a click. Also, you can easily play them via YouTube.
#5 MusicID
Are you looking for a mobile app to find similar songs? MusicID may be what you want. Available for both iOS and Android, the app can be used to identify the song that is playing near you and also to explore similar songs. It makes the recommendation based on a song's artist, genre, vibe and more.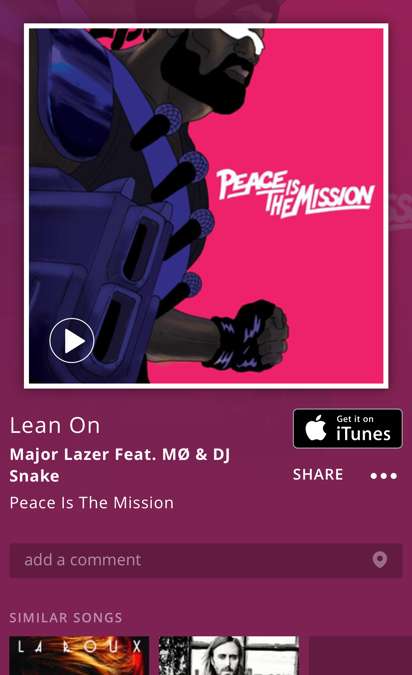 #6 songslikex.com
This is another easy-to-use website to help people find similar tracks. It only takes two super easy steps. Type the song name, and you will see a list of songs with the same name. From the list, select the right song, and you will be presented with a list of 50 songs that are similar to the song you specify.
Note that the lists of similar songs are randomly generated. You can get different lists of similar songs even if you try with the same song. The Save with Spotify feature on this website allows you to easily save your favorite lists as a Spotify playlist.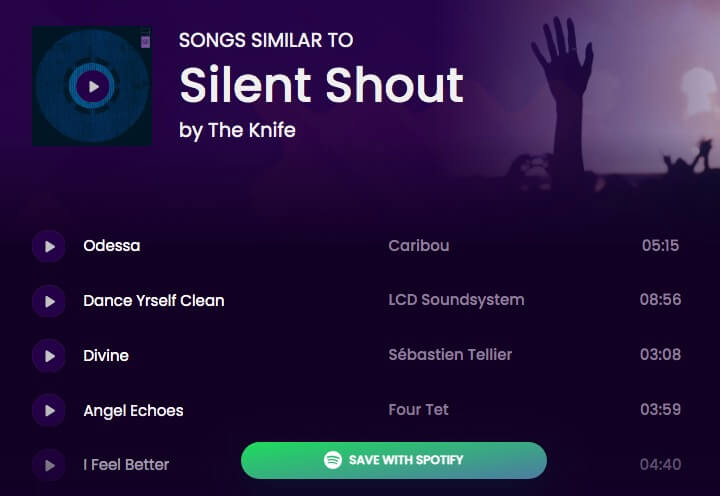 #7 samethattune.com
As the URL indicates, Same That Tune can find similar songs by tunes. In the homepage, it shows a list of songs with the similar ones. And it allows you to browse and search thousands of side-by-side song comparisons, or create your own. To find similar song, you need enter your love song in the search blank field, and click Search, and then it will list the results for you, click the second URL and it shows the similar song. Note that the site is a bit slow.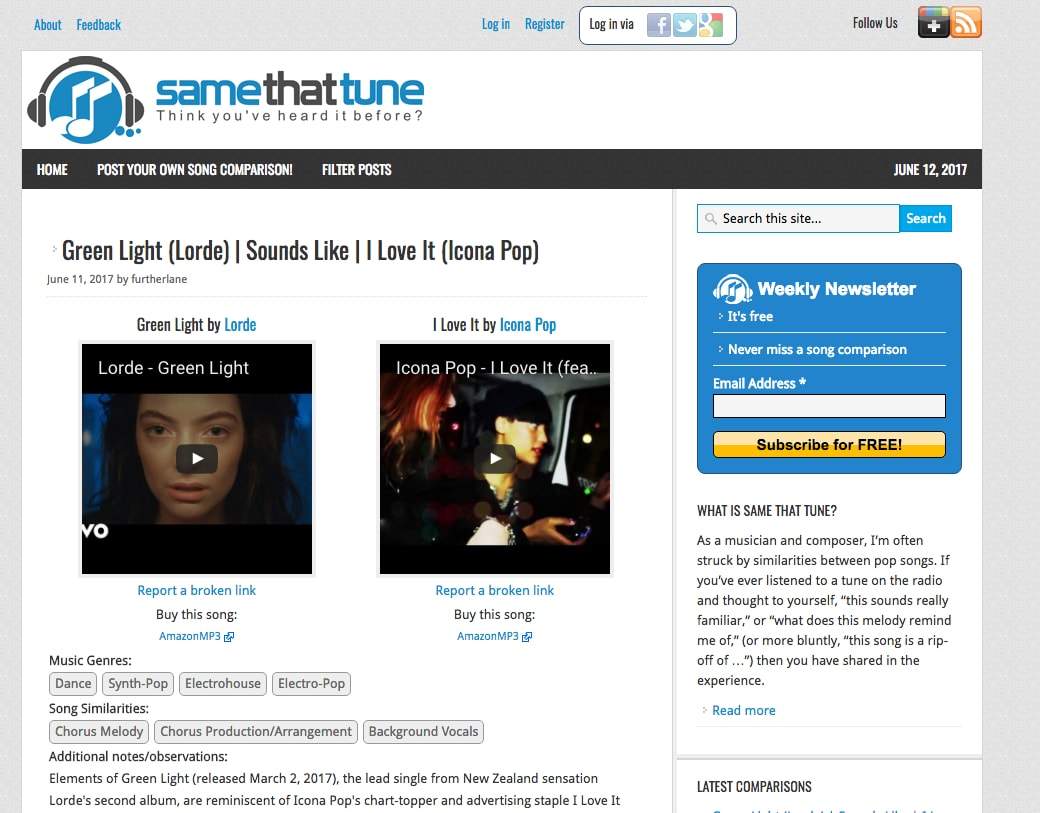 #8 Last.fm
Last.fm is one of the most popular and recognizable music websites. It features tons of music from Spotify, Deezer, Google Play and more. It's free to use and has an algorithm to find similar songs of the same genre, year, and style. Also, the sound quality is really good on Last.fm.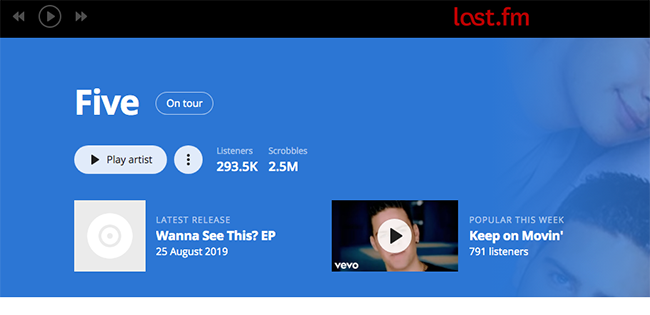 #9 Gemtracks
Gemtracks is a music industry marketplace that offers original songs and music production services. Its Find Similar Songs feature helps users find songs similar to a specific song. It uses machine learning and artificial intelligence technology to analyze elements of the song's pitch, rhythm, melody, and lyrics, and then do the similarity matching with other songs. Users only need to enter the name of the song, then Gemtracks will shows a series of song recommendations with high similarity. In addition, it will give a brief introduction to each song, including composer, duration, mood, style and more. The only downside is that this site has too many ads, which are annoying.

And there are also other services to find songs similar to ones you like, including If You Dig, Live Plasma, etc. You can try them to find more similar songs that you like.
How to find similar songs on Spotify, Apple Music and more
#1 Spotify
These days, streaming is the dominant way of listening to music. How do I search for similar songs on Spotify, the streaming music giant? There is more than one way to discover similar tracks on Spotify.
Find similar songs on Spotify via Start Radio
Spotify offers a Start Radio feature through which users can easily discover tracks similar to a given song.
Step 1. In Spotify, hover your mouse over a song.
Step 2. Click the three-dot icon that appears and select Go to song radio. And Spotify will start playing a similar song. It's that easy.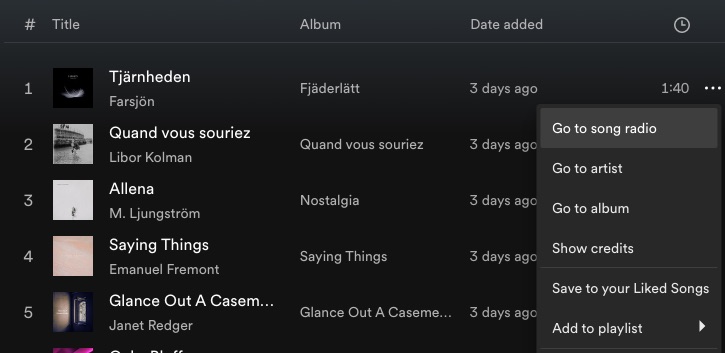 The algorithm that this feature uses to find similar songs is not revealed. It seems that it's mainly based on genre.
Discover similar music on Spotify by exploring Daily Mixes
A couple of years ago, Spotify introduced the Daily Mix feature. It is a series of playlists that are generated based on what you have been recently listening to on their service. Navigate to Home or Your Library, and you can easily find them. It's a great way to find songs similar to what you like.
They regularly update the algorithms to bring better results that users could be happy with. It takes about two weeks for Spotify to learn your music taste and recommend similar music.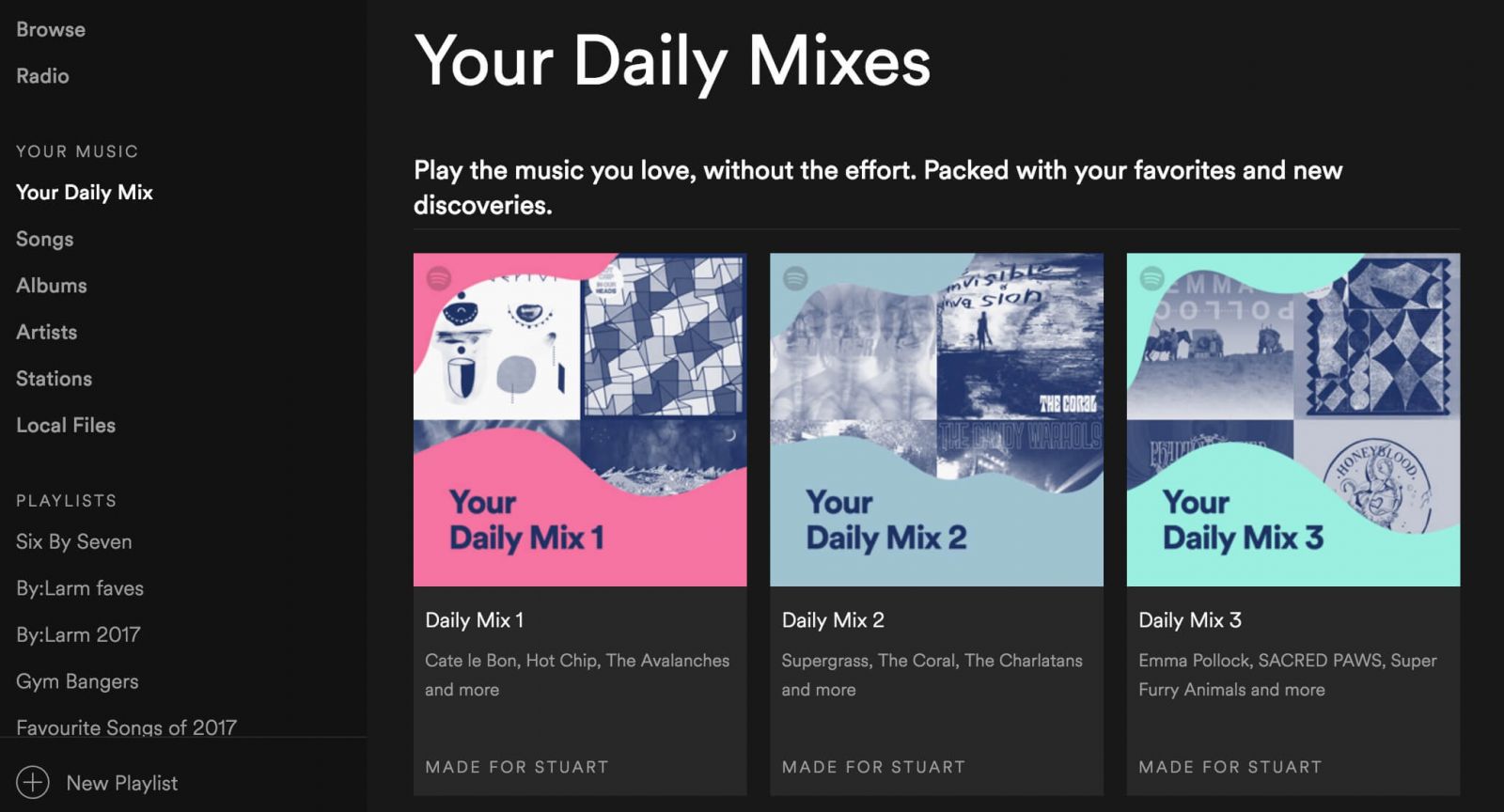 #2 Apple Music
Apple Music doesn't come with Similar Song Finder feature, but it's possible to influence the service's recommendation algorithm. You can tap Love or Suggest Less Like This on songs. To get better For You recommendations, you can regularly remove artists that you no longer love.
Apple Music's Listen Now feature helps you play your favorite music and provides personalized recommendations for songs, albums, playlist, etc. You can find it at the bottom of the screen. When you come across a song you like, just click the three-dot button to add it to your collection.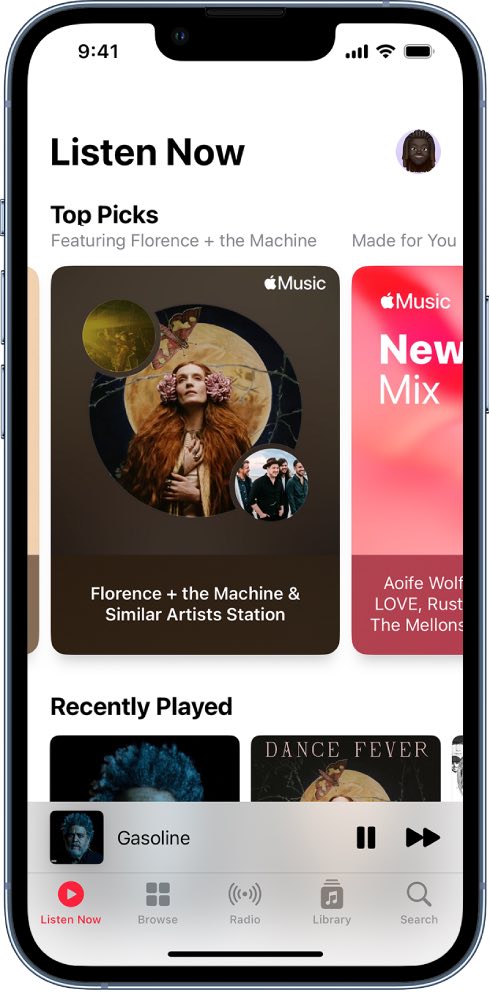 #3 Pandora
Pandora is a long-time favorite. It has a huge collection of songs. And it is among the best when it comes to recommending similar songs according to your music tastes. It continually plays the music you like and the more you use it, the more it fits your own taste.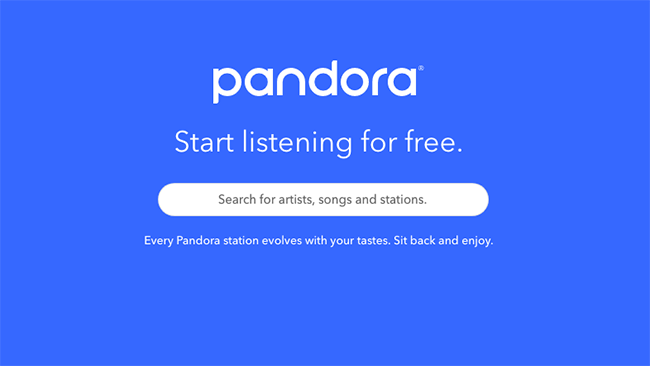 Bonus tip: How to remove duplicate songs to make room for new music
The online services recommended above can help you easily find songs with similarity. In this part, you can find a bonus tip on how to find and remove the duplicate music on your computer so as to free up space.
If you are a music lover and have downloaded lots of songs to your Mac or PC, there might be multiple copies of songs on your hard drive. Why not get them removed all at once using software?
Cisdem Duplicate Finder allows you to find and remove duplicate songs (including those in iTunes), duplicate photos, videos, documents, spreadsheets, archives, packages and other types of duplicates on computer, external hard drive, memory card, USB flash drives and cloud drives.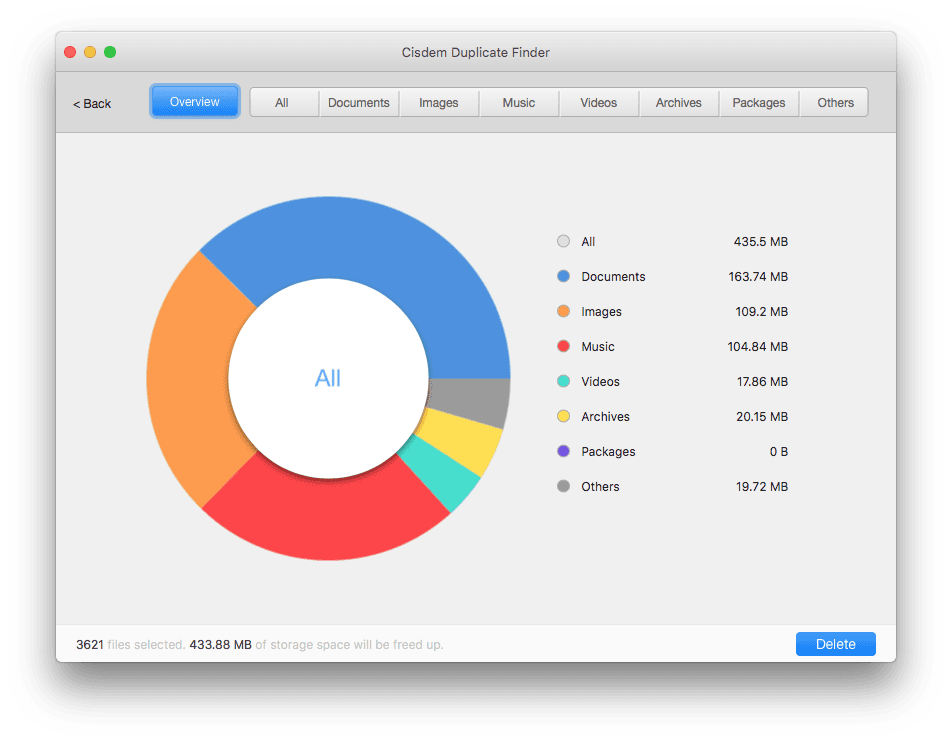 Step 1. Download and install Cisdem Duplicate Finder. Launch it. Click the plus icon

and add folders or drives to scan. Click the Scan button.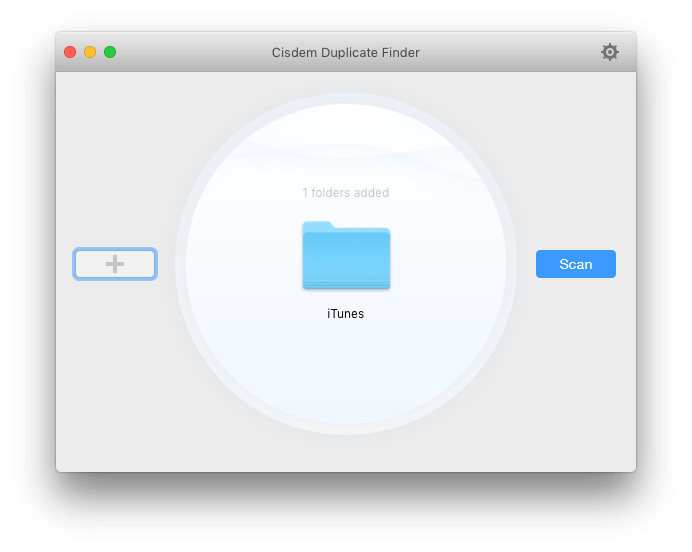 For example, to get rid of the duplicate items in iTunes, you can add the library.
Step 2. Once the scan is finished, you can find all duplicates under the All tab. Go to the Music tab. Check out and preview the items there.
You can switch to the second preview mode and preview songs within the app.
Step 3. The app already automatically selects the duplicates for you to delete with one click. There are also other mass selection rules such as Select Newest. Or, you can just select or deselect by hand.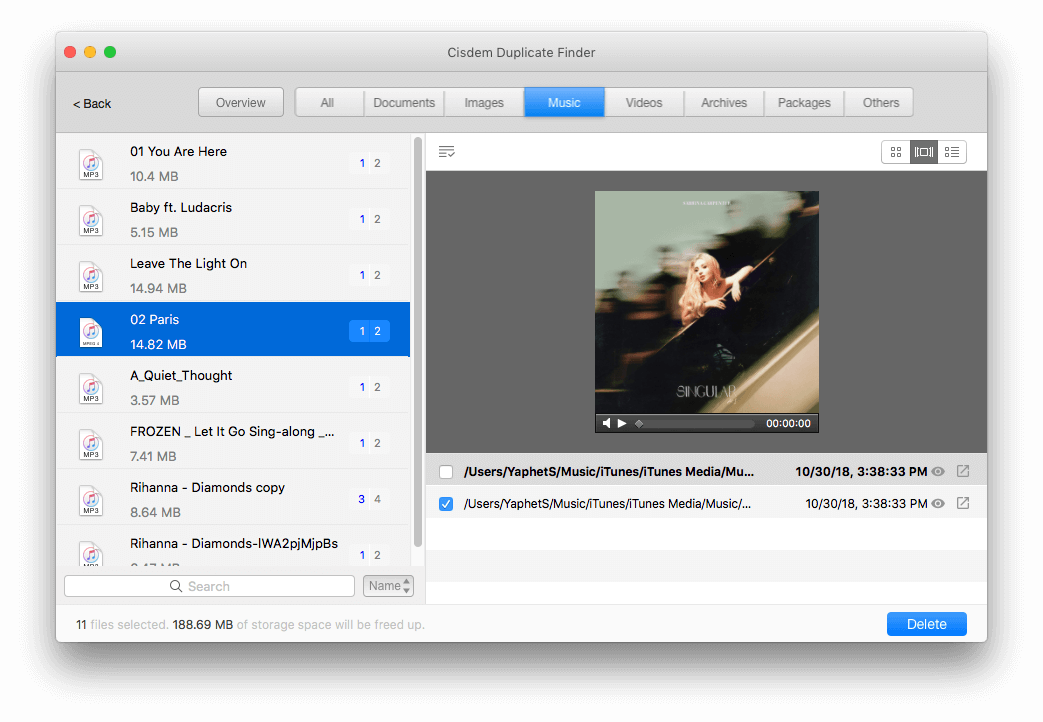 Step 4. Make sure all unwanted duplicates are selected. Click the Delete button.
Conclusion
It's possible to find similar songs by genre, style, sound, beat, melody and other things. Hopefully the similar songs finders recommended here can help you discover more similar songs and even new artists that you will love. Dig deeper into music and enjoy your exploration to find awesome new stuff. Do you find this article helpful? Let us know your thoughts and opinions by leaving a comment below.