Junk files, duplicate files and other unwanted files accumulate over time. They are useless. What's more, they take up precious storage space. AVG Cleaner is designed primarily for the purpose of removing unwanted files and freeing up space. Is AVG Cleaner any good? What features does it offer? Is it safe to use? Find the answers in this review.
What is AVG Cleaner?
AVG Cleaner for Mac and AVG Cleaner for Android are developed by software company AVG Technologies. The app is not available on for Windows PC, iPhone and iPad. If you are looking for AVG Cleaner for PC, you can try AVG TuneUp for PC instead. Despite the same and some shared features, the Mac version and the Android version also offer some different features. The main benefits of both versions are cleaning up useless files and helping improve the overall performance of your device.
Delete Duplicate Files to Free Up Space
Find duplicate photos, audios, videos, docs, archives, etc.
Also find similar images
Find true duplicate files by content
Remove duplicates from Mac's Photos
Support computer's internal storage, external HD, SD card, etc.
Offer multiple scanning, preview, selection and removal options
Provide useful features like Auto-Select and 1-Click Deletion
Available for both Mac and Windows

Free Download

Free Download
Is AVG Cleaner safe?
AVG Cleaner is safe.
From a safety perspective, AVG Cleaner for Mac and AVG Cleaner for Android are safe to download and install. You can easily remove the app from your device at any time by performing a standard uninstallation.
From a usage perspective, both versions are safe operate. The app will never delete any file without your request. In addition, AVG Cleaner for Mac will delete user-selected unwanted duplicate files by sending them to Trash. You can undo the deletion by getting files back from Trash.
Download & installation
Note: The Android version is also included in AVG TuneUp.
The app is lightweight. It's very easy to uninstall. To do so on Mac, select the app in Finder, control-click and select Move to Trash. For Android devices, there can be several ways to uninstall the app.
Pricing & upgrade
Is AVG cleaner free? AVG Cleaner for Mac is totally free.
AVG Cleaner for Android is free to download and use. It contains ads and in-app purchases. To get rid of ads and have unlimited access to all features, you need to upgrade to AVG Cleaner Pro. The good news is that you can enjoy the Pro features for free for 30 days.
To upgrade to AVG Cleaner Pro for Android, just tap the Upgrade button in the upper right corner and select a preferred subscription plan. There are two plans: Monthly subscription and Annual subscription. You can cancel the subscription at any time.
Note: The Pro version available may be different according to your region, and the price may vary.
AVG Cleaner for Mac review
Note: When you first launch the app, you can find options like Create AVG MyAccount and Log in to AVG MyAccount. From the Mac App Store reviews, we can know that quite a few users have experienced login issues. This happened to us too. We tried to log in and received a message say "Email and password don't match". Nevertheless, the fact is that you don't have to log in to use AVG Cleaner.
AVG Cleaner for Mac consists of two features: Duplicate Finder and Disk Cleaner.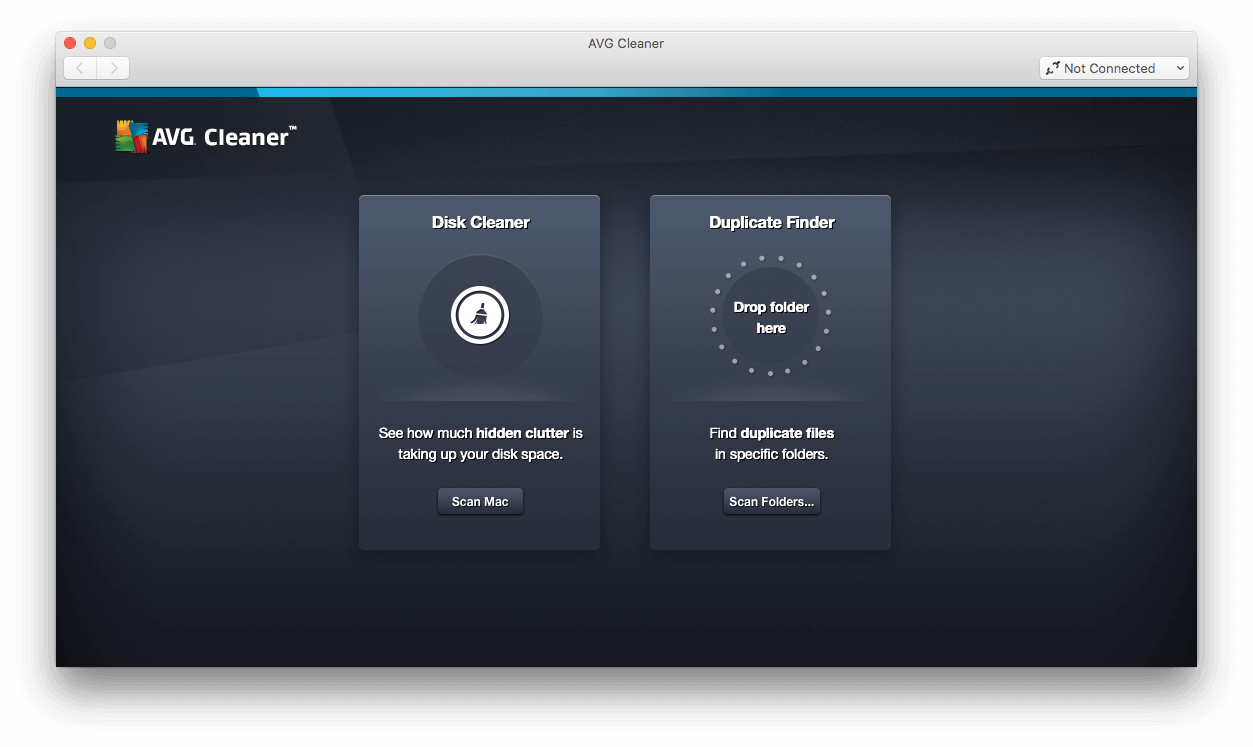 Duplicate Finder
Scan To look for the duplicate files in a folder, add the folder to scan by dragging and dropping. Alternatively, you can click the Scan Folders button. Wait for the scan to finish.
View duplicates Click View Results. In the right panel, you will find a list of detected duplicate files, organized by file type. Click the triangle icon to expand a file type, say, Pictures. There you will find groups of duplicate images. You can double-click a file to open it in Finder. This way, you can easily preview the file and view its attributes.
Select and delete AVG Cleaner offers two selection options: Keep oldest and Keep newest. You can also select or unselect manually. Click Clean in the upper right corner of the interface to send the selected duplicate files to Trash.
Pro Tip: In the top menu bar, select AVG Cleaner > Preferences. There you can set the Duplicate Finder to include or exclude hidden files when it scans for duplicate files. Click the Cleaning tab. You can set the app to directly delete unwanted duplicates by unselecting checkbox before Move duplicates to Trash.
Is AVG Cleaner Duplicate Finder good? We used AVG Cleaner and a few dedicated duplicate file finders to scan the same folders. It did a decent job in the test.
Pros
Various supported file types such as images and audios
Good at finding duplicate videos and images
2 selection options allowing users to quickly select files for deletion
2 removal options including Move duplicates to Trash
One-click deletion of selected duplicate files
Cons
Slow scanning
Not so good at finding duplicate documents and archives
No preview
High CPU usage
Sometimes the Preferences window doesn't display properly
Disk Cleaner
Scan Click Scan Mac, and the Disk Cleaner will start scanning for junk files on your Mac. You can customize settings in Preferences if needed.
View results Click View Results. The results are grouped into several categories such as Trash, Junk files, Application caches and Logs. It also lists files that accumulated in your Downloads folders.
Select and delete By default, AVG Cleaner for Mac will automatically select files in all categories (such as Trash and Junk files) except for Downloads. You can also do the selection manually. Click the Clean button to get rid of unwanted files in one click.
Pros
Can find different types of useless files
Multiple selection options
One-click deletion
Users can choose to scan or ignore application caches and logs
Cons
Consumes too much CPU and memory
Can't exclude specific apps from being scanned
Quick summary
By finding and deleting useless files such as caches and duplicate files, AVG Cleaner can free up space on your Mac. This app does its job well, considering it's freeware.
However, there are some drawbacks. We all know that we should be cautious with what we delete on our computer. That's why some cleaning apps and duplicate file finders have features like exclusion list and warning before deletion. AVG Cleaner doesn't allow users to exclude specific apps, folders and subfolders from scanning and deleting. Also, there is no warning when you click the Clean button.
Best alternatives
#1 CCleaner
Just like AVG Cleaner, CCleaner for Mac is also designed to clean clutter and free up space. However, it can't find duplicate files. Compared to AVG Cleaner offers more features, options and security measures.
In addition to being a disk cleaner, it also offers features like Uninstall and Erase Free Space.
When using this app to analyze and clean up application caches, you can easily include or exclude applications. This way, you can prevent important files and data to be removed.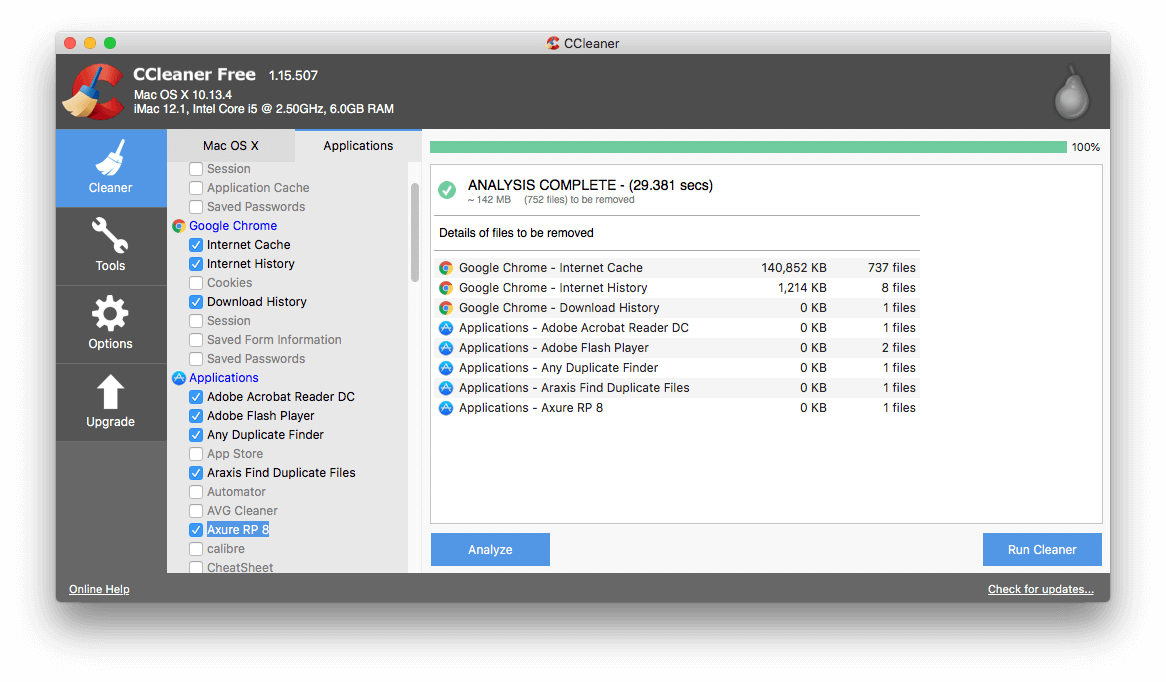 In Options, you can customize settings and include or exclude folders. There are also some other useful options. For example, you can efficiently select the cookies you want to keep before cleaning Internet browser caches. You can't find features or options like this in AVG Cleaner for Mac.
Pros
Good at finding junk files, application caches, etc.
Offers useful tools like Uninstall and Startup
Enable users to include or exclude folders, and applications from removing
Gives warnings before when you deleting things
Allows high degree of customization
Cons
Doesn't find duplicate files
#2 Cisdem Duplicate Finder
As the best duplicate file finder for Mac and Windows, Cisdem Duplicate Finder can be a perfect alternative to AVG Cleaner Duplicate Finder.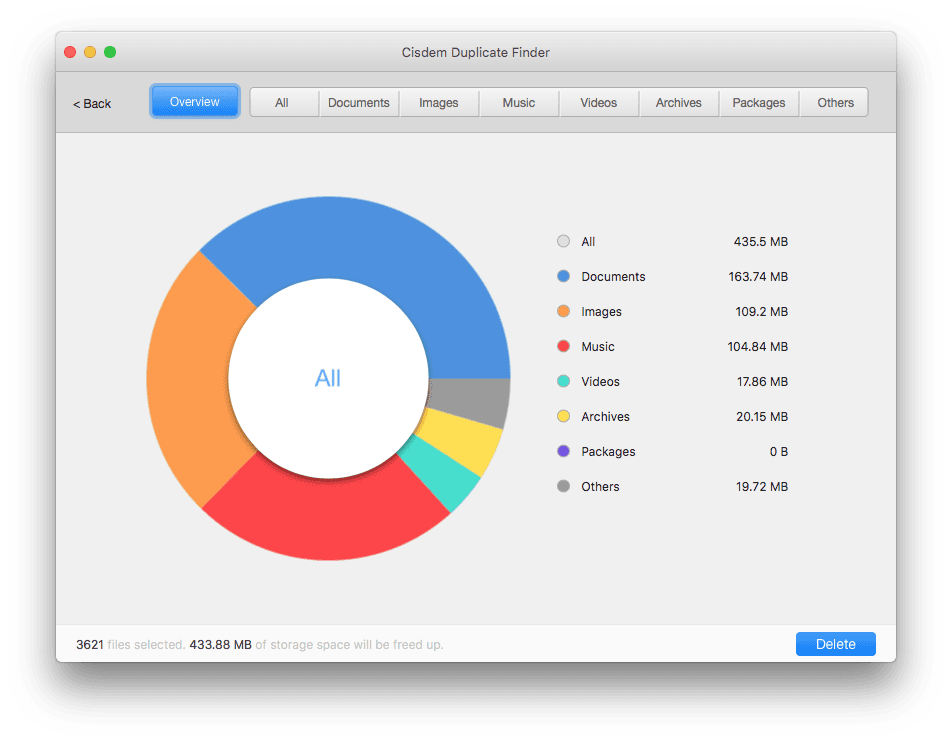 It has a feature called Ignore list, which enable you to exclude files, folders and subfolders from scanning and removing. You can also set it to ignore certain file types and formats when looking for duplicate files.
AVG Cleaner has a feature to specify file size range, so does this alternative app. You can easily select minimum and maximum file size for scanning.
There is a powerful built-in preview function which works for photos, videos, audios and documents. There are three preview modes, allowing you to easily compare files side by side including images before delete them.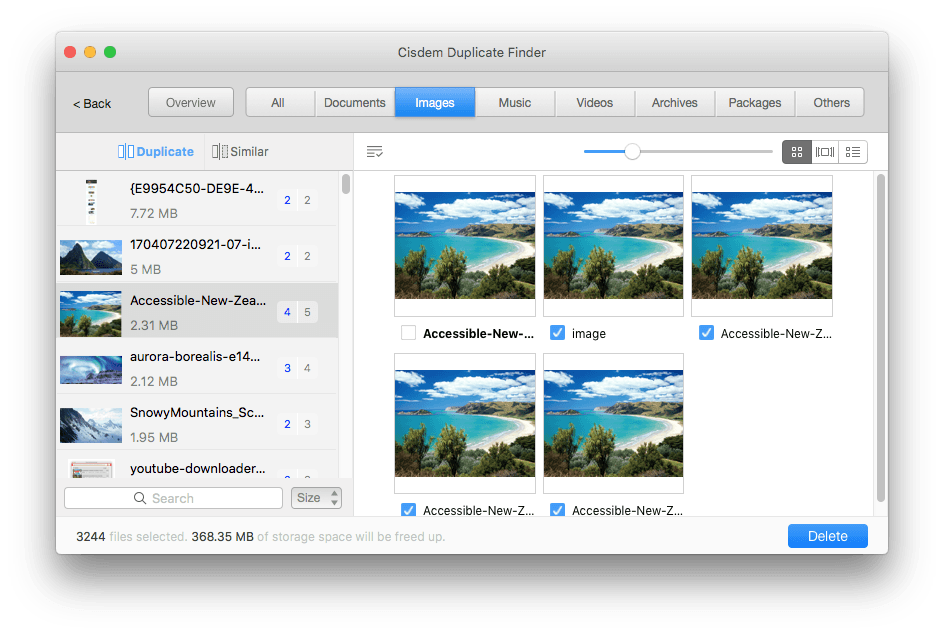 Pros
Excel at detecting duplicate photos, audios, videos, docs, archives, etc.
Can also find similar images
Allows users to exclude files, folders and extensions from scanning
Multiple scanning, filtering and removal options
Remove duplicates from folders and drives
Remove duplicates from Mac's Photos
3 preview modes including side-by-side comparison
Useful features like Auto-Select & One-click Deletion
Available for both Mac and Windows
Cons
Can't find junk files
AVG Cleaner for Android review
Designed to free up storage space on Android and improve device performance, the Android version has the following main features and benefits.
Uninstall apps including pre-installed apps
Remove cache and junk files
Clean RAM
Hibernate apps
Analyze files
Provides system info
Free up more space
Improve the overall performance of your device
Help boost battery life
This review will focus on three main features including Quick Clean, Apps and Photos.
Quick Clean
When you open the AVG Cleaner, you can easily find the Quick Clean feature on the main screen. When you tap it, it will start checking for junk files on your phone.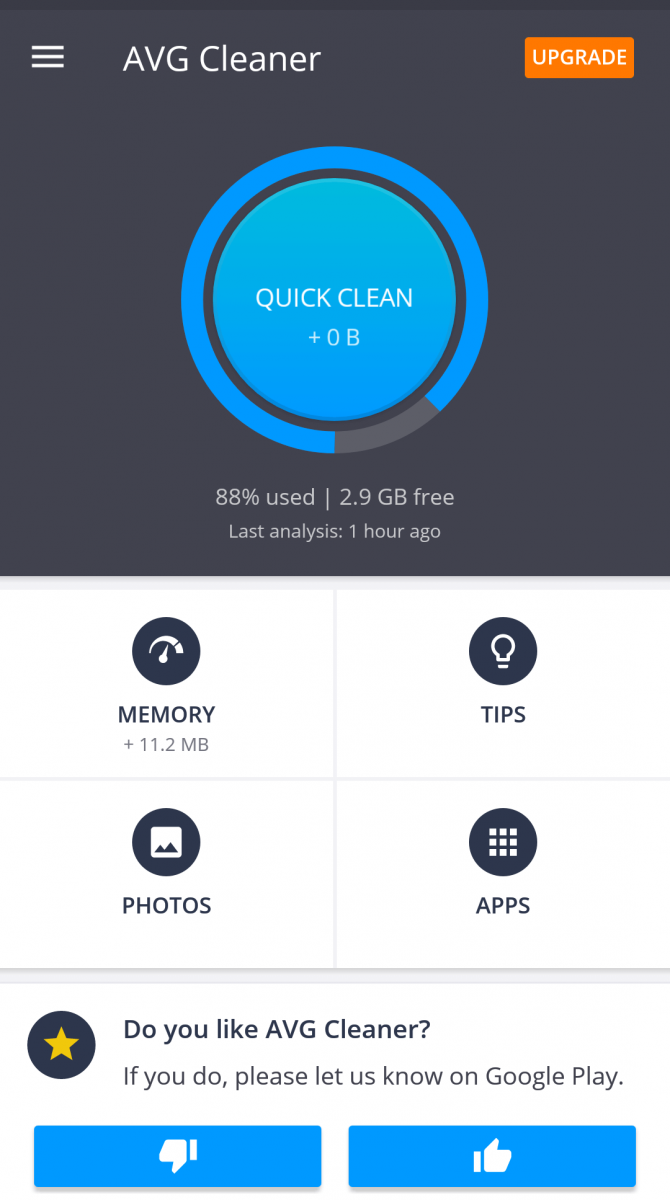 It's safe to clean the items under Safe to clean. You can tap the expand icon to check them out.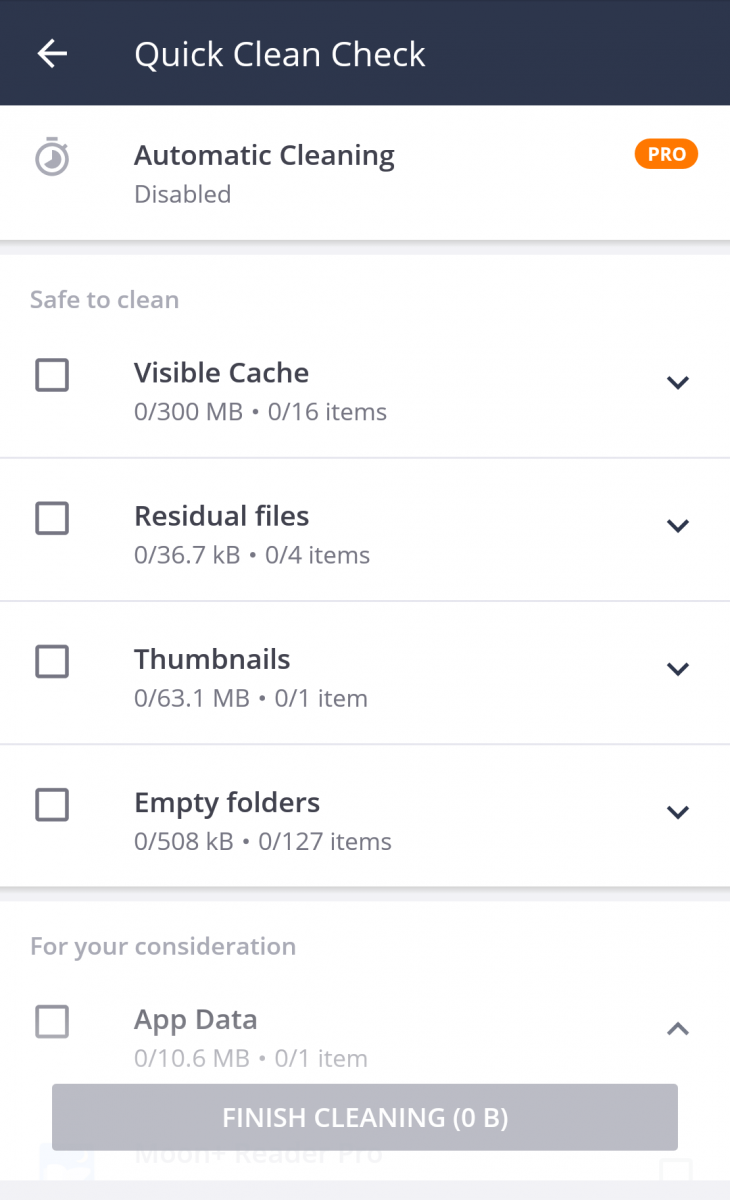 Note: Once you perform a Quick Clean, there isn't an option to get the deleted files back.
Apps
When you tap Apps in the lower right corner of the main screen, AVG Cleaner for Android will start analyzing the apps on your device. Alternatively, you can find the feature by tapping the 3-dot icon in the upper left corner. Once the analysis is completed, to help you keep your device fit, the app will give you a few tips:
Tip 1. Boost performance
Tip 2. Battery drainer
Tip 3. Biggest apps
Tip 4. Find unused apps
For each tip, more details and solutions will be provided. For example, by tapping SHOW ALL under Boost performance, you will find a list of the top apps that use the most RAM. You can select one, multiple or all listed apps and stop them by tapping SELECT APPS TO STOP.
Photos
If you tapping Photos on the main screen, AVG Cleaner for Android will start analyzing photos and screenshots on your phone. Likewise, it will also give you tips, details and solutions.
This feature can find:
Bad photos: photos that are of low quality
Similar photos: images that look the same or similar
Optimizable images: images that can be compressed to save space
Old photos: photos that are taken a month ago
As a result, you can easily find the photos that you may not want anymore and get them removed by deleting or by moving them to cloud storage. This way, you can free up a lot of space.
On the main interface you can also find two other tools: Memory and Tips. Memory tool is a shortcut solution to cleaning up RAM. When you tapping Tips, AVG Cleaner will analyze the entire device and list comprehensive tips to optimize device performance. In addition, there are also other minor features such as Cloud Transfers and System Info, which can be useful.
Pros
Clean caches, memory and RAM
Automatic cleaning feature (Pro only)
Effective battery optimization
Offers an array of other useful features
Easy to use with simple, intuitive interface
Cons
Limited cleaning when compared with tools like Clean Master
Best alternatives
Clean Master - Antivirus, Applock & Cleaner
Nox Cleaner - Phone Cleaner, Booster, Optimizer
Super Phone Cleaner: Virus Cleaner, Phone Cleaner
Super Cleaner - Antivirus, Booster, Phone Cleaner
Phone Cleaner- Cache Clean, Android Booster Master
The alternatives listed above can be found on Google Play. In addition to having the same the functions and benefits with AVG Cleaner, some of them also provide other useful features like the antivirus feature.
Conclusion
AVG is an established name in the world of security and productivity software. AVG Cleaner for Mac is totally free, and the Android version also offers a free edition. You can easily download and try the app. Based on this AVG Cleaner review and your own experience, you can quickly find if it's the cleaning app that suits you best. If not, you can also try the alternative apps mentioned above. Do you find this review useful? What do you think makes good cleaning software? Let us know in the comment section below.