This article will show you how to mass delete duplicates in iTunes. iTunes is a very great app to purchase, play and manage digital multimedia such as music. But it's not free from issues. Duplicate items are one of the common issues. It can be annoying if every song in iTunes plays twice or more before it goes to the next song.
iTunes has a built-in "Show Duplicate Items" feature, which automatically finds duplicate tracks but requires users to remove the found duplicates manually one by one. It's of limited use if there are lots of duplicates. Below you will find an easy, fast way to find and delete iTunes duplicates in bulk in one go.
The Best iTunes Duplicate Remover for Mac
Remove duplicates from iTunes & Music
Also delete duplicates in Photos & iPhoto
Find duplicate photos, audios, videos, documents, archives and other duplicates
Find and eliminate duplicates on Mac, external HD, SD card, etc.
Identify true duplicate files by content
Offer 3 preview modes, letting you preview music and images within the app
Automatically select duplicates for you to remove with 1 click
Also provide multiple selection rules
Support macOS 10.11 and later
Also available for Windows PC

Free Download

Free Download
How to mass delete duplicates in iTunes automatically
This part talks about how to batch delete duplicates in iTunes for Mac and iTunes for Windows.
It's recommended to back up your iTunes library first.
Steps to delete duplicates in iTunes all at once on Mac
If you are looking for a fast way to delete duplicates in iTunes for Mac (replaced by Music since macOS Catalina), it's recommended to use iTunes duplicate removers like Cisdem Duplicate Finder.
You can use this app to find and get rid of all duplicates songs (purchased or not) in iTunes in a few clicks. Are you serious about cleaning up your iTunes library? Use this app to get the job done by following the instructions below.
1. Download this duplicate remover for iTunes. Install it.

Free Download
2. In iTunes, go to Preferences > Advanced. Know about the location of your iTunes Media folder.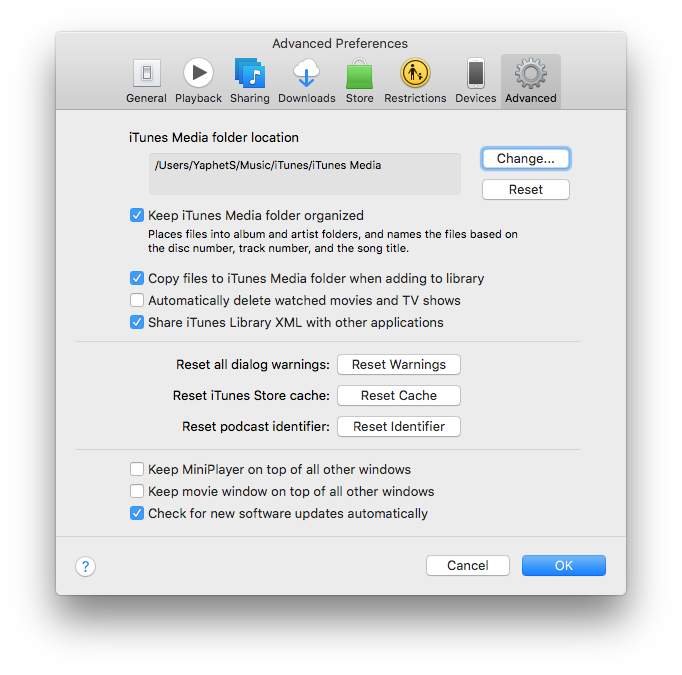 3. Drag your iTunes Media folder into the app. Click Scan.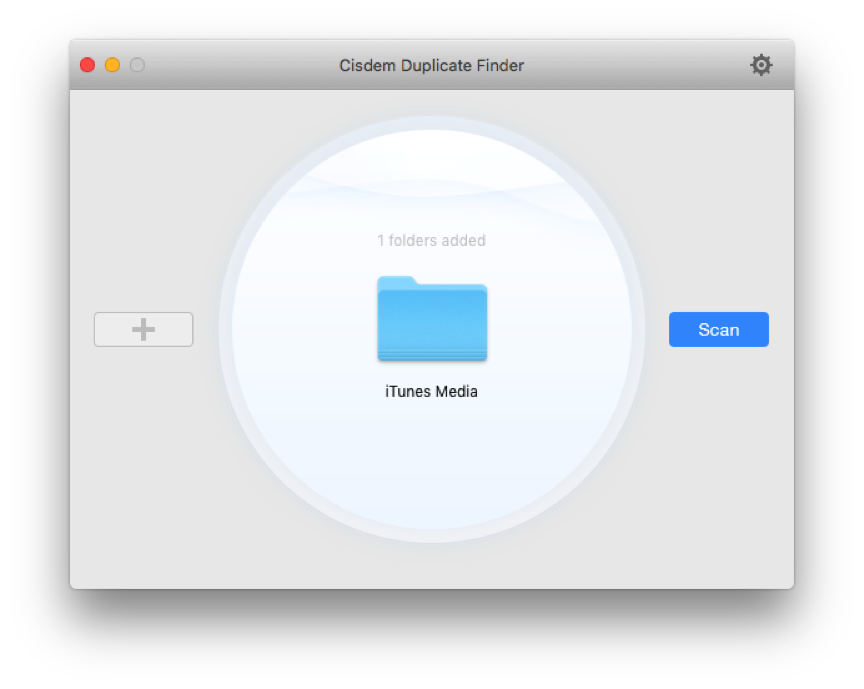 4. When the scan is done, choose Music tab. View and preview the found duplicate songs listed there.
There are three preview modes. The second mode lets you preview the songs.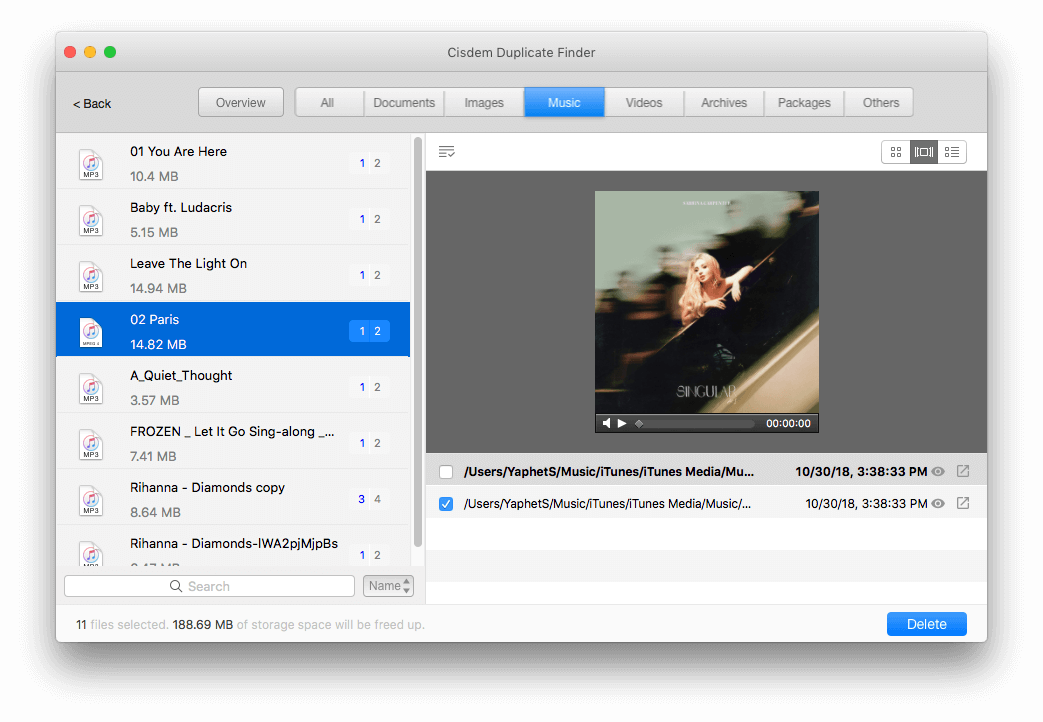 5. Cisdem Duplicate Finder's auto mode already smartly selects iTunes duplicates for mass deletion.
If not satisfied with auto-selection, choose a desired selection rule, or select by hand.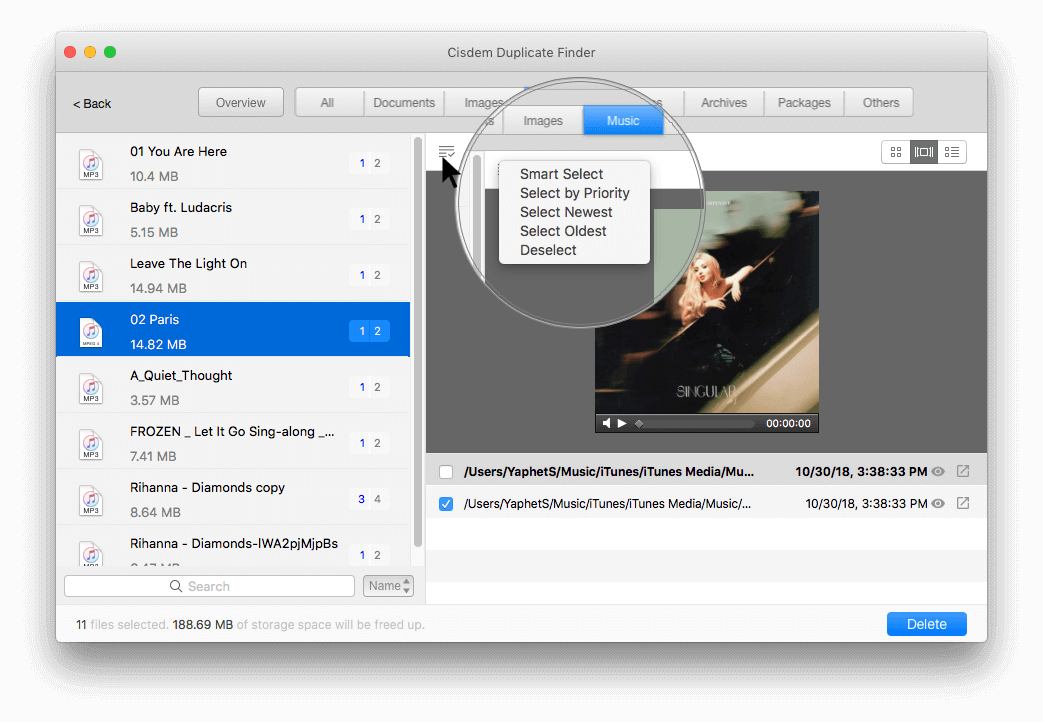 6. Click Delete.
This is how to mass delete duplicate songs in iTunes 12. All iTunes duplicates are grouped for one-click removal.
The steps above will help if you have a lot of duplicate songs in your iTunes library or if there are also other duplicate files scattered around your Mac.
Tip
It's also possible to quickly delete duplicates in iTunes using Tune Sweeper. Open the app. In the top toolbar, click Duplicates. Click Search for Duplicates. When the search is completed, click View Results. In the results window, you can find groups of iTunes duplicates.
Select the tracks you want to delete. In the left column, you can set selection preferences. Click the Remove Duplicates button at the upper right corner to delete duplicates in iTunes all at once. But before you select them, it's recommended to preview. You can select a song and click the Preview button.
In addition to deleting duplicate tracks in iTunes, it also provides other features such as downloading missing artworks.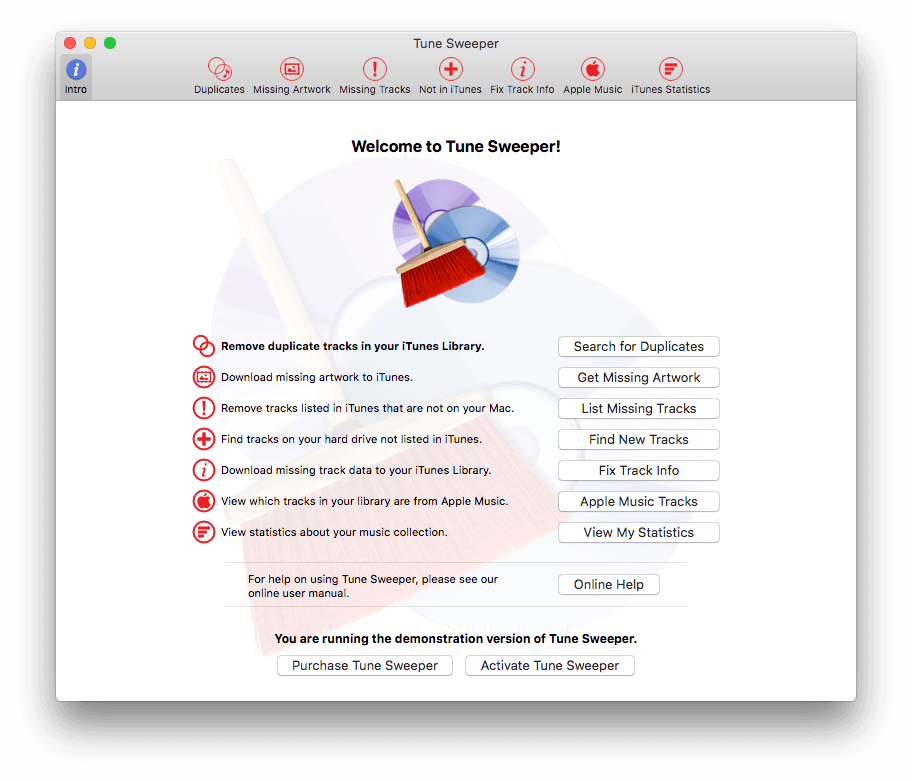 Steps to delete duplicates in iTunes Windows 10
The "Show Duplicate Items" feature is also available in iTunes for Windows. But if you want to mass delete duplicates in iTunes Windows, you need to use software like Ashisoft iTunes Duplicate Finder.
The software can quickly locate and get rid of duplicates in iTunes library on your computer and help keep your music collection organized.
1. Launch the software on your computer.
2. Adjust the Name Similarity, Artist Similarity and Album Similarity based on your preferences.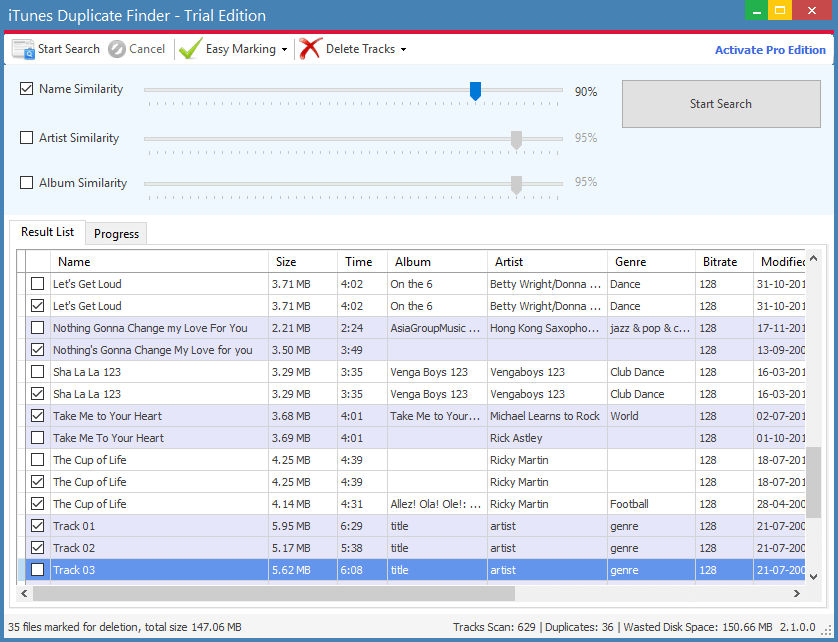 3. Click Start Search.
4. View the found iTunes duplicate tracks under the Result List tab. If needed, you can tweak the similarity levels and search again to get more desirable results.
5. Clicking Easy Marking will automatically mark duplicate iTunes songs for you to delete.
Also, you can mark by hand if you want to.
6. Click on Delete Tracks to bulk delete the unwanted duplicates in iTunes.
Tip
Another available duplicate remover for iTunes is ManyProg iTunes Duplicate Remover Free. It supports Windows 10, 8, 7 and XP. Despite being free and lightweight, it does a good job of bulk removing duplicates in iTunes. Before you use it to scan for dupes in your iTunes library, there are a few things you can do.
Choose the scan principle
Exclude specific audio file formats
Specify the minimum and maximum file size for scan
Open the app. Under the Search tab, navigate to the Comparison type section. There are three options: Strong duplicate, Music tag and File properties. With Music tag, you can include or exclude tag(s).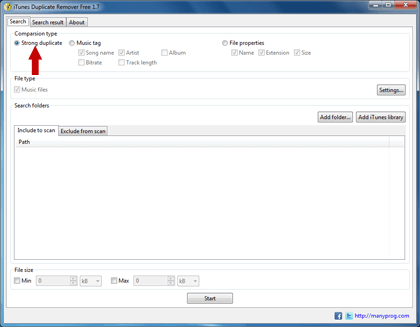 If you click the Settings button, a dialog box will pop up allowing you to include or ignore specific audio types. It's optional. You can also filter by file size by going to the File size section. Click Add iTunes library, and it will start automatically looking for and add your library. Once the process is done, click the Start button.
After the scan is finished, you will be taken to the Search result tab where you can select the unwanted iTunes duplicates. Click the Action dropdown list and click Remove to mass delete duplicates in iTunes.
How to remove iTunes duplicates one by one manually
As mentioned at the beginning of the article, iTunes itself comes with a feature to help users locate duplicate items in their libraries. If you have only a few duplicate tracks in iTunes and don't want to install an iTunes duplicate finder, you can use the feature and then do the cleanup by hand.
1. Open iTunes on your computer.
2. Press and hold the Shift key (PC) or Option key (Mac), and simultaneously choose File > Library > Show Exact Duplicate Items at the top of the iTunes window (PC) or from the top menu bar (Mac).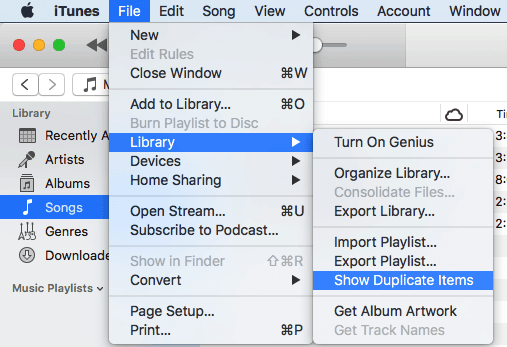 3. Now iTunes will display groups of exact duplicate songs that have the same name, artist, album and length. Note that they may different in the sample rate (audio quality) or size.
4. In each group of duplicates, right-click the song that you want to eliminate and choose the Delete from Library option that appears.
5. Click Delete Song to confirm the deletion.
6. Choose to remove the song from your library only (via Keep File) or to move it to Trash (via Move to Trash).
If you are not sure which songs to keep and which to delete, it's recommended to keep the higher quality one, the one marked as Loved or the one with more complete song info (e.g., song details, artwork, lyrics, etc.).
Tip
In addition to the exact duplicates, you may also have different versions of the same song, such as a studio version and a live version in your library. Unless you are a hardcore fan, you may want to keep the favorite version only. To show this type of iTunes duplicates, don't hold down the Shift or Option key in Step 2.
Helpful tips
iTunes Show Duplicate Items greyed out? What to do
Why is this happening? If this feature appears greyed out, there are two possible reasons.
The Show Duplicate Items feature only applies to iTunes Music. And iTunes has libraries for different media types such as Music, Movies, TV Shows, etc. To fix the issue, make sure that your iTunes is opening the Music Library instead of a different library.
Also, this feature only supports the Music Library on your computer rather than a portable device such as your iPod.
Stop iTunes creating duplicates
When you manually copy a music folder, duplicates are created. One of the easiest ways to copy a music folder to iTunes without duplicates is by adding the folder to your library. And iTunes will add any new files you place in the folder automatically without creating duplicates.
You can change the iTunes settings to automatically import your music without causing duplicates. Open iTunes. Select iTunes and click Preferences. Select the Advanced tab. Uncheck the option: Copy files to iTunes Media folder when adding to library.
The best way to prevent iTunes duplicates is to store all your music in the iTunes media folder by default. If you download music from websites other than iTunes, choose the iTunes folder as your default download folder.
Don't regularly transferring purchased music from your iOS devices to iTunes.
What to do when you find duplicate songs on iPhone but not in iTunes
Another common iTunes problem is that songs are listed twice on iPhone but only once in iTunes. The following steps should fix the issue.
Connect your iPhone to a computer with iTunes installed. Back up your iPhone. Alternatively, you can do it via iCloud. Eject your phone from iTunes.
Go to Settings on your iPhone. Select General > Usage > Storage > Music > Edit. Tap on Delete.
Restart your iPhone and connect it to iTunes again. Sync your iTunes playlist manually.
Conclusion
How do I mass delete duplicates in iTunes? If you have many duplicate songs your iTunes library, the instructions provided in this article can help. Once the iTunes duplicates are automatically grouped together, you can easily get rid of them in one click. In addition to duplicate tracks, there can also be duplicate playlists. To fix it, check out this guide to removing iTunes duplicate playlists.