How do I delete duplicate songs on iPod or iPhone for free? I have numerous duplicate songs on my iPod and iPhone. I tried deleting the music and resetting the iPod per a previous suggestion and it didn't work. Does anyone have any other ideas? Useful suggestions are greatly appreciated.
Is there many duplicate songs on your iPhone, iPad or iPod? If you always subscribe to iTunes Match, there is a chance that you have experienced an issue with duplicate songs on your iPhone or iPad. The reason is that iTunes Match doesn't simply replace music already on your iPad but instead adds music to your device. How to remove the duplicates on iPhone/iPod/iPad easily? After introducing how to transfer music from iPhone to Mac, today, we will show you how to delete duplicate songs on iPhone, iPod and iPad.
Part 1: Delete Duplicate Songs on iPod/iPhone/iPad manually
We recommend you to backup your iPhone, iPod or iPad before proceeding. In case you use an enrypted backup, you can temporarily turn it off from iTunes dashboard easily. Of course, we don't want you to lose any data in case anything goes wrong, which shouldn't, probably. And the process below is not only easy to implement but you will obtain a good result with the help of just few clicks.
Launch the settings app from the main application drawer of your iPhone/iPad/iPod. Tap "iTunes&App Store" and turn off your iTunes Match.
Return to the previous settings screen and tap "General" option. Find and tap "Usage" option. Choose "Music". On the next screen, tap "Edit" button at the top right corner.
Tap the red minus button next to the artist(s) to manually remove all the duplicate songs from the list that has been downloaded previously through iTunes Match.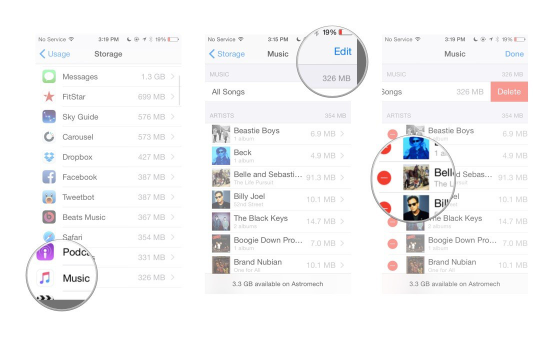 Tip: Do not sync music with iTunes if not needed, else the duplicated music will re-appear, and you will require to follow this tutorial again.
Part 2: Delete duplicate songs on iPod/iPhone/iPad with iTunes
Connect your iOS device to your Mac via USB and sync music files from your device to the iTunes library. And delete all song collections on your iPhone/iPad/iPod by opening the Settings app, going to General > Usage > Manage Storage, tapping on "Music", tapping Edit in the upper right corner and tapping "Delete".
Launch iTunes library. Navigate to "View">"Show Duplicates Items". And it will show duplicates songs by the song title and artists. Or press the "Option" key and select "File">"Show Exact Duplicate Items".The precise option can help us show all duplicates in an exact way.
Hold the "Command" key and you should identify which one should be deleted. Then tick duplicates songs you want to remove.
Make sure you have chosen all duplicates that you want to delete. Navigate to "Edit">"Delete" and iTunes library will finish removing.
When all duplicate songs are now deleted, transfer these music files from iTunes to your iOS device.
Tip: Users have to sync music from device to iTunes and transfer songs from iTunes to device. This way is tedious for that many users may not select to sync music with iTunes. But it really works. And many third-party software developers claims that their software can remove duplicate music files on iOS device. They really can, but only support removing duplicate songs from iOS device via iTunes.
Part 3. More tips about removing duplicates from iPod/iPhone/iPad
1. If you only want to remove duplicates from iPod, you can do it easily with a duplicate finder like Cisdem Duplicate Finder which can help you find and remove duplicate files on external hard drive, iPod or your Mac, etc.
2. As far as possible not to sync music with iTunes, it will cause more duplicate songs on your iPod, iPhone and iPad. Before you connect your device to iTunes, you should turn off the iTunes Automatically Sync. Just go to iTunes > Connect your device to the computer > Click Edit menu on the top side of iTunes > Preferences > Devices > Uncheck "Prevent iPods, iPhones, and iPads from syncing automatically".
3. If you have to sync music with iTunes, you need to remove duplicates in iTunes first.
4. An iPhone, iPod or iPad is not a storage device. In many cases, they are incapable of containing as much music as you want. If it's running out of space, you have to free up space on iPhone, iPod and iPad.

Megan has an impressive deal of experience with Mac software and has the ability to explain tech stuff in a simplified, straightforward and easy to understand way.