"I have bought a new Mac recently and My old MacBook Pro stopped working last week. I lost many tracks on Mac, but musics are still on my iPhone. Now I want to transfer all my musics from my iPhone to my Mac. Is there any way I could do to simply transfer my iPhone music to Mac or iTunes library? Grateful for helpful responses."-- JayBeast
iPhone is one of the most popular mobile phone, but also it is a perfect music player for almost all iPhone users. With it, people can get their favorite music from the online store easily and enjoy them anytime and anywhere. However, with the increasing number of music on iPhone, many iPhone users may want to copy music from iPhone to Mac for freeing up more free space on iPhone. After we talked about transferring iPhone photos to Mac, today, let's talk about how to transfer music from iPhone to Mac.
Transfer and sync purchased music from iPhone to iTunes
iTunes allows you to transfer purchased music from iPhone to Mac or from Mac to iPhone. It's workable but the transferred songs are only limited to iTunes or Apple App Store purchased songs. Below are the detailed steps to sync your purchased music from iPhone to Mac using iTunes.
Turn off iTunes Auto Sync. It would be better if you've downloaded the latest version of iTunes. Launch iTunes on Mac. And click iTunes menu, choose "Preference". Then click "Devices" on the menu bar. Tick the option "Prevent iPods, iPhones, and iPads from syncing automatically". Click "OK".
Authorize Your Mac. Connect your iPhone to Mac using USB cable. Wait for phone icon to appear in iTunes. Click "Store" in iTunes menu, choose "Authorize This Computer". Then enter your Apple ID and password which you've used to purchase songs on your iPhone.
Transfer purchases from iPhone. Go to File > Devices >Transfer Purchases from "iPhone". Or click View > Show Sidebar. And you will see your iPhone, control click it to reveal the drop-down list. From the list, choose "Transfer Purchases".
tips: One thing you should keep in mind is that you can't depend on iTunes to transfer non-purchased music, including songs ripped from CDs, downloaded via an app or from websites on iPhone, from iPhone to Mac.
Backup and copy iPhone music to Mac using iPhoneCleaner
As mentioned above, you can't use iTunes to transfer non-purchased music from iPhone to Mac. If you're searching for an easy way to transfer all those non-purchased music from your iPhone to Mac, you should try a tool like Cisdem iPhone Cleaner to do that. It enables you to transfer the non-purchased music as well as the purchased ones to Mac. Below are the steps for how to copy music from iPhone to Mac with PhoneClean. You can download and try it to see how it works. And follow the below instructions to handle the tool as you like.

Free Download
Install and launch PhoneClean on your Mac. Connect your iPhone to Mac using USB cable. You will see "Device Manager" interface shown as below screenshot. And the main menu are listed on the left column.
Copy and backup your iPhone music to Mac. This app's backup feature allows you to transfer your iPhone photos, videos, music, etc to a more safe place like the local folders on Mac. Go to "Backup" and this app lists your files in 11 categories based on your need and you can switch the icon to select which one left on your local files. Here you should turn on Music icon and click "Scan" to tell system the folder you'd like to keep music. Then all your iPhone music are transferred to your Mac for backup.
tips: If you want to add the music to iTunes, you can launch iTunes, choose File > Add File to Library or Add Folder to Library, locate the music file or folder, and click Open. Then all music from your iPhone are added to your iTunes library. And you can use PhoneClean to transfer all your iDevice's music, videos, photos, reminders, messages, etc to Mac.
Sync music from iPhone to Mac using third-party transfer tool
If you want to sync your music from any device to Mac, you should try a professional third-party transfer tool like Wondershare TunesGo. It allows you to transfer your iTunes media files (Music, Playlists, Movie, Podcasts, TV Shows, iTunes U and more) without limits. Below are the steps for how to sync music from iPhone to Mac with Wondershare TunesGo (Mac).
Download free trial of Wondershare TunesGo for Mac!
Disable iTunes Auto Sync. The operation is the same as step 1 in Method 1.
Install and Launch Wondershare TunesGo on Mac. And you'll see the "ITUNES LIBRARY" interface.
Then connect your iPhone with your Mac via USB cable. After connecting, this app will detect your device automatically, your device's name will appear under "DEVICES". Click "Music" and it will list all music on your iPhone.
Select the music you want to transfer to Mac or iTunes, then click "Export" or "Export to iTunes" to sync them from iPhone to Mac.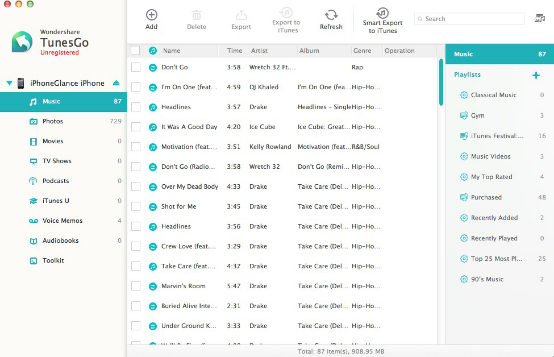 tips: You can transfer no more than 10 songs from your device to another with the trial version. If you want to use Wondershare TunesGo without any limits, you can buy a lifetime license per Mac for $59.95.

Megan has an impressive deal of experience with Mac software and has the ability to explain tech stuff in a simplified, straightforward and easy to understand way.