Eliminating duplicate files can help free up storage space. Thanks to duplicate file finder software, it's possible to quickly find duplicate files and delete them all at once. There are many duplicate file finders out there. Easy Duplicate Finder is one of them. Is it safe? Does it excel at what it is designed for? What features are available? Just check out this Easy Duplicate Finder review.
The Best Duplicate File Finder
Find duplicate photos, videos, audios, documents, archives and other duplicates
Identify true duplicate files based on content
Also help find similar images
Work with computer's internal HD, external HD, SD card, etc.
Offer 3 modes to preview duplicates
Automatically select duplicates for you to mass delete with 1 click
Also provide up to 8 selection rules to help you select
Offer 3 removal options: Move to Recycle Bin, Remove Permanently and Move to Folder
Easy to use and customize
Available for Windows PC and Mac

Free Download

Free Download
Easy Duplicate Finder review
Overview
Developed by Webminds, Easy Duplicate Finder is a duplicate file finder available for both Windows and Mac. It can find common types of duplicate files such as duplicate pictures and is easy to use. As of September 15, 2022, the most current version is 7.21.0.40.
Is Easy Duplicate Finder safe?
Easy Duplicate Finder is safe to install and use. Make sure that you download it from a trustworthy source such as the official website. The installer is clean. You can easily uninstall the app at any time. From a usage perspective, it is reliable. It gives a warning before deleting the duplicate files that you don't want to keep. By default, unwanted files will be moved to the Recycle Bin or Trash so that you can easily restore them if needed.
Price: Is Easy Duplicate Finder free?
How much does Easy Duplicate Finder cost? Is it free? It's not freeware. But a free trial version is provided. The trial version doesn't expire. Instead, it comes with limited features. To use the full version and access all features, you need to upgrade. Please register, purchase a license key and activate it.
The lifetime license for one computer is currently priced at $39.95, with the MSRP being $59.95. That also includes unlimited updates for one year. And one year later, you need to pay extra money to get newer versions. It's a bit expensive considering that there are cheaper and equally good or better alternatives.
Download and install
This app is easy and quick to install/uninstall. For both PC and Mac users, Easy Duplicate Finder provides instructions on installation and uninstallation on the official website and in the user manual.
Easy Duplicate Finder features and performance
#1 Several scan modes
In the top right corner of the interface, you can select the scan mode you need before scanning.
SHA256 Checksum + FileSize is the default mode. It uses smart technology to detect the true duplicate files on your computer, regardless of their file name.
The Folder Comparison mode lets you compare files between 2 or more folders. It will give you 2 boxes to put master folder and other target folder you want to compare separately. And it treats files in master folder as original files.
The Contacts mode helps you to find and manage duplicate contacts in your computer's native contacts app.
In addition, there're Music scan mode, iTunes scan mode, Google Drive mode and more for you to choose.
It also offers a couple of options for you to exclude specific files, folders and subfolders from scan. You can do it by specifying the folders, file types and file size limits.
#2 Find duplicate files
Easy Duplicate Finder supports images, music files, videos, documents and some other common file types. It is versatile and powerful. In addition to the hard drive on your computer, it can also scan for duplicate files in Google Drive and Dropbox. To be able to work with your Google Drive (or Dropbox), this app will need to access your Google account. Before you give such a third-party app the access, check out the warnings from Google. If you worry about the potential risks, here's a guide to safely removing duplicates from Google Drive. This app can also help if you have duplicates in your Photos library and iTunes library.
#3 View and preview duplicates
Once the scan process is done, you will be taken to the Scan complete interface. There, you are provided with three options. Remove all found duplicate files with one click, or save the scan results for later, or check out and preview these duplicates. The third option is recommended. Once you click the Go Fix Them button, you are in the Resolve Duplicates interface. You can sort, view and preview the duplicate files as you like.
There are two view modes: View as Group and View as Table. The latter is recommended. When you select a file, its preview will appear on the right. The preview feature supports documents, songs, photos and videos.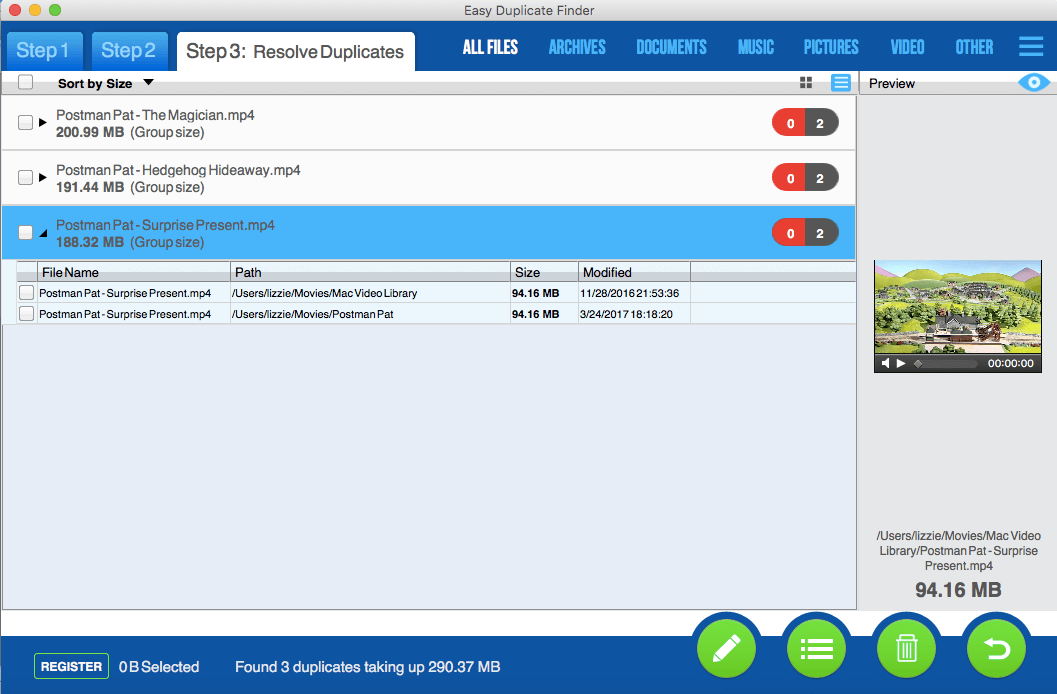 #4 Select duplicate files to remove
Now you have an idea of what duplicate files you have. It's time to select the unwanted ones for elimination and keep the files that you need. To make things easy and quick, Easy Duplicate Finder automatically does the selection for you. In addition, it also provides a set of selection rules. You can choose one of the rules to mass select all the duplicate versions of files you want to get rid of. There are to removal options. You can choose the move the unwanted files to Recycle Bin (on PC) or Trash (on Mac). Or, you can directly delete them permanently.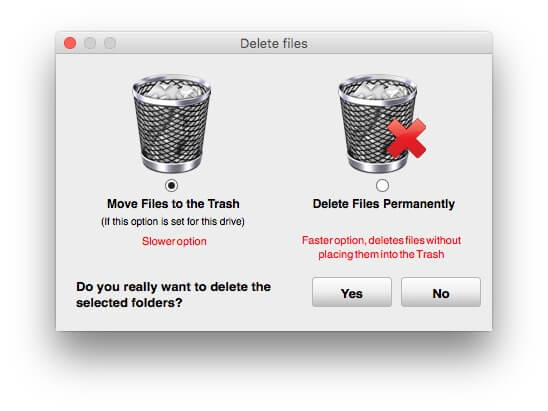 #5 Undo the remove action
If you accidently removed some duplicate files, even you have deleted permanently, don't worry. Easy Duplicate Finder enables you undo the remove action as long as you haven't close the program. Just click the undo icon on the lower right corner, you can recover the files you mistakenly removed.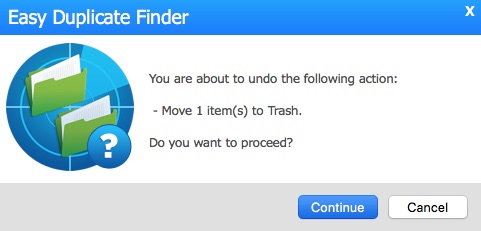 Summary
Pros
Simple and easy-to-understand interface
Support a variety of file types like photos and videos
Provide multiple scan modes for various duplicate removal needs
Work with local hard drives and cloud drives
Allow you to save scan results for later use
Let you preview duplicate files without leaving the app
Offer Auto-Select feature to improve efficiency
Provide two ways to delete duplicates
Cons
Sometimes crash without giving any error message
Preview feature is of limited use
A little bit costly
Instructions: How to use Easy Duplicate Finder
This part provides you with brief instructions on how to use this duplicate file finder.
Get the app on your PC. Open it.
Select a desired scan mode, say, File Search.
Drop a folder to the Add a Folder to Include to Scan section.
This step is optional. If needed, exclude files or folders from scan.
Click Start Scan.
Click Go Fix Them.
Select the duplicate files that you want to delete. Or, stick to the auto-selection.
Click the trash bin icon at the bottom. Select an option to delete duplicates.
Click Yes to confirm the deletion.
The best Easy Duplicate Finder alternative
If you think the duplicate file finding tool from Webminds is not what you are looking for or is a bit expensive, you can consider its alternatives. Cisdem Duplicate Finder is worth checking out. It's ten bucks cheaper and offers free lifetime upgrades. What's more, Cisdem Duplicate Finder is equally versatile and more convenient to use.
Pros
Scan for duplicate images, songs, videos, movies, Word documents, PDFs, spreadsheets, presentations, ebooks, archives, etc.
Support computer and external storage devices
Identify duplicates by content (default) or filenames.
Can also be used to delete duplicates in Amazon Photos, Google Drive, etc.
Come with convenient preview feature
Automatically select duplicate files for you to delete
Also provide multiple selection rules for you to help you mass select
Easy to use with simple, intuitive interface
Mac version compatible with macOS 10.11 and later
Windows version compatible with Windows 10 and 11
Cons
Don't support 32-bit
How to use this Easy Duplicate Finder alternative app to remove duplicates
1. Download and install Cisdem Duplicate Finder on your PC or Mac.
2. Launch the app. Add one or more folders/drives to scan. Go to the Settings icon on the top right you can exclude certain folders/files/particular extensions from scanning.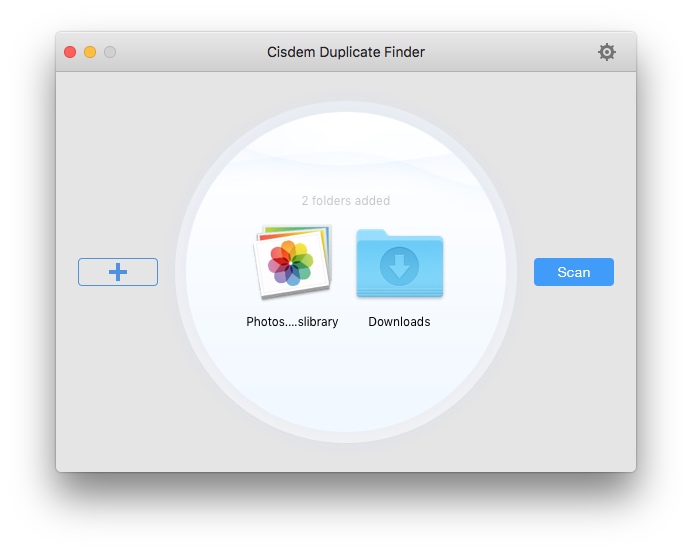 3. Click on Scan. You can preview all kings of duplicate files on the result window. Compared with Easy Duplicate Finder, this alternative has more clear and intuitive interface.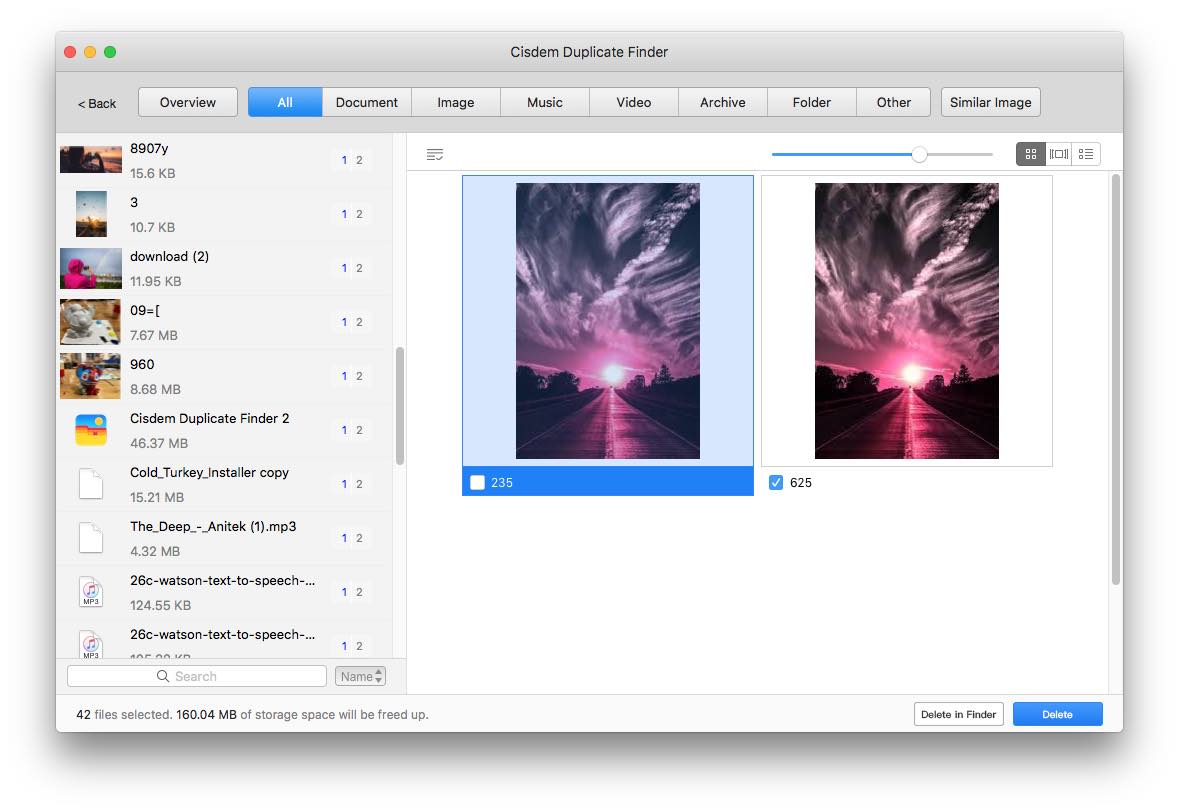 4. This tool will auto-select duplicates for you after scanning. Click on Delete on the bottom right to delete in bulk.
Also you are able to choose a desired selection rule to help you mass select.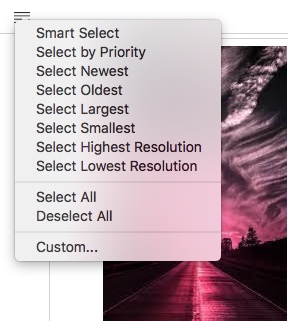 5. You can toggle preview mode in the upper right corner. It let you view details of the duplicate files including their size, date, path and more. You can also play the music and videos directly in this tool.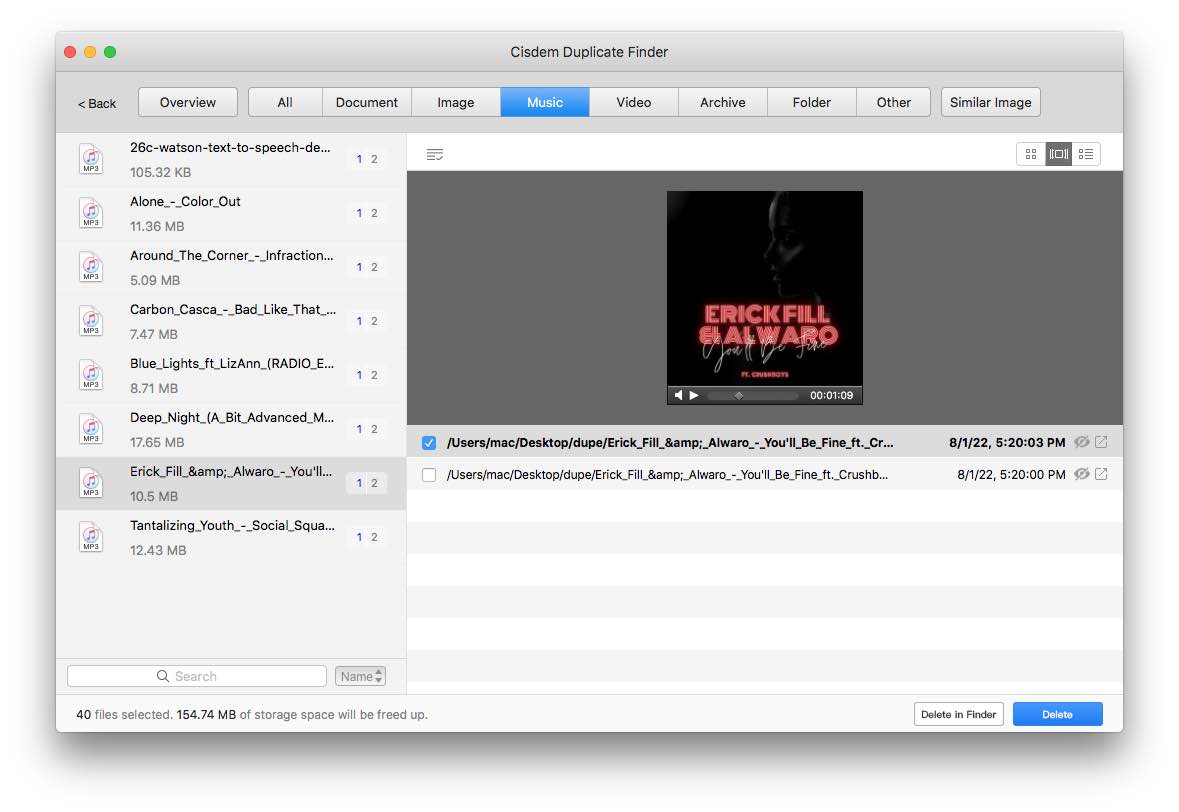 6. After checking the duplicates you want to remove, click on Delete.
Conclusion
I hope that you find this Easy Duplicate Finder review helpful. Its free trial version lets you know how effective and efficient it is when it comes to identifying duplicate files. If you think it meets your need, you can consider purchasing a license. If not, there are some great alternatives available.