Bilibili is a famous video streaming site based in China, which has abundant video channels, such as anime, dancing, music, science & technology, news, entertainment, etc. It allows users to make comments, upload, share, like, or favorite videos.
But you might fail to open Bilibili videos or watch them in lower quality as Bilibili downloads videos in 360p resolution by default. What's worse, some of you even have an unpleasant viewing experience because of language barrier. I believe you are eager to find a solution to download Bilibili videos and Bilibili list videos for better offline enjoyment! This post will walk you through how to download from Bilibili 2022 and save them as HD videos with subtitles in any format you want.
Best Bilibili Video Downloader for Mac
Batch download unlimited number of Bilibili videos
Do multi-task downloading in ultra-fast time
Support more than 1000 websites, such as YouTube and Vimeo
Convert Bilibili to MP4, MKV, MP3, AVI, OGG, iPhone, Android, etc.
Supports over 300 formats, presets for devices included
Download 480p/720p/1080p/2k/4k/8k, etc. videos
Save audio in 128kbps, 320kbps, and high quality
Rip DVD (Disney 99 titles, workout DVDs, etc.) to digital media formats
Add watermarks and subtitles to a Bilibili video
Enhance & personalize and merge videos
Manually configure the bitrate, encoder, frame rate, of the Bilibili videos
Support to download Bilibili sounds / Bilibili music

Free Download
Facts about Bilibili and Bilibili Video Download
What is Bilibili?
Bilibili (B Site, B站, 哔哩哔哩), formerly known as Mikufans, is video sharing website originally for ACG (animation, comics, games) content. It now covers more than 7,000 layers of interest. Bilibili has the wonderful ACG atmosphere and creative Up hosts, and its highlighted feature is the real-time comment function floating above the video.
Note: The corresponding A Site (A 站), called AcFun, is also a similar cultural community and video platform.
Is it possible to save Bilibili to MP3, MP4, or other formats?
Yes, it's possible.
The default format of downloaded Bilibili videos and playlist is FLV. You are able to use a video converter program like Cisdem Video Converter to convert them into different formats, including MP4 and MP3.
Can I download Bilibili video playlist?
Yes, you can.
There are a few open-source and command-line utilities like Annie, You-Get, YouTube-dl, etc. that have the ability to download Bilibili playlist for free. For more information on how to use them, see:
https://github.com/iawia002/annie
https://you-get.org/
https://github.com/ytdl-org/youtube-dl
But these Bilibili playlist downloaders are too complicated for a technical novice.
Additionally, the online services - fbion.com and tubeninja.net claim that they can download Bilibili video playlist online. It's actually a false advertisement. They can't do that. Once you add the playlist URL and start to analyze, you will receive the message - "No download file found" or "Link not supported".
How to Download Multiple Bilibili Videos from Playlist All At Once?
In fact, in addition to the Bilibili playlist downloader, the best way is to use a professional video downloader software to grab any single or multiple videos from the website without limitation and make video conversions.
#1 Cisdem Video Converter (Mac)
Cisdem Video Converter is a multipurpose Bilibili video downloader that can quickly download, convert, and edit Bilibili videos. Besides Bilibili, it's compatible with other 1000+ sites, including YouTube, Livestream, Periscope, TikTok, Instagram, Dailymotion, Facebook, Nicovideo, etc. Supported by advanced built-in video enhancer, it's able to download Bilibili videos in 1080p, 4K , 8K or higher resolution if the website supports.
If you don't understand Chinese, it deserves for you to possess this Bilibili video downloader to solve your language issue. It not only supports to download videos with subtitles but also can add external subtitles. That means you can select the English subtitles or upload the suitable subtitles you want. If necessary, you can edit the subtitles to your liking.
This Bilibili downloader also offers the flexibility of downloading and converting videos to any format that contains 600+ video and audio format, and you can even extract audio files from videos. So if you like music, you can also use it to download countless Bilibili music.

Free Download
Step 1. Copy the video link
Go to Bilibili from the web browser on your Mac and get the URL of the video you'd like to download.

Note: If the link at the top can't be downloaded, right-click the video and choose to copy the URL.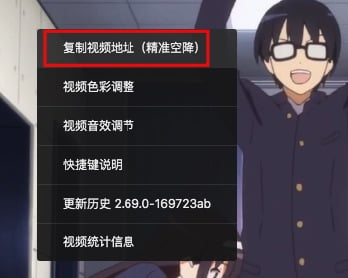 Step 2. Paste the link and start to download
Open the software, and click the third icon

at the top to switch to the "download" interface. Paste your copied URL into the input field at the bottom.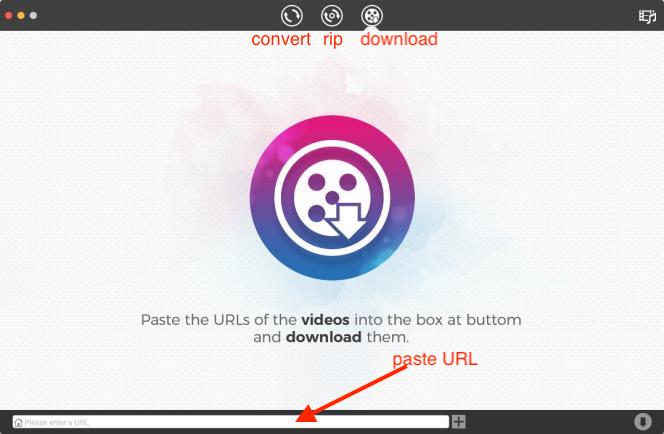 Click on the

button to download Bilibili video on Mac.
To download the whole Bilibili playlist, you can copy & paste the link of each video from the playlist, and process them together.
tips: The software helps to download multiple Bilibili videos at the same time. Simply click "File > Imput URLs..." at the top main menu and then it pops up a new window to add more URLs.
Step 3. Convert Bilibili FLV to MP4, MP3, etc. (optional)
Once the downloading gets completed, the Bilibili videos will be saved in FLV format. You may want to convert Bilibili FLV to other formats for better playback on your devices.
At this time, you can click the

button to locate to your downloaded Bilibili videos, and drag & drop them to the first interface of the software (the "convert" interface).
Open the "format" drop-down box, and choose MP4 as output format under "General Video", or choose MP3 under "General Audio". Hit the

button to begin conversion process.
Step 4. Edit or adding subtitles (optional)
If you want to edit or add subtitles, you should first drag and drop the downloaded videos to the first interface that is the "Convert" interface. Then, click
icon at the upper right corner of the thumbnail and head to "Subtitle" section to edit embedded subtitles or add external subtitles in the popped-up window.
#2 WinX YouTube Downloader (Windows)
WinX Youtube Downloader is an awesome video downloader that features the ability to catch videos from 1000+ sites as well, bilibili.com included. It supports batch processing and ensures a high video quality of up to 8k. You can download Bilibili videos in MP4, MP3, 3GP, or WebM formats and you are allowed to add subtitles to the videos. With its built-in Multi-thread and Multicast Technology, this Bilibili video downloader for Windows will finish all works at time.
Download, install, and launch WinX Youtube Downloader.
Copy the target Bilibili video or playlist URL.
Click "Add Url" on the software, and click "Paste URL & Analyze" in the pop-up window to get the video title, duration, and list of versions.
Select the output quality and format.
Click "Download Selected Videos" (some of the videos) or "Download Full Playlist" (all videos)
Click "Download now" to save Bilibili videos offline.
How to Download a Single Bilibili Video for Free?
Users who are looking for a free method can read this section. We will recommend 3 Bilibili downloaders based on Chrome, Firefox, and online, which can download Bilibili videos quickly with clear quality.
#1 Video Downloader Plus (Chrome)
There is more than one extension called Video Downloader Plus in the Chrome Web Store. The one I'm talking about is provided by hoaterotrung. It's able to download video from Bilibili, Vimeo, Vevo, and so on, but YouTube is not included because of restrictions of the Developer Program Policies and Google Web Store Policies. This Bilibili video downloader for Chrome has 50,000+ users. The most frequently reported problem in reviews is failing to download Facebook video.
Head to Video Downloader Plus extension in Chrome Web Store.
Click on "Add to Chrome", When prompted by the browser to confirm installation, click "Add Extension".
Go to the page that contains a Bilibili video you desire to download.
Hit the extension icon in the upper right corner of the browser, you will notice that it has already detected your opened Bilibili video.
Select one and download Bilibili video in MP4 format.
#2 Video Downloader professional (Firefox)
Video Downloader professional, as the name suggests, is a solution for downloading videos from media websites on Firefox. It supports video download from Bilibili, Vimeo, Twitter, VK, SoundCloud, Youku, Nicovideo, OKru, and more. This Firefox add-on is powered by startpage24, which has also developed other add-ons for video downloads such as All Downloader Professional, Pinterest Downloader Professional, and tumblr Downloader Professional.
Find Video Downloader professional in addons.mozilla.org, and then add it to Firefox.
Open and play the Bilibili video that you are going to download.
Click the add-on icon next to the URL address bar. A small dialog box will pop out containing several detected Bilibili video clips.
Choose one of the clips and click the "download" icon.
#3 Y2mate.TV (Online tool)
When it comes to downloading Bilibili videos free with online downloader, Y2mate.tv makes things simple for you. It can download and convert videos and music from Bilibili with any browsers, and it will provide high quality for the downloaded videos. Besides, Y2mate.tv's download speed is quite fast among similar online tools.
However, although three output options are offered, the "Download HD" function is not available and will open an advertising page to recommend other 3-rd party software. When you select the "Download MP4" option, it saves Bilibili videos online in FLV format, even if it says MP4.
Navigate to https://y2mate.tv/ in your browser.
Copy a link of Bilibili video and paste to the text field of the online Bilibili downloader.
Hit the "Convert" button to analyze the video link.
Click "Download MP3" or "Download MP4" (actually to FLV).
How to Download Video from Bilibili on Android Smartphone?
Free Video Downloader, created by Simple Design Ltd., is an easy Bilibili downloader app for Android that can be applied to Android 5.1+. It's capable of downloading video and music from Bilibili, Facebook, Twitter, Instagram, etc. As a free Bilibili video downloader, it is excellent in downloading HD videos with a fast speed.
But the app comes with intrusive ads. It also accumulates cache very quickly, about 20MB in 1 minute, making the search a bit lagging and slow.
Install the APK file on your mobile, and initiate it.
On its main interface, you can see a search bar. Input the keyword to find your favorite Bilibili video.
Tap the red download button on the page.
From the pop-up box, tick the first option.
Tap on "DOWNLOAD" to save Bilibili to MP4 on Android.
In general, there are 3 methods to download Bilibili videos on Android phone:
Install an Android video downloader app
Using online downloader
Obtain video straight from the Bilibili app (read below)
You can download single Bilibili video directly within the app on mobile and Win 10. It's the most convenient way to save videos from Bilibili with optional resolution and decent speed.
#1 On mobile phone
open a Bilibili video you wish to download.
Tap on the ellipsis (three dots) vertically aligned icon ("⋮") in the upper right corner.
From the pop-up menu, select the second option - "缓存". Bilibili doesn't have an English version, but you can tell if it's a download option from the icon.

#2 On Windows 10
Install the Bilibili app (UWP version)
Open the desired video
Click the download icon at the bottom and save it.

Ordinary users can only download Bilibili videos from 360p to 1080p. To download 1080p high bitrate videos, you must become a member (more privileges).
Closing Thought
We have brought to you the best possible ways to download Bilibili videos and playlist. While all of them have their own pros and cons. If you only want to download single Bilibili video, online Bilibili downloader, web plugins, or free apps are good. But to download videos simultaneously from any site, and edit & convert the downloaded videos such as supporting subtitles, the paid software is more helpful and will improve the video's clarity so that to provide higher-definition videos.