You might have come up against a brick wall trying to discover if it is possible to play YouTube audio on iPad, iPod, MP3 player, or any other device? First of all, we have to know, what kinds of formats are supported by those hot audio players. AAC, AC3, FLAC, MP3, MP2, M4A, OGG, WAV, WMA, etc., may be the target formats that we should convert to.
Here, we'll focus on exactly how to download and convert YouTube to WAV on Mac with the best third-party software, online converter, etc.
The Best YouTube to WAV Converter for Mac
Download 4k, 1080p music videos from 1000+ sites like YouTube
Rip YouTube to high-quality WAV, OGG, FLAC, MP3, MP4, or any format
Convert YouTube URL to optimized preset for iPhone, iPod, iTunes, etc.
Provide several editing options like crop, effects, watermarks, subtitles, etc.
Trim and convert a small part of a YouTube video to WAV to make ringtones
Rip DVD disc or DVD folder to 300+ digital formats
Support H265/HEVC encoding and decoding
Download and convert multiple files at the same time

Free Download
Why Need to Convert YouTube to WAV on Mac?
WAV (Waveform) is one of the major file standard formats for digital audio. It was jointly developed by Microsoft and IBM in 1991 and was originally used for Windows 3.1. As an older format than MP3, WAV has a few benefits in terms of professional, high fidelity recording applications.
It's an accurate, lossless format. Lossless audio files are either uncompressed or compressed using techniques that won't lead to any loss of data. In short, WAV accurately reproduces the recording without the loss of audio quality due to the format itself.
It has a simple and logical structure. Because of its simplicity, the WAV file is relatively easy to process and edit.
It offers high recording rates. Standard WAV is at a 44.1 kHz sample rate and stereo 16-bit samples, which is the same as the CD audio format. The highest sample rate available in the recording studio is 192kHz, and ​WAV comes with huge dynamic ranges.
Mass Convert YouTube to WAV on Mac with a Safe App
Cisdem Video Converter for Mac is a lifesaver with all-around functions. Not only can it download videos from streaming sites like YouTube, but also convert YouTube URL to WAV or other audio/video formats. It takes things further up a notch by providing multiple quality options for the conversions.
Key features of Cisdem YouTube to WAV converter for Mac:
1. Download YouTube Videos in batches. Fully supports downloading web videos from the major video streaming sites, such as, YouTube, Brightcove, Break, DailyMotion, Blip, Veoh, Metacafe, Bing, Flickr, AOL, and Vimeo, etc.
2. Convert to/from any SD and HD Videos
Standard Video Formats: 3GP, AVI, FLV, M4V, MPG, MP4, MOV, RMVB, TS, etc.
HD Video Formats: MTS, TS, M2TS, HD MPG, HD MP4, HD MOV, HD VOB, HD WMV, etc.
Audio File Formats: MP3, MP2, M4A, OGG, WAV, WMA, MKA, AAC, FLAC, etc.
Output Devices: iPhone, iPad, Apple TV, iPod Touch, Android Phone, Walkman, PSP, etc.
Apple Software: iTunes, iMovie, iDVD, Final Cut Pro.
3. Edit Video for a better look with merge, cut, crop, rotate, watermark, subtitle, etc. If for convert to audio format, you can do some simple audio editing.
4. Rip DVD (with CSS protection) into various file formats.

Free Download
Now, let's learn how to use this all-in-round toolbox to capture WAV from YouTube on Mac.
How to Download Videos From YouTube on Mac?
Step 1. Fire up Cisdem Video Converter
Launch the best YouTube to WAV converter for Mac. Go to the third interface for YouTube download.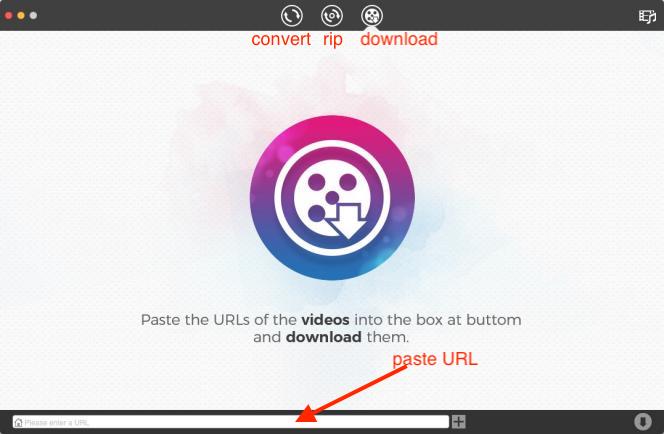 Step 2. Download YouTube videos
Open YouTube.com in your browser, and search the videos you intend to download.
Drag the video thumbnail to the main interface of Cisdem Video Converter, or copy-n-paste its URL to the bottom blank box, and click

button to download YouTube video. All video resources will be processed quickly.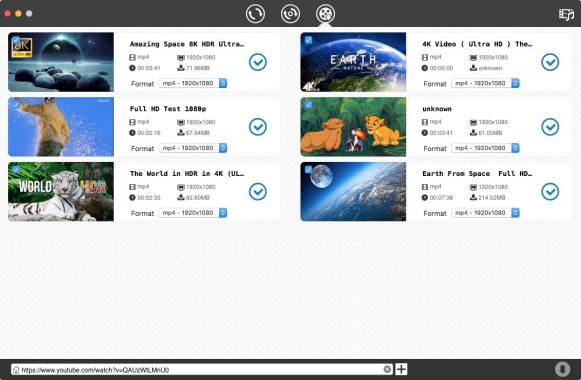 After the download is complete, all the video thumbnails will be displayed along with its video basic info., like format, definition, duration, size, etc.
Click the

icon to see your downloaded YouTube video files on the defaulted folder.
How to Convert YouTube to WAV on Mac?
Step 1. Import downloaded YouTube videos
Switch to the first interface, and drag the downloaded YouTube videos into it.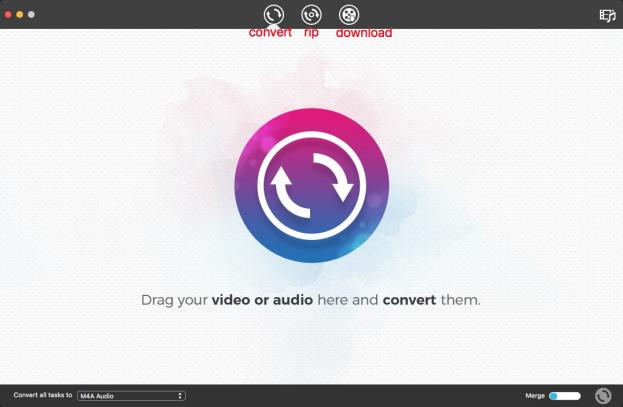 Step 2. Choose WAV as output format
Click the format profile icon, go to the format lists. Choose "General Audio"> "WAV Audio". Plus, all of the formats are well categorized by the terminal devices.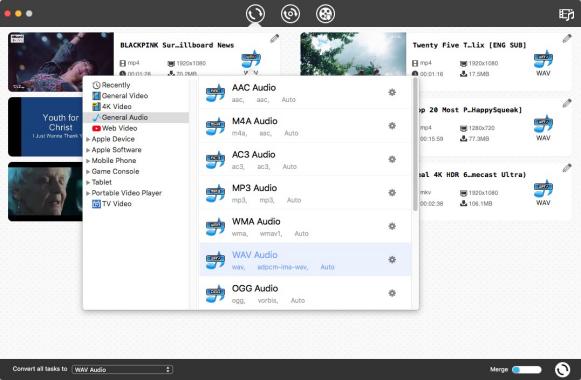 Step 3. Adjust "Advanced Settings"
Click the

icon to bring up the "Advanced Settings" window. Preset the audio parameters to get better effect, like quality, codec, sample rate, bit rate, channel, etc. And last, click the "OK" button.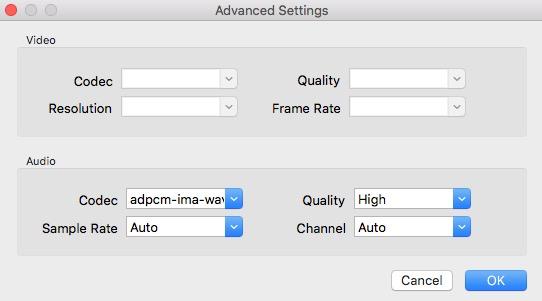 Step 4. Convert YT to WAV on Mac
Click

to start fast conversion. You would get the results with this best YouTube to WAV converter for Mac.
Use Free YouTube to WAV Converter for Mac Online
Featuring a typical and clean interface, YouTube-Converter.Online has attracted massive users around the world. It's able to help you download MP3, FLAC, MP4 and WAV from YouTube. You can use it on Mac, PC, and Android with no download limit. But to the software limitations of the iOS web browser, it doesn't work with all iOS devices.
This online converter can't YouTube videos that are not longer than 15 minutes. And compared to Cisdem Video Converter, it supports few output formats and site (only YouTube).
Visit https://youtube-converter.online/.
Copy the URL of a YouTube video.
Paste the link into the search box of YouTube-Converter.Online. Press the "Enter" key.
Click your targe format - "WAV".
Hit the "DOWNLOAD WAV" button to capture WAV from YouTube online.
Although YouTube-Converter.Online hasn't been released for a long time, it's a rare real online YouTube to WAV converter for Mac. Most online services in the market can only convert YouTube to MP4/MP3. For example:
OnlineYouTube.com (or YouTube-WAV.com): When I paste the URL and click "Download", it will open a new window- office-converter.com, and show me the message, "URL Error! The download link not found!".
Office-Converter.com: It can't directly download YouTube videos and will take you to OnlineYouTube.com. These two pages advertise each other.
Online-Audio-Converter.com, Docspal.com, YouConvertit.com, etc.: Most of them are audio converters. You have to download videos using other tools, and then convert the downloaded videos to WAV with them.
Ytbto.com, YouTube2Video.com, etc.: They just can download and convert YouTube to MP3 or MP4.
Convert YouTube to WAV on Mac through Commands
YouTube internally stores videos in MP4 format and audio in AAC (.m4a) format. If you capture YouTube audio via youtube-dl, the resulting format should be DASH M4A or DASH WebM. Thus, FFmpeg (or avconv) is also required to convert M4A to pcm_s16le encoded WAV file with 44.1 kHz (sample rate), and 1411 kbps (bit rate) stereo.
Install youtube-dl and FFmpeg to your Mac computer.
Run the Terminal program.
Type the command-line: youtube-dl -f m4a url. Press "Enter".
Use another command: ffmpeg –i input.m4a output.wav, and convert soundtrack from M4A to WAV on Mac.
In fact, you can use the special command line: youtube-dl --extract-audio --audio-format wav -o output.wav url straightly download WAV without calling FFmpeg. But the final WAV file is in lower bitrate & sample rate, and encoded with Opus (not supported by many audio players).

Record YouTube to Waveform on Mac
Apart from YouTube to WAV converter for Mac, you can also give a try on a YouTube audio recorder. Audacity is a versatile and free tool that helps you rip WAV from YouTube. It works on multi-platforms, including Mac, Windows, and GNU/Linux. The software has become necessary for video editors and filmmakers owing to its high quality. Meanwhile, you should download a free open source plugin – Soundflower to record audio playing on your Mac.
Install Soundflower and Audacity to your Mac.
Open Audacity. Make sure the settings as the image shows below.
Navigate to "Transport" > "Recording" > "Record" to start recording.
Play the YouTube video you wish to record. When finished, click "Pause".
Navigate to "File" > "Export". Select "Export as WAV". Finally, rename and save the audio.
Final Thought
The above-mentioned are our taken on how to download and convert YouTube to WAV on Mac, and I believe you have picked your favorite YouTube to WAV converter for Mac. The online tool can deal with quick conversion without installation. But for long-time use, a dedicated software like Cisdem Video Converter is necessary, as it is safe, powerful, and gets your job done fast and well. According to different requirements, we suggest you go with a suitable solution.