Do you still break your head over converting WPS to PDF? PDF files are more easy-to-spread than WPS files, so whether at work or in life, PDF files are used more frequently. How to convert a WPS file to PDF? Many users are baffled. I will recommend 3 productive ways to convert WPS to PDF, you can select the most suitable one to use.
Convert WPS to PDF Online Free
Undoubtedly, Zamzar WPS to PDF Converter is a great free online tool to convert WPS to PDF. It supports converting various formats and there is no need to download any extra software. Just with few clicks, you can convert WPS files to PDF easily. But you are unable to find a way to adjust the bit rate. Follow the steps to convert WPS to PDF online for free now: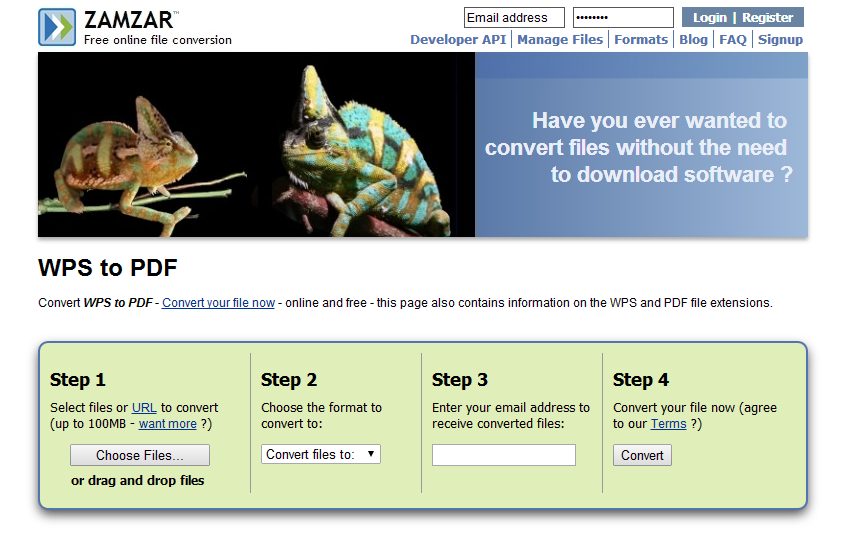 Click "Choose Files..." button, then select the file or drag and drop it to the window. You can also paste the URL to upload files.
Choose PDF as the output.
Submit your email address to receive the WPS output.
Click "Convert" button and download the WPS output according to the download link sent to your email box.
Cons:
Please note that people can only upload files up to 100 MB in size without a registered account.
Potential risks of information leakage may occur since your file has to be uploaded and stored on the online server for a while.
Conversion results need to be further checked in case of missed contents or messed formats, layout…
Utilize a WPS to PDF Converter for Well-formatted Results
You may get abundant WPS files need to be converted to PDF in batch, or your files are of high privacy to be processed safely, even you require high on the conversion results, then a dedicated WPS to PDF Converter is necessary. For users on Mac and Windows, there are 2 best WPS to PDF Converter recommended as following.
On Mac
If you want to convert WPS to PDF on Mac using a reliable third-party app, I think the best converter is Cisdem Document Reader. Strictly speaking, Cisdem Document Reader isn't a WPS to PDF converter, it is a file and documents reader for MacOS. This application can read many files types, including DjVu, WPD, WPS, XPS, VISIO, PDF and provides you a terrific reading experience. Document Reader not only can read WPS files directly, but also can save WPS as PDF, Text, JPEG, PNG, RTFD, TIFF, BMP, GIF on Mac. The biggest advantage of it is that you can preview the content of your WPS files.

Free Download
Step 1. Launch Cisdem Document Reader on your Mac.
After downloaded Cisdem DocumentReader and installed it on your Mac, you need to double click its icon to run it. Then you can open your WPS file on it.
Step 2. Open your WPS files on it.
Add your WPS files to it, all pages of the file will be listed on the left, and the details will be showed on the right. You can view the content of your WPS file. By the way, it supports open multiple files at the same time.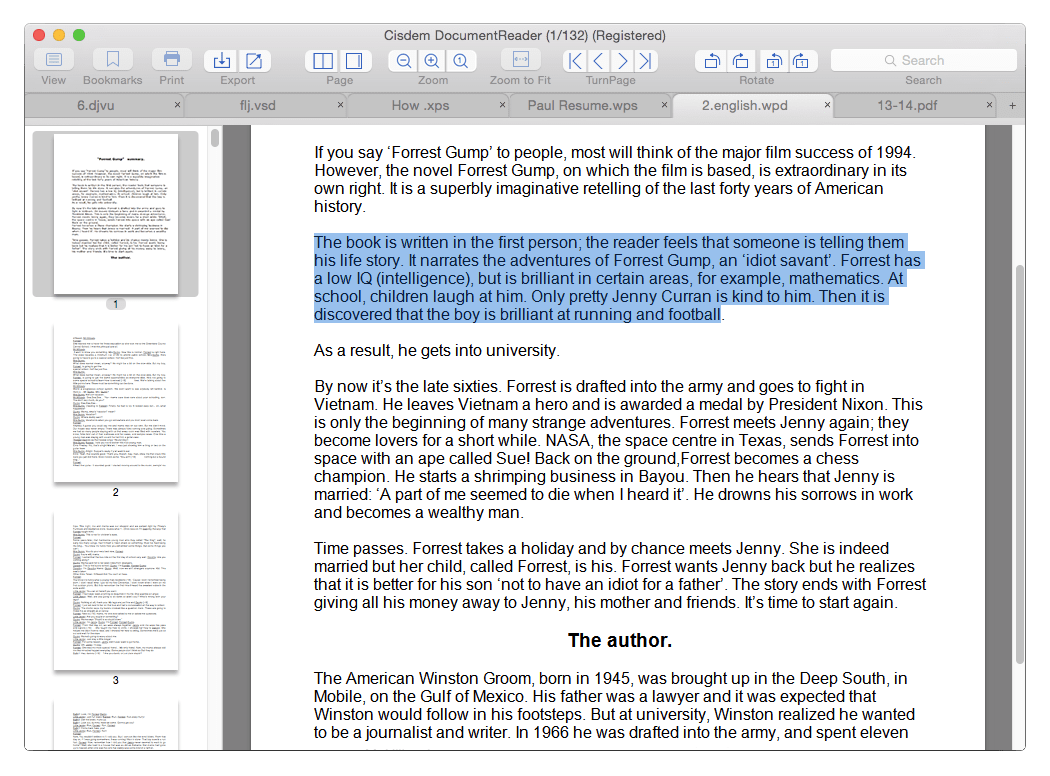 Step 3. Convert WPS to PDF on Mac.
Declare that WPS file is accurate and complete, click the "Save to PDF" option to convert WPS file to PDF. Meanwhile, you can print the PDF file.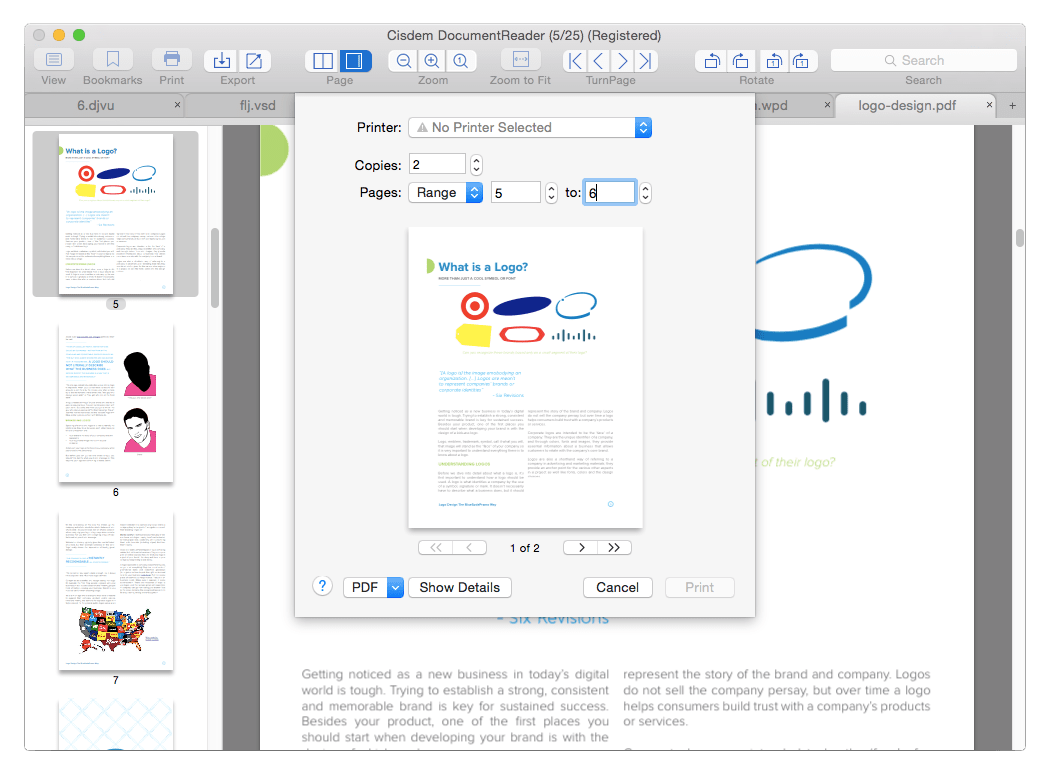 On Windows PC
Though there are several Windows programs to convert WPS to PDF by printing as, it requires users to pre-install a WPS viewer first. Users cannot directly perform the conversion with such a program connecting WPS viewer with a printer. But a built-in WPS to PDF Converter packed in a PDF editor works to solve such a problem.
iSkysoft PDF Editor 6 Professional is a dedicated PDF editor allowing Windows users to edit and manage PDFs smartly. Also, with a built in WPS to PDF converter, users can convert WPS to PDF on Windows easily, even, users can convert Text, HTML, Webpage, Images and other files to PDF easily. The program also supports batch processing WPS to PDF conversion and merging PDFs easily.
Steps to Convert WPS to PDF on Windows
Download and install the program on your Windows PC, then launch the program.
Import WPS file by clicking "Create PDF", then browse and select the WPS file you want to import.
Once the WPS file is imported, go to File>Save as and choose the output as PDF. Also, rename and choose the output folder if necessary. Click "Save" to convert WPS to PDF on Windows.
Convert WPS to PDF if You Have Installed Microsoft Office
We all know that a WPS file format is similar to the DOC file format, as it is a text document, which can be generated with the Microsoft Works Word Processor program as well. Although WPS files aren't formed from the macros or advanced formatting preferences, they can be viewed with either Microsoft Word or Microsoft Publisher. If you have Microsoft Office Word installed on your PC, then you can follow the steps below to convert WPS to PDF effectively.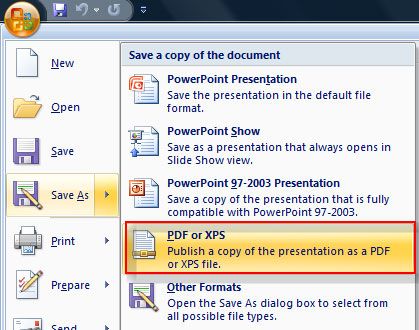 Launch Microsoft Office Word.
Click on the File Tab, then select the "Open" option to open your WPS file on it.
After opening WPS files on it, Click the File Tab again, then select "Save as".
Choose the "PDF" option from the "Save as Type" list.
Click the "Save" option, your WPS file will be converted to PDF.
Conclusion
Zamzar seems to be more popular, but is this true? Not necessarily. I saw some reviews from Zamzar, a user said:" it is not free! 100mb limit. Not even enough to try it out." And another user thought it just wastes of time. I always recommend to use a dedicated WPS to PDF Converter when someone ask advices from me, since they offer multiple functions to manage your documents fabulous, also greatly save your time and efforts to boost the productivity on paper work.

Megan Charles


Megan has an impressive deal of experience with Mac software and has the ability to explain tech stuff in a simplified, straightforward and easy to understand way.