Looking for the best cloud duplicate finder to find and delete duplicate files in cloud storage? You are in the right place.
It's common for us to store files in the cloud. There are many cloud storage services such as Dropbox, iCloud and Google Drive. There can be duplicate files in local storage devices like hard drives on computers and USB flash drives. It's the same case with cloud storage. Many people are looking for an easy way to remove duplicate files from Dropbox, or OneDrive, etc.
There are two types of cloud duplicate file finders: web-based ones and desktop ones. Both can help you easily get rid of duplicate files. We will talk about both types in this article.
The Best Cloud Duplicate File Finder for Mac
Find duplicate photos, videos, audios, documents, archives, etc.
Also detect similar images
Can be used for Google Drive, Dropbox, iCloud and more
Work with Mac's internal drive, external hard drive, SD card, etc.
Remove duplicates from iTunes, Music, Photos and iPhoto
Offer 3 preview modes, including side-by-side preview
Automatically select duplicate files for you to remove with 1 click
Also provide 8 selection rules
Offer 3 removal options: Move to Trash, Move to Folder and Delete Permanently
Secure, easy to use and highly customizable
Support macOS 10.10 or later

Free Download
A brief comparison
Each part of the article will focus on a type of cloud duplicate file finder and recommend the best app to use.
Part 1. The best web-based cloud duplicate finder
Cloud Duplicate Finder or CDF is a web-based app to find and eliminate duplicate files in certain cloud storage services. Below is a review.
As a SaaS by Sorcim Technologies, CDF is designed to detect and delete duplicate files in cloud drives. Currently, it works with five services such as Google Drive and OneDrive. Supporting all common file types, it can help you get rid of duplicate pictures, music files, documents and other duplicates. In addition, this app can also identify visually similar images.

Is Cloud Duplicate Finder safe? This is a frequently asked question. In order to scan a cloud drive for duplicate files, CDF needs to access the files and folders in the drive. Once you grant the access, this third-party app will be able to see, edit and delete your files in the cloud. It's recommended to learn about the possible risks first. On its official website, CDF states that it uses 256-bit encryption and never gains access to the actual content of your data. If you trust the app, you can allow the access and start using it.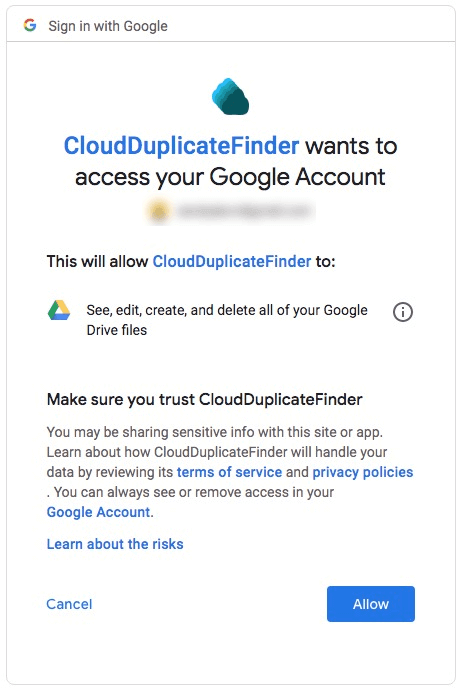 Is Cloud Duplicate Finder free? No. It's a paid app with multiple subscription options.
How to use Cloud Duplicate Finder web app
Open a web browser and go to https://www.cloudduplicatefinder.com/.
Sign up using your Google or Microsoft account. Alternatively, create an account and login to it.
Choose a cloud storage service.
Click the Add New Drive button.
Sign in with your account and authorize the access.
The added drive and its folders will be listed in the left sidebar. Select the entire drive or the specific folders to scan.
Choose to find all types of duplicates or specific types like Documents and Images.
Click the Scan button. The time it will take depends on the amount of files to scan.
Once the process is done, CDF will list the detected duplicate files in groups.
This step is optional. To preview a duplicate photo, check the box next to Preview and highlight the photo.
Now it's time to select unwanted duplicate files to remove. You can do it manually or by choosing a selection rule.
Click the Select Action button. Permanently delete the selected duplicates or move them to a folder of your choosing.
Pros
No need to download and install anything
Work with multiple cloud storage services
Support all popular file types
Can also find photos that are visually similar
Offer multiple scan types and removal options
Come with a built-in image preview feature
Support almost all operating systems
Cons
A bit expensive
Need access to your cloud drive accounts
Part 2. The best desktop cloud duplicate finder
Mac users can use Cisdem Duplicate Finder to effortlessly find and delete duplicate files in all popular cloud storage services. It can identify duplicate photos, videos, songs, Word documents, PDFs, spreadsheets, archives and other kinds of duplicate files. It's very easy to use and customize.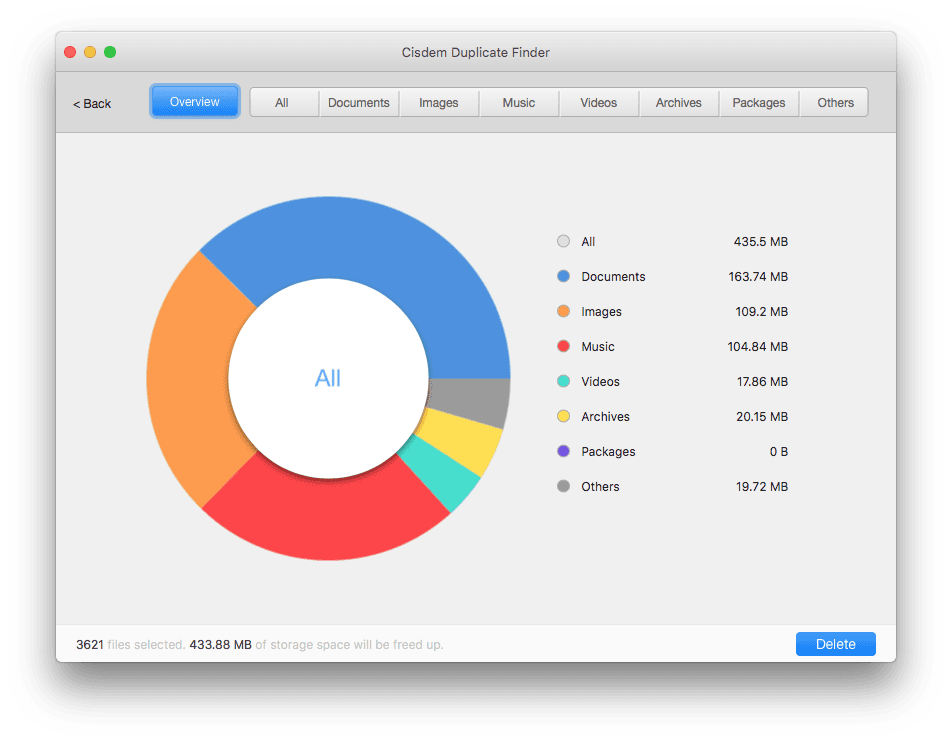 Commonly used to delete duplicate files on Mac and external storage devices, Cisdem Duplicate Finder can also be used for cloud drives. The trick is to sync your cloud drive with your Mac first.
Almost all such services provide official apps to sync your cloud drives with your computer, such as Google Drive's Backup and Sync app, OneDrive app, Amazon Photos app, etc. Once installed and set up, such an app will automatically sync your cloud folders and files, including the duplicate files (if any), to your Mac. Now you can use this desktop cloud duplicate finder to find and remove duplicate files. When the process is finished, the removal will be automatically detected and synced. As a result, the duplicate files in the cloud will also removed immediately all at once.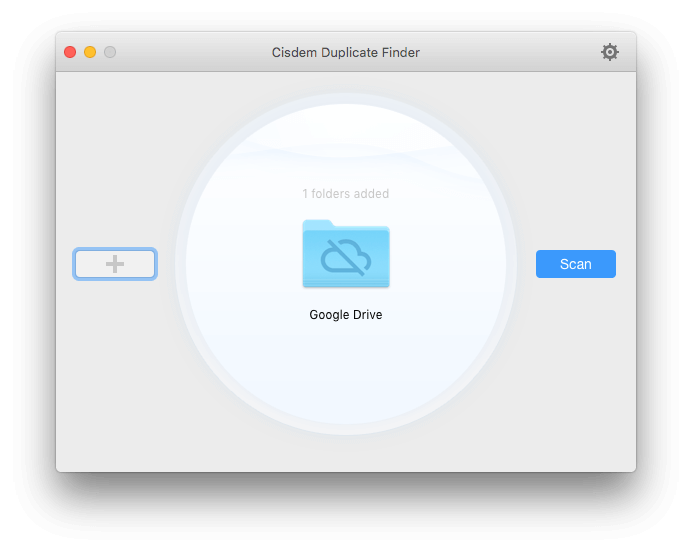 As you can see, during the whole process, Cisdem Duplicate Finder won't require access to any of your online accounts. When compared to the first solution, this desktop solution is more secure. Also, it supports more cloud-based storage services. The app is MAC-ONLY. It currently doesn't have a Windows version.

Free Download
How to use desktop cloud duplicate file finder
Important note: If there are tons of files in your cloud storage, then the process will probably be long. It will take time to sync back and forth. If you can't successfully sync your files from cloud to your Mac and vice versa, this app won't work for you.
Download and install the official app of your cloud storage provider.
Set up the app and sync your cloud drive (or specific folders in it) to Mac.
Now you should be able to see the cloud drive in Finder's sidebar. Wait for the sync to complete.
Download and install the cloud duplicate finder. Open it.
Click the plus icon. Select the drive in the sidebar. Click Open.
Click Scan.
Once the scan is done, you can view and preview the detected duplicate files.
Cisdem Duplicate Finder will automatically select duplicates to delete. If not satisfied with the auto-selection, choose a desired selection rule.
Click Delete.
Note that the selected unwanted duplicate files will be moved to the Trash on your Mac. If you need to restore files, restore them from Trash and then let the official cloud storage app sync the changes to the cloud.
With different services, the ways to set up their official apps may be different. For some popular services, Cisdem provides detailed tutorials.
How to remove duplicate files from:
Pros
Find all common types of duplicate files
Find similar photos
Support a wide variety of cloud-based storage services
Safe and reliable to use
Delete duplicate files on Mac, external HD, SD card and more
Help free up storage space
Delete duplicates in Photos, iPhoto, Music and iTunes
Let you preview images, media files and documents
Automatically select duplicates for you to delete with 1 click
Also provide multiple useful selection rules
Easy to use
Cons
Only available on Mac

Free Download
Conclusion
We hope you will find the cloud duplicate finder reviews helpful. All the important details are covered. Step-by-step instructions are also provided. Both solutions are easy to apply. Cisdem Duplicate Finder is versatile and powerful. You can use it as Google Drive duplicate finder, iCloud duplicate finder, or Mac duplicate file finder, etc.

Rosa Reyes


Rosa has worked in Mac software industry for more than eight years. She believes that the purpose of software is to make life better and work more productively. In addition to writing, Rosa is also an avid runner.