Looking for the best cloud duplicate finder to find and delete duplicate files in cloud storage? You are in the right place.
Nowadays, it's common for us to store files in the cloud. There are many cloud storage services such as Dropbox, iCloud and Google Drive. As with any storage medium, it's easy to have duplicate files in cloud drives. Many people are looking for an easy way to remove duplicate files from Dropbox and OneDrive etc.
There are 2 types of cloud duplicate file finders: web-based ones and desktop ones. Both can help you easily get rid of duplicate photos and other duplicate files. We will talk about both types in this article.
The Best Cloud Duplicate File Finder
Identify duplicate photos, videos, audios, documents and all other duplicate files
Identify similar photos too
Find duplicate files in Google Drive, OneDrive, iCloud and more cloud drives
Find duplicate files in PC, Mac, external hard drive, SD card, etc.
Let you find duplicate files in 1 folder/drive or in and across multiple locations
Display the found duplicate files for you to view and preview
Automatically select all duplicates for you to remove with 1 click
Also offer selection rules to help you mass select
Easy to use and powerful
Customizable, letting you take control
Available for Windows PC and Mac

Free Download

Free Download
A brief comparison
Each part of the article will focus on a type of cloud duplicate finder and recommend the best app to use.
Part 1. The best web-based cloud duplicate finder
Cloud Duplicate Finder (also known as CDF) is a web-based app to find and eliminate duplicate files in certain cloud storage services.
Cloud Duplicate Finder review
Overview
A SaaS (software as a service) product by Sorcim Technologies, CDF supports detecting and deleting duplicate files in five services including Google Drive, OneDrive and more.

Pros
No need to download and install anything
Support multiple cloud storage services
Find almost all duplicate files
Also find photos that are visually similar (only in OneDrive and Google Drive)
Offer multiple scan and removal options
Come with a built-in image preview feature
Support desktop and mobile (such as Android) operating systems
Cons
Need access to your cloud drive account, making CDF able to do the same things that you can do to your files and account
A bit expensive
Features
Cloud Duplicate Finder can scan a supported cloud drive for duplicate pictures, music files, documents and other duplicates. It also comes with a similar photo finder, which can finds certain similar images.
There are two ways for you to handle the found duplicates. You can delete them permanently or move them to a folder.
Is Cloud Duplicate Finder safe?
Whether it's safe depends on your need of safety. To deal with the duplicate files in a cloud drive, CDF needs to access the files and folders in the drive. Once you grant the access, this third-party app will be able to see, edit and delete your files and folders. Learn about the possible risks first!
CDF states that it uses 256-bit encryption and never gains access to the actual content of your data. If you trust it, you can allow the access and start using it.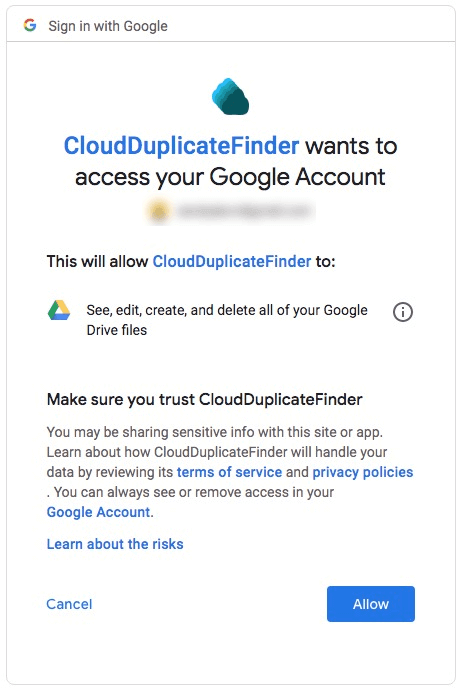 Price: Is Cloud Duplicate Finder free?
No.
Cloud Duplicate Finder allows you to find duplicate files for free, but you need to pay to delete duplicates. There are multiple subscription options.
How to use Cloud Duplicate Finder web app
1. On your desktop (recommended) or mobile browser, go to www.cloudduplicatefinder.com.
2. Sign up using your Google or Microsoft account. Alternatively, create an account.
3. At the top of the page, choose the cloud storage service in which you want to find duplicates.
4. In the sidebar on the left, click the Add New Drive button.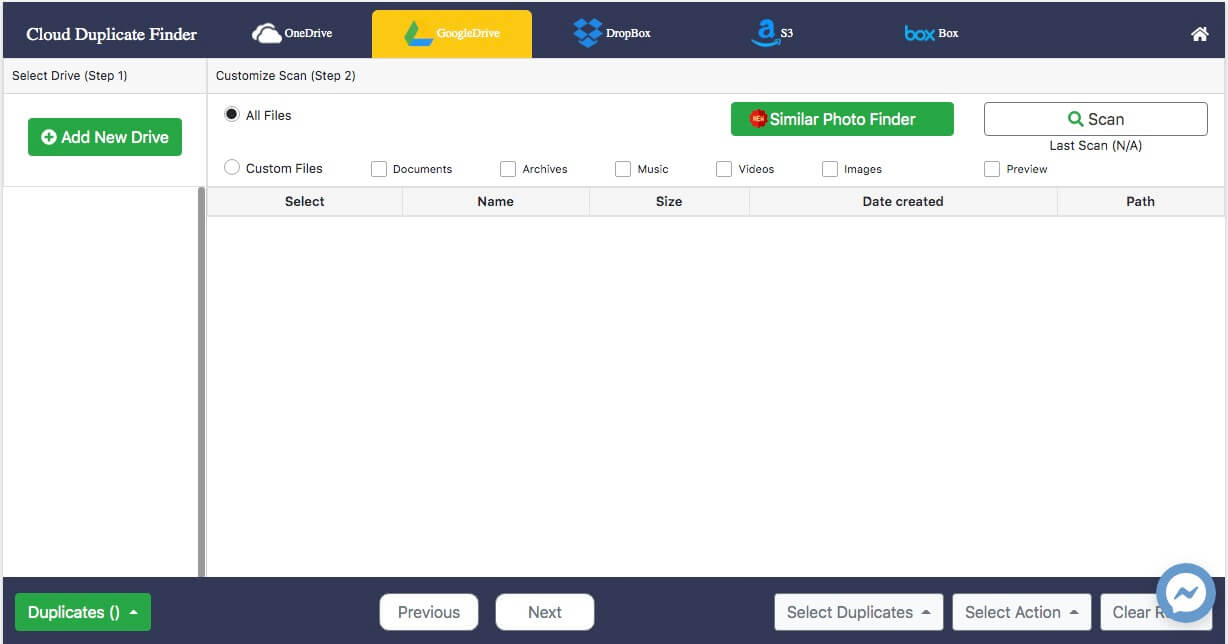 5. Sign in with your account. If you trust CloudDuplicateFinder, click Allow to authorize it to access your account.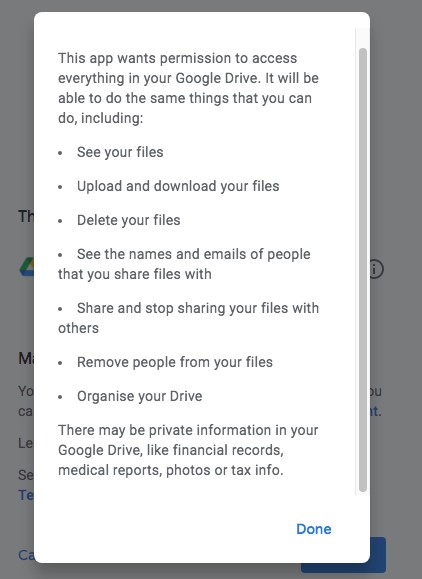 6. Now the sidebar will display the drive and the folders within it. Select the entire drive or specific folders to scan.
7. Choose to find all types of duplicates or a specific type such as duplicate documents.
8. Click the Scan button. The time it will take depends on the number of files to scan.
9. Once the process is done, CDF will list the found duplicate files in groups.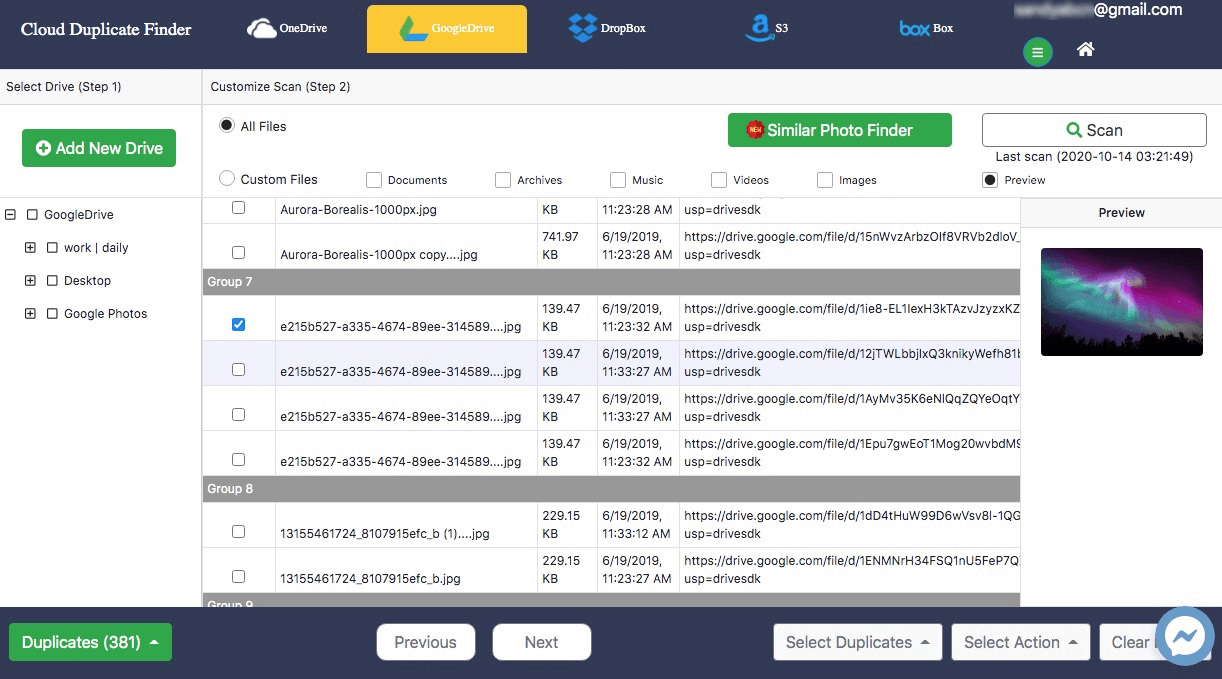 10. This step is optional. Enable the built-in preview feature by selecting the Preview checkbox. You can preview a duplicate photo by highlighting it.
11. Now it's time to select unwanted duplicate files to remove. You can do it manually or by choosing a selection rule.
12. Click the Select Action button. Permanently delete the selected duplicates or move them to a folder of your choosing.
Part 2. The best desktop cloud duplicate finder
This part talks about the best desktop apps to remove duplicate files from most if not all cloud drives via Windows PC and Mac and how to do the removal.
The best cloud duplicate file finder
Cisdem Duplicate Finder can identify duplicate photos, videos, songs, Word documents, PDFs, spreadsheets, archives and all other duplicate files. You can use it to effortlessly find and mass delete duplicate files in all popular cloud storage services.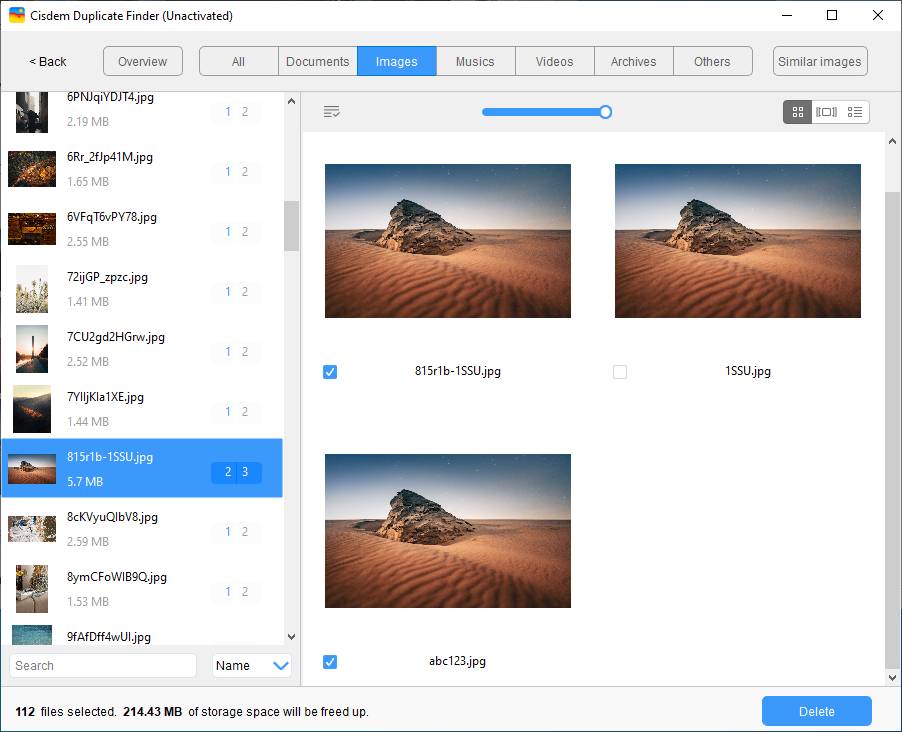 Cisdem Duplicate Finder can weed out duplicate files on computers, external storage devices, and cloud drives. The trick is to sync your cloud drive with your computer first, which is made easy thanks to your cloud drive's desktop app.
Steps to use the cloud duplicate finder to delete cloud duplicate files
1. Download and install the cloud drive app. Most cloud storage providers provide official desktop apps.
2. Set up the app. Once set up, it will automatically start syncing your entire cloud drive or specific folders in it (based on your preferences) to your computer.
3. Now you will see the cloud drive in File Explorer (Windows) or Finder (Mac). Wait for the sync to complete. All your files including the duplicates are on your computer.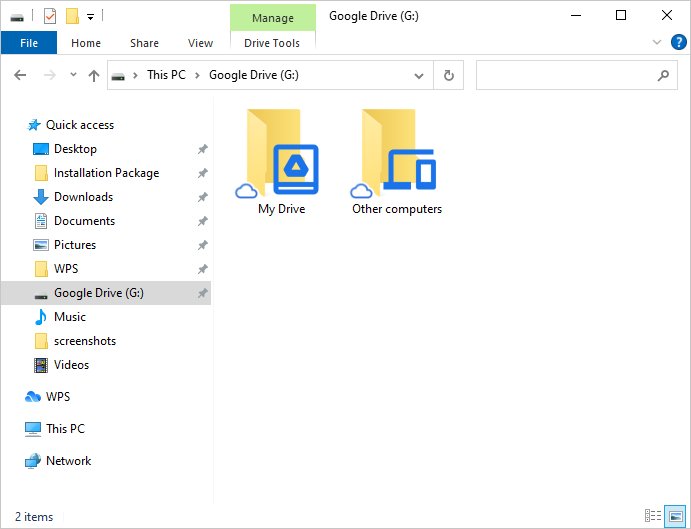 4. Download and install the Cisdem cloud duplicate finder. Open it.
5. Click the plus icon (+). Select your cloud drive in the sidebar and click Open.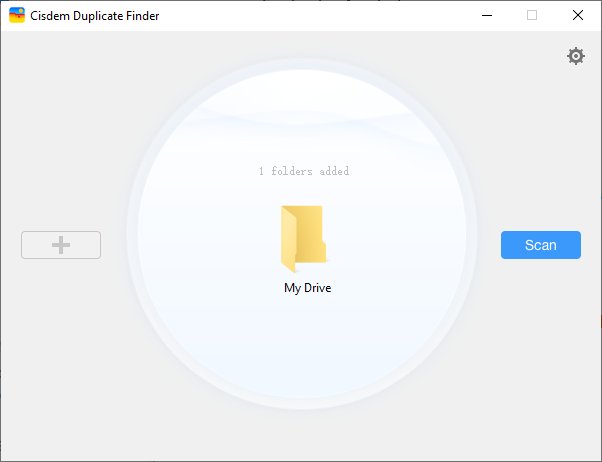 6. Click Scan.
7. Once the scan is done, you can view, sort and preview the detected duplicate files.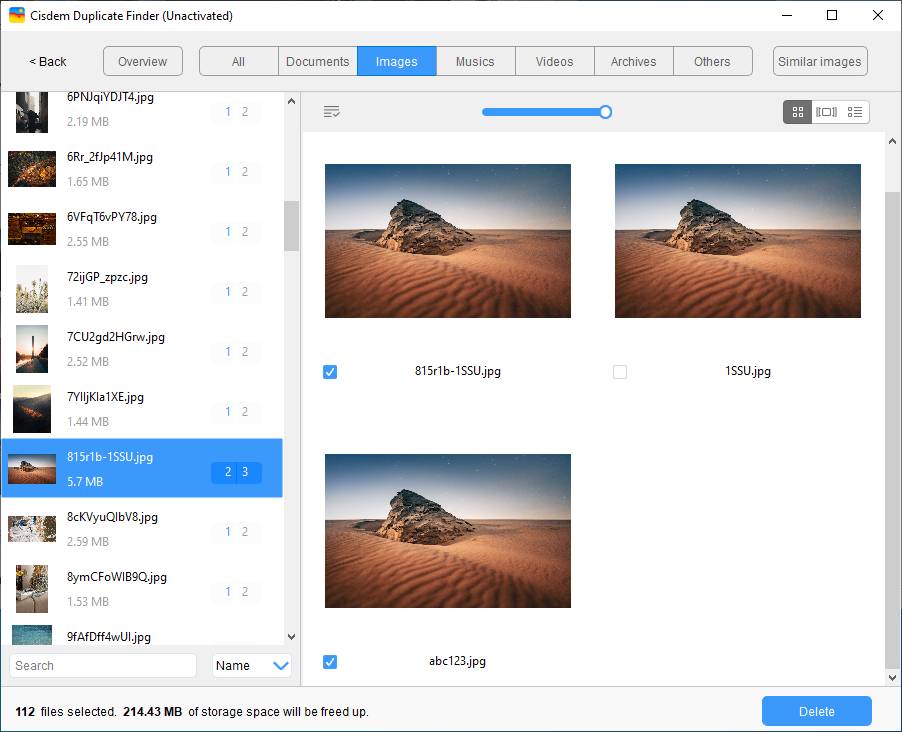 8. This cloud duplicate file finder already automatically selects all duplicates for mass removal. Or, you can choose a desired selection rule or select by hand.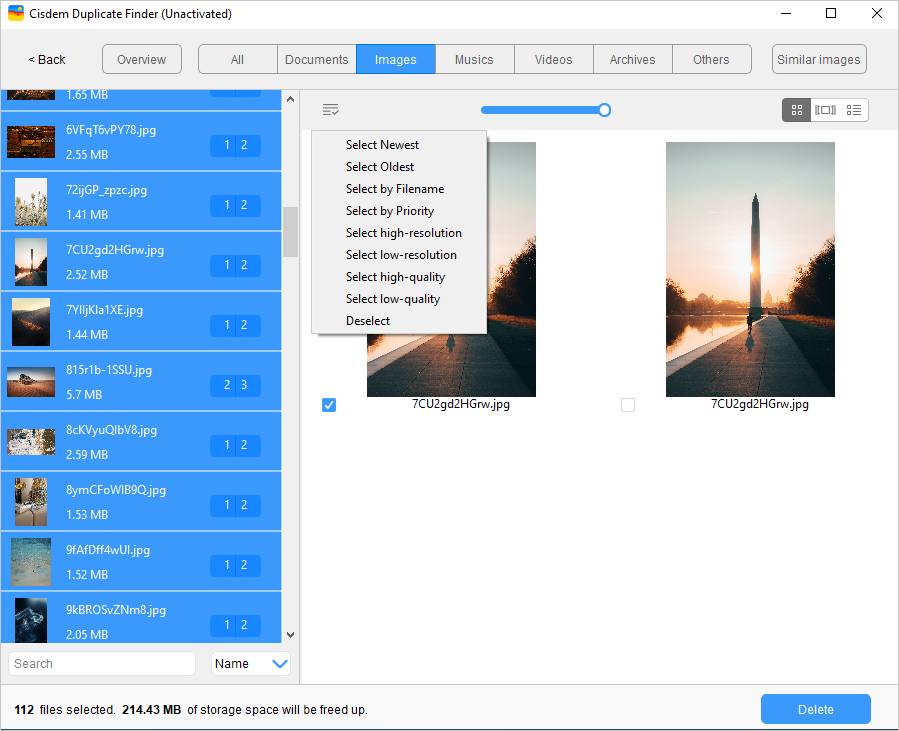 9. Click Delete. Confirm the deletion.
10. The unwanted duplicate files are removed, and the cloud drive app will automatically detect and sync the changes, i.e. the removal of multiple duplicates.
As a result, the duplicate files in the cloud will also removed all at once. Your account is now duplicate-free.
As you can see, during the whole process, Cisdem Duplicate Finder won't require access to your account. When compared to the online-based solution, this desktop solution is more secure. Also, it supports most cloud-based storage services.
Note: If there are tons of files in your cloud storage, then the process will probably be long. It will take time to sync back and forth. If you can't successfully sync your files from cloud to your computer and vice versa, this method won't work for you.
With different services, the ways to set up their official apps may be different. For some popular services, Cisdem provides detailed tutorials.
How to remove duplicate files from:
Conclusion
We hope you will find the cloud duplicate finder reviews helpful. All the important details are covered. Step-by-step instructions are also provided. Both solutions are easy to apply. The desktop-based solution is versatile and powerful. You can use it as Google Drive duplicate finder or iCloud duplicate finder.