This article provides a list of the top 5 best duplicate music file finder apps along with instructions on how to use such an app.
We all have our own music collections on our computers. As the collection grows, there are likely to be duplicate songs. There can be a few possible causes of duplicates creation. Regardless of the cause, if you want to easily remove useless duplicate songs, an efficient duplicate music file finder will make things super easy. In this article, you will find a list of the best music duplicate finders and removers for Mac and Windows.
Easily Delete Duplicate Songs on Computer
Find and remove duplicate music files
Also delete duplicate photos, videos, docs, archives, packages, etc.
Remove duplicates from iTunes
Detect and delete dupes on computer's internal drive, external HD, SD card, etc.
Find true duplicates by content
Provide multiple options for scanning, filtering and removal
Support preview of audios, images, videos and docs
Offer features like Auto-Select & 1-Click Removal
Available for both Mac and Windows

Free Download

Free Download
Top 5 duplicate music file finders
#1 Cisdem Duplicate Finder
OS: Windows & Mac
Cisdem Duplicate Finder is an easy-to-use, versatile duplicate file finder, with support for all file types and formats.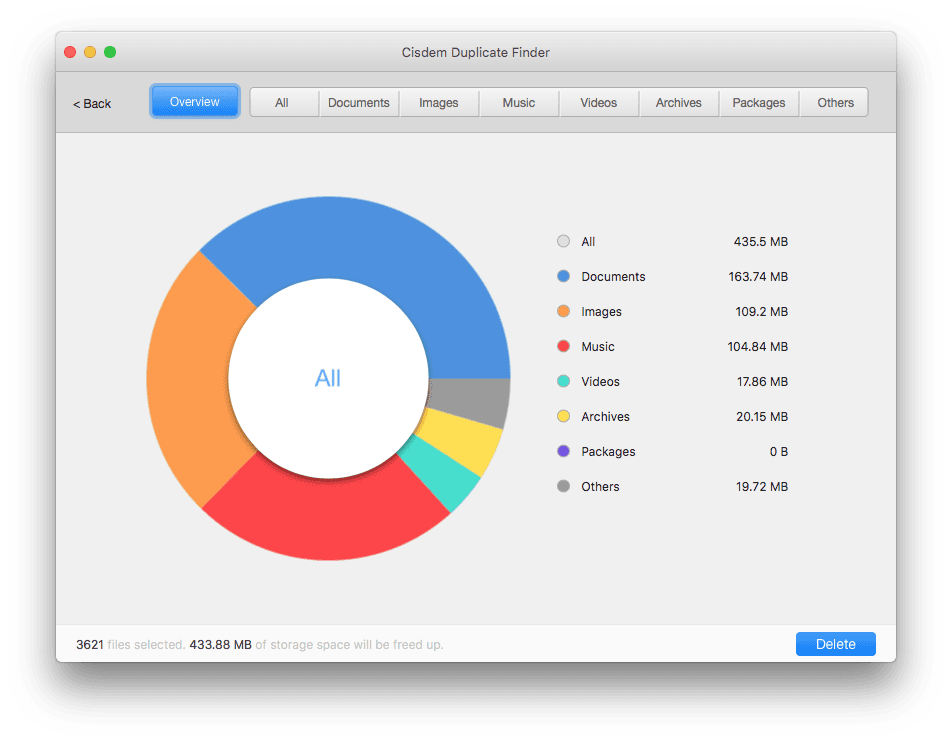 It can be used as a duplicate music file finder to scan for and eliminate dupes on Mac, Windows PC and other supported devices.
Remove duplicate music files from computer, external HD, USB flash drive, Google Drive, OneDrive and more
Support all audio formats such as MP3, OGG, AIFF, AAC, FLAC, etc.
Remove duplicates from iTunes
Allow you preview songs within the app
Let you exclude specific formats from scanning
Enable you to remove unwanted dupes all at once with one click
Here we will take this app as an example and show you how a typical duplicate music file finder works.
Step 1. Download and install Cisdem Duplicate Finder. Launch it. Drag one or more folders (or partitions) into the app. Alternatively, you can add folders by clicking the add icon. Click the Scan button.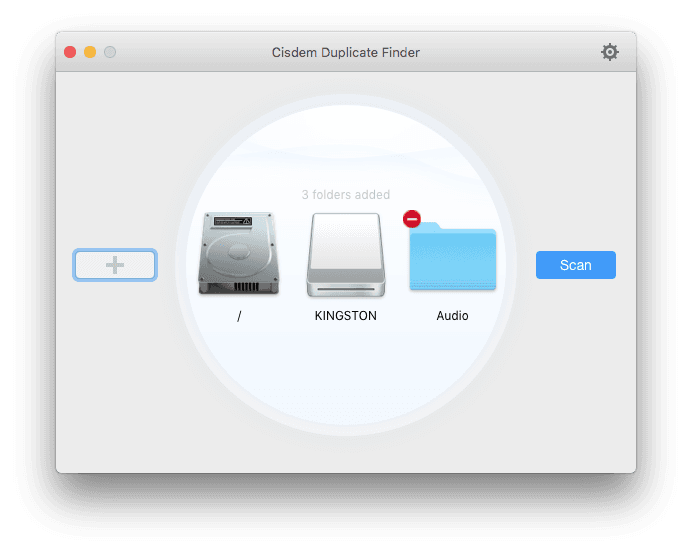 Step 2. Once the scan is finished, go to the Music tab where you will find all the duplicate music files. Switch to the second preview mode to play a song if needed, as shown in the screenshot.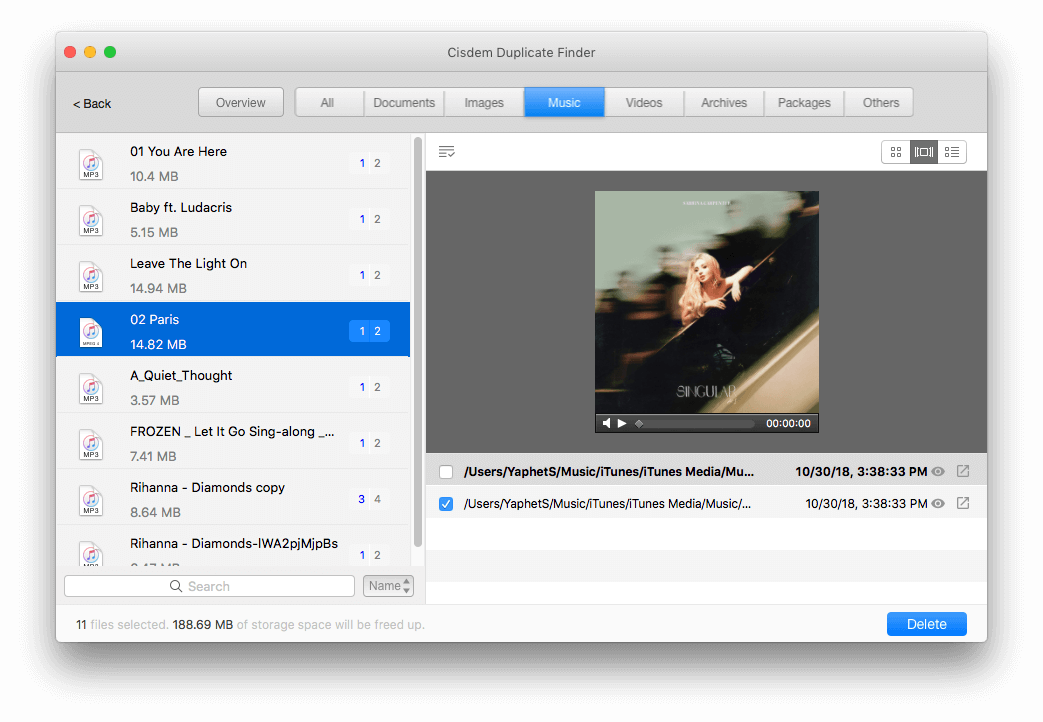 Step 3. By default, this duplicate music file remover will automatically select all the duplicate copies for you to delete. There are also other selection rules available. Make sure the unwanted items are selected. Click the Delete button.
This is how to delete duplicate music files in 3 easy steps.
Pro tips
Find and delete duplicate music in iTunes Drag the iTunes folder into this duplicate music file finder for Mac.
Exclude specific folders or music formats Click the setting icon in the top right corner of the interface. Go to Ignore list. Click the add icon and add the music formats (like mp3 and wav) you want to ignore. You can also exclude folders, subfolders and files from scanning.
General settings Under the General tab, you can choose the scan method and removal method.
#2 Similarity Duplicate Music Finder
OS: Windows & Mac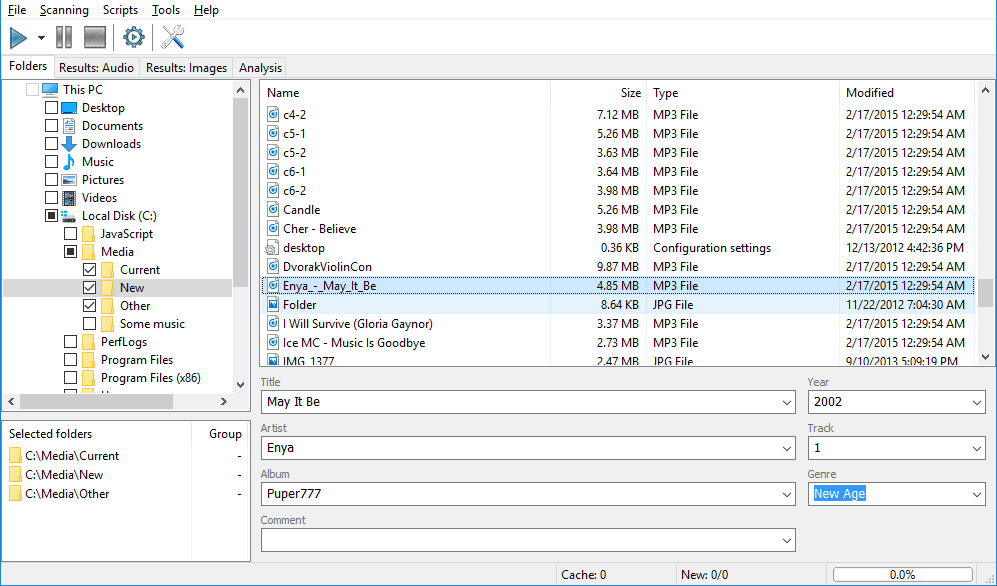 Similarity, also known as Similarity Duplicate Music Finder, is a dedicated music file finder and remover. It offers two primary features: Remove Duplicates and Audio Analysis. Here we will only focus on the first feature.
This app supports 12 audio formats like MP3, WMA, OGG, WAV and FLAC. Using the "acoustic fingerprint" technology, it can compare the actual content of music files and detect the similarity. Thanks to the array of basic and advanced options it offers, users can customize the process of finding and removing duplicates with high flexibility.
You can choose to manually select and delete unwanted duplicated copies. This duplicate music file finder also allows you to perform mass operations. The app comes with a built-in player, which allows you to easily play any track in the result window.
This duplicate files finder does a very good job of finding duplicate songs. It will look for duplicates and display them in the Audio Results window. However, it's not that user-friendly. The interface isn't intuitive or straightforward enough. And some options can be confusing to users, especially beginners. The Automark files option is of limited use. In our test, it didn't mark all the complete duplicates.
Note: By default, the app will find both duplicate and similar music files in the folder of your choice. To set it to only look for duplicates, go to Preferences > General > Audio comparison methods and set the Content similarity level to 100%.
#3 Duplicate Music Fixer
OS: Windows & Mac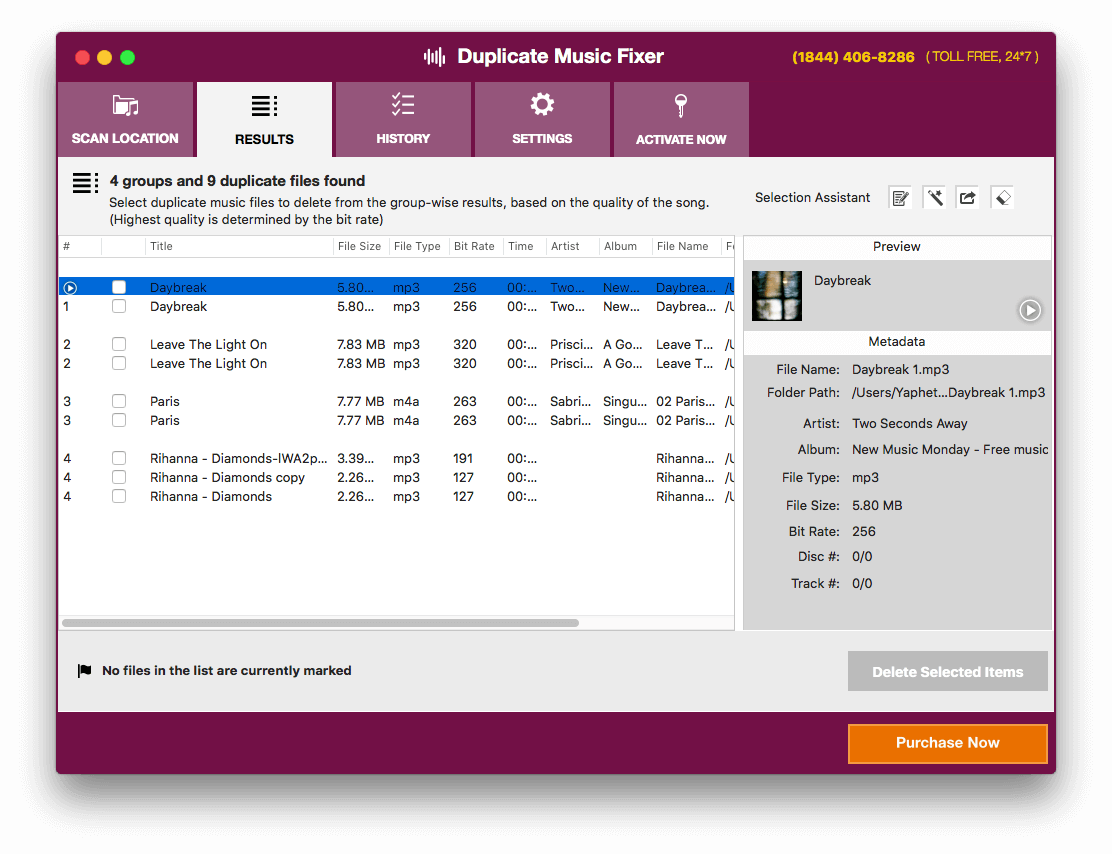 Available for both Windows and macOS, this duplicate music file finder is designed to eliminate duplicate songs. If you remove duplicate music files on Windows 10 or other systems, it will help you free up storage space and better organize your music collection.
One of the great things is that it will automatically locate the music library folders on a computer upon launch. You can also manually add any folder for the app to perform a scan. Before scanning, you can go to Preferences > Exclusion and exclude specific directories. When the scan is completed, all the detected groups of duplicate songs will be listed under the Results tab. There, you can sort the tracks by file size, title, format, etc.
In the upper right corner of the interface, you can find the Selection Assistant menu. There are four tools: Regular Expression, Selection Assistant, Export Duplicate List and Clear Cache. With them, you are able to create criteria for file selection.
Although you can find a Preview window in the left panel of the Results tab, there isn't a built-in media player for you to preview music within the app. If you play the play button, it will open the iTunes app on your computer.
#4 Easy Duplicate Finder
OS: Windows & Mac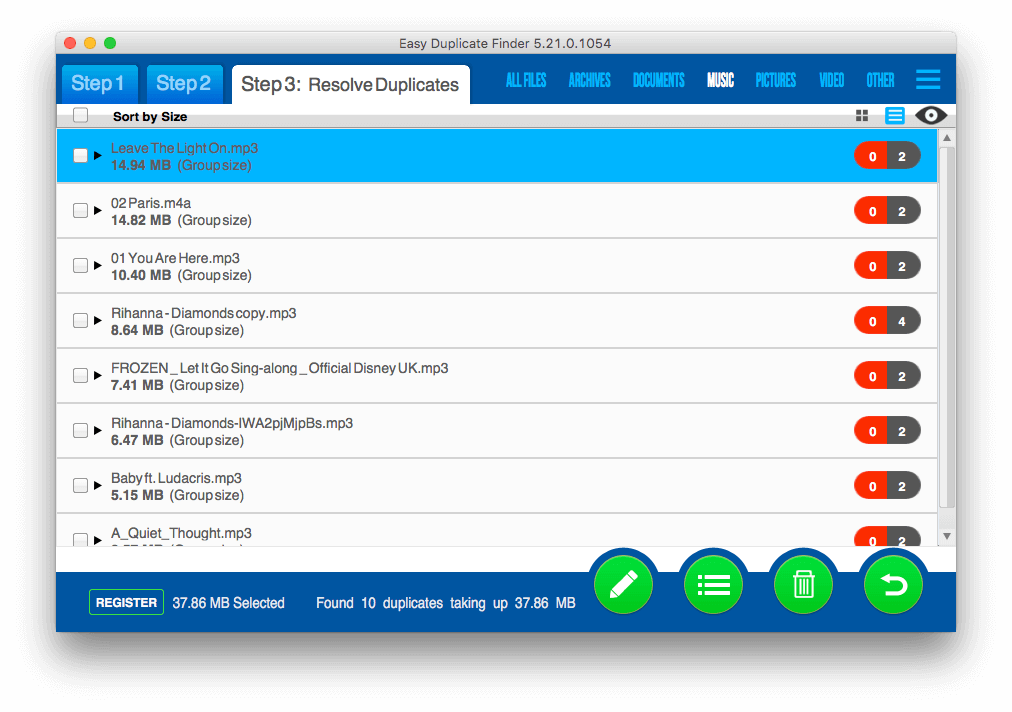 It's more than just a duplicate music file finder. Just like Cisdem Duplicate Finder, it also supports other file types such as videos and images. In addition to MP3, it also supports many other popular audio formats like M4A, AIFF and FLAC.
To get started, get the app on your PC. Click the little add icon in the upper left part of the main window and add one or more folders. If there are subfolders that you want to exclude from scanning, drag them into the upper right part of the window. Click the Start Scan button to start detecting duplicate music files.
In the Resolve Duplicates window, go to the Music tab. There, you can perform actions like preview, selection and deletion. Once you select the items you don't want, click the trash bin icon to remove them all at once.
If you have a large music library, please wait patient for the scanning to finish. This duplicate music file remover scans relatively slow when compared with some other similar tools. Also, it can be a bit pricey.
Buy Easy Duplicate Finder for Windows to quickly get rid of duplicate music.
#5 CloneSpy
OS: Windows XP or higher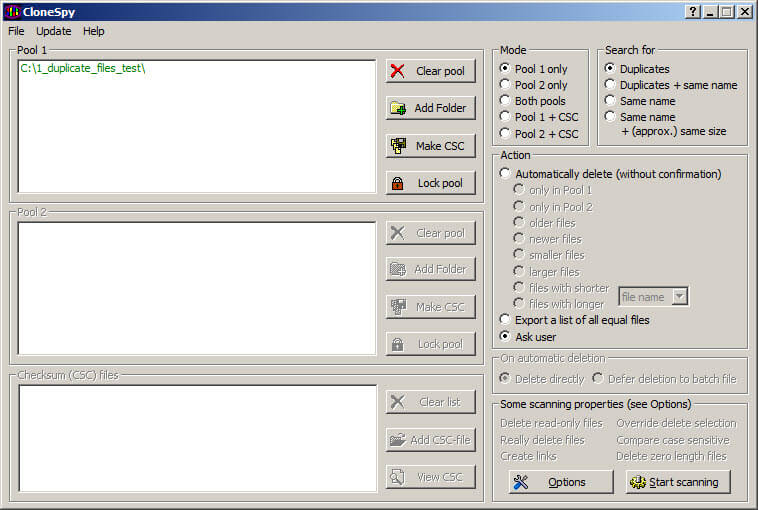 This free duplicate music file finder for Windows 10, 8.1, 8, 7, Vista and XP can be a decent choice if you want to remove duplicate songs from computer for free.
Its interface is simple and straightforward, with all the options displayed on the main window. There are multiple scan methods. You can set it to search for duplicate songs by content or name or both. The results window will list all the detected groups of dupes along with available actions such as Delete all marked files.
Before performing a scan, you can customize settings by clicking the Options button in the bottom right corner of the main window. For example, you can include or exclude audio formats for scanning. You can also set the maximum/minimum file size.
A comparison of these apps
Other duplicate music file removers to consider
Any Duplicate Finder (OS X 10.6 or later)
Duplicate Cleaner (Windows 10 or earlier)
dupeGuru (Windows, Mac & Linux; free & open-source)
AllDup (Windows 10 or earlier; free)
Conclusion
Above are the best duplicate music file finder apps. If you need to remove duplicate music files on Windows and macOS, they will be worth checking out. Duplicate songs are useless. What's more, they may end up in different folders, which can create a mess. By eliminating duplicate songs and other types of dupes, you can free up a lot of disk space and make it easier to organize your files.