Mac can get stuck and slower due to many junk files, cache, malware, etc. To keep the Mac computer fresh and fast, you need install the best Mac cleaner. CleanMyMac, a well-known system junk cleaner or junk file remover, gains a good reputation in the field of cleaning software. Now, users are eager to try out the new version- CleanMyMac X. Want to know it better? Here we will show you the CleanMyMac X review and CleanMyMac X alternative.
The Best CleanMyMac X Alternative to Delete Duplicates
Quickly seek out any duplicate files and similar images
Scan any hard drive, even external hard drive for duplicates
Preview the results in different types, along with a pie chart overview
Show accurate byte-to-byte scanned data
User-friendly settings for file size and ignore files
Free to upgrade to higher version
Support macOS 10.11 or later
Also available for Windows

Free Download

Free Download
What is CleanMyMac X?
CleanMyMac X is an advanced and practical system-cleaning tool that helps keep your Mac clean. With just two clicks, you can intelligently scan and delete useless files for saving valuable disk space and hard drive space.
From CleanMyMac 3 to CleanMyMac X, users have been waiting more than three years. With the launch of new version, this best Mac cleaner completed a major transformation. New features given by CleanMyMac X:
Reinvented menu let users know the main system reading
Brand new UI with flow-like animations
All-in-one center to analyze and optimize Mac
CleanMyMac Assistant guides you to do regular cleanups
Make Mac healthier with Malware Removal
Add Optimization, Updater, etc. sections
Scan 3X times faster compared to CleanMyMac 3
Advantages:
Accurate and efficient interface
Allow to monitor and manage the trash bin
Pack 14 tools in total aimed at highly customization
Run very quickly to perform its tasks.
Disadvantages:
More than doubling the price
Remove up to 500 MB of junk
Launch automatically when turning on Mac
The alerts are a bit uncomfortable
Is CleanMyMac X Safe?
Probably yes, but not 100%.
As MacPaw official website and other CleanMyMac X reviews said, CleanMyMac X is safer than most system junk cleaners or junk file removers.
The ordinary users are not sure what the purposes of some files are, like sensitive system, app cache files, universal binaries, etc. But once deleted, it will cause instability or affect the way your Mac works. To solve this problem, CleanMyMac developed some solutions: blacklist them, greylist them and add to ignore list. These measures enable CleanMyMac X to scan the specific Mac thoroughly, and look for only the files that can be deleted safely. If you want to understand how the measures work, please visit here.
CleanMyMac X Review- Overall Features
When searching for cleaning my mac reviews online, the most common ones are CleanMyMac 3 reviews. So far, there are still very few CleanMyMac X reviews. In this part, we will make a refined review about CleanMyMac X's features, hopefully being helpful to you.
Preferences
Before cleaning up your Mac, you should set the preferences: go to CleanMyMac X at menu bar > Preferences. You will see 7 tabs as below:
General: set sounds playing and select languages to keep
Scanning: specify the items you intend to include to your scans
Menu: work as a warning system for hardware issues
Assistance: offer reliable optimization steps and remind about regular cleanups
Updates: choose to keep automatic up to date. "Update to Beta versions" option is not recommended.
Privacy: enable or disable product analytics
Ignore list: add the item to ignore in different categories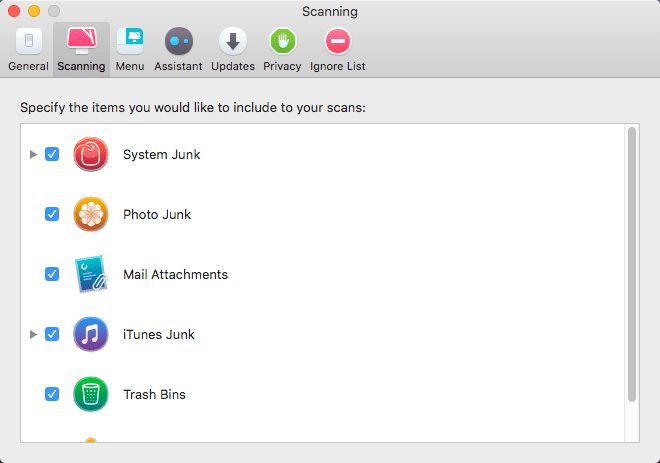 Smart scan
Smart Scan is the main part of CleanMyMac X, which combines the functionality of 7 modules and does 3 jobs in single click: remove system junk, detect malware, and bring Mac up to speed.
Click on "Scan" button, the system will start to find unneeded junk, determine potential threats and define suitable task. The scan process needs take some time, especially if your Mac is a mature workhorse. Of course, you can cancel the process at any time.
After scanning, click on the icon of Cleanup, Protection and speed, you will get the tasks that are going to be run. In addition, you can click Review Details option to check items found by Cleanup and Protection scanners. Any option comes with a tick in checkbox can be deselected.
At last, hit "Run" button to clean your Mac system. You important files and data won't be deleted unless you want it.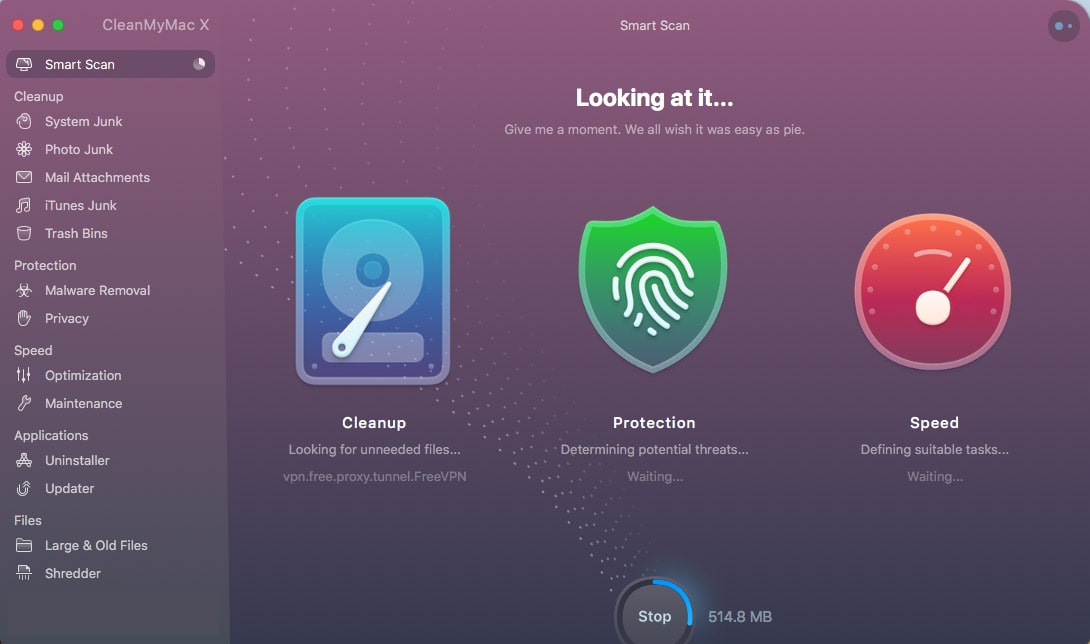 Cleanup
System Junk- It can find large unneeded files, which may occupy gigabytes of the storage, including user cache files, unused disk images, language files, system log files, old updates, Xcode junk, document version, broken preferences and so on. Once being safely removed, your Mac will obtain maximum performance and much free space.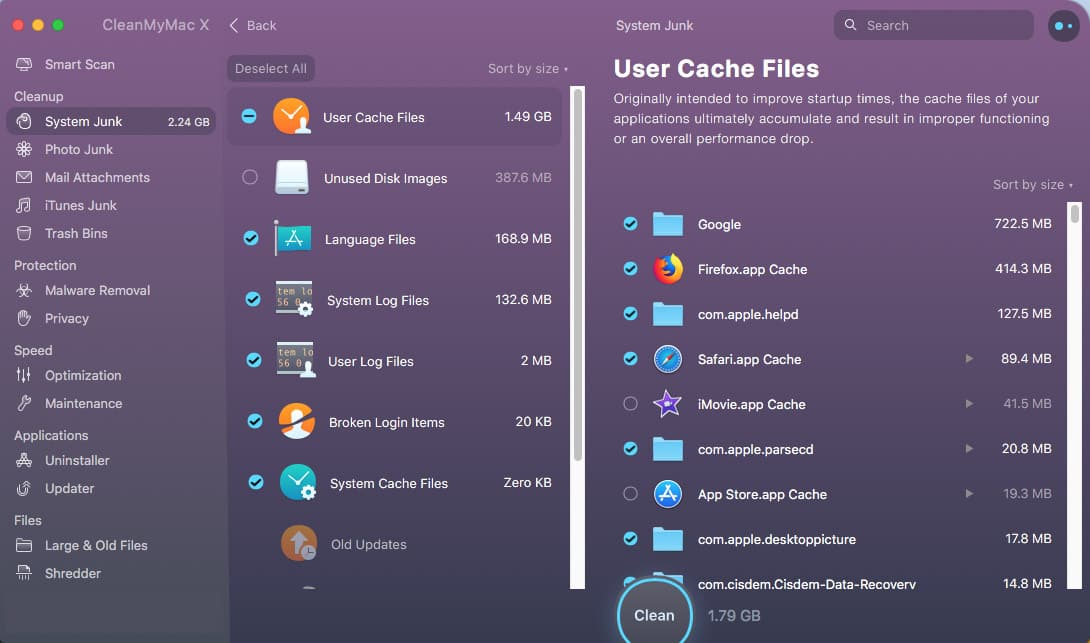 Photo Junk- it's mainly used to reduce the size of your Photos library by removing redundant supporting data. With this function, you can clean out all unnecessary data and local iCloud cache. If you wish to remain the RAW image format, be sure to move RAW files to an external hard drive.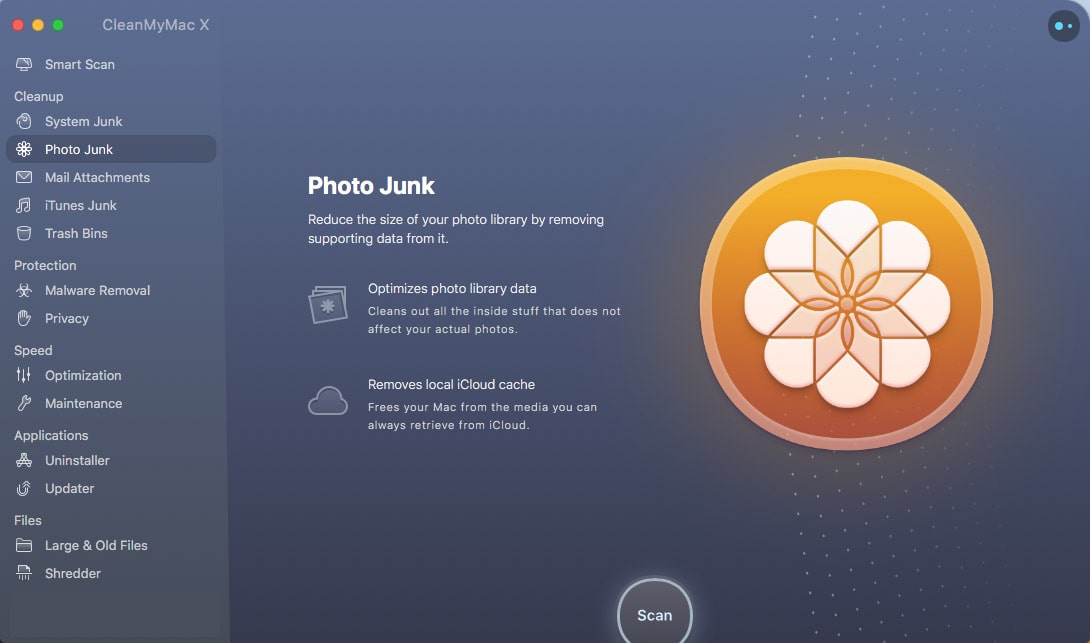 Main Attachment- your Mac Mail client stores a copy of the file, which occupies gigabytes and you don't need them at all. Main Attachment helps you clean up local copies of your email downloads and attachments (music, pictures, PDF, archives, etc.).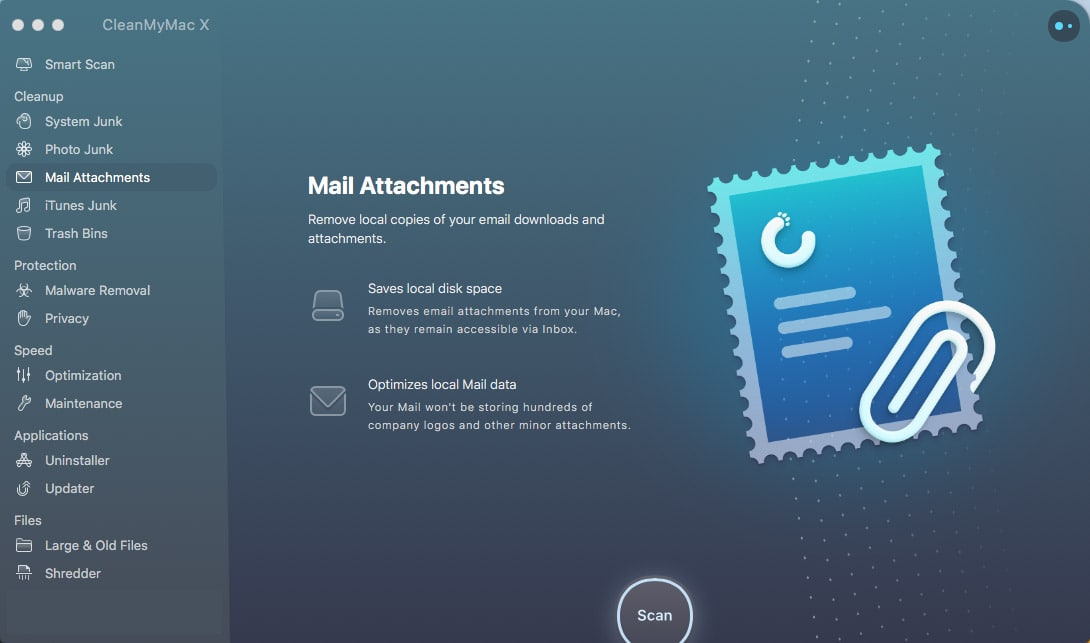 iTunes Junk- the iTunes Junk in CleanMyMac X kills useless data in the iTunes module, like iOS device backups, iOS software updates, iTunes broken downloads, iTunes cache, etc. for music lover, iTunes Junk may detect many cached album artworks. All in all, driving away the outdated iOS data and broken downloads will better maintain your Mac.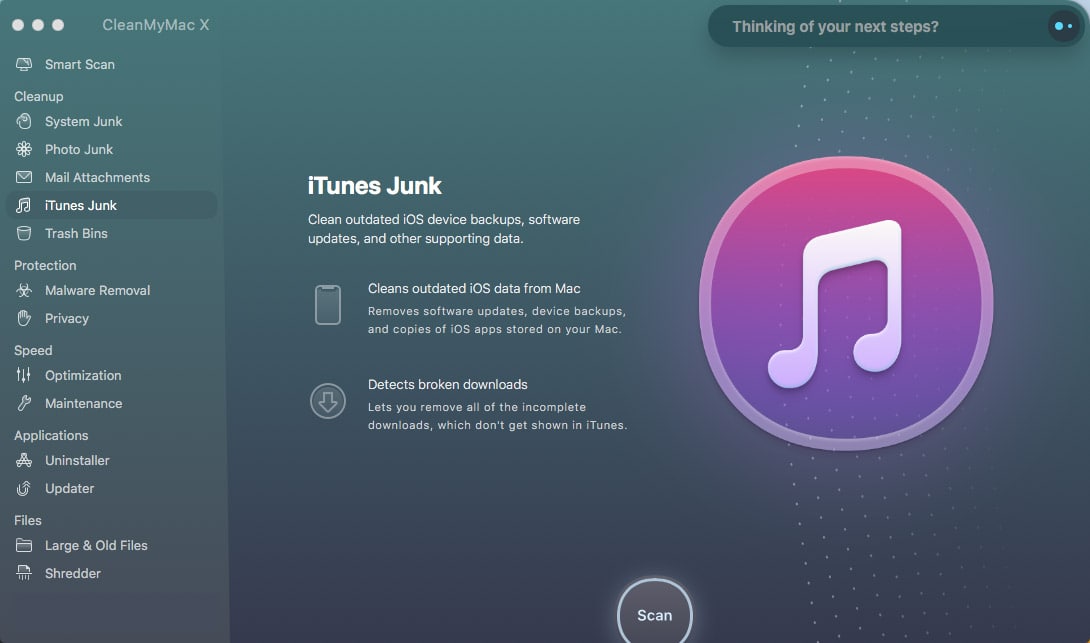 Trash Bin- the deleted files will go to the Trash. If you need to delete them permanently, you have to empty the Trash files. Trash Bins finds all your junk files, including local main trash, photo trash, startup drive trash and external drive trash.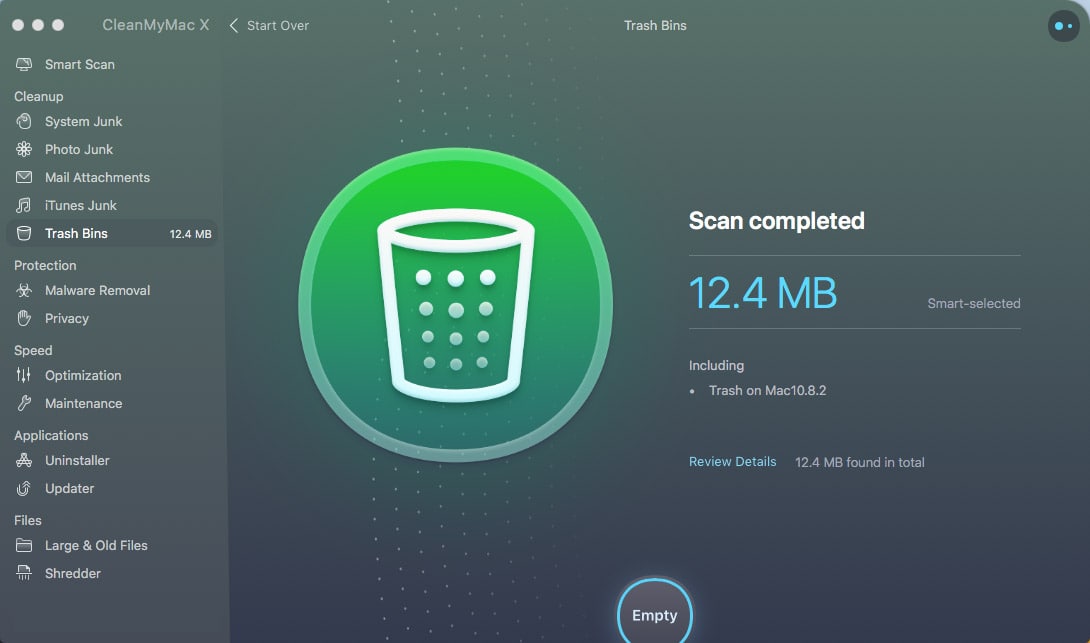 Note: Check the Trash files carefully before removing them. If you delete files by mistake, you can recover them with the data recovery software for Mac.
Protection
Malware Removal- It performs a deep checkup for vulnerabilities and malicious files, like adware, viruses, spyware, and crypto currency miners. If noticed something suspicious, CleanMyMac X will eliminate them in an instant.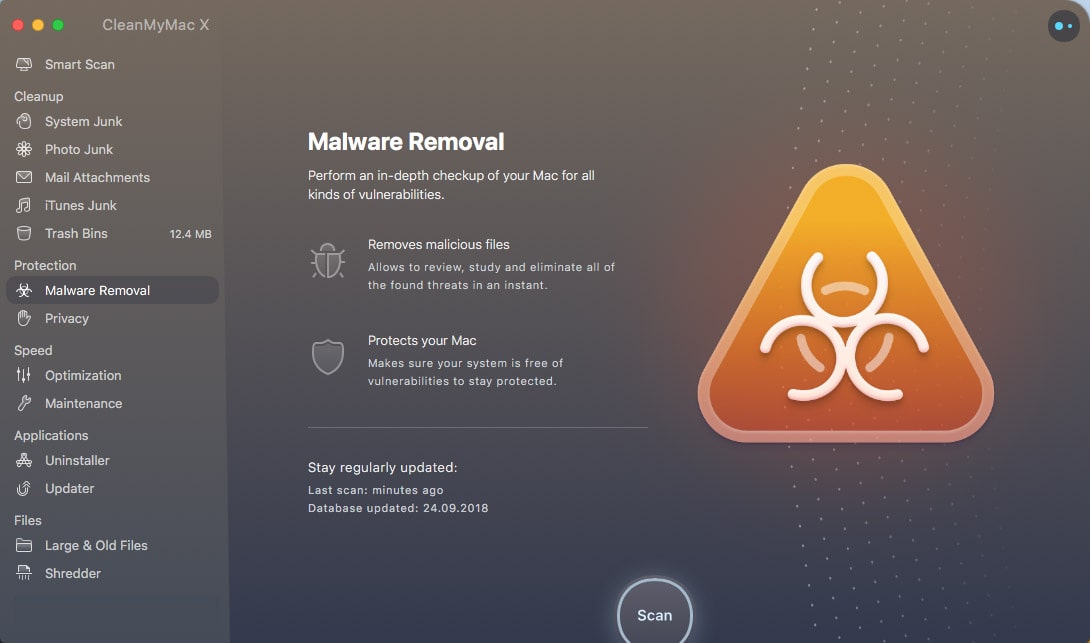 Privacy- Generally, Mac keeps traces of your online and offline activity. If you think it compromise your privacy, you can run the Privacy module to sweep up all unwanted web browser traces, like browsing history, cookies, downloads, saved passwords and more.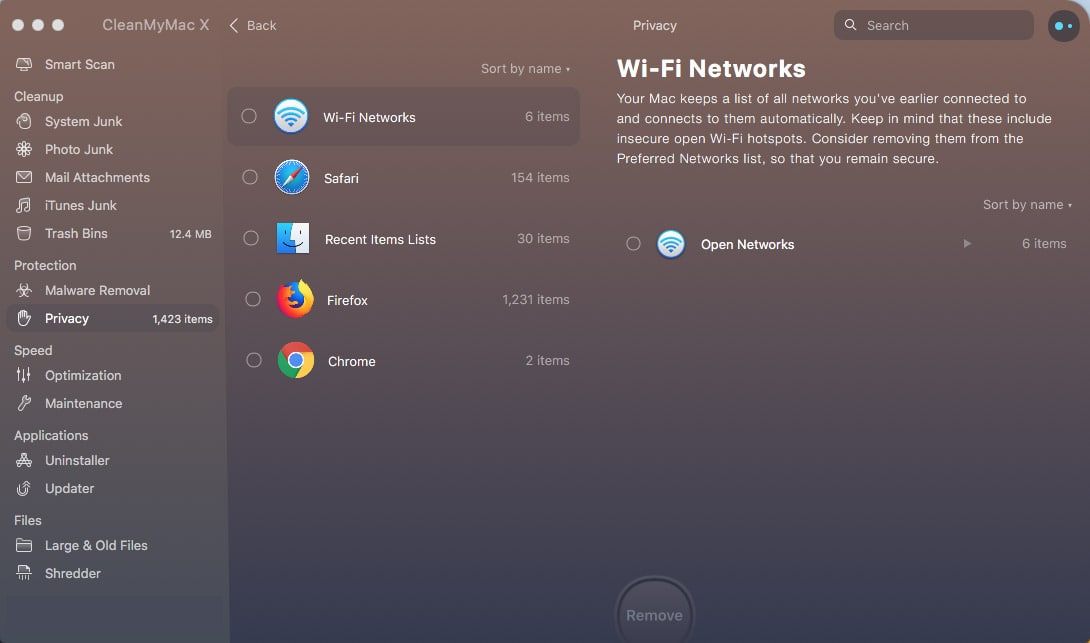 Speed
Optimization- it improves speed and responsiveness of the system by discovering optimization list, disabling or removing login items & launch agents, and manage hung apps & heavy consumers.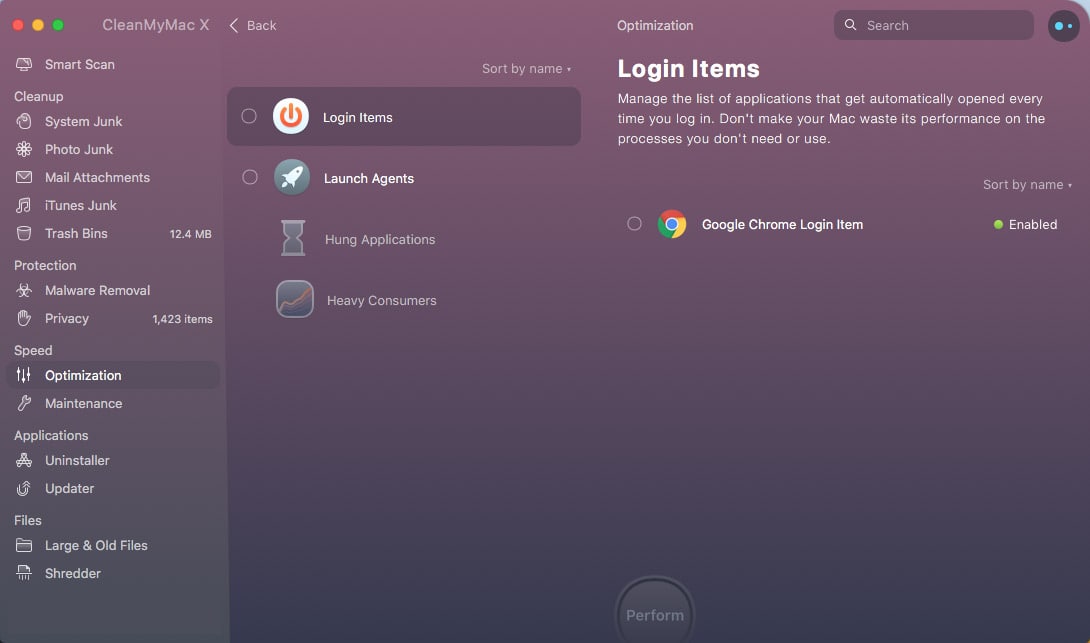 Maintenance- it contains 10 tasks to quickly optimize your Mac performance. The 10 tasks includes free up RAM, run maintenance scripts, repair disk permissions, flush DNS cache, reindex spotlight and more. You don't need to run all tasks at once in case the system is lagged under high workloads.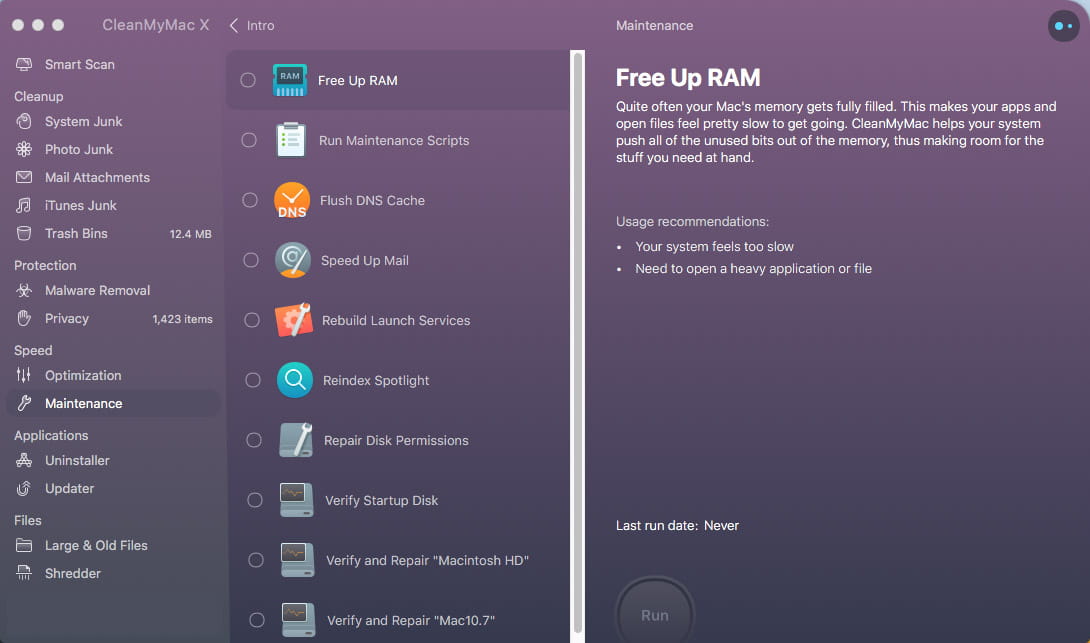 Application
Uninstaller- the Uninstaller in CleanMyMac X divide the software into some categories: unused, 32-Bit, Stores, vendors. Just one click, you can uninstall apps and remove their associated files in batch.
Updater- CleanMyMac X add this new tool to get the latest versions of all your applications. You can update the reliable versions for installed apps in one place.
Files
Large & Old Files- it scans large files at least 50MB and removes them immediately or securely. Meanwhile, it provides you with simple filters (by kind, size and access data) to review the files quickly.
Shredder- it allows you to erase files once and for all without leaving a trace. Just like the function in Large & Old Files, you can delete any files in either a secure or ordinary way.
CleanMyMac X Licensing & Pricing
Q1: Can I clean my Mac free with CleanMyMac X?
A1: I am sorry to tell you that CleanMyMac X is not the best free Mac cleaner. It has a lot of limitations compared to the Pro version, for example:
Smart Scan: delete a maximum of 500 MB of junk
Privacy: Clean up any items but only once
Optimization: Clean up any items but only 2 times
Maintenance: Run any task but only once
Uninstaller: remove up to 2 programs completely
Updater: update up to 2 programs
Q2: Does CleanMyMac X activation work on multiple Macs?
A2: One license for only one Mac. Bulk licenses are also available for either two or up to five Macs. For more licenses, you'll need to buy a bundle or a corporate license.
Q3: How to upgrade older version to CleanMyMac X?
A3: You can upgrade the previous versions like CleanMyMac 2, CleanMyMac 3 to X version at 50% off.
CleanMyMac X Pro Pricing
Why CleanMyMac X Alternative is Necessary?
From the CleanMyMac X review, we are easily attracted to this software. Is it really perfect? Actually not! There are no perfect people in the world, so does Mac cleaner apps. We got some defects of CleanMyMac X in the test.
It can't clean my Mac free in a long term. The price is very expensive. We have to costs $39.95/year or $89.95/ lifetime for one Mac.
Upgrading from an older version to a new one also costs money.
It comes with multifunction, but for some users, you might only need delete duplicate files, free up space, detect malicious files, or others. So you don't want to pay for many useless features.
The software will be launched automatically every time you start up.
CleanMyMac X Alternatives: Vote for Your Favorite Mac Clean Cleaner Software
What if Only Want to Clean Duplicate Files- Best CleanMyMac X Alternative to Save Money
If you need a CleanMyMac X alternative for finding out and deleting duplicate files on Mac, Cisdem Duplicate Finder should be a well-respected, powerful option. It assists you to locate duplicates all together or by groups according to type, such as documents, images, music, videos, archives, packages and others. Once folders selected, CleanMyMac X alternative will scan the copies, which can be previewed, removed or left unmodified.
Step 1. Open CleanMyMac X alternative on Mac, and click on "+" button to add folders or hard drives. You can add multiple folders.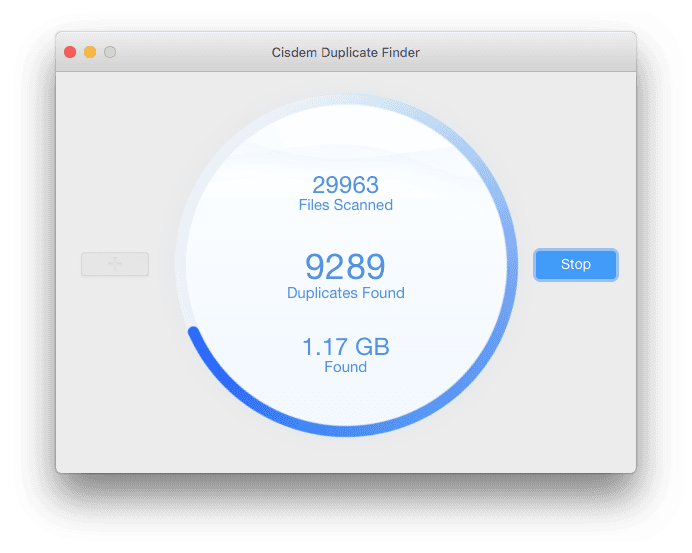 Step 2. Navigate to Cisdem Duplicate Finder at the Mac status bar. Choose Preferences to reset the General and Ignore list. (optional)
Step 3. Start to scan duplicates on Mac with the best CleanMyMac X alternative. The result sorts into 7 categories. Preview the details and select the files that you would like to delete. Finally, hit on "Delete" button to remove unneeded duplicates.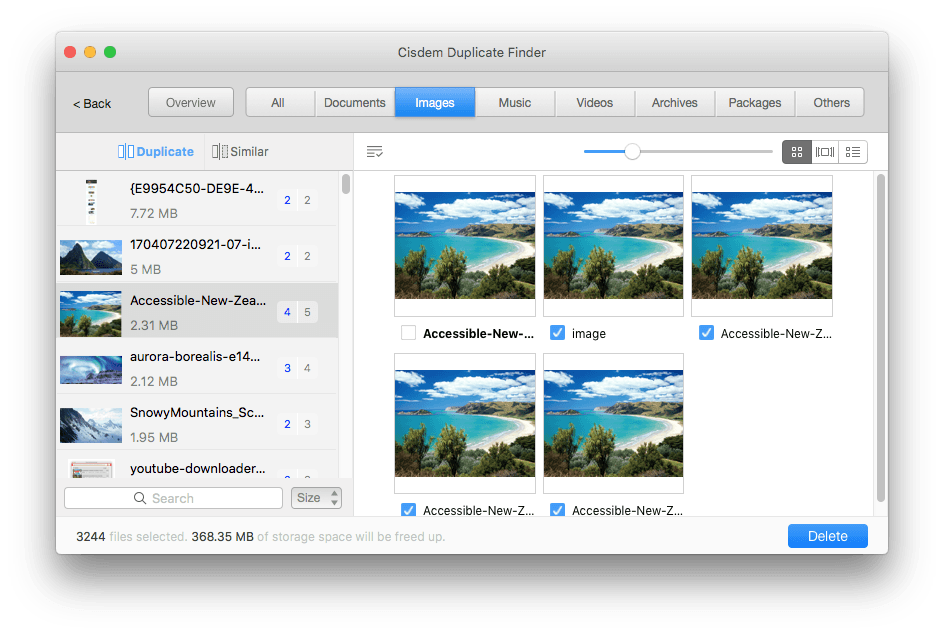 How to Uninstall CleanMyMac X?
There are two ways to uninstall CleanMyMac X on Mac.
The firstly way is to remove CleanMyMac X with Uninstaller. You read that right. The software can uninstall itself.
Go to Uninstaller in CleanMyMac X.
Find and select CleanMyMac X in the list of apps.
Uninstall CleanMyMac X on Mac.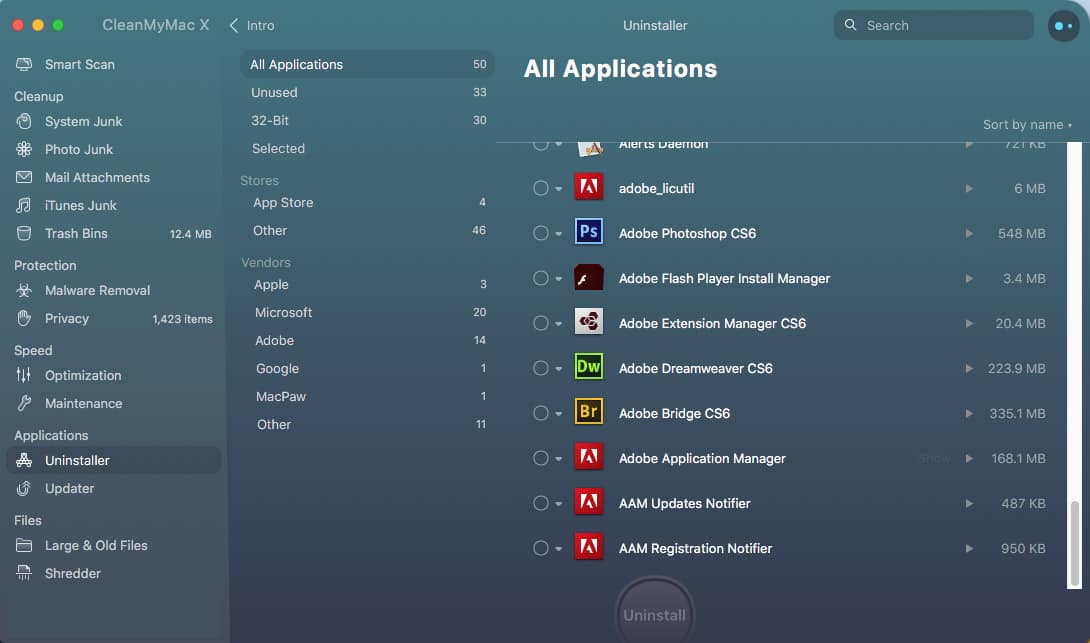 The second way is to uninstall CleanMyMac X from Finder.
Open Finder > click Applications > find CleanMyMac X.
Right click the mouse and choose "Move to Trash" option.
Empty your trash.
Conclusion
That's all for CleanMyMac X review and CleanMyMac X alternative. As a high-profile & powerful Mac cleaner, CleanMyMac X tries its best to optimize your hard drive or flash drive, maintain a faster-operating Mac and fight with harmful activity. Considering the fact that there are many CleanMyMac X alternatives available that are so cheaper and effective, like Cisdem Duplicate Finder for Mac, we should think carefully before making the final decision.