Dropbox is one of the most popular cloud storage services, allowing you to easily store, access and share your files. Your Dropbox account comes with 2 GB of free storage. You need to pay to get more. Every bit of space counts. However, the duplicate files in your Dropbox are taking up storage space. Don't worry. This article will show you how to easily find and remove Dropbox duplicate files.
The Best Dropbox Duplicate File Finder
Identify duplicate photos, audios, documents and all other duplicate files
Find duplicate files on PC, Mac, external hard drive, SD card, etc.
Find duplicate files in Dropbox, OneDrive, Google Drive, iCloud etc.
Let you find duplicate files by content (regardless of name) or by name
Display the found duplicate files for you to view, sort and preview
Automatically select all duplicates for you to remove with a click
Also offer selection rules to help you mass select
Easy to use and powerful
Available for Windows PC and Mac

Free Download

Free Download
Why does Dropbox duplicate files?
The Dropbox duplicate files problem is not uncommon. In some cases, Dropbox creates duplicates due to sync issues or conflicts. In some case, the duplicates are actually not created by Dropbox.
Here is the scenario. You use the Dropbox app to sync Dropbox files to computer, and suddenly Dropbox creates duplicate files on your computer. This is likely to be an issue on Dropbox's side. You can try fixing it by turning off sync.
Sometimes Dropbox creates a conflicted copy of a file, and for good reason. Instead of a duplicate (an exact copy), this is actually an edited version of the file. This will happen when two or more people edit the same file at the same time.
If you are a Mac user and see duplicate files whose names start with "._", it is actually the macOS operating system instead of Dropbox that creates them.
Will Dropbox upload duplicate files?
Dropbox detects certain duplicate files during upload. Suppose File A is in a folder in your Dropbox. When you reupload it to the same folder, Dropbox will detect and ignore the reupload so as to avoid duplicates.
But sometimes the detection will fail. For example, File A is in Folder 1. If you reupload File A to Folder 2, Dropbox will see it as a new file and upload it. Also, for example, File B and File B Copy are exactly identical except the name, when you upload both (even to the same folder), Dropbox will consider them two unique new files and do the upload.
Can Dropbox find duplicate files?
No. Dropbox can't find the duplicates that exist in your account. You can find them manually. But this can be very time-consuming. Luckily, the method below can automatically identify duplicates and lets you mass remove them.
How to find and bulk remove duplicate files in Dropbox
This method can help Windows PC users and Mac users easily get rid of duplicate files (files that exactly identical, regardless of name) in Dropbox.
This method uses Cisdem Duplicate Finder, which can find duplicate photos, documents, videos, songs and all other duplicate files. In addition, it can find visually identical photos in different sizes or formats and visually similar ones.
1. Sync Dropbox files to your Windows or Mac computer.
2. Download Cisdem Duplicate Finder. Install the software and open it.
3. Click the plus icon and select the Dropbox folder on your computer to add. Or, add by dragging and dropping.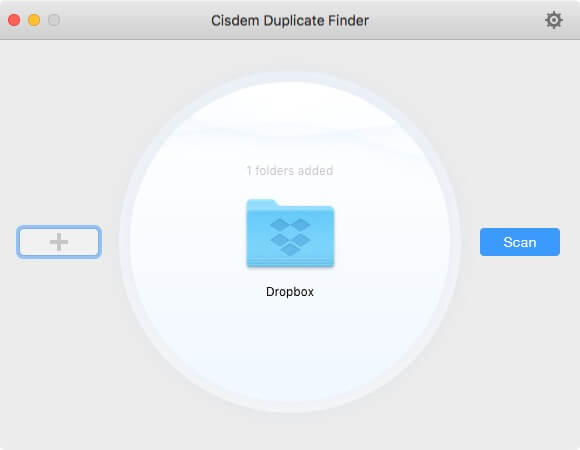 4. Click Scan.
5. Once the scan is complete, this Dropbox duplicate finder will display all the duplicate files found in your Dropbox. You can view them.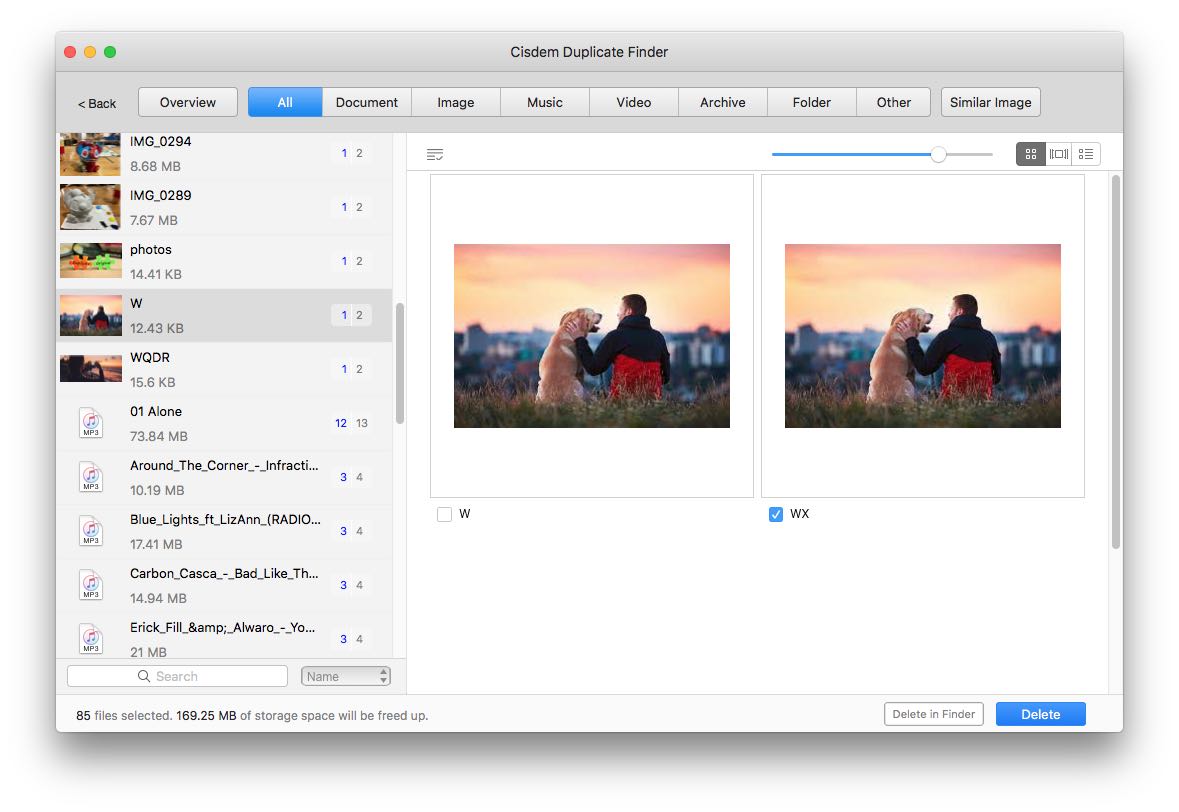 The Images tab displays groups of exact duplicate photos. There's also a Similar Image tab displays groups of near duplicates, such as photos that look the same but have different sizes or formats and photos that look similar. In each group, you can keep the best photo(s) and select the rest for removal.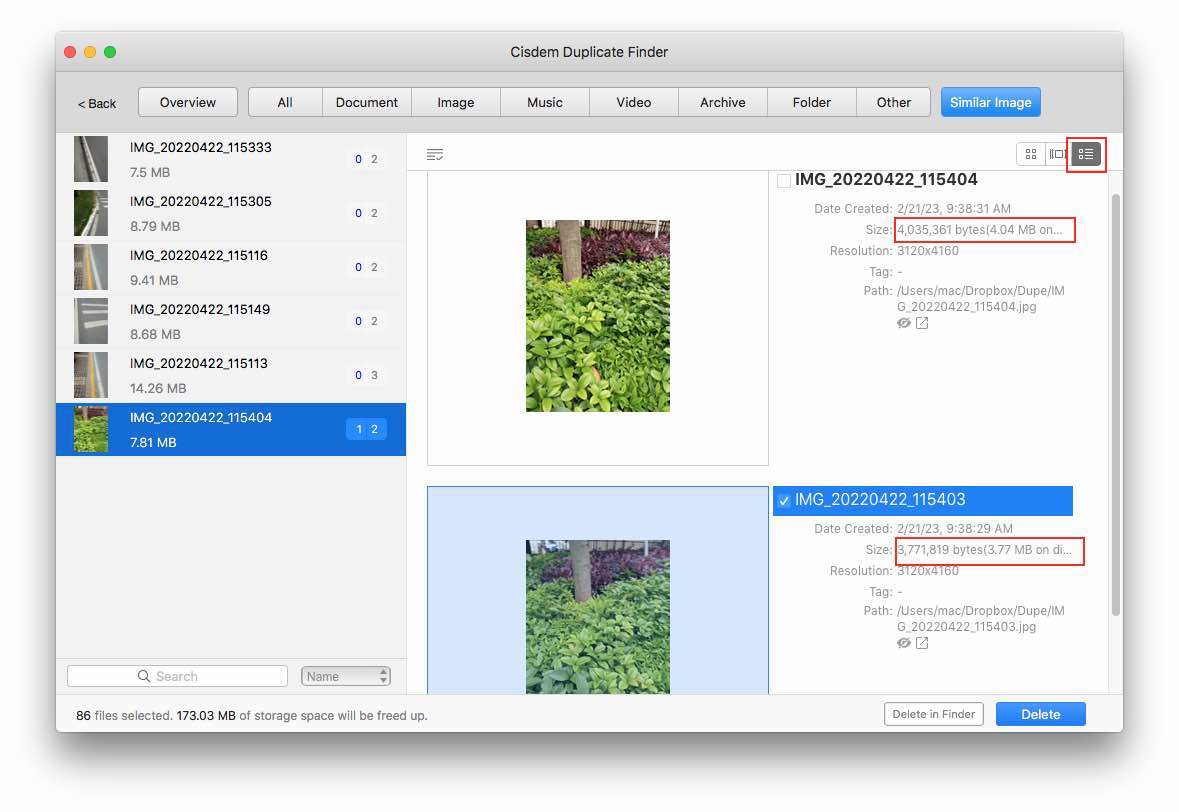 6. The software has automatically selected all duplicates for you to delete. Or, you can choose a selection rule or select manually.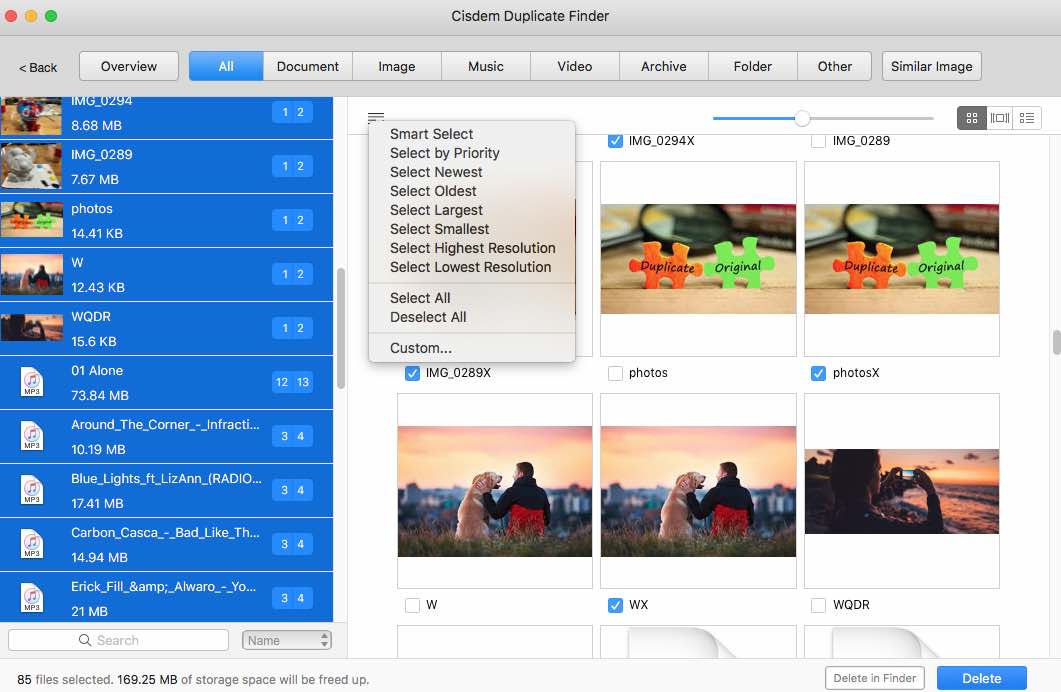 7. Click Delete to remove all selected Dropbox duplicate files. Confirm the removal.
A dialog box will pop up, asking if you want to delete items from your Dropbox account and all devices. Click Delete everywhere.

Now, if you go to dropbox.com and click Deleted files in the left sidebar, you will see all the deleted duplicates there. And they will be permanently deleted by Dropbox 30 days later. Or, you can perform the permanent deletion right now.
Tip 1
If you don't know how to sync Dropbox files to computer, this tip can help.
1. Double-click the installer.
2. Sign in to your Dropbox account.
3. Click Advanced settings.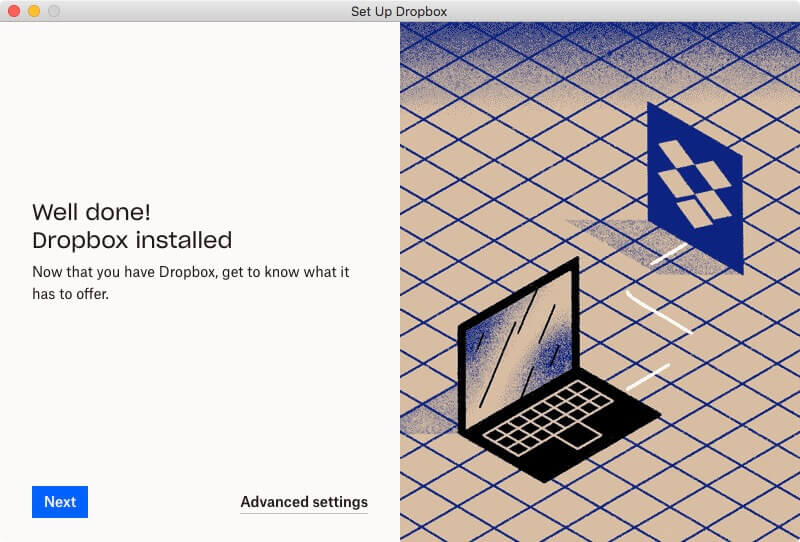 4. In the Dropbox location section, select a location to which all your Dropbox files and folders will sync. We recommend sticking to the default location.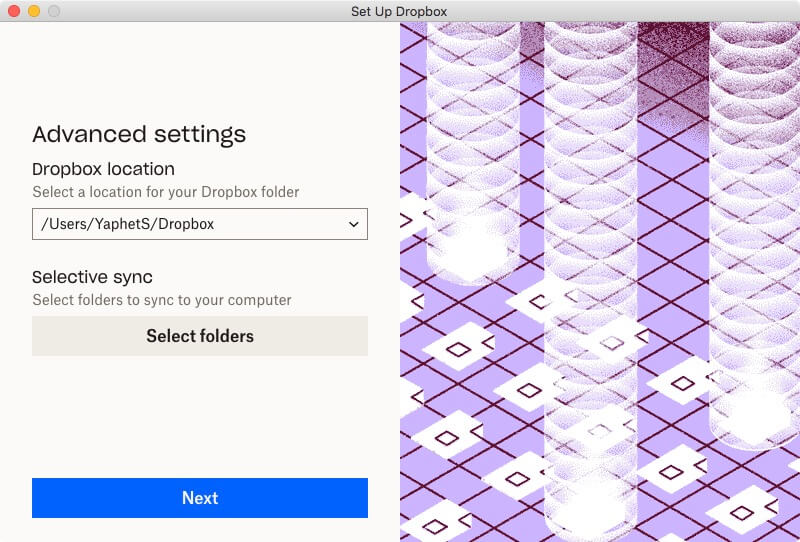 If you want to search your entire Dropbox for duplicates, click Select folders in the Selective sync section and then select the Select all checkbox.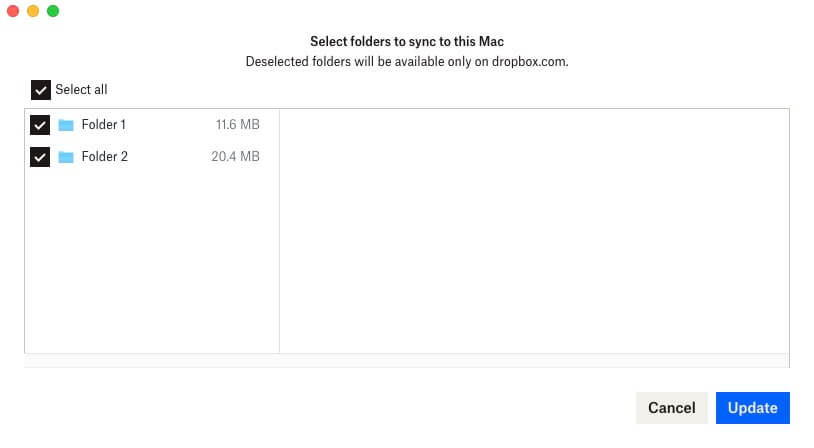 5. Complete the installation, and the files and folders in your Dropbox account will start syncing.
The Dropbox icon will appear in the taskbar (on a Windows PC) or the menu bar (on a Mac). You can click the icon to check the sync status. After the sync is complete, you will see a "Your files are up to date" message.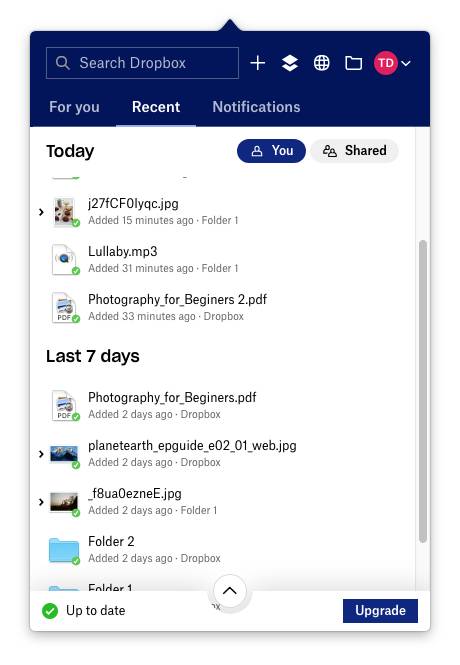 Note: If you are a heavy Dropbox user with tons of files, the sync will take a relatively long time. If the sync is successful, and then you can start finding duplicates. If, despite your efforts, you can't successfully sync all Dropbox files, the method above won't work for you.
You can access the sync settings in Preferences. Click the Dropbox icon, click your avatar and choose Preferences > Sync.
How to find and delete duplicates on Dropbox website manually
Dropbox itself cannot detect duplicate files automatically, but there's a manual method that can help you find Dropbox duplicate files on its website, without third-party tools. The disadvantages are that it can be a time-consuming process and some duplicates will be missed.
Below are detailed steps on how to find Dropbox duplicate files manually:
1. Visit Dropbox websites on your web browser. Log in your account.
2. Click All files in the left column.
3. Click the criteria on the top to sort your Dropbox files by name, size, extension or type. Sorting files by size can help you find duplicates more easily.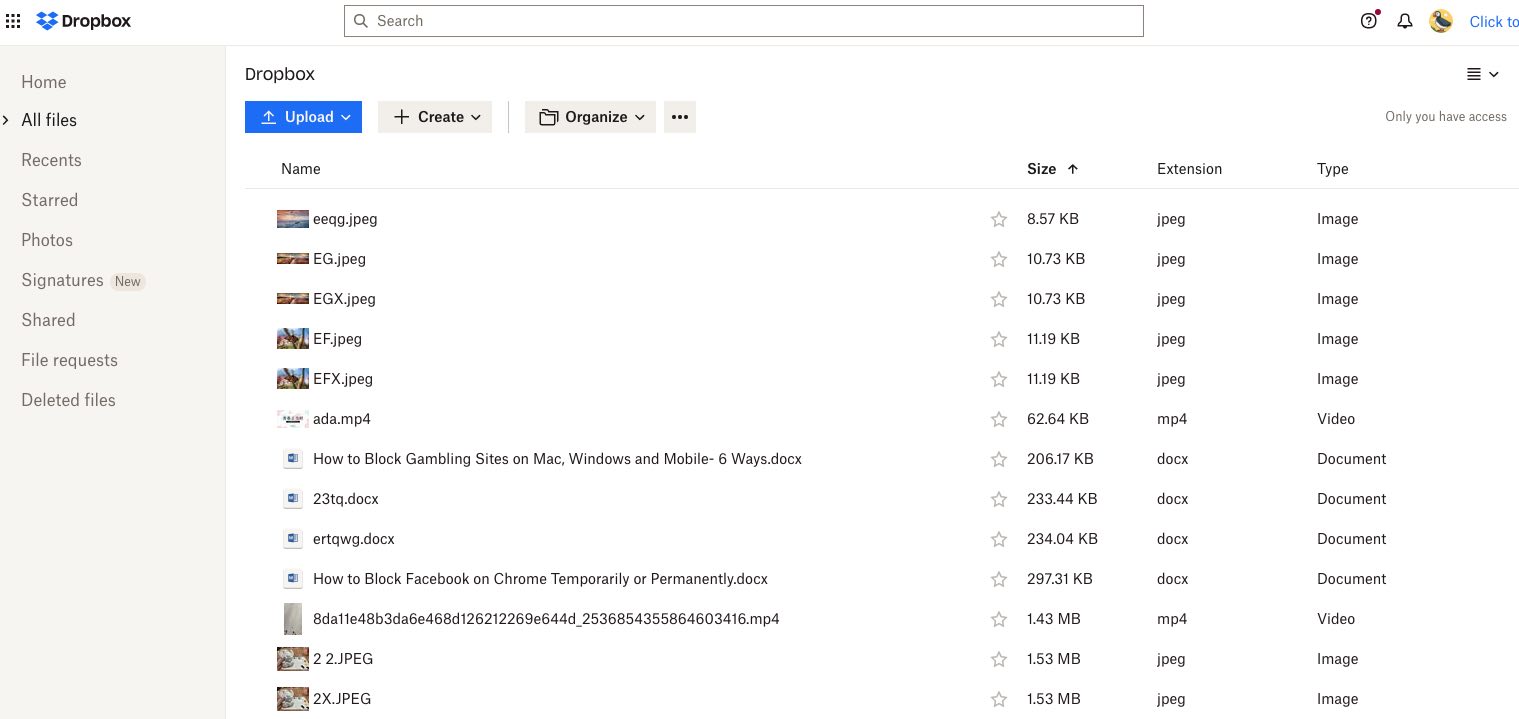 4. Right click the file and choose Open in > Preview to check it is indeed exact duplicate file.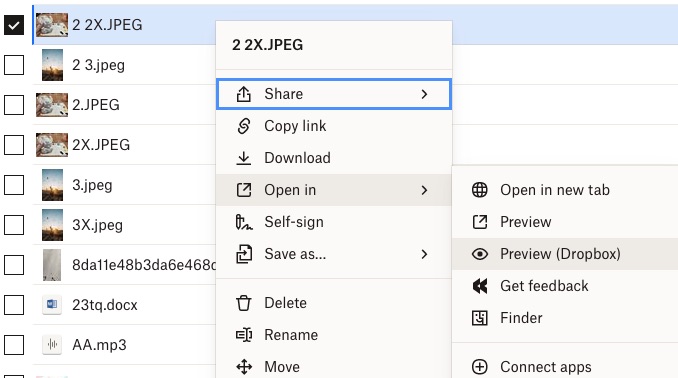 5. Click on Delete.
How to avoid duplicates in Dropbox
Try to avoid sync issues that lead to duplicate files by checking the official "Syncing & uploads" guides.
Avoid uploading files that are already in your account.
When you organize your Dropbox files by creating folders and moving files to folders, use the Move option instead of the Copy option.
Conclusion
If you use Dropbox Basic (which only offers 2 GB of storage), removing Dropbox duplicate files can help free up precious storage space. If you have a paid Dropbox plan, you can benefit from deduplication too. Weeding out unnecessary copies of files allows you to better manage files.