Duplicate photos are usually useless. What's more, they waste precious storage space. You may want to get rid of them. Duplicate Photos Fixer Pro is specially designed for this purpose. How do you use it? Is this duplicate photo finder worth the money? Read on to find out.
Duplicate Photos Fixer Pro review
What is Duplicate Photos Fixer?
Developed by Systweak Software, Duplicate Photos Fixer Pro is a duplicate photos finder and remover app designed to handle both exact duplicate photos and similar photos. Systweak's Duplicate Photos Fixer family consists of the following.
Duplicate Photos Fixer Pro for Mac
Duplicate Photos Fixer Pro for Windows
Duplicate Photos Fixer for iOS
Duplicate Photos Fixer Pro for Android
This review only focuses on the first two.
Is Duplicate Photos Fixer Pro safe?
Yes. Duplicate Photos Fixer Pro is safe to download and install. The installer is clean and doesn't contain malware or unwanted offers. Make sure that you download it from trustworthy sources such as the official website and the Mac App Store.
The app is also safe to use. When you delete marked duplicates, a dialog box will pop up asking for confirmation to prevent accidental deletion.
Duplicate Photos Fixer Pro cost
Is the app free? If not, how much is it? Below are the pricing details of Duplicate Photos Fixer Pro.
Windows users can download the trial from the official website. The trial is not available for Mac users, and they have to go to the Mac App Store and purchase the full version. The trial lets users find duplicate photos and configure settings, but users need to upgrade to the full version in order to delete the found duplicates.
For Mac or Windows PC users, the app is not cheap considering that it only deals with duplicate images. There are better choices!
The Best Duplicate Photos Fixer Pro Alternative
Find duplicate photos, videos and any other duplicate files
Also find similar photos
Delete duplicates on computer, external storage devices, etc.
Remove duplicates from Mac's Photos, iPhoto, Music and iTunes
Offer a built-in preview feature with 3 modes
Automatically select duplicate files to mass remove with 1 click
Also offer 8 rules for you to customize the selection
Provide 3 safe removal methods
Available for both Mac and Windows

Free Download

Free Download
Download and install
You can easily install/uninstall this duplicate photo finder on your device using the normal installation/uninstallation method.
Features and performance
#1 Add folders to scan for duplicate files
Duplicate Photos Fixer Pro allows you to add photos, folders or Photos library (Mac) to scan for duplicate photos. You can do it by drag and drop or using the Add button. Note that clicking the Add Photos Library button won't automatically locate and add the Photos library, and Mac users need to do it manually.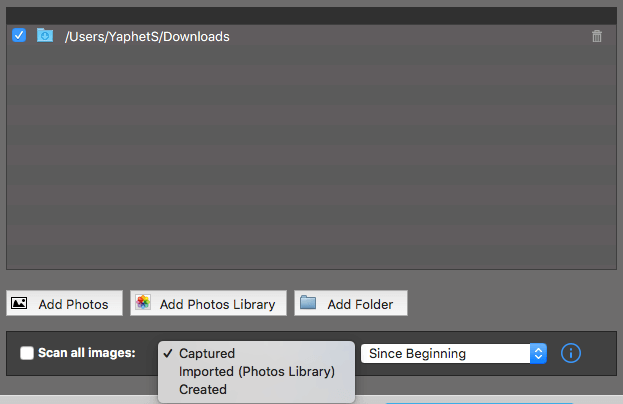 There are two sets of scan filtering options. You can filter images by source (Captured, Imported and Created) and time (Today, Yesterday, Within Last 7 Days, Within Last 15 Days, Last Month, Last Year and Since Beginning). The Scan all images option is offered.
You can configure other scan filters in Preferences. There, you can filter by file type, size or location/path, using an individual filter or a combination of them.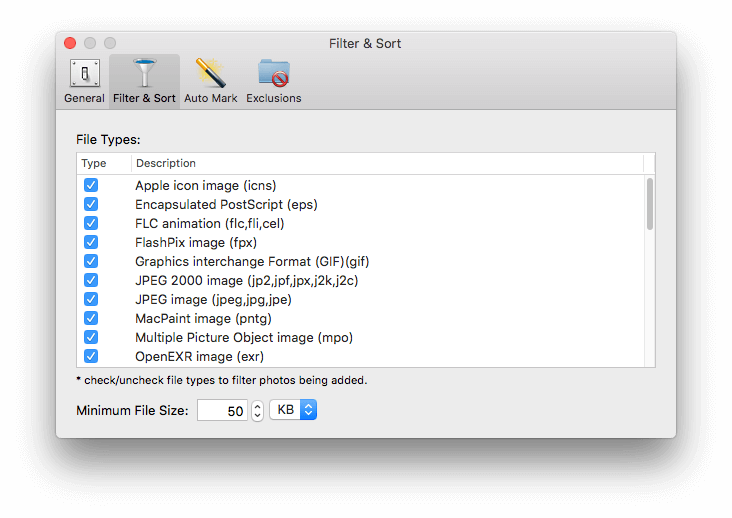 #2 Find similar and identical photos
Duplicate Photos Fixer Pro offers 2 comparison methods: Exact Match and Similar Matches.
Let's take a look at the 2 methods and how well they work.
1. Exact Match
If you enable this method and then start a scan, Duplicate Photos Fixer Pro will search for only exact duplicate photos and videos, i.e. files that are exactly identical regardless of filename. Repeatedly importing or backing up the same files can cause exact duplicates.
According to tests, Duplicate Photos Fixer Pro can find most of the exact duplicate photos and videos in a folder, Photos library (Mac) or collection of photos. If you are looking for a more powerful app to find all of the exact duplicate files in a location, check out this app.
2. Similar Matches
This comparison method is used to detect both exactly identical photos and similar photos (also known as near duplicates). Similar photos include photos taken in a burst or taken from slightly different angles, edited or compressed versions of the same photos, etc.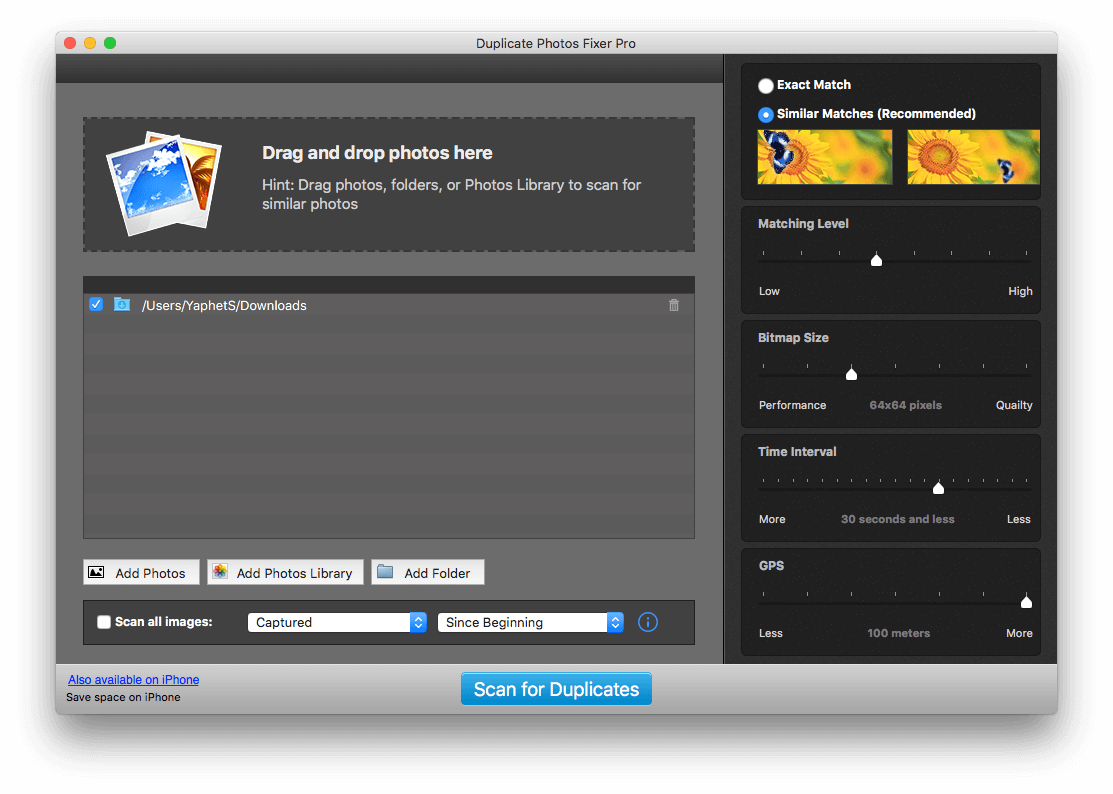 You can specify how this duplicate photo finder measures the similarity between pictures by adjusting the general Matching Level slider. There are other settings. You can fine-tune them to get desired scan results.
Bitmap Size allows you to decide the accuracy of scan result. The default setting is 64×64 pixels. There is a trade-off between quality and speed. Slide towards Performance to ensure fast scanning. Slide towards Quality to get highly accurate results.
Duplicate Photos Fixer Pro also takes into consideration the time interval between two photos when identifying similar photos. The Time Interval setting can be used to find photos taken in burst mode.
The app checks the GPS coordinates for photos and likely uses it as a factor when matching similar photos. The GPS setting is easily adjustable.
To test the performance, I used Duplicate Photos Fixer Pro and another app to scan the same Mac Photos library for similar photos. Both apps found burst mode photos and duplicate photos with different file sizes. The other app also found pictures captured from slightly different angles or distances and certain other visually alike pictures.
#3 Preview found duplicates
Before removing, you can preview found duplicate photos. Detected duplicates will be categorized in groups and let you compare side by side. The Metadata section under the thumbnail allows you to see details of the duplicate photos. You can manually mark images by yourself, or using the auto mark feature.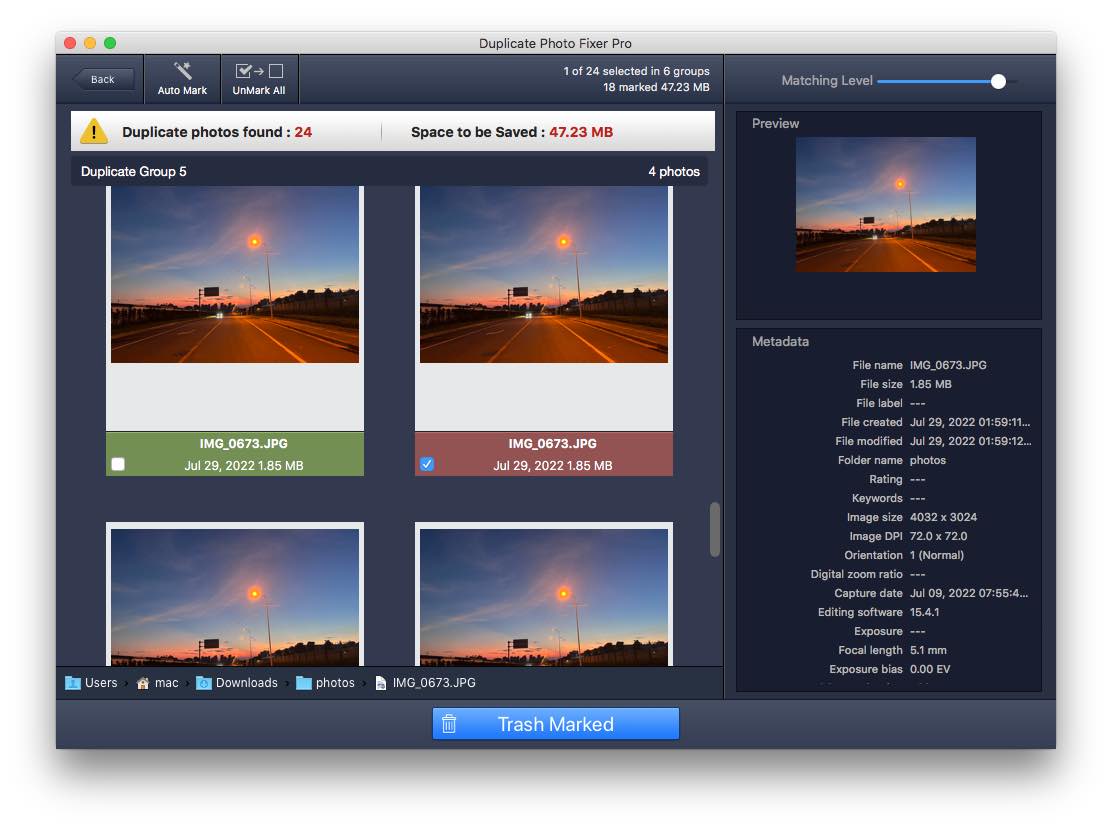 #4 Mark duplicates for deletion
Duplicate Photos Fixer Pro can automatically mark the detected duplicate copies for you to delete. To adjust it, go to Preferences > Auto Mark. You can select/deselect options or change the priority to auto mark photos. This feature is useful. You can also mark duplicates by hand.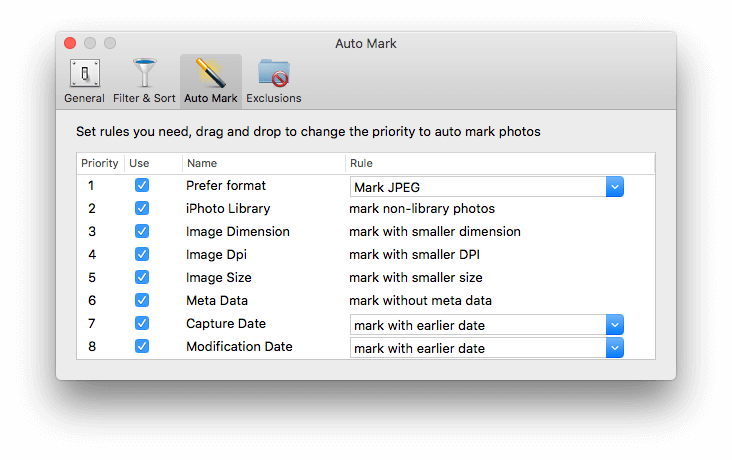 However, the Auto Mark feature can have a downside. When you use the Similar Matches method, the results window will display both exact duplicates and similar photos, and the auto marking will be applied to both types. But the Auto Mark feature can't decide which is the best shot to you in each group of visually similar pictures. Simply deleting the automatically marked photos is very likely to delete your favorite photos!
Summary
Pros
Easy to use with a simple interface
Find both same photos and similar photos
Provide useful customizable settings to find similar photos
Support common image types and formats such as JPEG, GIF, TIFF, BMP, etc.
Save you from manually marking duplicates by offering the Auto Mark feature
Let you eliminate marked duplicates with a click
Cons
Can't find all of the exact duplicates in a location
Not 100% reliable Auto Mark feature, may lead to loss of your favorite photos
Instructions: How to use Duplicate Photos Fixer Pro
Here's a basic how-to guide. To make the most of the app, please read the review above.
1. Add folders to scan. Drag photos or folders into Duplicate Photos Fixer Pro. Alternatively, click the Add button.
2. Customize settings. Select a comparison method and customize settings if needed. You can configure further in Preferences.
3. Select dupes to delete. Click Auto Mark, and it will automatically mark duplicate copies according to default or custom setting.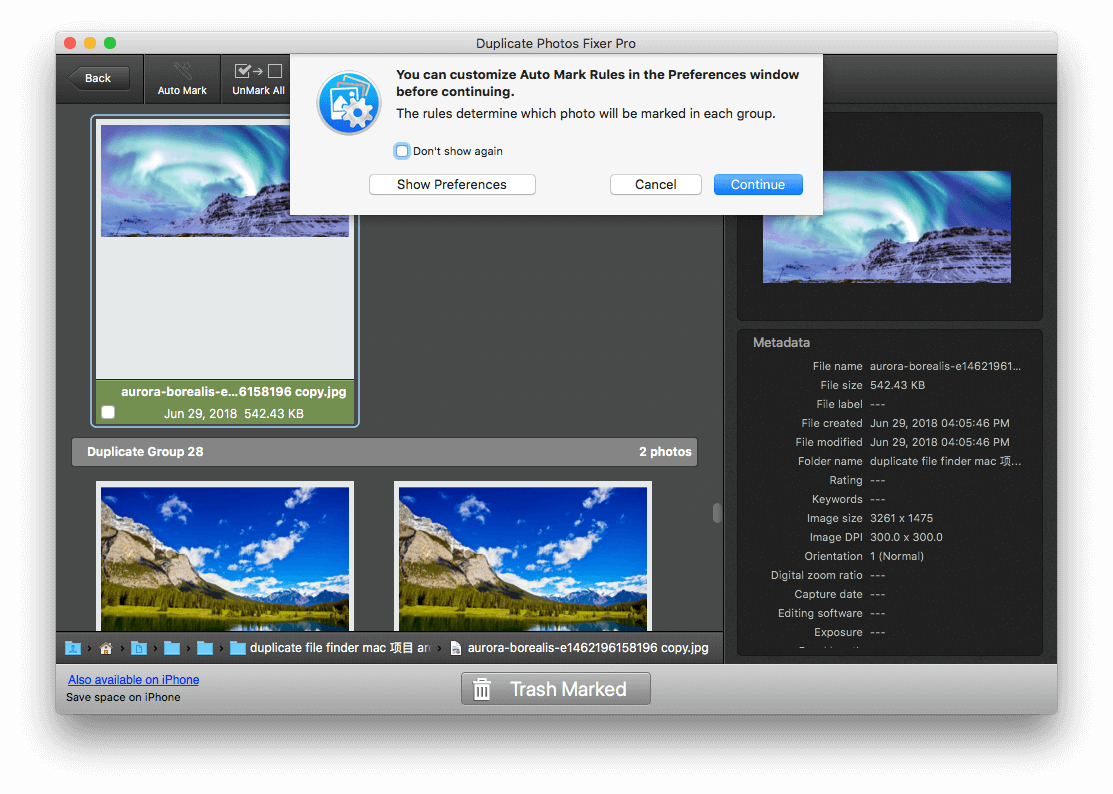 Step 4. Delete. Click Trash Marked to send unwanted photos to Trash (Mac) or the Recycle Bin (Windows).
The best Duplicate Photos Fixer Pro alternative
Cisdem Duplicate Finder
Cisdem Duplicate Finder is considered by many the best duplicate file finder.
Find exact duplicate photos, videos, audios, documents and any other types of duplicate files
Also find near duplicate photos
Work with computer, external hard drive, SD card, cloud drives, etc.
Support Mac's Photos, iPhoto, Music and iTunes
Offer 3 preview modes to preview images, media files, etc.
Automatically select duplicate files to mass remove all at once
Also offer multiple rules to customize the selection
Provide 3 removal methods including Move to Trash/Recycle Bin
Available for both Mac and Windows
Like Duplicate Photos Fixer Pro for Mac, this app supports scanning folders and Photos libraries for duplicate photos and videos.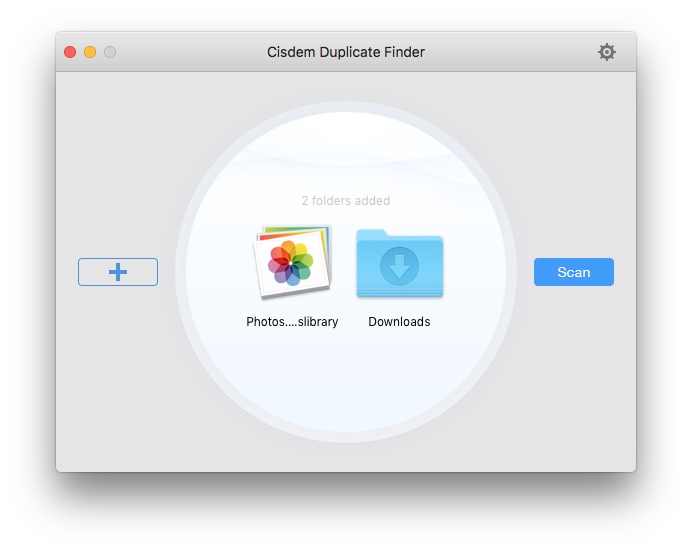 Unlike Duplicate Photos Fixer Pro for Mac, Cisdem Duplicate Finder can find all types of duplicate files. Also, it is capable of detecting all of the duplicate files in the folder, drive or Photos library that you select. It's more powerful.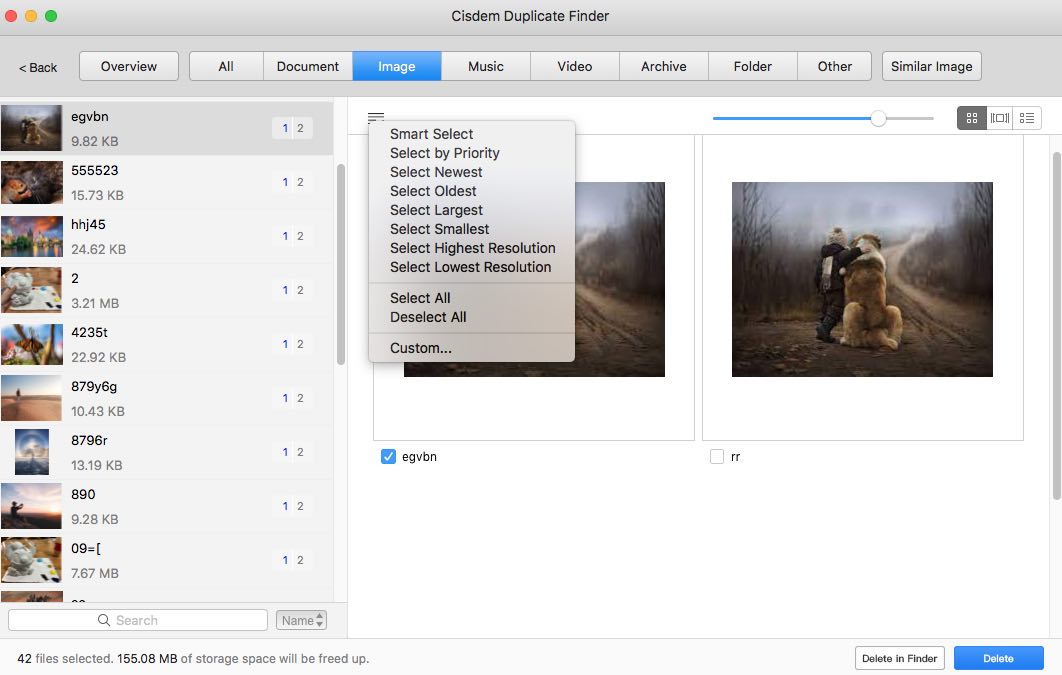 In addition, this alternative can find more similar photos. Similar pictures are grouped for you yourself to easily pick the best shots. The auto-selection only applies to exact duplicates. But the app does provide 8 selection rules to help you mass select similar photos.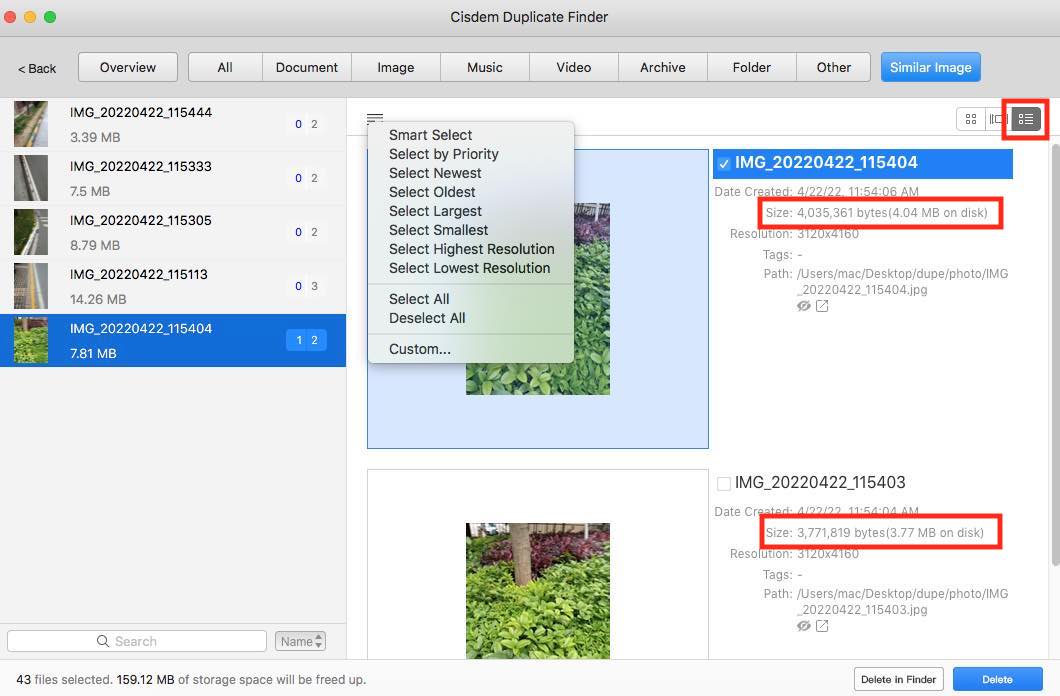 You can determine the similarity level before scanning similar photos. Click on Settings then go to "Similar Images" tab. If you choose "Custom" option, tweak the slider of "Histogram similarity" to 0% and "Features similarity" to 100%, you will find photos with the highest similarity.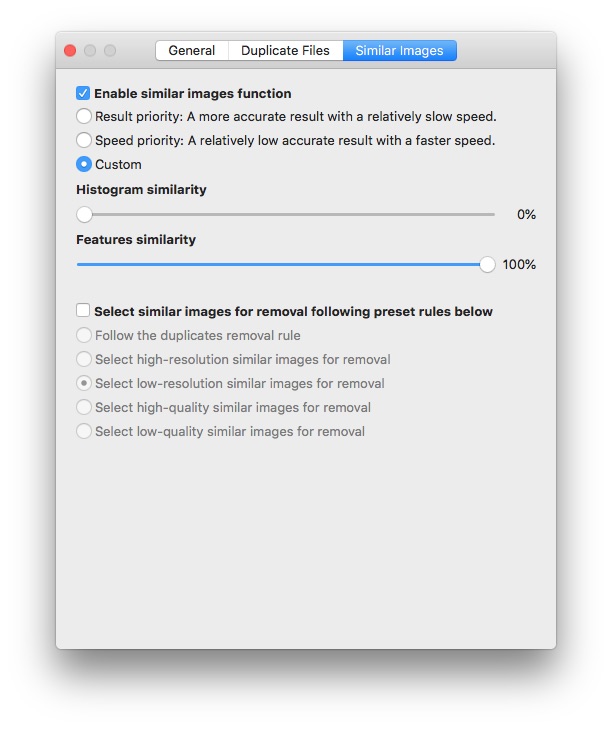 Cisdem Duplicate Finder can help you get rid of duplicate photos and other duplicates easily, effectively and safely.
Duplicate Photos Fixer Pro vs Cisdem Duplicate Finder
Conclusion
Duplicate Photos Fixer Pro is a great duplicate photo finder for Mac and Windows. It can help users effortlessly detect duplicate pictures. This Duplicate Photos Fixer Pro review also lists other choices (including freeware) to consider. They can be equally good or even better.