"I have a mass of old VHS tapes cluttered in my room, which are full of valuable moments in my life. But recently I found most of them are not clear as they used to be. How do I deal with this issue?"
Just like this person, people liked to use VHS tapes to store videos or movies permanently for better memory in the past. But with the rapid development of smartphones, VHS gradually lost its market. Meantime, magnetic tapes will die as time flies. The most reliable solution to fix it is to convert VHS to DVD. Here we show you 11 best VHS to DVD converters and the easiest way to convert VHS to DVD.
How do we choose the best VHS to DVD converter?
You may confused about how to find the best VHS to DVD converter as there are countless available converters on the market for your choice. Hence, let's see my basic standards when I select a converter.
High resolution of the video quality - High video quality must be the most important factor when you choose converters. If the converted video is poor, it will affect your mood. It betrays your purpose for turning your precious moments into better storage.
Useful cables - Make sure the cable contained in the converter works with your VCR player or other media devices. Or you can find a converter supports RAC, S-video and other types of cables because they are compatible to most devices. Otherwise, you need to buy a new VCR player or other media player if the cable doesn't match with your VCR.
Containing software - Many converter are easy to use, but due to devoid of editing functions, they can't edit the videos. Therefore, if you want to create videos according to your needs, you should pay attention to whether the converter has according software. Normally, an additional software will give you a variety of advanced setting features.
Many file formats - Many converters usually only convert videos into H.264 format, which is a big shortcoming if you want other formats. Hence, check the converter's supported formats whether fit you needs before purchasing.
Fast speed of conversion - It is necessary for a converter to convert file quickly, which won't waste too much time for waiting.
Make audio sync with video - We find some converters make that the audio can't keep pace with its video after conversion. So you need to be careful to avoid similar products.
Reasonable price - You should take your budget into consideration to find the most suitable converter.
Warranty - With it, you can consult them with issues if you have any questions during you use, or ask them to return your money if you find your converter doesn't work as described.
With these elements, we will introduce 11 different types of great converters for your reference.
11 Best VHS to DVD Converters 2022
1. Cisdem DVD Burner (Editor's first pick)
Unlike other converters we will mentioned below, Cisdem DVD Burner is a preeminent software to convert VHS to DVD on Mac. It provides you with highly-customization features that allows you to create a special DVD such as trimming/cropping/cutting videos, add watermark/chapter/subtitles, adjusting effects, etc. With built-in speed acceleration technology, you are permitted to convert VHS to DVD in the fastest speed effortlessly.
Main features of the best VHS to DVD Converter
Not only convert VHS to DVD, but also can convert many popular digital formats to DVD, including MP4, MOV, MTS, DV, etc.
Can convert VHS to DVD Disc, DVD folder and ISO file
Can record videos from camcorder, camera, iPhone, iPad etc.
Powerful editing features
Support with subtitles
Provide various free DVD menu for different themes
Fast converting speed
Easy to use with the straightforward and simple interface
Can improve video quality of the poor quality video and give you the highest quality
Preview the final look of DVD and change it if you are not satisfied with it
Compatible to macOS or higher, Monterey included

Free Download
2. Roxio Easy VHS to DVD for Mac
AS its name shows, it is a superior converter for Mac that can convert analog sources from VHS, Hi8, video8 and convert them to DVD or other popular digital formats. With its software, it is easy to use with 3 steps and gives a video with high quality of 1024 x 768 resolution. Unlike other converters, it has a surprising function that it can upload the converted videos to iMovie for editing such as adding effects, titles and other editing features.
Advantages:
Offers videos in high quality

Affordable price

Easy to use
Disadvantages:
No S-video or SCART input

The software runs improperly sometimes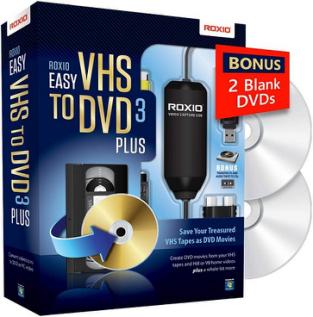 3. Elgato Video Capture
Elgato Video Capture is unanimously regarded as one of the best VHS to DVD converters supported on Mac and Windows. If you view the clear resolution as the most important factor, Elgato Video Capture will be your preferential product because it is able to convert your analog media to H.264 compatible to various devices or platforms such as iPhone, iPad, iMovie, ect, and provide you with the high resolution of 640 * 480 for 4:3 aspect ratio and 640*360 for 16:9.
Advantages:
Convert VHS to DVD in high quality
Easy to use
Support S-Video, RCA and SCART inputs
Disadvantages:
Not a price friendly option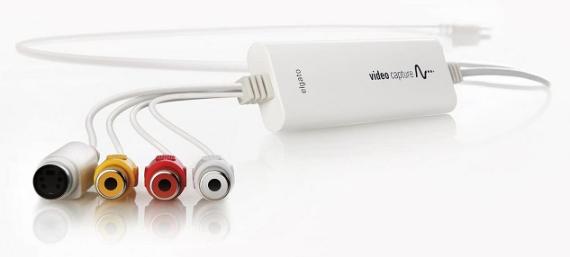 4. ClearClick Video to Digital Converter 2.0
ClearClick Video to Digital Converter 2.0 enjoys a great popularity as an advanced VHS to DVD converter that supports converting VCR, VHS tapes, DVDs, gaming system and more to digital formats. Compared to other tools, this VHS to DVD converter makes the conversion process easier because it doesn't require additional software and computer. Just connect it to your VCR to record.
Advantages:
Support converting various resources to digital formats

Provide videos in high quality that is up to 720 * 480 resolution

Have a built-in display that can directly convert on a USB flash drive or SD card

Have an auto-stop feature
Disadvantages:
Pretty expensive

The auto-stop feature works wrong sometimes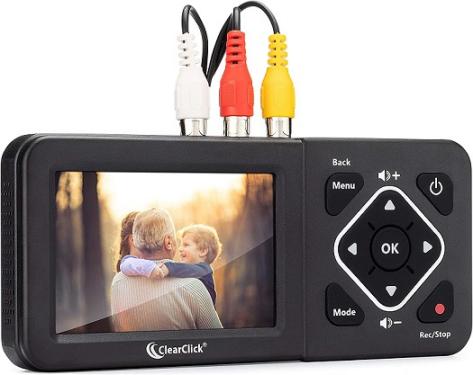 5. VIDBOX Video Conversion Suite
VIDBOX Video Conversion Suite is an excellent video converter that can convert VHS to DVD on Mac and Windows. It will send you a package fulling of everything you need such as USB video capture device, RCA AV cable, USB cable, 2 quick start guides and 2 software download cards. Once you received the package, you can use the product key license and downloading links in the downloading cards to download the software you need. Even if you are a novice, this software is pretty friendly to you because it writes down detailed instruction in the guides for your reference.
Advantages:
Capture a variety of videos from VHS, Beta, 8mm or camcorder tapes, etc and convert them to DVD or other digital formats

Supports some popular output digital formats such as DVD, MP4, MOV, etc

Provide high resolution of 720 * 480
Disadvantages:
A little expensive

Provides limited editing features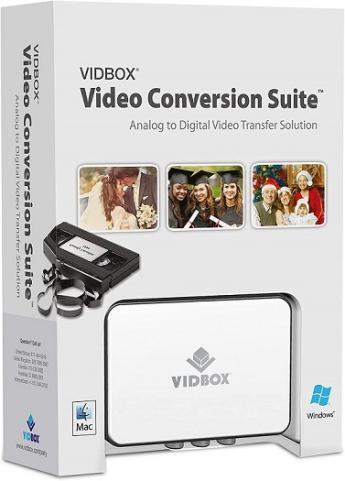 6. DIGITNOW Video Capture Converter
If your budget is limited, DIGTNOW Video Capture Converter is another great choice that could basically solve your needs on converting VHS to DVD. Besides VHS, It can also extract video and audio from other sources such as VCR, DVD, Hi8 and more digital formats.
In addition, you don't need to worry about that it is not compatible to your VHS player because it supports both s-video and RCA input. You just need to connect the other end to your computer by a USB and then you can feel free to use it. But it may work slowly, after all the price is cheap.
Advantages:
Affordable price

Support many digital format

Offers a video in great quality by 640*480

Available on Windows and Mac
Disadvantages:
Slow converting speed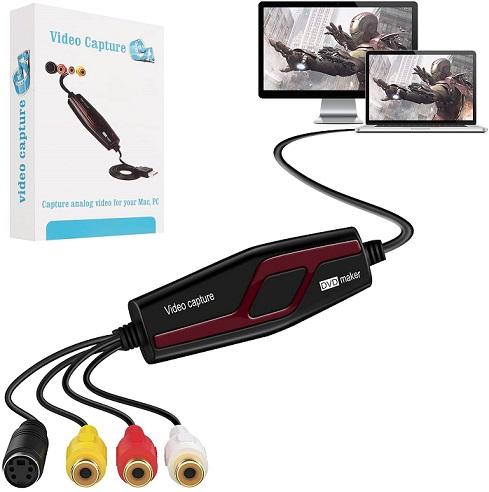 7. Diamond VC500 USB 2.0 One Touch
If you are Windows user, Diamond VC500 USB 2.0 One Touch can help you convert VHS to DVD easily. It supports free downloading Cyberlink Power Director Software, which provides you with powerful customization features to edit the video into your liking such as adjusting color effects, cutting unwanted clips, editing footage, etc. You can also share the converted or edited videos to public platforms like YouTube.
Advantages:
Provide powerful editing features

Capture videos from any video source
Disadvantages:
Only for Windows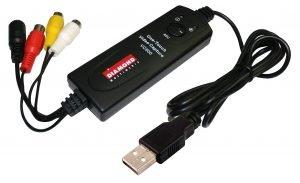 8. UCEC USB 2.0 Video Capture Card Device
UCEC 2.0 Video Capture Card Device is also one of the best VHS to DVD converter that is lightweight for you to store. It can easily convert VHS to DVD on Mac and Windows. If you choose NTSC DVD as the output format, UCEC can provide you with video quality up to 720 * 480. if you choose PAL, it will provide you with high quality of 720 * 576.
Besides, this converter offers 24-hour online technical support and a 1-year money back guarantee so that you can find help to them if you have any problems during the process.
Advantages:
Credible after-sale support

Lightweight
Disadvantages:
The video quality need to be improved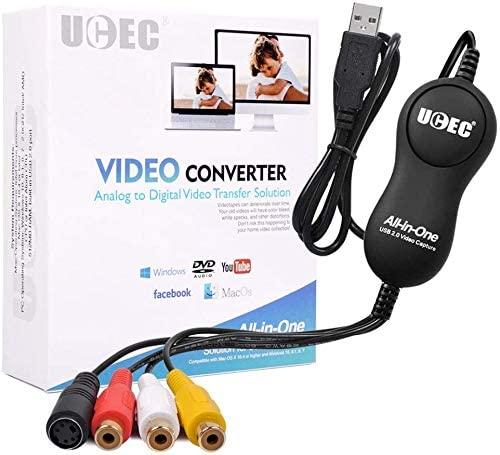 9. Video-2-PC
Video-2-PC earns a number of people's support is that it is pretty easy to use. It can convert VHS, S-VHS, VCR to DVD and other digital formats on Windows, which supports the input forms of RCA and SCART. It can also downloaded with software for those who don't have a disc drive. This simple software allows users to capture, edit timeline, produce MP4 video files and burn to DVD.
Advantages:
Can download software

High compatible to different VCR players
Disadvantages:
Windows only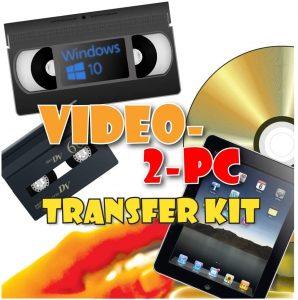 10. August VGB100 External USB Video Capture Card
August VGB100 is excellent in converting old media into videos, DVDs or other digital formats and then saving them on your device. It also lets you to connect your S-video or RCA VHS player or other old media player to your computer via a USB. If your computer doesn't have a disc drive, you are also allowed to download its matching software.
Advantages:
Support S-video and RCA input

Can download software
Disadvantages:
Windows only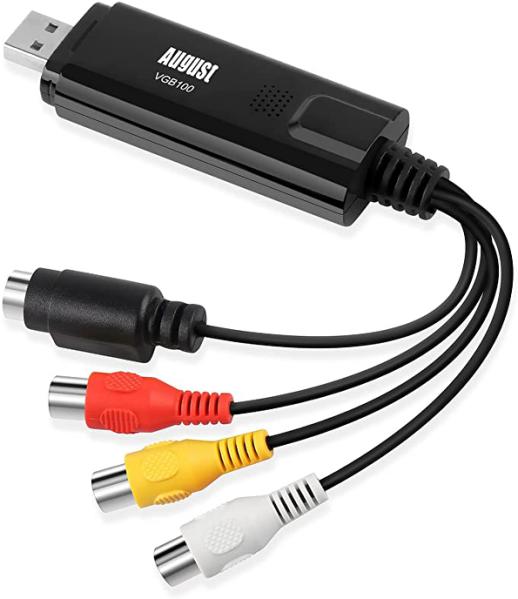 11. Dazzle DVD Recorder HD
Dazzle DVD Recorder HD can capture videos from VHS, Hi8, V8 cameras, Xbox and other sources and it also can convert them to DVD or other digital formats. If you want to create a movie, you can get its software from its official website, which gives you all tools, titles, and transitions for creating movies. All in all, Dazzle DVD Recorder HD is a superb VHS to DVD converter for you to burn high-quality videos on Windows.
Advantages:
Powerful editing feature

Support to convert to many digital formats

Can capture videos from many device
Disadvantages:
Windows only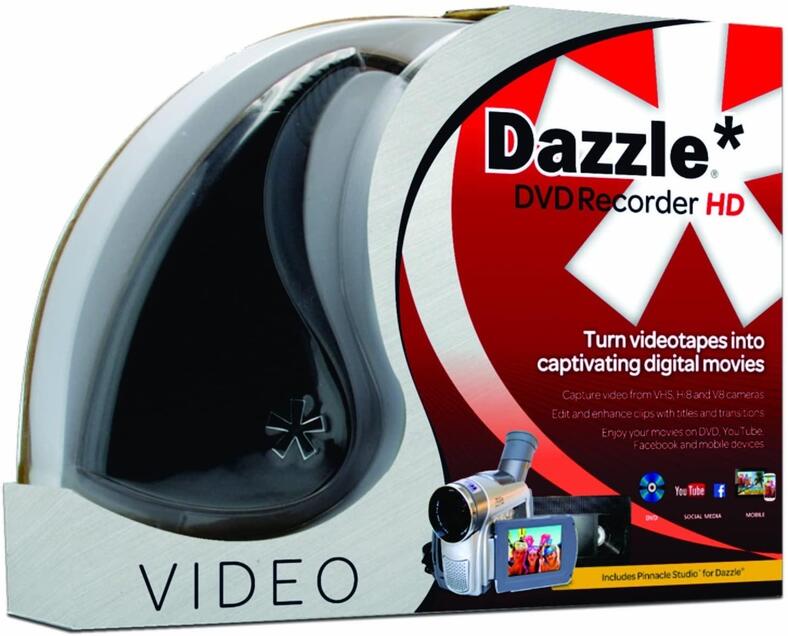 The Easiest way on how to convert VHS to DVD
Through our tests, we all agreed that the easiest way to convert VHS to DVD is to use Cisdem DVD Burner. Unlike other converters that need to wait a long time for express delivery, Cisdem DVD Burner can be used immediately by a simple a click on its official website to download it. If you want to make your precious memory into DVD quickly with high quality like 1080P, please follow its instructions below.
Detailed instructions on how to convert VHS to DVD on Mac with Cisdem DVD Burner
Step 1

Transfer VHS tape to digital video formats

Connect your VHS device with your Mac through a USB cable. Click to open the VHS file, and then you can convert DVD to MP4, MOV or other common digital formats via a converter.
Step 2

Download and install Cisdem DVD Burner

Free download Cisdem DVD Burner on its official website and install in on your Mac.

Free Download
Step 3

Upload the transferred VHS videos to Cisdem interface

Insert a DVD disc into your optical drive.

Open Cisden DVD Burner, click "+ video" on the "Source" tab to choose the transferred VHS videos into the program.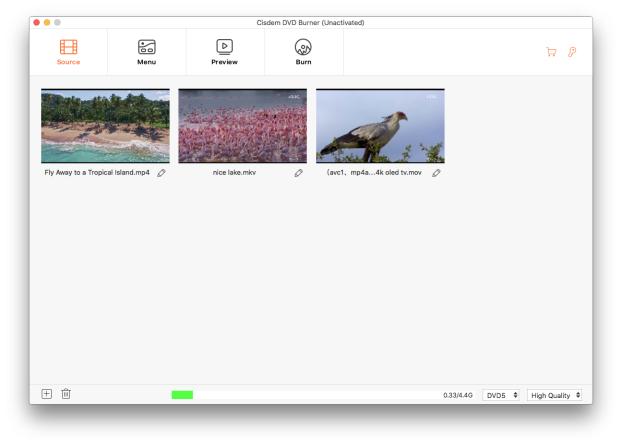 Step 4

Make a DVD menu (optional)

Click

to choose a favorite DVD menu from a lot of themes. Besides, if you don't like the exiting DVD menus, you can change the background picture and music to make a new DVD menu according to your style.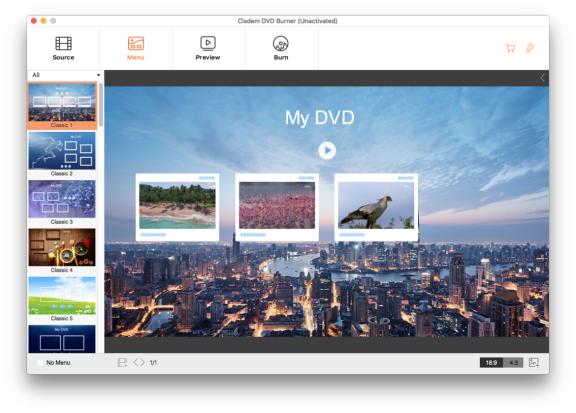 Step 5

Preview the DVD (optional)

Go to the "Preview" tap, click the "Start" icon to view the final look of it in advance. If you are not happy with certain place, you can choose to go back to the same position to edit it.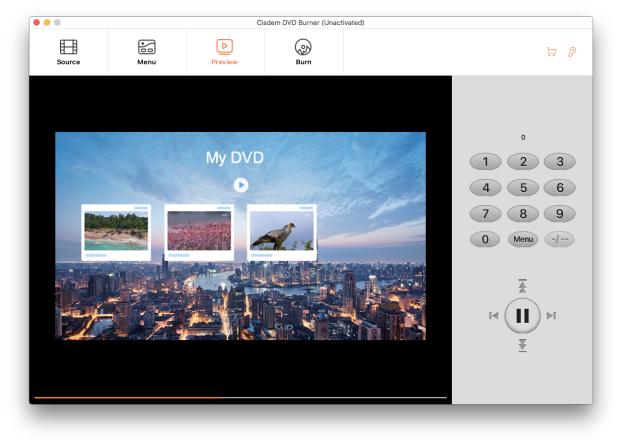 Step 6

Burn VHS to DVD

Once done, click

to the output setting window. You can edit the output type, name, standard, path, etc. according to your needs. Finally, click the "Burn" to start to convert VHS to DVD on Mac.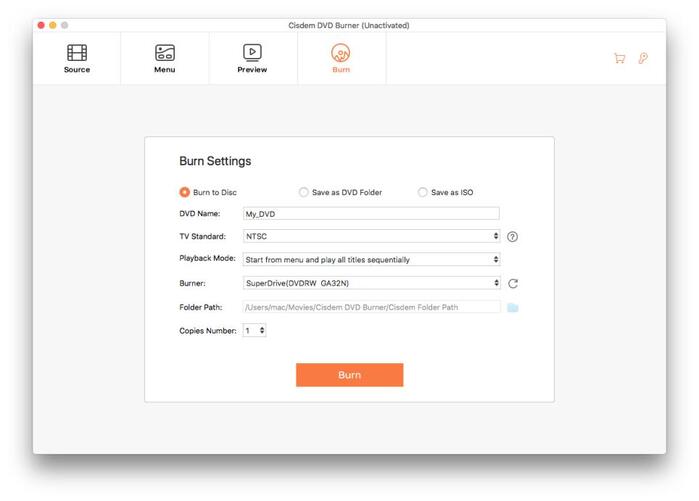 Final words
Now, feel free to choose any one of the above converters according to your budget and functional needs. Some of them may offer limited formats. Fortunately, Cisdem DVD Burner offers a wide range of input formats among them and allows you to convert many VHS videos in high quality. Of course, you can look for other reliable converters on the markets.