Today, we are going to discuss the best FLAC converter for Mac. If you are a Mac user and are searching for some best FLAC converters to play your audios, this article can definitely help you. Our aim is to make sure that when you finish reading this passage you can choose the one which suits you best!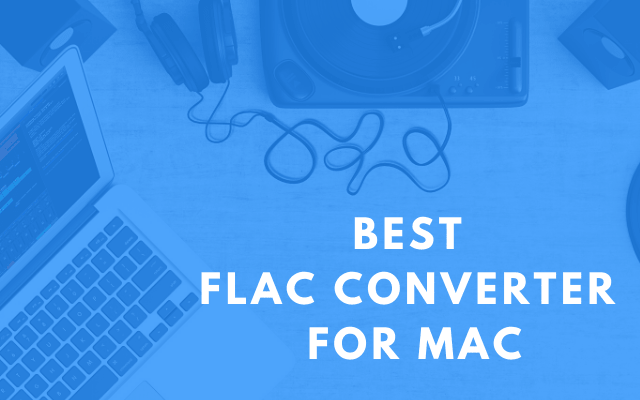 Best FLAC Converter for Mac You Should Use
When it comes to the best FLAC converter for Mac, Cisdem Video Converter is definitely the top priority. This smart tool, designed to solve all the problems about file conversion, is the best solution for converting FLAC audios on Mac. It is free to download and easy to use. You can find more features about Cisdem Video Converter as below.
Best FLAC Converter for Mac
Directly convert FLAC to MP3 and other audio formats like OGG, AAC, WMA, M4A, AIFF
Convert FLAC audios in batch simultaneously
Convert FLAC with extremely fast speed
No any quality loss
Trim or merge the audio before conversion
Regain more space by compressing to small size

Free Download
The following are steps that guide you convert FLAC audio files on Mac with Cisdem Video Converter.
Step 1. Download and install Cisdem Video Converter on your Mac. You can free download this application and have a try.


Free Download
Step 2. Run the software and import FLAC files. You can upload your FLAC audio by dragging and dropping to the interface directly.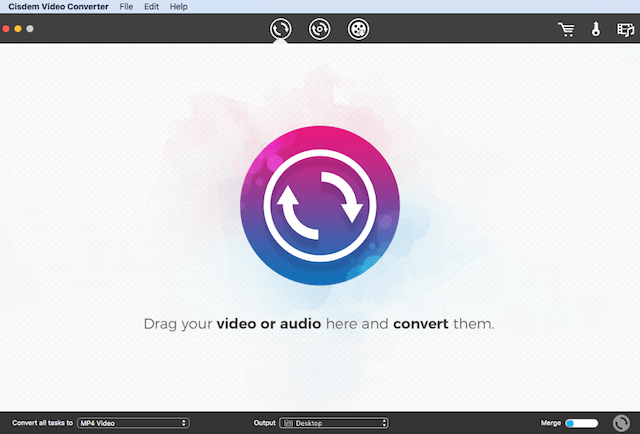 Step 3. Select the target format and output folder. Set the output format of the audio by clicking the format button. Usually, Mac users prefer to convert FLAC to more compatible APPLE Lossless formats like M4A, AAC, AIFF, or MP3. Then choose the output file location.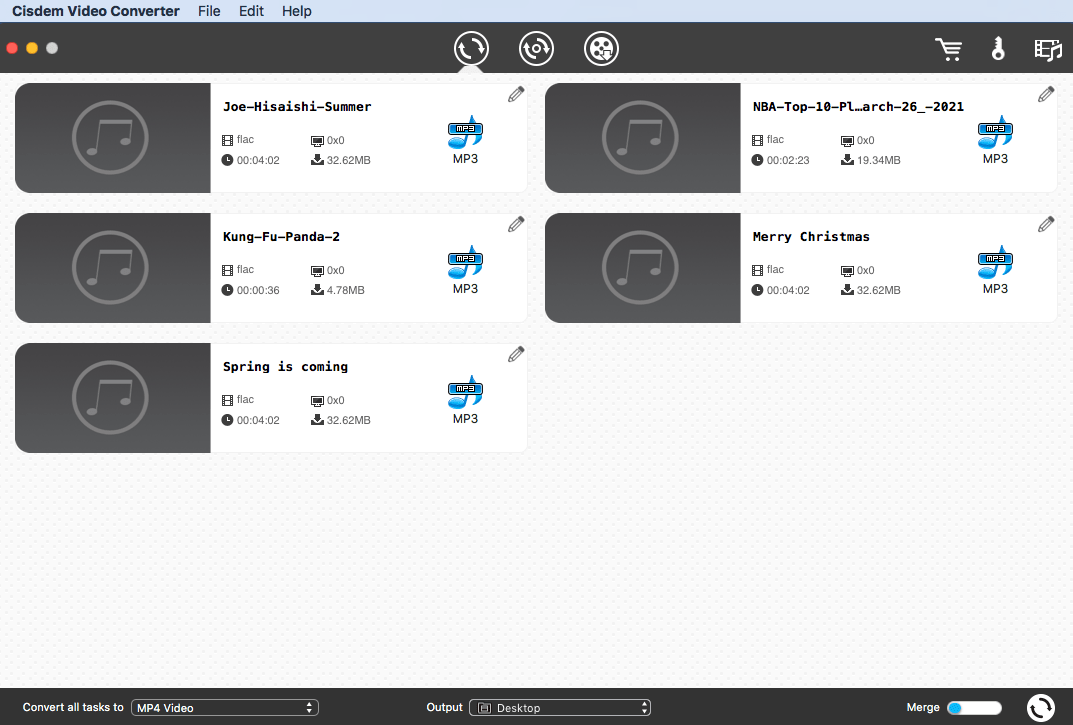 Step 4. Convert FLAC to other formats on Mac. When all settings are done, we can start the conversion process by clicking the spin button in the lower right corner of the interface. In a very short time, you can find your converted files from the finished tab.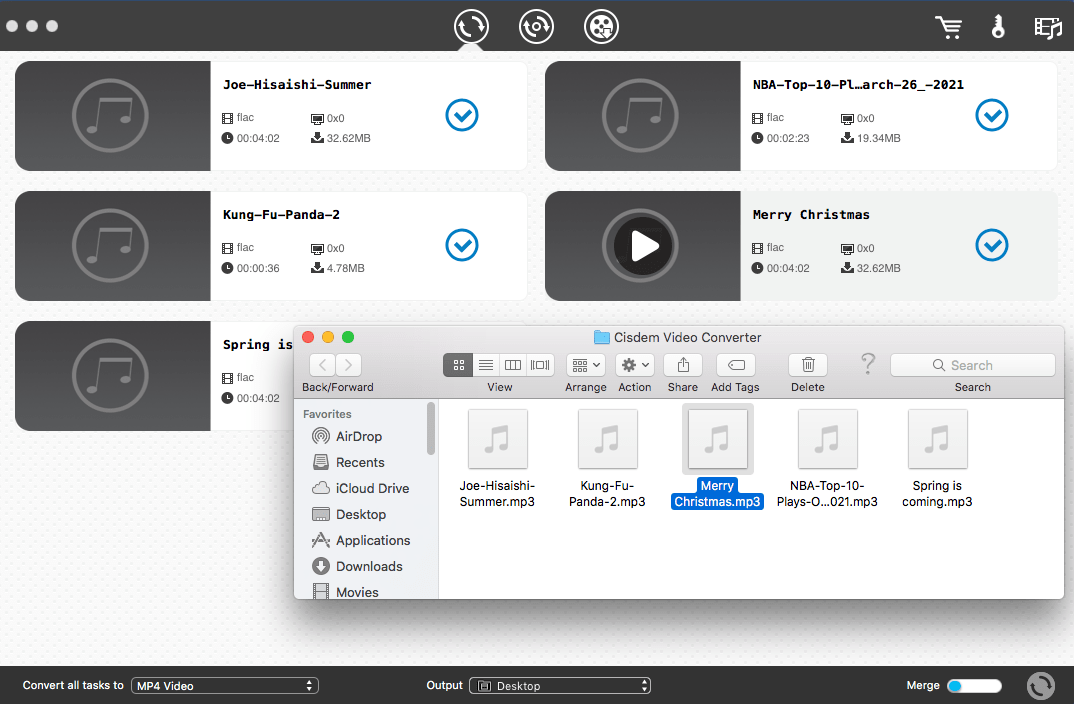 7 Top-ranking FLAC Converters for Mac (Detailed Steps Included)
We also collect a list of best FLAC converter for Mac. These 7 high-ranking FLAC converters are best free to use and easy to operate software that are especially designed to serve Mac users. To meet your need, detailed steps on how to use these FLAC converters on Mac are clearly illustrated.
1. AII2MP3
As the name suggests, All2MP3 converts all music and audio formats to MP3, which is a wonderful tool especially for music lovers and producers. With an intuitive interface, Mac users can easily convert a wide range of formats to MP3 with All2MP3, including MPC, AIFF, WAV, OGG and so on. If your target output format is MP3, AII2MP3 is in deed a good choice. The drag and drop design lets you convert your audio files with ease.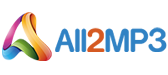 Advantages:
Clean and simple interface
Easy to use
Enable to convert all audio files to MP3
Disadvantages:
Difficult to find the right download address of this software
Can only convert to MP3, no other output format options
Two simple steps help you convert FLAC files to MP3 with All2MP3.
1. After launching this program, drag and drop your FLAC files to the interface of this tool directly or add FLAC files by click "+ Add" button at the bottom.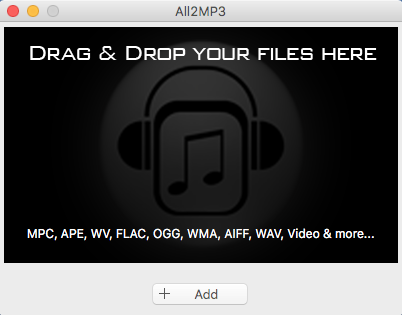 2. Convert to MP3 immediately with a click on "Convert" button.
2. X Lossless Decoder
X Lossless Decoder, only designed for APPLE system, is an open source conversion tool supporting for all major lossless audio formats. It is really convenient to transfer FLAC with it on Mac. Apart from converting, it can also play AIFF, WAV and MP3 files directly. However, unlike other traditional software, you won't see the main interface after opening the APP, which makes users confused about how to use the software correctly.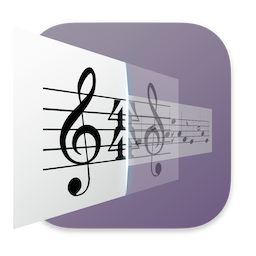 Advantages:
Batch conversion with extremely fast speed
Decode/convert/play various lossless audio files
Disadvantages:
Not user-friendly
A little complex to operate
The following steps can help you convert FLAC with X Lossless Decoder successfully.
1. Run the software, and click "XLD - Preferences" in the menu bar.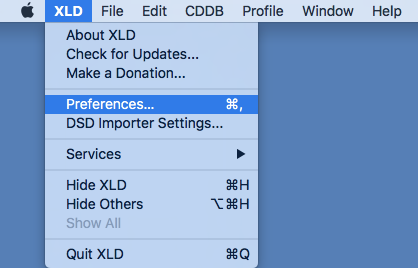 2. Set the desired options, mainly including "Output format", "Output directory", "Maximum #Threads" and "File Naming".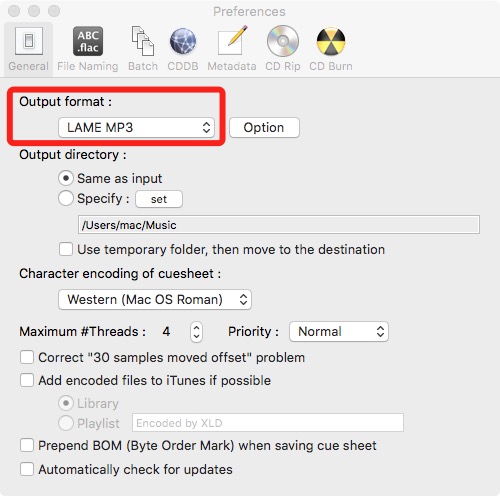 3. Add your FLAC files on Mac by clicking "File - Open".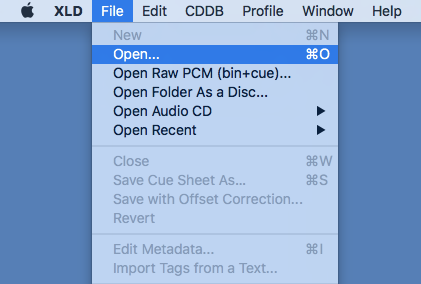 4. Start conversion. The process of conversion will be finished in very short time and files will be stored in the folder you set up in advance.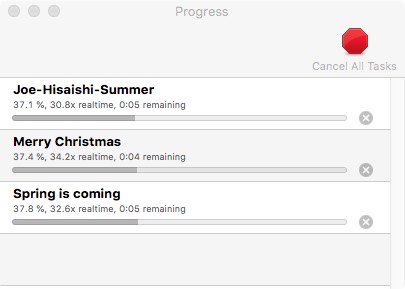 3. MediaHuman Audio Converter
MediaHuman Audio Converter is an easy-to-use program that lets MacOs users convert FLAC files to MP3 or other formats. Once installed, this tool quickly converts FLAC music into various formats for free and gives you the most authentic experience on your cellphones and musical devices. The conversion is quick and doen't impact the quality of the audio. Using this application is easy and doesn't require any tech skills. This is why many Mac users prefer this tool.

Advantages:
Tiny and clean interface
Easy to use
Batch conversion with fast speed
Disadvantages:
Unable to select folders to store output files
Has slow or unreliable performance sometimes
The following is the guide on how to convert FLAC with the best FLAC converter for Mac --- MediaHuman Audio Converter.
1. Add FLAC files that you need to convert by dropping files or clicking "+" button.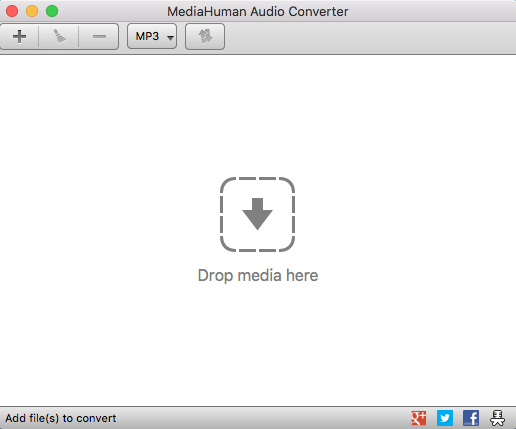 2. Choose the output format.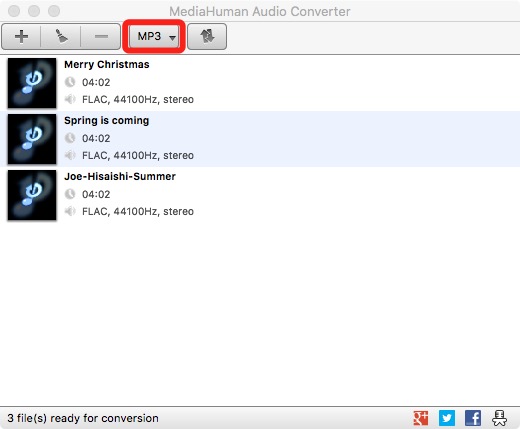 3. Begin to convert your audio file by clicking the conversion icon.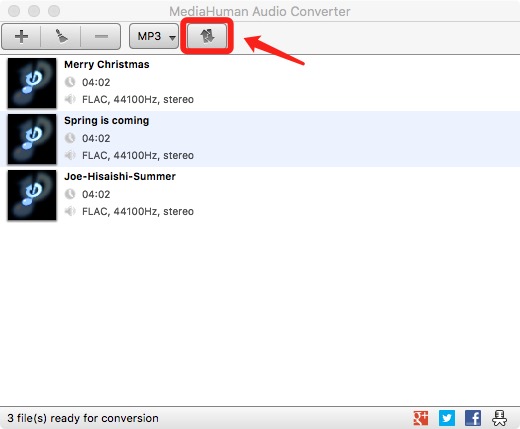 4. Switch Audio File Converter
Switch Audio File Converter offers a streamlined and user-friendly solution with plenty of options and functionality to convert audio files on Mac. Switch is capable of converting your audio file from over 40 file types into the format you need, therefore, it is quite easy for you to convert your FLAC files. And there are a number of personalized options that run from general configuration to specific settings for every file.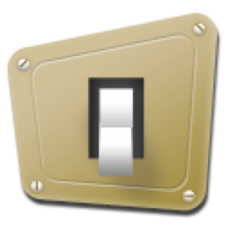 Advantages:
User-friendly interface
Enable to play the audio file directly after conversion
Disadvantages:
Commercial use is not free
Installs additional software behind your back
Reading the following tutorial helps you convert FLAC audio files on Mac by Switch Audio File Converter.
1. Import FLAC files from your Mac. Your FLAC files can be imported either by dragging to the interface directly or clicking the button "Add" at the top of the interface.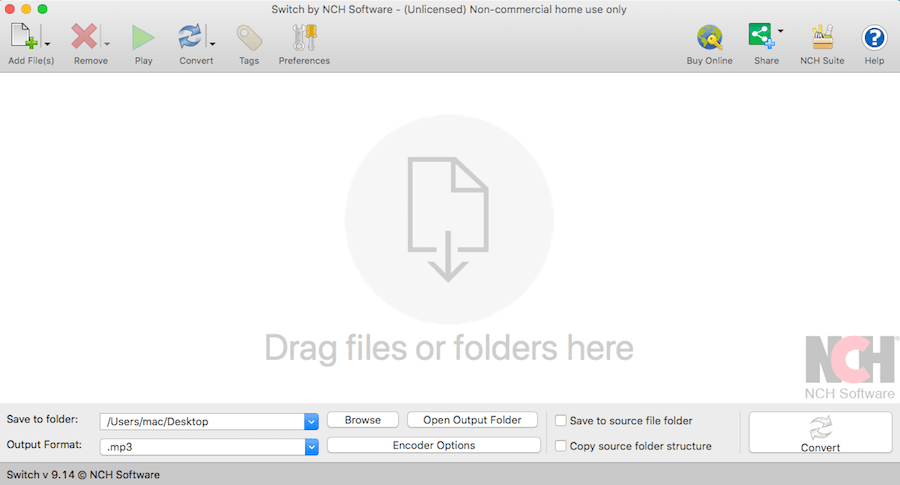 2. Set the output formats for your FLAC audio. At the bottom of the interface, You can choose the output formats you need and the file location to be stored.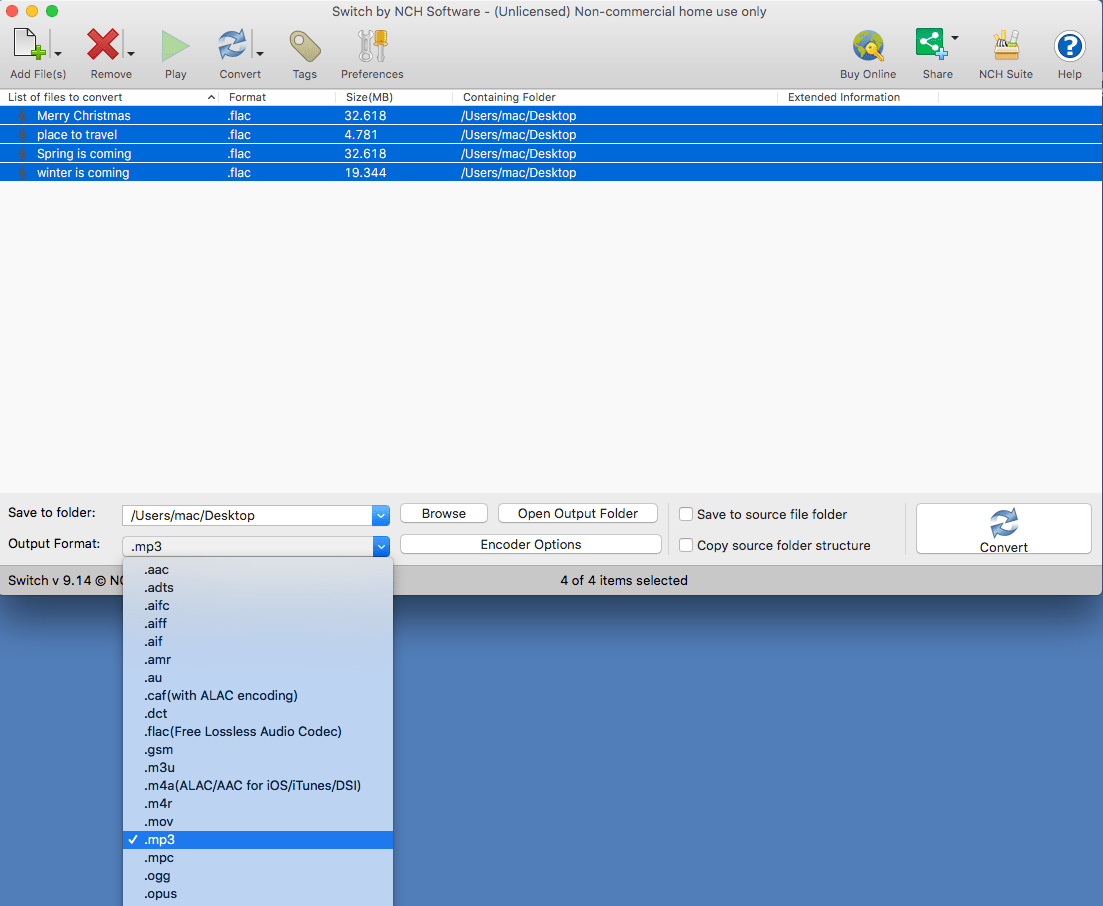 3. Start your conversion by clicking "Convert". Your FLAC files then will be converted quickly.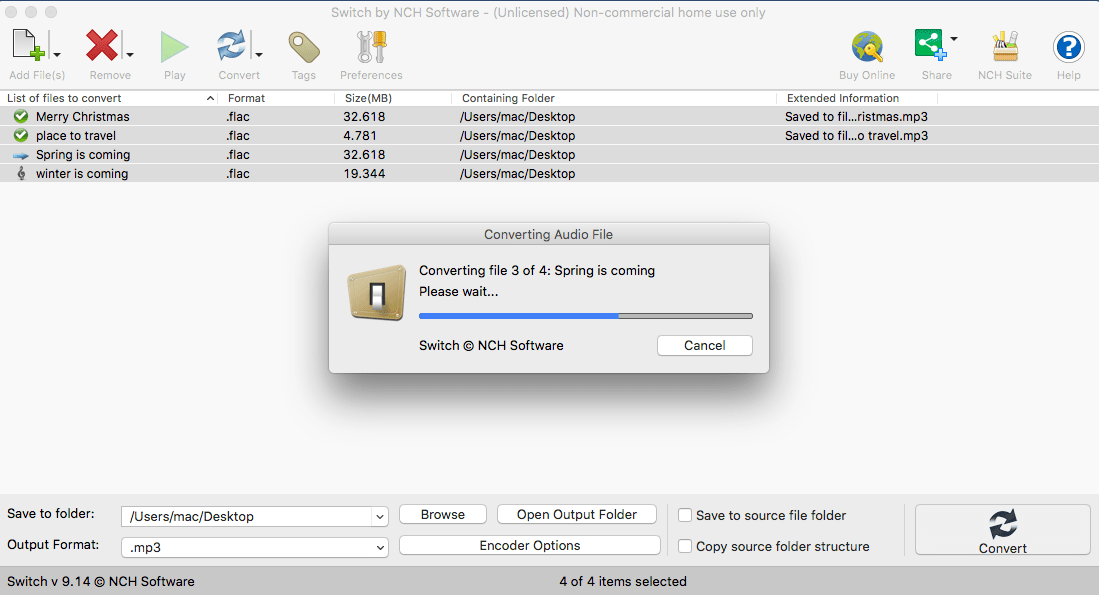 5. Bigasoft Audio Converter
As its icon shows, Bigasoft Audio Converter is a music converter helps easily convert between popular and common audio formats. This smart tool not only helps you convert FLAC files on Mac, but also has practical functions and humanized design. For example, the tutorial on how to convert audio files is presented in its interface. Before the conversion, you can trim, merge and split the audio. And during conversion, you can pause, stop, and continue at any moment. These distinctive features make it easy to operate.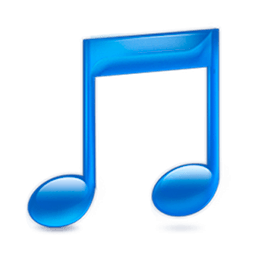 Advantages:
Enable to play the audio before conversion
Capable of editing the audio, like trim and merge
Disadvantages:
Has many limitations in trial version (The maximum 5 minutes conversion of a more than 5 minutes file. With a less than 5 minutes file, you could only convert half of it.)
Steps to convert FLAC on Mac using Bigasoft Audio Converter
1. Run the software and add FLAC files that you wish to convert.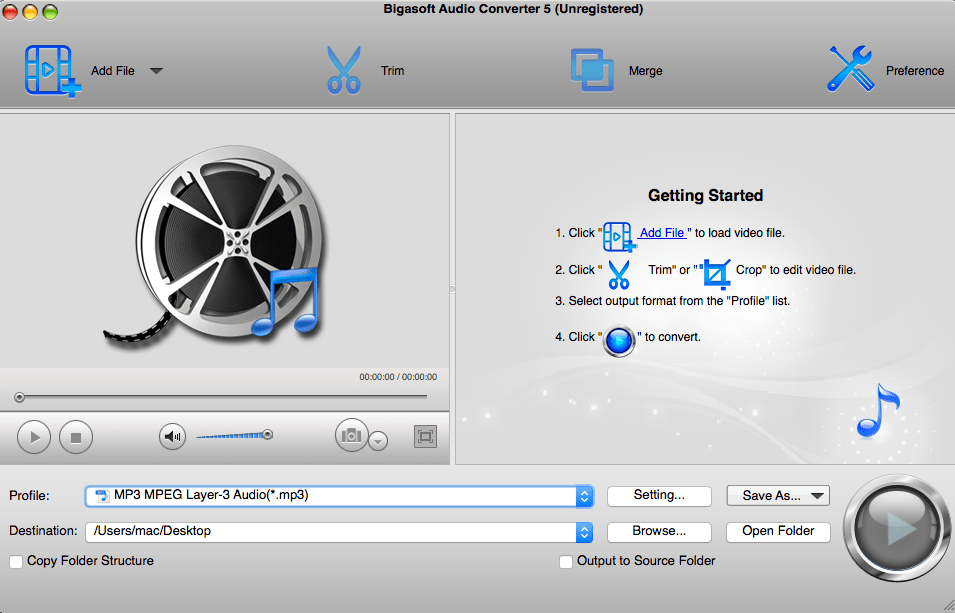 2. (Optional) Before conversion, you can trim or merge the audio files.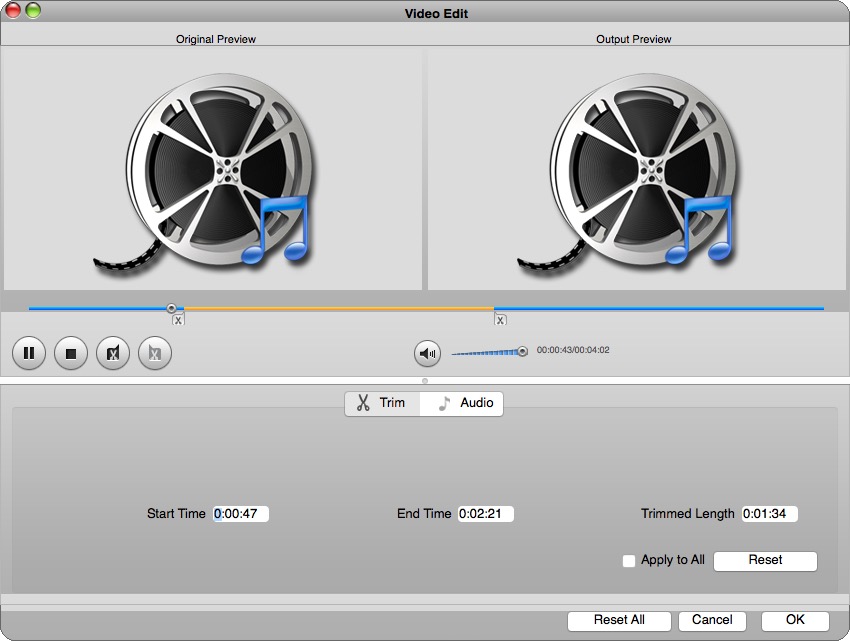 3. Set the output format and file destination.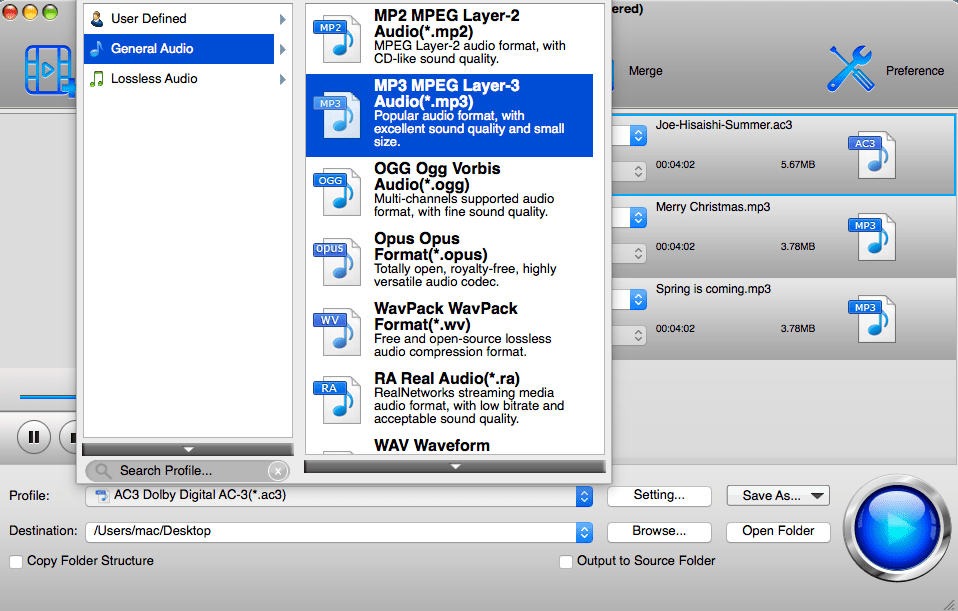 4. Click on the blue button in the lower right corner to start the conversion.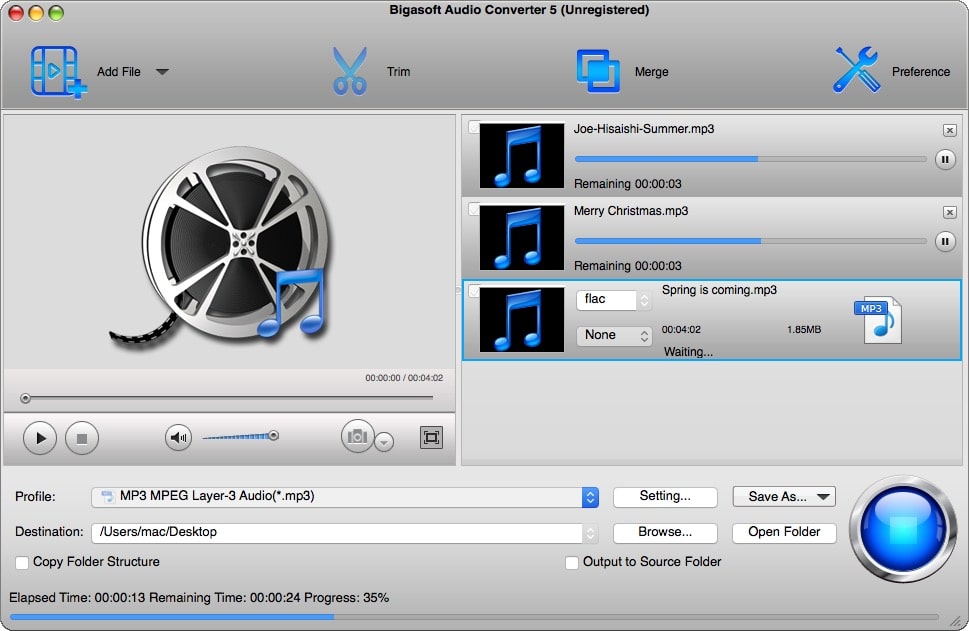 6. iSkysoft Video Converter Ultimate
iSkysoft Video Converter Ultimate helps convert video, audio and even DVD file to various formats, including MP4, FLAC, MOV, HD MPEG, etc. This best FLAC converter on Mac provides you a solution to convert your FLAC files with simple operation and high quality. The program opens with an intuitive interface, divided into several modules that enclose the tool's major functions, which allows you to easily finish your task. This software is intended to be a complete video and audio manager.

Advantages:
Fast file conversion speed
Capable of trimming the audio
Disadvantages:
You can only convert 1/3 length of the original audio with the trial version.
Steps to convert FLAC on Mac using iSkysoft Video Converter Ultimate
1. Run this converter on your Mac. And you can click the "Add Files" button or drag the audio file directly to the central area.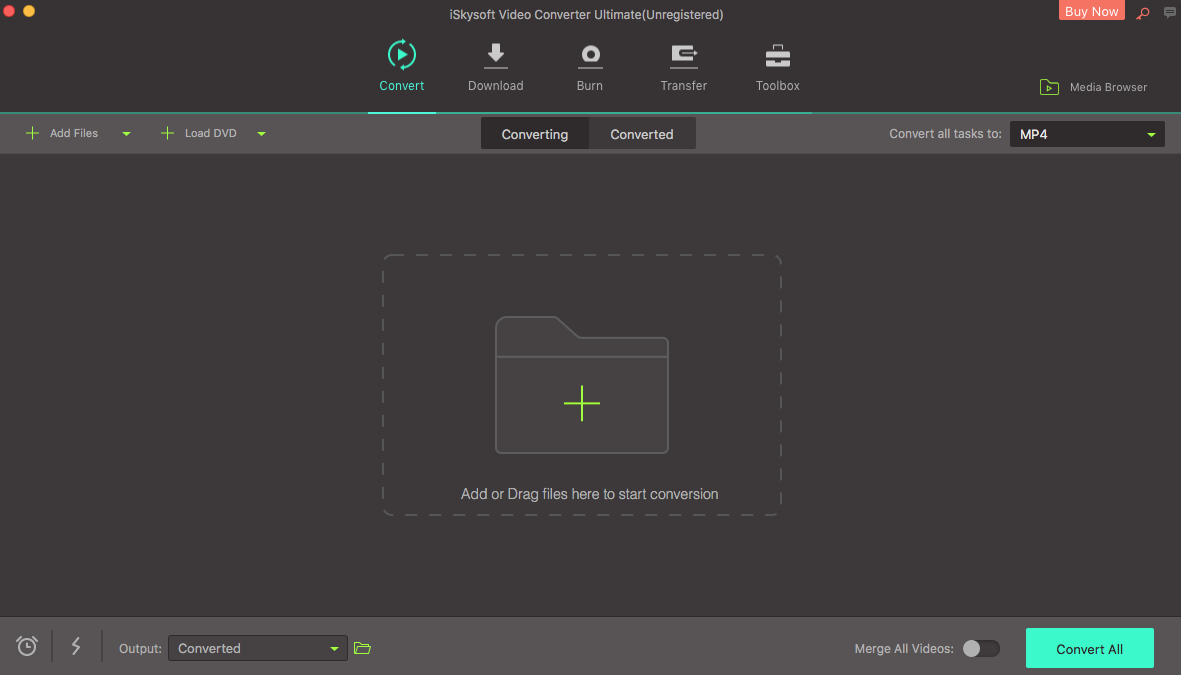 2. Set the target format and output folder. And click "Convert" to start the audio conversion on your Mac.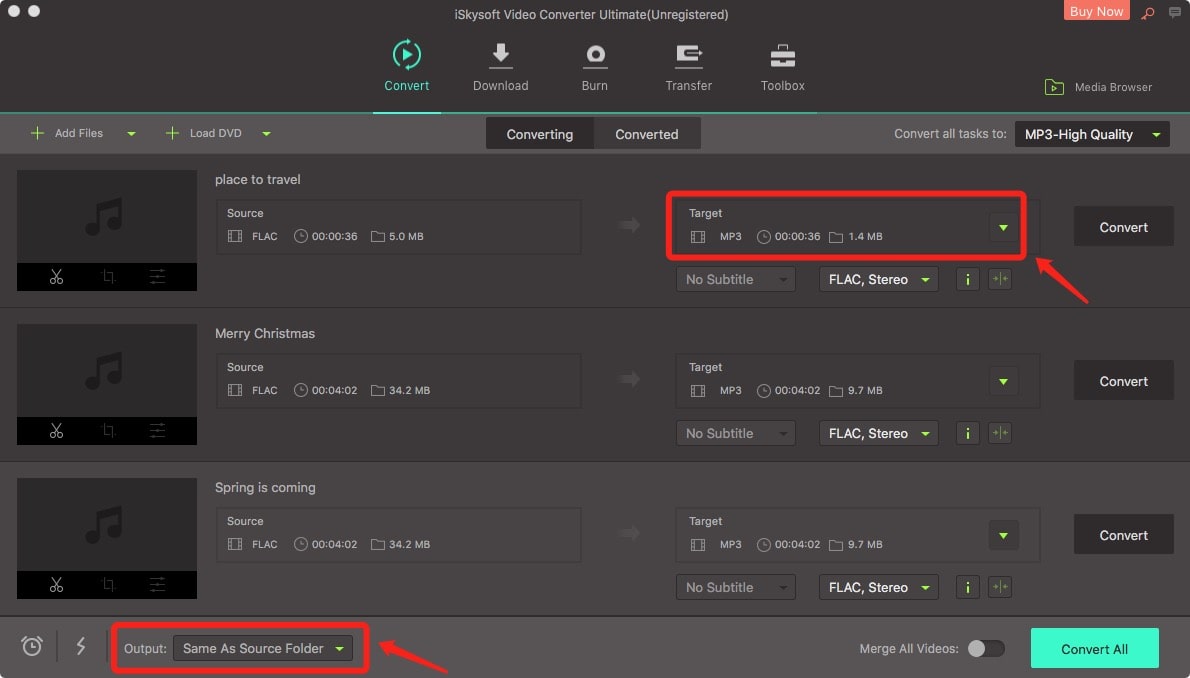 7. fre:ac
fre:ac was originally developed to convert audio to MP3 and loss/lossless format. Now, it is a free audio converter and CD ripper. It can help you convert audio file to any regular and lossless audio format like MP3, WAV, AAC, FLAC, WMA, etc. in high sound quality on Mac. With this free utility program you easily transfer FLAC to other formats. The user interface is multilingual with 43 languages. Most importantly, it is completely free and available for all major operating systems.

Advantages:
Can combine multiple input files into a single output file
"Did you know" tips on how to use will be shown after startup
Disadvantages:
The interface is old-fashioned and not user-friendly.
Steps to convert FLAC on Mac using fre:ac
1. Import FLAC files. You can either drag to the blank area or click the first button at the top of the interface.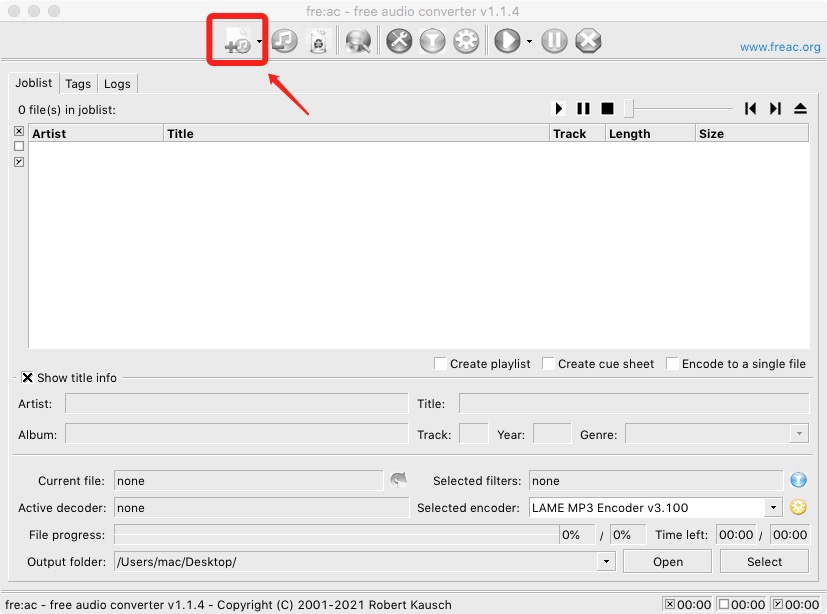 2. Select the target encoder format you need and decide on the location where the converted file gets saved.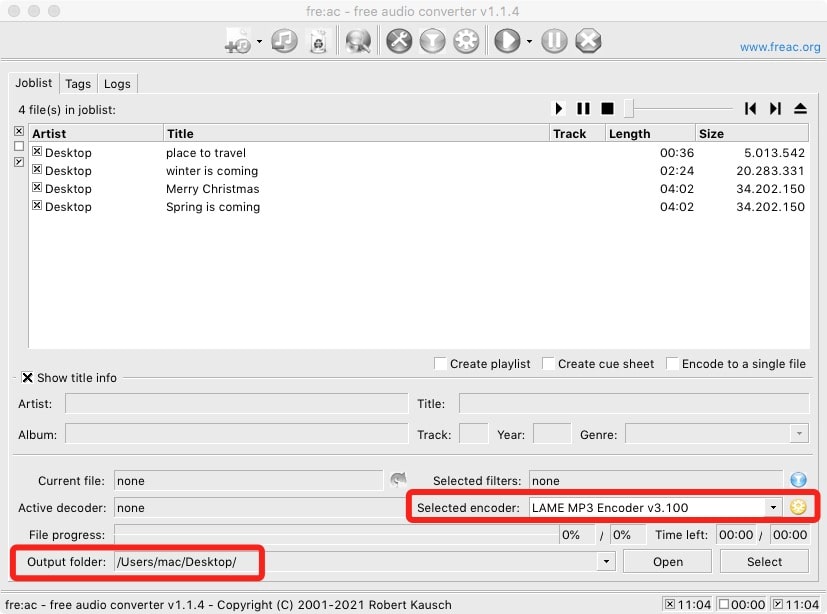 3. After these settings have been adjusted, you can start your conversion with a click on start button.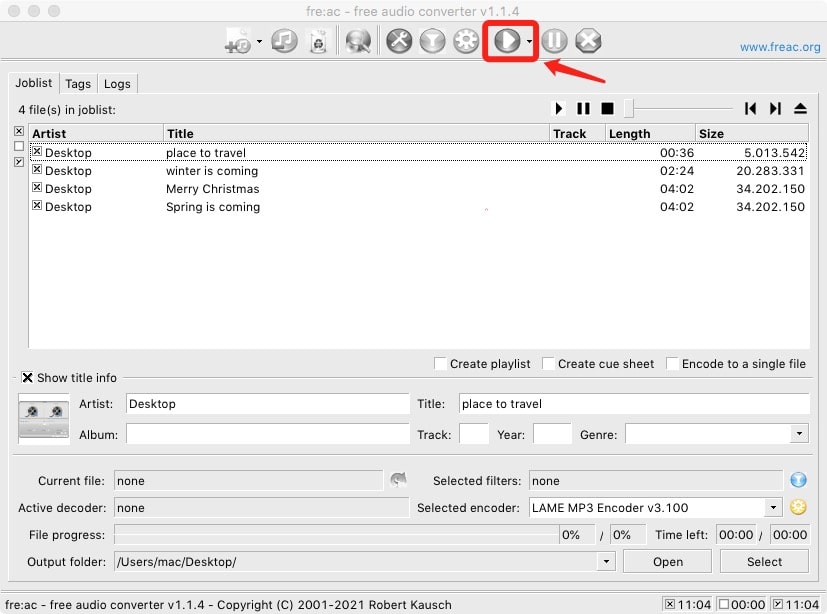 FAQs about FLAC
1. What is FLAC?
FLAC (Free Lossless Audio Codec) is an audio format similar to MP3. Audio files compressed in FLAC has no any quality loss. Due to its lossless compression, FLAC is widely used in audio, especially for classical music. However, it is difficult to play FLAC audio on Mac. The inconvenience makes Mac users convert FLAC to other more manageable and portable formats, like MP3, AAC, WAV.
2. Is FLAC better than MP3?
FLAC and MP3 are both popular music formats. As lossless file format, FLAC doesn't destroy any of the original audio messages after compression. In contrast, MP3 is a lossy file format which means that the compression may cause MP3 files sound distortion. In terms of sound quality, FLAC, to some degree, is better than MP3.
However, it is not absolutely right. For example, if you do not have a good headphones, you cannot distinguish the difference between FLAC and MP3. What's more, if you are running out of your laptop's memory and need a small size format, perhaps MP3 is the right one for you. Therefore, the answer is really up to you.
3. Can iTunes convert FLAC to MP3 on Mac?
No, iTunes does not support FLAC files so it cannot convert FLAC to MP3. Therefore, if you are trying to convert FLAC to MP3, give up iTunes and try best FLAC converters for Mac just mentioned in this article. You won't be disappointed!
Conclusion
Mac users have a high demand for best FLAC converter. After in-depth testing and analysis of various FLAC converters for Mac, we've found the best options to help you convert FLAC audio files quickly and efficiently. When you finish reading this article, we wish you have found an ideal one that best suits your need.