WebM, an audiovisual file format, is widely accepted by HTML5 and Chromecast. It works with all modern browsers, like Safari (since iOS 14 and macOS Big Sur), Firefox, Chrome, Opera, and Edge (based on the Chromium version).
Still, WebM doesn't have the same level of compatibility as MP4. It can't be played with Mac QuickTime, Windows Media Player, Internet Explorer, apFrog LeapPad, etc. To ensure it's accessible anywhere, you'd better change the WebM file to MP4. Today, we will introduce how to convert WebM to MP4 on Mac and Windows.
| | WebM | MP4 |
| --- | --- | --- |
| Developed by | Google Inc | International Organization for Standardization |
| Video codec | VP9, VP8, AV1 | H.265, H.264, MPEG-4 Part 2, MPEG-2, MPEG-1 |
| Audio codec | Vorbis, Opus | AAC, MP3, and more |
| Quality | High quality, but slightly inferior to MP4 | Excellent |
| File size | Smaller than MP4 | Small |
| Supported devices | Can open with most browsers, Android, iOS 14+, MPC-HC, etc. | Playable on all devices |
Based on the comparison table above, we can conclude that there are two key reasons for converting WebM to MP4: quality and compatibility.
Quality: WebM is designed for browsers or the Internet, so it has an advantage in compression ratios compared to MP4. Similarly, this will also cause WebM's video quality to be slightly inferior to MP4. But transcoding WebM file to MP4 won't improve the quality.
Compatibility: In addition to the aforementioned, WebM is not supported by iMovie, Final Cut Pro, Premiere, DaVinci Resolve, etc. as well. As a universally adopted format, MP4 offers seamless compatibility with most devices/media players and requires very little disk space.
#1 Using a Professional Desktop WebM to MP4 Converter with No Limit
Cisdem Video Converter is an award-winning program that's able to batch convert WebM to MP4 on Mac and Windows with blisteringly speed. It supports conversions among a total of 350+ formats and 50+ codecs, such as MKV to AVI, MP4 to iPad, MOV to MP3, and YouTube to FLAC. Thanks to its high-end features, you can edit, merge or compress WebM before converting it to MP4.

Free Download macOS 10.12 or later

Free Download Windows 11/10/8/7
Steps on how to convert WebM to MP4 on Mac or Windows without losing quality:
Step 1. Add WebM files.
Simply drag and drop WebM files stored on your computer to Cisdem Video Converter. Multiple WebM videos can be added for batch conversion.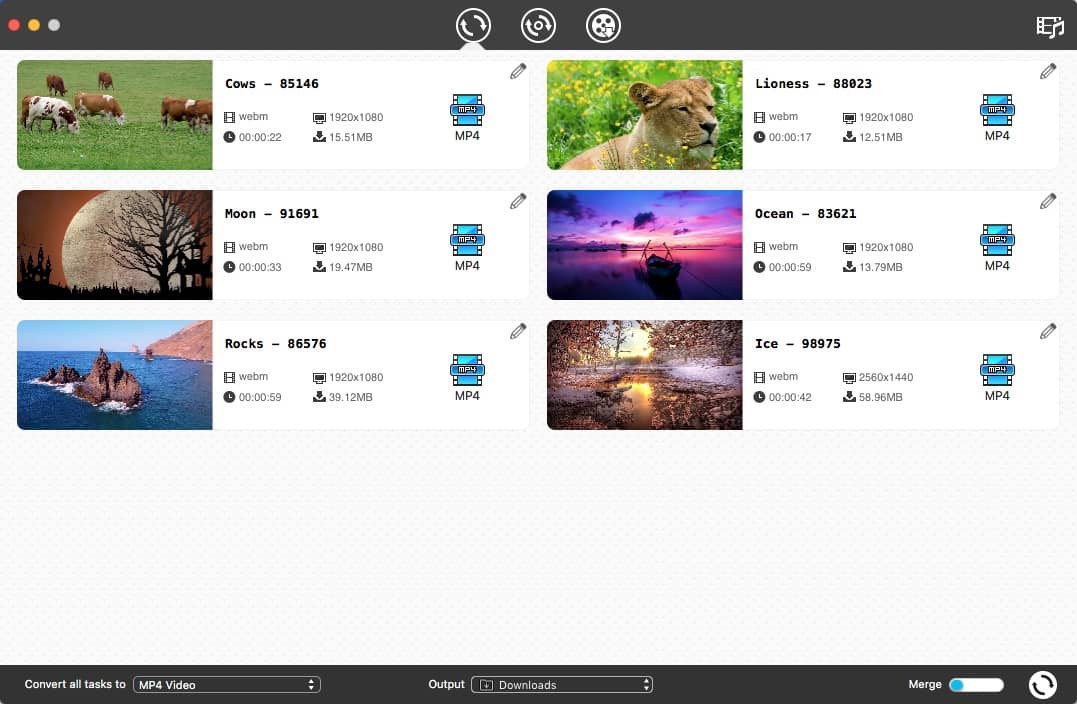 Step 2. Set the output format as MP4.
Open the format panel and select the desired category from the left sidebar. The MP4 output format is available in all categories except "General Audio". For example, you can navigate to "General Video" > "MP4".
Also, you can save WebM as 4k MP4 by choosing a format from "4K Video". But the premise is that the WebM video you import is 4k, and the resolution is higher than or equal to the exported MP4.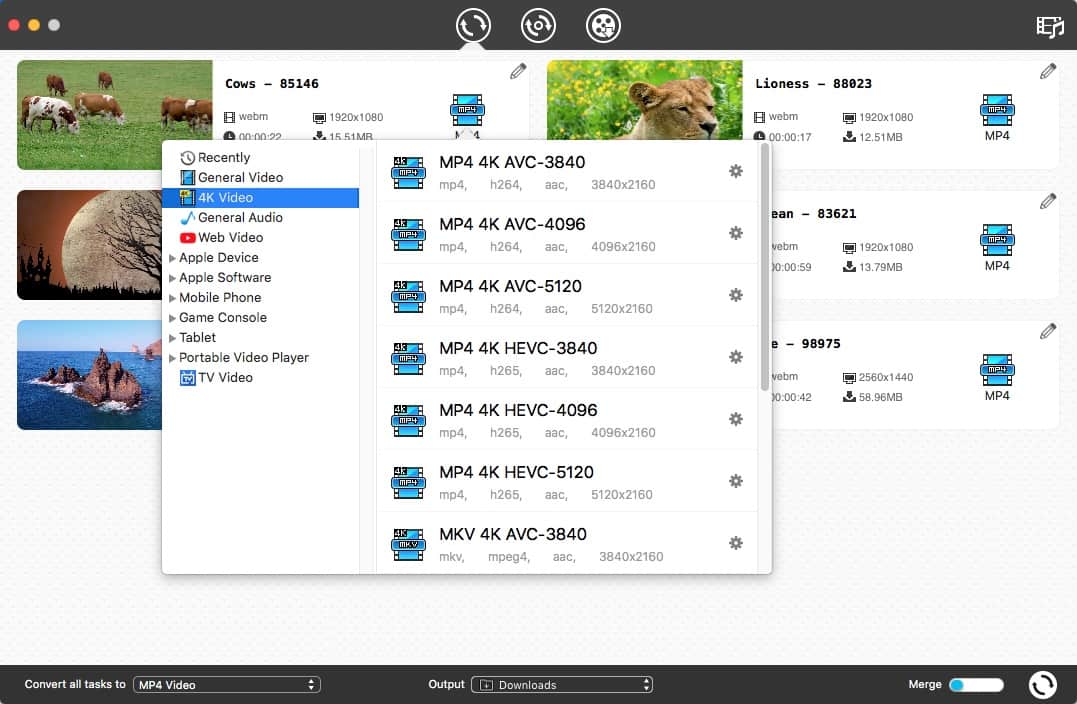 In addition, there is an "Advanced Settings" window for adjusting file properties. Just click "gear" alongside the format you have selected to open it.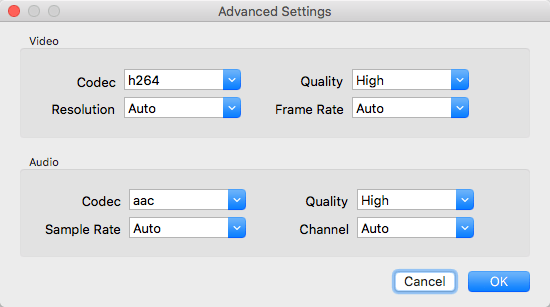 Step 3. Mass convert WebM to MP4 on Mac or Windows.
When all the settings are done, click the convert button. The conversion process will not take too much time.
Cisdem Video Converter FAQs

How do I edit a WebM file?
You can edit and enhance WebM videos before conversion. Just click the "pencil" icon to enter the editing window, then feel free to add effects to the video, trim the video to get specific parts, etc.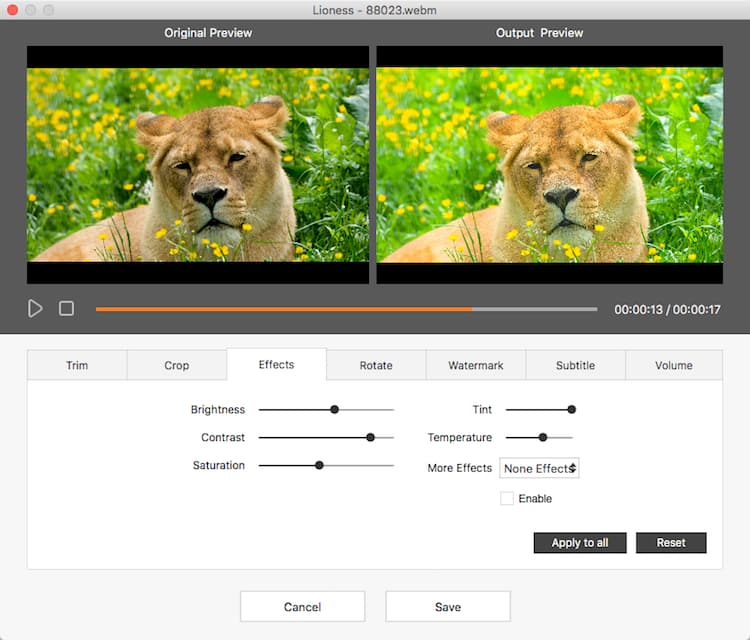 How to play a WebM file?
The pre-installed media players on either Mac or Windows will not open WebM files directly, but Cisdem Video Converter will. After importing the WebM, click on its thumbnail. A play button will appear. Click the button to watch the video.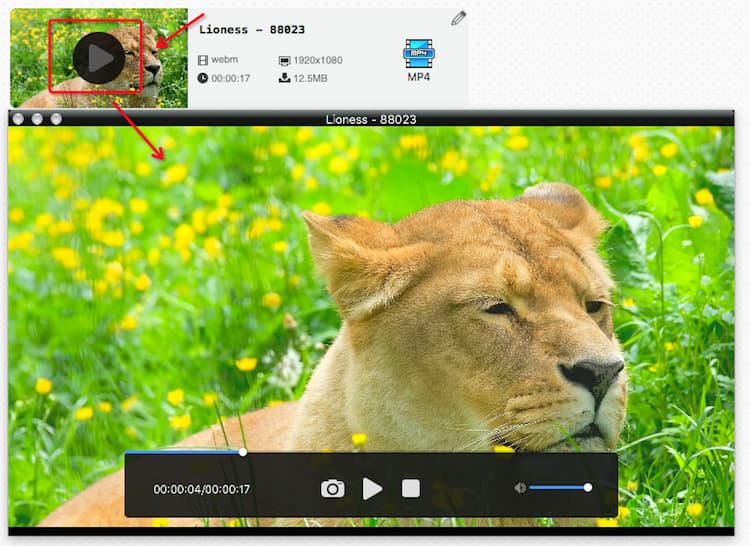 Can I download 4k WebM video with sound?
Yes. Cisem Video Converter supports downloading 4k WebM from any source with audio. Input the video URL into the download interface, specify the output format and resolution, then download it.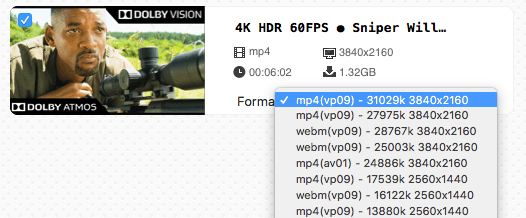 #2 How to Convert WebM to MP4 with Free Desktop App
VLC and Handbrake have three characteristics in common: available on multiple platforms, including Mac and Windows; free and open-source utility; have a long history. Anyway, both of them are decent WebM to MP4 converters.
VLC
VLC includes a number of free decoding and encoding libraries including WebM, MKV, H.264, MPEG2, etc.
Unlike it on Windows, the Mac version will save the file to M4V after selecting MP4 as the output format. Although MP4 is basically the same as M4V, M4V videos are not uploaded to popular streaming sites such as YouTube.
Additionally, the constant problem encountered when using VLC to convert WebM to MP4, regardless of the system, is that the exported video loses sound.
Steps (take the Mac platform as an example):
Click "File" at the top left corner, and choose "Convert / Stream".
Straightly drag and drop a WebM file to it.
In the profile section, your target format - Video – H.264 + MP3 (MP4) should have been set by default.
Hit the "Save as File" button to select a name and where you wish to store the converted MP4 file.
Click "Save".
Handbrake
Handbrake is quite a lightweight WebM to MP4 converter for Mac and Windows. It ensures that converting a video from wide codecs to .mp4/.m4v/.mkv/.webm. Prior to conversion, you can customize the video attributes.
However, there is a deficiency in converting large files, be prepared that it will fail to load and the process will take a long time. Also, Handbrake will drastically downgrade the video quality, especially if you have 3840x2160 4k WebM videos.
Steps:
When you open the software, a "Source Selection" panel will appear.
Import a WebM video from your computer.
At "Format", select a video format – MP4.
Change source dimensions, filters, or other parameters. (optional)
Hit "Browse" to the bottom right to set the storage location.
Click the green "Start" (on macOS) or "Start Encode" (on Windows) button to transcode WebM into MP4.
#3 How to Convert WebM to MP4 via FFmpeg
FFmpeg is a very powerful command-line tool that can do anything for your video, like transcoding, editing, recording, extracting the audio, making animated GIFs out of the video, etc. It supports most industry-standard codecs and can convert WebM to MP4 or any format.
When turning WebM into MP4, FFmpeg has cleverly figured out the output streams as h264 (libx264) and AAC (native) and wraps them into an MP4 container. You don't have to specify the stream or container type. If you just remux WebM file to MP4 by using the command "-c:v copy" and "-c:a copy", your resulting MP4 video may still not be compatible with some MP4 players.
Steps:
Go to www.ffmpeg.org to download and install the program package.
On Mac, open Terminal; on Windows PC, open Command Prompt.
Type the conversion command: ffmpeg -i input.webm. output.mp4.
Note: If you want to downscale 4k to 1080p or specify a resolution, use the command like ffmpeg -i input.webm -vf scale=1920x1080 output.mp4.
Press "Enter" on the keyboard.
#4 How to Convert WebM to MP4 with Chrome App
Chrome app is a web-hosted service that runs on the Google Chrome web browser. People who like to use Google plug-ins can try it.
There are several Chrome apps to convert WebM to MP4 on the Chrome web store, after testing, we finally chose Video converter online VideoConvertPlus. It supports converting WebM to output formats like MP4, MOV, AVI, MPG raw MPEG-1 video, WMV, GIF, OGG, and DVD MPEG-2 format. But it needs to wait 10 seconds to start using, and the speed of uploading WebM is slow.
Steps:
Find Video converter online VideoConvertPlus in the Chrome web store。
Click "Add to Chrome" > "Add extension". The extension icon will appear to the right of the address bar.
Hit its icon to call out the dashboard.
After counting down for 10 seconds, click "Enter".
Select MP4 format as the video output format.
Upload a WebM file from your computer and wait for encoding.
Click the download icon.
From the new page, click on the character "⋮" in the lower right corner, and then choose "Download".
#5 How to Convert WebM File to MP4 Online
If you don't need a WebM to MP4 converter app or high-quality MP4 videos, you can straightly use a web-based converter without installing it.
Zamzar enables users to change WebM to MP4 through the Internet. It can also help you convert WebM to other different formats such as MKV, FLV, MP3, OGG, FLAC, WAV, GIF, WMV, etc. But you should be in a stable Internet connection environment, or you can't enjoy the quick conversion online. Meanwhile, you are limited to 50 MB max file size for free, thus it doesn't do well in converting large WebM like 4k WebM video.
Steps:
Open the Zamzar website.
Upload your local WebM to the online WebM converter.
Select the MP4 format.
Change the video by hitting the "Convert Now" button.
Download the converted video in MP4 format.
Can Adobe convert WebM to MP4 on Mac and Windows?
Adobe Media Encoder supports a long list of video formats, including 3GP, MOV, HEVC, ASF, AAF, etc. except WebM. To import WebM format in Adobe, a Premiere plug-in for WebM must be installed. You can try the WebM plugin created by Fnordware.
Last Say
Video compression and conversion have become essential elements for many movie and music enthusiasts. To enjoy WebM videos on all devices, you need to convert them to MP4. The above shows how to convert WebM to MP4 in 3 different methods. Given the limitations of freeware and online WebM to MP4 converters, we're more inclined to recommend professional tools.