Having been around since 2003, Anti-Twin is one of the oldest duplicate file finders. Does it do a good job of identifying and removing duplicate files? Does it work as you need it to? Is it the tool that best suits your needs? You can find the answers in this Anti-Twin review.
The Best Duplicate File Finder
Identify duplicate photos, videos, audios, documents and all other duplicates
Identify similar images too
Find duplicate files on PC, Mac, external storage devices and even cloud
Find duplicates in Mac's Photos, Windows' Photos, and iTunes
Find duplicate files in and across locations
Display duplicate files for you to view and preview
Automatically select all but one file for deletion in each set of duplicate files
Let you select manually
Also offer rules (like Select Newest) to help you mass select
Easy and safe to use
Customizable, letting you take control

Free Download
Windows 11/10/8/7

Free Download
macOS 10.11 or late
Anti-Twin review
Developed by Jörg Rosenthal, Anti-Twin is a piece of software to identify duplicate files and similar files on Windows PC. (If you are a Mac user and looking for Anti-Twin for Mac, see this alternative.)
Is Anti-Twin safe?
It's safe to install Anti-Twin, as far as I know. I installed Anti-Twin on my two PCs, and no virus or malware was detected. Nothing suspicious happened during and after the installation. But make sure that you download the software from the official website antitwin.org.
Anti-Twin is safe to use. By default, it automatically skips certain system files when searching for duplicate files. By default, it removes duplicate files by moving them to a particular folder, preventing the permanent loss of mistakenly deleted files. The software is designed with the safety of users' files in mind.
Is Anti-Twin free?
Anti-Twin is free for personal use. Don't use it for commercial purpose.
Download & install
Anti-Twin came out in 2003. The latest version is 1.8d, which was released in 2010 and maintained until 2012. It's compatible with all Windows operating systems, from Windows 98 to Windows 11, including the 32-bit and 64-bit versions.
You can download it from the official Download page. There are several versions. It's recommended to download AntiTwin_Setup.exe. If you need a portable version, just download AntiTwin.exe. You can install or uninstall the software in the conventional way.
Features & performance
Search for duplicate files
Anti-Twin can identify exactly identical files, regardless of name. To set it to do so, choose "Compare content > Byte by Byte" as the comparison method and make sure "Match min." is 100%. In the test, the search was fast and found all the duplicate files.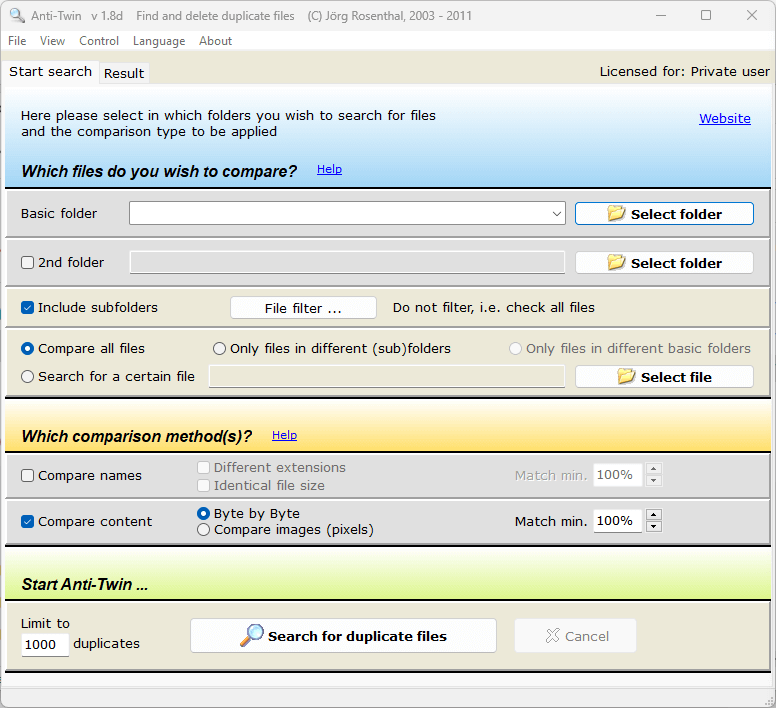 It allows you to find duplicate files in a folder or between two folders. You can choose to include/exclude subfolders in/from the search. You can also include or exclude files by file size or extension. To do so, just specify the minimum/maximum file size or extensions. By default, the software already excludes a few extensions to protect certain operating system files.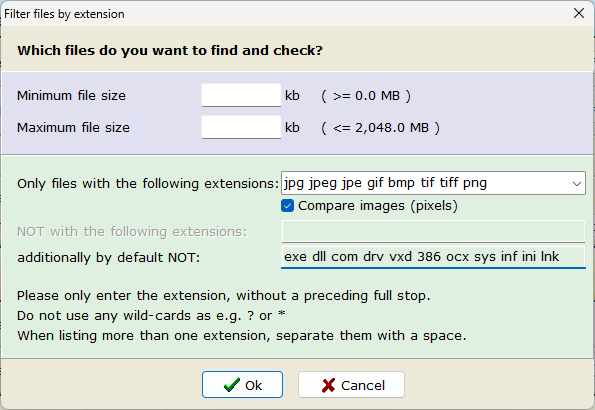 Search for similar files
Anti-Twin is also designed to identify similar files. To set it to do so, choose "Compare content > Byte by Byte" as the comparison method and set "Match min." to be 99% or less. However, this feature is not that useful. In the test, the search found nothing.
That being said, the feature may help you detect similar images. Just choose the comparison method "Compare content > Compare images (pixels)" and set "Match min." to be 99% or less. In the test, the software displayed several sets of similar photos it found. I took a close look at them and found out that they were duplicates. It failed to find photos that looked the same but with different sizes and similar photos.
Note: There is also a "Compare names" method, which identifies duplicate or similar files by name. I don't recommend this comparison method because the identification of true duplicate files doesn't take the name into consideration.
Remove duplicate files
When the search is complete, the Result tab will display the found duplicate files by set. There is a built-in image viewer, which supports common image formats like JPG and PNG but not raw image formats or formats like HEIC.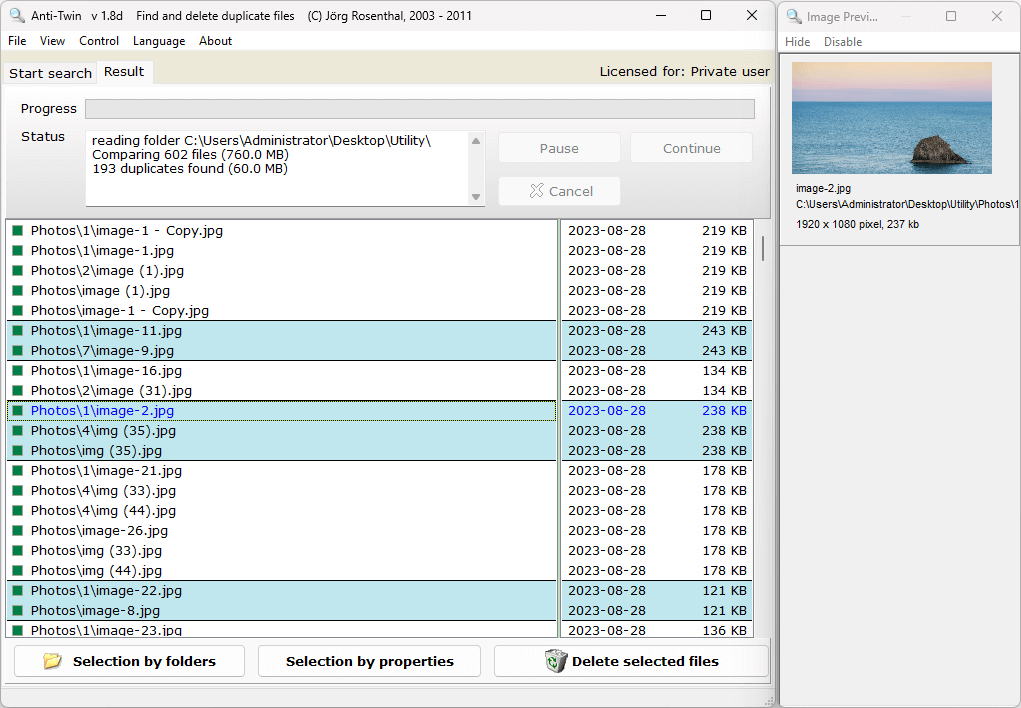 In each set of duplicate files, you can manually select the file(s) that you don't want to keep for removal. Also, there are two selection tools to save you from manually selecting. The tools allow you to mass select duplicates for deletion by folder, creation date, name or more. Each tool offers details on how the selection works. There's a lot of flexibility.
There are three ways to remove selected files: moving them to an automatically created folder named "antitwined", moving them to the Recycle Bin, permanently deleting. The first two are recommended.
Tutorial: How to use Anti-Twin
1. Download and install Anti-Twin. Open it.
2. Under the Start search tab, click Select folder to add the folder where you think duplicate or similar files exist. Add another folder if needed.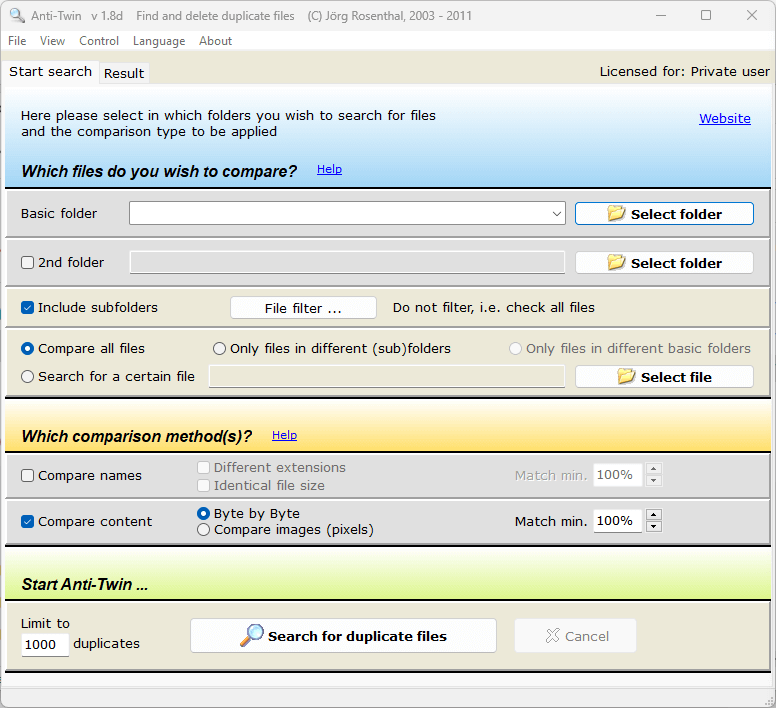 3. Include or exclude subfolders or files if needed.
4. Choose a desired comparison method.
5. Click Search for duplicate files.
6. Once the search is done, you will be presented with the Result tab.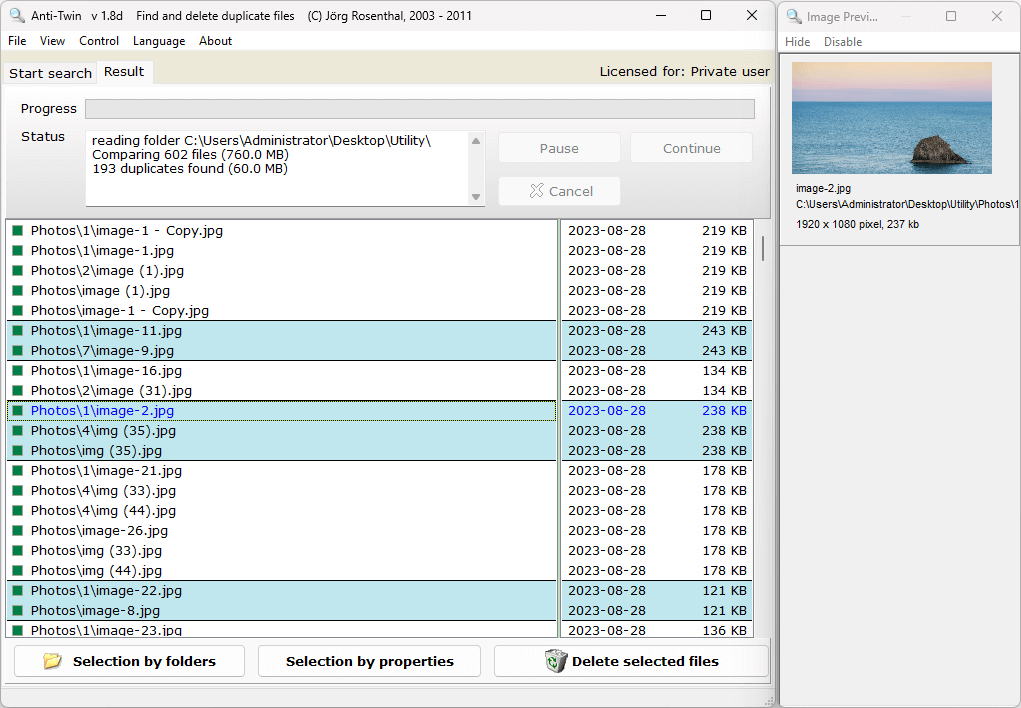 7. Manually select unwanted duplicate files for deletion or use the selection tools.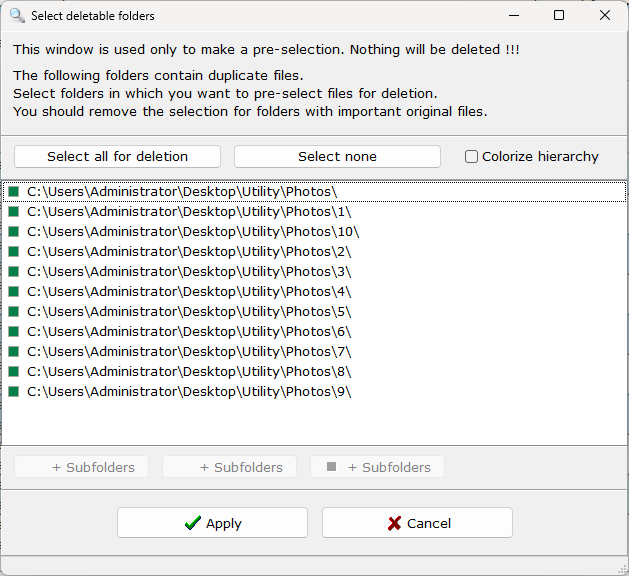 8. Click Delete selected files in the bottom right corner.
9. Choose a desired way to remove and click Yes move.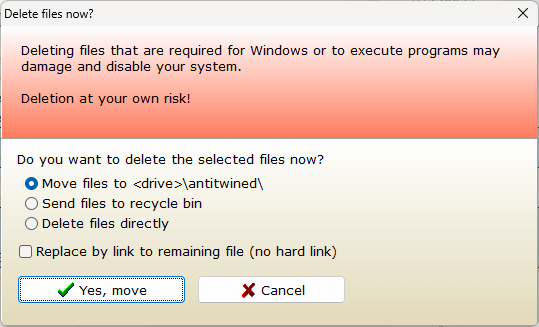 Anti-Twin provides the Tips window, dialogs and instructions to walk you through the whole process. You should have no problem using it.
Anti-Twin alternative
If Anti-Twin isn't compatible with your computer or doesn't meet your needs, you may want to check out its alternative.
Cisdem Duplicate Finder can be a great alternative to Anti-Twin and offers the following features or benefits.
Find duplicate images, videos, audios, documents, archives and other duplicate files, regardless of name
Also find similar photos, letting you set the similarity level
Let you exclude folders/files by folder, file size or extension
Support Windows PC, Mac, external hard drive, SD card, etc.
Support iTunes, Photos on Windows, and Photos/iPhoto on Mac
Offer 3 modes to view duplicate files, including side-by-side image preview
Automatically select all duplicates for you to get rid of with a click
Let you select by hand
Offer 8 rules to help you mass select duplicate files/similar photos
Offer 3 deletion options: Move to Recycle Bin/Trash, Move to Folder, and Permanently Remove
Very easy to use, even for users who are not familiar with such software

Free Download Windows 11/10/8/7

Free Download macOS 10.11 or later
Like Anti-Twin, this alternative can accurately, quickly find duplicate files. Unlike Anti-Twin, it also does a decent job of identifying non-exact duplicate photos and similar ones. In the test, it found sets of similar photos, whereas Anti-Twin found none.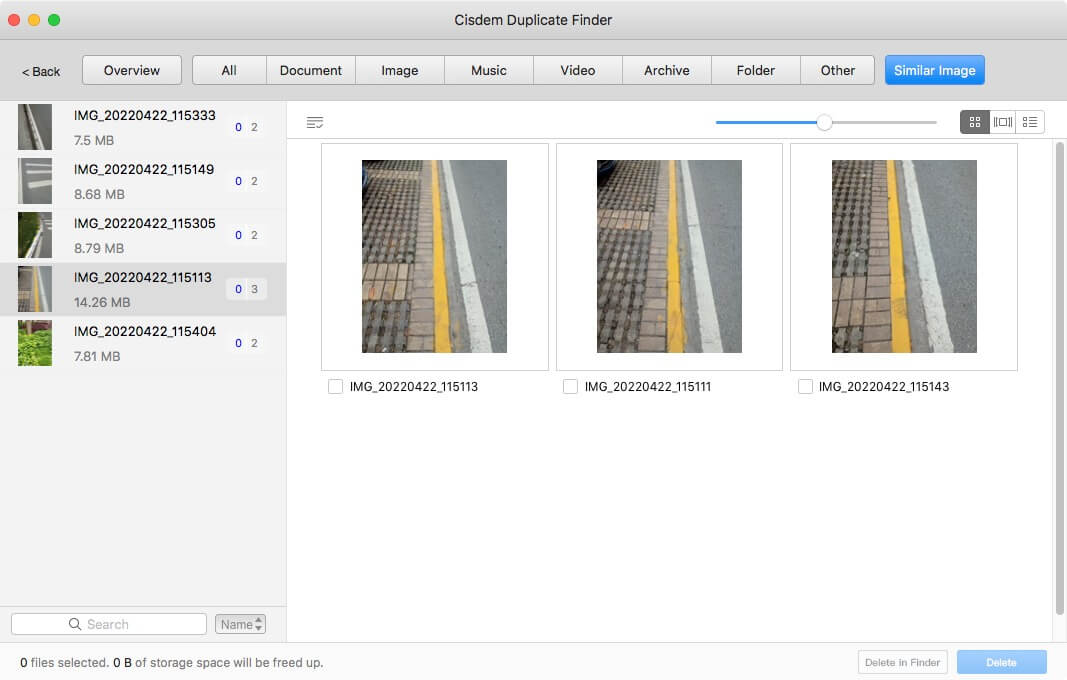 When it comes to user experience, both pieces of software are safe to use, but Cisdem Duplicate Finder is more user friendly than Anti-Twin. Viewing duplicates and selecting them for deletion is more convenient.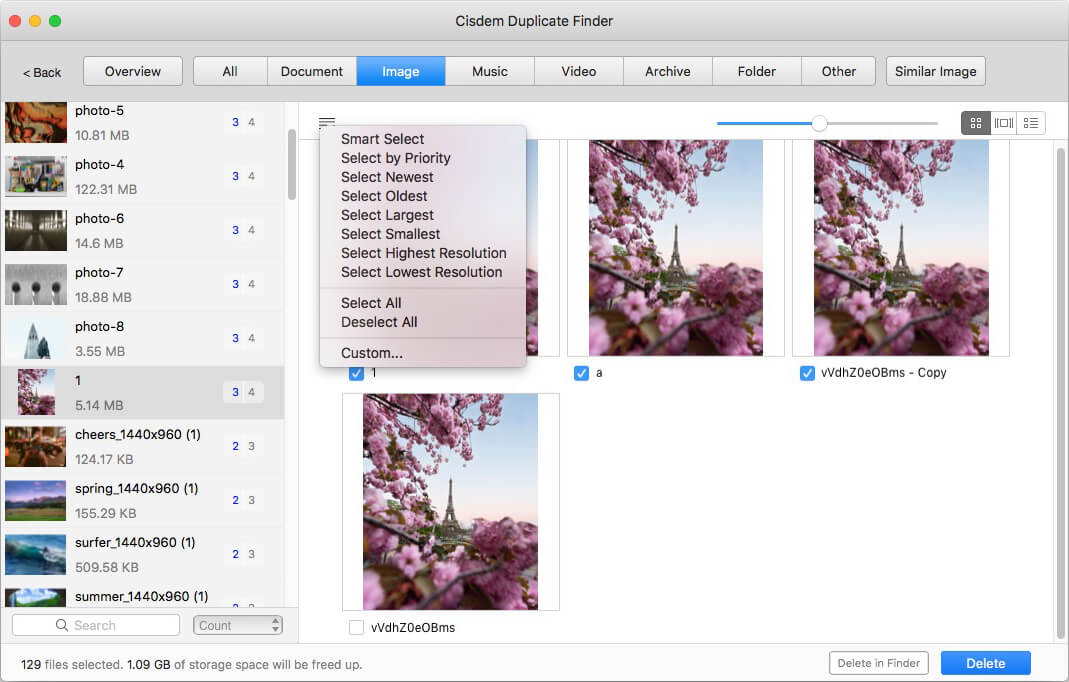 Conclusion
Anti-Twin is old and not updated or maintained for over a decade. Surprisingly, it can still run smoothly in the latest Windows version. Despite being free, it's well designed and has both basic features and advanced features. It gives users enough choices and lets them use it in the best possible way. This Anti-Twin review covers most of the features/options and talks about both the pros and possible cons. I hope it can help you make the decision.