Table of Contents
DjVu is the file format to store scanned documents. It is functionally equivalent to scanned PDF, but yields smaller files than a PDF due to its lossy compression. For Linux or Windows users, reading a DjVu file is quite easy, thanks to so many existing DjVu viewers.
But the problem is, as more and more Windows users switch to a Mac, viewing DjVu files on Mac is not that easy as that on Windows. For this reason, here we list 7 best DjVu reader for Mac, which works on the latest macOS Sonoma, Ventura, Monterey, Big Sur, Catalina, Mojave or earlier.
Easily Read and Convert DjVu Files on Mac
Open/view one or multiple DjVu files in tabbed window
Provide a set of reading tools for smooth/comfortable experience
Export DjVu as PDF or image format
Extract images from DjVu files
Rotate, bookmark, search and print DjVu files
Support XPS/OXPS/PDF/WPD/WPS/VSD/VSDX/VDX format too
Highly compatible on macOS Sonoma, macOS 10.10 or later

Free Download
macOS 10.10 or later
The Best DjVu Reader for Mac 2023
How We Pick a DjVu Viewer for Mac?
There may be different DjVu readers designed for macOS, you can find them on individual website or in Apple store, but not all of them are not good to download and use. So we here take the first necessary step to test these Mac DjVu readers for you, based on the following rules:
Responsiveness---The viewer should load and display the file immediately after you have clicked to open.
Integrity---Contents in the file should be displayed in original layout, no blurred or distorted parts.
Multitasking---Users should be allowed to view and switch between multiple DjVu files.
Simplicity---An user-friendly interface is imperative for easy manipulation and access to all tools.
Basing on above-mentioned, we finally come to the best macOS DjVu reader and its runners-up.
Users' Top Pick: Cisdem Document Reader
Cisdem Document Reader is a professional and well-developed documents and files reader that can view a variety of file types on Mac, like DjVu, PDF, XPS, OXPS, VISIO, WPS, WPD, Winmail. Furthermore, you can convert DjVu to PDF, JPEG, PNG, TIFF, BMP, GIF format.
You can find a list of good reasons to use this DjVu reader on your Mac:
Excellent Reading Experience
Cisdem accommodates a basic set of tools to manipulate the reading freely.
On the top of its interface, there lives several icons: view (2 viewing modes, thumbnail or contents only), page (view single or two pages in the same window, continuous scroll pages), zoom in or out, zoom to fit, turn page to, rotate left/right.
In addition, multiple-task can be easily processed by this program, users just need to drag and drop all the files into the program, then the file will appear in different windows within this program one after one, you can click the windows tab to switch between different files.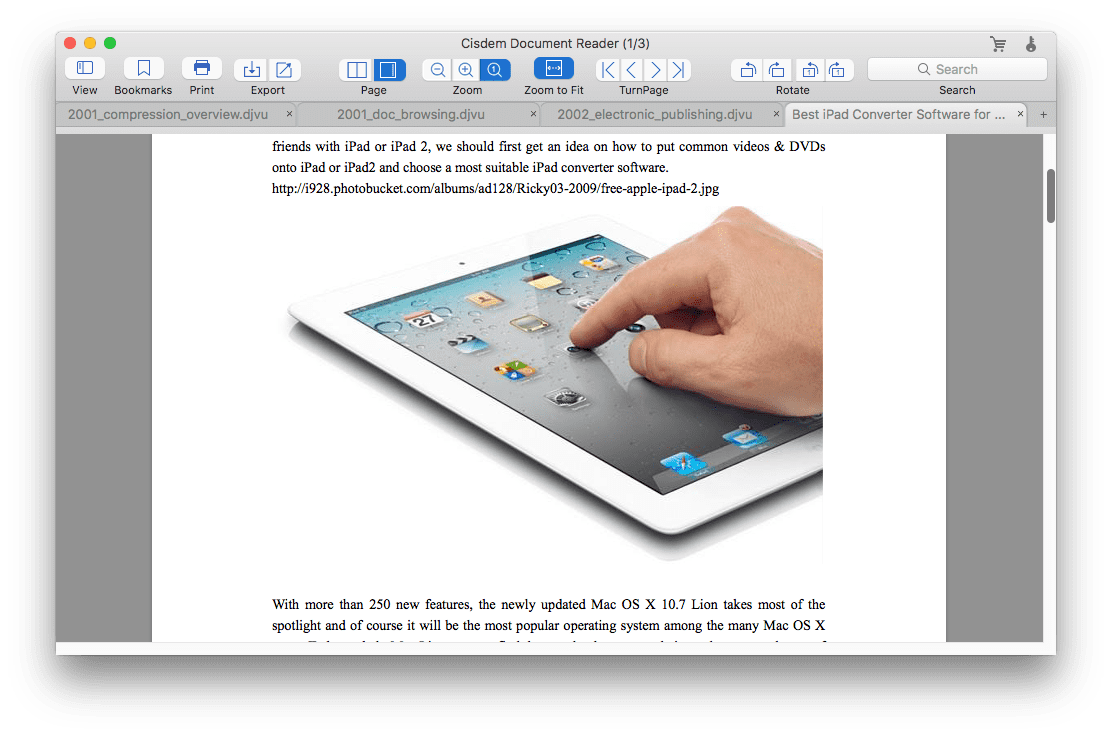 Among all tested DjVu readers for mac, Cisdem does the best, it can open and display the DjVu files immediately after we click to open. Even when you scroll between different pages, or change to different files, it continues to responds quickly and present everything as expect.
Though DjVu promises a smaller size, we still have great chances to run into large DjVu files. Nevertheless, no matter how large your DjVu file is, Cisdem still can get you there fast.
Cisdem Document Reader has a neat and user-friendly interface. If you want to manage the file, go directly to the icon and fire up.
Furthermore, Cisdem allows users to customize the tools for a preferred interface. Right click on any blank area where the toolbars accommodated (on the top), click to "Customize Toolbar", then remove specific existing toolbar by dragging down to the customize panel, or add specific toolbar to the interface by dragging up to the location where you want to place, or you can drag right or left to adjust the display order of existing toolbars. Yes, a customizable working mode is always the point to make us feel at home.
1) Convert DjVu to PDF
Though DjVu is considered to be an alternative to PDF, it is not that widely used as PDFs. If DjVu users need to save their files as PDF sometimes, Cisdem has this feature, allowing users to export DjVu to PDF and other image formats on Mac.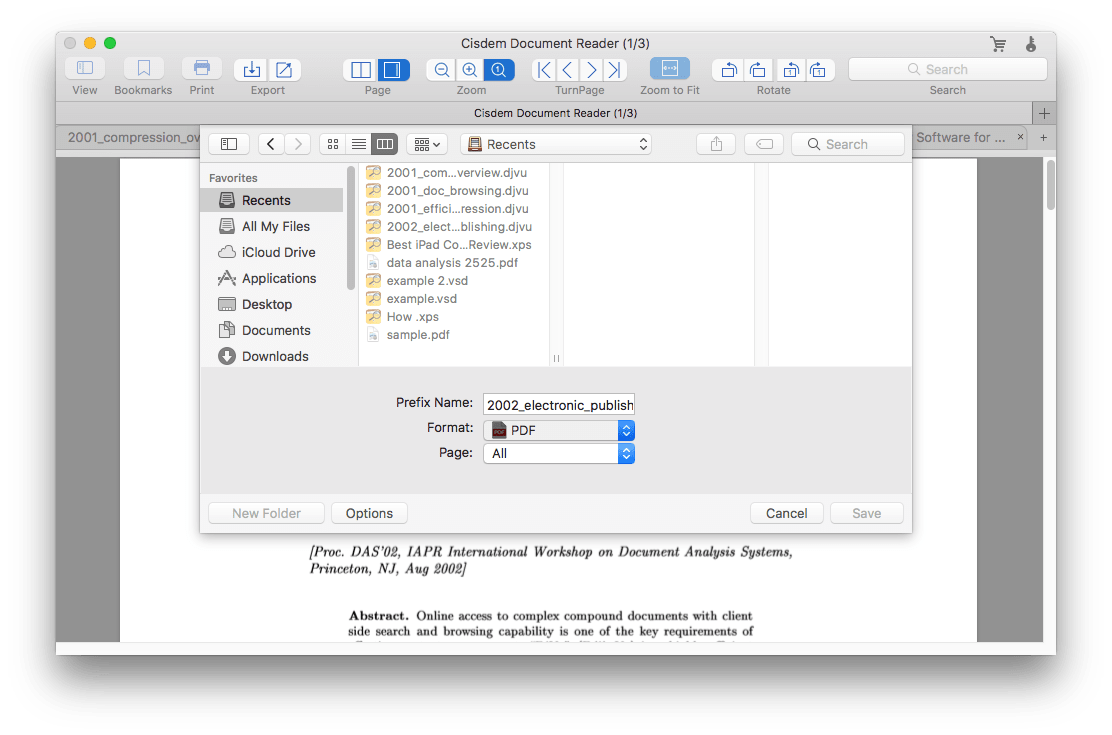 2) Print DjVu
Printing DjVu is another adds-on of Cisdem Document Reader, users can tweak the settings to print out DjVu file as needed.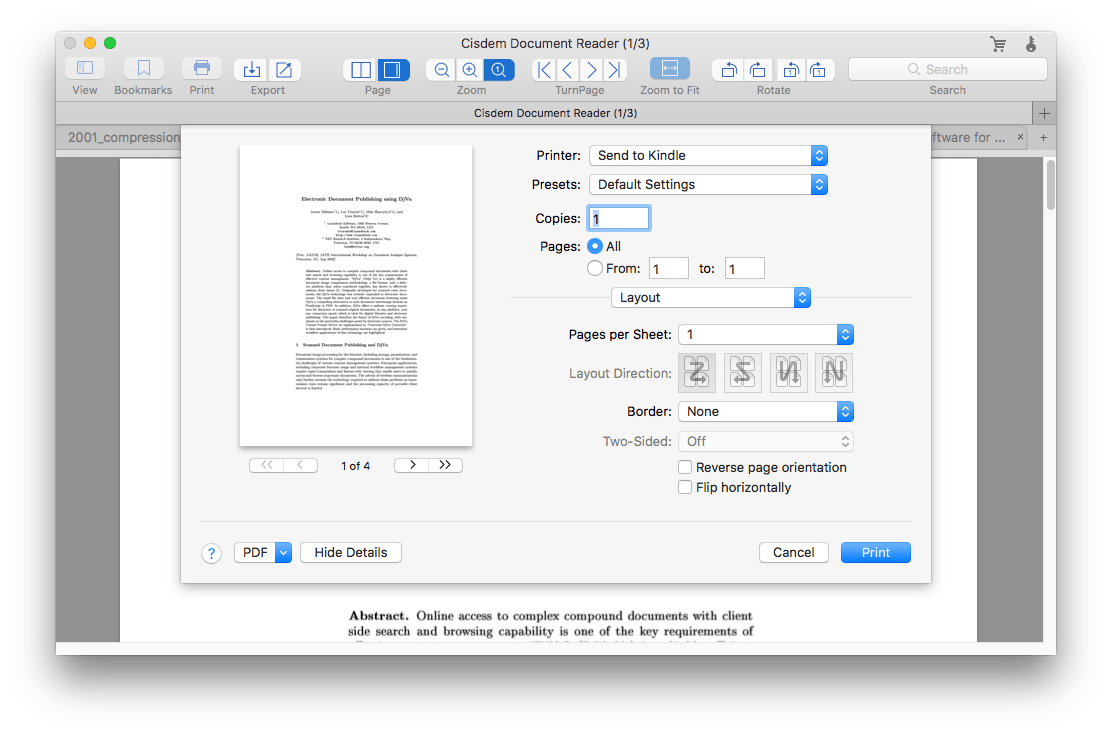 3) Extract Images
When you read PDF, Visio, Winmail.dat, WPS, WPD, OPS and other supported files, you may need to extract some images from these files, Cisdem is helping so.
Now, Make Cisdem Document Reader Your macOS DjVu Viewer
If you have decided to give a try on Cisdem Document Reader, now set it up as your defaulted DjVu viewer on Mac.
Step 1. Download and install Cisdem Document Reader on your Mac, launch it.


Free Download

macOS 10.11 or later

Step 2. Right click on the DjVu file, go to "Get Info".
Step 3. Go to "Open with", choose Cisdem Document Reader, then click on Change All > continue. Your defaulted DjVu viewer for mac is set.
Step 4. Double click on DjVu files or directly drag and drop files to Cisdem Document Reader for viewing.
Runners-up
On the top list of DjVu readers for Mac, it is valuable to mention about following contenders of Cisdem Document Reader, though these runners-up are inferior to Cisdem's in one way or another, but still worth a try.
DjVuLibre DjView 4.12
DjView 4 on sourceforge is absolutely an uncluttered product. The software is designed to view and manage DjVu files on Mac. In the left panel, there are 3 sections: Thumbnails, Outline and Find to quickly navigate to your preferred page or part. And the contents lie in the right panel. DjView 4.12 for Mac also allows users to zoom/fit page, print out and export to PDF or some image formats.
However, some user reflected that it's poorly documented api/reference. If you don't mind, you can continue viewing its features.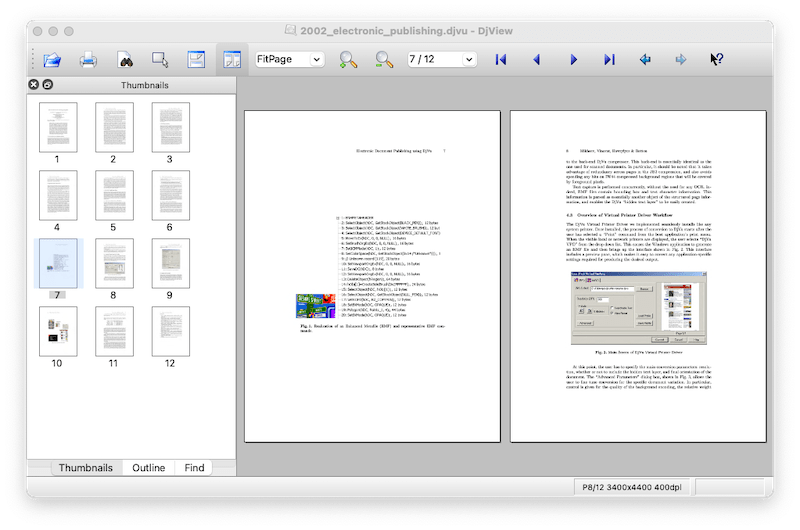 Main features:
Display pages side by side
Support continuous scrolling of pages
Print out DjVu files
Export Djvu as PDF or image format, also you can tweak the image quality
Cons:
Interface is a not that modernly designed
Cannot view multiple DjVu files at the same time
Need time to load, especially for large files
DjVu Reader (or Pro)
DjVu Reader from Firmshell is a simple but versatile application, designed to help users open DjVu file on mac, displaying DjVu files in 5 modes with neat zooming in or out. You can also select texts, copy OCR texts, and export the files as PDF or TXT format.
But the free version of DjVu Reader can only read and convert first half number of pages, to get full features, you need to pay its Pro version. You can download this program in App Store.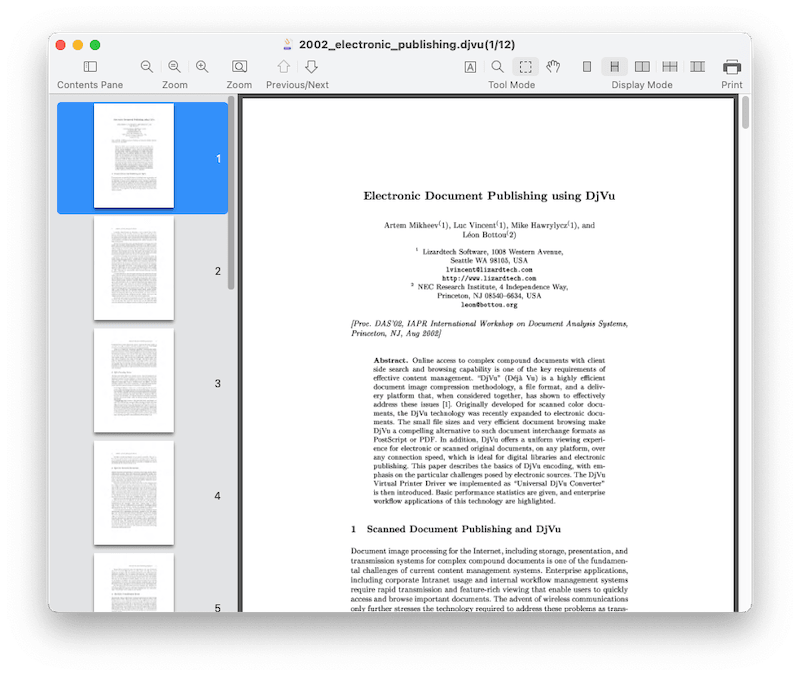 Main Features:
Five display modes to read DjVu files: single page, single page continuous, two pages, two pages continuous, horizontal continuous
Convert DjVu to PDF or Text
Select text, copy text with OCR, copy image
Print, bookmark, zoom in or out DjVu files
Cons:
Load files slow
Free version only reads and converts first half number of pages
The latest version 2.6.4 was released in 2022
DjVu Viewer + DjVu to PDF
DjVu Viewer + DjVu to PDF is a compact and fast application, it does not come with great features, but allows users to read and convert DjVu files with ease. There is only one display mode: single page, but you can navigate to previous or next page easily. Also you can utilize this tool to export DjVu files as PDF, text and several image formats.
The problem is, you cannot read multiple files in the same time, you need to open one by one. Even, some of the pages may be shown blurry, without keeping original quality. This program can be found and installed in Apple App Store.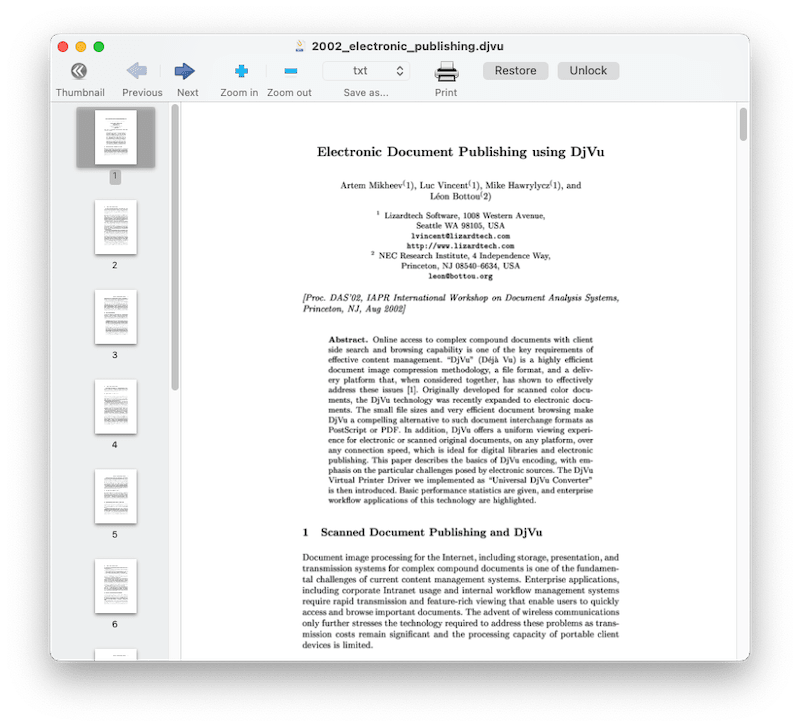 Main Features:
Read DjVu files
Print, zoom
Export to PDF, Text, JPG, PNG, BMP, GIF, TIFF
Cons:
Cannot view multiple files at the same time
Load files slow
Program crashes for no reason sometimes
Pages shown in the app with quality degradation
Best Online Free DjVu Reader for Mac
Besides desktop DjVu Reader for Mac, there are online free DjVu readers available. If you are not working on highly private files or not requiring high on reading experience, you can try these. But for my own part, online free DjVu Reader for mac is often put on the bottom of my list, due to following cons of using an online free tool:
Require a stable Internet connection. If the connection is poor, it will pause the file loading, displaying and viewing;
Feature-limited reading. There is no a basic set of toolbars to optimize the viewing, let alone extended features to well manage your files;
Potential risks of information leakage. Your file will be upload to online for reading, and hence bring you risk of information leakage.
Anyway, here we introduce 3 methods to view DjVu files online free, if above-stated cons mean nothing for you.
#1 Using DjVu.js
DjVu.js viewer is an open source tool to read DjVu files in web browser, there are 3 modes to display your files. You can copy text from DjVu files, zoom in or out, also rotate. However, this program is written in JavaScript, which means the interface is not intuitive.
Steps to Read DjVu Files on Mac Free
Visit https://djvu.js.org/.
Upload the DjVu file, open and read the file, use the tools at the bottom of the program to display as you like.
#2 Using GroupDocs
GroupDocs supports opening a lot of documents, DjVu is one among them. It hasn't options to display pages in different modes, but you can present the file in full screen. It takes long time to load and display files, you just need to wait patiently until the pages appear in front of you in the browser.
Steps to Read DjVu Files on Mac Free
Visit https://products.groupdocs.app/viewer/djvu.
Click Browse file to import Djvu files, view the file or present in full screen.
#3 Using ASPOSE
It is a powerful document reader and converter that supports a lot of formats, including DjVu files. It is quite similar to GroupDocs, offering a simple interface for users to view the DjVu files, but loading files very slow. It allows text selection in the file. However, there is a severe issue of using this viewer: it cannot keep the original formatting in DjVu files, your files may look quite different in this reader.
Steps to Read DjVu Files on Mac Free
Visit https://products.aspose.app/ebook/reader/djvu.
Click Choose DJVU files to import a Djvu file and read it.
Comparison of 7 Best Offline DjVu Reader for Mac
We have written a brief introduction about the 7 best DjVu viewers for Mac users above. In order to let you compare them easily, here lists a table for further comparing. You can know the operating system, supported file formats, exporting file formats and tools.