YouTube was bought by Google since 2006. Now YouTube is the world biggest video-sharing website. With this website, you could upload, view, rate, share, add to favorites, report and comment on video, etc. If you download its application to your iPhone, you also can watch online videos. Or download videos from YouTube to iPhone if we missed the living programs.
Then last week, Google released an update to YouTube App for iOS version. For the update, they have added a progress bar to all previously watched thumbnails that lets their users know how far they made it through the video. Partially watched videos will resume from where they left off.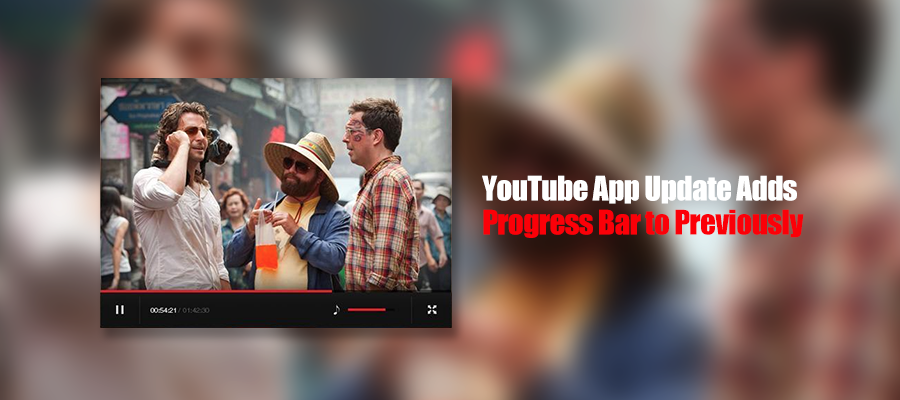 New design iOS version 11.45 that makes it easier to use YouTube:
Find your watch history, uploads, purchases, and playlists in the new library tab.

Reach tabs with less effort at the bottom of the app.

Understand tabs more easily with titles below each icon.

Switch between tabs from any screen.

See more videos with a smaller navigation bar.

Switch accounts, view notifications, and manage settings by tapping on your avatar at the top right of the screen.
Obviously with the new update, we don't need to worried we will miss any our favorite performance and will use it more frequently.
However, every software must leave the cache when we use, especially online videos crash larger than others. So we should clean our iPhone App cache frequently to keep our iPhone's speed.
More Related Articles:
Convert 4K HD Video for iPhone 7/Plus
Free Up iCloud Storage Space on iOS
Find and Delete Duplicate Songs on iPhone/iPad
A Water Damaged iPhone's Emergency Treatment and Data Rescue Tip
The Best Way to Read PDF on iOS Devices

Megan has an impressive deal of experience with Mac software and has the ability to explain tech stuff in a simplified, straightforward and easy to understand way.