It's a sad fact that iPhones and iPads (but particularly iPhones) get damaged all the time. Probably the most common is the smashed screen, and the second most common is almost certainly water damage. How to rescue data from a water damaged iPhone?
In this article, we will show you how to check if your iPhone is water damaged or not, then show you how to fix a water damaged iPhone and recover data from it.
Recover Deleted or Lost Data from iPhone Immediately
Applicable to different data loss scenarios: jailbreak, factory reset, iOS update, device lost/damaged/broken, etc.
Restore Messages, Contacts, Notes, Reminders, Calendars, Photos, Videos, etc.
Recover data from iPhone, iTunes back or iCloud
3 steps to recover files
High recovery rate

Free Download

Free Download
Part 1. How to check if your iPhone is water damaged or not
Are you sure your iPhone is really water damaged? If not, you can check your iPhone's liquid indicators to know the fact. iPhone and most iPod devices that were built after 2006 have built-in Liquid Contact Indicators that will show whether the device has been in contact with water or a liquid containing water. So when your iPhone has been exposed to water, you'll see a red dot. If not, congratulations! Your iPhone is not water damaged. You can check the red dot in the places as shown in the picture below.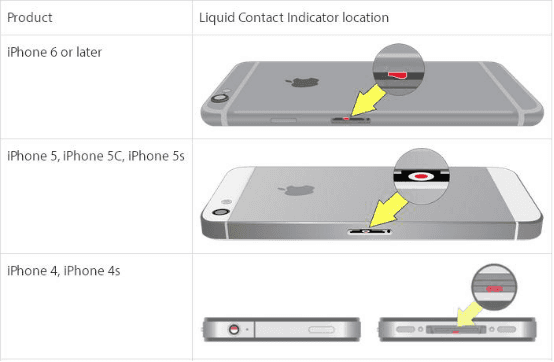 tips: Water and other liquids can damage your iPhone easily. If you iPhone is really water damaged, Apple's warranty doesn't cover liquid damage. That's to say, you're responsible for it when your iPhone is damaged by water or other liquids. So you have to pay for the maintenance costs or follow below strategies to fix your water damaged iPhone for free.
Part 2. How to fix and dry out a water damaged iPhone for free
If your iPhone or other iOS device is water damaged, don't worry, there are some ways to rescue it. We can't guarantee that you certainly can fix your water damaged iPhone. But many times the ways are useful. If you are lucky, you may get iPhone/iPad/iPod back in working order soon. Just follow below guidance to fix your water damaged iPhone. (Indeed, the same principles will apply to most electronic devices.)
Get the iPhone out of the water or other liquid right away. Don't be tempted to turn it on and check for damage, which can cause short circuits.
Remove your SIM card from your iPhone. Wipe the excess and exterior water or other liquid off everything you can reach. Turn the iPhone upside down and give it a gentle shake to clear the ports and sockets. Don't be tempted to power it up and see if it still works.
Deeper drying with rice or Silica gel sachets. Don't try to dry your water damaged iPhone with a hair dryer or other external drying machine. This can force water deeper into your iPhone or damage the iPhone's internal components. Silica gel sachets should dry a wet iPhone out more efficiently and less messily than rice. You should still give the iPhone at least 48 hours to dry out completely, however.
Try to switch your iPhone on. Once you've waited a couple of days and think you've successfully dried out your iPhone, you can try switching it on. If your iPhone still doesn't work, or if you want to get the internals checked out, you will need Apple after-sales service to help you.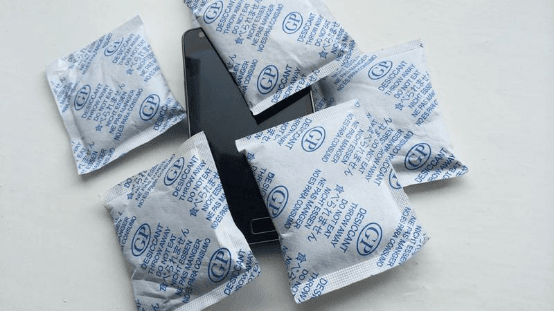 Part 3. How to recover data from a water damaged iPhone
When your iPhone is dried and works in order, the first thing for you to do is to check if you lost any data or important files. If you find some important files lost, don't worry, there are some iOS data recovery software like FoneLab iPhone Recovery which can rescue your data from your water damaged iPhone. Download FoneLab iPhone Recovery below and follow below steps to recover data from iPhone.
Download and install FoneLab iPhone Data Recovery on your Mac or Windows.
Free Download Free Download
Connect your iPhone and scan it. Click Start Scan button to scan your water damaged iPhone. And this app will scan all files on your iPhone.
After the scanning process is finished, all files will be listed in categories. And you can go to each category to see the details and find the files that you lost due to water damaging. If you are only interested in recovering deleted or lost files, and you can make this app only show the deleted ones by turning the switch of "Only display deleted items".
Select the data, files, or even entire categories to recover. Click the "Recover" button to recover those data and files and save them to your Mac or Windows.
tips: If your water damaged iPhone can't be repaired and you can't get the data directly from it. What can you do? If you've ever had iTunes or iCloud backup, you still can restore your previous data from iTunes or iCloud backup without purchasing a new iPhone.

Rosa has worked in Mac software industry for more than eight years. She believes that the purpose of software is to make life better and work more productively. In addition to writing, Rosa is also an avid runner.