How do you do when some attractive sites distract you from work? Many of us who have poorer self-control will waste too much time on useless websites. Some parents worry that their kids access inappropriate websites on Chrome and receive bad information. This has a great impact on children's growth and development. Is there any great site blocker Chrome extension free? After testing, let me introduce 5 best website blocker extensions to you.
The Best Website Blocker Tool for Mac
Block websites/webpages on Chrome, Safari, Opera…
Block websites by categories, such as porn, gambling, social media…
Block sites containing specific keywords.
Allow you to block all sites except a few you approved.
Lock apps with password.
Allow you to block websites and apps during certain times.
Require password to enter/quit/uninstall AppCrypt.
Easy to use and hard to bypass
Use little or no CPU
Support macOS 10.12 and later

Free Download
The Pros & Cons of Website Blocker Extensions
Pros:
Help you stay focused
Remove distractions while working
Filter inappropriate content for kids
Easy to install and use
Cons:
Easy to be removed
Less advanced in some features than site blocker apps
Can only works on certain web browser
5 Best Site Blocker Chrome Extension Free
Developer: BlockSite
Available on: Chrome, Firefox, Microsoft Edge
Latest version: 6.0.4
Latest update: November 23, 2022
BlockSite is a website blocker extension that enables you to block a certain website and automatically redirects to a specific website when you try to access it. This tool has a free version, which can meet your basic needs.
BlockSite is able to block any URLs that distract you and helps you stay focused. You can add 3 sites to block for free. To block unlimited websites, you need to upgrade to pro version.
There's a Whitelist mode. If you enable it, all sites will be blocked except the ones in the list.

To give your family a safe online environment, BlockSite enables you to block sites by categories. Most parents will choose Adult categories to block to prevent their child from accessing porn websites.
Go to the Block by keywords section, you can enter a word or phrase to block, such as adult 18, porn, etc. All website URL's and titles containing these specific keywords will be blocked.

The focus mode can help you stay focused while working and be more productive. First you need to add sites to the block list, or directly using the whitelist mode to block all sites except certain ones. Set a focus time, such as 25 minutes. Then set a break time, that is, a time that you can freely visit the blocked websites during the focus time. The number of cycles means how many times you want this focus session run automatically.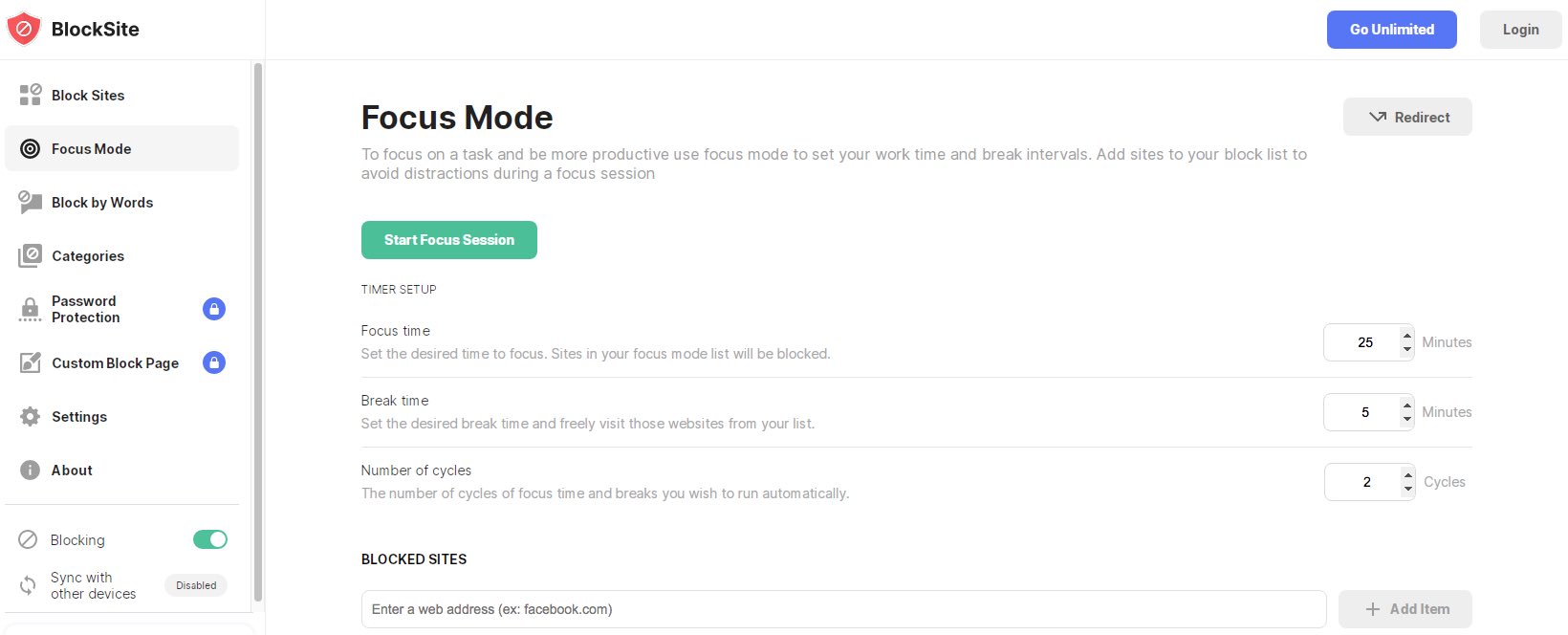 #2 StayFocused
Developer: Transfusion Media
Available on: Chrome
Latest version: 1.6.1
Latest update: December 5, 2022
Sometimes we spend hours refreshing our Facebook feeds, checking our emails, or just watching YouTube videos for a long time. Then suddenly realize that we spent much time sitting in front of the computer and not doing anything useful. StayFocusd is a site blocker Chrome extension free that will help you solve this problem. If you feel that you often spend too much time on a website, you can set a time limit on this site.
First let's add the website that waste too much of our time to the block list. This tool allows you to block entire sites, specific subdomains, specific pages, and even specific in-page content such as images, videos, forms, etc. If you want to stop yourself from removing the website blocker extension, you can even add the Chrome extensions page to the block list.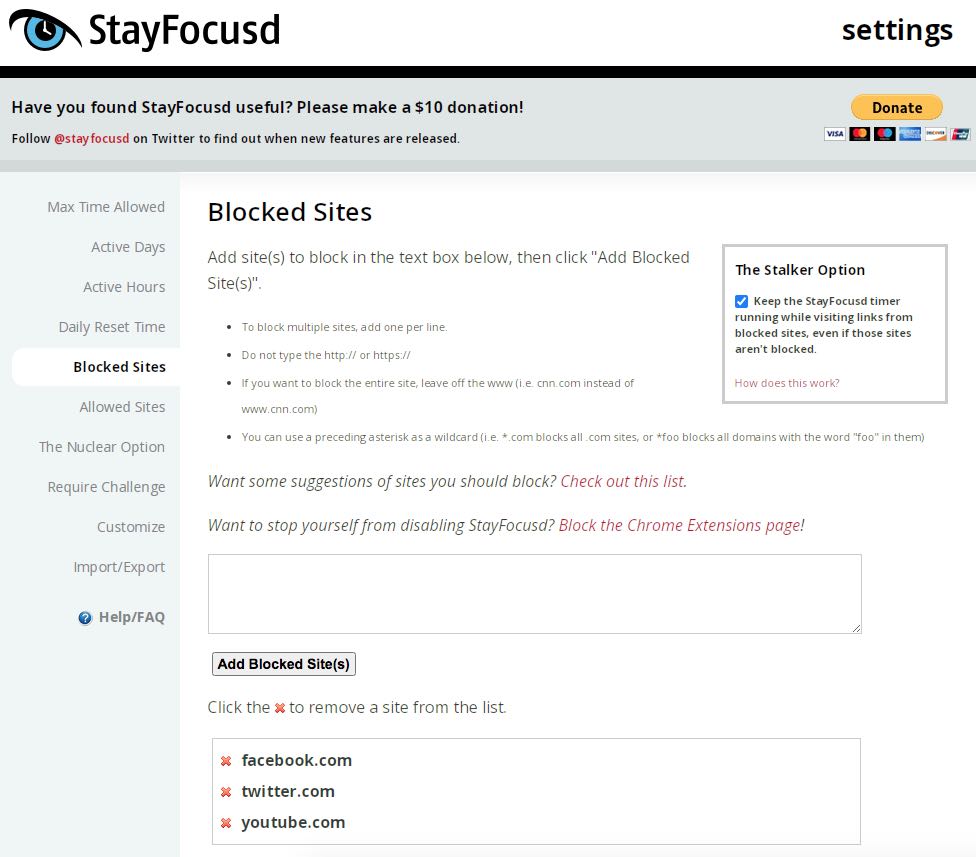 Then you can then set the maximum number of minutes per day that you are allowed to visit sites on the block list. Note that this time is the sum of the times each site on the block list is accessible. For example,
If you set 10 minutes allowed per day, you can access the blocked sites (even if you have put multiple sites to the block list) 10 minutes in aggregate. In addition, once the time for the day has expired, the sites in the block list cannot be removed.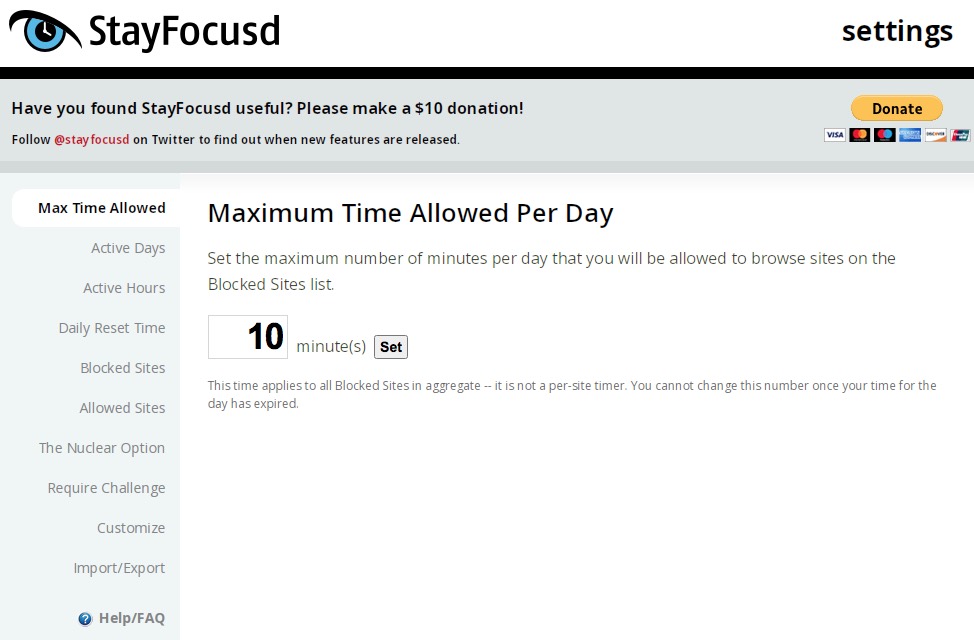 There's an interesting feature for preventing you from changing settings. If you feel that you can't control yourself, I recommend you enabling this feature. You need to enter the long and difficult text each time you want to change any settings. And can't make a single typo. Otherwise you'll have to start again.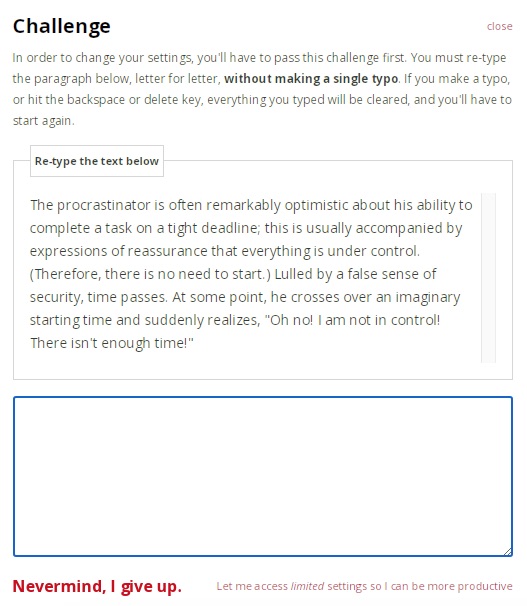 #3 LeechBlock
Developer: James Anderson
Available on: Chrome, Firefox, Microsoft Edge, Opera
Latest version: 1.5.2
Latest update: November 27, 2022
LeechBlock is a free website blocker tool that available on almost all popular web browsers. It is designed for controlling online time and blocking time-wasting sites. LeechBlock offers flexible block options. For example, you can:
Only allow yourself to visit social media sites at 12:00-13:00 noon every day.
Only 5 minutes per hour can be allowed to view gossip news during working hours.
Prohibit accessing all sites every day from 23:00 to 08:00 the next day.
This tool enables you to create 30 sets of websites to block. Each set can be specified with what to block, when to block and how to block. LeechBlock allows you to specify exceptions sites not to block. Also supports blocking pages that contain specific words or phrases.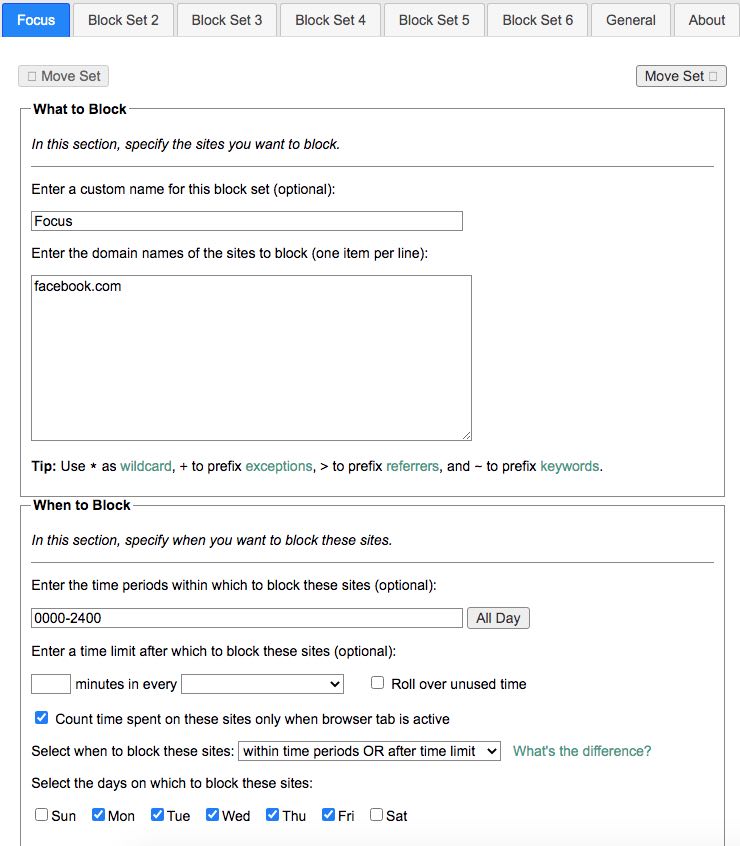 The Lockdown feature allows you to block sites immediately for a specific duration. Right-click the page you want to block. Choose LeechBlock NG > Lockdown. A window will pop up and ask you to enter the duration of the lockdown.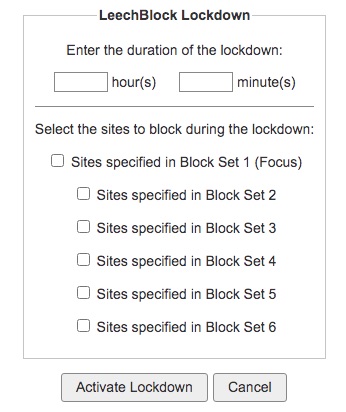 #4 WasteNoTime
Developer: Bumblebee systems
Available on: Chrome
Latest version: 3.5.0.11298
Latest update: April 16, 2020
All of us want to find the most efficient way to work. The most important is to know where our time is actually going. WasteNoTime is a flexible site blocker Chrome extension free that records how long you spend on each website exactly and limits it. It helps you block time-wasting sites and to be more productive.
WasteNoTime is an easy-to-use website blocker for Chrome. After adding it to your Chrome, it will automatically start tracking the time you spend on each websites. Go to the Time Tracker section, you can see the top 5/10/20 sites you have spent the most time on. Then put those useless websites that waste too much of your time into the block lists. You can set to do not track certain websites, such as google.com. Since it is the home page and you must spend a lot of time on it.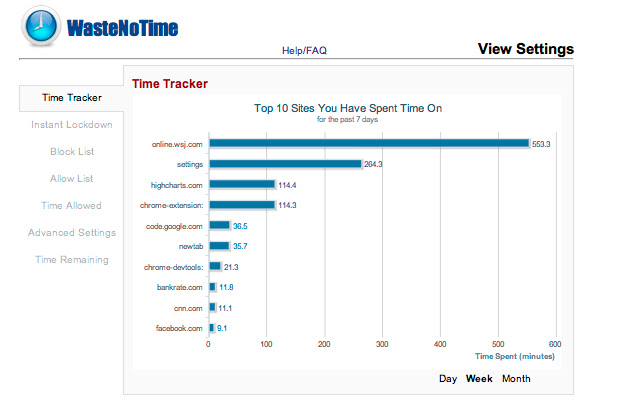 Users are able to use block list or allow list, as their needs. The allow list will take preference over block list. The Time Allowed feature is for setting the time that you are allowed to spend on the blocked sites every day. You can add one or multiple time range, such as 8:00 am to 5:00 pm. If you don't want to use the time range mode, this tool also allows you to customize the maximum amount of time allowed on per-site, such as 30 minutes every day.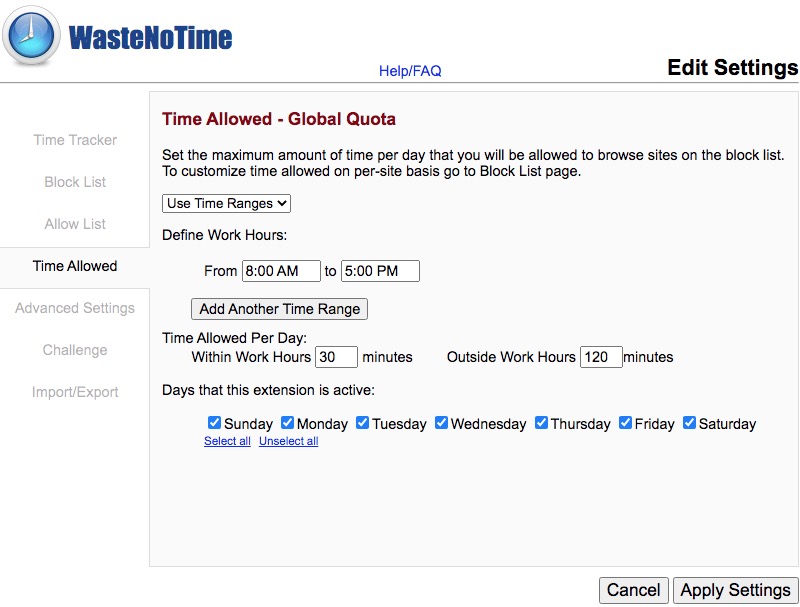 #5 Otto
Developer: Joel Benjamin
Available on: Chrome
Latest version: 1.0.15
Latest update: September 23, 2022
Otto is a cute pomodoro timer and Chrome website blocker for users who want to keep productive while working. This tool also has a free version and a pro version. The pro version will provides you some advanced feature such as unlimited auto blocks, daily website usage report, change alert sounds and more.
The Pomodoro Timer let you create a work session and break session. You are able to customize the duration. Such as 35 minutes for work and 10 minutes for a break. You can use it to block some websites that are easy to distract you, and remind you to take a break after focusing for a long time.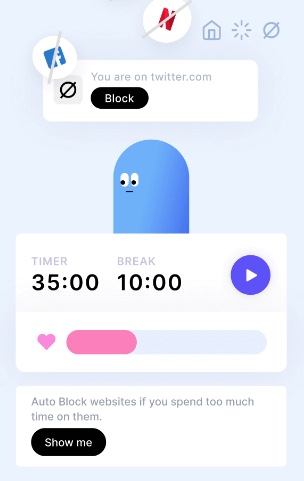 To use Otto's auto block feature, first you can add sites to the block list. Then the sites will be appeared in the auto block dropdown. Go to Aotoblock tab. Click "New +" to add a new rule. Set the amount of time you want to spend on the website. Click on Block. Then Otto will start the timer. Once the time is up, the website blocker will take effect. This site blocker Chrome extension free version allows you to add only one website to auto block.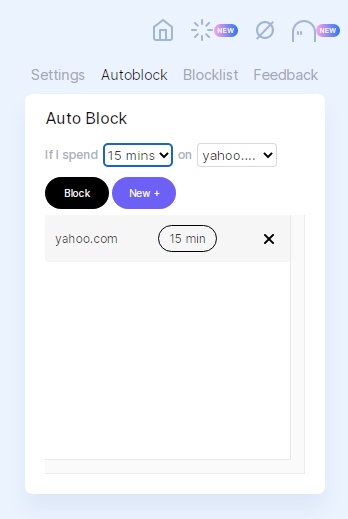 Site Blocker extension not working? Try this
The biggest problem of website blocker extensions is that they are easy to be removed and bypass. And most people have more than one web browsers on computer. It's troublesome to add extensions to each browser one by one if you want to block inappropriate content or distracting websites on computer completely.
How about try this website blocker app? Cisdem AppCrypt is a site blocker application that works on all popular web browsers, including Chrome, Safari, Firefox, etc. It's also an app locker tool, enables you to lock any applications on Mac with password.
1. Download and install Cisdem AppCrypt on your Mac.

Free Download
2. Set a password when you first launch this tool. Do not forget this password since it'll be required every time you want to open this tool and change settings.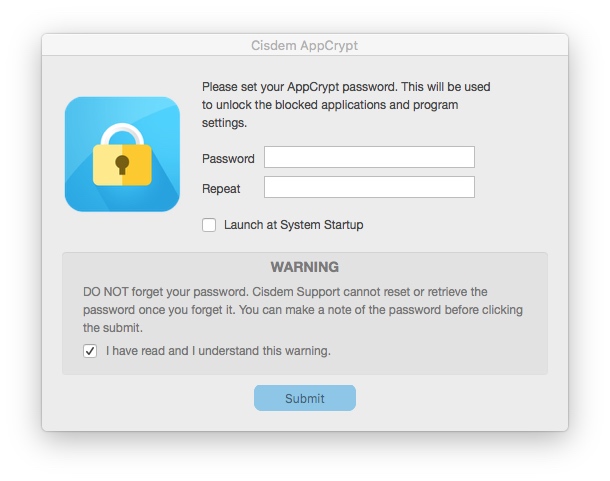 3. Click Open Main Window on the desktop menu bar. Enter the password. Go to Web Block tab.
4. To block websites on Chrome and all other browsers on your computer, type in the URL you want to block to the box. Click Add.
You can also click on Import. Select a category of sites to block.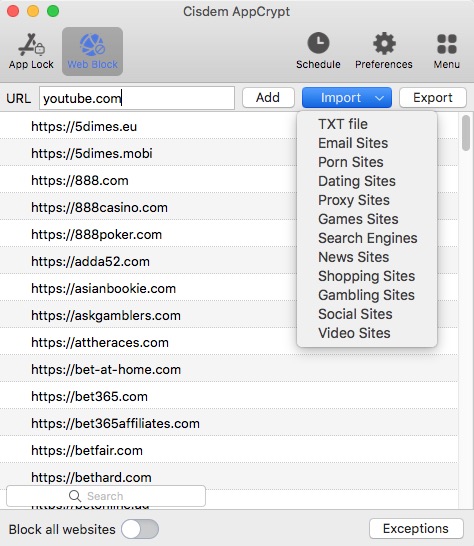 5. At the bottom of the Web Block window, there is a button that allows you to Block all websites. Enable it. All sites will be blocked immediately.
Click Exceptions. Cisdem AppCrypt allows you to block all sites except one or a few you approved.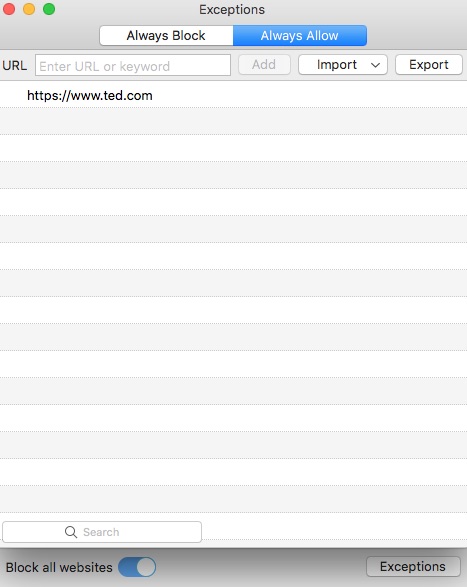 Conclusion
Website blocker can helps us stay productive, and offer a safe online environment for child. In this article, I introduced 5 site blocker extensions free. In addition, if you think the extensions cannot meet your needs, you can try the professional site blocker application, which is able to block sites on all your web browsers with 1-click.