As parents, we always feel like our kid is on their phone, like, all the time. On one side kids and especially teens need the Internet to research information for school projects and learn, on the other side too much screen time has the downside of being addictive. Simply nag them to put it down doesn't teach good long-term habits. Here are better ways to approach the conversation, which is to use a parental control app to limit screen time.
Parent Control App as the name suggests, theoretically lets parents set limits and control phone usage. A good screen time limit app will help you do everything like monitoring your kid's app and social media usage, block distracting websites and video games, geofencing kids when they are out. All this bringing parents some peace of mind in today's screen-filled world.
In this article, we compile the best free apps to limit screen time from around the web. While each user has different needs and different devices, this guide will provide you with a good overview of what you can expect from each app and how to to get the best out of it.
Quick Summary
In case you are in a hurry, here is the list we recommend:
The Best App to Limit Screen Time on Mac
Block websites and webpages with password
Lock apps with password
Offer a schedule feature to block websites and lock apps at certain times
Limit time spent on certain websites and apps
Help control screen time
Also help with parental control and productivity
Easy to use and hard to bypass

Free Download
Here is our review process in detail:
We download and test all the apps.
We monitor their performance on different devices.
We check their features, limitations, free limit and published the review.
1. Qustodio Parental Control
Works on Windows, Mac OS X, Android, iOS, and Kindle.
Cost: Free (Free for 1 device, $4.58/$8.08/$11.50 per month for premium)
Get it from: iTunes, Amazon, and Google Play
Overall Rating: 4.8 / 5 (Excellent)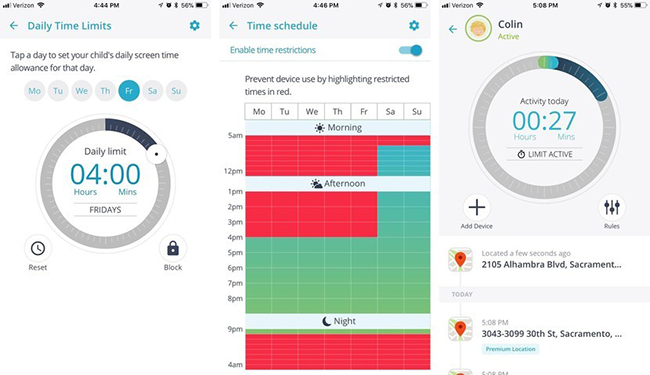 Qustodio is a cross-platform parent control app that lets parents take precise control over their child's screen time across desktop and mobile devices. It is easy to use, offers a huge range of options and provide detailed report for you to see exactly which apps kids are using, and for how long, as well as what websites they're visiting or what social apps they used.
Qustodio offers a truly multi-device product, with highly configurable web-filtering and time-management capabilities. The dashboard and reporting functionalities provide a valuable tool for parents to both mold and monitor how children interact with the web and web-connected devices. While there are some feature gaps when it comes to social media monitoring and app-based restrictions, these gaps affect the entire market, although sometimes to a slightly lesser extent.
Features included
Manage devices on multiple platforms.
Set limits to lock apps and websites from being accessed (either all together or on a specific time).
Social media monitoring: A dedicated monitoring tab to monitor the time kids spend on Facebook.
Track messages and call monitoring (Android-only)
Block calls or specific contacts.
Track your child's location
A panic button to send out an emergency message that contains the current location to trusted contacts in an emergency (Android Only).
Offers an engaging daily activity summary for parents to see kids' internet use such as browsing and social media activity, call history, etc.
Categories-based web filtering: Easily block access to websites matching any of the 29 pre-list filter categories including pornography, drugs, gambling sites, Violence, etc.
Daily Time Allowance: Let parents set the total amount of time per day that the child can use his or her devices.
Has an option of Don't let anyone see Qustodio has been installed on this computer". so you can limit the screen time without being noticed.
Allow parents to blacklist and whitelist specific domains like social media networks and online gaming pages.
Pros:
Qustodio's content filtering is browser-independent, so kids can't just install a separate browser to get around restrictions.
Ease of use – Comparatively easy to install and set up
Visually intuitive web dashboard
Great social networking filters
The only service we tested that supports Amazon Fire tablets
Free tier that covers a single device with web filtering, time limits and reports.
Cons:
iOS version lacks the full parental control features the Android version offers.
No geofencing option.
You can manage only a few dozen apps on iOS(70 apps)
Monitoring texts and calls works on only Android.
Premium subscription may be pricey for some
App monitoring is limited to internet-connected apps
Lacks "additional time request" capabilities.
App monitoring only works for applications requiring internet access.
Cannot block chat-based apps like WhatsApp.
Best for:
Parents who need to monitor device usage.
Supports Amazon Kindle devices which makes things easy if you are one of the many parents with a child using an Amazon device.
Not for:
Expensive to use.
Limited features on iOS.
No geofencing feature.
2. OurPact Parental Control
Available on iOS and Android devices.
Cost: Free (Free for 1 device, $1.99/$6.99 per month for premium)
Get it from: App Store, Google Play, Official website
Overall Rating: 4.6 / 5 (Excellent)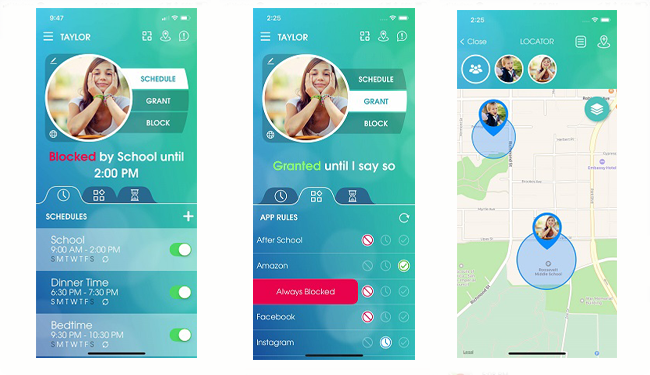 OurPact is a free parental-control apps for both iOS and Android devices. it is very popular among parents and has been featured in popular media like Forbes, The New York Times, App Store, etc. With this app, parents can monitor, control and guard their children's phone usage and locate family members from a single app. What impressed me most is the app includes a downloadable contract that parents and kids sign, plus a daily allowance of screen time that allows kids to plan when to use themselves.
Features included
Block access to apps like YouTube, FaceBook, Instagram, etc.
Set rules for individual apps - limit or block distracting social apps and games, while at the same time give kids full access to educational, school and productivity apps.
Block the internet at a specific time.
Block texting
Family locator that locate family members using geolocation.
Set geofences around specific locations and receive instant alerts when your kids arrive at or leave the place.
Screen time allowance: set daily screen time limit and let your children plan on how to use the allowed screen time.
Pros:
One single interface to keep track of all your family members.
Set app rules to limit social media and certain apps usage.
Locate and set a safe location for family members.
Gets the child actively involved in the process.
The only parental control app that can block iOS app.
Manage up to 20 devices with just one app.
Screen time allowance feature.
Cons:
Difficult to set up on iOS devices.
Without wifi, kids can pause the screen time.
No activity tracking feature.
No call or text monitoring.
Has reportedly suddenly crashed on iOS devices.
After setting a block, apps will disappear from the device and after removing the block all apps will reappear on the screen in alphabetical order.
Best for:
Overall, OurPact is very easy to use and is a good tool to put in place for younger kids.
Not for:
If you need to know what your kids are looking at on the Internet then you may want to look at some other options.
3. Apple's Screen Time
Supported OS (iOS 12 or later, macOS Catalina or later)
Price: Free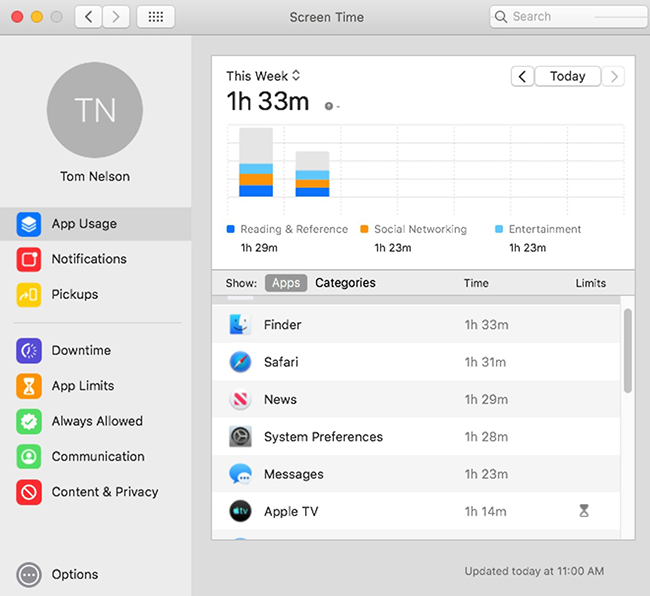 If you have an Apple device, you may know Screen Time, which is Apple's parent control app that launched on iPhone and iPad in 2018, now it also comes to macOS Catalina or later. It monitors the way you use your device and has functions that block apps, websites, contacts, easily. It also sends you a report via a notification on your device usage. You can also set downtime to limit all apps on the device.
Features included:
Downtime - Set and schedule a downtime during which only apps you have approved will be allowed to run.
Get a downtime reminder 5 minutes before the starting time.
Set password to lock screentime settings, preventing anyone who doesn't know the password from making changes.
Use the password to extend the time an app may be used.
App limits: Set limitations to apps on your device.
Set time limits for certain app categories.
Communication: Set who can contact the user during screen time and downtime.
Set restrictions on explicit content, purchases, downloading, and privacy.
Always allowed apps: Set apps that should be available all the time regardless of any restrictions.
Content blocking: Block any inappropriate content.
Pros:
Build-in feature, totally free
Easy to use.
You can use downtime feature to limit device usage.
Always allowed apps work well for school and educational apps.
Can control who kids can contact.Can use a password to extend the time.
Cons:
Only available to iOS 12 or later and macOS Catalina or later
No location tracking and geofencing feature.
Children can easily follow guides online to block the limit.
Best for:
For Apple users, it's an easy, built-in way to help monitor and control device.
Apple screen time only blocks website content on the safari browser, and I need a way to block content on firefox and chrome?
In case that you need a way to block individual apps and block websites on Chrome and Firefox, you can use AppCrypt to do so.
4. Unglue Parental control app
Works on iOS, Android, Windows, Mac, laptops, Smart TVs.
Available on iTunes, Google Play
Price - Free - Premium version available starting at $11.99/monthly, offers a 14-day free trial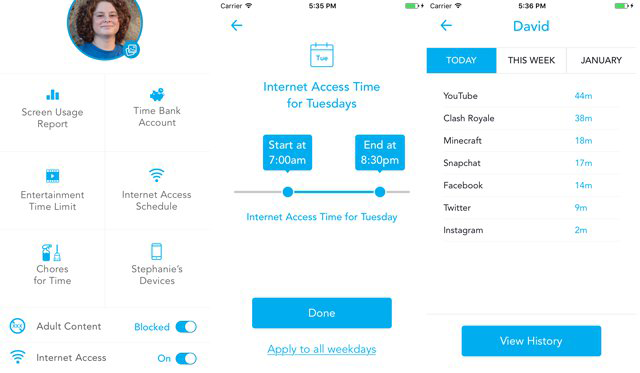 UnGlue is another widely-used parent control app that comes with more flexibility. It is the app that empowers kids in the decision making of how much time they should have on screens. Parents set the limit on their phone and kids have the right to decide how they use their time with the limit. One of the features that makes Unglue stand out of the crowd is its functions like rewarding system and rolling unused time to a new day, this teaches valuable skills to kids and instill better time management habits. Also, a great app that increases productivity for adults to track and monitor their phone usage.
Features included:
Keep track of kid's screen time and give detailed reports showing what apps/websites kids used and how much time they spend on each apps/sites.
Block apps in all or individually.
Block YouTube, block Netflix, block Amazon prime, and other video apps.
Block internet access, block apps outside of screentime settings.
Make the Internet age-appropriate & safe for your kids with a single click.
Block Adult content and other red-flag websites.
Monitor app, game activity with usage reports for each device.
Entertainment app limiter: Bundle major entertainment apps and sites into a "fun" bucket and set limit with one click.
TimeBank: Save unused screen time to a time bank and kids can roll over unused screen time for another day.
Steps4Time features that encourage kids to trade daily steps for screen time.
Reward kids with extra screentime by doing chores and tasks you've requested.
Screentime Schedules: Create screentime schedules and let kids see their daily schedules for screen time so they can plan their day accordingly.
Set specific screentime schedules for dinnertime, homework time, family time and bedtime.
Turn internet access on or off any time at your device.
Pros:
Manage multiple devices from single app
Help kids form better time management habits.
Simple and intuitive interface.
A free app with many useful features.
Steps4Time help kids get more daily steps.
Let kids manage screentime themselves.
Good reward system.
Cons:
Some functions are limited in the trial version
Have no location tracking and geofencing capability.
5. Net Nanny Parental Control
Supported OS - Works on Windows, macOS, Android, iOS and Kindle
Cost: Free (Price - $39.99/Year for PC&Mac; $54.99/Year for PC, Mac & Mobile; $89.99/Year for PC, Mac & Mobile)
Get it from: Available on iTunes, Google Play, and Amazon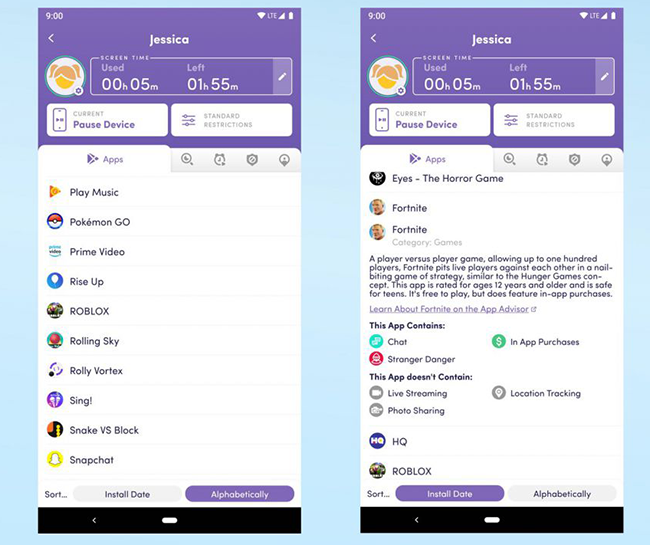 Net Nanny is a screen control app that first introduced in1996. It is very popular and used by millions of parents. The thoughtful design, excellent web-filtering tech, special features like Family Feed and App Advisor makes it one of the best apps to limit screen time on iPhone and Android. The iOS version lets you block several dozen apps and the Android app lets you block them all.
Features included:
Remote Control: remotely monitor and make changes to the device.
Track kid's online search activity and send instant warnings to you for flagged words.
Real-time Alerts on Porn, Suicide, Weapons and Drug-related Content.
Internet Filtering and blocking: Check the content of any website your child visits in real-time and keep out pornographic or inappropriate websites and Popups.
Block websites with 14 preset categories: Abortion, Adult Novelty, Anime, Death/Gore, Drugs, Gambling, Mature Content, Nudity, Pornography, Provocative, Strip Cubs, Suicide, Tobacco, Weapons.
Add Whitelist or backlist website for each user.
Receive alerts when kids try to visit blocked websites.
Schedule to limit times when your child can use the Internet.
Monitor and see how their devices are being used.
See which apps kids are using along with app usage reports showing the amount of screen time they're consuming.
Provide and App Advisor for you to view a short description of a app and know immediately if it's safe. (Android Only)
Block unwanted or inappropriate mobile apps.
Get alerts when new apps are installed. (Android Only)
Provide suggestions on App age appropriateness.
Pros:
Powerful pornography blocker.
Remote access and control of the device.
Great design.
Excellent web filter function.
Supports Windows, Mac, Android and Kindle.
Give Report and alert instantly.
Cons:
No call/text monitoring even on Android.
A bit expensive
Lacks tracking and geofencing features
Best for:
If your kids spend most of the time browsing online, as it as top-rated porn blocker and internet filter.
Not for:
If you need to track the location of your kids or need geofencing function.
If you need text and call monitoring function.
6. Norton Family Parental Control
Works on Windows, android and iOS
Cost: Free (free 30 day trial/ Norton Family Premium for $49.99/year.)
Get it from: Available on iTunes, Google Play, and Amazon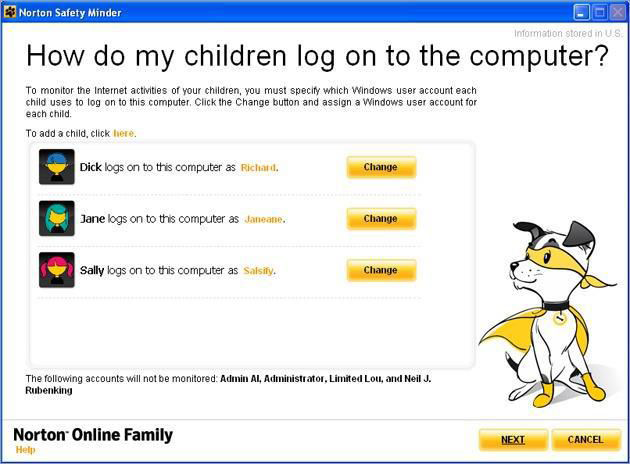 Norton provides a complete screen time parental control solution for Android and Windows users. Though it also has an iOS version, but Norton is much more effective on Windows and Android than iOS. It comes with 47 age-based site and app filters, can monitor kids' activity on devices and tracking kids' location. As it has no limit on the number of devices and child accounts, so for larger families with several children, it's a good deal. And it is the ideal solution for households that primarily use Android and Windows.
Features included:
Comes with 47 filter categories including alcohol, violence, pornography, weapons, etc.
Filters are pre-blocked according to the age of kids.
Keeping you in the know when kids attempt to visit a blocked site.(Android&Windows)
See which apps your kids have downloaded on their Android devices, and choose which apps to block or unblock.
Video Supervision - A unique feature for screen time apps. This feature provides you a list of the YouTube and Hulu videos your children watch and gives you a snippet of each video.
Search Monitor - Form a word cloud on the main page for you to see which terms your kids are searching on their devices.
Limit screen time per day or per week.
Social Network Supervision - see when and how long kids log on to Facebook from their PCs, and the name they use on their profiles. (monitored only on Windows)
Screentime monitoring - Get detailed reports on children's activity on divide and send the report to your inbox.
Track location - mac the location of the Android or iOS devices and give you a 30-day location history.
Enable you to set the personal information you don't want children to share online. block anytime when the child wants to share this information and notify you if they attempt to do so. (Window Only)
Supervises contacts and SMS on Android.
Allow the child to send you a note if they disagree with the site or app you blocked.
Instant Lock: Can instantly lock the device any time you see fit.
Pros:
Unlimited on the number of devices that can be monitored
Works with most platforms
47 blocking filters as per the kid's age
Tracking videos on YouTube and Hulu
Monitor children's activity online and give you the report.
Cons:
Not compatible with Mac
Limited iOS features
Inability to set screentime allowance
Not a stealth product so the child will be able to see the house rules will know their text and messages are being monitored.
No geofencing option
No social media monitoring for mobile devices
Best for:
Large families that use Android and Windows exclusively, Norton Family Premier will be well worth it.
Not for:
Expensive if covering one device or child
7. Kaspersky Safe Kids
Supported OS - Works on Windows, macOS, Android, iOS and Kindle
Cost: (Free; Premium for $14.95/year)
Get it from: Available on iTunes, Google Play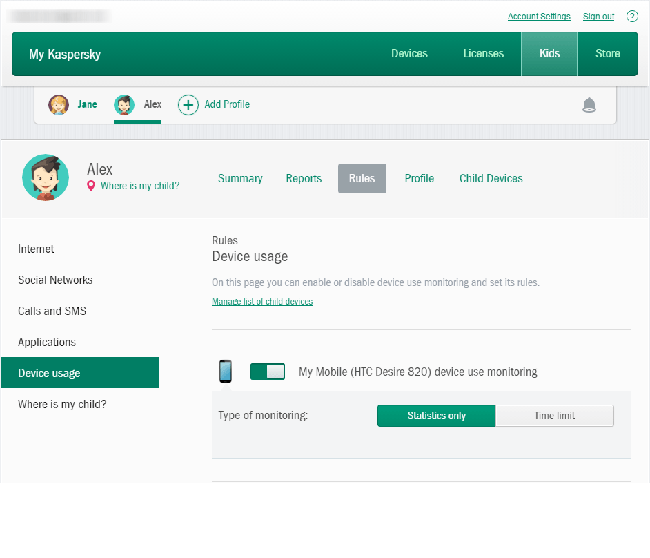 Kaspersky Safe Kids is one of the most popular screen time parental control apps on the market, it is rated "Excellent" by PC Mag and it very popular among parents. It is free to use and has all the function parents need on a screen time app, one can block website, enable safe search, do remote permission granting, get alert when kids try to access block apps and websites, and know the location of kids and set geofence easily. Android users can also monitor their texts and calls.
Features included:
Screentime management: Set screen time limits to manage the time kids spend on their devices.
Give expert tips from a professional child psychologist to help you make the right decision.
Provide 14 website categorizations and make default limit based on a child's age.
Block access to inappropriate websites and content
Warn children when they try to open a blocked website and gives them the option to proceed anyway.
Notify parents when kids visit forbidden sites.
Application monitoring: Categorize apps into 17 categories, you can set to allow or Forbidden each category.
Utilize age ratings on the app store to determine which app can use based on your child's age.
Get alert if kids try to access blocked apps.
Track and view kid's location and show it in realtime on a map.
Set geofences and define a safe area for kids to stay in. Get alert If kids exits these location.
Get notified when kid's device is low on battery.
Monitor Facebook activity: Get reports on Facebook activity, including posts and newly added friends.
Provide detailed reports on kid's online activity.
Monitor calls and SMS messaging. (Android only)
Pros:
Very affordable
Impressive free tier
Monitors kids' computers as well as smartphones
Cons:
Confusing user interface
iOS app can't monitor calls or texts
Limited features on iOS
Best for:
if you don't need to read kids' text messages.
If your kids use Android, and you just need a free app.
For parents with multiple devices to monitor, Kaspersky Safe Kids' premium option is the most affordable. and it's free version also includes web monitoring, time limits and app management.
Not for:
iOS users
8. Screen Time Parental Control
Supported OS ( iPhone, iPad, iPod touch, Android and Kindle Fire.)
Price: Free (In-app purchases start from $1.52 to $14.99 per item, Provides 14 day trial of Screen Time Premium)
Available on iTunes, Google Play, and Amazon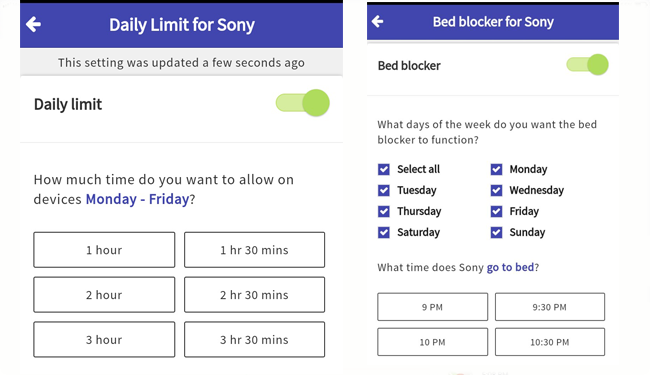 You probably conclude from its name, Screen Time is an app that focused on monitor and limit kids' screen time. It is one of the most popular apps to limit screen time on Android devices. it comes with powerful daily limit and screen time scheduling features, and it will show you a daily summary of the device usage statistics.
What makes it stand out is that it offers a reward system that reward additional screen time to kids when they fulfilled different tasks assigned by you. However, compared with other parental control app, their web block and app block feature are beyond their remit, particularly for iOS devices, you can only block some website, and there's no call or text monitoring at all.
Features included:
Set daily screen time limits for weekdays and weekends.
Homework & Tasks: Let you set a task for kids to complete and when task complete you can reward additional screen time.
Set specific time to block internet such as sleep time and homework time.
Instant Pause: Instantly pause Kids' device any time you need.
Free Play: lets you override settings temporarily.
Approve Apps: Approve or block anytime kids try to download a new app.
Track app usage and show you the report. (Android Only)
Track web visiting history and web searching terms. (Android Only)
Web Filtering: Block categories of sites and specific URL's. (Android Only)
Location Tracking: Track kids' location at the push of a button. (Android Only)
Geo-Fencing: Set the safe location and get an alert when kids' arrive or leaves the specified location. (Android Only)
Send web and app daily summary reports by email.
Give guardians and other carers access to manage the screen time settings.
Requires a password to uninstall the app, which prevents kids from uninstalling Screen Time.
Pros:
Provide free version and a 14 days free trial period.
Supports an unlimited number of devices.
Powerful Screentime limit feature
Instantly pause Kids' device at any time
Tasks and reward feature
Cons:
Web filtering is limited
No text or call monitoring
Can't block app for iOS devices
Can't set individual daily screentime limits
Limited functionality on iOS
Best for:
For basic app blocking and time controls, it's a solid option.
Not for:
Screen Time drops certain features entirely for iOS, including app management and web filtering.
9. FamiSafe - Parental Control
Works on Android and iOS
FamiSafe offers 3-day free trial through Google Play and provides three subscription-based models:
Monthly: US $9.99.
Quarterly: US $19.99.
Yearly: US $59.99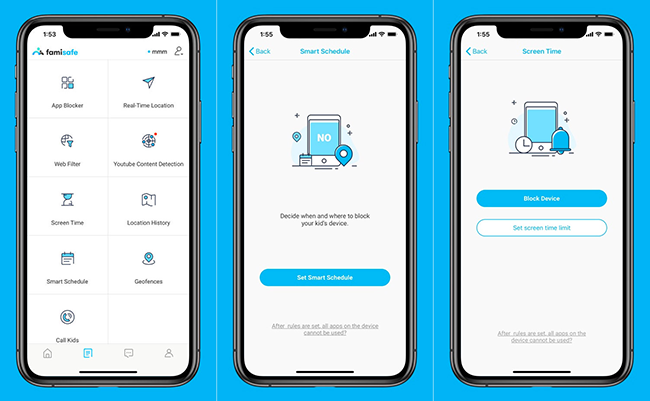 Famisafe is a relatively new parental control app that can help you manage kids' device use and kids' location. It works on both iOS and Android, you can use it to block apps and website, also, it provides a dashboard for you to monitor kids' phone location, app usage, website visiting history and limit screen time. It comes with a special cyberbullying prevention feature which detects text messages kids received and check for potentially dangerous text messages.
Features included:
Detect offensive words in kids' SMS, WhatsApp, Messenger and send an alert for suspicious text.
Remote control function
Checking photos on devices, send you alert on suspicious photos.
Track Real-time Location: see kids' location in real time and monitor kids' location history.
Supports Geofencing: Set safe zones in the app ranging from 100m to 1000m and send you alerts when kid enters or leaves geo-fences.
Block Apps: limit app usage during study, dinner time or sleep time.
Monitor App Usage: Monitor kids' app usage on phones and send you a report.
Web Content Filtering: Have a database for you to pre-block gambling, violence and porn websites.
Screen Time Tracking: Send you a report on kids' online activity.
Set Screen Time Limit for bedtime, study time, family time, etc.
Pros:
Geo-fencing feature.
Monitor devices with no number limit.
Easy to use.
Disadvantages:
Comes only with a 3 day free trial period.
Existing geofence in time setting can't change.
Web filter function only block content in browsers
Limited features for iOS version.
Can't monitor texts or social media apps.
Best for:
For parents who want to block certain app and get notified for suspicious messages.
Not for:
For ios users, for parents who need strong web filtering function.
10. Kidslox Parental Control
Kidslox parental control app offers a 7-day free trial when you sign up for a recurring subscription to access all our Basic or Premium features. When the trial is over, the subscription automatically renews for $3.99 (Basic) or $5.99 (Premium) per month (or $39.99 / $59.99 per year)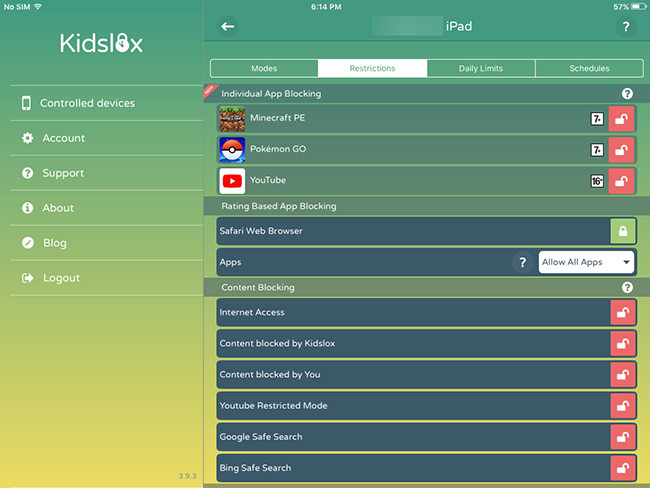 Recommended by many Parenting Experts, Kidslox Parental Control is the app that lets you block apps, the Internet, monitor phone usage and filter web content. It has a free version and can control phones, tablets and other devices all from one account with no device limit. What makes this app different is that it has a 3-WAY-TOGGLE feature which allows you to choose between "Parent Mode," "Child Mode" and "Lockdown Mode".
Features included:
Lock apps: block individual apps on both Android and iOS.
Three-way-toggle: lockdown mode - all apps are blocked, child mode - manually set up the restrictions and parent mode - no limit, everything is available.
Daily limits: Set and schedule the daily screen time limit for homework time, bedtime, etc.
Location tracking: See the location of kid in realtime on a map. and keep track of their location history.
Geo-fencing: Set safe zones and receive notifications when kids leave or arrive at the zones.
Content blocking: Block adult or inappropriate website when kids surfing online.
Block in-app purchases.
Turn on Google SafeSearch and Youtube restricted mode.
Fingerprint id: Set password for apps that you dont want kid to use but you need use at some time.
Get weekly report on app download and daily usage.
Pros:
Easy to use.
Handy three-way toggle and Fingerprint id feature.
Manage all device in one account.
No device limit
Cons:
No call monitoring and blocking.
No social media tracking.
Summary: Best free apps to limit screen time
Use the free apps to limit screen time in this list to schedule a screen-time limit, block apps and website, so as to help children form good online habits now. You can have a talk with your kids and even sign an agreement with them to start limit screen time on the whole family. So, let's summarize and take a look at the screen time limit app that best suits your needs.
What apps is the best to limit screen time for Apple users?
Apple Screen time, Net Nanny
What apps is the best to limit screen time for Android users?
OurPact, Qustodio, Kidslox parental control
What apps is the best to limit screen time while at the same time form a good habit for kids?
Kaspersky Safe Kids, Screen Time Parental Control, Unglue Parental control app
What apps is the best for geofencing kids?
FamiSafe - Parental Control, OurPact
What apps is the best for multi-platform users?
Qustodio Parental Control, Norton Family parental control
What apps is the best for Content blocking?
Qustodio Parental Control, Net Nanny Parental Control
What apps is the best for Social media monitoring?
Qustodio Parental Control, Norton Family parental control

Do you use Screen Time on a regular basis, whether it's for yourself or your kids? Which apps are you using? Please tell us in the comment below.