In the past few years, Korean wave has swept across Asia, even the world. The performance of Korean dramas (popularly known as K-drama) is quite prominent. It is widely admired and has been deeply taken up people's hearts. Many of them are available through streaming services that offer various language subtitles, like English sub and Chinese sub.
For overseas audiences, there is no way to watch the newest Korean Drama via traditional television channels. In this post, we will recommend 20 best Kdrama websites for free to watch Korean Drama online.
| | Kdrama Website | Logo | Best for | My rate |
| --- | --- | --- | --- | --- |
| 1 | YouTube | | Biggest media websites that contains all kinds of resources | 4.7 |
| 2 | Viki | | View and stream the drama with customization features | 4.2 |
| 3 | Myasiantv | | A free site that contains drama, shows, and movies from Asian countries | 4.7 |
| 4 | DramaCool | | An open-source sites features on high quality videos | 4.7 |
| 5 | Netflix | | Enjoy newly released Kdramas with high quality | 4.8 |
| 6 | AsianCrush | | Good for people who long for old Korean dramas | 4.4 |
| 7 | MyDramaList | | More suitable for people masted in software or computer | 4.6 |
| 8 | Kshow123 | | Recommend to Korean TV show lovers | 4.6 |
| 9 | Kocowa | | Many high-quality Kdrama sources for people from North and South America | 4.6 |
| 10 | KissAsian | | A free site categorized all resources from A to Z | 4.7 |
| 11 | GoodDrama | | An open-source site provides newly released Korean dramas | 4.5 |
| 12 | DramaGo | | An open-source site provides newly released Korean dramas | 4.5 |
| 13 | Hulu | | A comprehensive website collects classic Kdramas in high quality | 4.6 |
| 14 | HanCinema | | An special Korean drama website with all types of Korean videos | 4.6 |
| 15 | YesMovies | | A free site categorized all resources in a clear way | 4.7 |
| 16 | Viu | | Provide Korean dramas, movies and other Asian programs | 4.4 |
| 17 | Kdramahood | | An open-source Kdrama website offer numerous old and newest Korean dramas and movies | 4.8 |
| 18 | OnDemandKorea | | One of the old Korean websites that offers dramas with 4 languages | 4.6 |
| 19 | ViewAsianTV | | Contain all Asian programs and archive them clearly | 4.6 |
| 20 | Estrenos Doramas | | Specially designed for Kdrama lovers in Spain | 4.5 |
1. YouTube
As the largest video library across the world, YouTube covers dramas from numerous countries including Korea. It allows people to watch Kdrama online with English subtitles. Besides, it delivers funny videos, skits, movies, self-help, etc. Some of them are free while others require you to pay.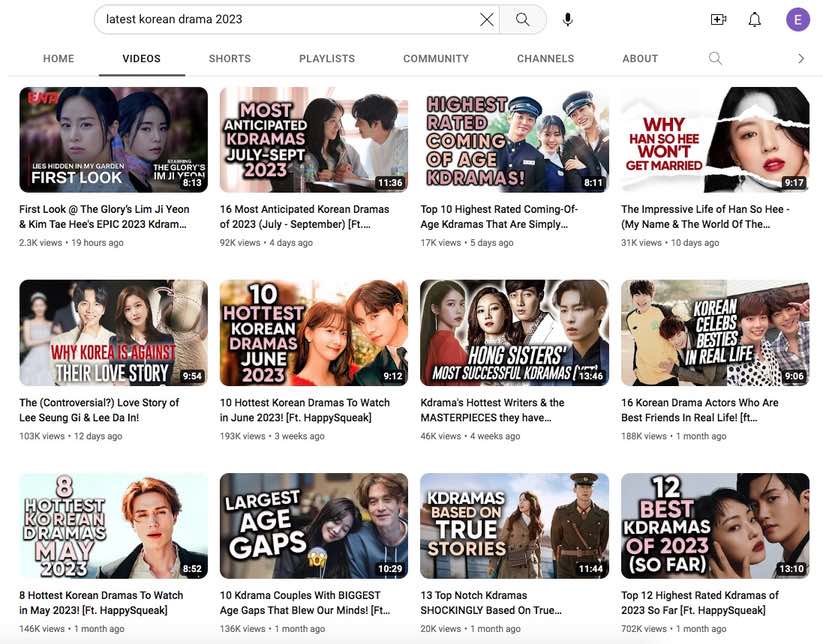 2. Viki
It's a global TV site where Kdrama lovers can watch Korean dramas online in English sub. You can also discover, enjoy and subtitle global prime time shows and movies in 200+ languages here. Unlike others, it comes with an online editing feature to customize and stream the drama as you like. But, the current Viki site provides a few sources and always pops up a windows to input email, which is really annoying.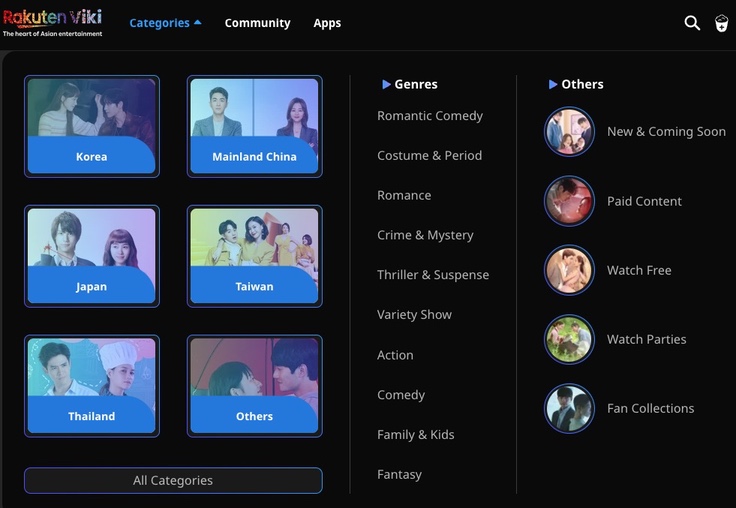 3. Myasiantv
Myasiantv is one of superior websites to watch Kdrama online that provides you with tons of Korean dramas. It also boasts plenty of movies, series, and shows from China, Japan, Thailand, etc. You can quickly search for the title, or filter out the drama by genre, country, and year. It is a totally free Kdrama website that can play dramas in 1080p resolution.
But, when you click to play the video, it always takes you to another page. Don't worry about it, just ignore it and go back to the previous page to re-click to play the video until it is successful.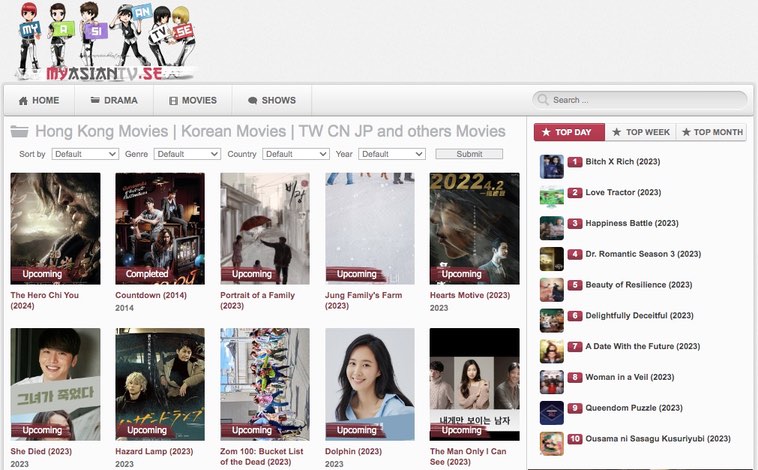 4. DramaCool
A website for watching tons of dramas, movies, KShow from Korean, Japan and other Asia countries in high quality for free. Almost every drama comes with English subtitles. If you are Kdrama lover, don't miss this great site to watch Kdrama because it is the fastest site to update all sources under our experience. And the video quality is noticeably high. But, it doesn't respond to the download operation.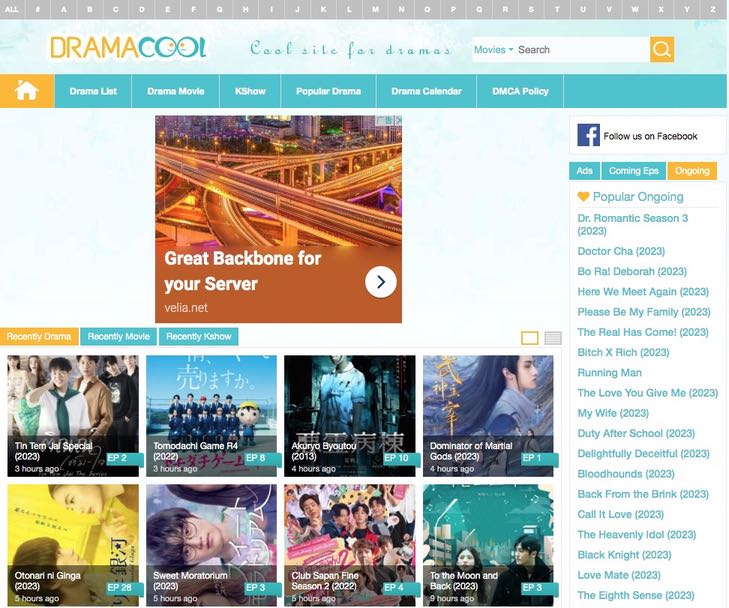 5. Netflix
Netflix is the world's leading subscription service that lets you watch TV episodes and movies online. It allows you to enjoy the newest released Korean dramas without lagging. Plus, it has a limited yet solid selection of authentic Korean dramas with English sub.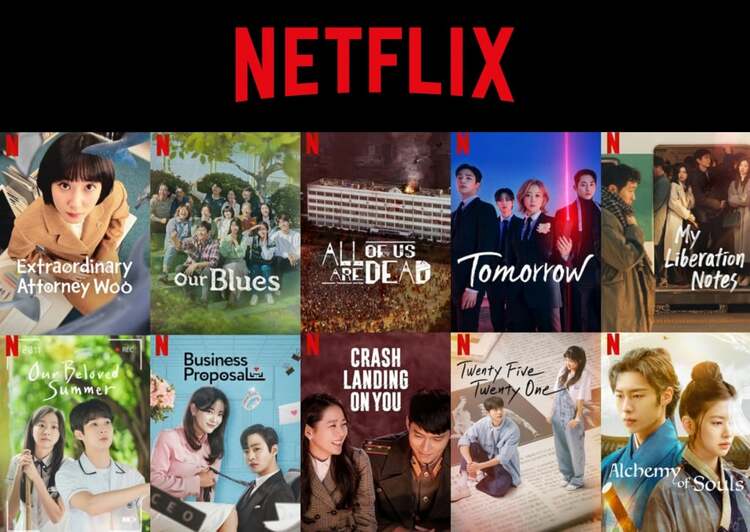 6. AsianCrush
AsianCrush is the chief digital website for your daily fix of TV, Asian cinema, music & web content. You won't miss the best free Korean drama here. It allows you to watch Korean dramas online for free. But if you want to watch more dramas in higher quality, you need to upgrade to a paid version.
And it has some undeniable problems, for example, sometimes it loaded the video slowly, and it is not available on some regions. In these cases, it is wise for you to use another media website.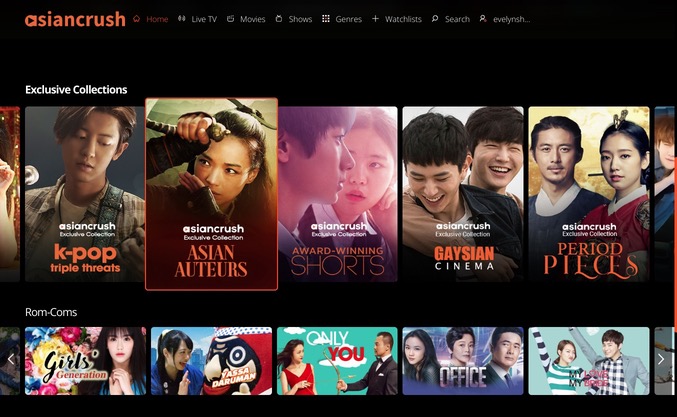 7. MyDramaList
MyDramaList, the largest social network for Asian culture, offers a great number of movies, shows and new dramas online for Asian drama/movie fans. Kdramas are also included. For those people who don't know watch which Korean drama, this Kdrama site is a great option because it displays the lists contained top weekly airing shows and the most popular show, allowing people to find their favorite one.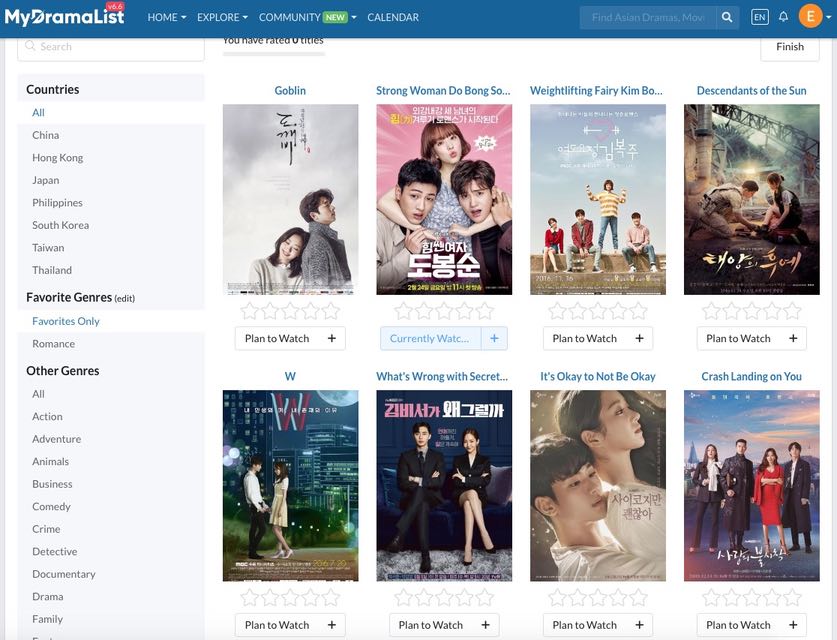 8. Kshow123
Kshow123 is another outstanding site for you to watch Korean shows online. As the name shows, it lists all shows that releases in Korea from 240p to 1080p with English subtitles, including the newest ones. Like common websites, it always comes to an unrelated page, but it doesn't affect the playback. If you are a fan of Korean shows, don't miss this site.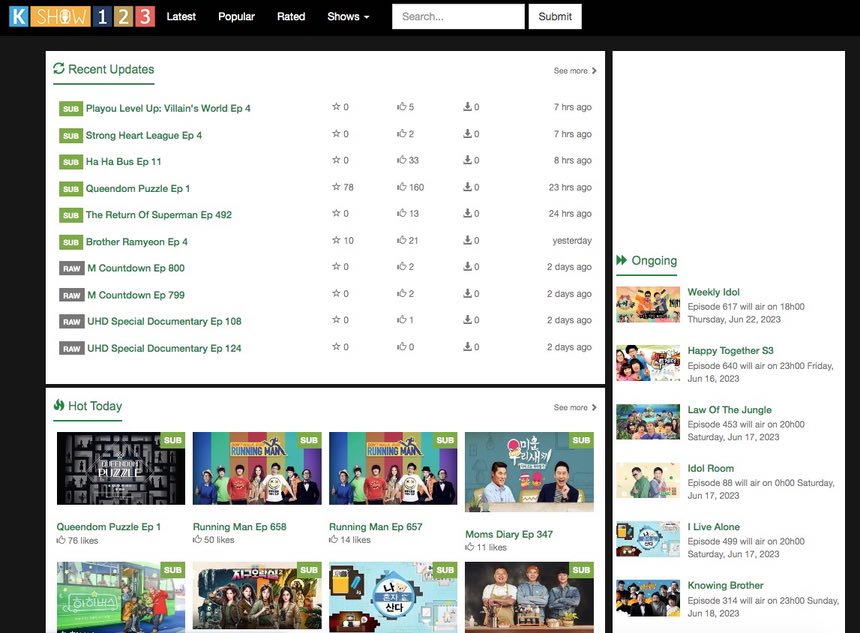 9. Kocowa
Kocowa is a streaming service, launched by a partnership of three primary TV networks in South Korea, including KBS, SBS, and MBC. Only people in North and South America can watch favorite Kdrama, variety shows, K-Pop shows on this website. And it provides 1080p resolution for people to watch Korean drama online with subtitles Although it is a paid site, it also offers some free content for the public.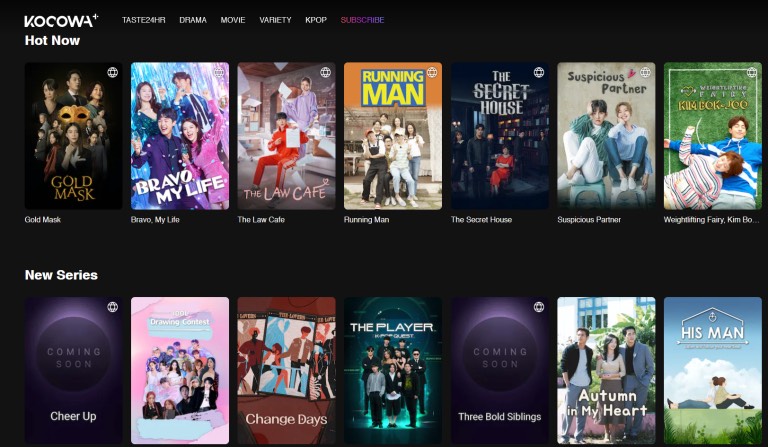 10. KissAsian
Korean dramas in KissAsian are divided into different genres such as action, crime, friendship, etc. You can free download and get update about the latest drama from Korea, China, Taiwan and Hong Kong with subtitles in English. It is pretty friendly for novices because of the intuitive interface, allowing users to easily find any type of source with the help of straightforward navigation menu, such as drama, movies, KShow. Ignore it if you are looking for Korean movies.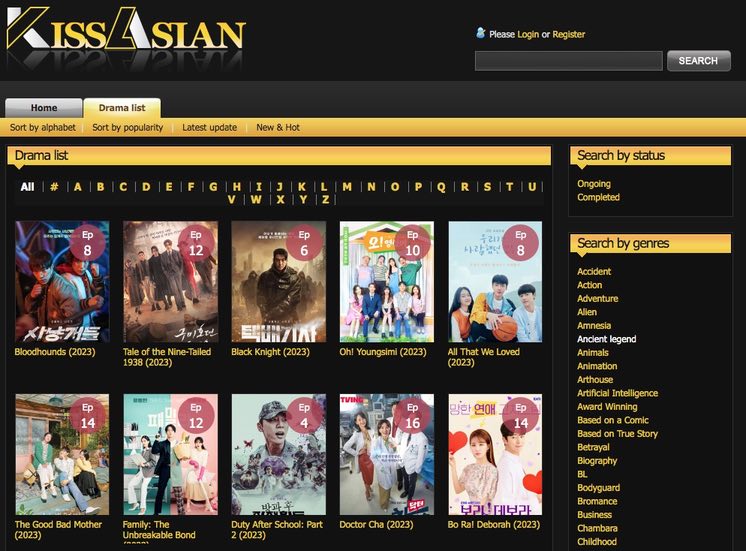 11. GoodDrama
It is an excellent Kdrama site that shows a large array of Korean dramas as well as the updated dramas from Japan/China etc. But this site doesn't categorize all sources by different countries or genres, you can only click the tag on the top menu or search the name the drama to find the desired drama. But, it is a little annoying because it moves to an unhealthy page frequently.
But this site is still worth a try because it helps people watch Korean dramas in 1080p with English subtitles for free. What's more, it comes with a download button for you to download online Kdrama for free.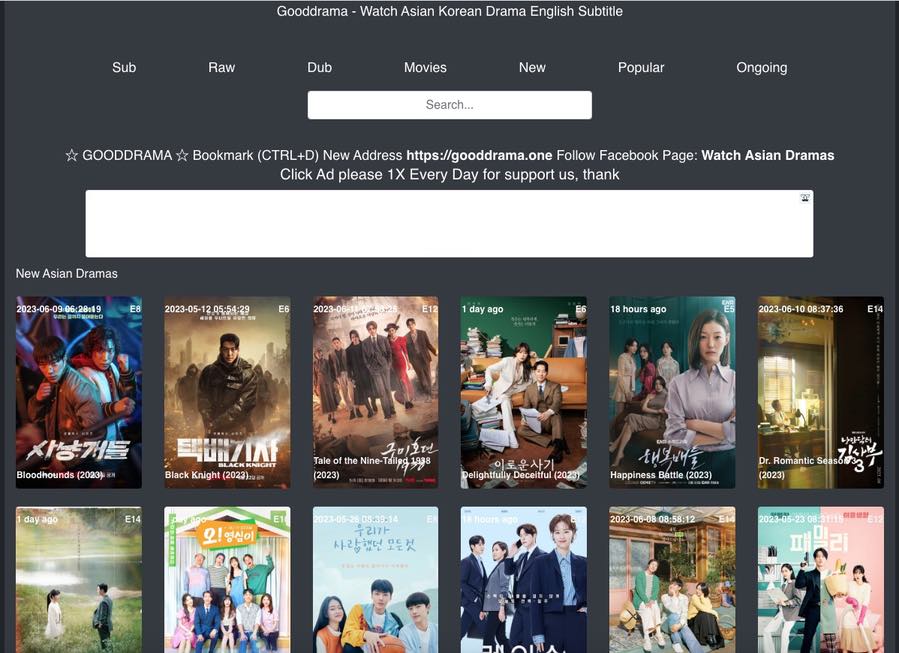 12. DramaGo
As same as other Korean drama websites, DramaGo is divided into many categories. They assist you to navigate easily through the whole site. In that way, you can find any Korean drama that features an interesting storyline. Recently Dramago.com has stopped working and is replaced by Dramago.one. The new site is similar to Goodrama in configuration and function. And it always pops up unhealthy ads after each click either.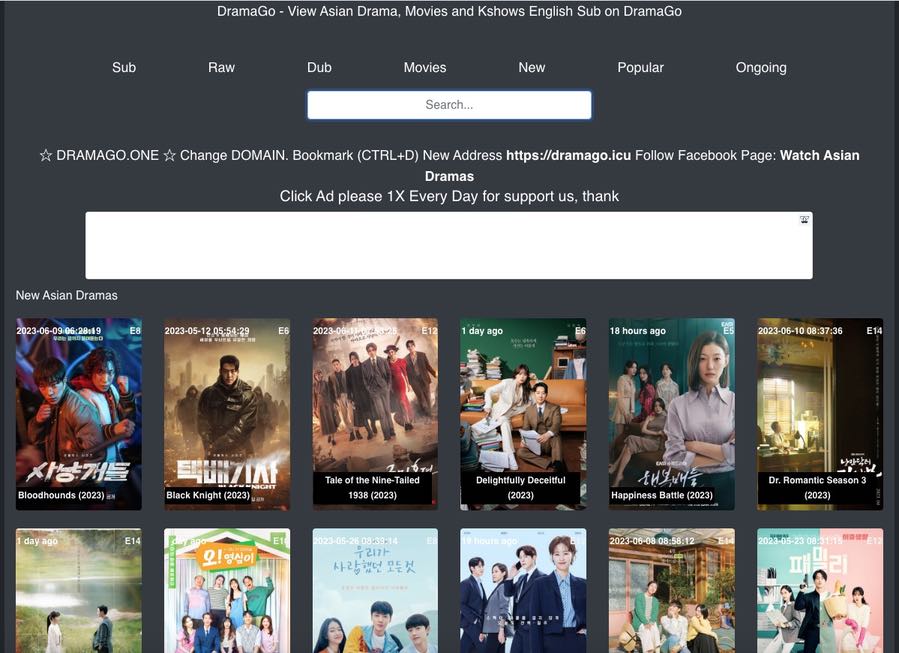 13. Hulu
Hulu is an excellent website to watch Korean drama online through a subscription way. Unlike other specific Kdrama websites, Hulu not allows you to enjoy high quality Korean dramas or movies, but also offers popular dramas from other counties. Therefore, Hulu doesn't contain all Korean drams. But, every Korean drama included in Hulu is pretty classical and earns high popularity.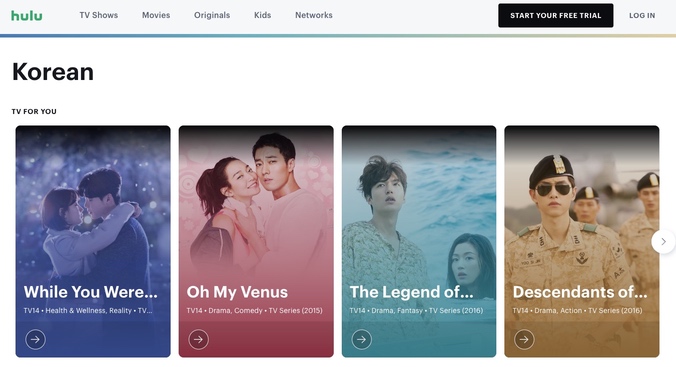 14. HanCinema
HanCinema is an independent Korean drama and movie database, including the latest ones but with a delay. This Kdrame site offers you numerous Korean television dramas, movies, actors, and other related information for free online playback.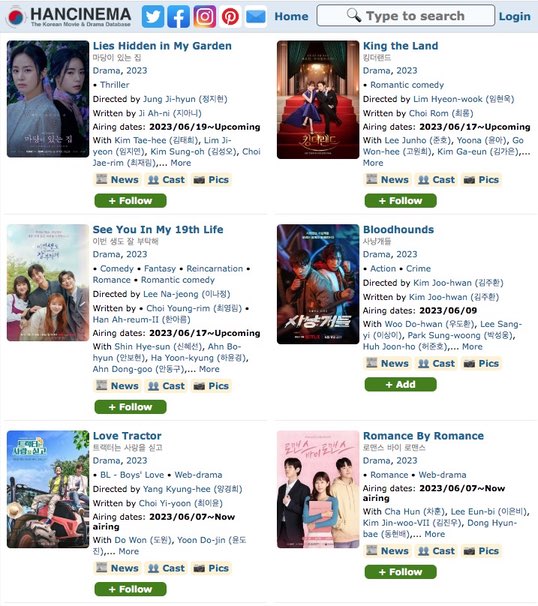 15. YesMovies
This online sites covers various dramas, movies and TV shows from 37 counties in crystal high quality. And it designs with a filtering feature that allows you to search for wanted dramas through genre, country, year, quality, etc, bringing a great convenience for you to to watch Korean drama online for free.
Moreover, it is boon for Kdrama fans who don't know Korean, which can not only allow you to watch Kdrama with English subtitles, but also offers other 30+ languages, such as Chinese, French, Arabic, German, etc. But, a small downside of it is that it doesn't update with all newest dramas in time.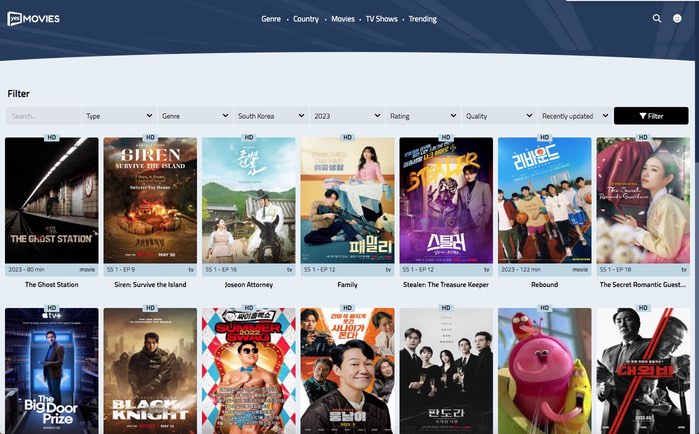 16. Viu
Viu is an over-the-top video service operated by PCCW Media. It shows you the new premium Korean dramas, variety shows, and other Asian programs without any payment. However, it may be a little bit difficult for people to find a certain drama as there is no navigation menu or search bar to see on the interface.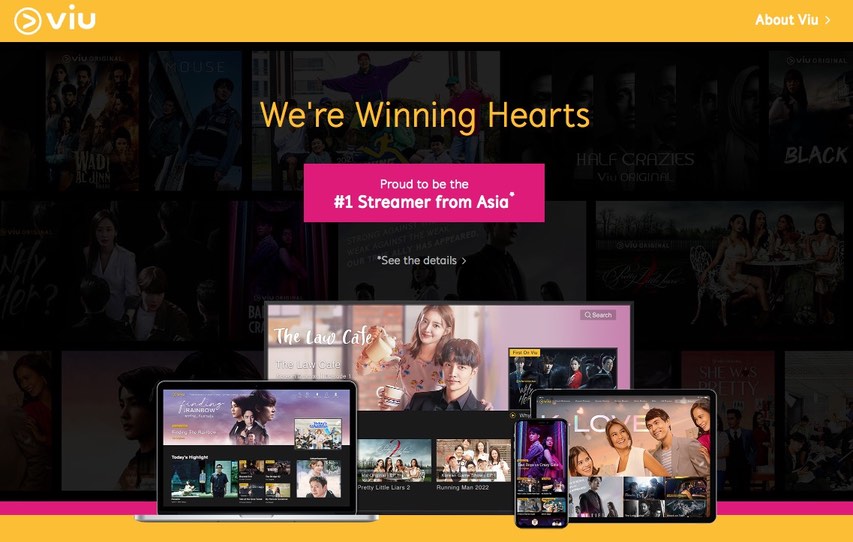 17. Kdramahood
The name says everything about this service. KdramaHood is one of the best Kdrama streaming sites that deliver drama released from 2010 to the latest. It's divided into 3 categories - drama, movies, and episodes, all from South Korea. You are also allowed to look for dramas by selecting the genres and release year. This excellent Kdrama site opens the drama in clear resolution by default and allows people to download the high-quality video. Furthermore, it creates a comment function below the video, allowing people to make communication about the drama.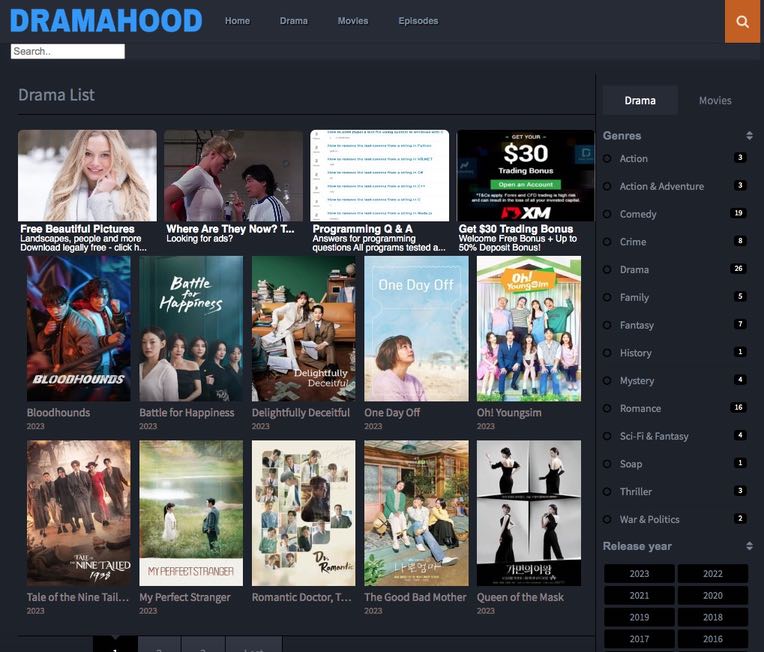 18. OnDemandKorea
OnDemandKorea, aged over 10 years, is an old website to watch Kdrama, reality shows, news, sports videos, educational videos, religious videos, etc. with English, Korean or Chinese subtitles. However, some videos don't have relevant subtitles. Besides, it offers both free and paid content for the users, but the videos from this site are only available in South or North America. Another disadvantage of it is that it doesn't offer the newest drama.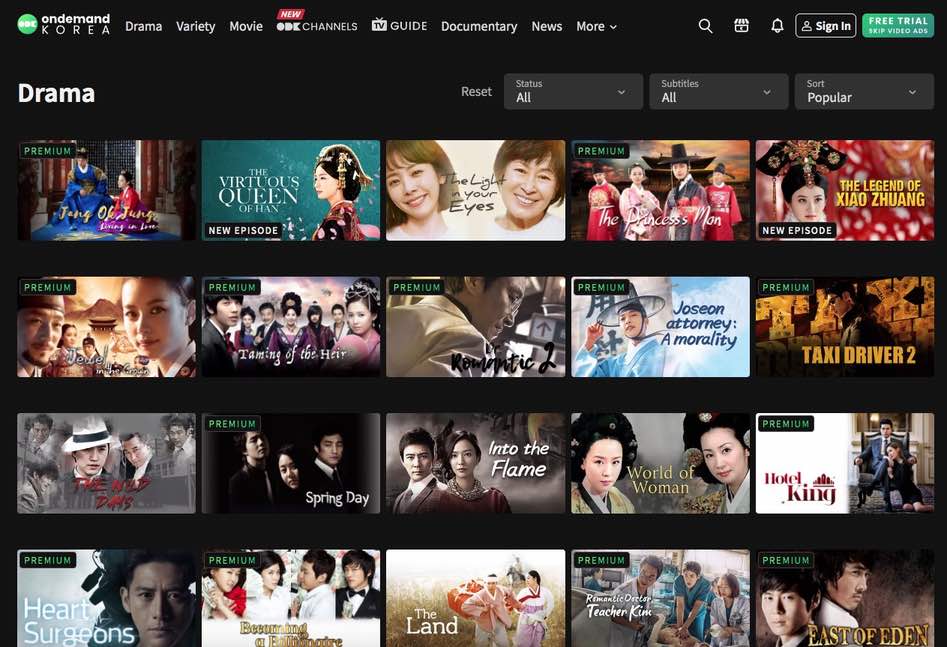 19. ViewAsianTV
The name manifests that it contains many videos, movies, etc. from every country in Asia. Without registration, people can easily enjoy massive Korean drama resources including the latest ones via ViewAsian TV for free. With a straightforward layout, this Kdrama site offers much convenience for users to find their desired Kdrama by selecting genre, country and year. Besides, this powerful online site allows people to watch Korean dramas with English subtitles, which is a pretty considerate service for those who don't know Korean.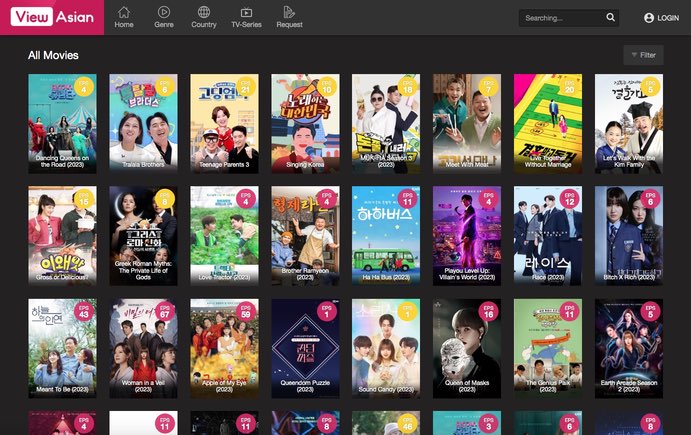 20. Estrenos Doramas
Estrenos Doramas is mainly used by Spanish to watch Korean dramas online. It possesses the advantages that other Kdrama sites have such as affluent Kdrama resources, intuitive layout, supporting subtitles, fast loading of videos and so on. But the biggest problem of it is that it pops up some sleazy ads from time to time, which is really annoying. Besides, this site doesn't offer a built-in download function for people to enjoy them offline.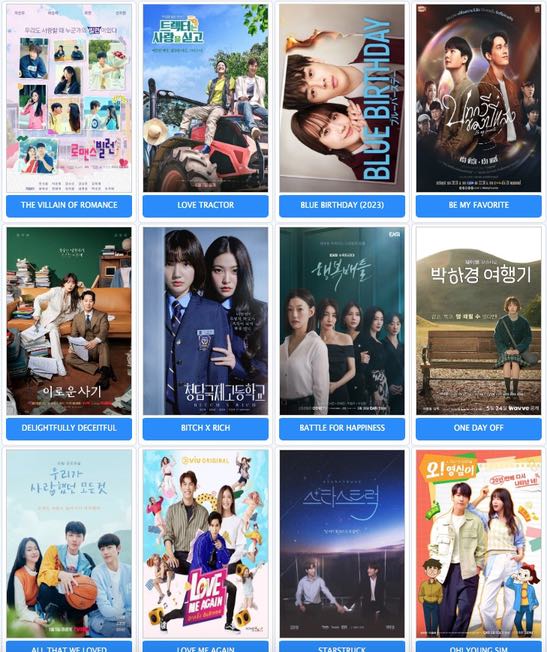 After having a comprehensive understanding about these sites, we can see that quite a few sites have limited regional restrictions, which needs a reliable VPN to access them. But what do you do when your VPN is not working? Here, we list a few suggestions below that may help you.
Check you VPN and update to its latest version.
Delete your browser cookies to avoid being recognized your previous IP address.
Change a different line on your VPN server.
Re-install your VPN software.
Besides, when you are watching Korean drama online, here are some warm tips for you to experience a great enjoyment with your drama:
If you're lost about where to begin your search for a new Kdrama, look to your favorite actors or actresses for inspiration.
Check out your Internet connection before watching Korean drama online.
If you desire to learn Korean from the drama, watch a scene with both Korean and English subtitles.
Use headphones and cut off the noise.
Always keep a detailed list and watching the schedule of dramas. Then you will never get into hot water that no TV drama you can binge.
However, it is inevitable to encounter some unhappy issues while watching Korean drama online, such as annoying ads popping up from time to time, easily getting stuck with the poor Internet support, etc.
Binge Watching Korean Drama Offline No Longer Requires Internet Access
Solid Internet connections aren't available everywhere. That the wisest way to entertain yourself or kill spare time on an airplane, on the subway is to download your favorite Korean dramas ahead of time, so that you can watch them on portable devices like iPad or iPhone without ads.
Cisdem Video Converter, an uncluttered and useful online video downloader, is highly recommended to you. With this software, you can easily free download 4K & HD Korean dramas, movies, including attaining the latest Kdramas, and shows from 1000+ video streaming websites, including YouTube, Facebook, Dailymotion, Hulu, Vlive, VEVO, Vimeo, etc.
Besides, Cisdem Video Converter provides great convenience for you to download Korean dramas with embedded subtitles. If you don't understand Korean, you are also allowed to add external subtitles in other languages such as English, Chinese or other preferred languages.
Steps to Download Korean Drama for Offline Viewing:
Step 1

Launch Cisdem Video Converter
Download and install the Korean drama downloader on your Mac or Windows PC.
After you install it, run the software. You will see its "convert" interface. Click

to switch to the "download" interface.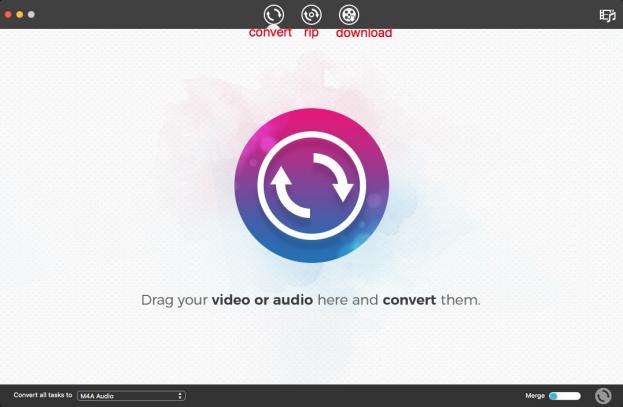 Navigate to a video hosting platform e.g. YouTube. Find the Korean drama that you want to watch offline, and copy its link.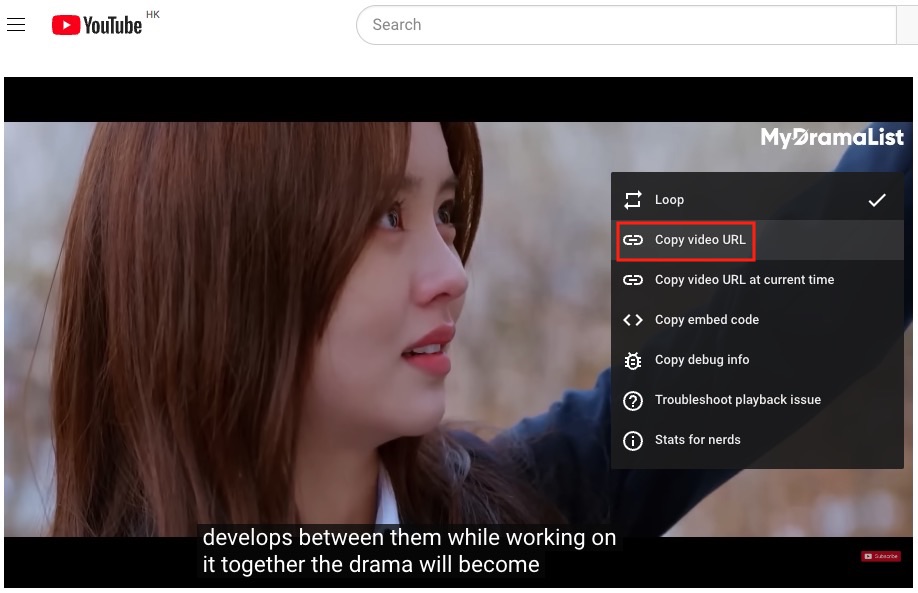 Go back to Cisdem Video Converter. Paste the copied link to the bottom download box.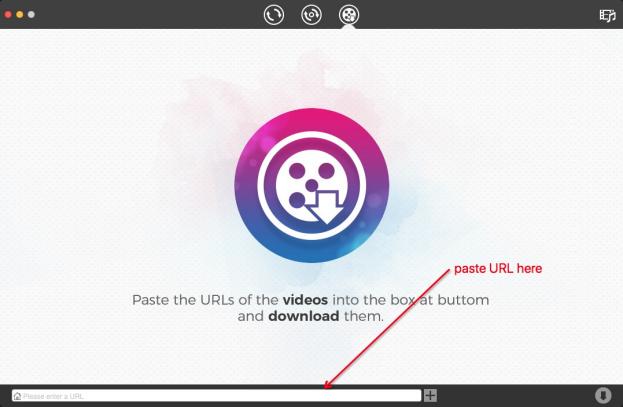 Note: You can click "File > Imput URLs..."on the top bar to add multiple Kdrama links to the list and download them in batches.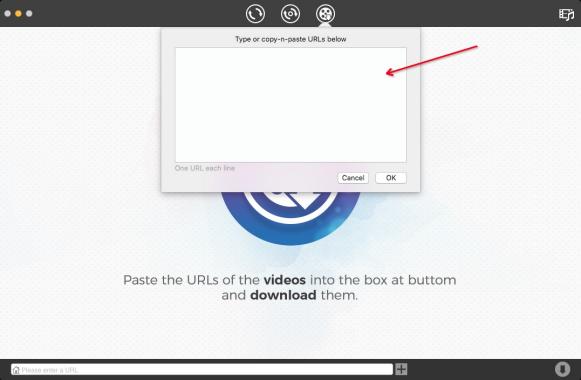 Step 4

Download Korean Drama with Subtitles
Once all videos are added, click

button to on the right to start the download process. After finishing, you can watch Korean dramas without ads.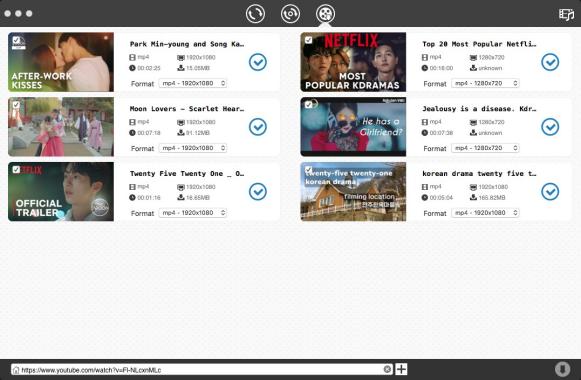 Step 5

Convert Korean Drama to Other Formats (Optional)
Once the Kdramas have been downloaded, hit

button to access the downloaded files. Drag all of them to the "convert" interface and select a target format for each downloaded Kdrama.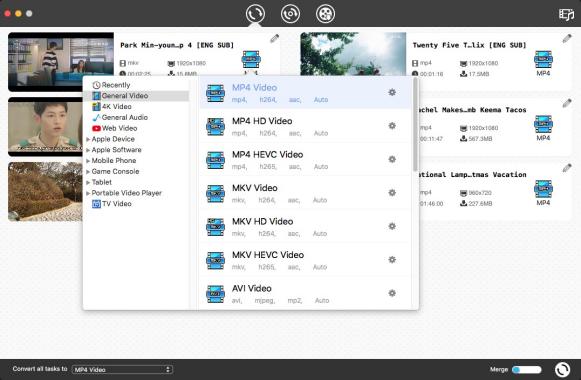 Step 6

Add External Subtitles (Optional)
If you are a Korean learner or a fervent fan of Korean dramas who wants to add your familiar language for a better understanding, click the

icon, navigate to "Subtitles" tab, and click the drop-down icon of the "external subtitles" button to add a language file you have on your local drive.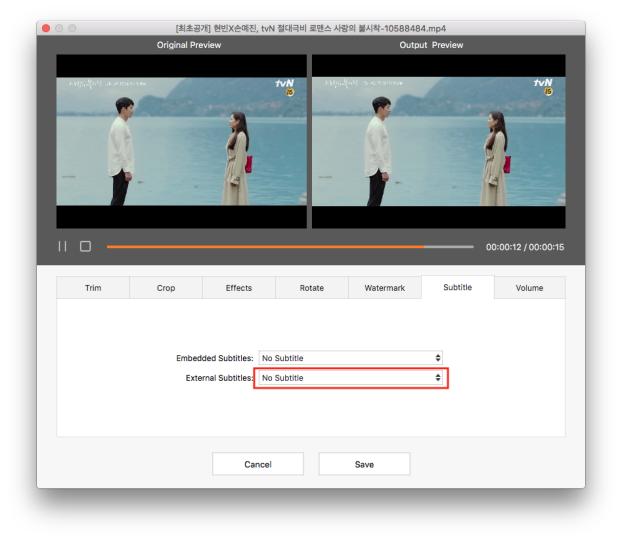 Classical Korean Dramas You Should Never Miss
Title: Secret Garden (2010~2011)
Number of episodes: 20
Native title: 시크릿 가든
Director: Shin Woo Chul
Cast: Ji-won Ha, Hyun Bin, Sang-Hyun Yoon
Genres: Comedy, Fantasy, melodrama, Romance
Awards: Baeksang Arts Award Grand Prize in TV, MORE
Title​: My Love From The Star (2013~2014)
Number of episodes: 21
Native title: 별에서 온 그대
Director: Jang Tae-yoo
Cast: un Ji-hyun, Kim Soo-hyun, Park Hae-jin
Genres: Romance Film, Comedy, Fantasy, Drama, Science Fiction
Title: Descendants of the Sun (2016)
Number of episodes: 16 + 3 special episodes
Native title: 태양의 후예
Director: Lee Eung-bok, Baek Sang-hoon
Cast: Song Joong-ki, Song Hye-kyo, Jin Goo, Kim Ji-won
Genres: Melodrama, Romance
Title​: Guardian: The Lonely and Great God (2016~2017)
Number of episodes: 16 + 3 special episodes
Native title: 쓸쓸하고 찬란하神 – 도깨비
Director: Lee Eung-bok, Kwon Hyuk-chan
Cast: Gong Yoo, Kim Go-eun, Lee Dong-wook
Genres: Fantasy, Romance Film, Drama
Title: Hotel Del Luna (2019)
Number of episodes: 16
Native title:호텔 델루나
Director: Oh Choong-hwan
Cast: IU, Yeo Jin-goo, Sulli, Lee Do Hyun
Genres: Romantic comedy, Dark fantasy
​Title: True Beauty (2020)
Number of episodes: 16
Native title: 여신강림
Director: Kim Sang Hyub
Cast: Hwang In Yeop, Moon Ga-young, Cha Eun-woo
Genres: Romance, Slice of life, Comedy
Title: Hospital Playlist (2020&2021)
Number of episodes: 12+12 (2 seasons)
Native title: 슬기로운 의사생활
Director: Shin Won-ho
Cast: Jo Jung-suk, Yoo Yeon-seok, Jung Kyung-ho, Kim Dae-myung, Jeon Mi-do
Genres: Comedy, Drama, Friendship, Life, Medical
Title: Extraordinary Attorney Woo (2022)
Number of episodes: 16
Native title: 이상한 변호사 우영우
Director: Yoo In Shik
Cast: Park Eun Bin, Kang Tae Oh, Kang Ki Young
Genres: Law, Romance, Life, Drama
Why Are Korean Drama so Popular?
There are miscellaneous factors consisting of a Kdrama trend. For example:
Attractive protagonists: The handsome actors and the beautiful actresses will be the highlights in a drama.
Fashionable dressing of characters: It is no doubt that most Kdramas show amazing taste in fashion. Therefore, some people like to imitate the dressing style in Kdrama to improve their fashion.
Prowess acting skills: There are some excellent actors who rely on their prowess acting skills leaving a deep impression on the audience and making a wonderful viewing experience to the audience.
A variety of themes: There are abundant of Kdrama themes. Some of them are novel and imaginative. Some of them are pertinent to reality, easily arousing audiences' resonance. Still others are dare to expose the evil in reality. Different themes attract different audiences.
That's All, Folks!
This article has introduced you with a handful of available Kdrama websites to watch Korean drama online for free, and the best way to download all Korean dramas offline, which allows you to enjoy high quality dramas without internet or region restriction. But keep in mind that it is illegal to make these downloaded media resources for commercial uses.