With easy access to computer and smart devices, children nowadays tend to spend lots of time online, which is beneficial of course. The internet can be their best tool to learn and know more about the world. However, at the same time, the overuse of computer and exposure to inappropriate websites or content can harm. This is one of the reasons why we need parental control software. In this article, you will find the best software for parental control on Mac. The featured parental control Mac software is excellent in terms of website filtering, app blocking as well as ease of use.
What Makes A Good Parental Control App?
Filter Website
Websites or pages contain gambling, adult and other inappropriate contents are within easy reach for all internet users. Kids should undoubtedly be kept away from them. Another type of websites are actually awesome rather than harmful, but they are so addictive that children are likely to spend loads of time on them. Some of the sites are Facebook, Reddit, etc. An excellent parental control app for Mac should do a good job of keeping children away from questionable content and limiting their access to websites they are addicted to.
Lock Apps
In addition to a browser, children may also spend a lot of time on Mac apps such as social media apps and game apps. Parental control Mac software should enable parents to block or limit app usage on Mac.
Ease of Use
A good Parental Control Mac app should be easy to install, set up and customize. Good software is supposed to make things easy.
Easy, instant access to inappropriate websites and overuse of computer can be harmful for children, both mentally and physically. Spending too much time viewing a screen can cause eye discomfort and poor eyesight. With Mac OS X parental control software, parents can help their children to use Mac properly and safely.
Best Parental Control Mac App
Cisdem AppCrypt can block websites and lock apps on Mac with high reliability and efficiency. Cisdem AppCrypt can block any website and lock any app on your Mac from unauthorized users and allows users to set block or lock session. Users can create one universal password to unblock websites and unlocked apps and set global shortcut keys to quickly hide or reveal main window. In addition, the app also keeps track of failed attempts with detailed reports. Let's see how it works.

Free Download
Download and install Cisdem AppCrypt which comes with a simple and very user-friendly interface. When you use this parental control Mac app for the first time, you will be asked to set a password which is used to access AppCrypt and to unblock blocked websites and Mac apps. Don't forget the password since you have no way to retrieve it once you forget.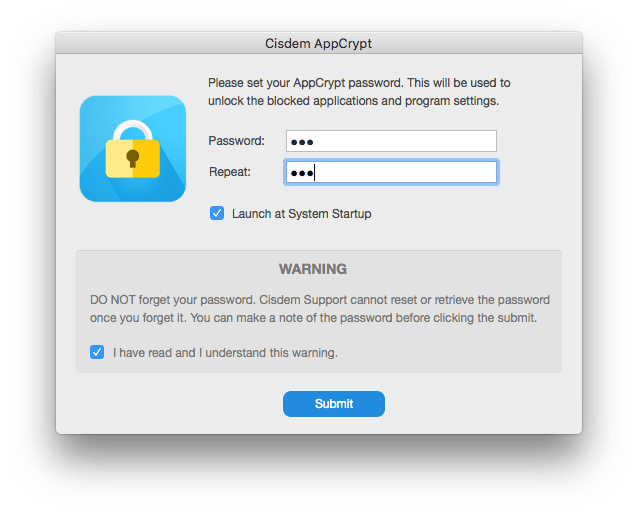 Lock Apps
In the main window, under the App Lock tab. Click the plus icon + add app(s) that you want to lock. Each time you try to open them, AppCrypt will ask you for the password.
If you don't want to block an app anymore, just select the app and press the delete key.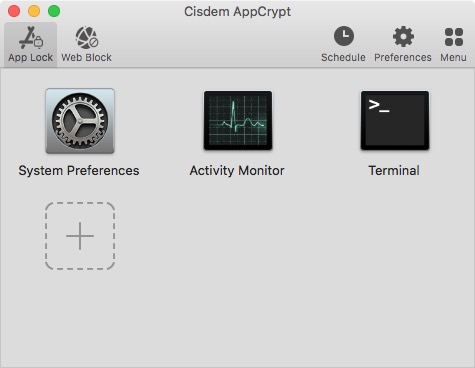 Here is how to lock a certain app for a specific period of time. Under the App Lock tab, select the app and click the clock icon that appears. Click the icon. Enable Custom Schedule. Then you can set the schedule as you like.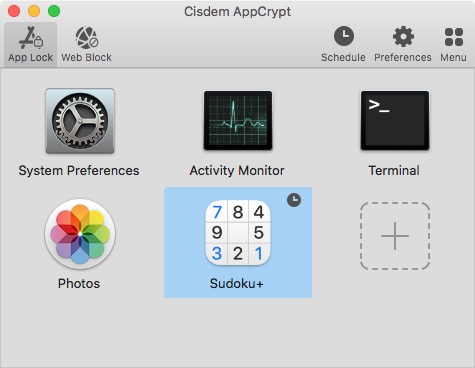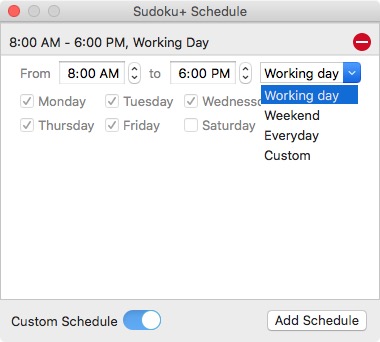 Block Websites
Here is how to use the parental control Mac app to block specific websites on Mac. Click Web Block in the main window. In the Web Block window that opens. Enter the URL of a site that you would like to block and click the Add button. You can continue adding more unwanted sites.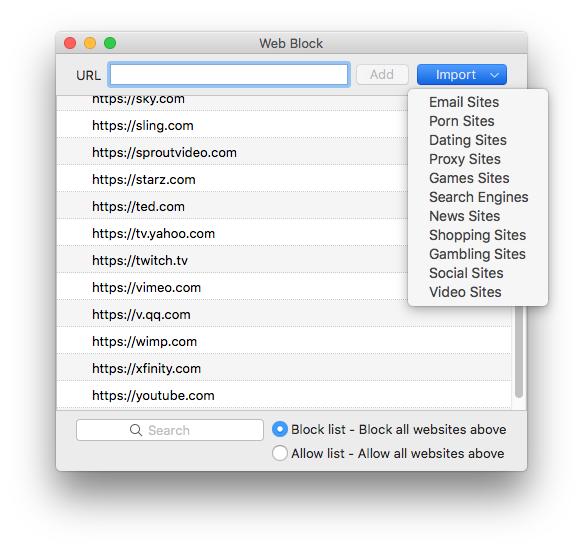 To unblock websites, just select them and remove them from the Block list.
Other Parental Control Mac Software
ContentBarrier
ContentBarrier can block specific websites on Mac so that parents can control over what their children can read and watch online. It allows users to block websites by various categories such as gambling, drugs, racism, etc. However, the app doesn't allow users to edit the keywords and websites of each category. Only the developer of the software can update the lists. Unlike Cisdem AppCrypt which allows users to make specific time schedule for different websites, this tool only limits the overall internet time. Using this Mac OS X parental control tool, you can control how long your children can spend online on certain days.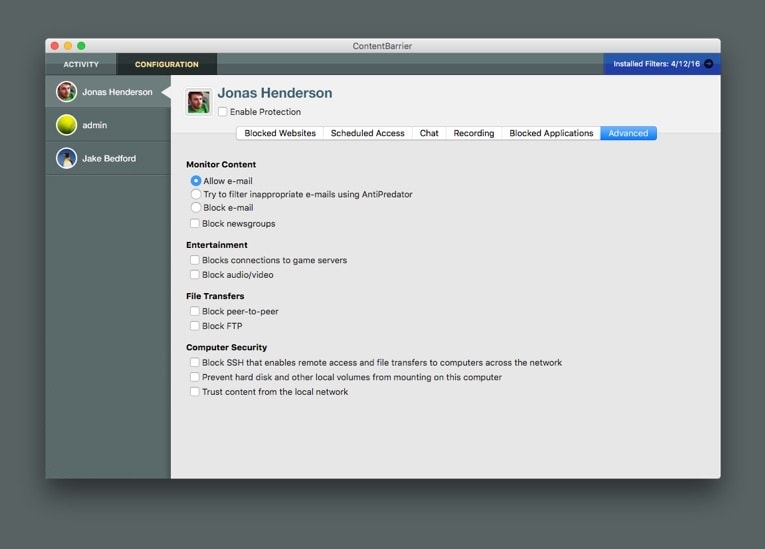 K9 Web Protection
This parental control Mac app can prevent users from visiting certain websites that contain unwanted content. Breaking down websites into more than 60 categories, the app commonly blocks websites falling into categories like adult, drugs, gambling, etc. Originally created to prevent employees from surfing the internet at work, this app can do a good job keeping children away from the bad stuff online.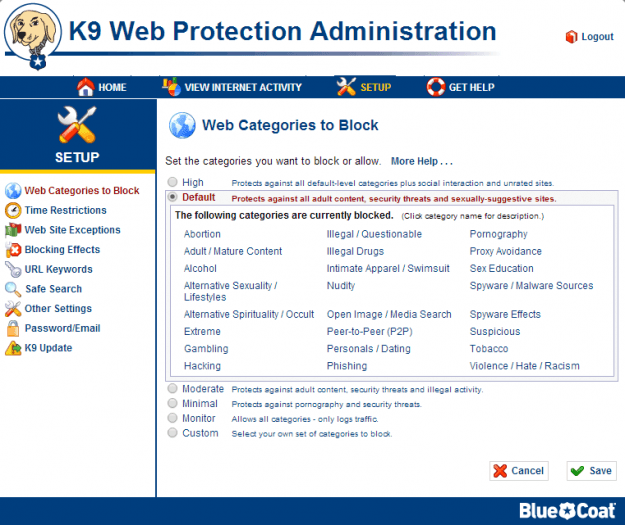 Conclusion
The above mentioned parental control Mac software apps are excellent in content filtering or app managing or both. Cisdem AppCrypt is a great choice for website filtering and app locking on Mac. It's easy to use and customize with great flexibility. Instead of limiting your children's internet time in general, you can use this tool to prevent them from accessing certain websites and apps between specific time period. For example, you can limit their game time to one hour but allow them to visit educational websites for two hours. Welcome to share your thoughts and opinions on this article in the comment section below.

Rosa has worked in Mac software industry for more than eight years. She believes that the purpose of software is to make life better and work more productively. In addition to writing, Rosa is also an avid runner.