With video DVD making software, you can burn home videos into DVDs and backup your precious pastime forever. There is much DVD creation software for Windows and Mac in the application market. What's the best option? This article will introduce the best DVD creator software for Windows or Mac to help you finish your DVD burning tasks.
#1 Cisdem DVD Burner
System requirement: macOS 10.12 or later, M1 machines; Windows 10, Windows 11
Cisdem DVD Burner is a perfect alternative to iDVD. It's more powerful than iDVD but much easier to master than iDVD. It comes with a pretty and user-friendly interface, and you can handle video DVDs with fast speed. It lets you burn any format of video files into the disc., no matter captured with your iPhone, iPad, camcorder, or downloaded from online streaming sites.
You can also edit videos for better fine-tune (cropping, rotating, trimming, adjusting brightness and contrast, and adding special effects, watermarks, and subtitles). Additionally, Cisdem's best DVD creation software has a feature to make a DVD menu. You have the ability to design the menu as you like, like choosing free yet gorgeous DVD templates/backgrounds and adding text/music/video frames/play buttons. It is really great and deserves your attention.
How to use Cisdem best DVD creator software:
Step 1. Load videos sources
The best DVD creator software supports a long list of video formats, over 50+. You can burn all the videos that you want to aggregate and burn to your disk. There are three ways to import source files:
1. Drag-n-drop videos to the "Source" interface.
2. Click

to add files from your local.
3. Go to "File" > "Add File(s)…" on the menu bar, and find videos from the pop-up window.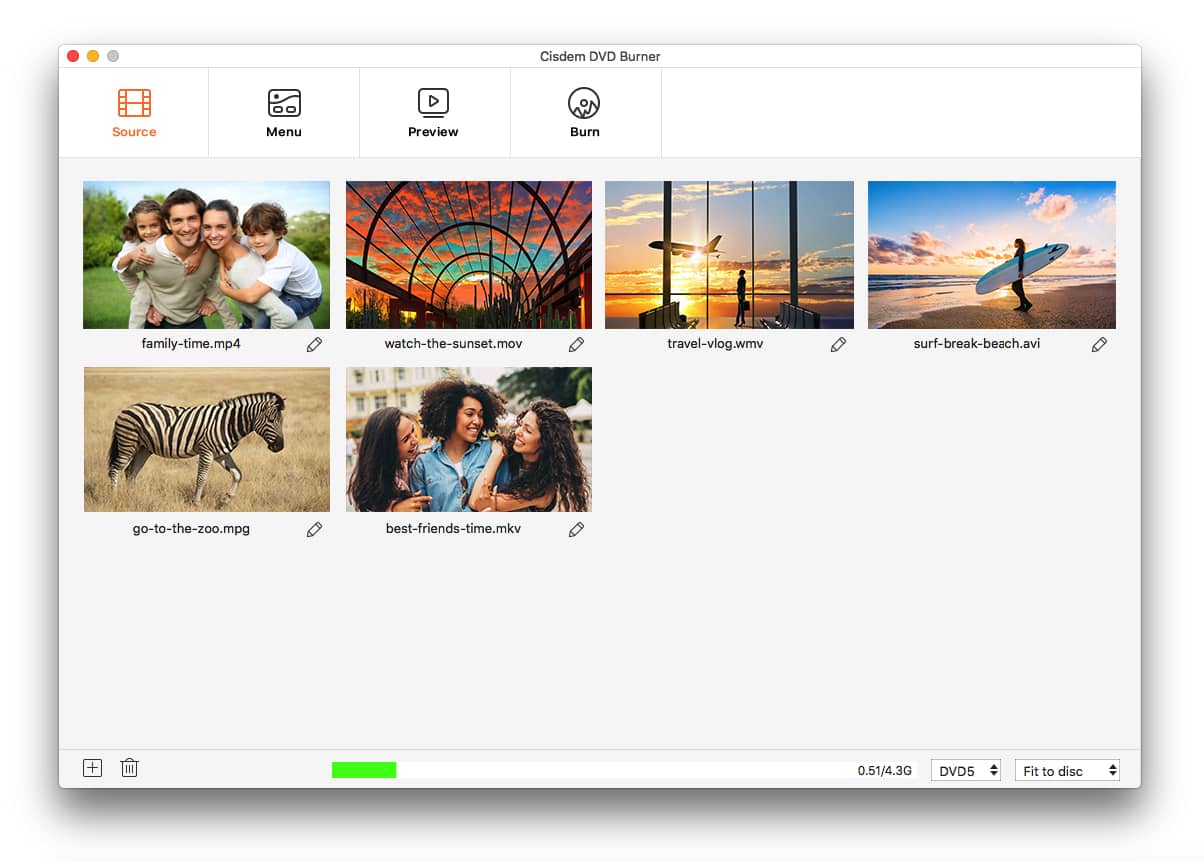 Step 2. Video editing and touch up
This best DVD creation software contains a minimal video editor, making it easy to trim down videos and reduce the length and overall size. Also, you can add subtitles and watermarks to your DVD videos. Just click

to call up the editing window.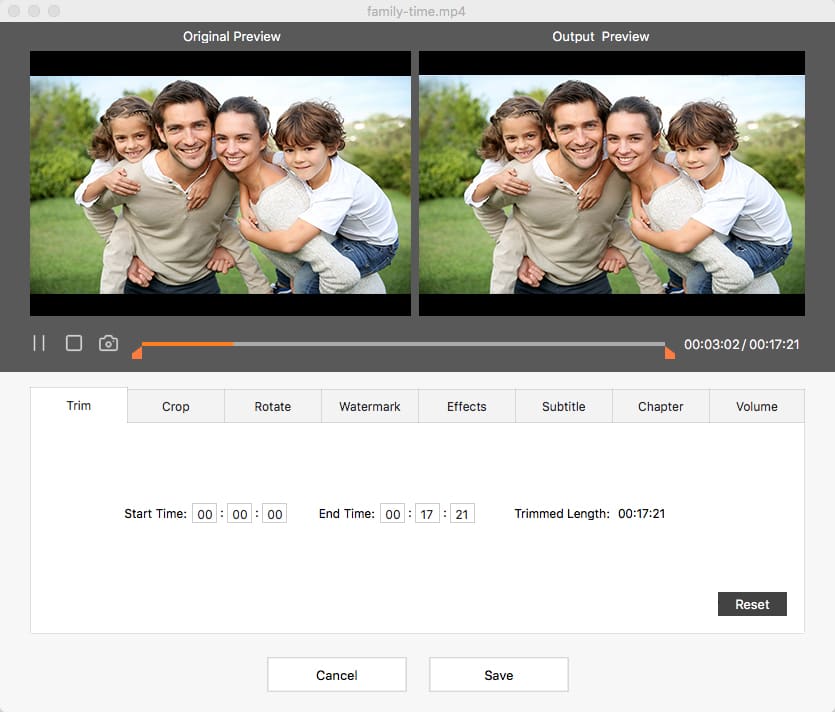 Step 3. DVD menu templates
Click the "Menu" tab, and pre-installed DVD menu templates will be listed on the right pane. Spruce up videos with buttons, frames, and text.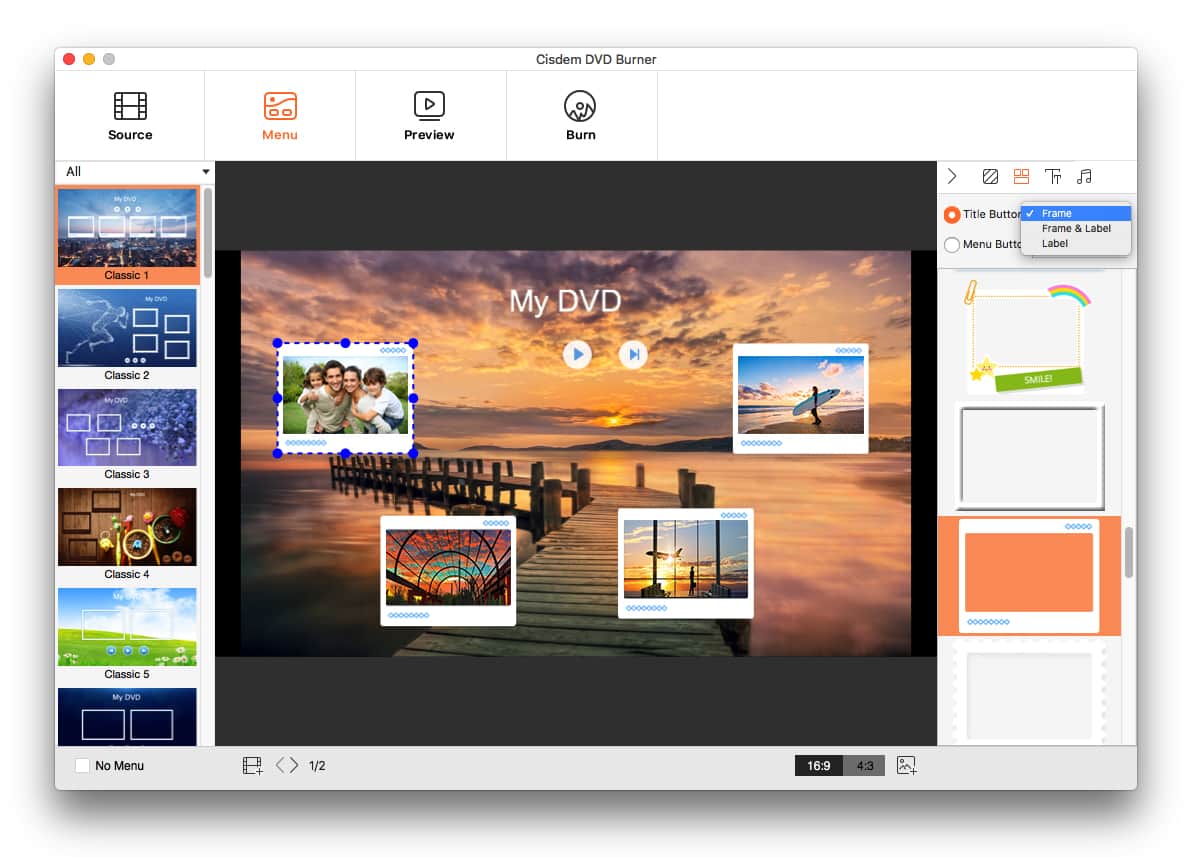 Step 4. DVD Settings
Click

button to switch to the burning panel, from which you can specify TV Standard (PAL or NTSC), Playback Mode, and so on.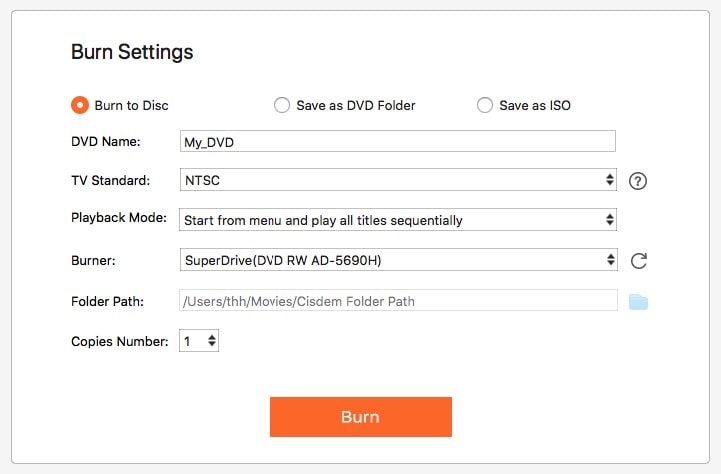 At last, hit "Burn" to begin the DVD creating process.
Advantages:
Burn home movies to DVD disc, DVD folder, or ISO
Support a huge list of input formats, such as MP4, 3GP, FLV, MPEG, DivX, WMV, etc.
Import .srt subtitles in any language
Inbuilt video editor to enhance DVD movie
Create a customizable menu
Change background image or add music
Preview DVD videos before burning
Disadvantages:
Not compatible with earlier Mac OS and Windows 7/8
#2 Nero Burning ROM
System requirement: Windows 7/Windows 8/Windows 8.1/Windows 10 (32/64 bit)
Nero Burning ROM is "The Standard" version for DVD Burning. It offers everything you need to burn ISO files, as well as copy CD, DVD or Blu-ray data. You can rewrite discs, rip CDs, and save ISO images, etc. What's more, as one of the best DVD creator software for Windows, it's packed with your electronic signature so that everyone knows you own the copyright. If data CDs are your most important asset, password protection can give you extra security.
But there is lots of bloatware included in this best DVD creation software, which is unnecessary for general users. Sometimes it will slow down your startup and bug your home Internet connection.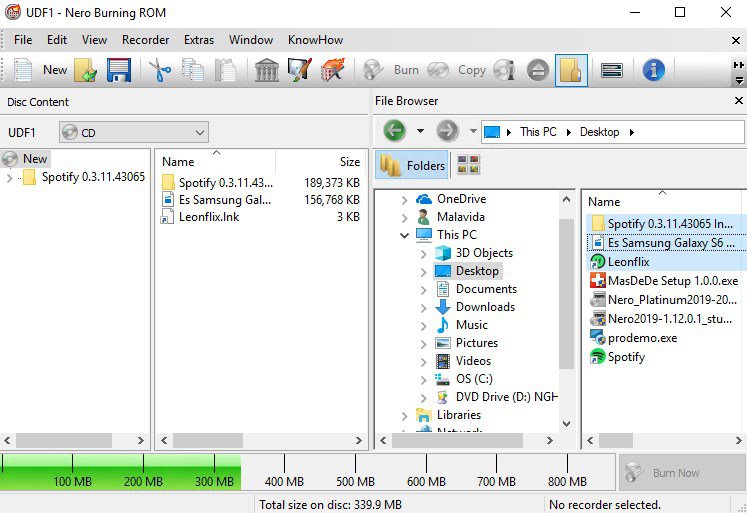 Advantages:
Burn and copy videos, photos, or music to CD/DVD/Blu-ray/ISO
Erase the rewritable discs
Encrypt discs to restrict access to the data archive
Disadvantages:
A little complex to operate
Quite old and backdated
Come with unwanted bloatware
#3 Roxio Toast Titanium
System requirement: macOS Mojave 10.14 or higher
Toast Titanium is a piece of professional and comprehensive video DVD making software. It goes beyond the very basic burning in the Mac OS and iLife software, and sets the standard for burning CDs, DVDs, and now Blu-ray discs on the Mac, lets you create superior sounding audio CDs with smooth crossfades and transitions. You can feel easy and fast to burn video/audio/data to disc, as well as create DVD movies with titles, menus, etc. This best DVD creator software for Mac is a toolbox for you to do more, like capture, convert, copy, as well as share your works.
If you just wish to edit and burn various videos into the disc, and meanwhile you have a better choice, it is not wise to buy it such an expensive DVD creating software.
Everything has its imperfectness. "Roxio Toast has some DVD options but doesn't really offer full DVD authoring. I had many problems with under buffer and over the buffer."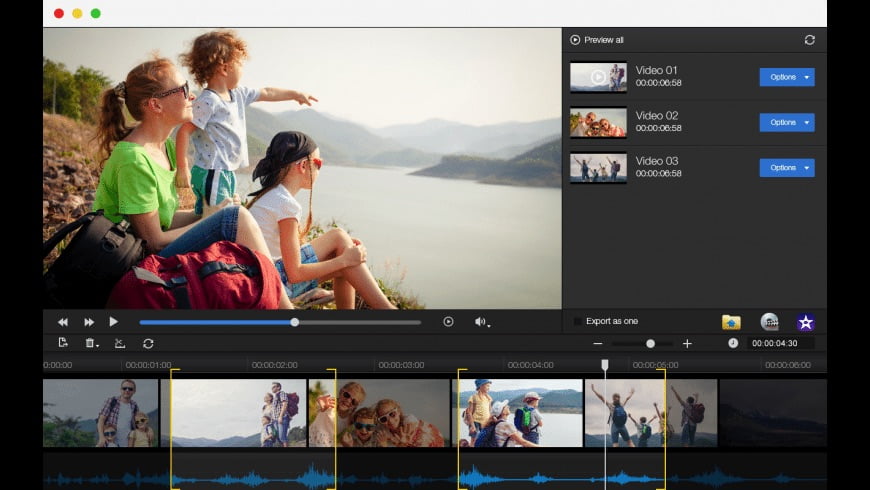 Advantages:
Burn digital media to DVD
Copy CD, DVD, or Blu-ray disc
Post your video files to Facebook, Vimeo, and YouTube
Edit video clips and enhance soundtracks
Disadvantages:
Too expensive ($99.99)
Occupy too much space on your computer
Sometimes (over 50% of disks) fail to burn
#4 DeepBurner
System requirement: Windows 7/8/10
DeepBurner is a very traditional-looking and feature-rich CD/DVD maker software helping you burn & copy discs, make a full backup, burn photo albums, and create video DVDs. It also supports erasing the rewritable disc and putting new stuff on it.
This best DVD creator software is extremely light, just 6MB for the premium version and 3MB for the free (including portable) version. Although it offers the free version, you definitely shouldn't dismiss the limitation that it can't make a DVD on Windows from video files.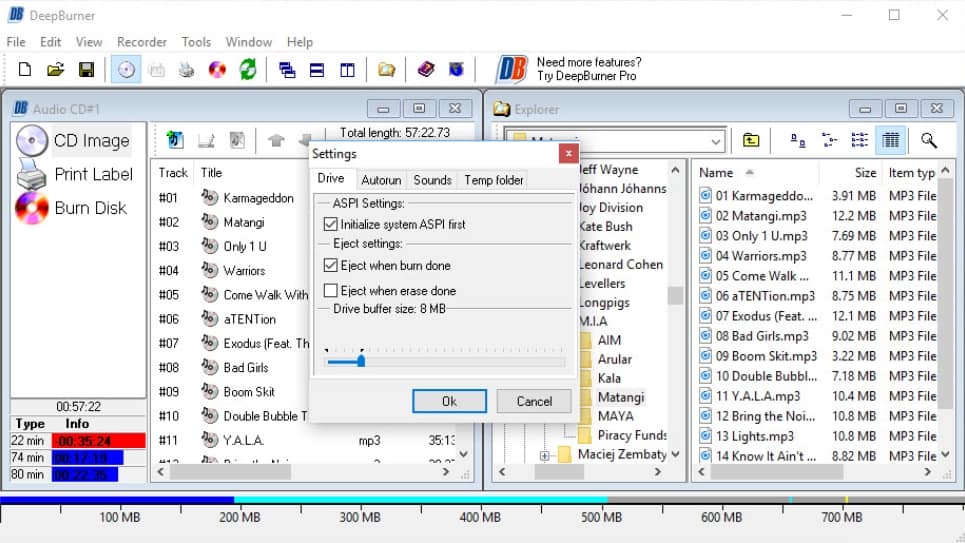 Advantages:
Easy to install due to light weight
Can burn any data besides videos
Burn both audio CDs and data CDs
Disadvantages:
Lack support for different formats
Can't apply a custom disc menu template
Take quite to create a DVD
#5 WinX DVD Author
System requirement: Windows 10, 8.1, 8, 7, etc.
WinX DVD Author is the best DVD creator software for Windows that's specially designed to burn videos to DVD disc and DVD folder. You can author chapter menu and subtitle using English, Chinese, Arabic, French, Spanish, and more. It features a built-in video compression engine that can shrink large videos (more than 4.7GB or 8.5GB) to fit your disc storage. Different from other best DVD creation software, WinX DVD Author allows you to download online videos to a computer.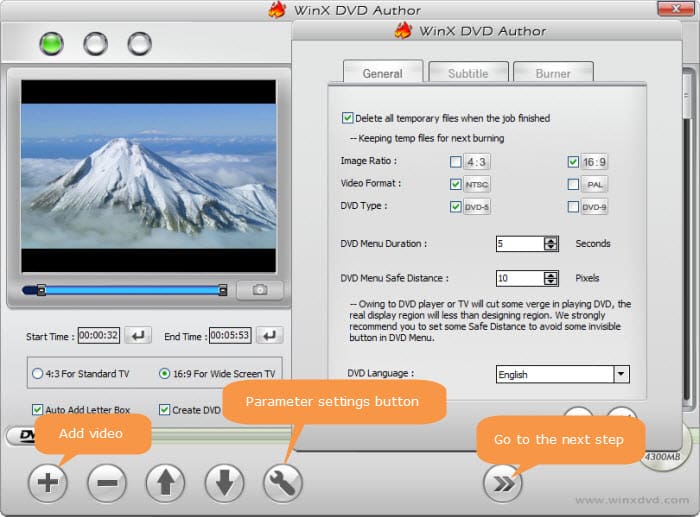 Advantages:
Create DVD from H.264, HEVC, MKV, AVI, VOB, etc. videos
Add background soundtrack, image, and text
Create a DVD menu (title & chapter)
Disadvantages:
Can't burn videos to ISO
Only 4 DVD templates
Can't change menu buttons
#6 DVD Flick
System requirement: Windows XP, Vista, 7, 8, etc.
DVD Flick is another best DVD creator software for Windows that aims to burn an overwhelming majority of video files to standard DVD discs. It supports 45+ different types of files like MKV, AVI DV, SWF, NUT, etc. as well as 40+ audio & 60+ video codecs. This best DVD creation software enables you to import audio tracks, subtitles, and design a DVD for easy navigation. But since 2009, its developers seem to have stopped upgrading the program.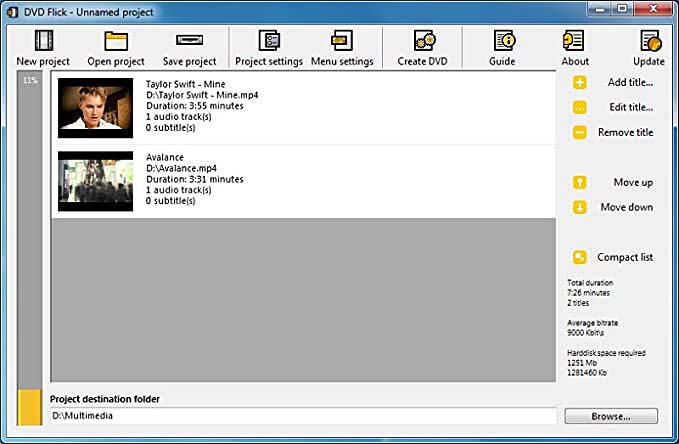 Advantages:
Lightweight and straightforward interface
Make a simple DVD menu
Support many input file types
Disadvantages:
Slow-burning speed
Low-quality output
Lack of basic video editing features
FAQs
1. Is Windows DVD maker still available?
Spicing up a homemade DVD in Windows 7 was a relatively simple affair because of the operating system's inclusion of Windows DVD Maker. But Microsoft removes it as of the release of Windows 8. That is, systems after Windows 8, including Windows 10 and 11, do not have Windows DVD Maker preinstalled.
2. Does Windows 10 have a built-in DVD creator?
You can still use Windows Media Player and the inbuilt burning feature in File Explorer on Windows 10/11, but they merely make a data DVD, data CD, or audio CD, except for a video DVD.
In addition, MPEG-2 and AC-3 Dolby Digital decoders are not included in Windows Media Player since Windows 8, so you can't also play DVD with Windows Media Player on Windows 10.
3. Is Wondershare DVD Creator software free?
Of course not, it offers three licenses: $49.95/year, $59.95/lifetime, and $132.95 for 2-5 Macs or $249.95 for 6-10 Macs. The reason why I do not recommend Wondershare DVD Creator software on the list is that its interface and functions are similar to Cisdem DVD Burner, but it is more expensive. Even I think Cisdem DVD Burner is more flexible than Wondershare.
4. Is there any free DVD creator software with no watermark?
Almost all free DVD making software does not leave a watermark, unless you're using a trial version of some paid programs.
5. What's the best DVD creator online?
The truth is that there are no online DVD makers for Windows or Mac. When you convert your videos to DVD format with an online tool like Zamzar, it will only convert them to MPG digital files.
Conclusion
All of the best DVD creator software introduced above has its advantages and disadvantages. For Mac users, I recommend Cisdem DVD Burner due to the affordable price and comprehensive functions (edit, create special effects, DVD menu, music background, etc.) Most importantly, it brings your DVD video quality to the next level. Roxio Toast Titanium is robust but costs $99.99. For users who just desire to burn videos to DVD, there are many unnecessary tools. For Windows users, Cisdem DVD Burner is good and the best free DVD maker software - WinX DVD Author can also satisfy your essential demands.