Unlike hard drives, DVD discs can't hold a mass of large files. From the literal meaning, a 4.7GB DVD disc can only involve videos less than or equal to 4.7GB. But is it true? What if your videos in 5GB, 6GB, or other sizes? This article will introduce how to burn more than 4.7 GB on DVD, and assist you to popularize the more correct DVD burning knowledge.
How about Compressing Large Files First?
Some people suggest that you first shrink large files to less than 4.7GB through an online video compressor, such as freeconvert.com, clideo.com, etc., and then burn the compressed files to a DVD. But this is a waste of time. It won't help at all and only make the quality of videos lower.
How Much Can a 4.7GB DVD Hold?
It depends on the total length of the videos, not the file size. And how long you can burn from videos lies in the type of DVD disc (single-layer or double-layer) and DVD authoring software you use. A dedicated and standard DVD burner can burn more than 4.7 GB to DVD 5. The duration of videos can't exceed 2.5 hours. If you burn videos to DVD 9 (8.5 GB DVD, the high capacity DVD) with a standard DVD burner, the longest video time is 4 hours.
Note: The most important factor in determining video file size is the video bit rate, followed by the audio bit rate, not the video format, and others. The higher the bit rate (KBPS), the better the output quality.
How to Burn More Than 4.7 GB on DVD?
Cisdem DVD Burner for Mac is a robust suite of DVD tools for creating professional-looking DVDs. It boasts rich features, making DVD burning from large files a very easy job. You can edit the source video, and add a DVD menu /subtitle/background image/audio track to your target DVD. The app allows you to burn more than 4.7 GB on DVD even you are using a single-layer DVD disc.
It has three modes:
Standard: As we explained before, a standard DVD burner is able to burn more than 120 minutes on a DVD, and the maximum recording time for a 4.7 GB DVD is 2.5h. Similarly, it lets you burn more than 8.5 GB to a dual-layer disc, the time up to 4h.
Fit to disc: This mode is more flexible and will automatically adjust the bitrate based on the video size. The larger the video, the lower the bitrate. You can burn up to 5 and a half hours to DVD 5 and 10 hours to DVD 9.
High Quality: It supports the shortest video time, up to 1.25h for 4.7GB DVD and 2.2h for 8.5GB DVD, but its quality is almost the same as the original video.

Free Download
Basic Functions of Cisdem DVD Burner for Mac:
Support a plethora of different formats
It supports a long list of input video formats (standard and HD) for DVD burning. Almost all the popular formats are included, like MP4, MKV, 3GP, AVI, DV, M2TS, AVCHD, DAT, Quick Time Video, iTunes Video, etc.
Whether you insert a single-layer or dual-layer DVD disc, Cisdem DVD Burner completely enables you to burn more than 4.7 GB on DVD. You only need to control the length of the imported videos.
Besides writable DVD like DVD-9, DVD-5, DVD-R/RW, DVD-RAM, etc., it also supports burning videos to DVD folder and ISO image.
Cisdem DVD Burner does more than just burning videos to DVD. It doubles up as a video editor, which enhances the final output of the videos. You can crop, rotate, adjust the brightness, contrast, and apply a special effect for a better visual experience. Plus, you can add subtitles and watermarks for your output DVD.
Before burning more than 4.7 GB on DVD, you are able to create amazing DVD menus with the aid of the software. It covers a wide range of DVD templates available in different themes such as scenery, holiday, travel, birthday, memory, etc.
The inbuilt menu templates help you change the DVD background, decorative frame, and button according to your preferences.
Customize output DVD settings
There's support for NTSC and PAL. If you don't know which one to choose, you can choose your country to automatically match the TV standard. In addition, Cisdem DVD Burner empowers you to select the DVD language and aspect ratio.
Steps to Burn More Than 4.7 GB on DVD Using Cisdem:
Step 1

Download and Install Cisdem DVD Burner
First of all, you need to insert a blank DVD (DVD 5 or DVD 9) into your Mac.
Download and install Cisdem DVD burning software, and then run it.

Free Download
Add files more than 4.7 GB, such as downloaded or homemade videos, movies, etc. There are two ways to load them. Drag-n-drop large files into the "Source" interface of the software, or input them by clicking

.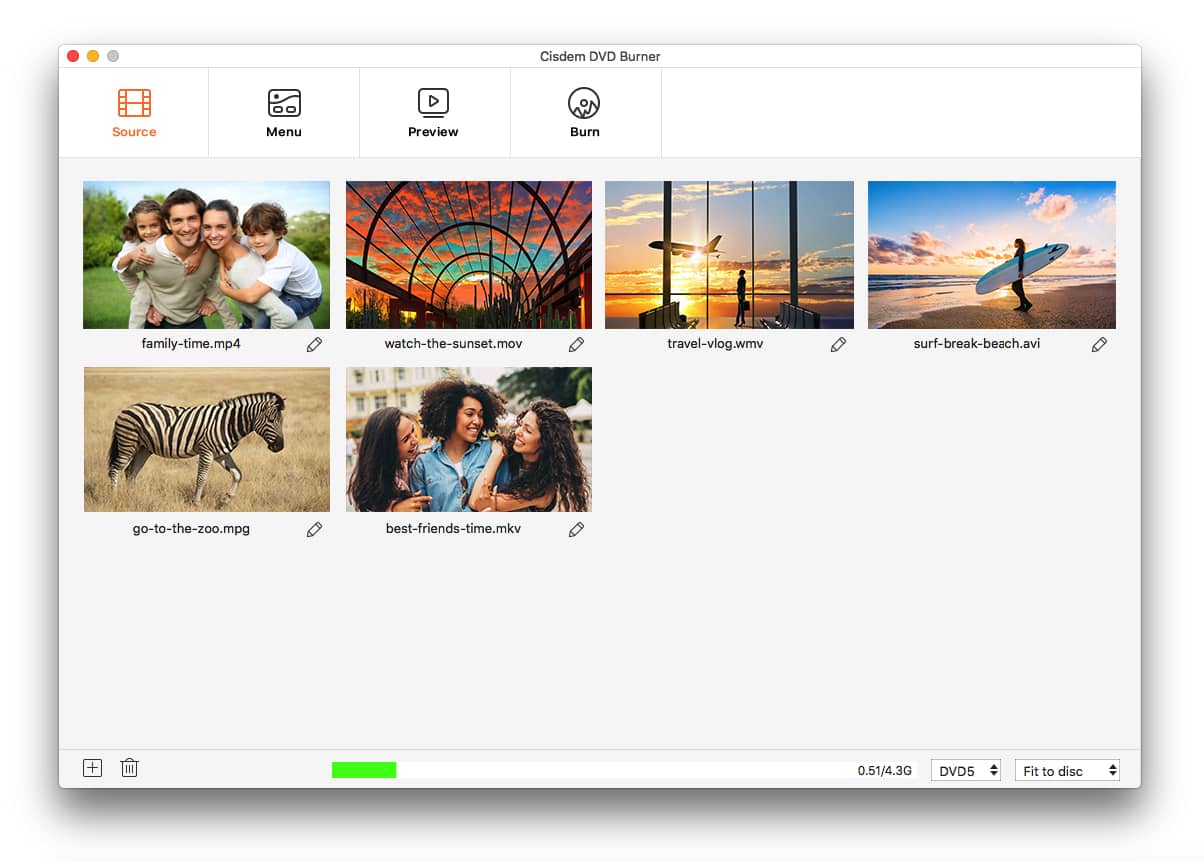 Step 3

Edit Files (Optional)
After loading multiple large files, click

button. The editing interface will be opened, where you can crop/enhance video, add effect/chapters, etc. as you wish.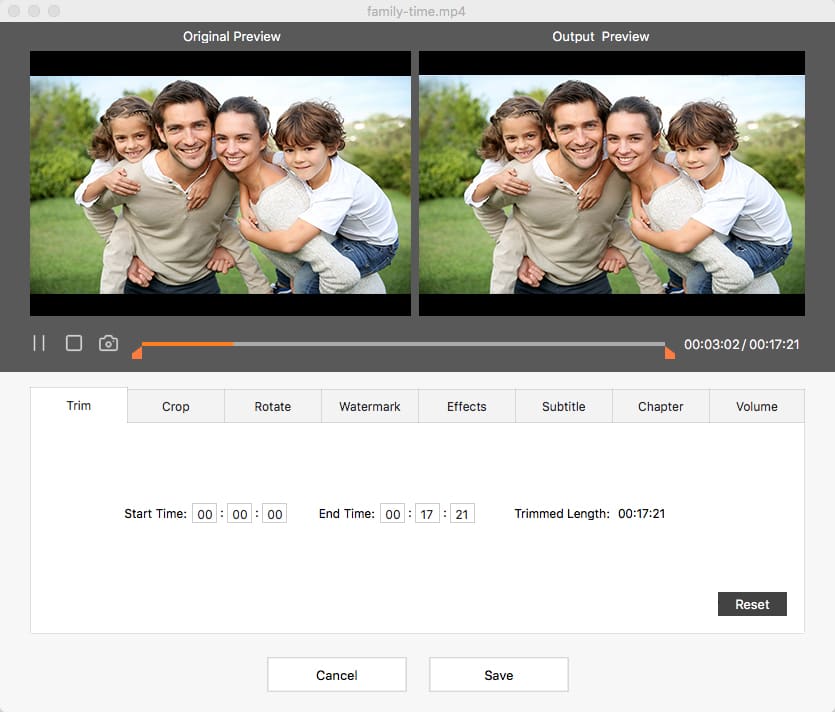 Step 4

Choose DVD Menu Template
Click on "Menu" to personalize your DVD by adding a menu. It provides a wide range of menu templates. Just choose your favorite one from the right panel.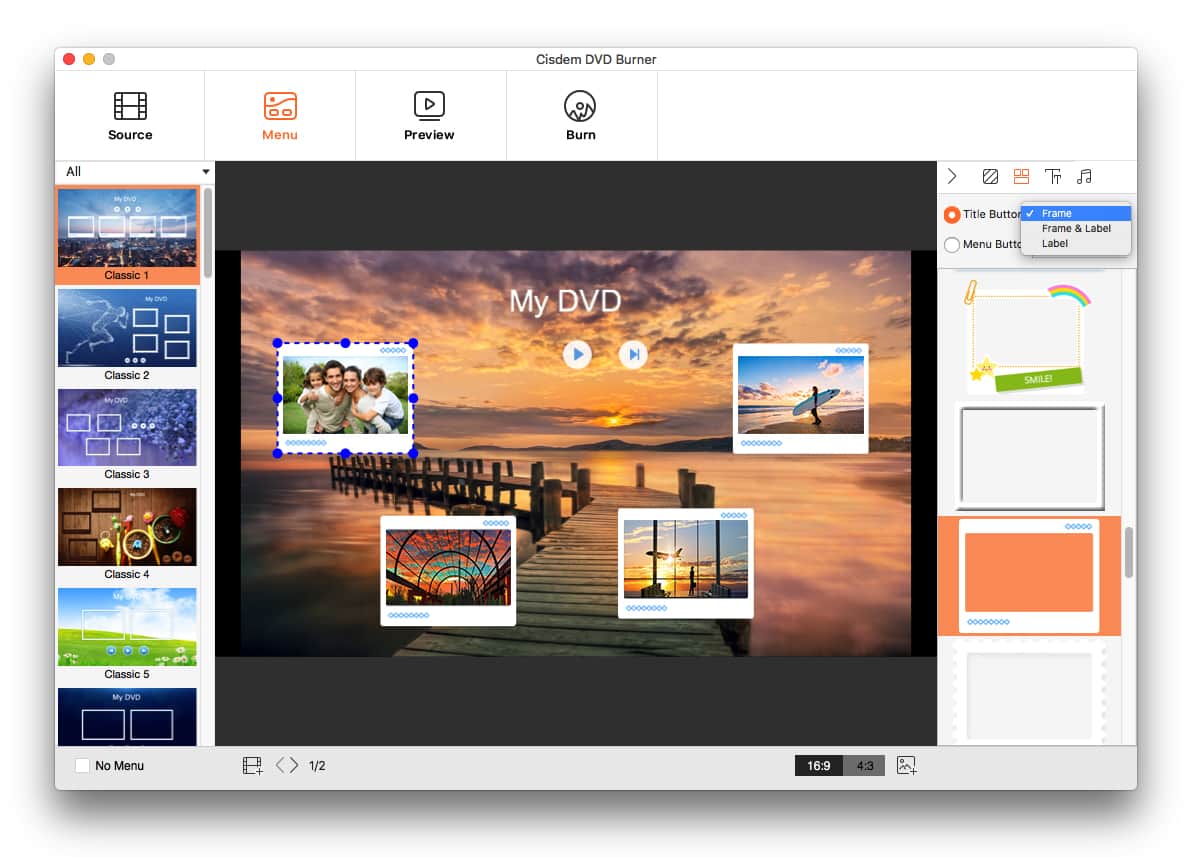 Click on

to see how the DVD will appear after burning.
Step 5

Burn DVD Large than 4.7 GB
Hit the

button. In the following window, select "Burn to Disc". Give a desired name to the disc and modify the output parameters. If everything is ready, click "Burn" to burn DVD more than 4.7 GB capacity.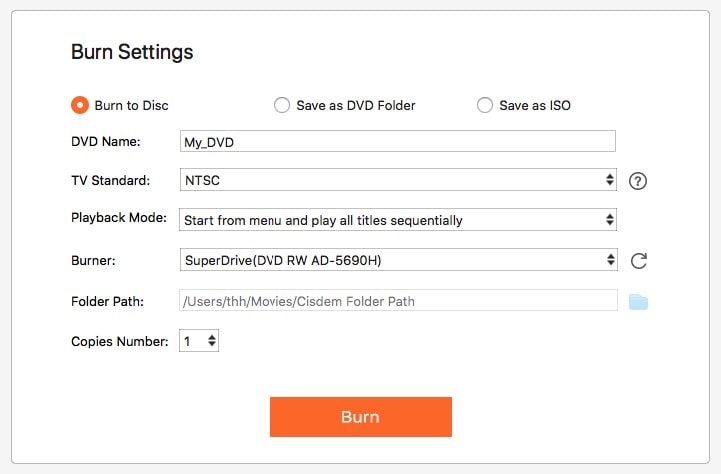 Video tutorial to create a DVD menu and burn DVD on Mac:
Cisdem DVD Burner is only available on Mac. If you want to burn more than 4.7 GB on DVD on Windows, Nero Burning ROM (commonly known as Nero) is a good option. It can burn large files to DVD discs, as well as disk image files, Blu-ray discs, AVCHD discs, etc. But you have to pay for the updated version. Different from Nero, Cisdem provides free lifetime upgrades once you purchase.
DVD-5 (4.7GB DVD) VS DVD-9 (8.5GB DVD)
If you are going to burn large files to DVD or burn more than 120 minutes on a DVD, I recommend you to use DVD 9. It supports more capacity and high quality. Moreover, DVD 9 is protected by copyright. Its production complexity of DVD9 is much higher than that of DVD5.
Conclusion
This article has discussed how to burn more than 4.7 GB on DVD. We can easily know how much can a 4.7 GB DVD hold depends on the video length. Thus the first thing to control is the video length, not the file size. To burn large files to DVD 5 or DVD 9, Cisdem DVD Burner for Mac and Nero for Windows PC are reliable choices. Both of them have been developing for many years and possess a series of useful features for DVD burning.