Here I will mainly talk about the best contacts cleaner Mac users can use and how to use it clean up Mac contacts. One way to improve your messy contacts list on Mac, Android or iPhone is to organize them by tagging or grouping. Another way is to find and clean up the problematic/unnecessary contacts such as duplicates. Thanks to contacts cleaner apps, this task can be easy.
Note: It's recommended to do a backup of your contacts before you clean up unwanted ones from them, for the sake of the safety of your contact data.
Easily Clean up Contacts on Mac
Find duplicate contacts of various types such as exact duplicates, duplicate names, etc.
Provide multiple solutions (Merge, Delete, Edit, etc.) to clean them up
Also find and fix other issues like Blank Name, Invalid Characters, etc.
Support contacts from sources like Mac Contacts, iCloud, Google, Exchange, Facebook and more
Clean up problematic/useless contacts from supported sources
Allow you to backup contacts with 1 click before the cleanup
Let you easily view, search, create, edit, tag, group, print, share and manage contacts
Support macOS 10.11 and later

Free Download
You know your contacts are messy
Want to call your client and only to find two different numbers for him? Then, which one is the right? Well, with our business and connection network growing, the phone or Mac contacts gets in a mess along: more duplicate phone number, and duplicate emails, and more errors accumulated. Here below is a situation I have ever met:
- Lucy, I'm back in NYC!

- Who is that? Is that David? When can I see you? It's really important! I miss you so much!

- Oh, sorry. It's Robert…

- Which Robert?
The reason for it is that I have two contacts named Lucy in my contact list. It was so embarrassing! Quite a few times it happens to be a very annoyance to meet those duplicate contacts when we need it emergently. Here below are some signs to remind you to clean up Mac contacts or duplicate phone contacts:
You spent more time finding the right contact number than sending an email.
You only know a few hundred people, but you have over 1,000 in your Mac or phone address book.
You have more junk contacts than actual contacts.
People have to wait for a long time when asking you to send them a contact info.
The best contacts cleaner for Mac
To quickly, easily and effectively clean up contacts on Mac, you can use Cisdem ContactsMate, the best contacts cleaner Mac. It provides a number of benefits.
Support various services and clean up contacts on them
ContactsMate can sync contacts with a variety of apps and services such as Mac's Contacts app, iCloud, Gmail, Facebook, Exchange and more. With it, you can gather contacts from all your accounts to one place for easy cleanup and management. The cleanup (and other changes if any) will be immediately detected and synced to the associated app/service/account.
Quickly find and delete/merge duplicate contacts
Duplicates are the most common type of useless contacts that you can clean up. This contacts cleaner enables you to effortlessly deduplicate contacts on Mac. It can scan for and fix various types of duplicates, as you can see from the screenshot below.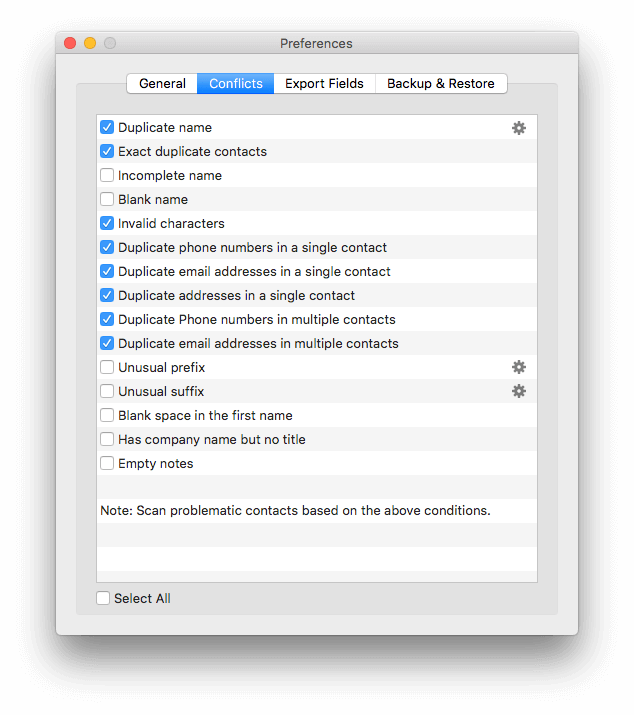 Multiple solutions are provided to deal with them, such as Edit, Ignore, Delete and Merge. For each group of duplicates, it provides a description of the situation, lists the available solutions and briefly explains the solution you are choosing.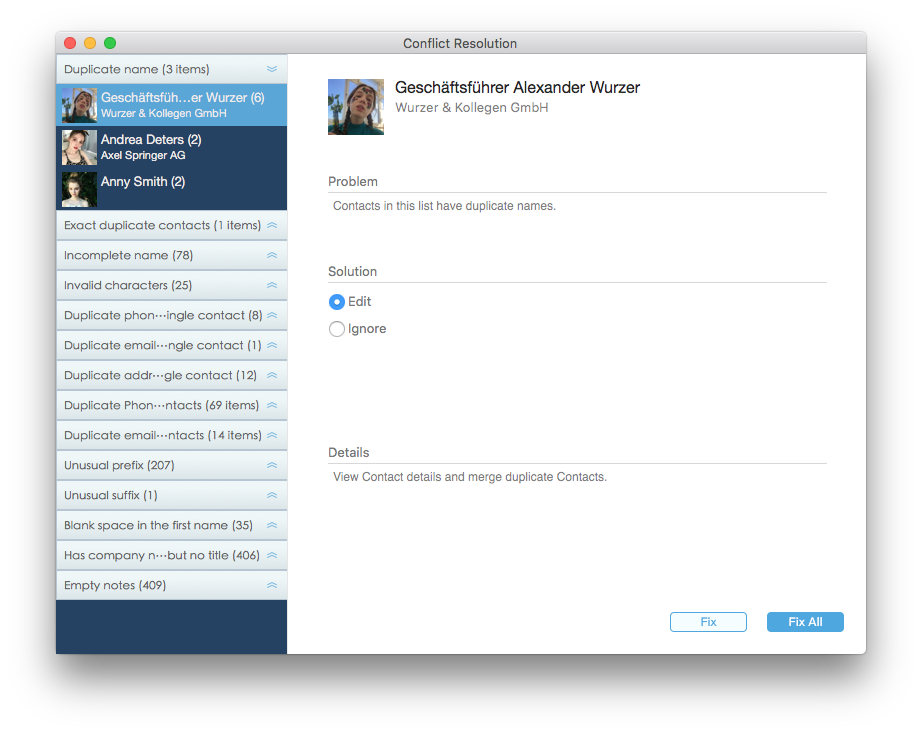 Find, fix or remove other problematic contacts
You can also set the contacts cleaner Mac to search for other contacts that you may need to fix or delete. For example, it allows you to find contact entries that have incomplete names. With issues like unusual prefix, you can edit the preset list of allowed prefixes. Generally, the process to find and handle them is very much like that of contact deduplication.
On a side note, in addition to providing the above two cleanup features, this contact cleaner Mac also makes it easy to manually select and delete one or multiple contacts, in batch or individually.
Let you backup contacts with 1 click before you do contact cleanup
This contacts cleaner app enables you to easily clean up Mac contacts and contacts from other supported sources. Before the cleanup, it's a good practice to backup your contacts first. With ContactsMate, you can backup or restore contacts in one click.
Provide other useful features
As the best contact manager for Mac, ContactsMate is more than just a contact cleaner.
View, sort and search
Tag, group and organize
Create, edit and delete
Share and print
Export/convert contacts to 8 formats such as CSV, Excel and vCard
Import contacts from CSV and vCard
And more...

Free Download
How to use contact cleaner Mac to clean up contacts
Step 1. Sync contacts to the contacts cleaner app
Download and install ContactsMate. When you use the app for the first time, it will ask for access to Contacts on your Mac. Click OK to grant permission. Your contacts will start syncing between the two.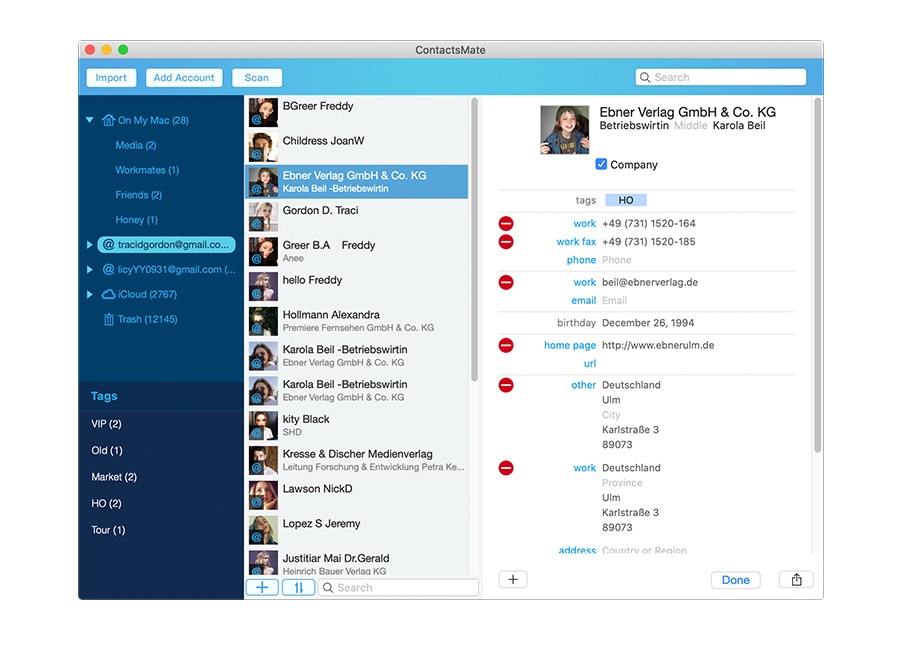 Or, if you want to use this Mac contacts cleaner to clear up contacts on iCloud, Google or any other supported service. You need to add the associated account first. Click Add Account in the toolbar. From the list that appears, select the desired service and sign in to it. Make sure you select the box next to Contacts, as shown in the screenshot. Click the
button next to the Updated contacts detected message.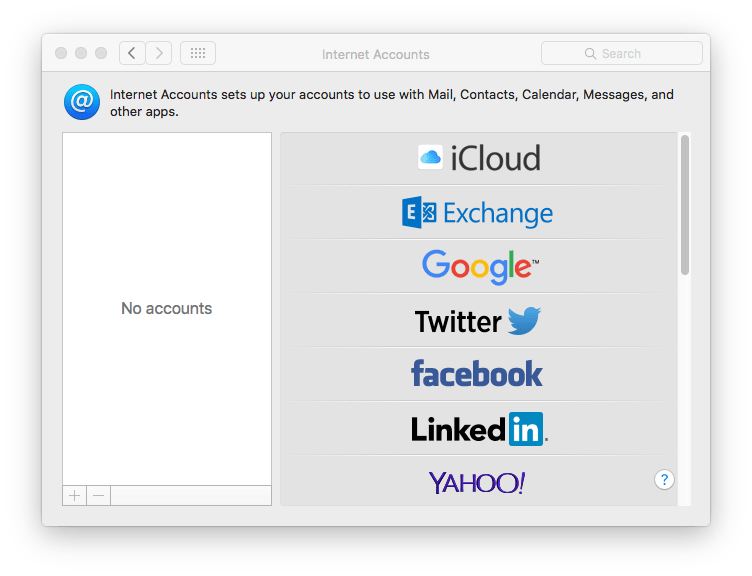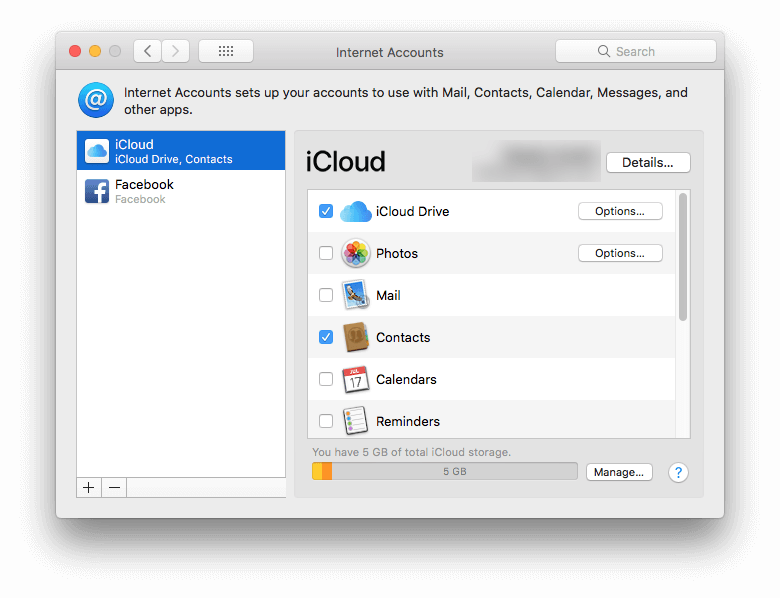 Step 2. Configure settings to look for the contacts you want to remove
From the menu bar at the top of your Mac's screen, select Cisdem ContactsMate > Preferences.
Choose the Conflicts tab. Select the type(s) of contacts that you want to check. This contacts cleaner for Mac will scan for contacts to delete or fix based on your selections. Go to the Backup & Restore tab if you need to backup first. Close the Preferences window.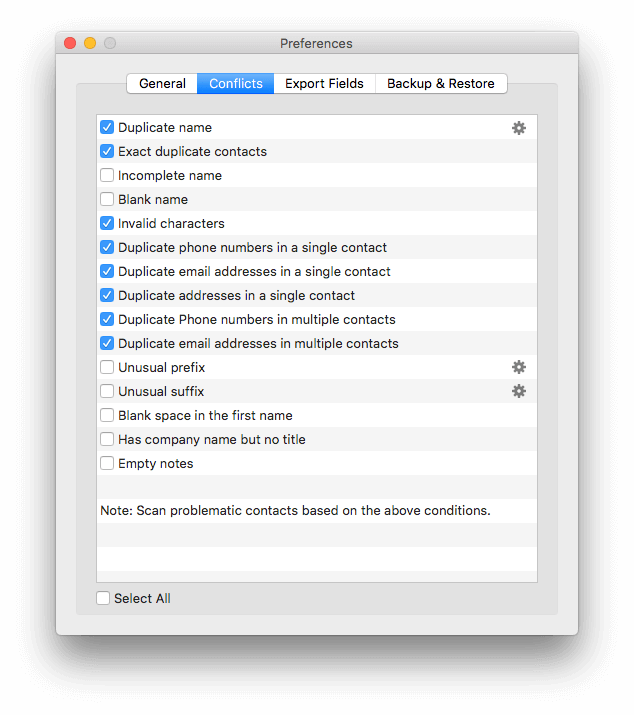 Return to the main window. On the left sidebar, select the associated source of contacts. For example, to clean up Mac's address book, choose On My Mac. To clean up Google Contacts, choose Google. Now click Scan

in the toolbar.
Step 3. Clean up Mac contacts
Once the scan is done, the Conflict Resolution window will show up. In the column on the left, you can find lists of problematic contacts such as Exact Duplicate Contacts and Blank Name.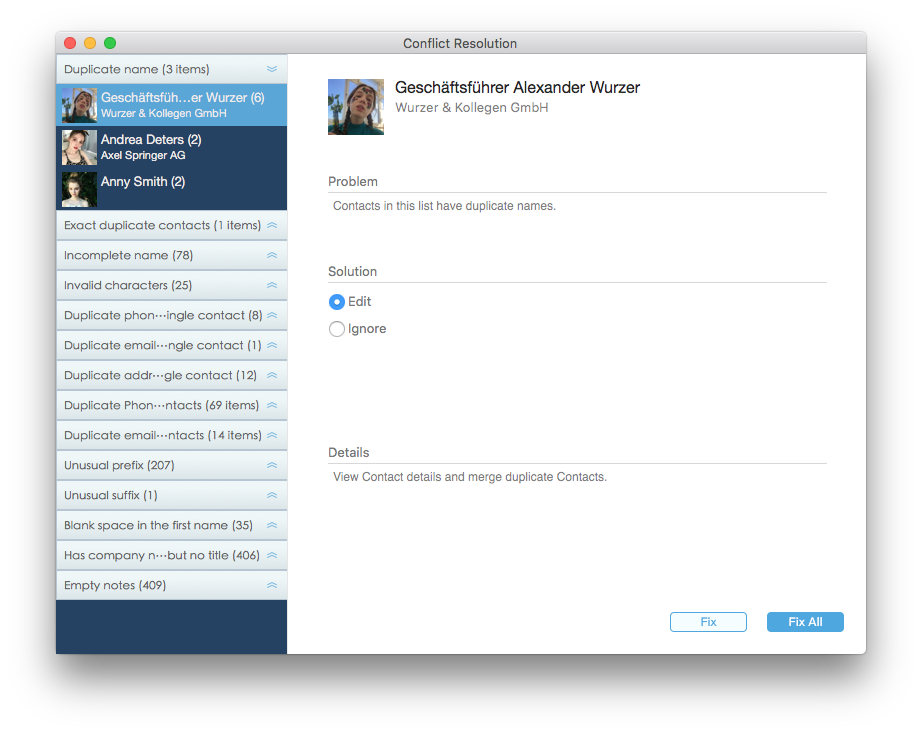 Select a contact, and its information will appear on the right of the window. Select the desired solution and start cleaning up or fixing by clicking Fix or Fix All.
It's easy to understand and easy to do. For more details, please check out the official user guide. Get this powerful contact manager and cleaner on your Mac!
Bonus tip: Use Mac's built-in address book to remove duplicates
It's important to clean up Mac contacts regularly, especially when we back from some gatherings, business conferences or parties, it would be much beneficial to your social network. Here's another way to declutter.
Contacts, the address book app included in macOS, is specialized in organizing all of your contacts information. You can use it to load all of your contacts in every place, like iCloud, Exchange, Google, Facebook, etc., and create and rich contacts with full information and notes. It can also work as a contacts cleaner for Mac. I would introduce how to use it to remove and clean up duplicate contacts.
For more details about Learn how to create contacts and add Smart Groups to your Address Book, click Learn about Address Book.
Step 1. Launch the Contacts app on your Mac.
Step 2. Go to the top Menu bar of the Contacts. Click Card, and a dropdown list appears.
Step 3. Click Look for Duplicates, and it will quickly find out that duplicated information.
Step 4. And you will see results as below. Click the blue button Merge to merge them into one.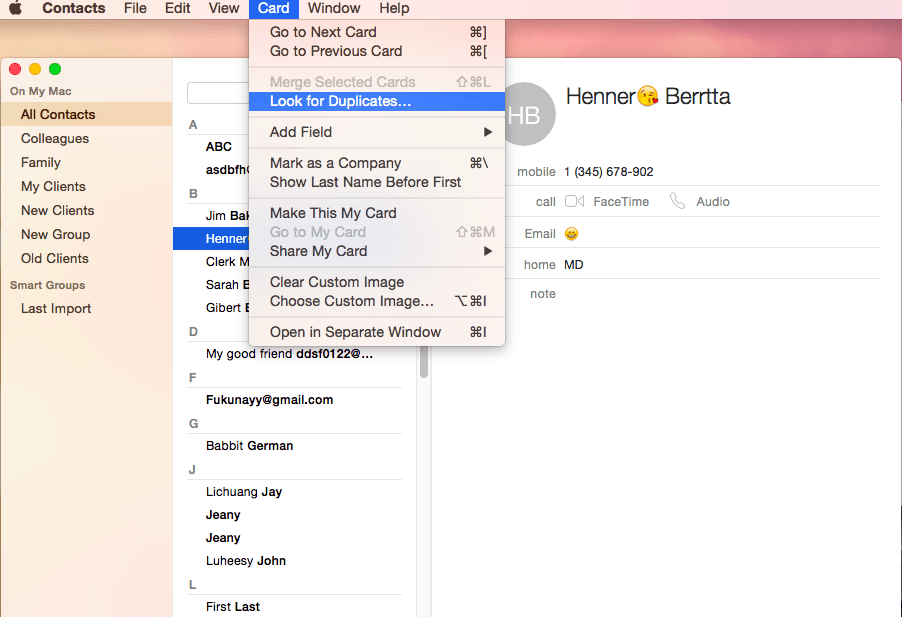 There are some limits of the Contacts app which can't offer you the best way to remove duplicates contacts. Below are some disadvantages.
Except looking for duplicates, the built-in Contacts can't help you finish more advanced cleaning tasks, such as, scanning and detecting those incomplete name, empty name, invalid characters, unusual title, etc.
When you use it to clean up Mac contacts, it doesn't provide you with the duplicated contacts details and conditions, where are the duplicates and errors, and how to fix it.
The above mentioned Cisdem ContactsMate is one of the best duplicate contact remover tools to remedy what Contacts can't do.
How to clean up contacts on iPhone
iPhone Contacts app doesn't support to merge duplicate contacts, but you can try the best contacts cleaner to remove unneeded contacts from the iPhone address book. Cleanup Duplicate Contacts is a lightning iPhone contacts cleaner. It merges duplicates, offers a particular report and organizes address book with different contact sources, like Gmail and iCloud.
Step 1. Install and launch Cleanup Duplicate Contacts on your iOS device.
Step 2. Let the app access your iPhone Contacts and allow the notifications.
Step 3. Tap on Analyze, it will start to scan your address book and show you the duplicates.
Step 4. Tap on Review Duplicate > choose one of the filters > tap on Merge.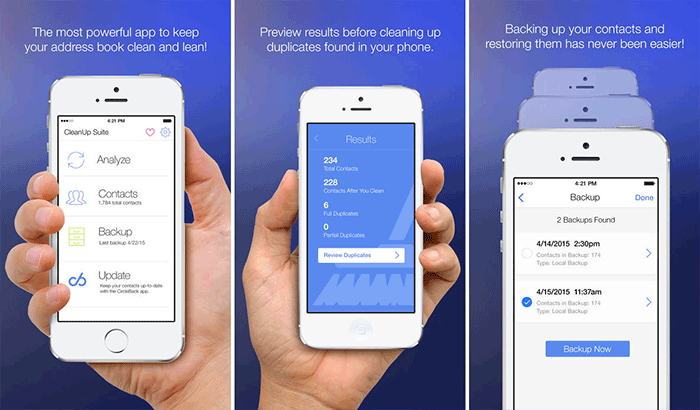 How to clean up contacts on Android
When it comes to contacts cleaner for Mac, there are a few great choices. It's the same case with Android. Contacts Optimizer helps you filter contacts by numbers and photos. It can edit, create, delete and move contacts to other accounts. When starting to clean up contacts, this Android contacts cleaner will scan the whole phonebook and recommend optimizations.
Step 1. Get this address book cleaner installed on your Android, and open it.
Step 2. Select an account to be cleaned up.
Step 3. Tap and hold to check contacts.
Step 4. Tap to find duplicates.
Step 5. Tap on Delete duplicates.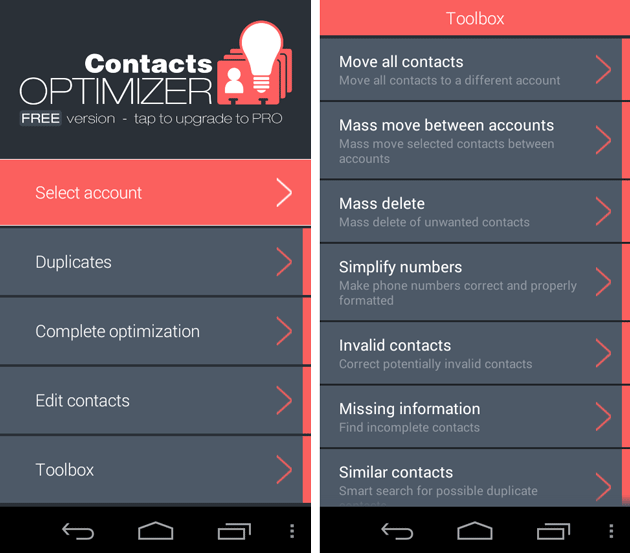 Conclusion
To keep your address book well organized and get rid of unnecessary contacts, you should make good use of the best contacts cleaner for Mac and phone above. As a Mac user, I always need to clean up Mac contacts. So Cisdem ContactsMate is helpful for me to merge, back up, and bulk fix problematic contacts.