I had problems with the card on my Note 2, so I tried to format, and now this is the error I get- "SD card is blank or has unsupported file system". I have no access to it (no drive/card reader) except through my cellular - and there it doesn't show. – Toms' Hardware
Both tablet computers and smart phones offer a slot to plug in SD cards for expanding their storage capacity. But the SD card is prone to get corrupted or damaged, and eventually results in data loss. Sometimes, for example, you will receive blank SD card error from Samsung Galaxy S4, Galaxy S3, Note 4, etc.
If an SD card keeps showing "SD card is blank or has unsupported filesystem" error, then it has been damaged already. So your computer or phone can't read the SD card and says it's blank. Whatever the reasons, your card can be repaired with simple steps, as the data is still there.

Now, I will introduce the best blank SD card recovery app, and other solutions about how to fix blank SD card on Android phone, Mac or Windows.
What Caused "Blank SD Card or Unsupported Filesystem" Error?
SD card is so important that you can use it to save videos & documents & photos, transfer files and expand internal storage on your devices. Thus you must feel apprehensive when receiving "SD card is blank or has unsupported filesystem" error.
Why did it happen? There are a number of reasons behind the card is empty or has unsupported file system. It may be due to physical or logical damage, RAW file system, incorrect eviction, virus attack and more.
Calm down, and consider do you have the behaviors below:
Remove SD card from tablet or phone directly without switching them off
Use your SD card on multi-platforms or unauthorized devices
Throw about your SD card causing their damage of slot and reed
Eject SD card in a rude way without clicking "Safe Remove" option
Insert memory card into virus attacked devices
For all sorts of factors, your SD was damaged and caused the error "SD card is blank or has unsupported filesystem". If you backed up the contents of SD card before, you can recover blank SD card from backup. Otherwise, Cisdem Data Recovery can help you solve blank SD card recovery problem.
The Most Effective Way to Recover Files From Blank SD Card
As we mentioned above, blank SD card error doesn't mean that your data on SD card was lost. So don't overwrite new things into it, or your data will be replaced with the next files you upload. Providing that you haven't added any files to your SD card, it is light-hearted to perform blank SD card recovery.
By taking the assistance of Cisdem Data Recovery for Mac, an easy blank SD card recovery app, you can recover formatted, deleted, or any lost files from blank emptied SD card.
It support recovering 500+ file types, such as photos, text messages, videos, music, call logs, contacts, documents, archive, etc. Not just a blank SD card recovery software, it can also recover files from hard drive, USB drive, iPod, media player, digital camera, Android, etc. also it can repair damged videos.
200% Safe Blank SD Card Recovery App
Quick scanning process.
Dig out all recoverable files from internal & external drives.
Recover lose data caused by deletion, formatting, RAW hard drive, crashed system, etc.
Recover all kinds of files, including images, e-mails, songs, movies, etc.
Recover lose data from Mac, as well as flash drives, memory cards, phones, etc.
Repair damaged videos in different formats
Highest retrieval rate compared to competitors
Preview the particular information of each data

Free Download
Step 1

Install Cisdem Blank SD Card Recovery

First of all, you should connect your blank SD card to Mac for processing.

Install and run Cisdem Data Recovery on your Mac.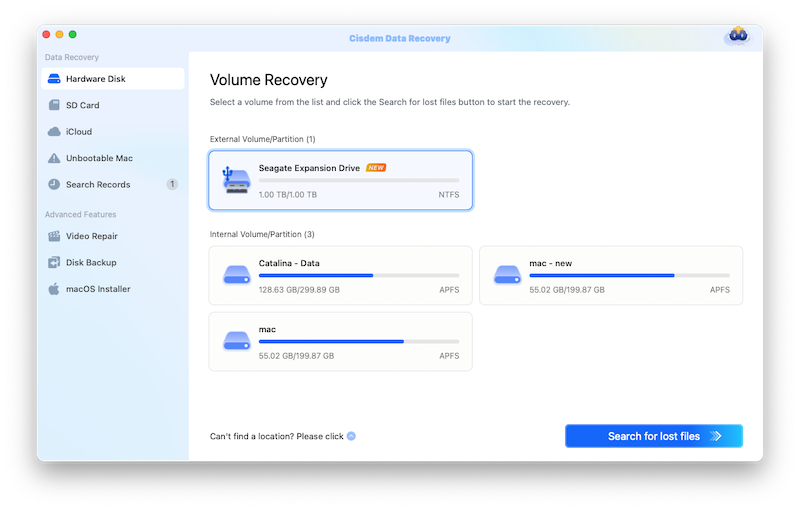 Step 2

Scan & Preview SD Card Files

Scan your SD card to get a list of recoverable files. You can preview the files from Graphics, Document, Audio, Video, Email, Archive and Other. File name, file type and file size are display there.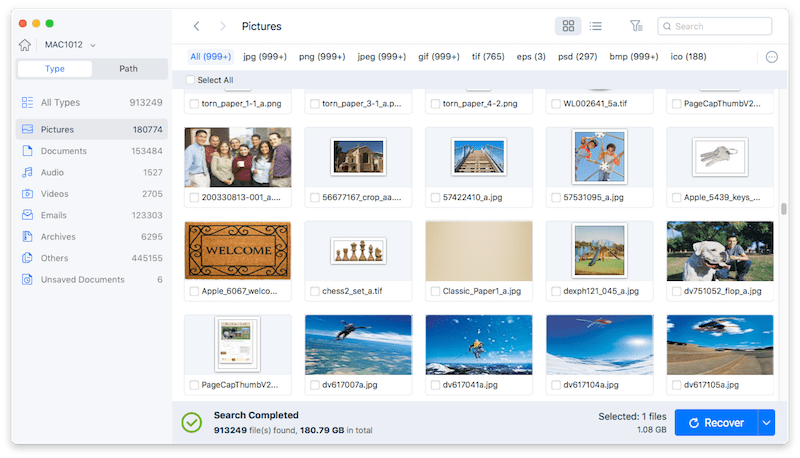 Step 3

Finish Blank SD Card Recovery

Tick the files that you would like to recover from blank SD card and click on the " Recover" button at the bottom right corner.

Next, specify the location where you want to save your restored files, and navigate to "Open" > "OK". For quick view files, you need click on "Show in Finder" button.
Blank SD card recovery is completed? No. Last but not at least, you'd better check your restored files. In case your issue still hasn't be solved, you can try to format blank SD card in advance and then fix "SD card is blank or has unsupported filesystem" error.
To fix blank SD card on Android phone and Windows, I recommend MiniTool Mobile Recovery and Stellar Data Recovery for Windows, but they are not as friendly as Cisdem Data Recovery at the price and these kinds of devices have more free solutions than Mac. In this condition, you can keep on reading for blank SD card solutions on Android and Windows.

Free Download
7 solutions on how to fix blank SD card Errors
The "SD card is blank or has unsupported filesystem" error is not uncommon and has been reported by lots of Android users. As mentioned, the blank SD card error can be caused by many reasons. There is not a one-size-fits-all solution. We may need different solutions for different situations. In this part, we will talk about how to fix blank SD card, involving or not involving blank SD card recovery. With some solutions or situations, you can fix blank SD card on Android phone directly. With others, you may need a computer.
What you may need:
The phone and SD card that you are having problem with
Another SD card which works properly
Another Android phone which works properly
A computer (Mac or Windows)
A SD card reader
A decent blank SD card recovery tool, etc.
Solution 1. Try restarting the phone
This is insanely simple, but it works in some cases. Just turn off your phone and then turn it on. If the blank SD card message doesn't appear again, then this method works for you. If it's of no use, check out the other solutions.
Solution 2. Get the phone fixed or even replaced
We are not joking. It could be that there's something wrong with your phone. Insert the SD card in question into another Android phone which can work properly. If the SD card works perfectly, it's likely that something is wrong with your phone itself. To further test it, put a different SD card in the phone in question. If this card also fails, then you need to get your phone checked and fixed. It could be caused by a manufacturing defect, physical damage, or software malfunction, etc.
By the way, if it's the first time you use this SD card on your phone, one possible reason is that the card's capacity exceeds the maximum capacity supported by your phone. In this case, you need to get a new card instead of exploring how to fix blank SD card.
Solution 3. Clean SD card contacts
Dirty contacts would also cause a problem like this. It can happen especially if you haven't used the card for quite a long time. If it's the case, then you can clean the SD card contacts using a soft cloth with alcohol.
Tips: Don't wipe the contacts with your fingers or something rough. If you do so, you might damage the card, and the data on it might get corrupted.
So far, the solutions that have been recommended are basically hardware related. In cases like these, you don't need to deal with corrupted filesystem, so things such as blank SD card recovery software are not needed.
Solution 4. Format the card
If your phone displays the blank SD card message and asks you to format the SD card, formatting the card can be a solution. There are different situations. If the card doesn't have any files on it. You can perform a format (without worrying about losing anything) directly on the phone and see if the card works.
However, when it comes to a SD card with files and data on it, it's not recommended to fix blank SD card without computer or blank SD card recovery. You need to connect the card to your computer.
Scenario One. Your computer can recognize the card and access the files on it without any problems. If so, back up the files and then format the card. Check out the guide on how to format blank SD card safely.
Scenario Two. Your card is detected, but the files are invisible.
Scenario Three. Your computer detects the card, but you are asked to format the card before you can use it.
For Scenario 2 and 3, the best solution is to use blank SD card recovery software since the card is damaged. As for what software to use and how to use, please read this part "The Most Effective Way to Recover Files From Blank SD Card" of the article.
Solution 5. Use CHKDSK command
If this issue is caused by logical file system errors, you can use the CHKDSK command to fix it. Here's how.
Step 1. Remove the SD card and then connect it to a Windows PC using a card reader.
Step 2. Open Command Prompt (CMD) in administrator mode. Open the Start menu and enter CMD.
Step 3. Type the command chkdsk G: /f. Make sure that you replace G with your SD card drive letter. Press enter. This will find and repair (if there's any) errors.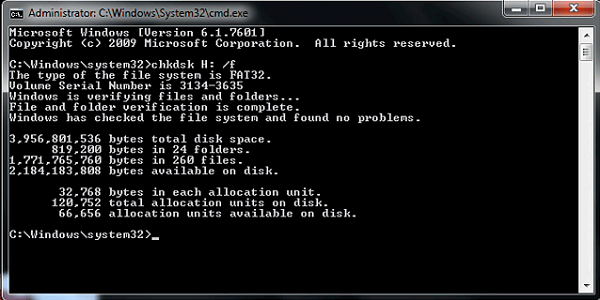 Step 4. Put the card back in your phone and see if it can work without any problems.
Other blank SD card solutions
Some apps (such as some encryption apps) on Android can cause blank SD card error. Try getting rid of this problem by uninstalling the app.
Try removing and inserting the card repeatedly. This helps many users with their problems.
Taking Control of Your SD Card
No matter you format or accidently deleted files from SD card, or get a blank SD card, a piece of data recovery software can always save you from troubles and help to take control of your SD card.
Now, you know everything about Cisdem blank SD card recovery. If you are using it to fix "SD card is blank or has unsupported filesystem" error, make sure you follow the step-by-step process as given above. Besides, commit the cautionary steps to the memory to avoid the inconvenience of data recovery.
If you really want to refrain from such errors, you must maintain and make use of your memory card correctly.

Free Download