AutoCAD is a design and drawing software to create professional 2D or 3D files, which is widely applied among architects, engineers and other professionals. The native files created in AutoCAD is saved in DWG format and it always takes a long time and great effort to finish a DWG file, if your AutoCAD DWG files are left unsaved or formatted accidentally, that would a disaster.
Yet, it is still lucky that there are solutions to recover an unsaved or restore deleted AutoCAD DWG file on Mac, Windows, even external USB device.
How to Recover Unsaved AutoCAD DWG Files?
Solution #1 Recover Unsaved AutoCAD DWG with Auto Save
You may have realized that lots of professional programs add a feature of Auto Save, allowing users to auto save files every 5 or 10 minutes to a preset location, like Adobe Photshop, Micorsoft Word, Excel, PowerPoint, and AutoCAD is no exception.
With AutoCAD's Auto Save feature, you can recover unsaved DWG files on mac and windows pc too. But first of all, you need to make sure you have enabled this feature.
How to Check If AutoCAD Auto Save is ON?
Run AutoCAD.
Click on the AutoCAD icon, go to Option.
Go to Open and Save, check if the box before Automatic save is checked, if yes, you can recover unsaved DWG file, if not, go to other options for dwg recovery.
Steps to Recover Unsaved AutoCAD DWG Files with Auto Save
Run AutoCAD.
Click on Options.
Go to Files>Automatic Save File Location, copy Auto Save location.
Locate the unsaved AutoCAD files.
For Windows 10 users, Press WIN+R, paste the auto save location, you will be navigated to unsaved AutoCAD DWG files.
For macOS users, go to Apple menu>Go>Go to Folder, paste the auto save location.
Then open the unsaved AutoCAD DWG file in dwg or bak format with AutoCAD, save the file.
Solution #2 Recover Unsaved AutoCAD DWG with .BAK File
AutoCAD embeds rich features for better user experience, including the one "Create backup copy with each save", which allows you to recover an unsaved AutoCAD DWG file with backup .bak file. If you have enabled this feature, you can follow the steps to recover your unsaved AutoCAD DWG files.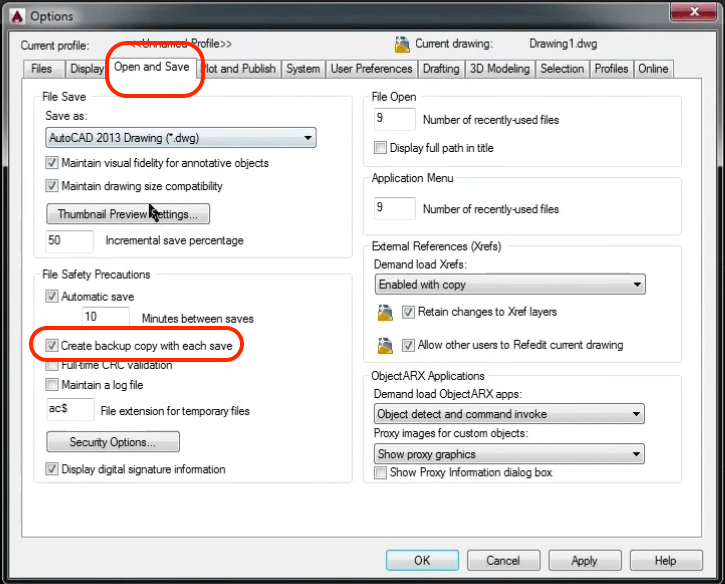 Steps to Recover Unsaved AutoCAD DWG File with .BAK
Go to the location where you save the DWG file.
Find the file with .bak, then rename to change its extension to .dwg.
Click the Save button to save the file. Done.
Solution #3 Recover Unsaved AutoCAD DWG from Temp Folder (MacOS)
For macOS users, you can also go to Temp folder to check if the unsaved AutoCAD DWG files are there, if above 2 methods failed to recover your unsaved AutoCAD DWG file on mac.
Go to Finder>Applications>Utilities.
Run the program Terminal.
Input "open $TMPDIR" to Terminal.
Then press Enter to run the command, you will be directed to the Temp folder and go to TemporaryItems.
Find the AutoCAD files in tmp format, open with AutoCAD, save the files for recovery.
Recover Formatted/Deleted AutoCAD DWG Files on Mac or Windows.
What if we lost AutoCAD DWG files on a formatted USB or hard drive, or just deleted them by accident? No worries, we can get them back too. What you need is a piece of dedicated dwg recovery software, because there is no shortcut for this, unless you have a backup.
To recover formatted or deleted AutoCAD dwg files, the data recovery program for macOS and Windows will be different, but following are the best recommendations that worth a try.
For Mac Users
Cisdem Data Recovery is a mac program to restore files lost under different situation. It requires installation on a mac, but allows users to restore files from both mac internal and external hard drive, that's to say, you can not only recover deleted dwg files from your mac, but also from other external storage devices, like SD card, USB, etc.
Main Features of Cisdem Data Recovery
Recover files lost due to different causes: poweroff, system crash, deletion, formatting, etc.
Restore files from internal and external hard drive on Mac
Support 5 recovery modes
Preview files before recovery
Fast scanning
High file recovery rate
Steps to Recover Formatted/Deleted AutoCAD DWG Files on Mac
Download and install Cisdem Data Recovery to your mac.
Free Download
Choose a recovery mode.
There are 5 recovery modes available, for formatted files, choose the Formatted mode. Generally speaking, you are recommended to start with Basic mode, if you want deep scanning, you can try Advanced mode, but it may take longer time.
Choose the location to start file scanning.
Select the disk you want to scan and click Scan to start the process.
Preview DWG files before recovering.
All the found files will be organized in different folders, go to Document>dwg, preview each file and select the deleted dwg file by checking the box before its file name.
Then click Recover to restore formatted or deleted dwg files.
After recovery, the files will be showed in Finder.
Notes:
In the case that you have found all deleted dwg files before the scanning process finishes, click on the Stop button to end the scanning, then Recover button will appear, you can continue with dwg recovery then.
For Windows Users
Stellar Data Recovery software is the recommended tool to recover AutoCAD DWG files on Windows. It supports recovering videos, audios, photos, documents, folders from both Windows internal and external hard drive, also it recently adds a new feature to recover data from crashed or unbootable systems.
Differing from Cisdem's 5 recovery models, Stellar allows users to select what they want to recover, which can exclude those unwanted files when scanning and save your time. Also, you can preview DWG files before data recovery with this Windows data recovery software.
Steps to Recover Deleted AutoCAD DWG File on Windows
Download and install Stellar Data Recovery onto your Windows PC;
Run the program, select the data type you want to recover, then click Next;
Then choose the location where you want to scan;
Find the deleted files in the folder on the left panel, preview them and select, then click Recover to restore the deleted DWG files on Windows.
Conclusion
Unlike others, recovering data such as AutoCAD DWG, photos, videos and others requires a professional data recovery program to do the job. Without a backup, you won't be able to get them back without any tools, but even without a backup, a data recovery software makes it possible to get your formatted and deleted data back.

Connie Wisley


Connie has been writing for Mac productivity and utility apps since 2009. Each review and solution is based on her practical tests, she is aways energetic and trustworthy in this field.