Table of Contents
You are just about to print a PDF document which is urgently in need of. Then, you find the PDF file is password protected, there is no option to print it.
If you have password, you can enter the password and print it, but if you forgot the password, printing the secured PDF can be a confusing process.
This guide explains several ways to print a secured PDF, We also add ways that requires no password.
Open, Print, Copy, Edit Secured PDF Easily
Auto detect if a PDF is password protected
Quickly remove owner/permission password for printing, copying, editing
Decrypt user/open password without password
Advanced settings to speed up the decryption process
Bulk unlock up to 200 PDF files at once
No worries about information leakage

Free Download
macOS 10.13 or later

Free Download
Windows 11/10/8/7
Why Can't I Print a Secured PDF?
There are mainly two types of PDF password, A PDF may comes with both password or with each one kind of the password.
User Password/Open Password
This password will restrict your access to opening the PDF files. That is you are not able to open the PDF and view its contents.
Owner Password/Permission Password
This password will restrict how you can utilize the PDF file, The owner can set restrictions on printing, editing, copying, etc. That is, you can open and view the PDF, but if you try to copy content, print, edit the PDF file you will failed to do so.
From the above we can easily know that, the reason we can't print a PDF is that the PDF is protected with permission password and restrict access to print.
So, Can We Print a Secured PDF?
The short answer is yes. And it is very easy.
You just need to entering the correct password for printing. So, if you know the password, you can easily print the secured PDF with any free PDF reader, like Preview, Adobe Acrobat Reader, Foxit, etc.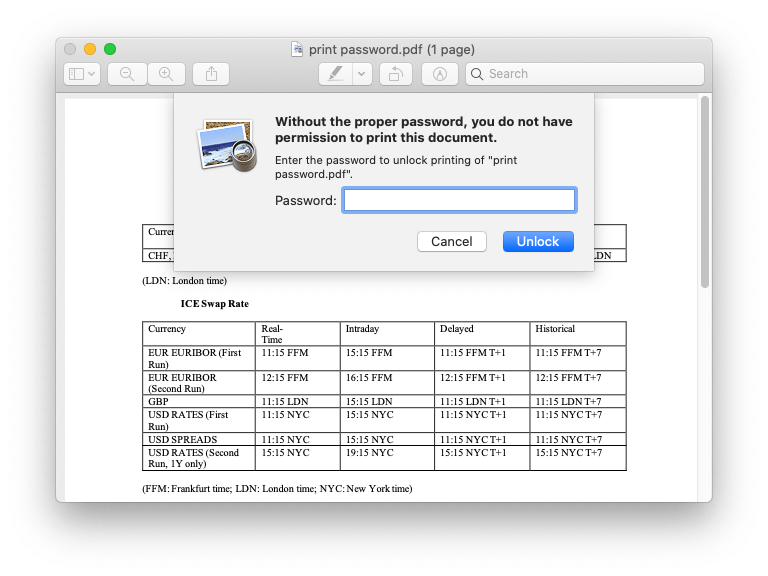 But what if we don't have the password? In this case we need to remove the print restriction from the secured PDF file in order to print it.
Rest assured that it is easy to print a secured PDF and many free solutions are available. Here we will show you each solution with detailed steps and photos.
Method 1: Print Secured PDF without Password
If you don't know or forgot the PDF password. Or if there is an unknown user password preventing you from opening the PDF file, you can use Cisdem PDF Password Remover, to remove restrictions on any secured PDF document.
Cisdem PDF Password Remover can remove both PDF open password and PDF permission password. It supports batch process and can remove PDF password without knowing the password.
Download and install Cisdem PDF Password Remover.


Free Download

macOS 10.13 or later

Free Download

Windows 11/10/8/7

Import password-protected PDF Files.
Drag PDF files to the program directly. Cisdem can auto detect if a file is protected or not. The batch unlock feature will enable you to add multiple secured PDF files at a time. If you want to delete a file from the app, Just select it and click Delete on the main interface. If you need to remove them all, please click Clear.
Remove PDF security.
Once all the PDF files imported, choose output folder to save unlocked files. Click "Remove", you will get an equivalent PDF without password.(Optional) If there is a lock icon appearing with your PDF, it indicates your PDF is user password protected from opening and you should remove it. Click the red lock icon on the right, either enter the user password if you know or directly decrypt the password if you forgot it. Remember to tweak the settings as it guides to cut the time for decryption.
Print secured PDF file.
Open your PDF in Adobe or other PDF Readers. Click Print button and start printing the secured PDF without password.
Method 2: Use Online Free Sites
If you only have 1 or 2 secured PDF to be printed and your PDFs are not containing any private or sensitive contents. You can also use online site to remove the PDF printing securities.
Depending on the PDF password type, there are 3 different online ways to print a secured PDF.
#1 Google Drive
If you have stored your files in Google Drive or have a Google account, you can print the secured PDF with Google services as well.
It won't ask you to enter the print password, you just need to open the file with Google Docs and hit the print icon. Even if you want to edit the PDF file before printing, it is possible and simple.
But Google Docs will convert the protected PDF and in this process they may change the original layout and formatting.
Log into your Google account, go to Drive.
Upload the PDF file to Google Drive.
Right click on the file and open with Google Docs.
Then click on File > Print.
Select the printer to print your file without password.
#2 Smallpdf
There are many online PDF password remover can remove the password from PDF file and create a new non-protected PDF.
Smallpdf is one among them. However, smallpdf can only unsecure PDF for printing, to unsecure PDF for editing or opening, you have to enter the correct password.
In addition, smallpdf has limits on file size and numbers, you can unsecure 2 PDF per day for free and there is no batch unlocking support.
Go to https://smallpdf.com/unlock-pdf, drop the PDF file into the program, also you can import files from Dropbox and Google Drive.
Check the box before the pinky swear and click "Unlock PDF".One big issue with this site is that it can only remove password that is very short and contains only numbers, if your password contains number and characters it will fail to remove it and pops up a windows says "...It is strongly encrypted..." and ask you to enter the password.
Download the unlocked PDF File.
Open your PDF with a PDF Reader and click print to print the secured PDF document.
#3 Lostmypass PDF Password Recover
Unlike Smallpdf, Lostmypass is an online site that helps recovering your PDF password. So after you upload your secured PDF file, it will show your the password, you can use this password to unlock the file.
The recovery process may succeed or fail basing on the strength of original password, and it will take long time. You can upload PDF file with max 100MB for free unlocking.
In the recovery process, it may show your password is weak but still fail to decrypt and guide you to buy its strong password recovery.
Go to Lostmypass PDF Password Remover and finish the "I am not a robot" test.
Upload the secured PDF that you want to print.
It will start the password recovery process automatically, once decrypted, you can use the password to unlock the PDF file.
Open the unsecured PDF and print with PDF reader or Google Chrome.
Method 3: Adobe Acrobat
You can use both Adobe Reader and Acrobat to print the secured PDF, but you need to know the PDF password. Just open the PDF in Adobe Reader or Acrobat, then input the password and go to Print.
Here we will use Adobe Acrobat to unlock a password protected PDF, so that you can print the PDF without entering password once for all.
Steps to print a locked PDF in Adobe Acrobat
Open the password protected PDF with Adobe.
Choose Tools > Protect > Encrypt > Remove Security.
Input the permission password to remove the printing security.
Go to "Print" and print the secured PDF document with Adobe.
Method 4: Use Web Browser (Chrome/Edge/Firefox)
You can remove print restrictions with the print option in a browser like Chrome, Firefox, or Edge.
There are many tutorials online tells your the detailed steps, all the method ask you to utilize the print option of the web browser but in our real test, We failed to remove the password in Chrome and Edge for PDFs with permissions passwords and limit on file printing. But we did succeed in doing so with firefox.
How to Print Password Protected PDF in FireFox.
Start Firefox and open your PDF file in it.
Click the print button in the top right corner.

You can now choose to print the secured PDF using the system dialog...

In the pop up windows set the print option according to your needs.

Method 5: Screenshot and Print the PDF
Open the secured PDF and screenshot the content, then print the image is also a good way. You can print any secured PDF that you can open and view it's content with this method.
One thing to note is that, it requires capturing the PDF content as an image, which will degrades the quality.
1. In Mac you can press and hold Shift, Command, and 4 together, then it will show a crosshair, just drag it to select the area of the screen to capture.

2. In Windows you can tap the Windows key + Shift + S, then your screen will flash and a small Snipping Tool menu will appear at the top of the screen, you can then draw box the define which area you want to capture.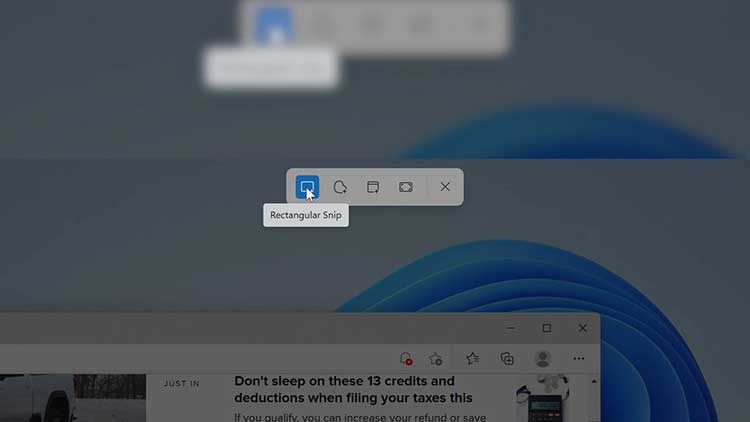 Still Can't Print a Secured PDF? Fix It!
If you have unlocked the PDF for printing, but the secured PDF still won't print, there might be 3 types of reasons leading to this:
Hardware issues: Malfunction of your device or printer
Fix: Restart the device, replug the printer or print on another device
Software errors: Outdated printing driver or operating system, setting up printer improperly
Fix: Update the software to latest version, and leave the defaulted setting unchanged
PDF problems: Damaged or corrupted PDFs
Fix: Repair PDF online or use a dedicated PDF recovery program
You can refer to this article and follow the guide to figure out why secured PDF won't print: reasons why can't print PDF.
Final Words
Though online PDF Unlocker provides free service to unlock PDF, for the reason of information safety and unlocking speed, a desktop PDF Password Remover will be a better choice to print your secured PDF, it even help you print a user-password protected PDF without password.

Free Download Windows 11/10/8/7

Free Download macOS 10.11 or later