You are just about to print a PDF document, which is urgently in need of, but suddenly realize that the PDF file is password encrypted and it doesn't allow you to print at all. Password protected PDFs are common. If there is printing restriction added onto the PDF, you won't be able to print the file, unless you've unlocked the PDF from printing first.
In this article, we outline several ways to print a password protected PDF. With a PDF Password Remover, you will be able to print a locked PDF document with ease.
Open, Print, Copy from Secured PDF Easily
Quickly remove owner/permission password for printing, copying
Decrypt user/open password if you forgot
Unlock secured PDFs in batch
Unlock protected PDFs fast

Free Download

Free Download
How to Print A Secured PDF without Any Password?
It is easy to print a secured PDF if you know the permission password, but if you don't know or forgot the permission password, even worse, if there is an unknown user password preventing you from opening the PDF file, you will have to use a dedicated PDF Password Remover to unlock the file.
Cisdem PDF Password Remover, which is available on both Mac and Windows, is designed to remove restrictions on any secured PDF document, it can instantly remove owner/permission password protection from PDF documents and allows users to print protected PDF files, copy text on clipboard, edit or change document, assemble document, page extraction, sign, comment and copy for accessibility etc. Also, it allows users to directly crack the PDF if you have forgotten the open password.
Steps to print secured PDF without any password
Download and install Cisdem PDF Password Remover.
Free Download Free Download
Run the Program and Import PDF Files.
Drag PDF files to the program directly. The batch unsecure feature will enable you to add multiple secured PDF files at a time. If you want to delete a file from the app, you need to select it and click delete on the main interface. If you need to remove them all, please click clear.
Remove PDF Security.
Once all the PDF files imported, click "Remove", you will get an equivalent PDF without password, and the secured pdf is unlocked for free printing now!
(Optional) If there is a lock icon appearing with your PDF, it indicates your PDF is user password protected from opening.
Click the lock icon, either enter the user password if you know or directly decrypt the password if you forgot it. Remember to tweak the settings as it guides to cut the time for decryption.
Start to Print Secured PDF File.
Open your PDF tools in Adobe or other PDF Readers, Google Chrome supports viewing and printing PDFs as well.Go to the Print button and start printing the secured PDF without password anymore.
How to Print Locked PDF Online Free, without Entering Password
If you don't need to print secured PDF very often, and your PDFs are not containing any private or sensitive contents, you can use an online PDF Password Remover to remove the printing securities. Depending on the PDF password type, there are 3 different online ways to print a secured PDF.
#1 Print Locked PDF in Google Drive
If you have stored your files in Google Drive or have a Google account, you can print a locked PDF with Google services as well. It won't ask you to enter the print password, you just need to preview and hit the print icon. Even if you want to edit the PDF file before printing, you can open the PDF document in Google Docs and then print it out after the edits.
Log into your Google account, go to Drive.
Upload the PDF file to Google Drive.
Right click on the file and choose Preview.
Then click on Print button and select the printer to print your file.
(Optional) To edit PDF documents before printing, right click on the file and open with Google Docs, then go to File>Print.
#2 Print Owner-Password-Only Protected PDF Online Free without Password
It is much easier to remove a PDF with owner password only, most of online PDF unlockers can eliminate the password by creating a new non-protected PDF for you, smallpdf is one among them. However, smallpdf PDF unlocker can only unsecure PDF for printing and there is no need to enter the password, to unsecure PDF for editing or opening, you have to enter the correct password.
In addition, smallpdf unlocker has limits, you can unsecure 2 PDF per day for free.
Go to Smallpdf-Unlock PDF, drop the PDF file into the program, also you can import files from Dropbox and Google Drive.
Check the box before the pinky swear and click "Unlock PDF".
Download the unlocked PDF File.
Go to PDF Reader to print the secured PDF document.
#3 Print User-Password Protected PDF Online Free without Password
If the printed PDF adds an extra user password and you forgot the password, things become much trickier, we need a PDF password cracker to decrypt the file. There are both online and offline PDF decryption tools, but offline ones like Cisdem decrypts files successfully and much faster. Anyway, if you haven't decided to install Cisdem at this moment, you can try online free tools to print a secured PDF first.
Lostmypass PDF Password Remover is an online free tool to help you find lost PDF password and download an unlocked PDF file. The recovery process may succeed or fail basing on the strength of original password, and it will take long time. You can upload PDF file with max 100MB for free unlocking.
Go to Lostmypass PDF Password Remover and finish the "I am human" test.
Upload the secured PDF that you want to print.
Click I Don't Know The Password and let the tool decrypt your PDF.
Use the recovered PDF password to unlock for printing or just download the unlocked PDF to your device.
Open the unsecured PDF and print with PDF reader or Google Chrome.
How to Print Password Protected PDF in Adobe Acrobat
You can use both Adobe Reader and Acrobat to print the secured PDF, but you need to know the PDF password. Just open the PDF in Adobe Reader or Acrobat, then input the password and go to Print.
Here we will use Adobe Acrobat to unlock a password protected PDF, so that you can print the PDF without entering password once for all.
Steps to print password protected PDF in Adobe Acrobat
Open the password protected PDF with Adobe.
Choose Tools>Protect>Encrypt>Remove Security.
Input the permission password to remove the printing security.
Go to "Print" and print the secured PDF document with Adobe.
Why Can't I Print A Secured PDF?
PDF allows adding password to restrict users from opening, printing, copying even editing a PDF. If there is a printing & copying security, also known as owner or permission password locks your PDF, you need to unlock the file by entering correct password for printing. This unlocking can be done in any free PDF reader, like Preview, Adobe Acrobat Reader, Foxit, etc.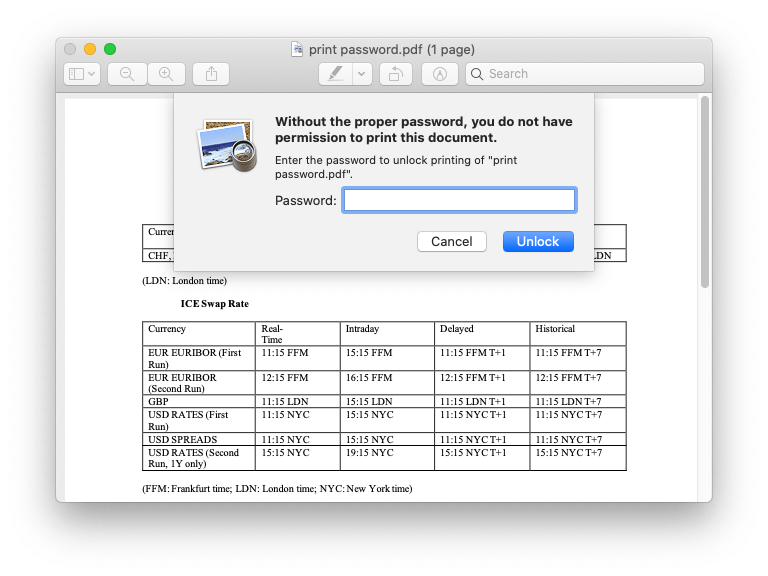 If you have unlocked the PDF for printing, but the secured PDF still won't print, there might be 3 types of reasons leading to this:
Hardware issues: malfunction of your device or printer
Software errors: outdated printing driver or operating system, setting up printer improperly
PDF problems: damaged or corrupted PDFs
You can refer to this article and follow the guide to figure out why secured PDF won't print: reasons why can't print PDF.
Final Words
Though online PDF Unlocker provides free service to unlock PDF, for the reason of information safety and unlocking speed, a desktop PDF Password Remover will be a better choice to print your secured PDF, it even help you print a user-password protected PDF without password.