When you get a password protected PDF file but you don't get its password, or you forget the password of your PDF, how to edit, copy, annotate, and print it? If you have one or two little size PDF files, an online PDF password remover will be a perfect choice.
When you are looking for an online free PDF password remover in Google, you will get a large quantity of results, and you will have to test them to verify whether it is useful or not. That will waste you too much time. So, I will do this for you and list 5 best online free PDF password remover here in this article.
Best PDF Password Remover for Mac and Windows
Automatically remove owner/permission password
Decrypt user/open password-locked PDF, even you forgot
Manually adjust parameters to accelerate password removal
Batch unlock PDF files
Fast unlocking
Easy to use

Free Download

Free Download
5 Best Online Free PDF Password Remover
#1 PDFCrack!
The first one is "PDFCrack!". This online PDF password cracker allows users to add protected PDF files from Mac or Dropbox.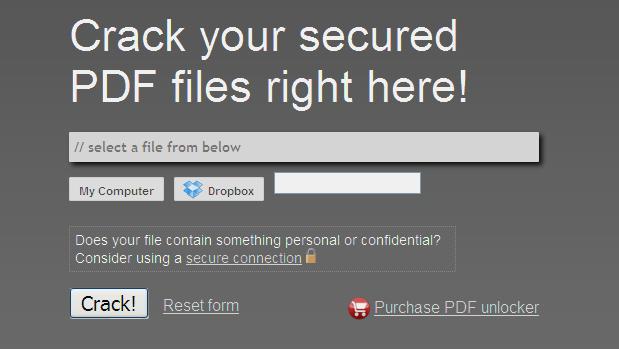 Official Website: http://www.pdfcrack.com/
How it works: Upload your PDF file, then click "Crack!" button to start. And wait a moment, you can download your cracked PDF file from this website.
Limits:
Your PDF file will be saved 24 hours, or those protected PDF with sensitive information, please take a further consideration on using this online pdf cracker.
It doesn't support batch crack PDF.
Also read: How to Unlock a PDF on Mac No Matter You Knew or Forgot the Password?
#2 Unlock PDF
The second one is "Unlock PDF", it is a PDF password cracker to remove PDF password online, providing two ways to add password protected, one is choosing file from Mac, the other is dropping PDF in it.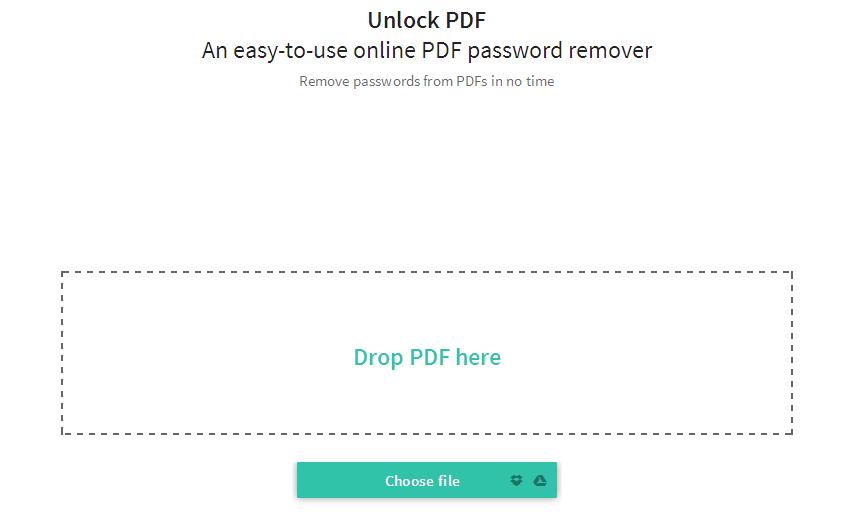 Official Website: https://smallpdf.com/unlock-pdf
How it works: Uploade your protected PDF by choosing from Mac or Drag-n-Drop. Download the cracked file once it is ready.
Limits:
Your file will be deleted one hour after processing. Take a second thought when your file requires high confidentiality.
It work slowly or even doesn't work when your file is protected with strong encryption on your file.
Also Read: 3 Best Ways to Remove Password Protection from PDF on Mac
#3 Free My PDF
The third one is "Free My PDF", another online PDF password remover to remove security from protected PDF.

Official Website: http://www.freemypdf.com
How it works: Upload your password protected PDF files to it, and click "Do it". Then you'll get a download dialog box, where you can save the unlocked PDF.
Limits:
The maximum size of PDFs allowed is up to 400mb, if your files are more than this size, find some other solutions.
Also, the uploading speed really annoys me some time, even there is no status bar to show the process, you just have to wait.
Also read: How to Remove Security from PDF for Free Editing,Copying,Printing on Mac?
#4 Aimersoft PDF Password Remover Online
The 4th on my list is Aimersoft PDF Password Remover online. It is an easy-to-use PDF password cracker online with intuitive interface, designed to unlock protected files.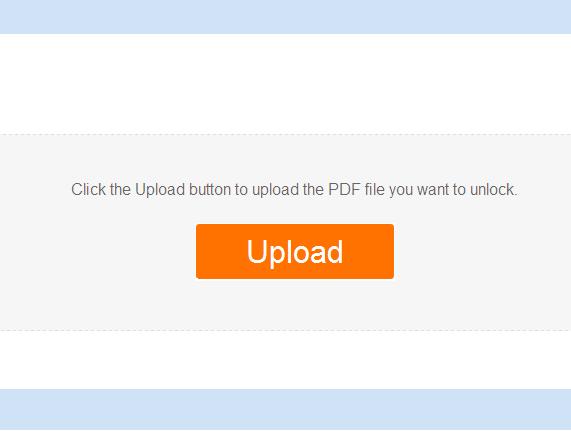 Official Website: http://www.aimersoft.com/pdf-password-remover-online.html
How it works: This application is simpler than others. Just click the Upload button to upload the PDF file you want to unlock. Then the copying and printing restriction will be removed, you can download once ready.
Limits:
It doesn't support batch mode, and your PDF file size must be less than 5MB.
Again, your cracked PDF will save 24 hours, think further about the information safety.
Also, it can't work on those PDF protected with unknown user password, you have to supply correct user password to crack it.
Also read: How to Crack PDF Password on Mac without Failure?
#5 PDF Unlocker
The last one is PDF Unlocker. Using this PDF password cracker online to remove a password from a protected PDF file only need a few simple steps.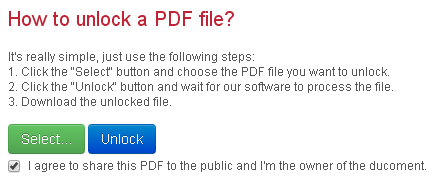 Official Website: http://www.thepdf.com/unlock-pdf.html
How it works: Click the "Select" button and choose the PDF file from your computer. Then, click the "unlock" button and the website will upload the file and start decrypting it. Lastly, once it is ready, click the "Download" button and get the unlocked file.
Limits:
It takes some time to upload the protected file.
It doesn't support batch mode.
If You are Looking for A Desktop One to Unlock PDF Faster and Safely
As mentioned above, there are several disadvantages of using an online free PDF password remover, especially when you are coping with highly private and large-size PDFs. So, to solve all these safety and speed issue, you can turn to a desktop PDF password remover.
Cisdem PDF Password Remover for Mac and Windows
This PDF Password Remover is designed to remove any restrictions from secured PDFs, no matter your PDF file is protected by the owner password or user password. You can enter the correct password to directly remove the password protection, also you can directly decrypt the PDF file if you have forgotten the pdf password.
How to Remove PDF Password on Mac or Windows?
Run the program on your device, drag and drop PDF files into the interface.
Once the PDFs are imported, click "Remove" to create an equivalent PDF file without any password protection if your original PDF is only protected by an owner password. If there is a lock icon appears when you upload a PDF, it means your PDF is protected by an user password, enter the correct password or click "forgot" if you have lost it. Once the user-password PDF is decrypted successfully, the lock icon will disappear, click "Remove" to create an equivalent PDF without securities.
Useful Tips:
When you need to decrypt the user-password protected PDFs, fill the parameters in as following to crack faster.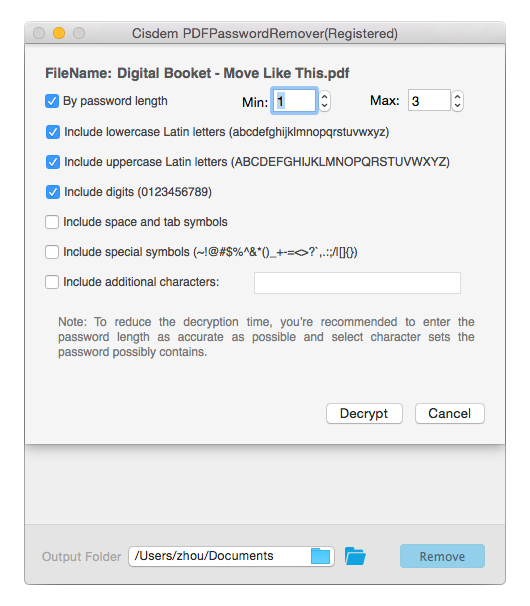 Eltima Recover PDF Password for Windows
A Windows PDF recovery tool to decrypt or recover PDF password, it provides 3 modes to recover forgotten PDF password : Brute-Force search, Dictionary search, Network search.
How to Remove PDF Password on Windows?
Run the program on your Windows PC, add protected PDFs into the program。
Choose Decrypt to crack the PDF password, or select one of the password recovery modes to recover the PDF password. Manually tweak the password recovery configuration to process faster.
Conclusion
All online free PDF password removers mentioned as above are convenient and efficient, though they fall short of our expectations in some ways. If you asking more service than that these online free PDF password remover can offer, try a desktop one.
What is your favorite PDF password cracker online?
Please leave us a comment or share it with all of us on social media.