When you get a password protected PDF file but you don't get its password, or you forget the password of your PDF, how to open, edit, copy, annotate, and print it? If you have one or two little size PDF files, an online free PDF password cracker will be a perfect choice.
When you are looking for an online free tool to crack PDF password in Google, you will get a large quantity of results, and you will have to test them to verify whether it is useful or not. That will waste you too much time. So, I will do this for you and list 10 best online free PDF password crackers here in this article.
Best PDF Password Cracker for Mac and Windows
Automatically remove owner/permissions password
Suport removing PDF strong password
Remove PDF password without password
Decrypt user/open password-locked PDF, even you forgot
Manually adjust parameters to accelerate password removal
Batch unlock PDF files at high speed
No quality loss of the original files
Easy to use and suitable for both Mac and Windows users

Free Download

Free Download
10 Best Online Free PDF Password Cracker in 2023
#1 Smallpdf
If you need a PDF password remover that compatible with different cloud storages, then we recommend Smallpdf, it is the most visited website created by a Swiss company and supported by over 100 million users worldwide. It brings 20+ PDF tools and is available in the 20 most spoken languages. This PDF password remover can unlock permissions-password-protected PDF files without password and remove open password protected PDF with the correct password.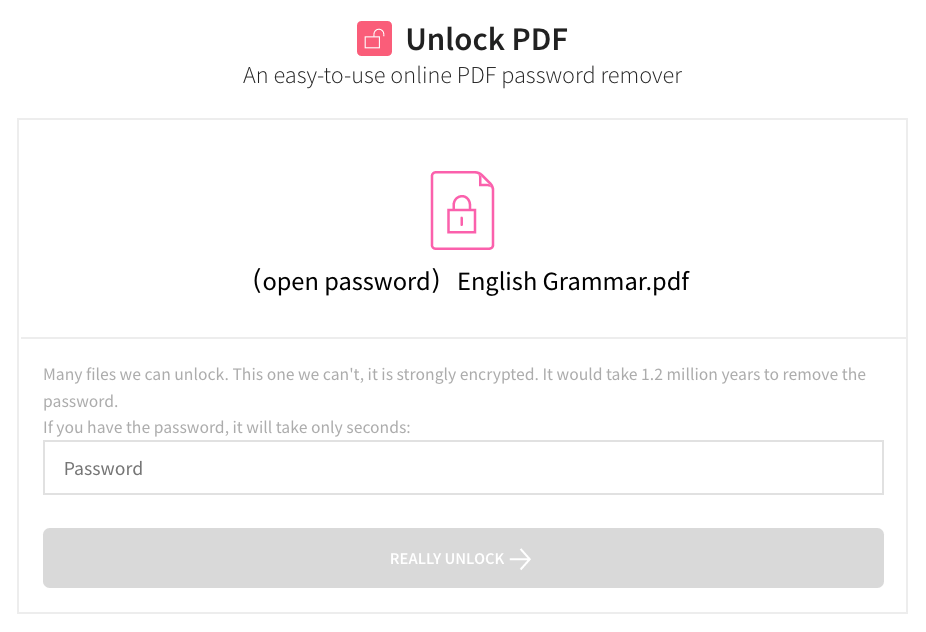 Official Website: https://smallpdf.com/unlock-pdf
How it works: Upload your protected PDF by choosing from device, Dropbox, Google Drive or Drag-n-Drop. If no strong encryption exists, you can crack PDF password online directly. In our test it can remove PDF permission password directly without any problem, but If it is a strongly encrypted PDF or PDF with open password, then you need provide the password to unlock it. The crack process normally take 1-3 minutes, and after the processing you can download the cracked file dirctly without needing to provide a email address.
Limits:
Your file will be deleted one hour after processing. Take a second thought when your file requires high confidentiality.
Need to provide password for PDF with strong encryption or user password.
Only 2 documents per day can be processed, for more PDF you need to pay $9 monthly.
Also Read: 3 Ways to Edit Protected PDF (without Password, Use Chrome)
#2 iLovePDF
As the most popular and highly rated PDF website in recent years, iLovePDF gives you the freedom to try 25+ PDF tools for free and batch process PDF files. You may notice that many online PDF password crackers can only unlock owner/permissions directly, but iLovePDF allows users to crack highly encrypted password even without password. What's more, you can process 2 files at one time to save time. It our test, this site requires no email to sign and it is very quick at processing files. Most of the PDF which comes with permission password crack successfully and for PDF with open password, this app fails most of the time.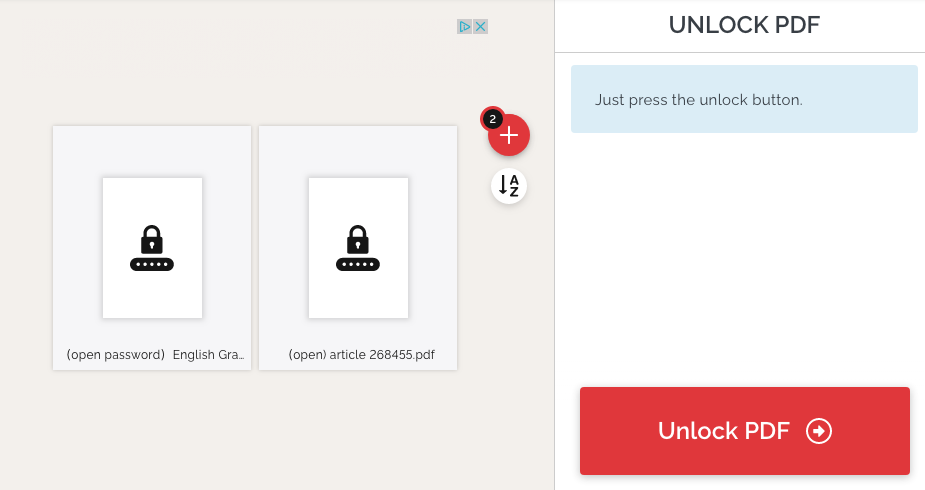 Official Website: https://www.ilovepdf.com/unlock_pdf
How it works: Select password-protected PDF files from your Mac, Windows, Google Drive or Dropbox. When they upload, just press the "Unlock PDF" button.
Limits:
This tool is limited to 2 files per task. Premium users can process up to 10 files per task.
Also read: How to Unlock a PDF on Mac Even without Password
#3 Soda PDF
Soda PDF is a PDF brand with 15 years of experience. In addition to the online version, it has also launched a desktop version for Mac and Android devices. This online PDF password cracker allows users to add protected PDF files from cloud storage service such as Google Drive or Dropbox, break PDF password online and share files with others. It successfuly craked most of the permission password, and for user password protected PDF file it requires you to enter the right password.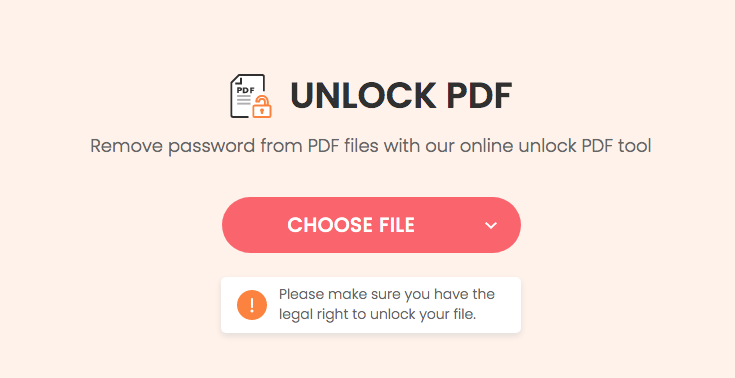 Official Website: https://www.sodapdf.com/unlock-pdf/
How it works: Upload your password-protected PDF file by clicking "Choose File". Enter the unique password to access to open the locked PDF and click "Unlock" to remove the restrictions from your file. And wait a moment, you can download your cracked PDF file from this website.
Limits:
Your PDF file will be saved 24 hours, or those protected PDF with sensitive information, please take a further consideration on using this online PDF cracker.
It doesn't support batch crack PDF.
#4 Free My PDF
Free My PDF another totally free online PDF password cracker supports removing owner password from protected PDF. But please note that it doesn't work for user-password-protected PDF, even when you have the right password.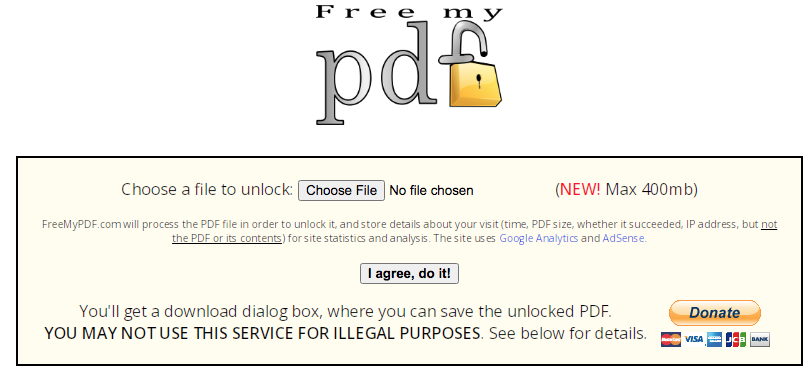 Official Website: http://www.freemypdf.com
How it works: This application is simpler than others. Just upload your permissions-password-protected PDF files to it, and click "I agree, do it". Then you'll get a download dialog box, where you can save the unlocked PDF.
Limits:
This program only works for PDFs that can be opened and read without any third-party plugins.
The maximum size of PDFs allowed is up to 400 MB, if your files are more than this size, find some other solutions.
Also, the uploading speed really annoys me some time, even though there is no status bar to show the process, you just have to wait.
#5 LostMyPass PDF
If your PDF file is locked by an open/user password without a correct password, then the following tool is suitable for you. LostMyPass is an online free PDF password recovery that supports recovering open/user password for encrypted PDF file and removing it. In our test it works with PDF files that have simple digit password like 123, but for password with digital and character it will fail most of the time.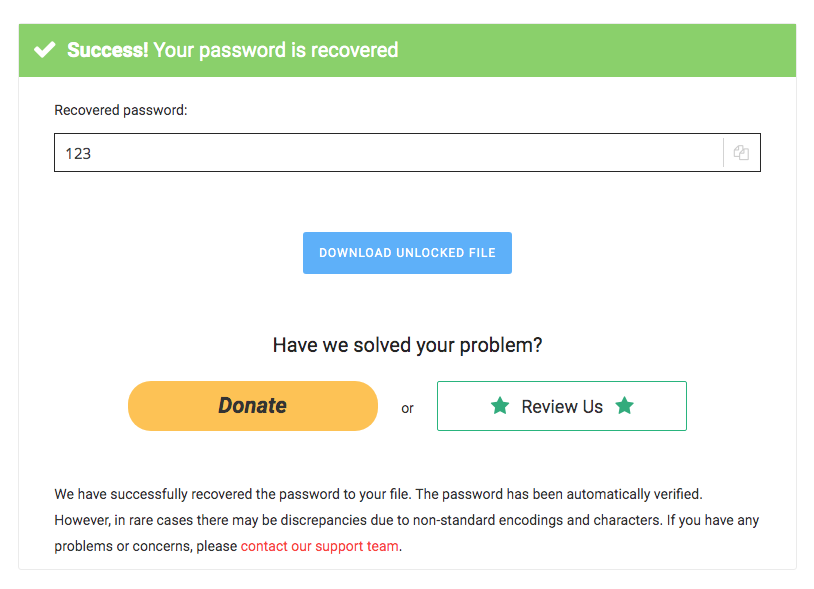 Official Website: https://www.lostmypass.com/file-types/pdf/
How it works: Firstly, agree to the Terms and Conditions by clicking the checkbox, and drop the PDF file you want to unlock to the uploading area. Then the recovered password will appear to the interface, you can download the unlocked file once ready.
Limits:
It doesn't support batch mode, and your PDF file size must be less than 100 MB.
Also, it doesn't support recovering an owner password.
Also read: 5 Ways to Print A Secured PDF even without Password, Online Solution Incl.
#6 Online2PDF
Online2PDF comes with 10 main features and all of them are based on a simple user interface. The biggest advantage of this online PDF tool is the ability to upload and process 20 files at a time, providing users with the most time-saving service. Whether your PDF has restrictions on copying, printing or editing, the PDF unlock tool can automatically break PDF permission password online even if you forgot it. For PDF with owner password it will takes a lone time and finally tells you that it failed to crack it.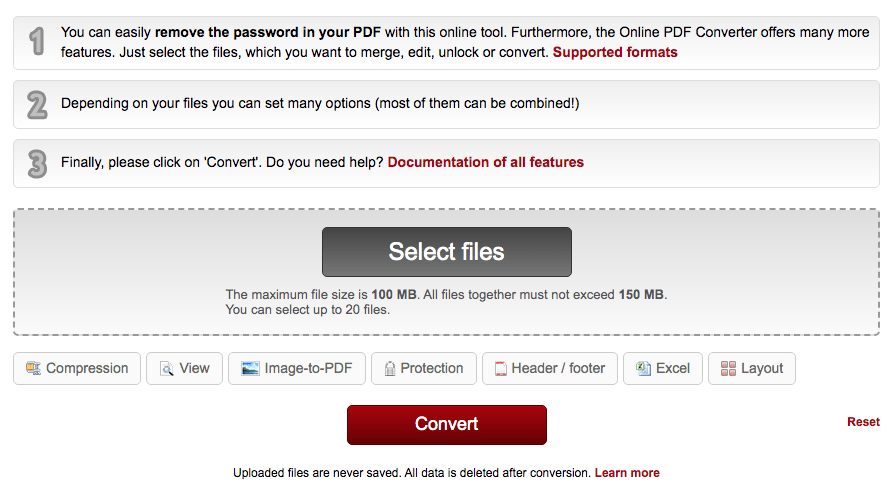 Official Website: https://online2pdf.com/remove-pdf-password
How it works: Click on "Select files" to import your PDF files. Then the program will require a password for opening the PDF file. Enter it and click "Convert" to start cracking PDF passwords online for free.
Limits:
The maximum file size you can upload is 100 MB and all the files must not exceed 150 MB.
It takes a while to upload and crack the PDF password
#7 pdfforge
pdfforge is a rich-featured website that offers a variety of free PDF tools such as converter, creator, editor, compressor, organizer, combiner, locker and unlocker. The same as most online PDF password crackers, you should provide an open password and remove it from PDF.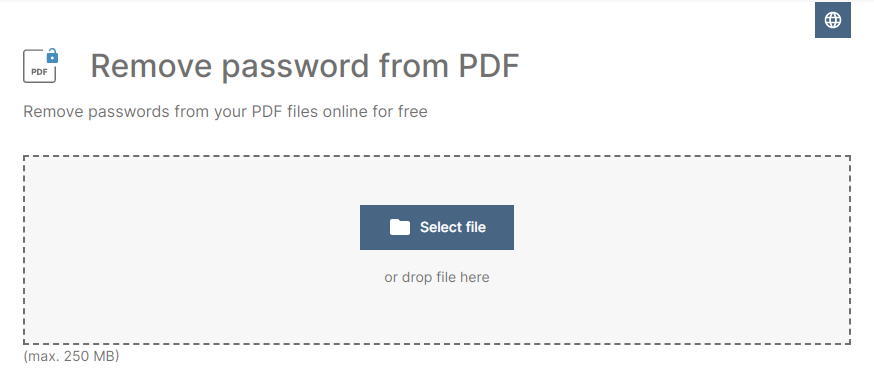 Official Website: https://www.pdfforge.org/online/en/remove-pdf-password
How it works: Select the PDF that you want to unlock from your device. It will remove the PDF password directly unless it comes with an open password. In that case, you should enter the correct password of the file and click "Remove password" to start. Once the unlocked PDF document has been created, you can save it to your computer.
Limits:
You can only upload files within 250 MB
Process one file at one time
Cannot upload files from cloud storage devices
#8 Aspose
This handy website works for PDF, Word, Excel, PowerPoint, OneNote, CAD, OpenOffice, 3D formats and other mainstream formats in the market. For PDF file, it offers a variety of solid tools such as editor, splitter, converter, merger, signature creator and unlocker. It's quite easy to crack multiple PDF passwords at once. But please note that the unlocking tool requires the exact PDF password before removing it.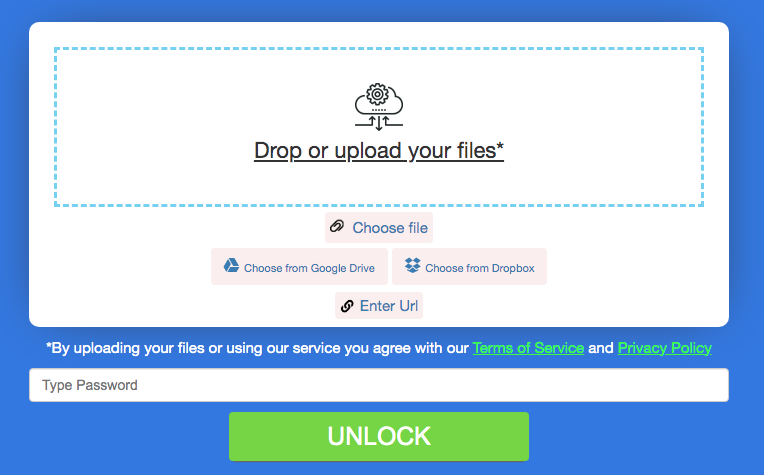 Official Website: https://products.aspose.app/pdf/unlock
How it works: Choose locked PDF files from Google Drive, Dropbox, URL or computer. Type the password of the files and click "Unlock" to crack the PDF password online.
Limits:
Cannot crack locked PDF without correct password
#9 CleverPDF
CleverPDF comes with 40+ powerful and permanently free online PDF tools for users to unlock, split, convert, create, organize, encrypt, combine, extract, delete and compress PDF files with simplified procedures. With the help of the PDF password remover, owner/permissions password can be removed instantly. But it can't crack an open password since it's strong protection. In that way, you need to provide the password.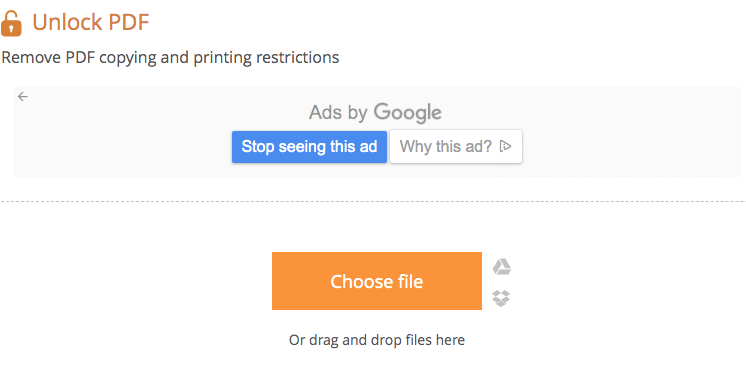 Official Website: https://www.cleverpdf.com/unlock-pdf
How it works: Drag and drop files from Google Drive, Dropbox or your local device. This file is encrypted by the open password, it can't get access to the content. Please enter the correct open password. Permissions password can be removed by clicking "Start conversion".
Limits:
Some advertisements on the website
Don't support batch mode
#10 ThePDF
The last one is ThePDF, one of the versatile online PDF tools that enables you to unlock, convert, create, merge, split, and OCR PDF. Using this PDF password cracker online to remove a password from a permission password protected PDF file only need a few simple steps. For user protected PDF file you need to enter the right password to crack it.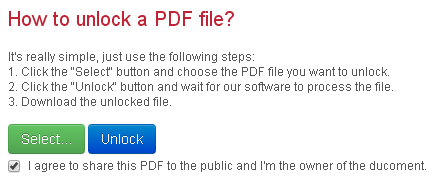 Official Website: http://www.thepdf.com/unlock-pdf.html
How it works: Click the "Select" button and choose the PDF file from your computer. Then, click the "unlock" button and the website will upload the file and start decrypting it. Lastly, once it is ready, click the "Download" button and get the unlocked file.
Limits:
It takes some time to upload the protected file.
It doesn't support batch mode.
Some ads affect user experience.
Remove PDF Strong Password with Brute Force
From the above we know that online PDF password cracker are useful when you need to remove permission password from PDF files, but they have some limitations, first, as online sites needs you to upload the file, they all have limit on file size, most of the size only support files that are smaller than 5MB, and they are not support processing files in batches, and more importantly most of the online sites fails to remove open password and strong permission password. If you have large size PDF or your PDF is protected with strong password, we recommend you have a try with Cisdem PDF Password Remover.
This PDF Password Remover is designed to remove any restrictions from secured PDFs, no matter whether your PDF file is protected by the open password or user password. You can enter the correct password to directly remove the password protection, also you can directly crack the PDF file without password if you have forgotten the password.
Why is Cisdem PDF Password Remover so powerful? And why it's the best PDF password remover for Mac and Windows? Thanks to its robust brute force ability that makes it easy to crack PDF passwords and remove them without damaging the quality of the original files. Furthermore, up to 200+ files can be processed at the same time.
How to Remove PDF Password on Mac or Windows?
Free download Cisdem PDF Password Remover on your Mac or Windows.

Run the program on your device, drag and drop multiple password-protected PDF files into the interface or add them by clicking the "+" button.

Once the PDFs are imported, click "Remove" to create an equivalent PDF file without any password protection if your original PDF is only protected by an owner password.

If there is a lock icon appearing when you upload a PDF, it means your PDF is protected by a user password, enter the correct password or click "forgot" if you have lost it. Once the user-password PDF is decrypted successfully, the lock icon will disappear, click "Remove" to create an equivalent PDF without securities.
Useful Tips:
When you need to decrypt the user-password protected PDFs, fill the parameters in as follows to crack faster.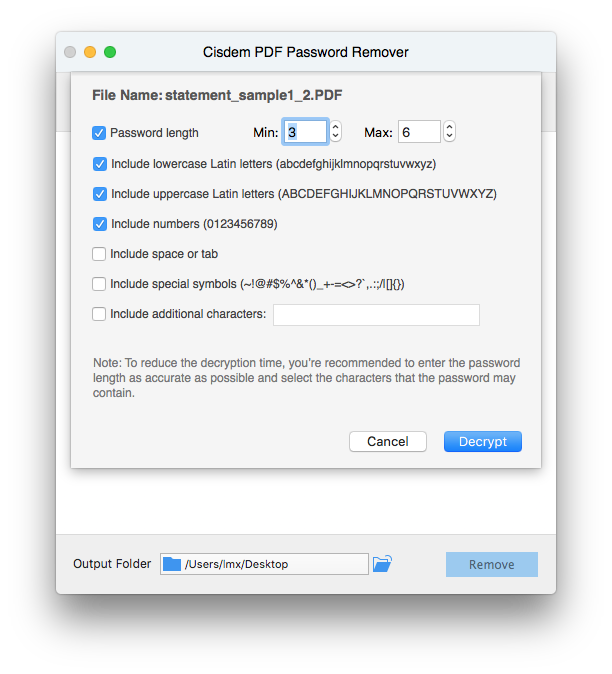 Conclusion
All online free PDF password crackers mentioned as above are convenient and efficient, though they fall short of our expectations in some ways. If you ask for more service than that these online free PDF password remover can offer, try a desktop one such as Cisdem PDF Password Remover.
What is your favorite PDF password cracker online?
Please leave us a comment or share it with all of us on social media.