Macs are becoming much more popular with students. And it's back to school time. If you are a Mac lover who will go back to school, then you can't miss these must-have back to school Mac apps that will help you study smarter and give you a smoother school experience. And some of these must-have back to school apps are also available on iOS.
CourseNotes
Keeping class notes organized is a daunting task for any student, so you can't miss CourseNotes, which is one of the perfect must have apps for student. It combines the functionality of a notepad and voice recorder to create a powerful tool that will save you time while improving the quality of your notes.
It also lets you take notes with rich text editing, lets you import PDFs, take photos and import other images, all while recording audio at the same time. It also allows you to sync your notes over iCloud with CourseNotes for your Mac and other iOS devices. You can get CourseNotes for $2.99 on Mac App Store.
Download CourseNotes for Mac right now!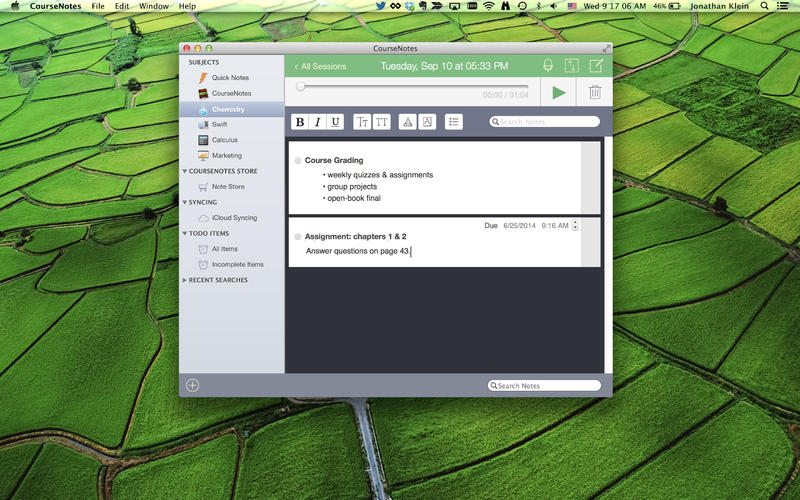 PDFConverterOCR
"I have been emailed a file which is in PDF format. I've clicked on the 'edit and reply' button that comes up but it says that it's not supported. How do I convert this PDF to a word document so that I can add information to the document?"- Biscuit135
If you need to edit or copy the studying contents of a PDF document, but all you have is a scanned PDF, how to make the PDF editable? This problem can be easily solved by using PDFConverterOCR for Mac. This app allows you to convert native or scanned PDF to Word, Text, Excel, PPT, Keynote, Pages, Rtfd, ePub, HTML, and image documents, as well as digitize text on images (JPG, BMP, PNG, TIFF, GIF) with OCR technology. It can recognize text in 49 languages and supports 100% original layouts.
Download free trial of PDFConverterOCR for Mac!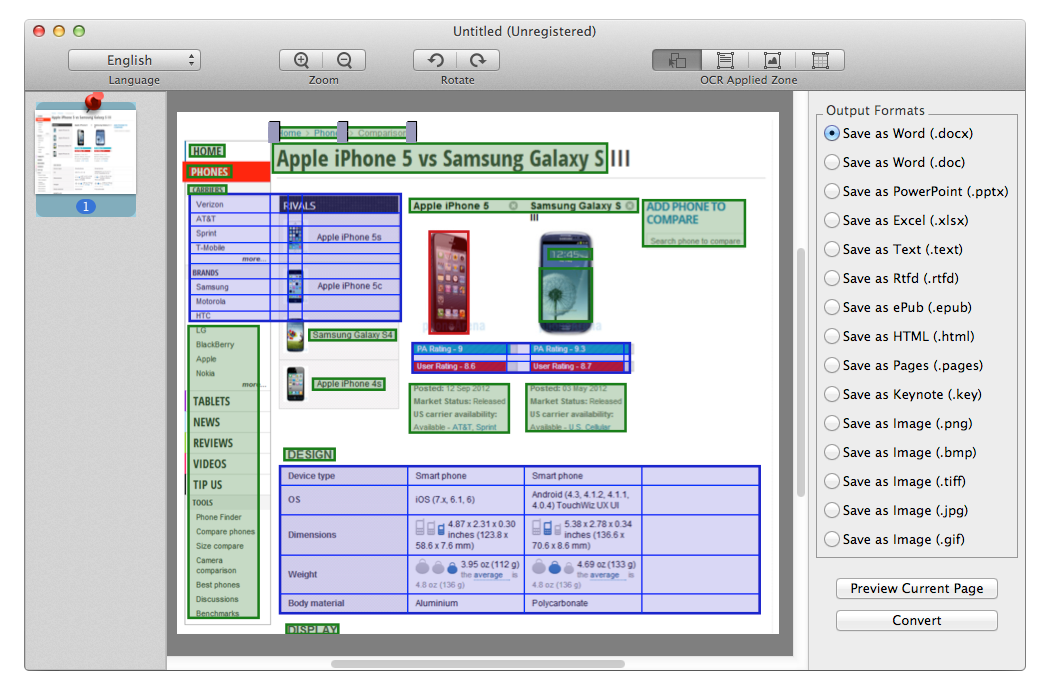 Adium
Adium is a free instant messaging program exclusively for Mac which supports several chat protocols, including AIM, Facebook Chat, ICQ, MSN, Google Talk and Yahoo Messenger, etc. It supports all of these applications at once. As a student, you may like to keep in touch with all your mates, so it will be a great tool for you. Adium was created by college student Adam Iser. The app integrates with your Address Book and there are plenty of extras to be had including custom emoticons, sound sets and message styles (all of them free of course).
Download free Adium for Mac right now!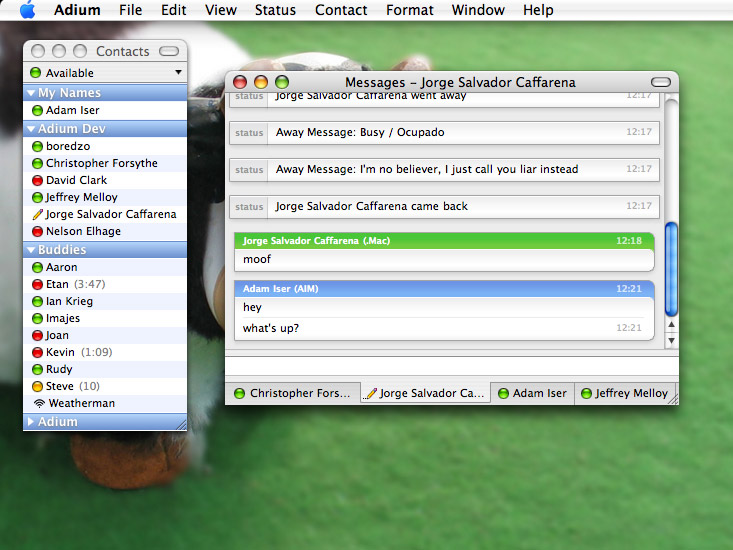 Dropbox
If you store your learning materials on Mac or other iOS device, then they will disappear someday, but storing your files in Dropbox can help you avoid data loss. Dropbox allows you to view your files from any phone, tablet or computer that's connected to the Internet, and your files will never disappear if your Mac gets lost or crashes.
It has limited free storage up to 2GB, but you can earn 3GB extra free storage by turning on automatic photo upload feature on any of the mobile apps. You can also earn 500MB for each friend you refer to Dropbox who actually signs up for the service, up to 16GB total, or 32 referrals. If you want more free storage and don't want to pay, you can also try other cloud service such as Google Drive, One Drive, etc.
Download free Dropbox for Mac right now!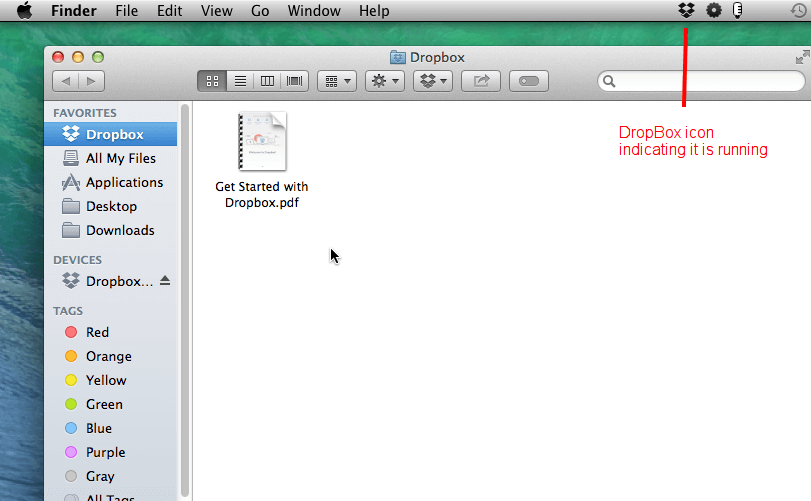 WindowManager
Overloaded with too many active windows from too many apps? Want to minimize one, and maybe maximize another? WindowManager can easily split screen into various sizes and positions on Mac in order to improve learning efficiency. It is easy to use. You can just drag windows to the edges or corners of your screen, or use our grid system to select the area that the windows should cover and you can also set keyboard shortcuts. You can also easily set the edges and borders or choose to ignore edges and borders. Once you start splitting screens on Mac with this desktop window organizer, you'll wonder how you ever managed without it.
Download free trial of WindowManager for Mac right now!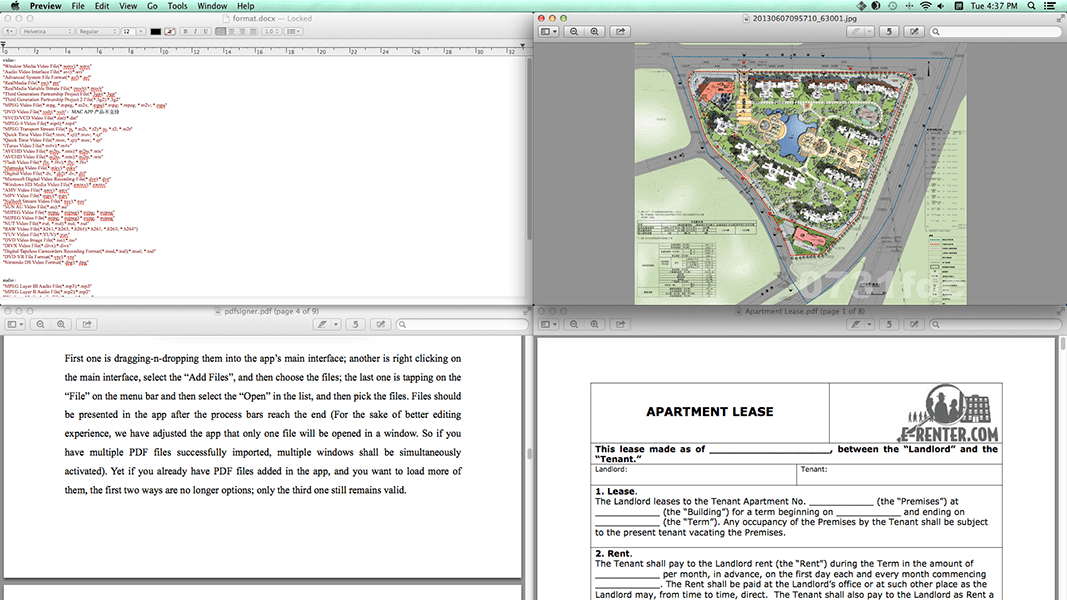 iHomework
Want help to manage your homework, assignments, and exams and their deadlines? Then use iHomework! iHomework is the perfect organizer for any student and makes tracking your school work a breeze. It allows you to enter homework, and other assignments, with their due dates with ease. You also have the ability to enter your partner's information. All in all, it is a great assignment and project. You can get iHomework for $1.99, along with a free iOS companion.
Download iHomework for Mac right now!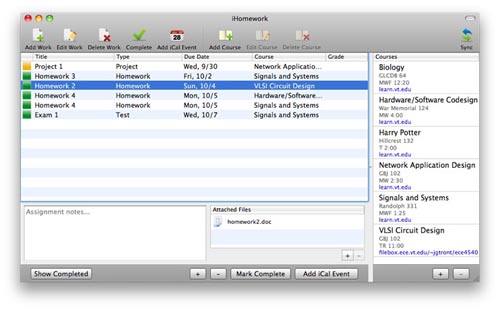 Time Out
Have you spent a long time in studying in front of your Mac despite the fact you desperately want to take a break? You deserve a break, but you always forget to do that. It is very easy to fall into bad habits when using a Mac for hours on end. So you need a reminder named Time Out to remind you to take a quick break. You can set use this app to set two kinds of break: a 'normal' break which is typically 10 minutes long every 50 minutes and a 'micro' break, which is usually 10 seconds long every 10 minutes. Not only does it help you preserve your sanity, it also helps you concentrate for longer so as not to let your mind wander. It's totally free and requires Mac OS X 10.10 or later.
Download free Time Out for Mac right now!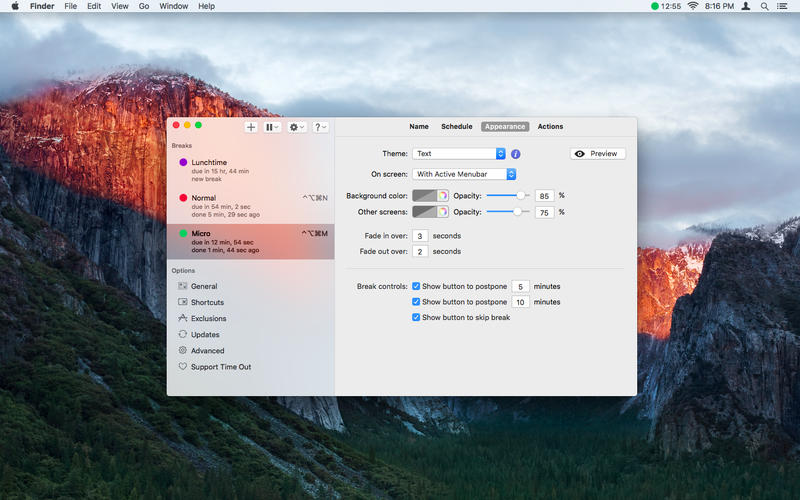 AppCrypt
Can't focus on learning or spend too much time in playing games? AppCrypt can help you to deal with that. It lets you set a period of time to block certain Mac apps like Mail and Mac games by adding them to block list and keep track of failed attempts with time and photo. This is super useful for students who would like to focus on learning or protect apps like Dropbox from unauthorized usage and for parents who want to limit their kids' game playing time on Mac. It is very easy to use; you can simply set a password and add the apps to the block list. Then no one can access the locked apps without the correct password.
Download free trial of AppCrypt for Mac right now!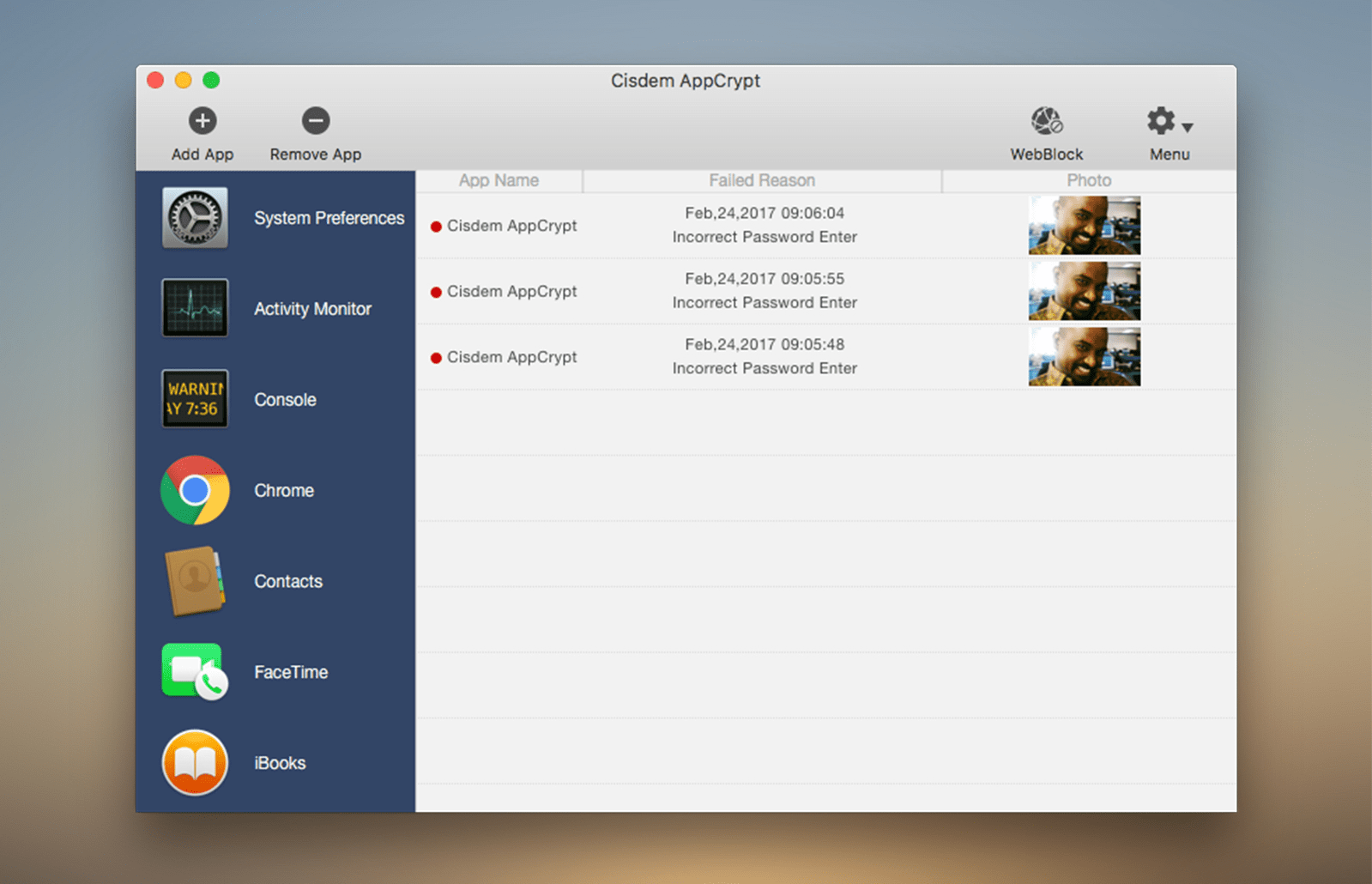 Smartr
Flashcards are a great way to study for tests and exams, but they can be horrible for the environment. Here is a good flashcard substitute app named Smartr which allows you to create stacks of cards with information that you want to learn, and then study them like flashcards. It is a great learning tool and study aid that that lets you to make virtual text and photo flashcards or even lets you divide flashcards into categories. Tests based on your flashcards, as well as tips for improvement are also provided by Smartr. What a good study partner it is! You can get Smartr for $2.99, with a free option also available.
Download Smartr for Mac right now!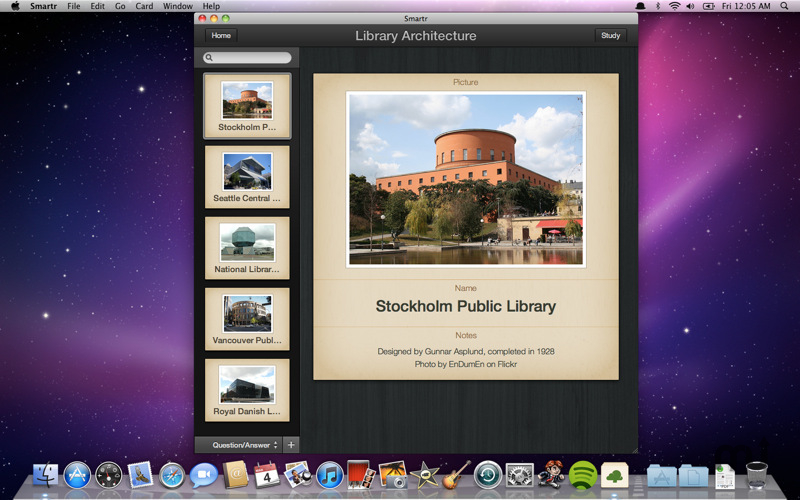 I hope these must have back to school apps for Mac will help any students out there with their studies. I certainly found that the applications in this list will really complement your Mac, make your study life easier as well as ensure you get the full functionality out of your Mac.
You can also leave comments below, including suggestions for other Mac apps that you find useful for studies, as I am always looking for new applications that may be really helpful for students.