Tons of emails are coming to your Gmail inbox on a daily basis. Not all of them are of value. The fact is that over 50% of emails are newsletter subscriptions, advertisements, promotions, or other useless junk emails. Although the Gmail spam settings and filters work well, occasionally they flag the important emails as spam by mistake or send the spam emails to inbox. If you are plagued by the problems of spam in Gmail, just keep reading. Here we will discuss everything you want to know about Gmail spam settings and filters.
How to Mark Email as Spam in Gmail?
Gmail has an automatic filter that identifies spam or suspicious emails. For those unwanted emails that escape the Gmail spam filtering, we should manually mark them as spam.
Sign into your email account on Gmail.
Select one or batch of unwanted emails by clicking on the checkbox next to the message.
Click the "Report spam" icon from the top toolbar, and choose "Report spam & unsubscribe" or "Report spam" button. The messages you selected will be marked as spam.
Note: Once you mark an email as spam, Google will get a copy of it and might analyze it to help protect you from abuse and spam.
How to Permanently Delete Spam Mail?
When junk emails are marked as spam, they still exist in your mailbox. To completely remove them, you should:
Choose Spam folder to the left in your Gmail screen.
At the top, tick the check box, and then click the "Delete forever" option.
Note: If you only move the spam emails to Trash by clicking the trashcan icon, the emails will be there for 30 days before deleted.
How to Recover Deleted Spam Email?
Click on Trash folder.
Select the messages you want to restore.
Click on the "Move To" icon at the top of the window.
Recover your deleted spam emails to the Inbox.
If the spam emails were permanently accidental deleted, then you can submit the details to Google Mail Support team. Within 30 minutes, you will receive a reply about whether the deleted emails were recovered successful or not from mail-support@google.com. If failed, you can't retrieve your messages anymore, unless you know exactly who sent you the emails and contact the senders for resending or forwarding the copies to you.
How to Unmark Email as Spam in Gmail?
I marked an email from someone as Spam, and all the emails from him are going to Spam directly. I don't want this to happen. How can I figure it out? – From ProductForums
Gmail spam setting supports a set of instructions, which ensure you customize inbox by marking spam emails as well as undo the incorrect operation.
Go to the Spam folder in your Gmail.
Tick one (or more) email that you don't mark it as spam.
Click the "Not spam" option at the top toolbar. You will receive a message saying "conversation unmarked as spam and move to Inbox".
Gmail Spam Settings Turn on
To prevent boresome promotional emails and spam from appearing in Gmail inbox, you can change spam settings in Gmail. We also call it a process of creating Gmail spam filter rules.
Open your Gmail.
Tap on the arrow at the right side of search field.
A dialog pops out, just type "unsubscribe" in the "Has the words" field.
Tap on "Create filter" button.
On the next screen, choose the checkbox named "delete it". If you prepare to delete the existing spam emails, please tick "Also apply filter to matching conversions" option.
Once done, click on "Create filter" button.
Gmail Spam Settings Turn off
With Gmail spam setting turned on, it will detect Spam emails and move them to Spam folder. But if you receive a stack of emails each day for the business purpose, you may think Gmail spam filter is too aggressive, as you could miss inquiries or new cooperation from the customers you didn't know. So you must know how to stop emails going to spam in Gmail.
Go to the Gear icon on the upper right, and click the item called Settings.
Go for "Filters and Blocked Addresses" and click on it.
Click "Create a new filter" button.
In the "Has the words" field, enter "is:spam" command, then create filter.
Once the filter is created, a confirmation pop-up would show up, please click on "OK".
Next, another pop-up would appear to let you create the rule of what to do when that message arrives. Check on "Never send it to Spam".
Click "Create filter".
Use Gmail Aliases
Gmail allows you to create infinite variations of email addresses, which we call aliases. You can add a period to divide your email or append a plus symbol (+) then your a word to email address. For example, you are able to modify testemail@gmail.com to
test.email@gmail.com
teste.mail@gmail.com
testemail+spam@gmail.com
testemail+promotion@gmail.com
…
The most commonly used alias for Gmail spam setting is to strategically add a + and create a label to your email.
When you are using a web service, registering an account with your Gmail address is inevitable, which usually leads to a bombardment of spam or unscrupulous merchant selling your details to other organizations. Hence you'd better offer the aliases for different websites. For shopping sites like Wal-Mart, Amazon, just let your email address be testemail+shopping@gmail.com. In that way, all emails from these sites will be filtered into a folder called Shopping.
Combining the use of aliases with filters will make the Gmail spam setting more solid.
Log in your Gmail.
Click the gear icon > select Settings in the top right of the page.
Click "Filters and Blocked Addresses".
Click "Create a new filter".
Type your email alias testemail+spam@gmail.com in the "To" field.
Click "Create filter".
Add checkmarks to skip the inbox, delete it, mark as read or create a new label.
Click "Create filter" again.
Gmail Spam Settings on iPhone/Android
The operating procedures of Gmail spam settings on iPhone and Android are slightly different. But the principles and final choice of buttons, labels, and folders are the same. You only have to grope a little to fully understand its usage. But if you wish to handle the latest junk emails more conveniently in a timely manner, without opening them, installing a spam mail blocker on mobile phone is necessary.
#1. JunkMail Stop for iPhone
JunkMail Stop is a brand new, delicately designed iPhone app, capable of keeping your inbox away from spam. It provides you with sensitive Gmail spam filter running in background to check new incoming emails in a specific time. Once the block slider is turned on, you won't receive any spam in your inbox. In addition, it supports to create folders for receiving spam, which means you can let the spam emails go to a specified folder.
JunkMail Stop is an ideal Gmail app replacement to block spam emails on Gmail on iPhone. If you choose to subscribe, you will earn more features.
#2. Email Spam Blocker for Android
Email Spam Blocker, a lightweight and ad-free app on Android, can voluntarily detect and move spam from the Gmail inbox to the Spam folder. But it's unable to delete spam on the app directly unless the inbox is set to re-sync with the server. Anyway, I believe its spam filter will protect you from annoying emails.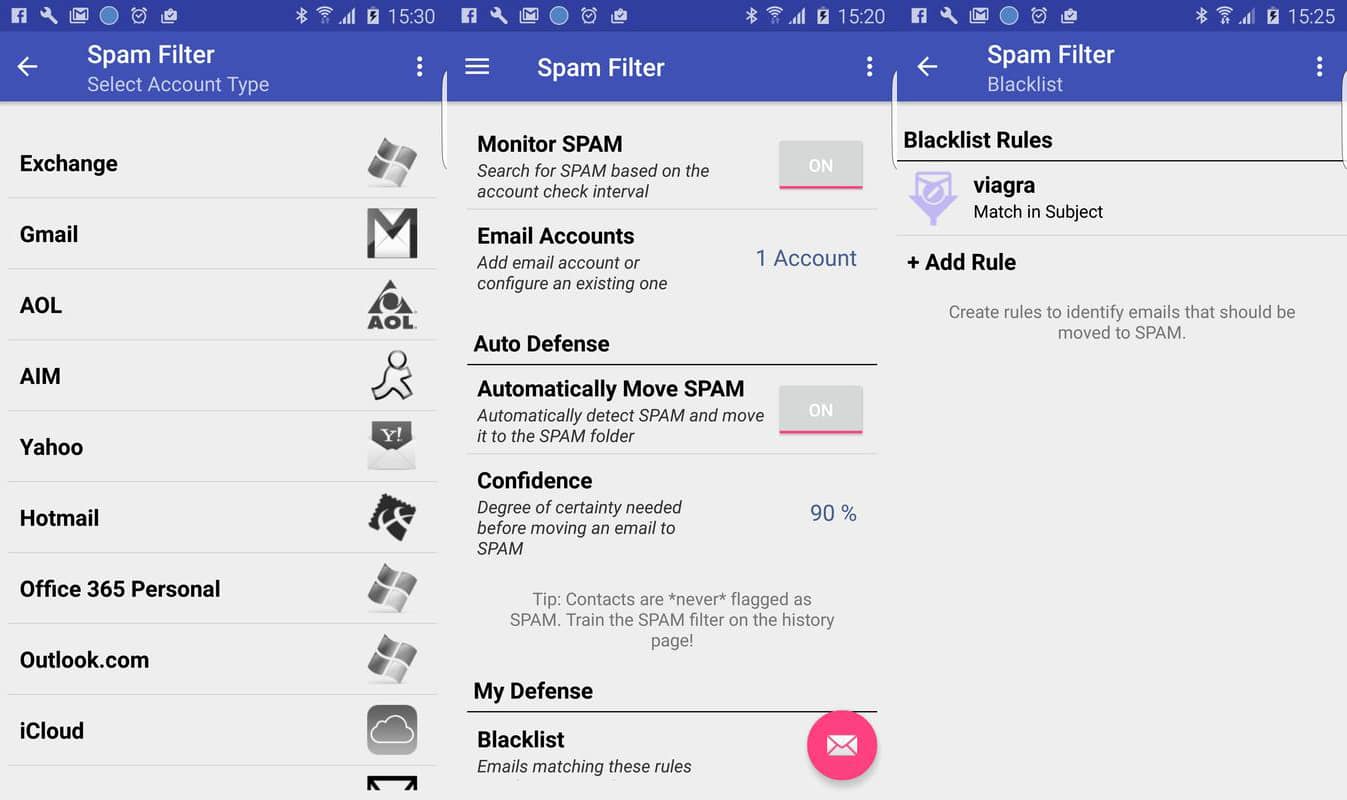 Conclusion
Making good use of Gmail spam settings will keep your email controllable and your inbox clean. It also saves you much time going through emails, greatly increases your productivity, and effectively avoid harmful messages like email scams. In addition, if you are accustomed to Gmail spam settings on iPhone/Android without opening emails, the applications for spam blocking can lend helping hands.

Peter has always had great enthusiasm for writing, programming and web development. He likes writing about software and technology, his works are featured on some tech blogs or forums like Tom's Hardware, CNET, etc.