M2TS or MPEG-2 Transport Stream was created to store 1080i and 720p high-definition video files on AVCHD, HD camcorder, Blu-ray discs, hard-drives, or more. Compared with MP4, it's larger in size and slightly less compatible. If you desire to convert M2TS to MP4, this post shows how to do it on desktop and mobile.
The Best M2TS to MP4 converter for Mac/Win
Convert M2TS to 600+ formats, incl. MP4, MKV, MP3, FLAC, phone, etc.
Also transcode AVCHD, MTS, or any video format to MP4
Batch convert multiple M2TS files to MP4
Compress big M2TS video in any MB or GB via x265/x264 encoding
Merge, trim, crop, rotate, watermark M2TS video, and add effects at will
Convert M2TS to MP4 with subtitles
Keep high quality
Superfast conversion speed
Rip standard DVD, whether protected or not, to MP4 or other digital formats
Download 720p/1080p/2k/4k/8k videos from YouTube & 1000+ sites
Powerful, simple, safe

Free Download
macOS 10.12 or later

Free Download
Windows 11/10/8/7
M2TS file origin
Typically, there are two main sources: AVCHD camcorders and Blu-ray discs.
Most HD camcorders contain .mts files. When you directly drag-and-drop them from the camcorder to your computer, the file suffix is .mts. If files are imported using, for instance, PlayMemories Home™, its suffix becomes .m2ts. Some M2TS files are renamed from MTS because there is not much difference between the two.
Similar to VOB files stored in a standard DVD VIDEO_TS folder, M2TS in a Blu-ray disc BDMV or BDAV folder are used to provide multimedia content like video, audio, and subtitle.
More M2TS source details:
Reasons to convert M2TS to MP4
In general, there are two reasons.
For easy storage and transform: M2TS is used to store raw uncompressed video and multi-channel audio. It requires more memory to save and more bandwidth to transmit files than MP4.
Below is an estimate of the size of a 2 hour M2TS and MP4 movie.
For better upload and playback: You may encounter 2 scenarios. You can't upload M2TS videos to social media platforms like YouTube, Twitter, Facebook, etc., or your devices like mobile phone fail to open M2TS files.
The best way is to change M2TS file to MP4, because MP4 has extremely high compatibility and is supported by almost all platforms and devices.
M2TS playback
You can install a VLC media player, which can open both native M2TS files on your computer or phone, as well as BDAV or BDMV folder in a Blu-ray disc. In fact, most media players can play M2TS. If not, you can try to rename .m2ts for .mts.
How to Convert M2TS to MP4 on Desktop and Phone
#1 Use a safe app on Mac or Windows
Cisdem Video Converter is an all-encompassing M2TS to MP4 converter for Mac and Windows. Its top-notch video processing and acceleration technology contributes to converting large M2TS files to MP4 in bulk quickly.
The app is full control of your M2TS, MP4, 1080p, 4k H.264, HEVC, VP9, AV1, etc. files and change them into any format. It can also convert M2TS to any portable device, including iPhone, iPad, Android, Sony PlayStation, Xbox One, Xbox 360, and more.
Apart from video and audio conversion, Cisdem Video Converter offers tools for video editing/downloading, DVD ripping, etc., making it more professional to handle media files.
Learn how to convert M2TS file to MP4 without quality degradation:
Download Cisdem M2TS to MP4 converter on MacBook, iMac, Mac Pro/mini, or Windows PC, then install it.


Free Download

macOS 10.12 or later

Free Download

Windows 11/10/8/7

Open the app. Drag and drop one or unlimited M2TS video files to its "Convert" interface.
Choose MP4 format.
Unfold the "Output Format" list. Select "MP4" in the "General Video" category as the target format.
Specify the output destination.
On Mac: go to "File" > "Save Convert Folder to" set it up.
On Windows, the path setting is at the bottom of the interface.
Click the "Convert" icon to start the video conversion simultaneously.
FAQs
Which MP4 format should I choose?
You can see three MP4 output options. The following is a comparison of the 3 options to help you choose.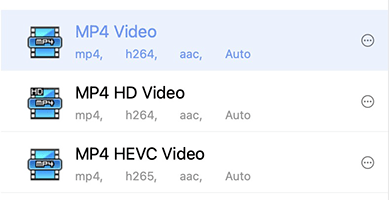 Quality: MP4 HEVC Video > MP4 HD Video = MP4 Video
Compression ratio: MP4 HEVC Video > MP4 HD Video = MP4 Video
Conversion time: MP4 HEVC Video = MP4 Video = MP4 HD Video
Compatibility: MP4 HEVC Video < MP4 Video = MP4 HD Video
You can also pick the preset that is well-matched to work perfectly on your device.
Can I change the video encoding codec?
Yes, but it's only recommended for skilled users, as the default settings is the best if you don't have special requirements.
Next to the format you decide on, there is a "more" icon like ellipsis-h. Click it to bring up the "Advanced Settings" dialog box, from which you can tweak the output MP4 parameters before exporting it from M2TS.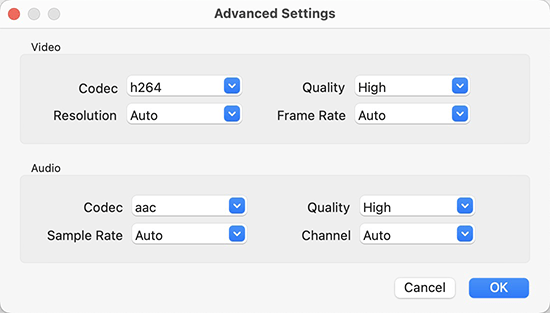 #2 Use a lightweight app for iPhone
MP4 Converter!, powered by AliAkbar Ramezani, is an easy-to-use video converter. It runs on iOS 13.0 or later.
The program allows you to change the M2TS file dimension, convert it to MP4, AVI, MKV, MOV, MP3, GIF, etc., and share the converted video.
Check how to convert M2TS file to MP4 on iPhone:
Navigate to App Store. Search for MP4 Converter! and download it.
Initiate MP4 Converter!. Tap on "SELECT VIDEO" to pick an M2TS video from your iPhone. Tap "Done".
The output format will be MP4 by default. Tap on "START CONVERSION" to make an MP4 from M2TS.
When finished, find the converted MP4 in your gallery.
#3 Use a free app for Android
VidSoftLap Video Converter boasts an elegant, smooth interface and a wealth of features. It can convert videos between different formats, including converting M2TS to MP4 and vice versa. It also consists of some other tools that can be used to cut/join/slow motion/reverse/compress video, create ringtones, and edit audio.
Ads are terrible, however. They will be played every time you convert a video. Whether you convert a 4k or 1080p video, the output resolution is only 960p. To remove the ad and get a high-quality video, you can pay.
Below is the instruction on how to convert M2TS to MP4 on Android:
Get VidSoftLap Video Converter in Google Play and start it.
On the welcome interface, tap "Video Converter" at the top of the screen.
Choose the M2TS video you wish to convert from your Android. Tap "Next".
Select MP4 from the format list. If needed, set the resolution, subtitle tracks, audio tracks, etc. options.
Tap the tick symbol in the lower right corner to turn .m2ts into .mp4.
#4 Use an online video converter, applies to all platforms
Among web-based M2TS to MP4 converters, Onlineconvertfree.com has proven to be a stable website. It also makes conversion of web page screenshot, archive, ebook, document, and so on.
The free version has limitations on the input M2TS video size, the number of simultaneous conversions, and the total number of conversions per day. You can upgrade to the paid version, see how it charge:
It seems to be expensive. If your M2TS is less than 100MB, you can use it for free. Below are the steps to convert M2TS to MP4 online.
Open https://onlineconvertfree.com/convert-format/m2ts-to-mp4/ in your browser.
In the blue file adding area, click "CHOOSE FILE" to upload M2TS from computer.
Hit "Convert" and wait.
Click "DOWNLOAD ALL IN ZIP".
How to Convert M2TS Files from Blu-ray Folder to MP4
The ability to rip a Blu-ray DVD on an iPhone, Android, or online is not available. It is only possible to complete the ripping process on a computer.
Specifically designed for taking DVD or Blu-ray discs and converting them to MP4/MKV, Handbrake is a widely used program. It's open source and free but can't handle encryption, meaning it doesn't work with commercial Blu-ray discs. HandBrake team had added custom output settings into the software, allowing you to tweak your Blu-ray videos with maximum freedom.
Steps to rip BDMV or BDAV M2TS to MP4:
Insert the an unprotected Blu-ray disc to your computer drive or external drive.
Install and open Handbrake on your computer.
Click "Open Source", load the whole Blu-ray disc, BDMV folder, or BDAV folder, not just the M2TS file. The software will scan its structure and choose the main title by default.
Note: If you want to extract multiple titles, make sure go to preferences to check the "Automatically name output files" option. Then, add titles to the queue.
Choose MP4 from the format drop-down list.
Adjust parameters under the Dimension, Filters, Video, Audio, Subtitles, Chapters tabs.
Click "Browse" to select a destination folder.
Now, you can rip M2TS file from Blu-ray to MP4.
Last Say
Your M2TS files may come from high-definition camcorders, Internet downloads, friends' sharing, Blu-ray discs, etc. Except for M2TS files stored on Blu-ray discs, which need Blu-ray ripper software to extract, others can be transcoded by video converter software. Of course, if you have some coding skills, you can use FFmpeg to convert M2TS to MP4, whatever the source.