Although MiniDV gains popularity in personal and semi-professional video recording, there are still some users who want to convert MiniDV to DVD due to the following respects:
It uses tape recording as a carrier, which greatly limits the way to store media files.
MiniDV must be played on VCR or camcorder (Mini DV player), but DVD can be accessed on TV, DVD player, or other portable devices.
Copy Mini DV/ DV to DVD can protect the footage from degradation.
As a result, you may ask how to convert Mini DV to DVD without losing quality. The whole process is a bit complicated for ordinary users. You should convert Mini DV to digital via computer and a piece of video editing software, and then burn it to DVD. Please read our steps-by-steps guide, you will find things become easy.
Best MiniDV to DV Converter
Burn standard/ HD video, background music, subtitle to any type of DVD
Foolproof drag workflow to create DVD from a variety of file formats
Edit MiniDV video by cropping, rotating, and adding subtitles & effects
Offer stylish menu templates, like Travel, Occasion, Cartoon, Classic, etc.
Customize menu with rich parameters, such as title, background image, etc.
Adjust MiniDV video aspect ratio to fit the player screen
Available for both Mac and Windows PC

Free Download

Free Download
What Should Prepare Before Converting Mini DV to DVD
An AV connecting cable or a FireWire (IEEE1394) cable, the terminals required on the computer respectively are USB terminal and FireWire terminal. You can import video recorded on a Memory Stick via USB cable without a dedicated driver.
Install a program for capturing MiniDV videos, like iMovie, Tape transfer services, LifeFlix, Final Cut Pro X, VideoStudio, Adobe Premiere Pro, Windows Movie Maker (not available on Windows 7, you can free download it from Windows Live Essentials.), Premiere, etc.
Save the file in MPEG-2 or AVI format. When editing is finished, you will probably render the audio/video stream to convert it to the best format.
A Blank and writable DVD disc.
Authorize and convert MiniDV to DVD using DVD burning software, like Cisdem DVD Burner and ImgBurn. If you have a DVD recorder, then you are able to record files from the camera via FireWire direct to DVD.
How to Convert MiniDV to DVD on Mac and Windows?
There are two parts for converting MiniDV to DVD on Mac and Windows.
Firstly, you should convert Mini DV to digital format (e.g. AVI or MPEG-2) on a computer. Transferring cable and video capture program is necessary. For detailed steps, you can refer to the page: https://www.sony-mea.com/en/electronics/support/articles/00028223. It provides links in a variety of ways
Secondly, you can burn DV camcorder video to DVD with the authoring software. Now, let's focus on how to burn Mini DV to DVD on computer devices.
1. Convert MiniDV to DVD Mac
Cisdem DVD Burner for Mac is one such program designed specifically to assist you to do the digital video (DV, DIV) burning with ease. In addition to converting Mini DV to DVD on Mac, it allows you to burn the most popular video formats to DVD in super quality. That the embedded editing features, different styles of menu templates, and precise parameter settings will prompt you to complete a satisfactory, perfect DVD from MiniDV.
Step 1

Add Captured MiniDV/ DV Videos to the Software
Launch Cisdem DV/ MiniDV to DVD converter on Mac after installation.
You can simply drag and drop the AVI or MPEG-2 videos to the "Source" tab, and the loaded video thumbnails will be displayed automatically.
Alternatively, you can click the "+ Add videos" icon to load target videos.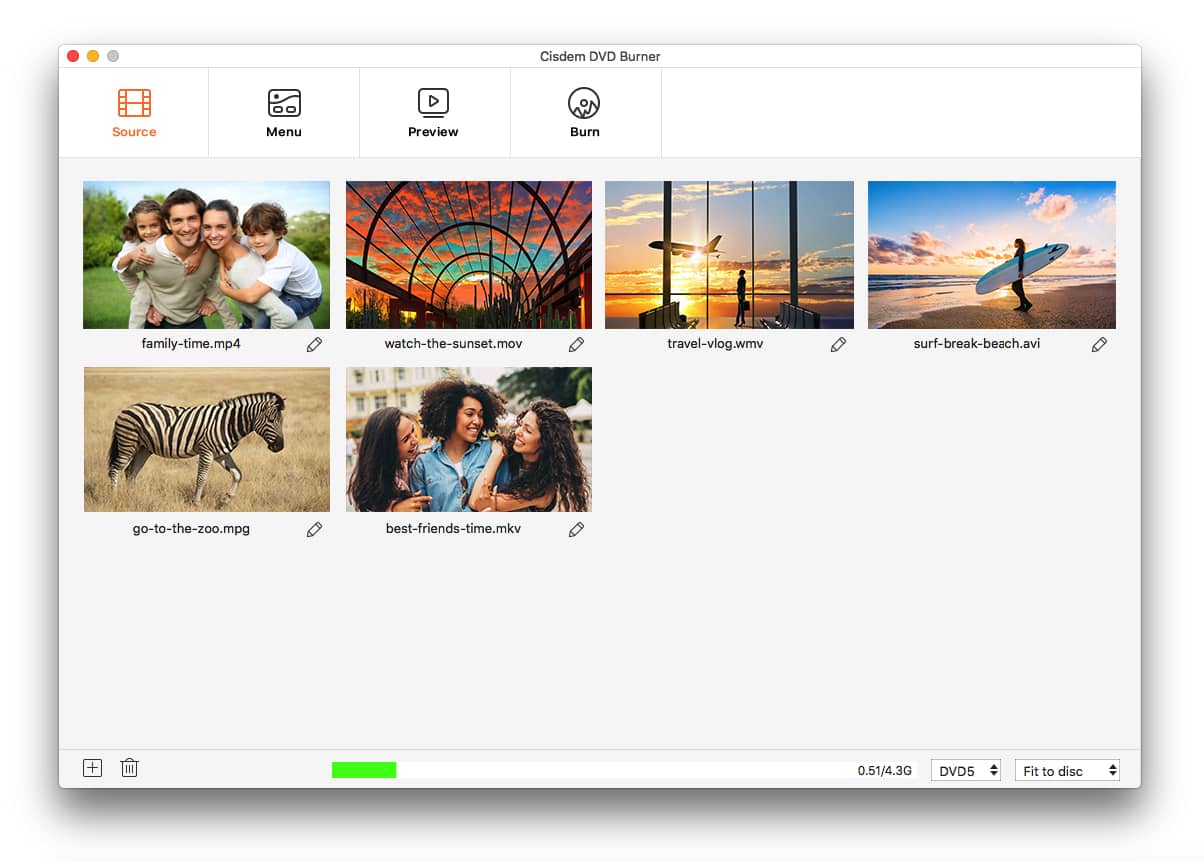 Step 2

Edit Your MiniDV Videos
If needed, use the built-in editor to personalize your MiniDV videos to make them appealing. All you should do is to double-click the thumbnail and go to the video editor window. You can change the video size, adjust effects, enable rotation, etc. in the way you favor.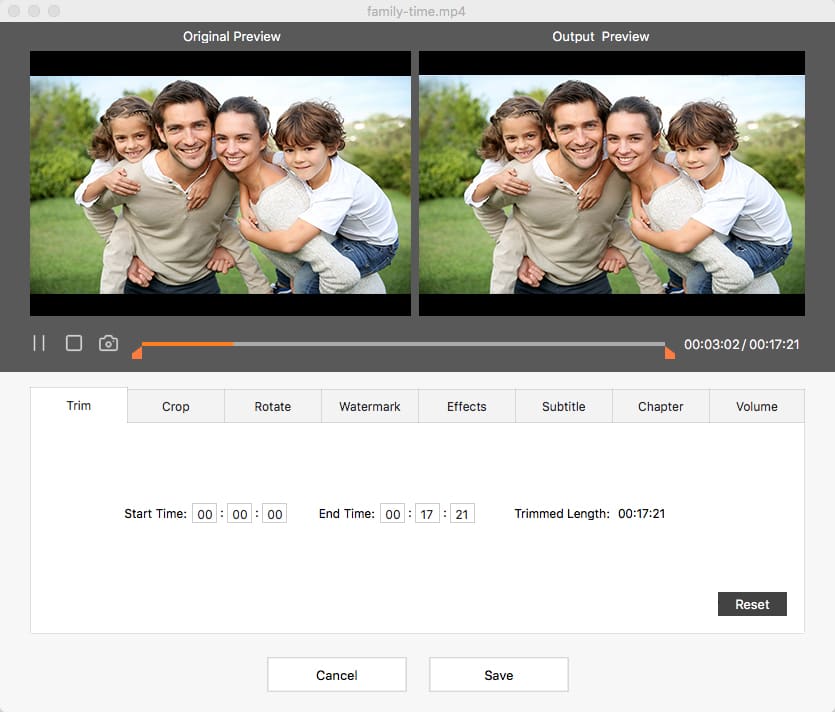 Step 3

Customize DVD Menu for Authorizing
Click the "Menu" tab to see the list of current DVD menu templates and elements. Choose and apply one for better out looking. For further customization, you can change text, add background music, picture, and more.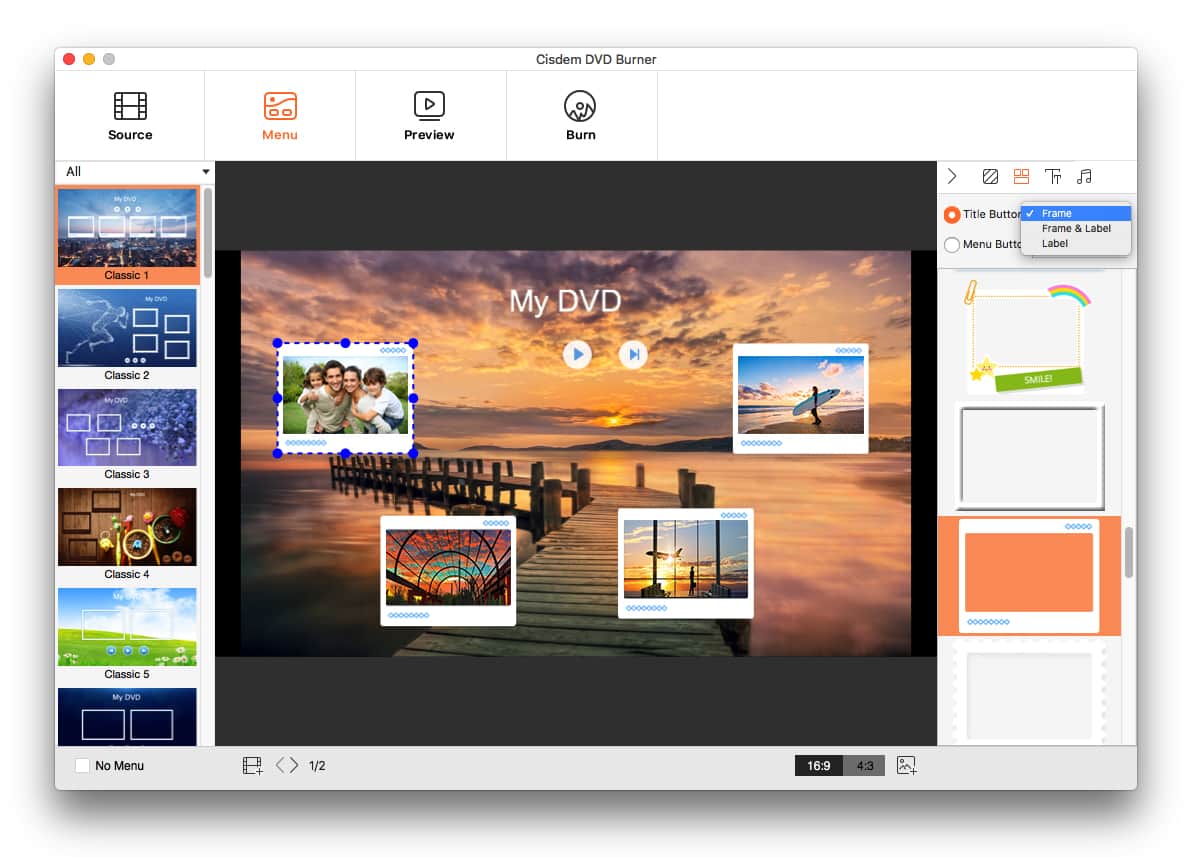 Step 4

Convert MiniDV to DVD
Preview your videos > insert a blank DVD > ensure the output parameters are well set > click the "Burn" button to convert Mini DV to DVD on Mac. Once complete, you can watch videos on many other devices without MiniDV players.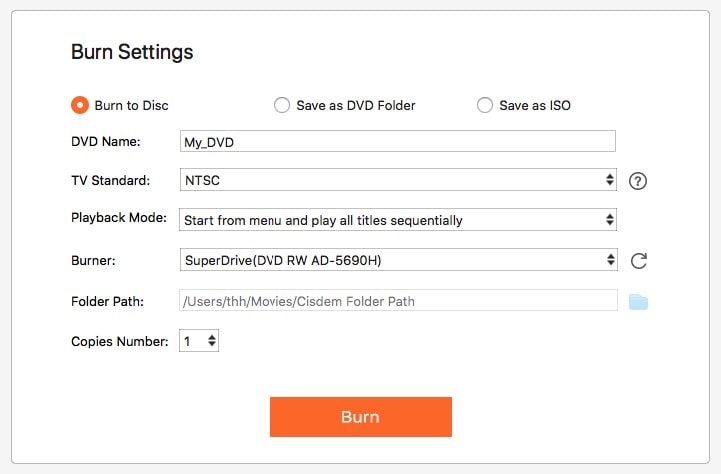 2. Convert MiniDV to DVD Windows
ImgBurn is a free and flexible CD/DVD/HD-DVD/Blu-ray burning program for Windows. It's capable of writing images to DVD, creating ISO images, burning batch of video files including MiniDV to DVD, and creating DVD/ Blu-ray discs from VIDEO_TS/BDAV/BDMV folders.
Meanwhile, this MiniDV to DVD converter can verify and discover disc for checking its situation and burning quality. In short, 5 main features: Read, Build, Write, Verify, and Discovery. But the defect is that ImgBurn Mini DV to DVD converter comes without customization function.
Step 1. Install ImgBurn on your PC, and open it.
Step 2. Click the "Write files/ folders to disc" option on the main interface.
Step 3. Convert transferred MiniDV files which are in AVI or MPEG-2 format to ImgBurn DVD format, as the software can only burn ready DVD format.
Step 4. Click the "Browser for a folder" to open converted MiniDV video files
Step 5. Set the max "Write Speed" low under "Device" > make sure "File System" is set to "ISO9660 + UDF".
Step 6. Insert a blank DVD into the drive of your PC.
Step 7. Click the "Burn" icon to convert Mini DV to DVD on Windows.
If you haven't an encoder tool installed, converting AVI or MPEG-2 to DVD format will be troublesome. At the moment, I will recommend DVDFlick (free), 1Click DV to DVD, AVStoDVD to burn MiniDV to DVD.
How to Copy Mini DV/ DV Tapes to DVD?
Copying DV to DVD with DVD recorder is also a viable approach. A DVD recorder can copy any personal video made from camcorder, but it's unable to copy commercial videos due to copy-protection and the price of each DVD recorder is expensive. So if you don't need to copy DV to DVD very often, the first method is more economical.
Step 1. Plug the camcorder into DVD recorder via FireWire (best choice), HDMI (best choice), S-Video (better), or RCA Audio-Video (good).
Step 2. Choose the Input on the DVD recorder that the camcorder is connected.
Step 3. Place the MiniDV tape that you want to copy in the Camcorder, and also insert a recordable DVD into your recorder.
Step 4. Press play on the camcorder, and press record on the DVD recorder. It will start to copy MiniDV tape to DVD.
Step 5. When the copy process is finished, press stop on both devices.
Best Format for Backing up Mini DV Tapes
MiniDV produces a maximum file frame size of 720x480, and DVD is also 720x480. Obviously, therefore, the best resolution for transferring Mini DV to DVD is 720x480. As for the best format, MPEG- 4 or DV-AVI can maintain high quality, and MPEG-2 is a digital video standard on which DVD is based. Look at the comparison table below:
Conclusion
There you have it, two ways to convert MiniDV to DVD on Mac and Windows. You might wonder which one suits you the best. Admittedly, using DVD recorder to copy DV to DVD can save your time, since it's easy to operate. But considering the money, it also cost much. As for the first way, the steps are a bit too much, thus you need spend more time preparing and finishing for it. Every coin has two sides, so does converting Mini DV to DVD. Just weight the pro and cons, and choose the best executable solution for yourself.

Peter has always had great enthusiasm for writing, programming and web development. He likes writing about software and technology, his works are featured on some tech blogs or forums like Tom's Hardware, CNET, etc.