Duplicate files take up space, potentially causing your computer to slow down. And many of us have been there. Removing duplicates can free up space, which helps improve computer performance, and can help you better manage files. Is it safe to delete duplicate files? Certain types of duplicate files are definitely safe to delete. But it requires some knowledge to know which duplicates to delete.
This article will provide you with the information on what duplicate files are OK to delete and how to delete duplicate files on Windows 10 PC safely and easily.
The Safest Duplicate File Finder and Remover
Find duplicate photos, videos, audios, docs and all other duplicate files
Find duplicate files on Windows PC, Mac, external hard drive, SD card, etc.
Let you scan 1 or multiple folders/drives for duplicate files at a time
Let you exclude folders/files (e.g. system folders) from the scan
Display the found duplicate files for you to view and preview
Automatically select all duplicates for you to delete with a click
Let you select/deselect manually
Also offer 9 rules (e.g. Select Newest) to help you mass select/deselect
Safe and easy to use
Compatible with Windows 10 and 11
Also available for Mac

Free Download
Part 1. Is it safe to delete duplicate files on your computer?
Here's the short answer: Certain duplicate files are safe to delete. They can be deleted to help free up storage and better organize files.
But we need to dig a bit deeper to know exactly what duplicates to delete and how to get rid of them without any risk. For this purpose, check out the Q&As below.
What are duplicate files?
Strictly speaking, duplicate files are files that exactly identical (regardless of how they are named). If two files have the same format, size and name but different content, they are not a set of duplicates.
What duplicate files are safe to delete?
Why do I have duplicate files on my computer? Is it safe to delete duplicate files?
For a variety of reasons, your operating system itself may duplicate files in order to work properly. Duplicates could also be generated when you install or use apps on your computer. I call them system or app related duplicate files. You should never delete them.
You create Word documents and other types of files on your computer. You import or download photos, videos, movies and songs, etc. to your computer. And you (unintentionally) create duplicate files by copying and pasting your files, or by importing/downloading files that already exist, etc. I call them user-created duplicate files. They are safe to remove in most cases.
How do I know which duplicate files to delete?
Don't bother to deal with the system or app related duplicates in the first place.
Normally, your operating system and apps won't need user-created duplicates. It depends on you which ones to delete and which ones to keep.
On the one hand, duplicates file A and file A01 are the same file. It should be safe to delete either one.
On the other hand, deleting such duplicate files may take some thinking sometimes. For example, suppose file A is in the "Downloads" folder, and file A01 the "Backup" folder. You want to keep the one in "Backup" and delete the one in "Downloads". In such a case, you should look at the file path (location) before deleting.
Should I delete duplicate files?
You can delete duplicate files if you are sure of the following.
They are truly duplicate files.
Your computer and apps don't need them in order to run properly (or as they normally do).
Part 2. How to delete duplicate files in Windows 10 safely
Note: As always, it's a good idea to back up your files first.
Firstly, make sure that you are finding duplicate files in the right places.
On your Windows PC, you can search for duplicate files in folders like "Desktop", "Documents", "Music", "Pictures" and "Videos". But stay away from system folders such as "C:\Program Files", "C:\Program Files (x86)" and "C:\Windows" and other important directories. System folders have critical files without which the Windows operating system and the apps installed can't operate properly.
Secondly, make sure that you accurately find duplicate files. You can do this manually by comparing file content and file details (such as type, size, etc.). The most efficient way is to use duplicate file finder and remover software. Such software can accurately and quickly identify duplicates.
Lastly, instead of deleting duplicate files permanently, you can move them to the Recycle Bin. This way, it would be easy to restore files if needed.
Method 1. Remove duplicate files on Windows 10 with software
Cisdem Duplicate Finder identifies duplicates by comparing files' hash values and files' sizes. A hash value is a numeric value that is unique to a file. If two files have the same hash value, they are a set of duplicates. To ensure even more accuracy, the software also compares files' sizes. It enables you to get rid of all redundant duplicate files at once.
Below are the steps.
1. Download and install Cisdem Duplicate Finder. Open it.

Free Download
2. To delete duplicate files in a folder on Windows 10, drag the folder into the software.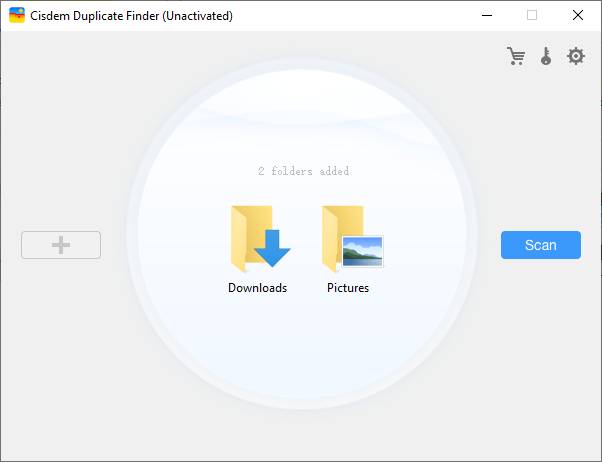 3. Click Scan.
4. When the scan is complete, the results window will display all the duplicate files that have been found. You can view them.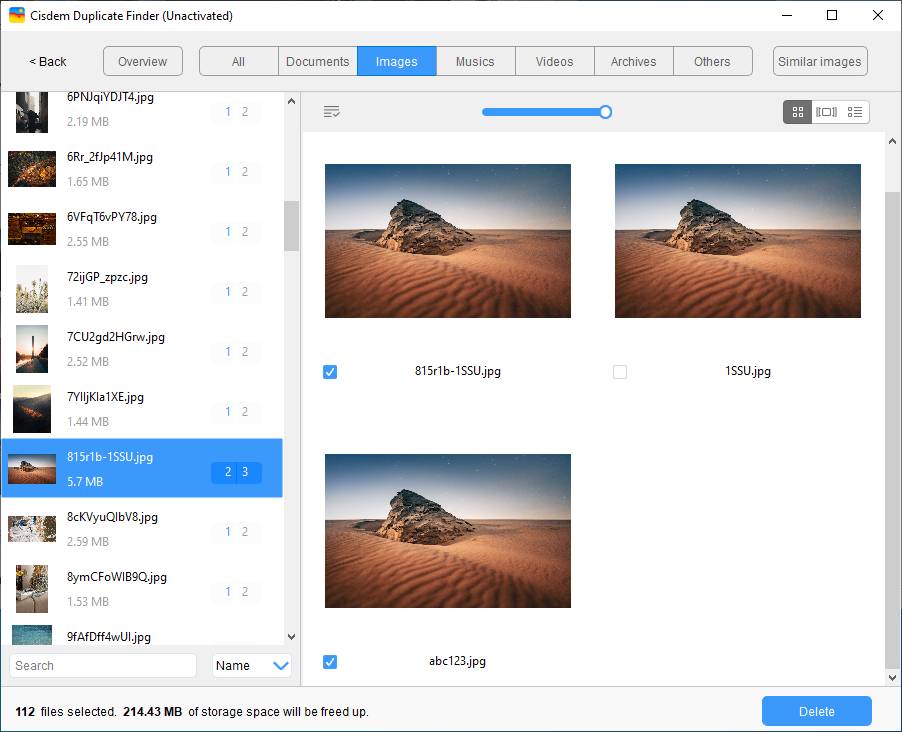 5. The software has automatically selected all duplicates for removal. Or, if you want, you can choose a selection rule or select by hand.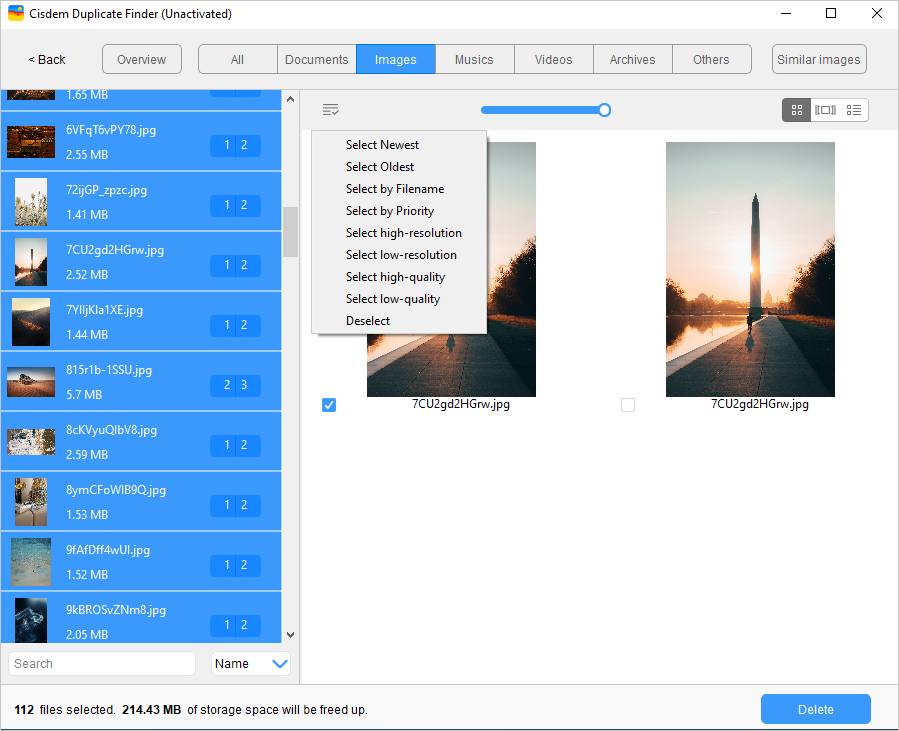 6. Click Delete to delete the selected unwanted duplicate files. Confirm the deletion.
Now the duplicate files will go to the Recycle Bin.
Tip: If you want to handle the duplicate files in and across multiple folders, you can drag them all into the software in step 2. It's not recommended to scan your entire PC for duplicates. But if you really want to do this, you can exclude the folders and files that you want to keep untouched, such as system files. To exclude them, click the settings icon

in the top right corner and add folders and files to the Ignore List.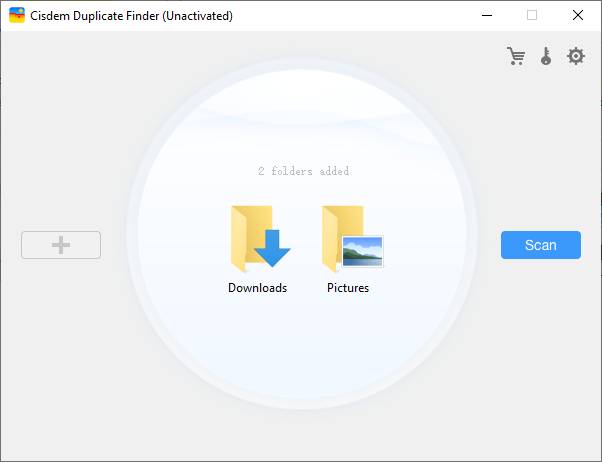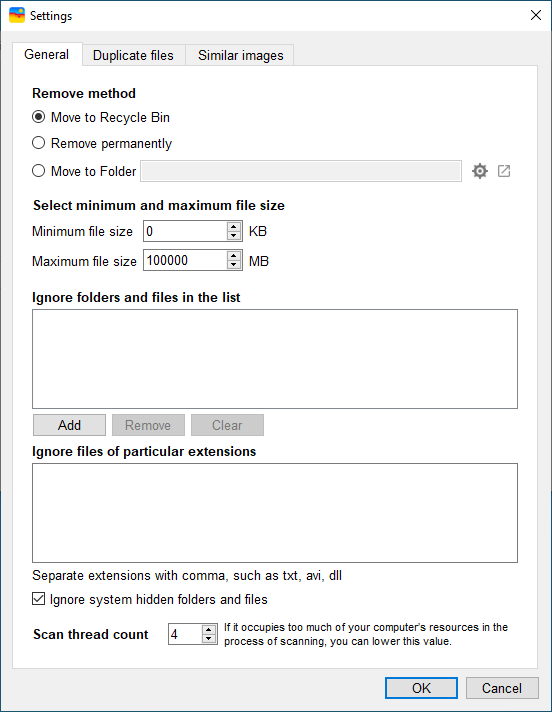 As you can see, this method allows you to delete all or multiple files on computer at once. It's easy, reliable and efficient. Below is the video tutorial of this method.
Method 2. How to delete duplicate files on PC using CCleaner
If you have CCleaner installed on your computer, you may find that it allows you to search for duplicate files. Let's find out how.
1. Go to Tools > Duplicate Finder.
2. In the Match by section, select the Size checkbox and the Content checkbox.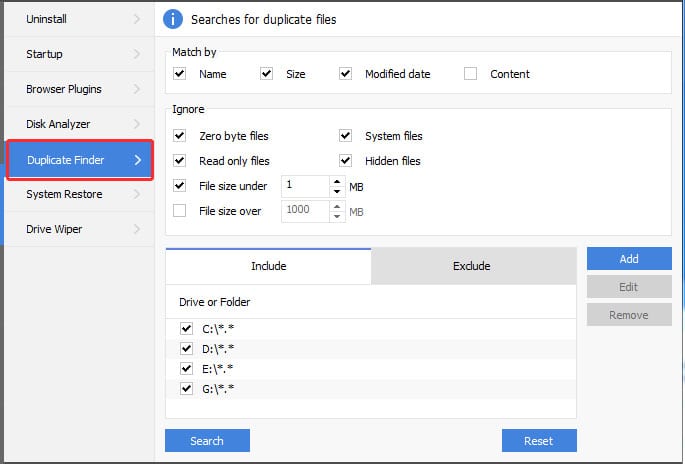 3. in the Ignore section, select the System files checkbox, the Read only files checkbox and the Hidden files checkbox.
4. In the Include section, select the folder(s) from which you want to remove duplicates.
5. Click Edit. Click the Options dropdown menu and choose Include files and subfolders. Click OK.
6. Click Search.
7. When the search is done, in each set of duplicate files, select the unwanted duplicates for elimination.
8. Click Delete Selected.
Tip: Is it safe to remove duplicate files found by CCleaner? It can be safe. But in the first place, you need to set CCleaner to search in a proper way. For example, set the search to ignore system files and hidden files. When selecting duplicates for removal, make sure that you view the files and check files' details. There isn't a built-in preview feature, so the viewing may be not that convenient.
Method 3. Get rid of duplicate files in Windows 10 without software
If you want, you can get the task done totally manually, without using software. The trick is to use File Explorer, which is built-in to Windows. With this method, it's recommended to handle one type of duplicate files in one folder at a time, for example, the duplicate pictures in the Downloads folder.
1. On your PC, use File Explorer to open the folder in which you would like to delete duplicates.
2. Use the search feature to display all the image files in the folder.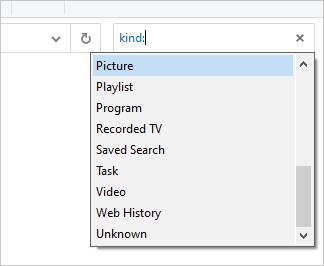 3. Sort the images by size or name.
4. Manually compare images' content and their details to spot duplicates.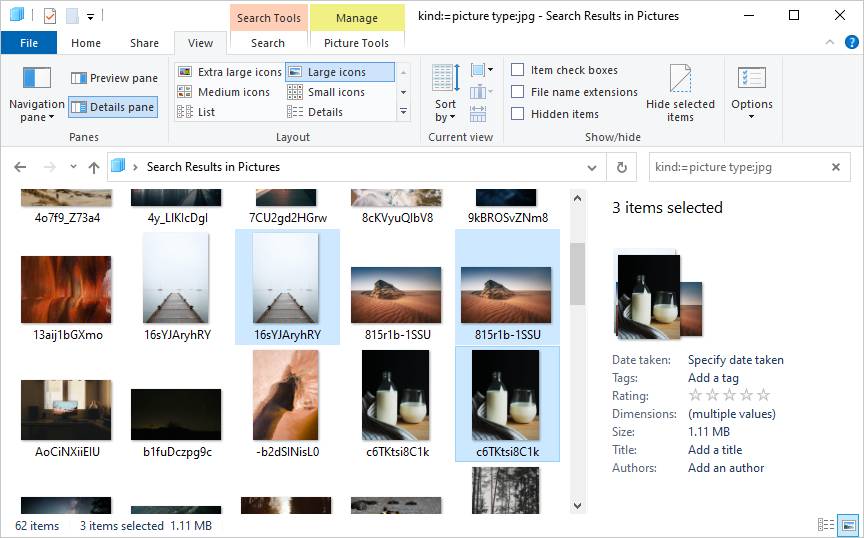 5. Right-click one or multiple duplicates and choose Delete.
The deleted duplicate files will go to the Recycle Bin and stay there until you permanently delete them.
You can follow the steps to get rid of duplicate music files, duplicate documents and more on your computer.
Conclusion
Is it safe to delete duplicate files? The fact is that duplicate files aren't always unnecessary. Deleting system related duplicate files could cause your computer to malfunction. Always stay away from them. But most of the space-wasting duplicate files on your computer are safe to delete. I hope this article can help you understand the matter better and get rid of duplicate files without risk.
The three methods on how to delete duplicate files in Windows are easy to follow and safe to use. You can search for and remove duplicate files regularly to have a better PC experience.