Duplicate files take up space, causing your computer to slow down. And many of us have been there. Removing duplicates can free up space and help improve computer performance. Is it safe to delete duplicate files? Certain types of duplicate files are definitely safe to delete.
But it requires some knowledge to know which duplicates to delete. This article will provide you with the information on what duplicate files are OK to delete and how to delete them safely.
The Safest Duplicate File Finder
Find duplicate photos, videos, audios, documents and other duplicates
Let you exclude specific files/folders from scan
Exclude system files from scan by default
Allow you to easily remove the found safe-to-delete duplicates
Stay away from your important files/folders and keep them untouched
Available for both Mac and Windows

Free Download

Free Download
Part 1. Is it safe to delete duplicate files on your computer?
Here's the short answer: Certain duplicate files are safe to delete. They can be deleted to help free up storage and better organize files.
But we need to dig a bit deeper to know exactly what duplicates to delete and how to get rid of them without any risk. For this purpose, check out the Q&As below.
What are duplicate files?
Generally, (true) duplicate files are files that are exactly identical to each other in content, no matter how they are named. Files with the same filename but different content are not considered duplicate and shouldn't be deleted (for being duplicate files).
What duplicate files are safe to delete?
Why do I have duplicate files on my computer? Is it safe to delete duplicate files?
For a variety of reasons, your operating system itself may duplicate files in order to work properly. Duplicates could also be generated when you install or use apps on your computer. I call them system or app related duplicate files. You should never delete them.
You create Word documents and other types of files on your computer. You import or download photos, videos, movies and songs, etc. to your computer. And you (unintentionally) create duplicate files by copying and pasting your files, or by importing/downloading files that already exit, etc. I call them user-created duplicate files. They are safe to remove in most cases.
How do I know which duplicate files to delete?
Don't bother to deal with the system or app related duplicates in the first place.
Normally, the user-created duplicates are not needed by your operating system and apps. It depends on you which ones to delete and which ones to keep.
On the one hand, duplicates file A and file A01 are the same file. It should be safe to delete either one.
On the other hand, deleting such duplicate files may take thought sometimes. For example, suppose file A is in the "Downloads" folder, and file A01 the "Backup" folder. And you want to keep the one in "Backup" and delete the one in "Downloads". You should look at the file path (location) before deleting.
Should I delete duplicate files?
You can delete duplicate files if you are sure of the following.
They are truly duplicate files.
Your computer and apps don't need them in order to run properly (or as they normally do).
For step-by-step details on how to easily and safely eliminate the duplicate files on your computer, check out the part below.
Part 2. How to quickly find and securely delete duplicate files
This part talks about the safe removal of duplicate files on Mac and Windows PC.
Note: As always, back up your files first.
#1 What duplicate files are safe to delete on Mac? And how to delete
When you find and remove duplicate files your Mac computer, please always skip these folders: "Applications", "Library", "System" and "Users". If you have no idea what some of the folders are and where they are, don't bother to find out.
The safe-to-delete user-created duplicate files are generally in these folders in your "Home" folder: "Desktop", "Documents" and "Downloads". For duplicate removal in "Pictures" and "Music", please read on.
The tool I use to quickly find and securely eliminate duplicates is Cisdem Duplicate Finder.
Its main features:
Find duplicate images, music files, videos, archives and all other duplicates
Identify true duplicates based on content
Also find similar images
Support Mac's internal storage and external storage devices
Support Photos, iPhoto, iTunes and Music
Exclude system and app files/folders by default
Also let you exclude the files/folders that you specify
Offer a smart, customizable auto-mode to safely mass delete dupes with 1 click
Also let you get rid of the found duplicate files manually
Offer a built-in preview feature to view files and their info (e.g. file path)
Support macOS 10.10 or later

Free Download
Steps to find and delete duplicate files with safety and ease
1. Download Cisdem Duplicate Finder and install it. Open the tool.
2. Click the plus icon + and add a folder or subfolder.
To find the duplicates across multiple folders/subfolders, add them all.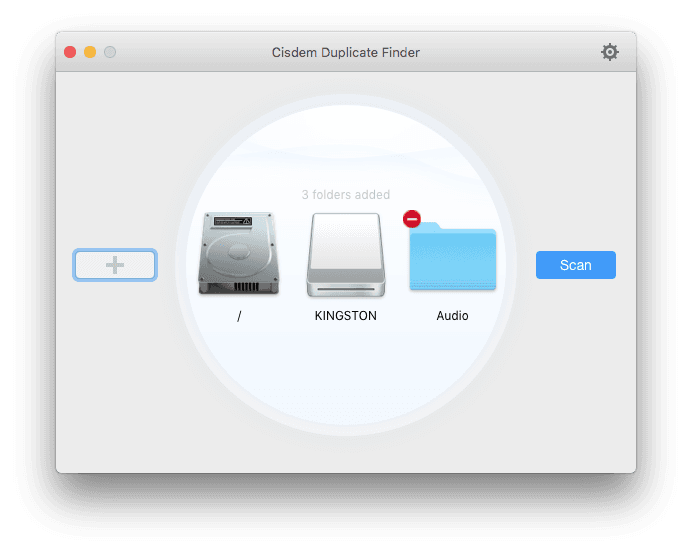 3. This step is optional. Click the settings icon

. Go to the Ignore list tab. Exclude specific files and folders from scan. Make sure the two "Ignore" boxes are checked. (They are checked by default.)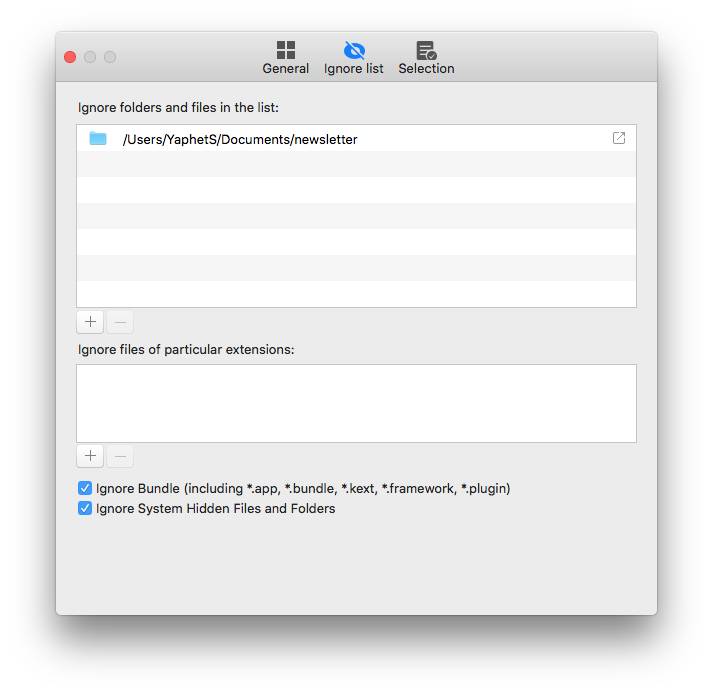 4. Click Scan to start scanning for duplicate files.
5. Once it's done, all the found duplicate files are displayed under the All tab. You can also view them by file type such as Images.
There are three preview modes. The third mode provides file info.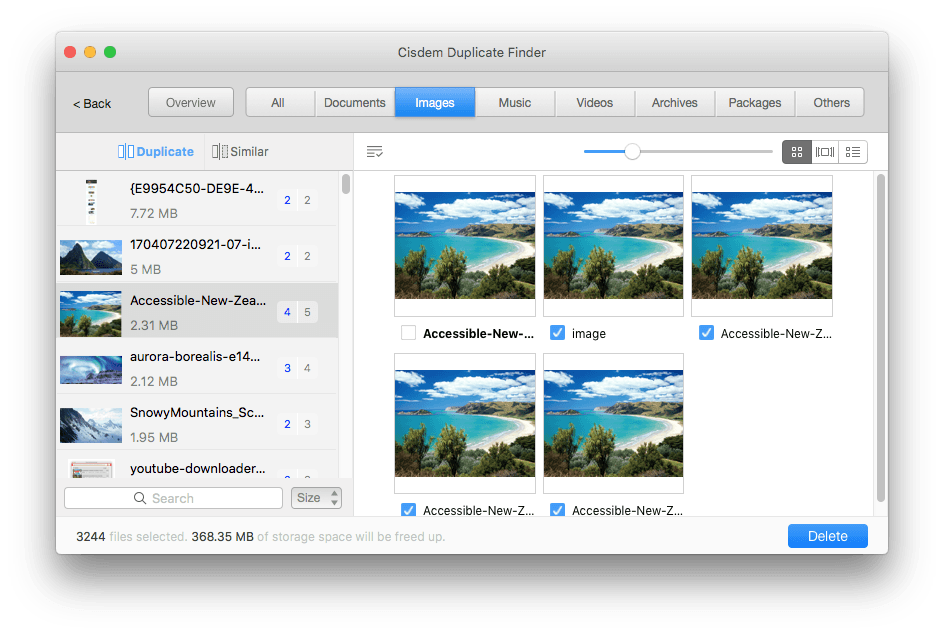 6. The tool's auto-mode already smartly selects duplicates for you to safely remove with a single click. You can verify if the auto-selection meets your needs.
If not, you can choose a desired selection rule instead.
Or, if you prefer, you can select manually and decide yourself which to delete and which to keep.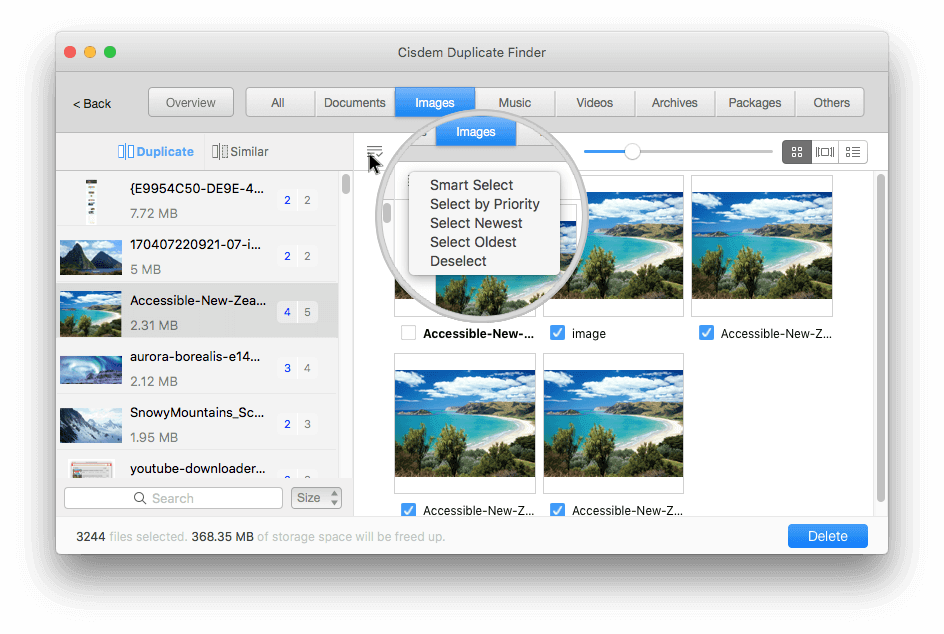 7. Now all the unwanted duplicate files are selected for elimination. Click Delete.
As you can see, this duplicate file finder is safe, smart, accurate and easy to use. It lets you have control over the entire process, and you know what you are doing, which ensures the safety.
Tip: It takes extra attention and steps to remove duplicate photos (which are stored in "Pictures" folder) or duplicate songs (stored in "Music" folder) from Mac.
With Cisdem Duplicate Finder for Windows, the steps are basically the same, letting you safely and easily get rid of duplicate files on Windows PC.
#2 What duplicate files are safe to delete on Windows PC? And how to delete
Is it safe to delete duplicate files on your Windows computer? Some duplicates are safe to delete, as mentioned. Stay away from folders like "C:\Windows" and "C:\Program Files" and look for duplicate files only in places like your desktop and your "Downloads" folder.
The well-known PC cleaner CCleaner comes with a Duplicate Finder tool. Should I delete duplicate files in CCleaner? Let's find out.
1. In CCleaner, go to Tools and choose Duplicate Finder.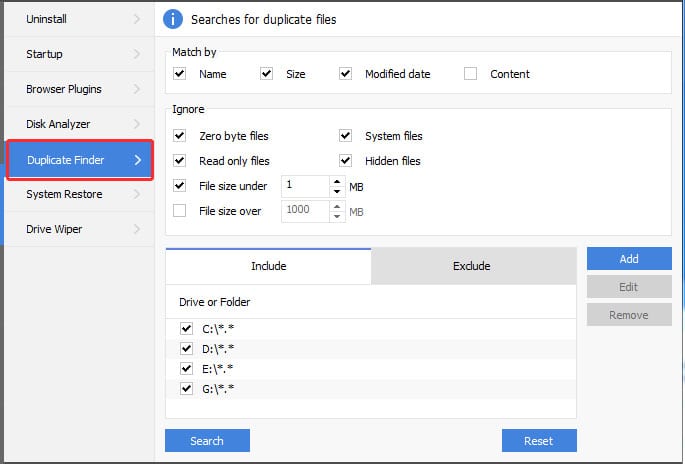 2. In the Match by section, be sure to select Content. (Selecting Content will automatically select Size as well.)
3. In the Ignore section, be sure to select System files and Hidden files.
4. Add a folder to search for duplicate files.
If needed, go to the Exclude tab and tell the tool to exclude certain subfolders in the added folder.
5. Click Search. When the search is finished, the duplicate files found by CCleaner are displayed in groups.
6. In each group, pick the file that you want to keep, and select the rest file(s) for deletion.
Looking at the file path and viewing the files themselves can help you decide which duplicate files to delete and which ones to keep. There is no preview feature, so you need to view a file by going to the folder containing it.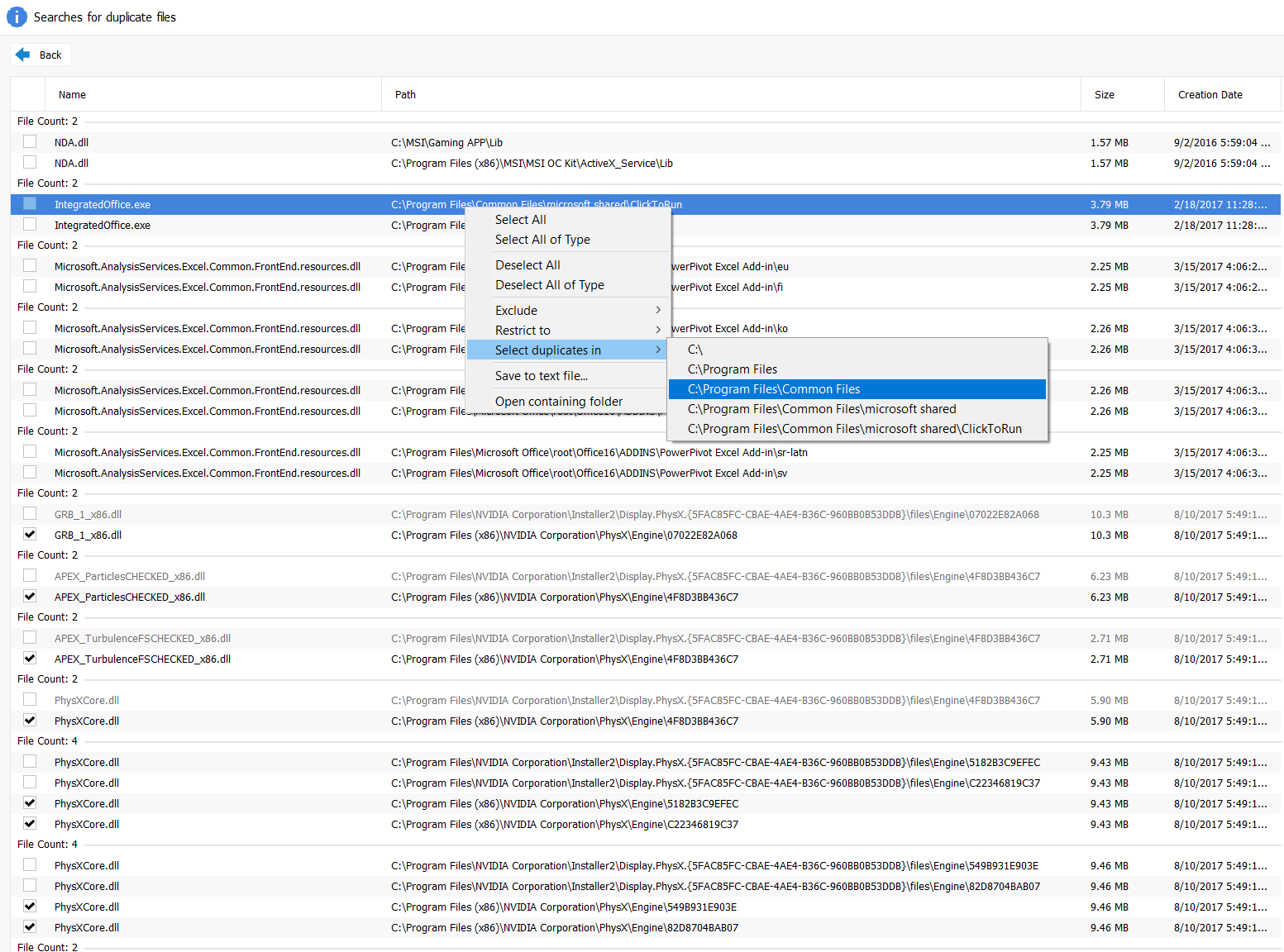 7. Once you are sure the undesired duplicates are selected. Click Delete Selected.
As you can see, CCleaner's Duplicate Finder allows you to find truly duplicate files by offering "Content" as a match method. It also provides options to exclude system files from search. But when you decide which duplicates to select for deletion, it can take time and patience. I would say that it's a safe duplicate file finder but not an efficient duplicate file remover. Cisdem Duplicate Finder is a better choice.
Conclusion
Is it safe to delete duplicate files? The fact is that duplicate files aren't always unnecessary. Deleting system related duplicate files could cause your computer to malfunction. Always stay away from them. But most of the space-wasting duplicate files on your computer are safe to delete. I hope this article can help you understand the matter better and get rid of duplicate files without risk.