Netflix is the most popular streaming service with over 200 million paid users. Netflix offers users a wide variety of shows and movies. Netflix also gives users parental control options to block certain shows and movies. What if implementing Netflix parental controls is not enough? How to block Netflix? How to set a time limit on Netflix? Find answers in this article.
By blocking or limiting access to Netflix app or website, parents can have more control over children's access to Netflix, office workers can reduce distractions and become more focused, etc. This article shows you how to do the blocking.
How to block Netflix on Mac
Netflix doesn't provide an app for Mac computers. To access and use it on a Mac, you need to visit the website www.netflix.com using certain browsers such as Google Chrome and Safari.
To restrict Netflix on Mac is to restrict access to the Netflix website. You can easily get the job done with Cisdem AppCrypt, the best website blocker and app locker for macOS.
AppCrypt main features:
Block specific sites and pages on browsers with password
Offer preset lists of categories (video, porn, etc.) of sites to block with 1 click
Offer 2 blocking modes: Block list and Allow list
Also lock apps with password
Let you block sites and lock apps permanently or at certain times
Hard to bypass
Easy to use
Help stop addiction to Netflix, YouTube or social media, etc.
Help with parental controls, productivity and more
Support macOS 10.12 or later
How to block Netflix on Chrome and Safari etc. on Mac
1. Download AppCrypt and install it.

Free Download
2. When you open it for the first time, set a password.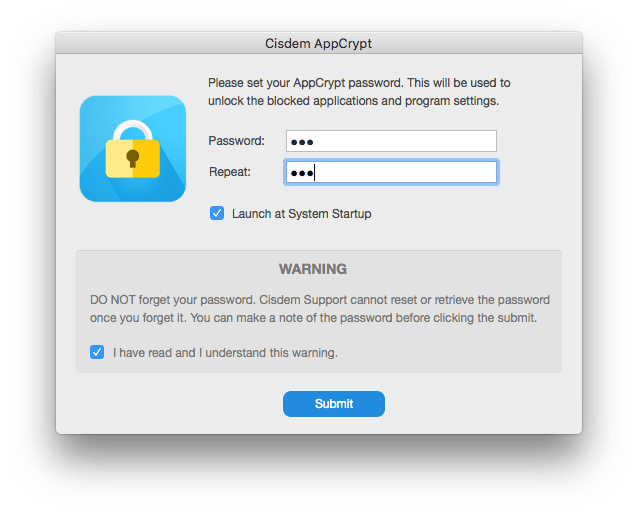 3. From the top menu bar, click its icon and click Open Main Window.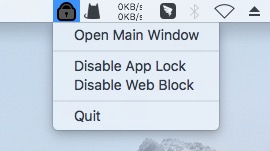 4. Enter the password, and now you are in the main window. Click Web Block.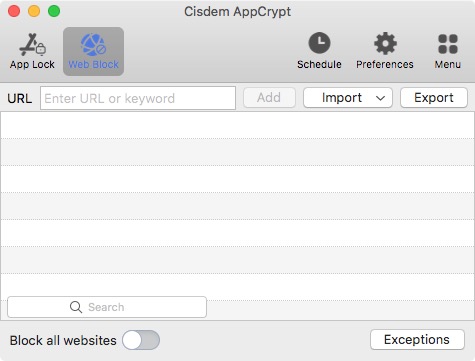 5. Enter the Netflix website and click Add.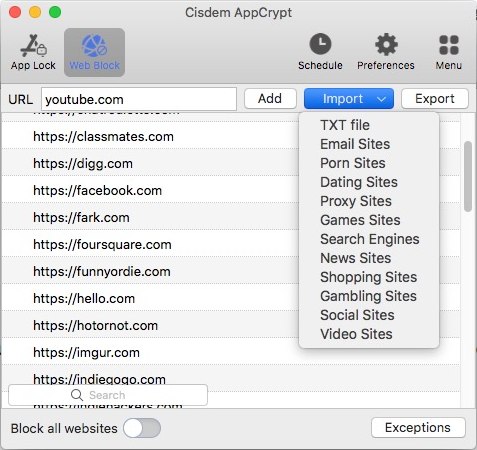 Now, Netflix is blocked on your Mac computer. All Netflix content becomes inaccessible. When you try to access it using Safari, Chrome or Opera etc., the website won't open, and you will get the following message.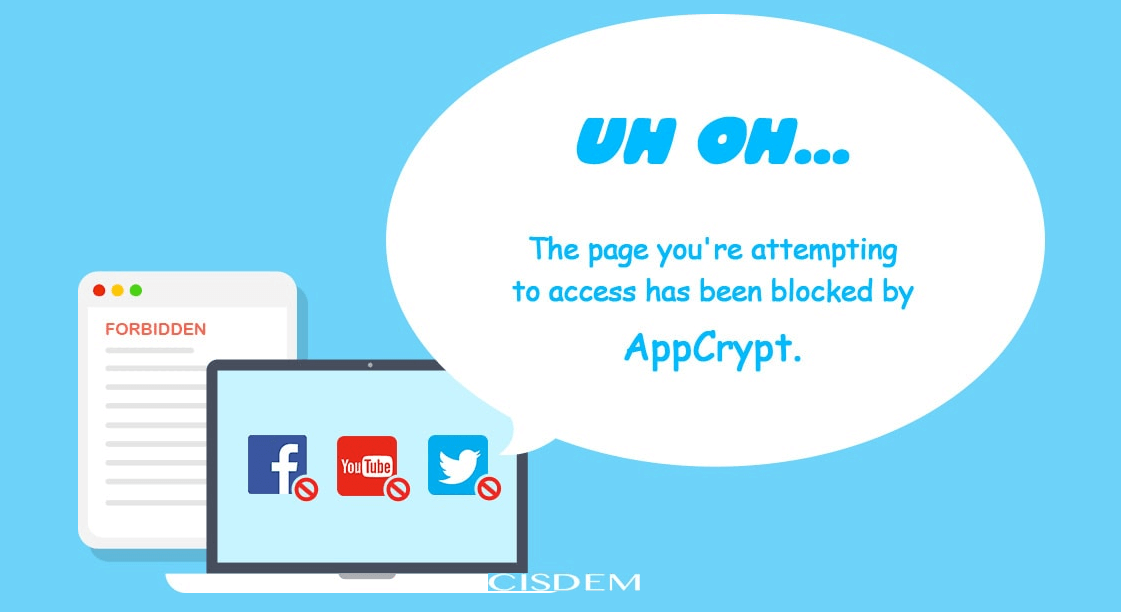 How to unblock Netflix
1. Open AppCrypt's main window, which will ask you to enter the password.
2. Go to the Web Block window.
3. Select Netflix, control-click and choose Remove.
Or, you can temporarily unblock Netflix (and all other blocked websites if any) by clicking Disable WebBlocker. You can enable the blocking anytime.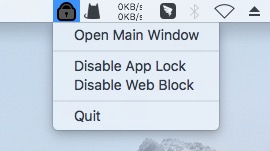 As you can see, the blocking is hard to get around because it requires the password to unblock. It will also require the password when one tries to access AppCrypt's main window and settings, unlock locked apps, quit AppCrypt or uninstall it etc.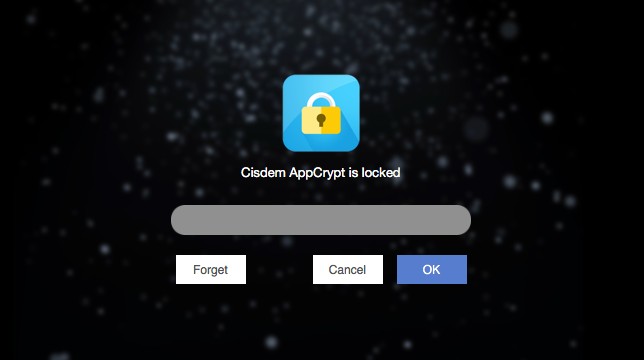 Tip 1. Block access to a third party Netflix app for macOS
You may be using a third party app to watch Netflix. You can also restrict access to it if you want to. Click App Lock in the top left corner of the main window, select your Netflix app and click Open. Now, the access is not available. To unblock, just select the app and press the delete key.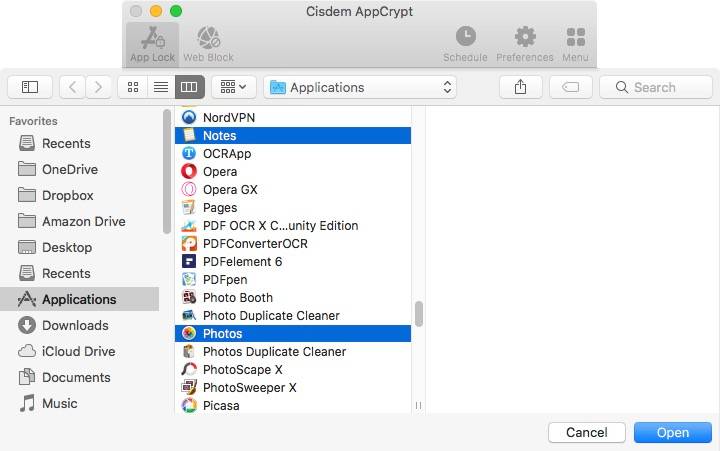 Tip 2. Block Netflix at certain times
If you are a parent who wants to limit the amount of time your child spends on Netflix or an employer who wants to block Netflix during work hours on employees' computers etc., the Schedule feature can help you. In the main window, click Schedule. Set one or multiple recurring general schedules. Note the general schedule applies to all blocked sites and locked apps.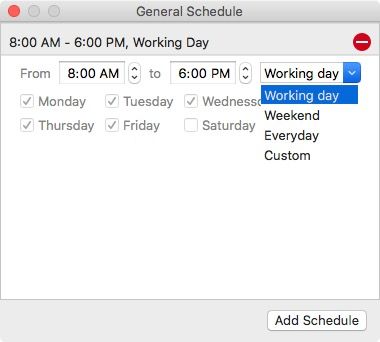 Tip 3. Block all popular video streaming services including Netflix with 1 click
Instead of manually adding netflix.com to block, you can get the job done by simply importing the preset list of Video Sites. The list contains Netflix, Hulu, YouTube and more. In addition, you can use the Allow list mode to block all websites except the allowed ones. And this way, all distracting or inappropriate websites are inaccessible.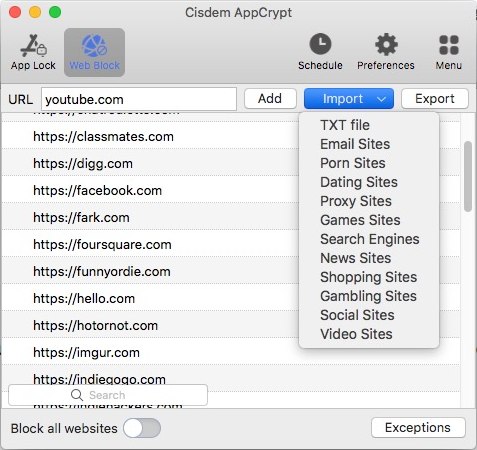 Get AppCrypt to easily and effectively block Netflix on Mac and control access to any websites/apps!
How to stop watching Netflix on Windows computers
Do your children spend more time watching Netflix than they should? You can stop this by blocking Netflix access. There is more than one method. The method I'm going to talk about uses Cisdem AppCrypt. This tool can help Windows users filter web content and set limits on apps and do more.
1. Download and install AppCrypt.

Free Download Windows 11/10/8/7
2. Set a password when you open it for the first time.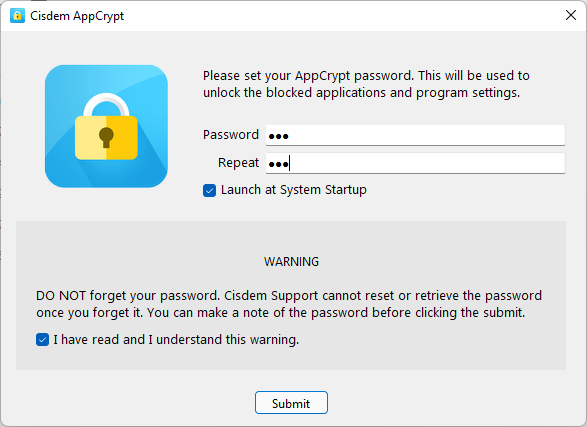 3. On the taskbar, click its icon. Alternatively, right-click the icon and choose Open Main Window.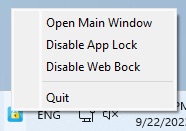 4. Enter your password to access the main window.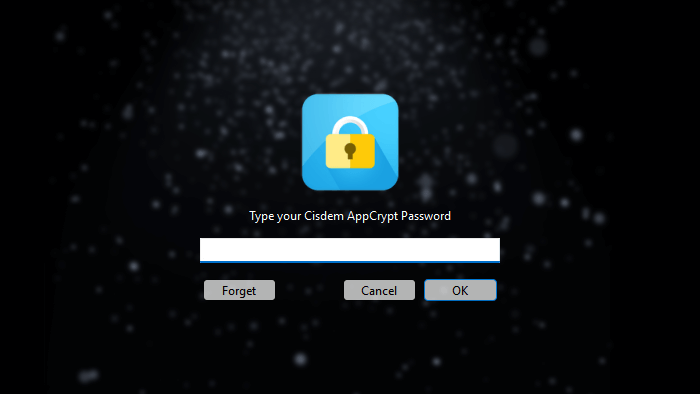 5. Under the App Lock tab, use the Add icon or drag and drop to add the Netflix app to block.
6. Under the Web Block tab, add the Netflix website to block.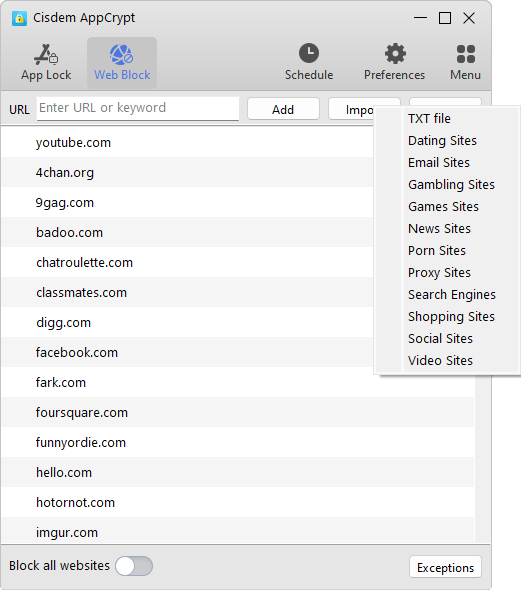 By default, the blocking is permanently as long as AppCrypt is running. If you only want to block Netflix during certain hours, you can set Custom Schedule for it. This way, Netflix will only be blocked at scheduled times.
How to block Netflix on iPhone or iPad
You can have a great Netflix experience on your iPhone thanks to the app. The app even allows you to download movies and shows to watch offline, helping make your daily commute more enjoyable. In addition, Netflix is good at recommending great content based on your tastes thanks to the smart algorithms they use. You may find yourself spending more and more time on Netflix.
How do you fight your Netflix addiction? It's a good idea to block Netflix app on iPhone or iPad.
1. On your device running iOS 12 or later, go to Settings.
2. Tap Screen Time and then turn it on.
3. Tell Screen Time whether it's your device or your child's device.
4. Tap Use Screen Time Passcode. Set a passcode. If you want to effectively block yourself from Netflix, it's recommended to ask someone else to set the passcode.
5. Tap App Limits and then Add Limit.
6. Tap the Entertainment category to expand it and select Netflix. Tap Next in the top right corner.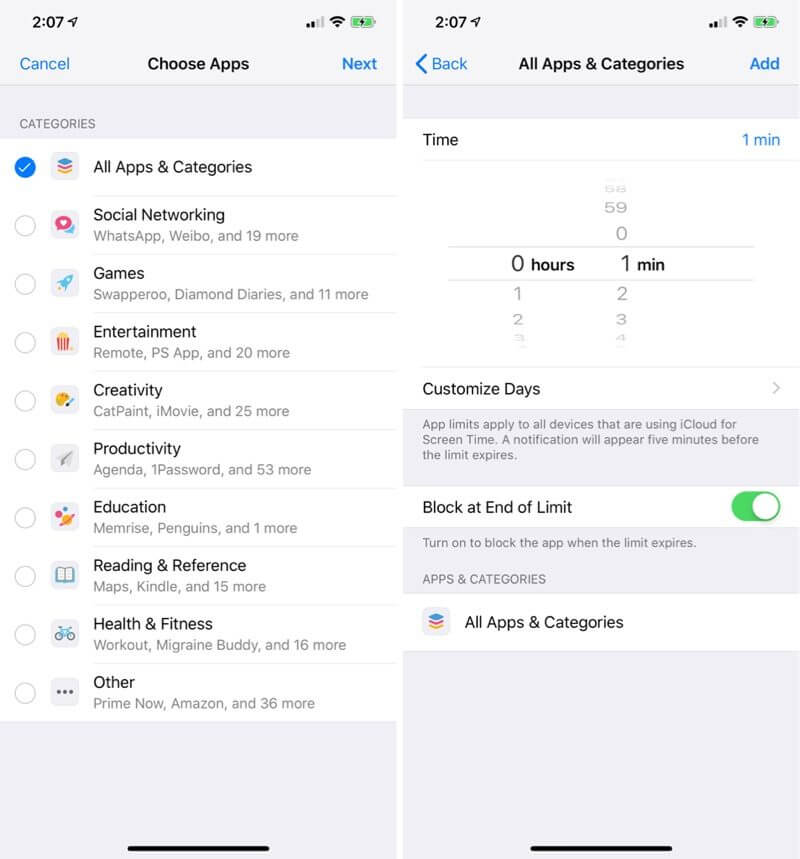 7. Set the minimum time limit of 1 minute for every day. Enable Block at End of Limit.
Now the Netflix app is restricted on your iPhone or iPad. If you just want to stop yourself from watching so much Netflix rather than quitting it, you can set time limits based on your needs in Step 7.
You can also block netflix.com access if needed. Go to Screen Time main screen. Tap Content & Privacy Restrictions. Turn on the restrictions. Tap Content Restrictions > Web Content > Limit Adult Websites. Tap Add Website below Never Allow and add Netflix to limit.
How to disable access to Netflix on Android
The Netflix app is also available on Android phones and tablets. Netflix keeps optimizing the app to bring a better experience for Android users. If you spend several hours per day watching Netflix on your Android device, you may want to put a stop to it.
1. On your Android phone or tablet, install Block Site in Play Store.
2. Open Block Site. Enable it in your phone's Accessibility settings.
3. Tap the plus icon (+).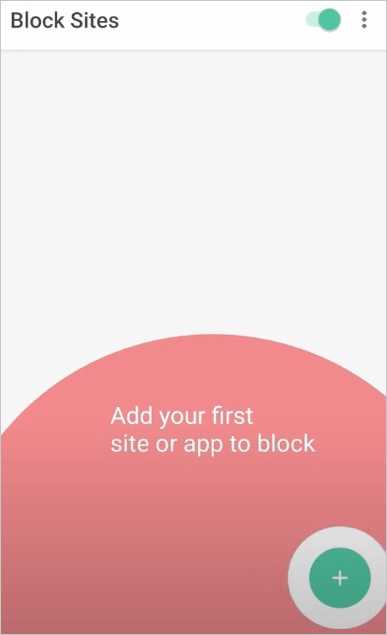 4. Go to the App tab and block the Netflix app.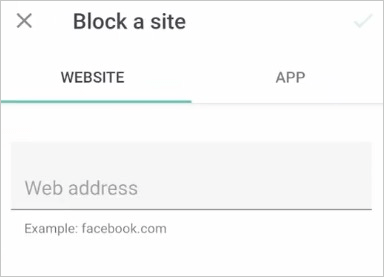 5. Go to the Website tab and enter netflix.com to block.
Now Netflix is blocked forever until you unblock it. To block Netflix at certain times, you can use Block Site's Schedule feature. You can set the same time limit on Netflix for every day or different limits for different days of the week.
Can you block Netflix on router?
If your router has parental controls, it's possible to use it to stop access to Netflix. I'll use a TP-Link router to show you how to do this.
1. From your web browser, visit http://192.168.1.1 or http://192.168.0.1.
2. Log in with your user name and password.
3. Now you have access to your router's settings. Go to Advanced.
4. On the left, click HomeCare. Choose Parental Controls.
5. Click Add to create a profile. Name the profile.
6. Add the device(s) on which you'd like to make Netflix inaccessible.
7. Select a filter level and then go to the Filter Content section to add Netflix to block.
8. This step is optional. If your purpose is to set time limits, you can configure the Time Limits settings.
Netflix parental controls
Above is how to restrict access to Netflix. If you aim to block certain content such as horror movies rather than the entire Netflix, Netflix's parental controls are here for you.
There are a number of things that parents can do to make Netflix child friendly, such as creating a Kids profile, setting Viewing Restrictions and creating a profile lock.
How to block shows and movies on Netflix
1. From your browser, visit the Netflix website.
2. In the top right corner of the page, from the dropdown menu, choose Manage Profiles.
3. Click Add Profile to add a profile. If you are creating a profile for a kid, check the box next to Kid. Click Continue. The profile is added.
4. Click the Manage Profiles button. Click the edit icon of the new profile.
5. Click Edit.
6. Enter your account password to access Viewing Restrictions.
7. Set a Profile Maturity Rating, say, TV-G. This will automatically block certain movies and shows on Netflix.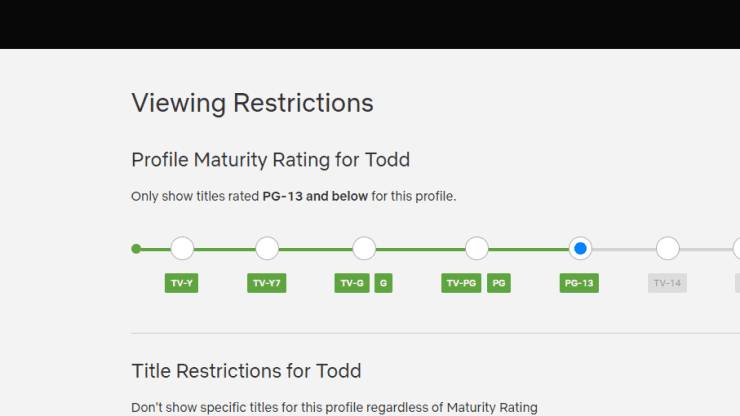 8. You can also manually block specific titles on Netflix for the user of the profile. To do this, go to the Title Restrictions section.
Conclusion
Compared to most other popular streaming services, Netflix has great parental controls. But many users still need an extra layer of control. For people and companies that want to completely make Netflix unavailable, Netflix parental controls don't help. This article shows you how to block Netflix on Mac, Windows and mobile devices permanently or during certain hours. I hope it is useful.