Some of my friends are keen on DVD collections, especially those popular DVD movies and classic music videos. They prefer to play DVD videos on portable devices, like iPhone, iPad, smartphone, etc. so that they can enjoy themselves on the trip. It's a good solution to rip and copy these DVD discs to Mac or other digital players. However, there are some problems they met while ripping, say, the quality is not as good as the original DVD movies, or the DVD is copy protected.
So, I start this article to share my experience and advice about DVD ripper for Mac. You'll get some useful information on why it is hard to rip, and how to rip copy protected DVD on Mac.
Why So Hard to Rip DVD on Mac?
To prevent commercial DVDs from being used for illegal purposes, DVD producers work through a way to protect them.
DRM (Digital rights management) is such a systematic technology to protect copyrights for digital media including DVDs.
The most efficient and trustful DRM approaches are called CSS (Content Scramble System) and RCE (Regional Coding Enhancement). They stop DVD owners from backing up and sharing copyrighted DVDs on their Mac. As a result, you failed to rip and copy DVDs with some software or the output quality is hard to drive with a 1:1 ratio.
So if you want to rip protected DVD on Mac with a 1:1 ratio, read the content below to obtain the professional DVD ripper or the welcomed open resources.
How to Rip a Copy-Protected DVD on Mac Most Efficiently?
Cisdem Video Converter is an all-in-one and pretty stable DVD ripper to copy protected DVD on Mac. It has the ability to rip any video and audio files on a DVD to a hard disk, USB, Plex, iTunes, HDTV, Apple device, Apple software, mobile phone, and various kinds of devices/players. Cisdem Video Converter allows you to remove all copying restrictions, be it protected by CSS, Region Code, Disney X-Project DRM, Sony ARccOS, UOP, RCE, RipGuard, or others.
It also helps you extract audio from video, edit media files, download videos from portals, and more. The software is lightweight, and compatible with Mac OS X 10.12 or later, such as the recently released Ventura, Monterey, Big Sur, Catalina, etc.
Key features of Cisdem DVD ripper for Mac:
Rip DVD movie and ISO image in 1:1 ratio, making the output files without loss
Back up DVD to desirable media formats like MP4, MKV, AVI, MOV, HEVC, MP3, iPhone, etc.
Rip commercial discs that use different copy protection schemes
Extract multiple episodes, multiple chapters, or even 99 titles from DVD
Make conversion between audio and video files
Support 600+ output formats, no need to worry about the compatibility
30X faster ripping speed, helping you save much time
Download HD/4K videos from 1000+ sites (e.g. YouTube, TikTok)
Edit videos with Crop, Trim, Rotate, Effects, Watermarks, Subtitles, and Volume

Free Download
Step 1. Launch Cisdem Video Converter free trial version
Download Cisdem DVD ripper, then launch and open it. Go to the

ripping interface.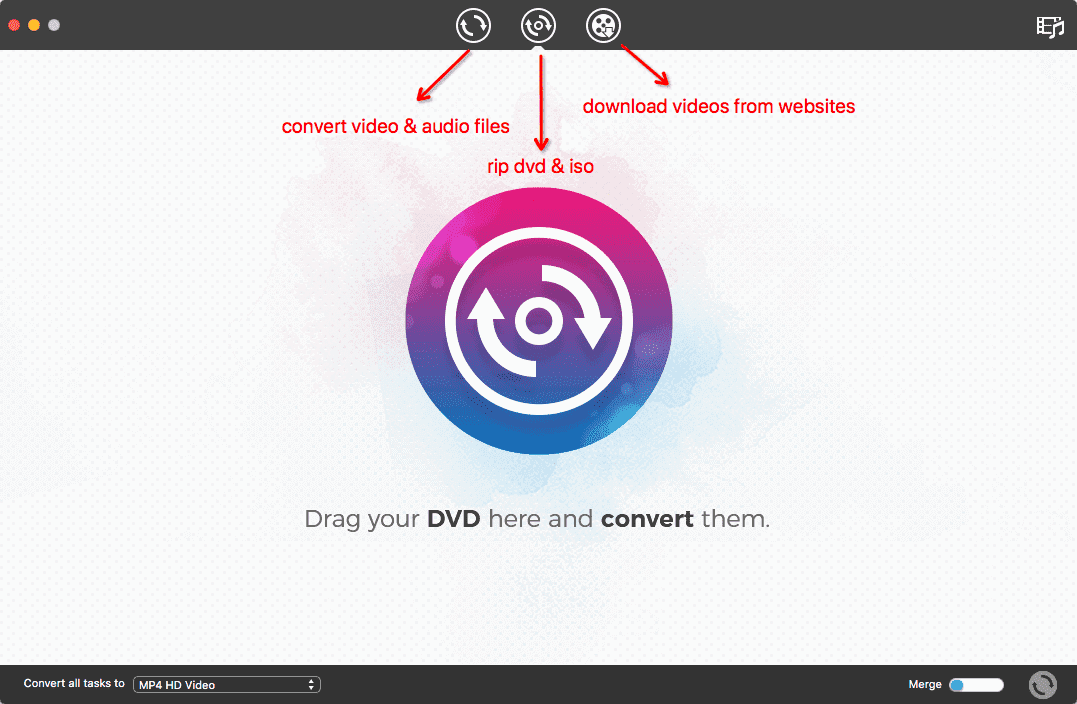 Step 2. Load DVD source
Insert a copy-protected DVD disc into your Mac. Drag and drop its DVD disc icon or VIDEO_TS folder into the software.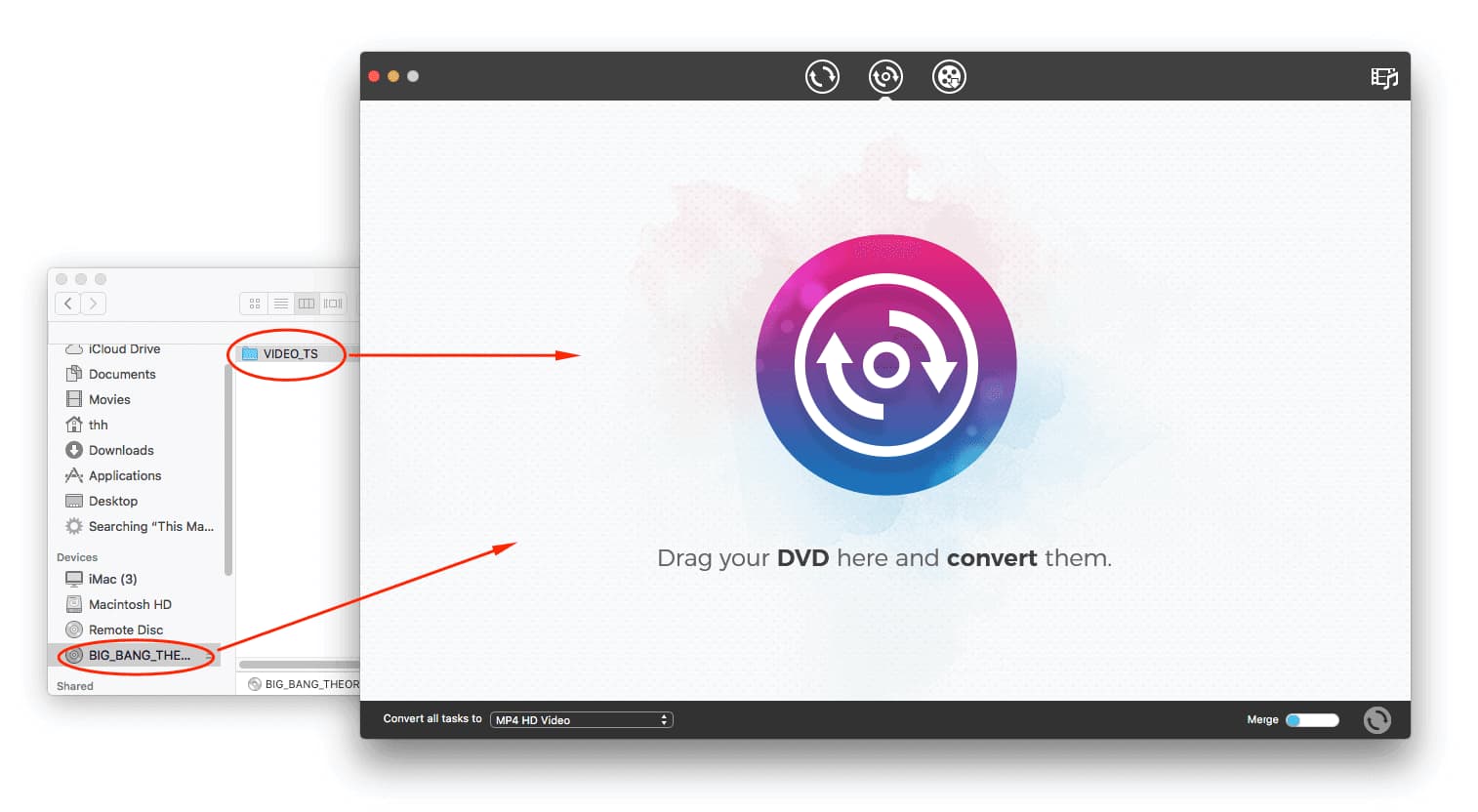 Alternatively, head to the top menu bar, click on "File" > "Add DVD", and load the encrypted DVD.

Step 3. Select titles and languages
On the interface, there is a "✓" checkbox in the upper left corner of each title. If you only wish to export the main title, cancel the other "✓".
In addition, a copy-protected DVD may offer subtitles and soundtracks in various languages. Cisdem DVD ripper can detect all of them. Just pick the language as you like.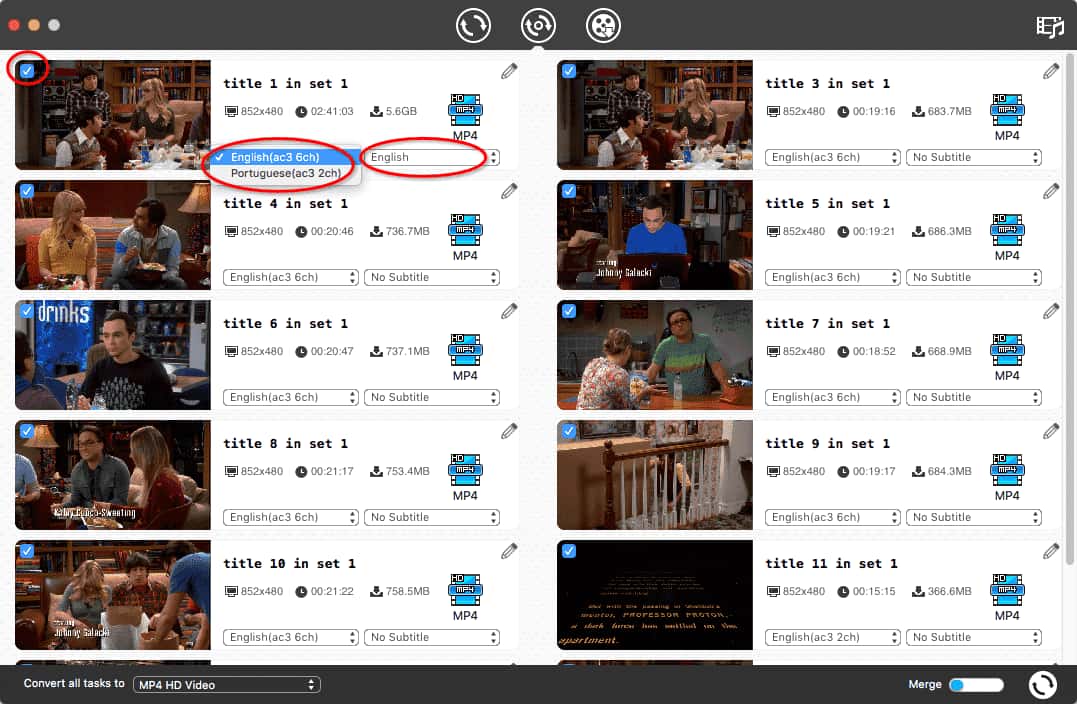 Step 4. Choose the output format
Click the format icon to open the output file panel, which involves loads of format options.
All formats are well categorized by the terminal devices. Choose whatever you want.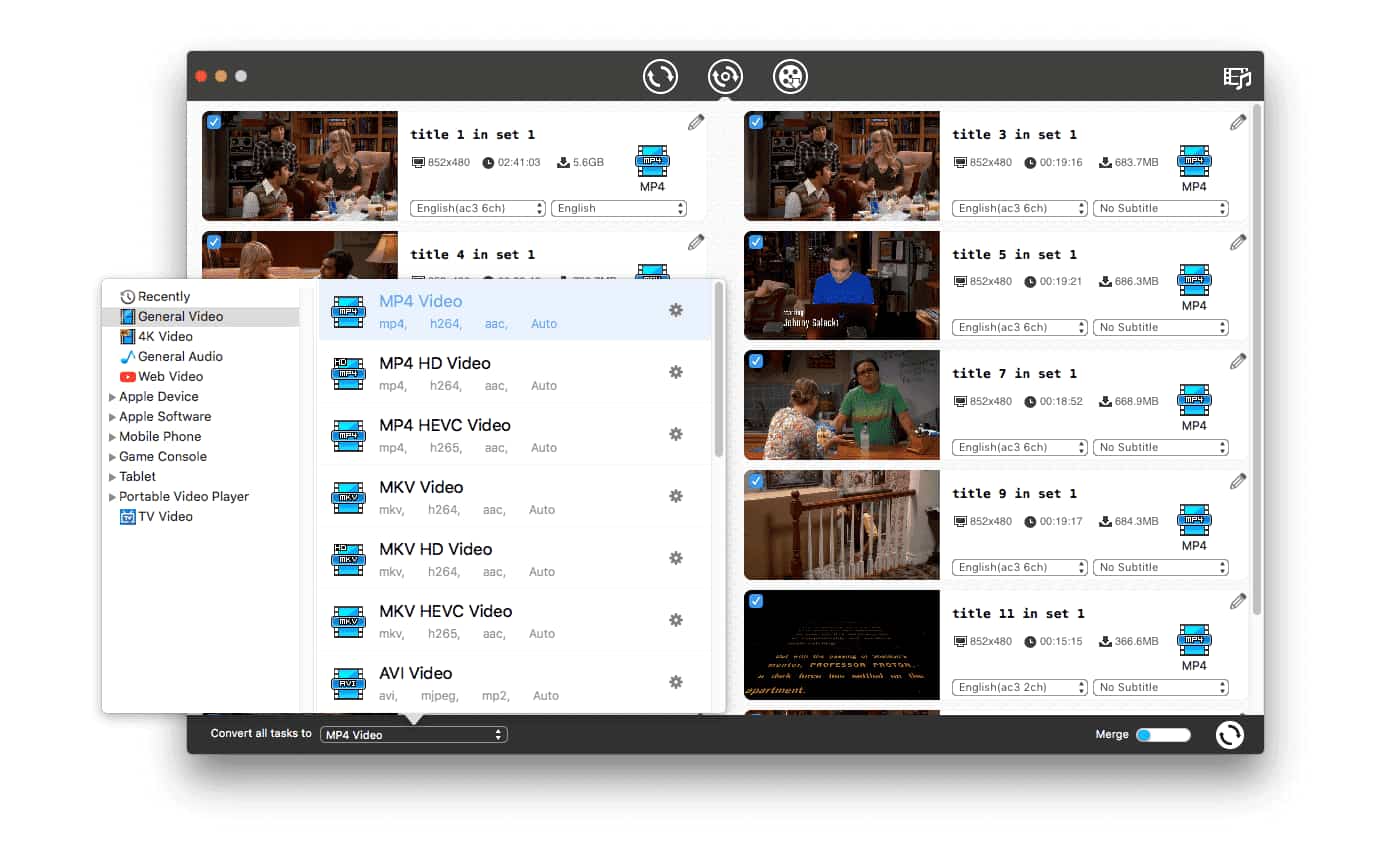 Step 5. Rip copy protected DVD on Mac
After you've done all that, you can start to rip your encrypted DVD video. Click

on the bottom right corner.
Tip: Edit your DVD movie
If you don't have a demand to edit the video, just skip to Step 4. If you want to beautify the DVD video for a better custom look, you can use its built-in editor.
Drag the ripped files to the "Convert" interface. Click the pencil-shaped icon to call up a window where you can fine-tune your video with crop, trim, special visual effects, watermarks, subtitles, and so on.
The edit function is especially useful if you only need a certain part of the DVD, or if you need to add subtitles to the output video.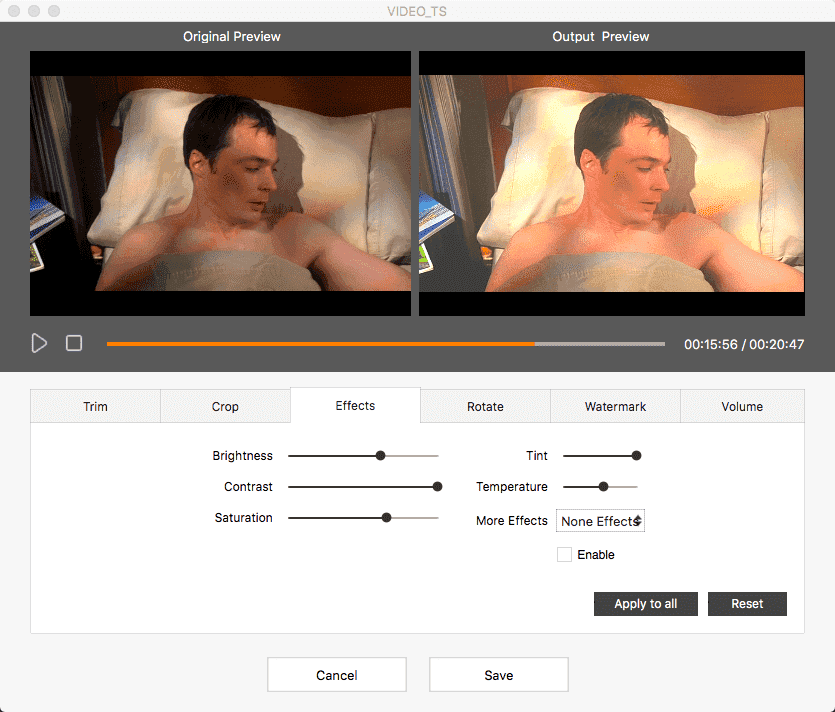 How to Rip Protected DVD on Mac for Free?
What's the free way to help you watch DVD on tablet, smartphone, and more portable media players? Here's how to copy a protected DVD on a Mac for free, so you can play the movies on your favorite gadgets.
#1 Using Handbrake
HandBrake is an open-source video transcoder that aims to rip a DVD or convert a file. You can easily obtain the app from https://handbrake.fr/downloads.php. This page provides download links for all versions, Intel 64 bit for Mac and Apple Silicon Mac included. Since Apple has dropped support for 32-bit Mac applications with their release of macOS Catalina 10.15, you can see that there is no Handbrake 32 bit on the page.
In fact, it's unable to copy protected DVDs natively. You have to get an outside DVD decrypter plug-in to circumvent the publisher's digital rights management technology. For Windows users, you can download DVD43 PLUG-IN (DVD43.DLL). For Mac Yosemite or earlier users, install the libdvdcss package file. But if you are using El Capitan or higher, you should first download Homebrew - a Terminal command that will enable you to install libdvdcss.
Pros:
Freeware
Available for conversion and ripping.
Support adding chapters and subtitles to your video
Compatible with Windows, Mac, and Linux
Cons:
Unattractive interface: it is designed with many technical-looking input areas for you to add files and specify output preferences, such complex.
Not many output formats: only MKV, MP4, and WebM supported
The conversion speed is pretty slow. You should have more patience while using it.
Not friendly for beginners to rip encrypted DVD on Mac OS X El Capitan or newer
Only unprotect certain DVDs encrypted by CSS or Region Code, not all encryption included like Disney 99-Title DVDs, Japanese DVDs
Below is how to rip a DVD on a Mac with copy protection via Handbrake.
Download and install HandBrake on Mac. Then insert the DVD you want to rip.
Note: Before ripping protected DVD, download libdvdcss to help bypass the built-in disc restrictions.
Initiate Handbrake, a dialog box will appear automatically. If not, click the "Source" button.
Select the DVD mounted on your Mac, and click "Open". The app will scan the disc for titles to copy.
Click the "Title" drop-down menu to choose the item to copy.
Note: Handbrake will consider the title with the longest duration as the main title, which is most likely the actual movie, not the trailers or special features. When you rip TV shows from a DVD with multiple episodes and would like to digitize them all, you can add all titles to the encoding queue. By default, these titles use the same output name. To avoid being overwritten, navigate to the menu bar > Handbrake > "Preferences", and tick the box "Automatically name output files".
Look at the preset menu on the right side, you can preset outputs for a slew of Apple devices or straightly select MKV, MP4, or WebM as the output format.
Fine-tune your project under the "Video" tab.
Choose languages from the "Audio" and "Subtitles" tabs.
Hit on "Start" at the top of the interface.
#2 Using MakeMKV
MakeMKV is a compact app to rip DVD to Mac. It offers the public beta version for x64 or ARM64 Mac OS X 10.7 or later users. The DVD ripping feature is completely free and allows you to digitize DVDs protected with BD+ and AACS encryption. But its Blu-ray ripping capabilities requires paying upwards of $55.
Pros:
Rip traditional DVDs for free
Easy to use
Quickly extract videos from a DVD without re-encoding
Deliver original image quality
Cons:
Only rip DVD to MKV
Leave your DVD videos uncompressed, so if a movie occupies 3GB on the disk, it will also occupy 3GB on your Mac
Remove limited DVD encryptions
Too slow to load a DVD. Cisdem Video Converter and Handbrake took approximately 10s to import the same DVD disc, whereas MakeMKV took nearly 5 minutes.
Check the steps on how to rip a DVD on Mac with copy protection via MakeMKV.
Put the protected DVD in the disc tray.
Install MakeMKV for Mac and launch it. The software will detect the DVD and display the disc information.
Click the optical drive icon to load the DVD.
Once added, you can see all titles, audio tracks, subtitles on the DVD listed in a tree structure and selected by default. Uncheck items you do not wish to rip.
Hit the yellow folder icon and choose a path to store the resulting digitized DVD content.
On the right side, click the "Make MKV" icon to start ripping a copy protected DVD.
Conclusion
We have shared two apps to rip copy protected DVD on Mac. Cisdem Video Converter is the handiest and the easiest one to operate. It's able to decrypt any DRMed content (regardless of release by Walt Disney, Sony Pictures, Warner Bros., MGM, etc., or others), and supports a wide range of digitalized output formats. Whereas Handbrake itself can't rip protected DVD on Mac, you need to install extra add-ons. Even if you have libdvdcss package installed, it merely removes copy protections of partial DVDs.
You can look for alternatives as well. But I suggest you use a dedicated and paid DVD ripper. Some freeware like RipIt, MakeMKV, and MacTheRipper can't actually unlock various types of DRM protection.