iMovie, bundled with your Mac, is a free and popular video editing program. It lets you import video sources from downloaded DV-encoded files, RAW camera, Panasonic P2, Sony XDCAM HD, and more.
However, iMovie supports a quite limited number of media formats, and MKV (Matroska Video) is one of the unsupported formats. To import MKV to iMovie, you have to convert MKV to a video format supported by iMovie. This post will walk you through how to convert MKV to iMovie on Mac.
Use the 4 methods below:
iMovie compatible formats
iMovie import format: MP4, MOV, M4V, 3GP, DV, MP3, AAC, AIFF, WAV, etc.
iMovie export format: MP4, MOV, AAC, MP3, AIFF, WAV
Best video format for iMovie: MP4
The Best Way to Convert MKV to iMovie on Mac in Bulk
Cisdem Video Converter is a robust MKV to iMovie converter for Mac with superb and highly optimized conversion features. It's capable of converting video and audio files with fast speed.
Apart from transcoding MKV files to iMovie on Mac, it also processes conversion among other common formats like MKV to MP4, MP4 to MP3, H264 to MP4, MKV to AVI, and so on.
so on.
Standout functions:
Convert MKV videos to iMovie, iDVD, iTunes, iPhone, iPad, Apple TV, etc.
Enrich and edit MKV files by trimming, cropping, applying effects, etc.
Combine MKV into a single video of the format of your choice
View MKV or any video files with its built-in media player
Rip movie/workout/music/homemade/encrypted, etc. DVDs to digital files
Download videos from YouTube, Twitch, Instagram, and other 1000+ portals
Cope with MKV files in batches, regardless of conversion or download
Preserving high-quality outputs

Free Download
Steps to mass convert MKV to iMovie on Mac:
Step 1. Launch Cisdem Video Converter and you will see its "Convert" interface.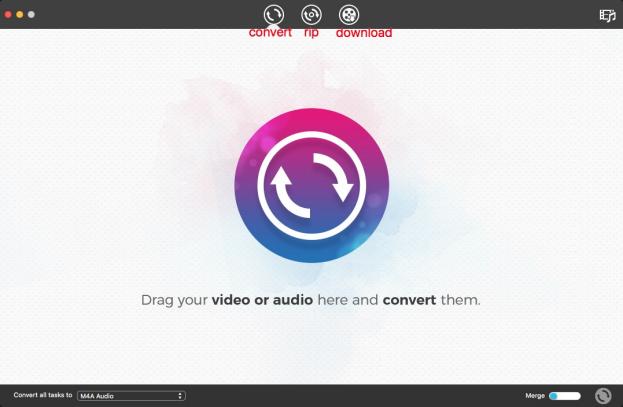 Step 2. Add multiple MKV videos
Straightly drag-n-drop your files onto the interface, or go to the menu bar, and click "File" > "Add File(s)" to browser MKV from your Mac.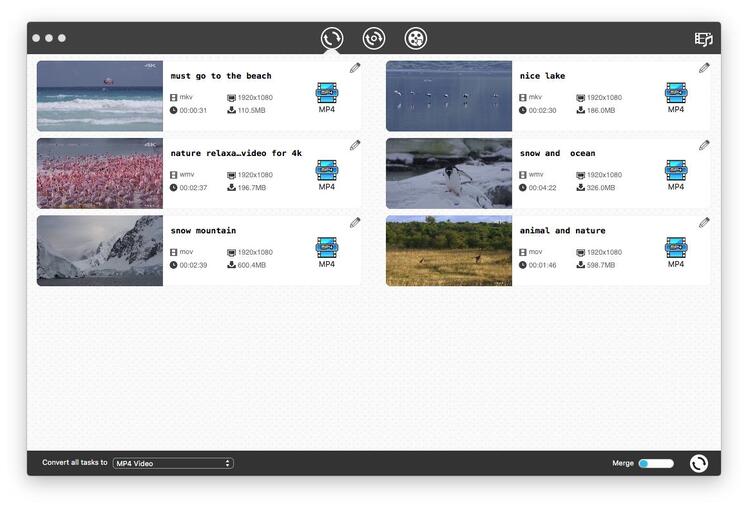 Step 3. Choose iMovie as the target format
In the lower-left corner, click the rectangular box next to "Convert all tasks to" to open a panel, from which formats are neatly categorized. Navigate to "Apple Software" > iMovie", and select the best video format for iMovie like MP4.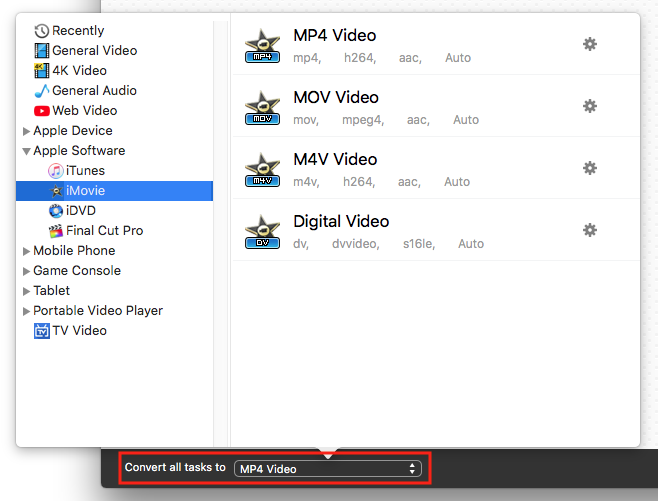 Alternatively, switch to "General Video", and choose "MP4 Video".
Tips: The MP4 format is encoded with H.264/AAC by default, which is fully compatible with all iMovie versions and mobile phones.
This will assist you to select the iMovie format as all MKV output with one click. To choose different formats for individual videos, click the format button nearby the video thumbnail.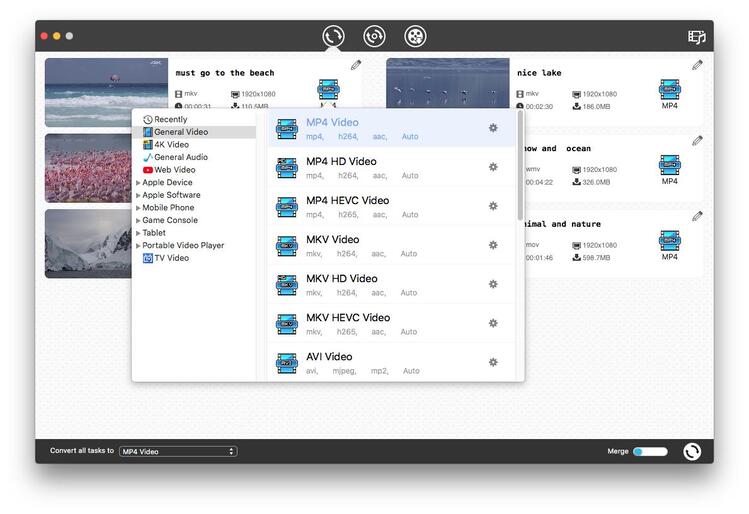 Step 4. Customize video parameters (optional)
There is a

button near the format you choose. Click it, and the "Advanced Settings" window pops up. You can now configure the quality, resolution, bitrate, frame rate, etc. for your output videos.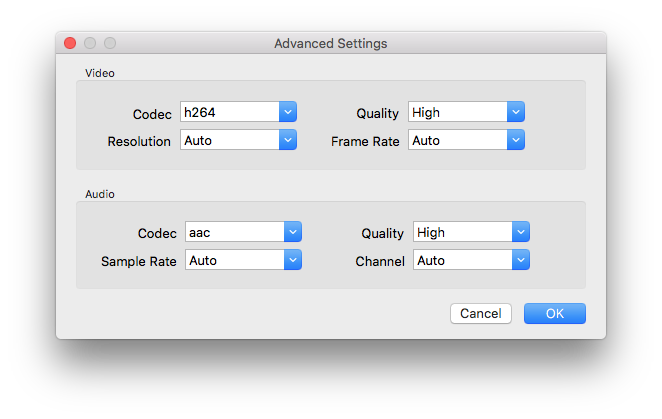 Step 5. Click

button on the interface to transcode MKV into iMovie without losing quality.

Free Download
Convert MKV to iMovie via Freeware
VLC is an excellent and free media player for Mac and Windows. Actually, other than playing videos, it can be applied to transcoding video files from one video format to the other. It's able to convert MKV to iMovie format, TS, OGG, WebM, and more. If no desire formats in the output list, you can create a new customize profile, as well as tweak the bit rate, frame rate, resolution, etc.
But only a single MKV file can be converted at a time, and your original audio might be lost. Below are the steps for the Mac example:
Have VLC installed on your computer and kick it off.
In the status bar on the top left of the screen, click "File" > "Convert/Stream" to open the window for video transcoding.
Click the "Open media" button to import MKV from the local drive, or drag the file into the specified area.
You can directly choose "Video – H.264 to MP3 (MP4) as an output profile.
Click "Save as File" > "Browse", in the pop-up box, name your output file and select a storage place.
Hit "Save" to convert your MKV to M4V. The file extension won't be .mp4, but it can also be imported to iMovie.
Can Handbrake Convert MKV to iMovie?
Yes! Handbrake is an open-source and multi-platform program that can transcode videos and ripped DVDs. It has the ability to convert videos to MP4 and MKV formats (supports two outputs in total). In other words, you can use this software to convert MKV to iMovie format-MP4.
Convert MKV to iMovie Online
#1 CloudConvert.com
As the name implies, CloudConvert.com doesn't convert files on devices but in the cloud. It claims to convert a wide variety of types of formats including video, audio, presentations, images, spreadsheet, archives, etc.
Thanks to CloudConvert, you can convert MKV to iMovie video format- MP4 and MOV online, together with other formats like FLV, AVI, FLAC, AAC, etc.
However, it can convert up to 25 conversions per day for free, and the size of the video file you upload can't exceed 1 GB.
Tips: It might fail to convert videos and say, "Invalid data found when processing input".
Visit https://cloudconvert.com/mkv-to-mp4 or https://cloudconvert.com/mkv-to-mov.
Hit on the "Select File" button to add MKV files from your computer, Dropbox, Google Drive, or OneDrive as you require.
The MP4 or MOV format has been selected by default. If needed, you can set up some output parameters like Preset, Tune, Level, Frame Per Second (fps), aspect ratio, and so on.
Click "Convert" to turn MKV into an iMovie-supported format.
Download the converted MKV videos.
#2 Freeconvert.com
It's another decent online MKV to iMovie converter that has the capacity to convert MKV to MP4, MOV, 3GP, iPad, PSP, Kindle, or other 8 formats, iMovie supported and unsupported formats are included.
But it limits to 200MB for a single uploaded file and 1GB for all batch conversion files. Meanwhile, it only batches converts up to 20 MKV videos simultaneously.
Visit https://www.freeconvert.com/video-converter.
Drag MKV files to the interface or import them by clicking the "Choose Files".
Select an iMovie format such as MP4 and MOV.
Click the "gearwheel" icon to open an "Advanced Options" window. Then, you can adjust the video/audio codec, screen size, frame rate, etc.
Start to convert MKV video to iMovie online via the web-based tool.
Once done, download your converted videos.
Turn MKV into iMovie Format through FFmpeg
FFmpeg can both remux files (think of it like a copy & paste) and transcode MKV to iMovie compatible formats.
For example, to remux MKV file to MP4, use the command line: ffmpeg -i input.mkv -codec copy output.mp4. However, if the MKV contains an iMovie-unsupported codec, the generated MP4 can't be imported into iMovie. The solution I recommend is to re-encode MKV to MP4, and the output stream codecs will map as H264 and AAC.
Open the Terminal software on your Mac.
Type the command: ffmpeg -i <inputfile> <outputfile> into it. You can use ffmpeg -i input.mkv output.mp4.
Begin the transcoding by pressing "Enter".
More FAQs about MKV and iMovie
1) Does iMovie support MKV?
No! iMovie doesn't empower you to drag MKV videos into the software. In addition to MKV, WMV, VOB, WMA, FLV, NSV, APE, WebM, etc. are not worked with iMovie as well.
2) Why iMovie fails to import some MP4 files?
Generally, iMovie supports MP4 files encoded with MPEG4/AAC or H.264/AAC data. If the imported MP4 files use other codecs, iMovie may not accept them. Another reason is that your MP4 video contains codecs for audio and subtitle streams which are not supported by iMovie.
Just like some mobile phones can't play MP4 video files encoded with Xvid because they only support DIVX and H264 codecs.
3) Can iMovie edit AVI files?
Yes! It's capable of importing AVI into iMovie for editing as long as your AVI is encoded with Motion JPEG (OpenDML). Check your codecs inside AVI via "Show Movie Inspector" in QuickTime.
4) How to put MKV files on iTunes?
As with importing into iMovie, before adding MKV into iTunes, convert MKV to MP4, MOV, or M4V.
Conclusion
If you are having trouble trying to convert MKV to iMovie on Mac, a good converter can save you the headache.
Although online tools are quick and have no need to install software, they have limits on the size and numbers of the imported files and merely support few video outputs. More importantly, they are not safe enough to convert confidential MKV videos.
When it comes to free programs, VLC doesn't support conversions in bulk and FFmpeg is not simple to operate for novices.
Hence, it is undoubtedly that the dedicated MKV to iMovie converters like Cisdem Video Converter to be the best of them all due to the rich functions and wonderful performance.