Apple Mail files are typically stored in ~/Library/Mail/ folder on Mac. Many Mac users have experienced or are experiencing the Mac Mail folders disappeared issue. The issue may be due to an accidental deletion of the Mail folder, an upgrade from macOS Ventura to the latest macOS 14 Sonoma, from Monterey to macOS 13 Ventura, from Big Sur to macOS 12 Monterey, or among other situations. This article will show you 8 different ways to restore Mac mail and make folders show up again.
In some cases, you need to restore the missing Apple Mail folders from Time Machine backup (if available) or with the help of data recovery software for Mac. In other cases, the Mac Mail mailboxes, folders or subfolders only disappear from the sidebar in the application, so different methods will be needed. All the methods provided in this article are applicable to macOS Sonoma, Ventura, Monterey, Big Sur, and other older versions.
Method 1. Restore Disappeared or Deleted Mac Mails without Failure
I lost all of my Mail files but I didn't backup system by Time Machine, and also didn't do any other backups, how can I restore my Mail files?" ― Asked by a Mac user
Not all Mac users back up their Macs with Time Machine. Also, sometimes, restoring Mac Mail files from Time Machine just doesn't work. Is there a universal way to restore the disappeared Apple Mail folders?
Cisdem Data Recovery for Mac is an easy-to-use and powerful app to recover lost, deleted or formatted photos, videos, documents and other types of files on Mac, including Mac Mailbox emlx files. It can also recover data from external hard drive, SD card, USB flash drive, digital cameras, iPods, etc. If some important data, say Mac Mail mailboxes, have disappeared, don't panic. This app will be able to recover them efficiently. A free trial is available for all Mac users.
Compared with restoring Mac Mail folder from Time Machine, it's a lot easier to restore deleted or lost Mail using Cisdem Data Recovery. Below are the steps.
Step 1. Download and install Cisdem Data Recovery on your Mac. Launch it.

Free Download

macOS 10.11 or later

Step 2. Choose the location where you want to recover the mail files.
Step 3. Click on Search for lost files and go to Type > Emails, check the mail files or use the filter tool to quickly search a mail file.
Step 4. Select the wanted mail files and click Recover to get them all back to your Mac.
Step 5. Find the recovered Mac Mail files in Finder app and open with Mail app to view or send emails.
It is the simplest way to restore Mac Mail folders and files. There is nothing complicated. All the Mail files can be recovered without loss.
Method 2. Locate Show/Hide Button to Fix Apple Mail Folders Missing
In case you discover that some of your Apple Mail folders have disappeared from the On My Mac folder, Flagged mailboxes, Smart mailboxes, Junk mailboxes, Sent folder, Drafts folder Trash folder or others, there's possibly one quick trick.
Mac Mail has a button called Show/Hide, which is invisible by default. It only shows up when users put the cursor on top of it. So try to locate and switch the Show/Hide button, your missing Apple Mail folders might reappear magically.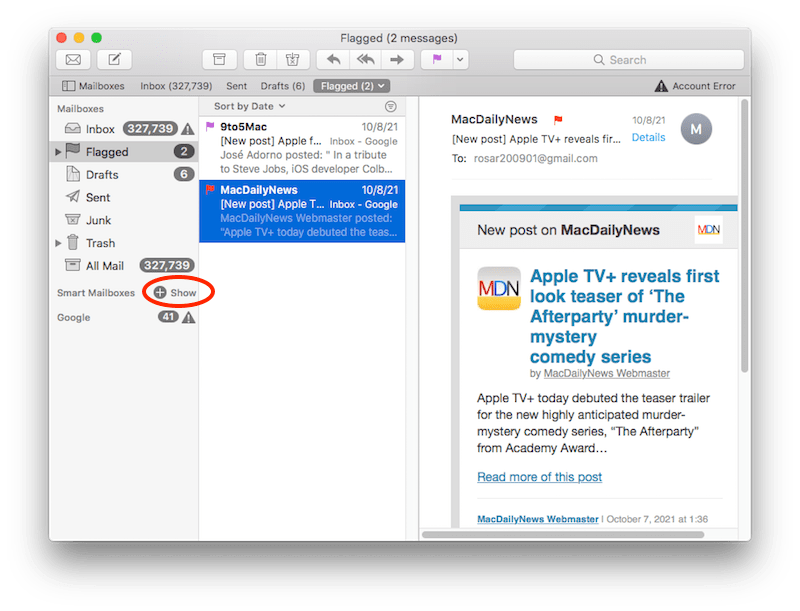 Method 3. Restore Mail Folders on Mac from Library
Library on Mac is a specific folder where all cache files, preference files, settings files, support files and other data associated with Mac apps are stored. Without doubt, searching in Library folder can be a feasible option if any Apple Mail folders disappeared on your Mac.
Open Finder from Mac Dock > choose Go from Finder menu bar > select Go to Folder.
Enter ~/Library in the window > click Go.
Scroll down to open the Mail sub-folder > open the folder named V(number) > copy it to recover the deleted or disappeared Mail folders.
Method 4. Re-set Preferences to Fix Apple Mail Folders Disappeared
Here's another scenario. When opening Mail, you find that all the folders previously associated with your iCloud or Gmail account are not showing. When you select "Get Account Info", they are all listed. They just don't display in the Mailbox. If it's your case, you can go to "Preferences" and change the settings. By doing so, you will restore the Mail folders successfully.
Open the Mail app on your Mac. From the top menu bar, select Mail > Preferences.
Go to the Accounts tab, unselect the "Enable this account" option.
Wait for 5-10 seconds, then select "Enable this account" again.
Close this window and go back to Mail app to check if the disappeared mail folders are back to Mailboxes.

How to Recover Missing Documents Folder on Mac Big Sur, Catalina, Mojave or Earlier
This guide will show you how to find or recover Documents folder missing on Mac. Get back lost, disappeared or deleted Documents folder and files in an easy, safe and effective manner.
READ MORE >>
Method 5. Fix "Mac Mail Folders Disappeared" by Synchronize
The missing or disappeared Mac Mail Mailboxes or folders may be just caused by sync problems, all the mails are kept update to date in the original mail account but not synchronized in Mail app.
Launch Mail app on your Mac.
Go to Mailbox > Synchronize "Google", click and check if the disappeared mail folders are restored in Mailboxes.
If not working for you, keep reading and try the following methods.
Method 6. Re-index to Fix Mac Mail Folders Disappeared
On the Apple discussions forum, there are a number of threads about Mac Mail mailboxes disappearing. With situation like this, you can try re-indexing the mailboxes to do email recovery on Mac by following the instructions below.
Quit Mail app if it is running on your Mac.
Go to Apple Menu > Go > Go to Folder.
Input ~/Library/Mail/ and click Go to find the Mail folder location.
Then go to MailData folder, find the files with name starting with Envelope Index, select them all and copy for backup on your Mac first.
Then delete all these files.
Finally launch Mail app and wait for the reindexing until you see the disappeared mail folders back in your Apple Mail Mailboxes.
Hopefully this method can work. But please note that the re-indexing will not work if the Mail folders files don't exist on your computer anymore. It means that your Mail folder is lost and you need to use a professional tool to restore it.
Method 7. Fix "Mac Mail Folders Disappeared" by Re-Add Account
Sometimes when our social media or Mail account runs into errors, we will log out and re-login to fix the problem, and most of the time, it solves the problem magically. To fix "Apple Mail Folders Disappeared", we can also use this workaround, delete the account first, then re-add and re-load mails in Apple Mail app.
Run Apple Mail app, go to Mail > Preferecens.
Choose the mail account you use to manage mails in Mail app. Click "-" to remove the account.
Click "OK" to delete the account.
Quit Mail app and launch it again, you will be asked to choose a Mail account provider, input the account name and password.
Select Mail to use with this account and click Done.
Now, you will see all the mails and mail folders appearing again in the Mail Mailboxes.
Method 8. Recover Missing or Disappeared Mac Mail Folders from Time Machine
Many Mac users back up their Macs with Time Machine. If you are one of them and you have lost Mail messages recently, you can restore Mail from Time Machine. An article on macissues.com provides three options to manually restore disappeared Mail folder from Time Machine.
How to restore Mac Mail folders from Time Machine?
Open Finder on your Mac. Enter Time Machine.
From the top menu bar, select Go > Go to Folder. Enter ~/Library/Mail/. Find the folder starting with V, say V8 for Big Sur. Open it.
Apart from the folder MailData, there are several folders with long names. Open them one by one to find the mail account that has the mailbox folder you need to restore.
Find the files with the name of the mailboxes that have disappeared. Restore them to desktop. Exit Time Machine.
Import the .mbox files into Apple Mail on your Mac. From the Import mailbox, drag the email messages into the mailbox you want them to go to.
Tips for Backing up Mail Folder on Mac
The Mac Mail folder that contains email accounts, mailboxes, messages, etc. is entitled Mail. Access it by going to Go > Go to Folder and typing ~/Library/Mail/.
Before backing up Mail folder, you should quit the Mail app first. Go to the Mail folder, copy and store it to a different storage device.
When you restore Mail folder by simply copying and pasting, the system will ask if you want to replace the existing folder with it. If you have lost all of your messages, simply confirm by clicking the Yes button.
It's sensible to backup Mail folder or your other important files on a regular basis.