The Mac Contacts app, previously known as Address Book, is an address book app included with macOS. It provides a set of contact management features. But sometimes these features are not enough. In such a case, third-party contact managers can help. This article will share with you 10 tips to better organize and management contacts on Mac.
Manage Contacts on Mac with Super Ease
Efficiently view, search, add, edit, group, tag and manage contacts
Sync contacts with iCloud, Outlook, Google, Facebook, LinkedIn and more
Export contacts to 8 formats such as CSV, Excel, vCard and Word
Import contacts from CSV and vCard files
Merge or delete duplicate contacts on Mac, iCloud, iPhone, Outlook, etc.
Gather contacts from all your accounts for easy management
Provide other useful features like 1-Click Backup & Restore
Compatible with macOS 10.11 or later

Free Download
10 tips for better contact management
Tip 1. Get the best contact manager for Mac
If the default Contacts app can't meet your needs, you can use software like Cisdem ContactsMate. ContactsMate is an easy-to-use all-in-one contact manager for Mac. It offers both basic and advanced contact management features and options.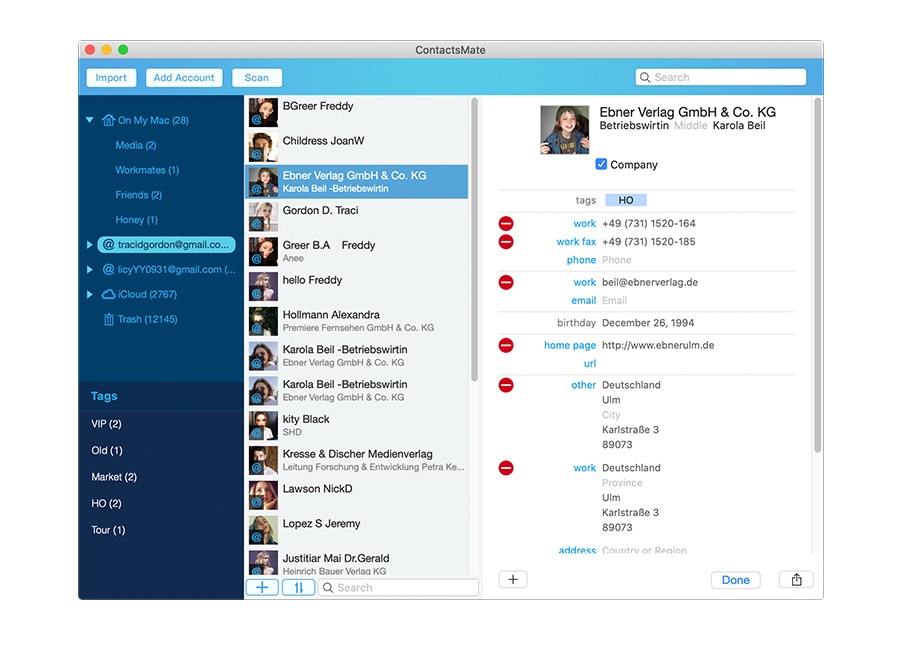 ContactsMate for Mac main features
Export contacts to 8 formats like CSV, Excel, vCard, Word, HTML and Numbers
Import contacts from CSV and vCard files
Sync with iCloud, Outlook, Gmail, Exchange, Facebook, LinkedIn, etc.
1-click to scan for and delete duplicate contacts on Mac, iCloud, iPhone, Outlook and more
Allow you to easily add, edit, search, tag, group and back up contacts
Quickly find and fix errors like incomplete name, invalid characters and blank name
1-click to back up and restore contacts

Free Download
Tip 2. Export contacts on Mac to the format you need
The Mac Contacts app only allows users to export contacts in vCard (or VCF) format. With the above-mentioned app ContactsMate, you can quickly export them to multiple formats.
Step 1. Download and install ContactsMate.
Step 2. Select specific contacts or a group of contacts. Click the Export button in the toolbar at the top of the interface.
Step 3. A dialog box will appear. Click the Format dropdown menu and select the format you need.
Step 4. Click Save.
It's that easy.
Tip 3. Import contacts from files
Likewise, it's also easy to import contacts from vCard and CSV files with the said app. You can find the Import button in the top left corner of its interface. Note that the default Contacts app doesn't support CSV as input format.
Tip 4. Syncing all your contacts to Apple Contacts
From years of internet use, you likely have contacts spread out across a variety of different place. Our first goal will be export your contacts from all of your social networks and email clients, and then import them into OS X Contacts. Here is how to do this manually.
Tip 5. Add fields/groups and searching contacts
After syncing all your contacts, the second thing you should do is add contacts and groups, you can easily do so by click the add and remove button on the left panel and create a name for the group then place appropriate contacts there. or you can also make edits to contacts entries by click edit on the right panel, add even more fields to the contacts and use the search box to quick locate contact members on your contacts list.
Tip 6. Searching for conflicts in contacts
At time there may be contacts with wrong names, incomplete information, or outdated contacts, etc. managing these questionable contacts takes work. And keeping them truly organized takes even more work. Cisdem ContactsMate for Mac offers 13 screening conditions with solutions for you to better managing your contacts.
Step 1. Open the said app. From the top menu bar, select Cisdem ContactsMate > Preferences.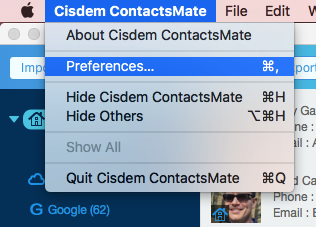 Step 2. Tick the questions you want to check. Select the Select All option in the bottom left corner if you want to select all of them.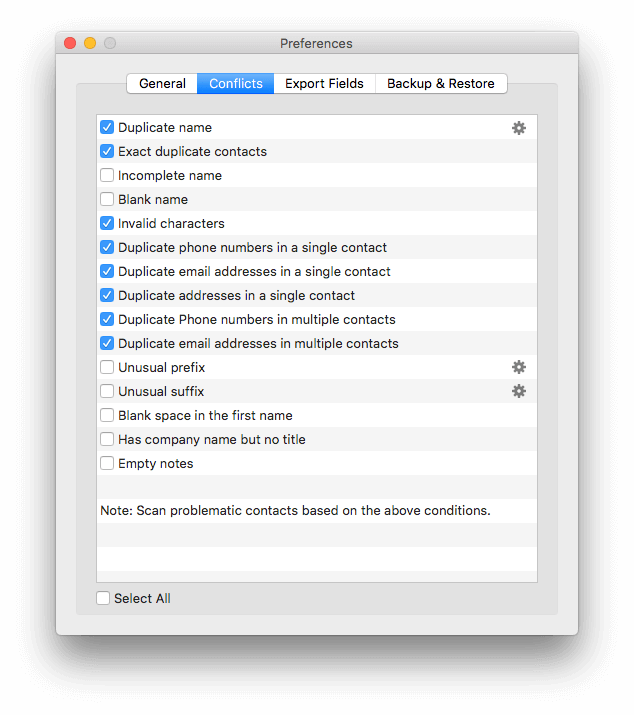 Step 3. Click the Scan button in the toolbar.
Tip 7. Remove cuplicates in Contacts
After you import all of your contacts from social networks, it's likely you'll have duplicates. No worries, Cisdem Contact Manager has a great feature that should condense all of your contacts. Check the Duplicate Contacts field, this app can easily merge all your duplicates.
Tip 8. Remember birthdays
If you dread remembering birthdays, you can also use Contacts and and iCal to store birthdays for all of your contacts and display an alert on the screen when one rolls around.
First you need to choose contact which you want to have a birthday notification and click edit in the right panel, then enter the contact's birthday in the Birthday field, as shown below.
After adding birthdays, you can now start setting iCal for automatic birthday alerts.
From the iCal menu, select Preferences. The window shown below appears.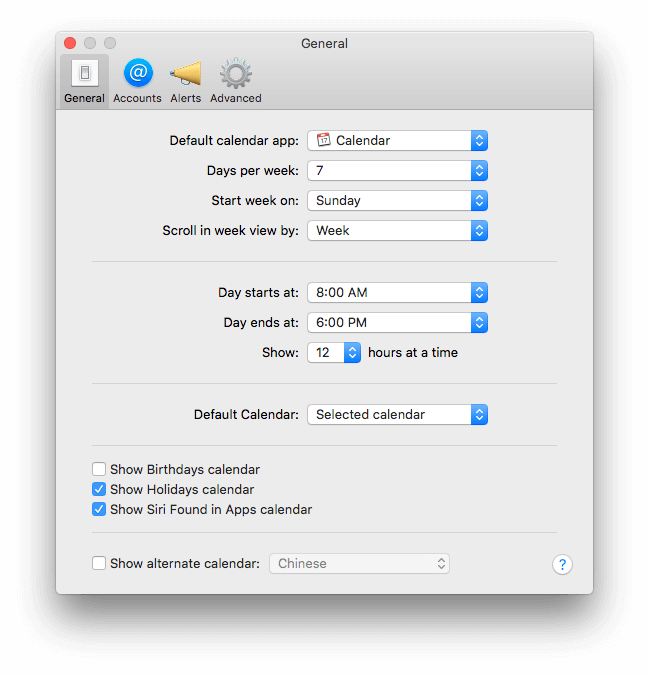 Select the Show Birthday Calendars checkbox.
Now iCal automatically displays all of your contacts' birthdays, as shown below. It will also display an alert on the day of a contact's birthday. Remember, by default the alert is displayed at 8:00 AM.
Tip 9. Send email
If an Contacts entry includes an email address, you can use the entry to launch Apple Mail and create a new email message with the contact's email address already filled in.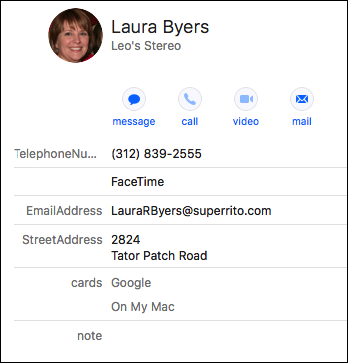 Step 1. Launch Mac OS X Contacts.
Step 2. Select a Contact.
Step 3. Click the label to the left of the email address in the contact; a pop-up menu will appear. (If you're in the process of editing the contact, right-click the label to access the pop-up menu.)
Step 4. Select 'Send Email' from the pop-up menu.
Step 5. Apple Mail will launch, with a new email message pre-addressed to the selected contact.
Tip 10. Choose which email address to use in a group
Many people have more than one email address. How do you choose which email address to use when sending group mails? OS X Contacts lets you set a default email address to use for each contact in the group. What's more, this is on a per-group basis, so you can use a contact's work email for one group and their home email for another group.
Also, it's also a good idea to regularly back up the Contacts database. Where are contacts stored on Mac? You can find the folder by going to Go > Go to Folder and entering ~/Library/Application Support/AddressBook/. You can back them up to prevent data loss.
You're now a Contacts whiz!
After reading this tutorial you now get solutions on syncing Contacts from different place, removing conflicts and duplicates in Contacts, export contacts to a format you need and customize contacts for your particular requirements. Do you have any neat tips or tricks for working with Contacts? Let us know below!