You probably have dozens if not over a hundred of applications installed on your Mac. Sometimes, you may feel the need to put a lock on some of them. By restricting access to certain Mac apps such as Messages, Photos and Mail, you can better protect your privacy especially when other people can access and use your computer. This article will show you how to lock apps on Mac effortlessly in different ways.
macOS (previously Mac OS X and later OS X) doesn't offer a way to do the locking. Luckily, third-party tools are available as a solution. The first two methods described below involve the use of such tools and are practical.
---
Method 1. How to lock apps on Mac with AppCrypt
You can easily password lock any built-in and third-party apps on MacBook Pro, MacBook Air or iMac, etc. using Cisdem AppCrypt, the best app locker and website blocker for Mac.
AppCrypt main features:
Password lock any apps on Mac such as Photos, Notes, Quicken, Evernote, etc.
Record failed attempts to open locked apps with date, time and pictures of intruders
Also block websites and webpages with password
Offer a schedule feature to lock apps and block websites at certain times
Help prevent unauthorized access to your apps
Help protect your privacy
Can also be used for productivity or parental control
Easy to use
Support macOS 10.10 or later
Steps to lock an app on Mac
1. Download AppCrypt and install the tool.

Free Download
2. The first time you open it, you will be asked to set a password.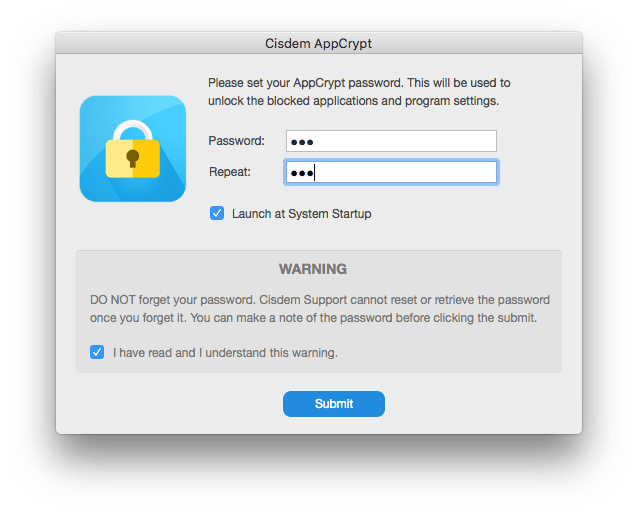 3. Click the tool's icon in the menu bar and choose Open Main Window.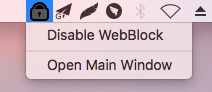 4. Enter the password set in the previous step. Click OK.
5. In the main window, click Add App in the toolbar.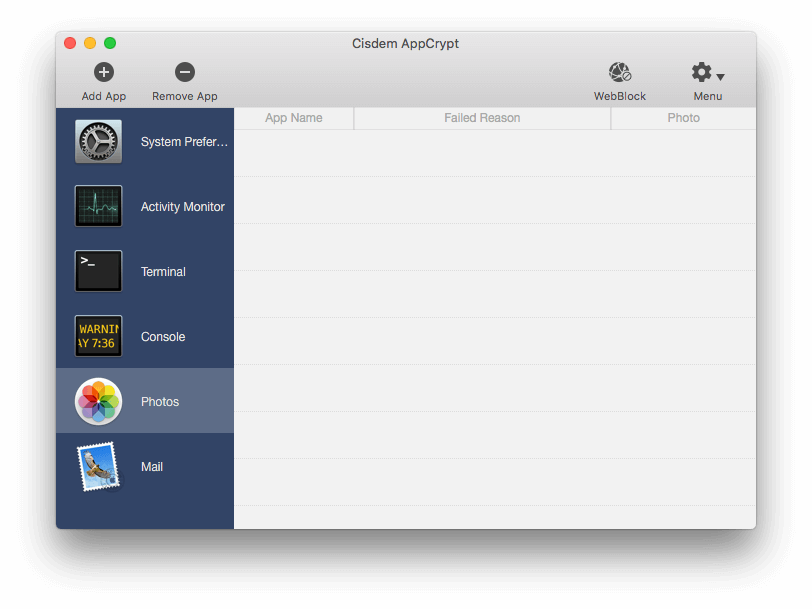 6. Select the individual Mac app(s) that you want to lock and click Add.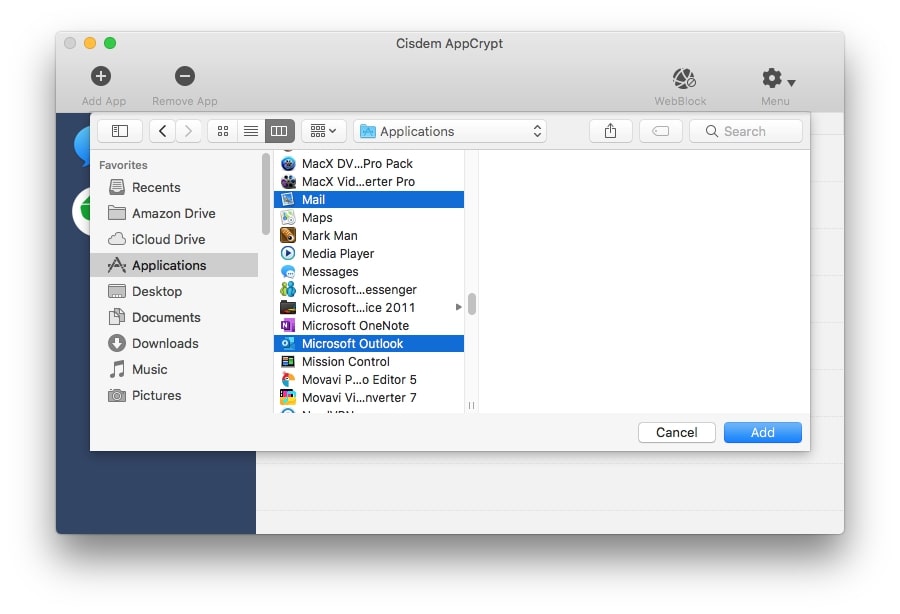 Now the selected apps on your Mac are locked.
Alternatively, instead of doing Step 5 and Step 6, you can lock an app by dragging it into the tool's left sidebar.
While Mac apps normally reside in the Applications folder, it's possible to place them elsewhere such as Desktop. This tool allows you to lock apps on Mac regardless of where they reside.
When you or someone else tries to open a Mac app locked by AppCrypt, a dialog box will show up asking for password. If the password entered is correct, the app will open successfully. If not, the app will remain locked.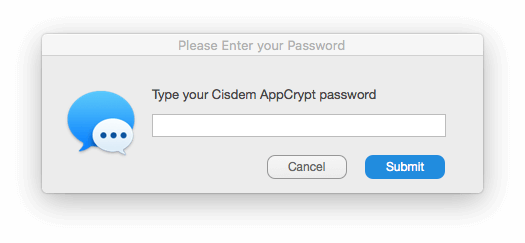 In addition, AppCrypt will record failed attempts to access locked apps and take photos of intruders. (The photo in the screenshot below is blurred for privacy.)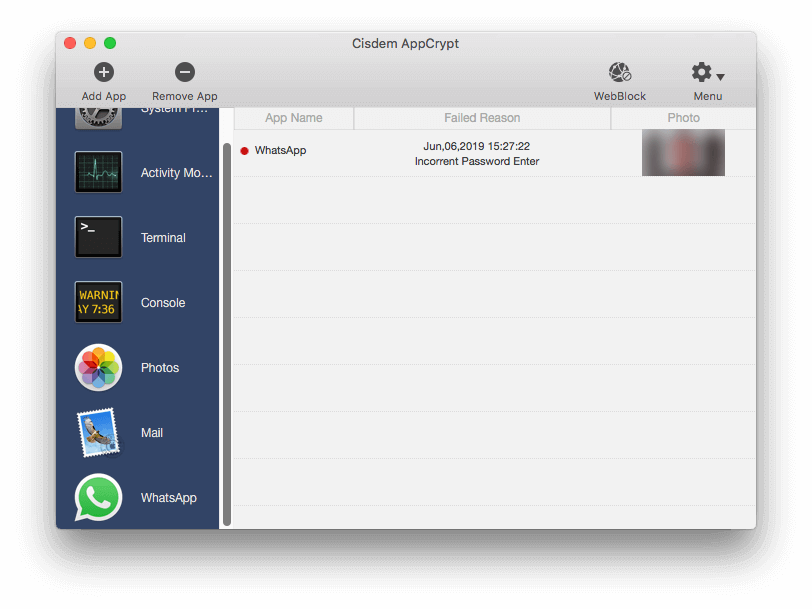 ---
Steps to unlock an app on Mac
By default, this tool automatically locks four system apps: Activity Monitor, Console, Terminal and System Preferences. You can easily unlock them and other locked apps.
1. In the left sidebar, select one or multiple apps.
To select multiple apps, you can press and hold the Commanded key and then click.
2. Click Remove App in the toolbar.
Now these apps are accessible as normal.
Tips
You don't have to manually launch AppCrypt every time you start up your Mac. In the top right corner of the main window, click Menu > Preferences. Under General, enable Launch at system startup. This way, it will start locking apps right away at startup, making the locking more effective.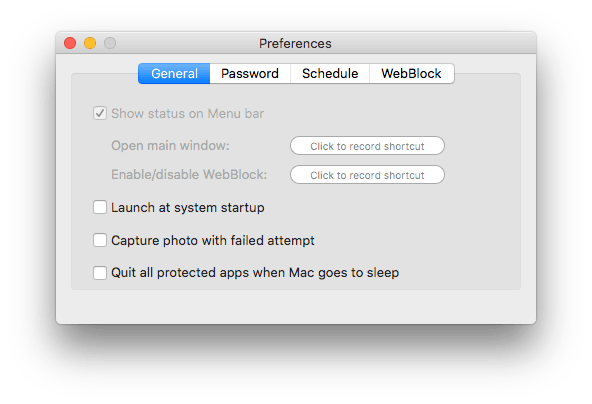 You lock apps on Mac to protect privacy. Also, locking an app during certain times can help limit the time spent on it. The Schedule feature can help. In Preferences, go to the Schedule tab and set things up.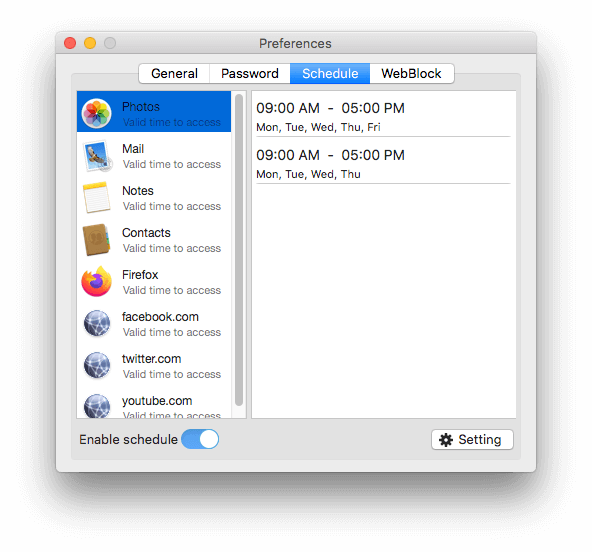 Unlike with most apps on a Mac, you need to enter the password in order to quit AppCrypt. This prevents people from bypassing the locking by quitting the app locker. To quit, go to the main Window, click Menu and choose Exit.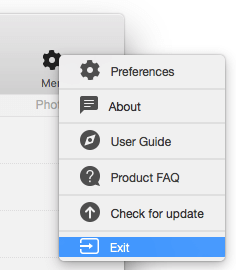 AppCrypt
Lock individual apps on MacBook Air, MacBook Pro and other Macs with password
Easy and effective to lock/unlock
Let you know who has tried to break into
Also block websites and webpages with password
Provide a useful schedule feature
Help guard your privacy on Mac
Help block distracting, inappropriate and other unwanted online content
Serve various purposes
Support macOS 10.10 or later, including Big Sur

Free Download
---
Method 2. How to lock apps on Mac with AppLocker
As its name tells, AppLocker is a dedicated to adding a lock on your apps. It can do a decent job of what it is designed to do and is very easy to use. According to user feedback, sometimes it can stop working properly. In such a case, a user can contact the developer for help. Without further ado, let's see how to use it.
1. Install AppLocker on your Mac.
2. Open it. Create a password when asked.
3. In the menu bar along the top of your screen, click its icon. In the prompt, enter the password. Click Enter.
4. Click the plus icon in the top right corner. Now you are in the Select Applications to Lock interface, which displays a list of all the apps on your Mac.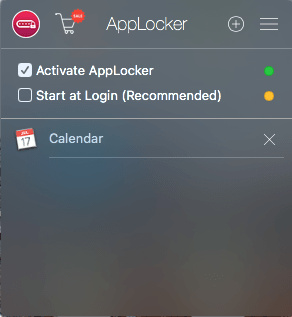 5. In the Filter box, enter the name or part of the name of an app. In the filter results, click the very app and then it will be locked immediately.
The tool has a free version, which lets users lock only one app, making it sort of a free locker for Mac. To be able to lock two or more apps, users need to make a purchase.
When you try to launch the locked app from the Launchpad or Dock, it won't open as normal. Instead, you will see the "app is locked" interface, which occupies the full screen. If you enter the correct password, the interface will go away and the app will open. If the password is wrong, the said interface will remain there, and you need to quit with the keyboard shortcuts provided. If your Mac (e.g., MacBook Air 2020 or MacBook Pro 2020, etc.) has Touch ID, AppLocker allows you to unlock locked apps with Touch ID.
---
Method 3. How to lock third-party apps on Mac with Disk Utility
This method, as well as Method 4, is less practical. I still talk about it here for you to consider. Note that it doesn't lock any built-in Mac app.
This method to lock apps on Mac involves the use of Disk Utility, a built-in macOS utility to perform disk-related tasks, and is basically about creating an encrypted disk image and moving the apps of your choice to the disk image. Skip this if you are not comfortable or familiar with Disk Utility.
1. On your Mac, open Disk Utility.
2. From the menu bar, select File > New Image > Blank Image.

3. In the Save As field, enter a name for the disk image you are creating.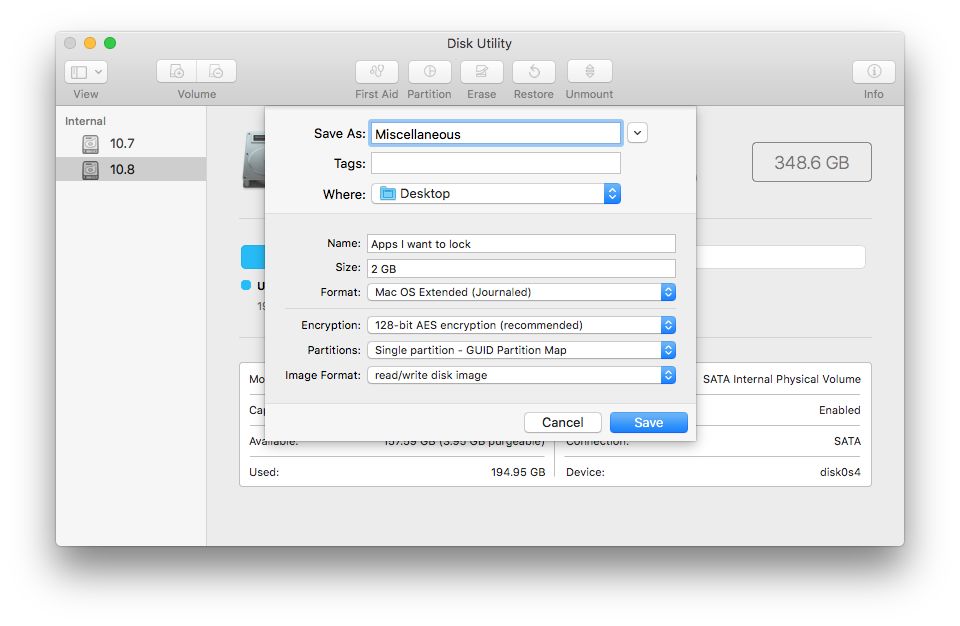 4. In the Where field, select a location.
5. In the Name field, give a name to the disk image once it's mounted.
6. In the Size filed, specify a size. Make it bigger if you have a few apps to lock on your Mac.
7. From the Format dropdown list, select the format you need.
8. Select the desired type of encryption. And set a password. This is the password that you use to lock your apps.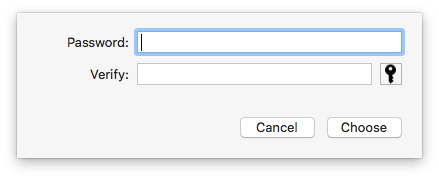 9. Select the type of partition that you need.
10. Set it to be a read/write disk image.
11. Click Save.
12. Wait for Disk Utility to create the encrypted disk image (with .dmg filename extension).
13. Now click the DMG file to open (or mount) it. Go to the sidebar of Finder and find the mounted file under the Devices section.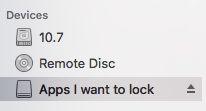 14. Now, lock the specific Mac apps by moving them from the Applications folder to the locked disk image. Make sure you hold down the Command key while moving apps by dragging.
15. In Finder's sidebar, control-click the DMG file and choose Eject.
Now the selected Mac apps are locked in the encrypted disk image. To unlock them, click the disk image, enter password as required and go to Finder. To put on the lock again, eject the mounted disk image.
---
Method 4. How to put a lock on apps on Mac with Screen Time
This method uses Screen Time, a feature available only on macOS 10.15 or later. Ignore it if your Mac is running an earlier version.
Thanks to the Block at end of limit option available in the Screen Time feature, there is a way to lock apps on Mac with this feature.
1. From the Apple menu, select System Preferences > Screen Time.
2. In the bottom left corner of the main window, click Options. Select the checkbox next to Use Screen Time Passcode. Set a 4-digit passcode.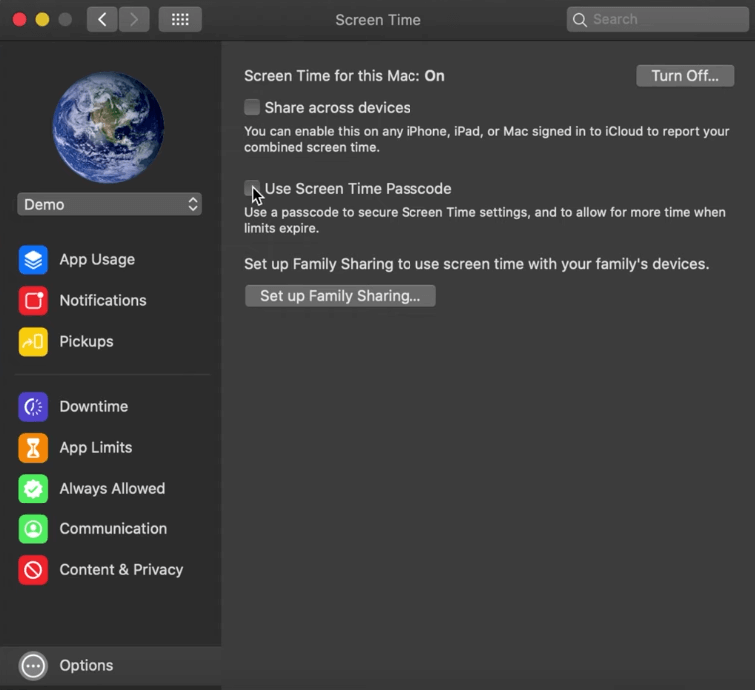 3. In the left column, click App Limits. Click the Turn On button to enable it.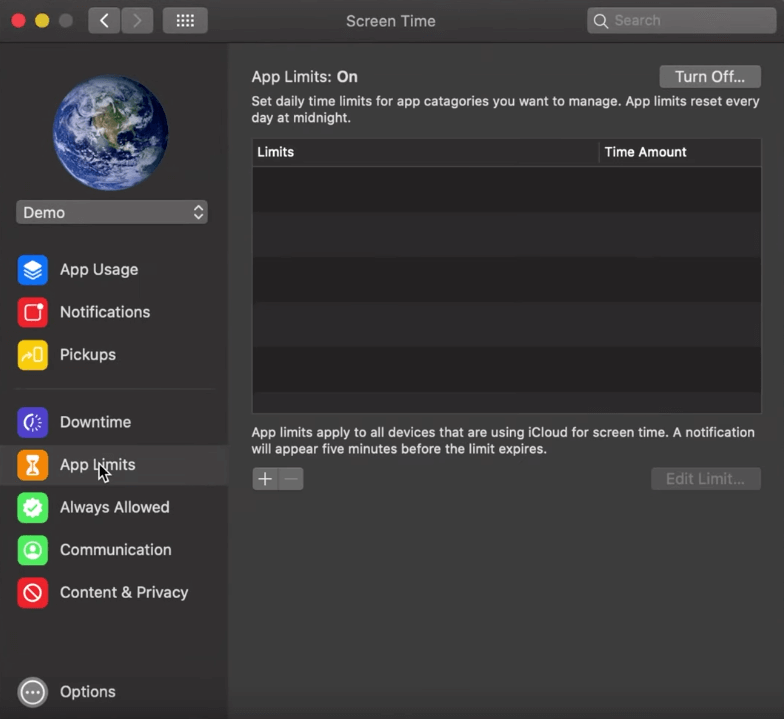 4. Click the plus button, which will bring up a new window where you can add an app to create limit. Enable Block at end of limit. When you finish setting up, click the Done button.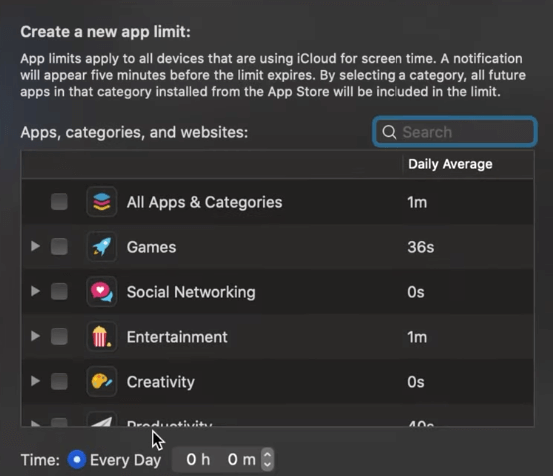 Note that the minimum limit is 1 minute. If your purpose is to lock an app on Mac so that others won't have access to it, then you need to use the app for 1 minute every day to trigger the locking. When the time limit is reached, the app will be locked, and one will be asked to enter the passcode to access the app again.
---
Conclusion
Why lock apps? It can prevent others who use your Mac from accessing your apps and privacy. It adds an extra layer of protection against hacking. Parents can limit children's screen time by stopping them from opening games and other addictive apps. How to lock apps on Mac? There are a few methods available. If you are looking for an easy, straightforward and effective way to get the job done, AppCrypt is worth checking out.