This article talks about how to download Facebook live videos 2022. Facebook live streaming service, launched in 2016, has surged in popularity and aroused the interest of the audience. It's a great service for both personal & business users to easily live stream content. One in five videos on Facebook is a live broadcast.
Today, buckle in, and let's get started by answering the following questions: Can I download my own Facebook live videos, how can I download someone else's Facebook live videos, or even how can I download someone else's Facebook live videos from a private Facebook group with ease?
Best Software to Download HD Facebook Live Videos
Easily Download someone else's and your own Facebook live video just by URL
Grab movies, music videos, podcasts, etc. from 1000+ sites
Download videos in different resolutions: 8K/4K/ 1080P/720P, etc.
Support 600+ conversion formats like MP4, WMV, iPhone, and iPad
Support downloading or converting unlimited online videos or music in bulk
Edit Facebook videos by adding effects, trimming, cropping, etc.
Reset parameters of downloaded Facebook videos
Rip or convert DVD to a variety of video formats
Available on Mac and Windows PC

Free Download

Free Download
How to Find Facebook Live Videos?
When a user finishes streaming, Facebook will finish recording the stream and allow the user to publish the recorded live stream to the user's profile or page. It's possible to find someone else's old Facebook live videos and playlist if that user has chosen to publish the recorded live video.
*Note: It's just one of the ways to find old Facebook live videos.
Step 1. Click Watch in the sidebar on the left, which will lead you to the page https://www.facebook.com/watch/live/.
Step 2. Click Live in the sidebar. You will be presented with different categories of popular live videos streamed right now. You can also search for specific videos or topics.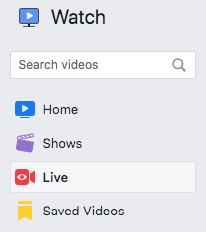 Step 3. Open a live video, and click the broadcaster's account in the upper right part of the page.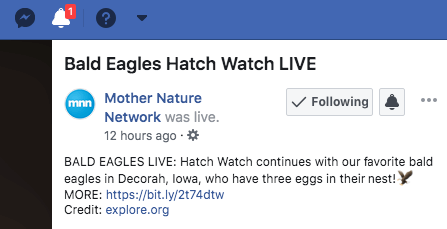 Step 4. Click Videos in the left sidebar. Navigate to the All Videos section. If the Facebook user/broadcaster has the habit of publishing recorded live videos, then you can find them there.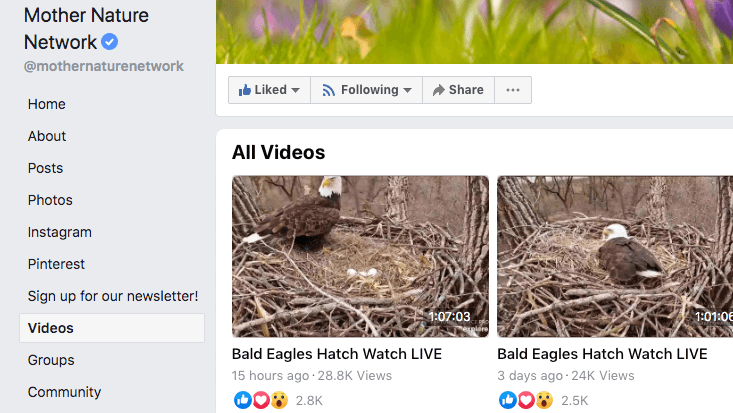 Tip to get a Facebook live video URL
Simply copy the video URL directly in the address bar. Alternatively, right-click the video, select Show video URL and copy the URL that appears.
How to Download Someone Else's Facebook Live Video?
Among the methods to save Facebook live video, the best choice is to use desktop software, which can provide high-quality download, batch download, and other useful features you may need. Besides, it will help you to download HD Facebook live video to computer or mobile phone according to your needs. This part will show you how to download Facebook live video of someone else's or your own in the best quality available.
#1 Using a Desktop App to Download Facebook Live Videos to Computer
Cisdem Video Converter (Mac, Windows)
Despite the name, this app can also download online videos from more than 1000 websites such as Facebook, Livestream, YouTube, Vlive, and Instagram. Only with the shortcut URL of the video, it can access any video you want and easily grab it for you.
Cisdem Video Converter can download any videos, including the live ones and private ones, from your and someone else's Facebook pages and profiles. One of the great things about this app is its support for high-quality download. Let's take Facebook 4K live streaming for example. The best quality you can get is 720p if you use other download methods. With Cisdem Video Converter, the downloaded video is in 4K 2160p.
Benefits:
Quickly download any Facebook videos, including the live ones
Can download Facebook live video to MP4, MP3, and other common formats
Provide the highest quality available such as 1080P and 4K
Allow batch download

Merge any downloaded videos as your need

Download videos from YouTube and 1000+ other sites

Easy to use with clear and intuitive interface

Offer other features such as conversion, compression, editing, etc.
Can also convert the downloaded Facebook videos to MKV, MOV, AVI, and other 300+ digital audio and video formats
Below are the instructions on how to download someone else's Facebook live videos on Mac via this tool. Windows' users can also refer to them because both versions are similar in configuration, operation and functionality.
Step 1

Switch to the "download" tab
Download and install Cisdem Video Converter on your computer. Launch it.
Click the

icon to turn into the third interface.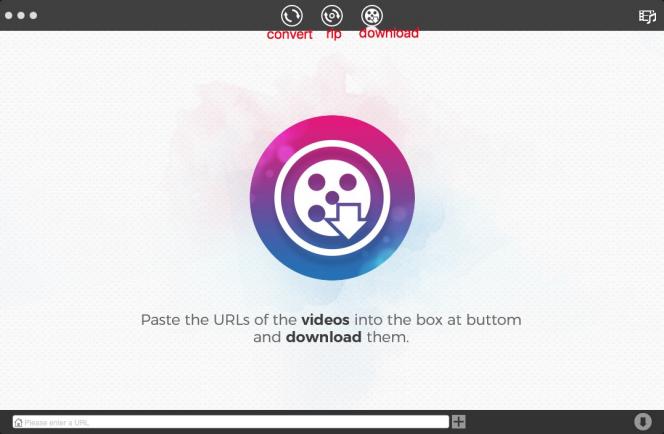 Step 2

Add Facebook live video URL
Copy and paste the URL of a Facebook live video to the bottom field.
Step 3

Hit the download icon
Click the

icon, and it will immediately start saving the video in the highest resolution available.
*Note: To batch download Facebook live videos, just add multiple videos to the list or click "File > Input URLs..." in the top menu bar to add more URLs of the videos. And the software will process all Facebook videos at once.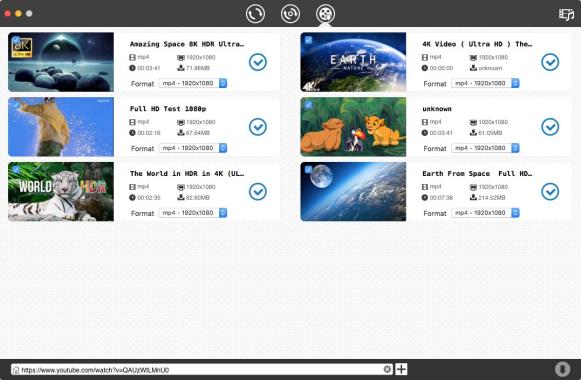 Tip to convert Facebook live video to other formats
Click the

icon to open the folder where the downloaded Facebook live videos are stored. Drag them to the first interface.
Click the format button. This will pop up the target format panel. Choose desired formats for Facebook videos and click

.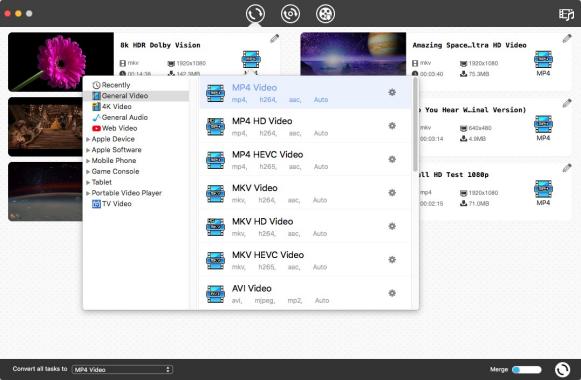 #2 Using a Web-based Tool to Download Facebook Live Videos Online
Advantages:
Easy and handy to use
No need to install anything

Work on multiple platforms

Can also save others' Facebook videos or other media websites' videos
Disadvantages:
Can't provide the best quality
Can't deal with private videos
Sometimes fail to work
Need powerful internet support
Offer no editing features
Have a size limit on downloaded videos
The biggest advantage of this method is convenience. If you only download one or two live videos from time to time, you can choose to do it online. Web-based tools can't download in bulk, nor are they able to download 4K or 1080p videos.
Step 1. Go to savefrom.net.
Step 2. Copy and paste a video URL. Then, wait for it to analyze the URL automatically.
Step 3. Choose to Download MP4 HD or MP4 SD.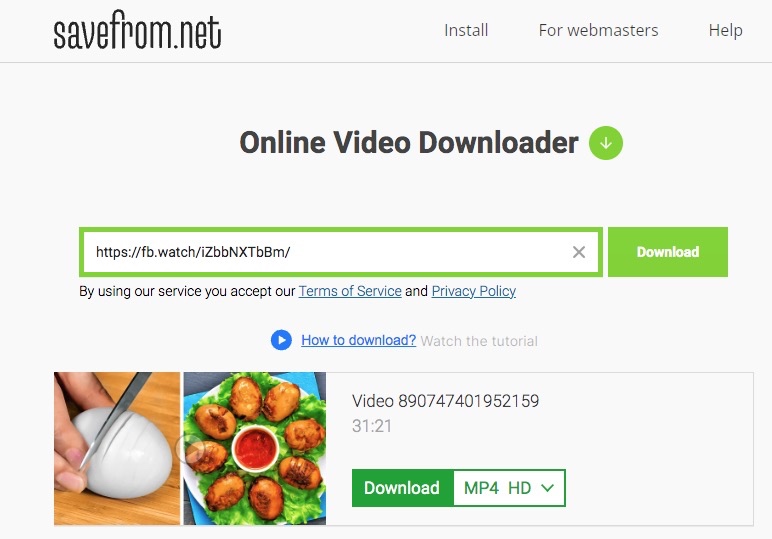 Step 4. Click Download button and it will start downloading.
#3 Download Facebook Live Video via Browser Extensions or Add-ons
Advantages:
No copying and pasting of URL
Can download multiple Facebook live videos all at once
Have no time or size limit

Work on all operating system
Disadvantages:
Can't save video in the highest resolution
Sometimes can't detect and save video
There are tons of Chrome or Firefox extensions that can help us save time and energy in many ways. The Video DownloadHelper is one of them. It can download Facebook live videos to MP4 and even convert Facebook videos to AVI, MOV, WMV and more video formats. Besides Facebook, this simple tool can also download videos from Vimeo, Soundgasm, etc. It's easy to install and works greatly. Once opening the video, it will detect the contained video in a short time and save it with ease.
On Chrome
Step 1. Open Google Chrome, search for Video DownloadHelper in the Chrome web store and click "Add to Chrome > Add extension" to install it.

Step 2. Open a live video from your Facebook account.
Step 3. It will detect the playing video automatically. Once detecting, its extension icon with three balls will become colorful.
Step 4. Click the highlight three-ball icon in the top right toolbox, and it will show a list with multiple options to download the Facebook live video.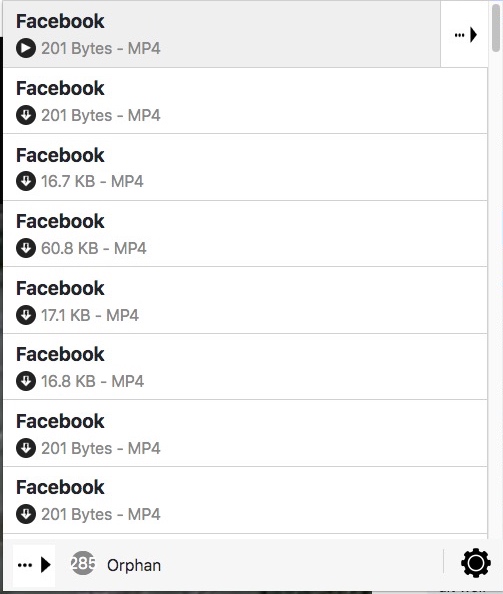 Step 5. Choose one and click the arrow icon at the right corner of it.
Step 6. Then it pops up a new window, click "Quick download" to download Facebook live video to MP4 on your computer right away.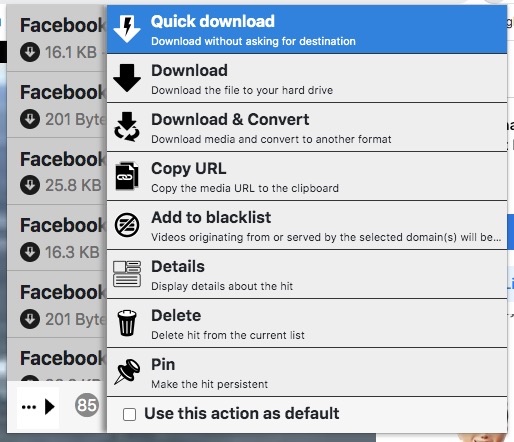 On Firefox
Step 1. Open Firefox, search for Video DownloadHelper on Firefox Add-ons and click "Add as Firefox" to install it.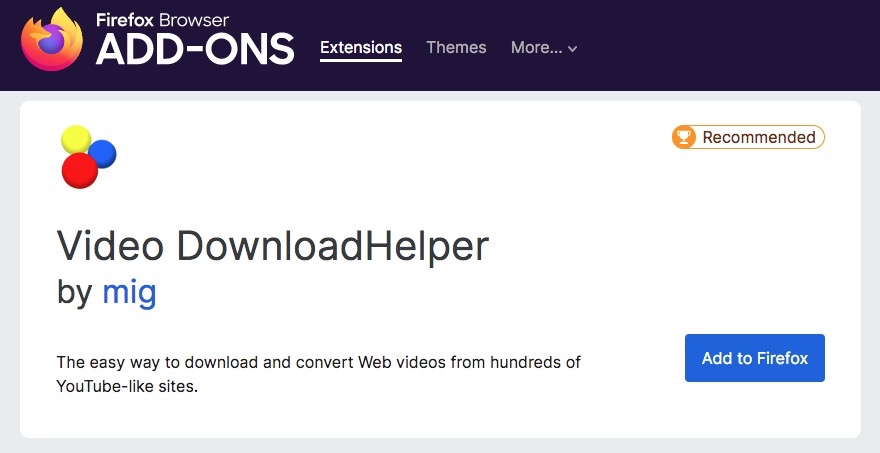 Step 2. Open a live video from Facebook.
Step 3. It will start detecting the video. Once done, click the highlight three-ball icon.
Step 4. Choose a desired option and click its arrow icon.
Step 5. Tap on "Quick download" button to save it to your device.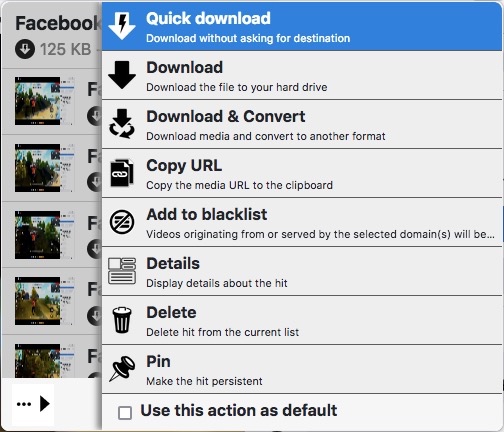 #4 Using Mobile Apps to Download Facebook Live Videos to Phone
Advantages:
Easy to use
No need to copy and paste Facebook live video URL
Can do batch download
Disadvantages:
Need to download and install apps
Unable to download in the highest quality
Video Downloader for Facebook (Android)
Rated 4.6 out of 5 on Google Play, this Android app is able to quickly download a Facebook live video. It only takes a few simple steps. However, unlike most video downloader tools, this Facebook live video downloader doesn't support other sites. Note that the free version contains ads.
Step 1. Get this app and install it on your Android device.
Step 2. Tap Browse Facebook and log in to your account.
Step 3. Browse and find the Facebook live video you need to save to your phone. Tap the video.
Step 4. In the dialog box, tap the DOWNLOAD option.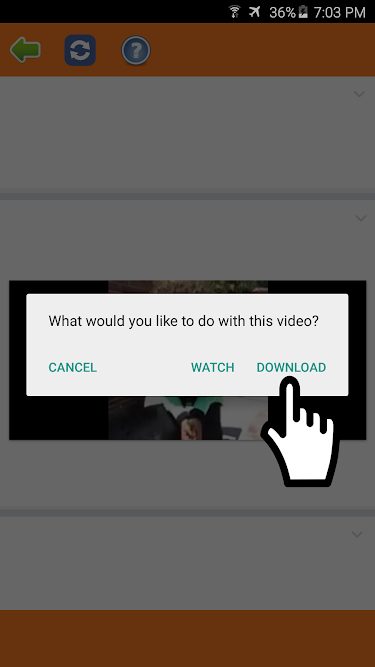 MyMedia - File Manager (iOS)
iOS app like MyMedia makes it easy to save Facebook live recorded video to iPhone and iPad. Before getting started, you need to go to the App Store to and install the app and then launch it.
Step 1. Find the live video you are going to download. Tap the share button and copy the video link.
Step 2. Tap the Browser tap in the app and go to online tools like savefrom.net.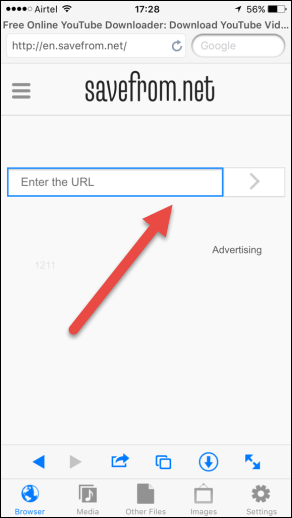 Step 3. Paste the link you've copied. Tap Download. Edit the video name if needed.
Step 4. Go to the Media tab, tap the name of the video, and select the Save to Camera Roll option.
How to Download Your Facebook Live Video without Any Tool?
Advantages:
Easy to do
No need to use any tools
Can save your Facebook live videos from profile and page
Disadvantages:
Only work with your own Facebook live videos
Can only download in quality lower than the original video's
In the past, it was possible to make Facebook live video downloadable by replacing the "www" in the video URL with "m", but this trick doesn't work anymore. Now Facebook makes it easy to save your own live recorded videos to computer. You don't need to install any software or use any web-based tools.
How to download Facebook live videos from your profile
Step 1. Go to your Facebook profile page. From the menu bar, select More > Videos.
Step 2. Hover your mouse over the video thumbnail, and a tiny edit icon will show up. Click the icon.
Step 3. Click Download HD or Download SD according to your need.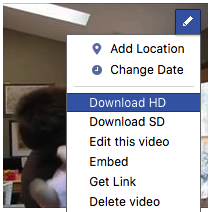 Note: You may not be able to download the best quality even if you select Download HD. To get the original quality, you can use the desktop software recommended above.
How to download Facebook live videos from your page
Step 1. Go to your Facebook page. Make sure that you log in as admin or page owner.
Step 2. In the left column, click Videos. Open a video.
Step 3. Click the three dots button in the upper right corner. Click the Download Video option. If you can't find this option, click Edit Video instead. In the editing window, click the gear icon and select Download SD.

How to Download Facebook Live Videos from a Private Facebook Group
Advantages:
Don't need to install any software
Can download any videos from private groups
Easy to use
Disadvantages:
Can't decide output video quality and format
Can't process multiple videos in batches
Facebook groups consist of two different types, public groups and private groups. As the name shows, public groups' contents are open to everyone, and you can join immediately if you want. But the content of private groups is protected by the system, you can send a join request and then wait for the administrator's checking to join, or you can also join it by being invited by a member from the group.
If you want to download a video from a Facebook private group, it will be a bit thorny. The easiest solution is to send a join group request to the administrator. After joining the group, you can apply the above mentioned ways to download videos from Facebook private groups.
Alternatively, there is an easier way for you to directly download Facebook videos without any software. This solution works on any browser. Let's take Google Chrome as an example.
Step 1. After joining a Facebook private group, click Media section and then select Videos. On there, you will see all videos contained from this group.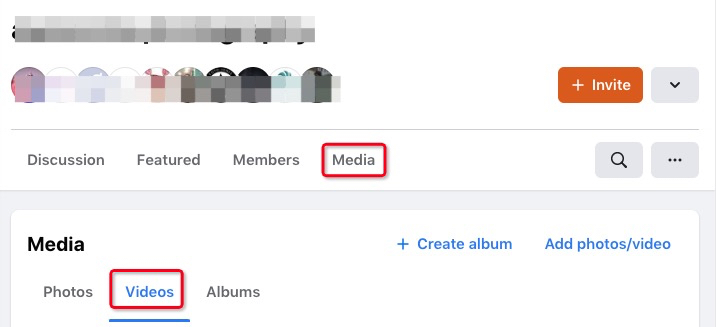 Step 2. Hover your mouse to find the live video, right-click on the target video and hit on Copy Link Address option.
Step 3. Paste the copied URL into the new tap, leave it and change www into mbasic. Once done, click Enter to access to the new link.
Step 4. Click anywhere of the video to play it in a new window with playback control bar.
Step 5. Click three-dot icon and select Download button to save it on your computer.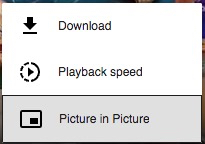 Common Ways to Repurpose Your Facebook Live Videos
Upload them to other platforms such as Facebook, Vimeo, etc.
Upload to them your own blog or website rather than just embedding Facebook link
Store on your hard drive for backup and future uses
Share your videos in different ways such as emailing them to your newsletter subscribers
Facebook makes itself a great place to broadcast live video. Each video is the one and only one and could be one of the best videos you ever record. It is always a good idea to keep a version of your video locally. If you want to use the live video for other purposes but don't have the original file, you can download it. Facebook does allow users to download their own live videos. However, the quality will be lower than the original one. In such cases, you can use desktop software such as Cisdem Video Converter, which won't cause damage to the quality of the original video.
Also, when it comes to downloading someone else's live videos for offline watching, you also need the help of third-party software or tools.
To Wrap up
Hopefully, these methods on how to download Facebook live video can be helpful to you. If a Facebook live stream video is meaningful or important to you, you can download it using one of the methods, in case the broadcaster removed it. Among the 6 methods mentioned in this article, the first 4 methods can be used to download both someone else's Facebook live stream videos and your own ones.
Which method do you prefer to download someone else's Facebook live video? How would you like to reuse your live videos? Just share your thoughts and ideas by leaving a comment below.