As we all know, Apple device and some other devices actually don't support MPG video files. So you might have a hard time playing or editing MPG video files on Mac, iPhone, iPad, iMovie, etc. To solve this problem, you'd better try to convert MPG video file to MP4. Since MP4 is widely used and supported by the Apple device and iMovie. In this article, we will explore how to convert MPG to MP4 on Mac/Windows in 4 simple ways, and also show you subtle distinctions between MPG and MP4.
Best Way to Convert MPG to MP4 on Mac and Windows
Cisdem Video Converter
To convert MPG to MP4 on Mac and Windows, Cisdem Video Converter is a powerful cross-platform program that allows you to convert almost all video and audio files into 600+ output digital formats in a few clicks. On the one hand, it is able to batch convert files quickly without data loss. On the other hand, it supports giving the converted videos up to 4K quality. Moreover, it offers rich customization features, dedicating to making satisfactory conversions for people.
Main Features of the Best MPG to MP4 Converter on Mac and Windows:
Easy to use with the clear configuration of the interface
Convert videos and audios to 600+ formats, including converting MPG to MP4
Compatible to different devices such as Apple, Android, etc.
Download fast with enhancing engine, including converting large files
Highly customization with the built-in editor
Can edit and add subtitles
Cause no damage to the quality of the original video
Can also download videos from 1000+ websites and rip all kinds of DVD discs
Offer a batch-processing features to convert, download and rip files in bulk
Steps on how to Batch convert MPG to MP4 Mac via Cisdem
Step 1. Import MPG files into the software
Run the downloaded Cisdem Video Converter on your Mac. Simply drag and drop MPG files to the program. Alternatively, click media browser button in the top right-hand corner to browse MPG files from the computer.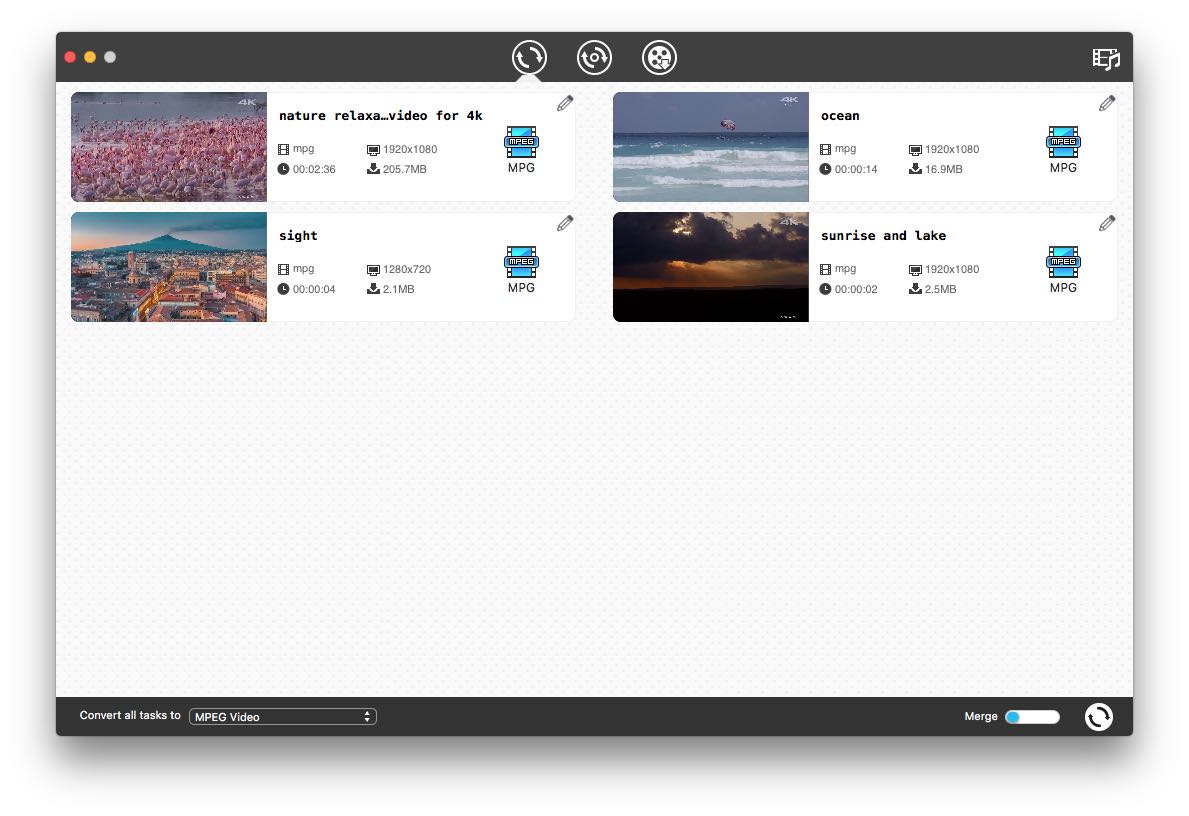 Step 2. Choose MP4 as output format
Go to the format list > General Video > MP4. If you want to play the converted MP4 files on iPad or iPhone, you can navigate to Apple Device > iPad or iPhone > MP4.
Step 3. Edit the MPG videos if needed
Click the

icon to edit your MPG videos before conversion. You can modify these videos by trimming, cropping, rotating, and adding watermarks & subtitles & effects.
Step 4. Batch convert MPG files to MP4
Before converting, you can ;merge them into one video to transfer. Then, just click on the

button in the bottom right corner to batch all added MPG videos immediately.
How to convert MPG to MP4 on Windows 10?
As Cisdem Video Converter also develops the Windows version, which is similar to the Mac version in all aspects. So the needed people can download the Windows version of the program and refer to the steps mentioned above to make conversions on Windows 10 or other Windows systems.
How to Convert MPG to MP4 on Mac/Windows for Free
Handbrake
Handbrake is a free and popular video transcoder program that you can consider for converting MPG to MP4 on Mac and Windows. It has been around for over 10 years, thus this open source tool should be reliable and thorough. Although it can't batch convert MPG to MP4 files, it supports adding multiple files to a queue for conversion, saving people from waiting in front of the computer all the time.
Steps on How to Convert MPG to MP4 Using HandBrake
Download and install Handbrake, then run it on your computer.

Click the "Open Source" button on the top left corner to add MPG file from your device.

Leave "Preset" option without any operation as the default setting is the best option. Even if you choose the higher quality, it only increases the conversion time without improving the quality.
Move on to "Summary" portion and set output video as MP4 format.
If needed, head to "Video" portion to make the detailed information about the video codec.
Then choose the location for the MP4 file by clicking "Browse…" button.
If you have multiple files for conversion, click "Add to queue" on the top and then repeat the above steps to add other MPG files.
Click on"Start Queue" button on the top to begin the conversion.

VLC Media player
Most of you are definitely familiar with this free and open-sourced application of VLC Media Player, which supports to play countless formats of video and audio on Mac and Window. But someone probably don't know that this multimedia player can also be used a converter to convert the files into some formats such as MP4, Webm, OGG, etc.. It is easy to use and matches the according output format in a quick response, which is a trustworthy and free MPG to MP4 converter for Mac and Windows.
How to Convert MPG to MP4 with VLC
Get the software on your computer and open it. Click "Fire > Convert/Stream…" on the top menu.

On the popped-up window, "Open media…" option to select an MPG video.

On "Profile" section, select "Video - H.264 + MP3 (MP4)" as the output format.
Click "Save as File" then "Browse" bar to edit the file name and save location. Once done, click "Save".

Simply click the blue "Save" button to convert MPG to MP4 for free.
Convert MPG to MP4 Using Command Lines
For people who are are proficient in software, they can also use the command lines to make conversions easily. Command lines is beneficial to those workable software that don't have a graphic interface to conduct the task, such as FFmpeg, which is a open-source project that supports converting almost all popular video and audio formats. Due to the number and flexibility of the lines, novices may feel overwhelmed by them.
Steps on how to convert MPG to MP4 with FFmpeg
Download FFmpeg, open it after installation.
Open Command prompt or Terminal on your computer.
Input the command line: ffmpeg -i inputfilename.mpg -c:v libx264 outputfilename.mp4.

Hit on "enter" to convert MPG to MP4 on Windows 10 or Mac..
Online MPG to MP4 Converter - Also Gives You a Decent Experience
Convertio
If want to convert MPG files to MP4 without installing software, just try the free online MPG to MP4 converter - Convertio. It is a compact and stable tool that helps you convert files online, supporting more than 300 different documents, audios, videos, archive and so on. But, it offers a small free capacity of less than 100MB. If you wan to batch convert MPG to MP4 large files without limitation, you need to upgrade to its paid version.
Steps on How to Change MPG to MP4 Online with Convertio
Visit https://convertio.co/.

Upload MPG video from computer, Google Drive, URL, Dropbox, or by dragging it on the page.
Select "MP4" as the target format.
Also, edit the files by clicking the popped-up icon that looks like gears.
Click the red "Convert" button to do the MPG to MP4 conversion. When it's finished, download the converted file on your device.

Cloudconvert
Another excellent online converter for converting MPG to MP4 is Cloudconvert that supports to more than 200 formats, which is free and easy to use. You don't need to worry about that it will leak your information because its development team claims that Cloudconvert won't steal users' personal information for selling when accessing to the files. Besides, you are allowed to use it directly without register. However, the speed becomes slowly when you upload a file of 1 GB for conversion.
Steps on How to Change MPG to MP4 Online with Cloudconvert
Open a browser, search for "Cloudconvert" on the bar and head to its official website.
Choose a way to upload an MPG video that you want to convert such as computer, URL, Google Drive, Dropbox and OneDrive.

It appears a thumbnail of the MPG video, click drop-down button next to it and choose "MP4" as the output format.

Click the red convert button to start the conversion. When finished, the MP4 will be played automatically. And you can click "download" at the right bottom to save it.
What is the Difference Between MPG and MP4?
MPG (MPEG) is a digital video format that uses MPEG codec, including MPEG-1 or MPEG-2 video formats as well as audio formats. MP4 (MPEG-4) is mainly a video format for storing video and audio data. Both of them are created by Motion Picture Experts Group and MPG is earlier than MP4. Although they have many similarities, they still have differences after discreet comparison.
Supported Video Codecs
MP4 videos support more video codecs than MPG videos. MP4 supports not only MPEG-1 and MPEG-2 video codecs that MPG supports, but also many other codecs such as H.265/HEVC, H.264/AVC, MPEG-4 Visual, Cinepak, etc..
File Size
In fact, MP4 videos is larger than MPG videos. But modern video codecs such as H.264 and H.265 adopt better video compression that means it can produce smaller file than MPEG-1 under the same size.
Video Quality
In reality, MPG and MP4 are similar because both of them use codecs of MPEG-1 and MPEG-2. However, the MP4 files have a better quality because of using modern video compression.
Compatibility
As we all know, MP4 is a popular video formats and almost all media player and devices support to play it. On the contrary, MPG becomes obsolete and a large number of players currently don't support to play MPG video file format.
After comparing MPG and MP4, it is easy to find why people are longing for converting MPG to MP4.
Conclusion
At the end of the article, you may get your favorite way to convert MPG to MP4 on Windows 10 or Mac. Most of you probably prefer to use free or online ways. It's definitely that they have their advantages like free and convenience. But in the long term, it is recommended to use paid MPG to MP4 converters because they are absolutely safe, competitive and have affluent multipurpose functions, while the free software and online tools only support a few video formats and get the lower quality conversion.